Contributor

UPDATED
Advertiser Disclosure: Our unbiased reviews and content are supported in part by
affiliate partnerships
, and we adhere to strict
guidelines
to preserve editorial integrity.
Pros
Easy to use
Intuitive design tools
Good customer support
Cons
No integrations
Outdated design templates
Limited features
Ashop Commerce Overview
Ashop Commerce is a cloud-based eCommerce solution for Aussies, Kiwis, Brits, Canucks, and Yankees alike. Ashop is based in Sydney, Australia and has been providing SaaS (Software as a Service) shopping cart options since 2004.
Fortunately, Ashop's customer service to US merchants is not hindered by the company's location. Ashop has customer service hubs located in the US as well as in New Zealand, the UK, and Canada. And the American version of the software comes with US defaults built-in (you won't have to adjust currencies before you get started).
This eCommerce platform boasts incredible ease of use in both the admin and the design editor. In my opinion, the cart's greatest downfall is its limited integrations, which makes it difficult for larger companies to expand their selling capabilities.
Keep reading for a complete review of Ashop Commerce.
Pricing
Ashop follows industry standard in offering a 14-Day Free Trial of their product. I was relieved when the only information I needed to provide was my name and email address–no credit card necessary.
Ashop divides pricing into three tiers. Each subsequent tier allows merchants to list more products and use up more storage space. Higher-tier plans also provide additional features.
All plans include a 128-bit SSL certificate and unlimited bandwidth. You won't be charged any transaction fees on any plan.
Take a look at the plans below.
Starter– $25/month

500 Products
1 GB Storage Space
Select Payment Gateways
All tech support via phone, web ticket, or live chat.

Professional– $69/month

1,000 Products
2 GB Storage Space
All Starter Features Plus

Blog
Gift Cards
Mobile-Optimized Themes
Digital Products
Access to all supported payment gateways.

Enterprise– $249/month

10,000 Products
5 GB Storage Space
All Professional Features Plus

No Ashop Branding
B2B Features
Fraud protection
Plans are billed on a month-to-month basis, but if you choose to pay a full year upfront, you'll receive a two-month discount.
Cloud-Based or Locally Installed
Cloud-based. Ashop outsources their hosting to Rackspace.
Specific Size of Business
Mid-size.
Ashop backs itself into a corner here. Most merchants need the features offered in the Professional plan, which is a bit more expensive than many small business owners would like to pay.
However, I wouldn't recommend Ashop to larger businesses. Larger online stores have higher level needs than Ashop has the capabilities or integrations to handle.
Hardware & Operating System Requirements
There are no specific hardware or software requirements for using Ashop. You should just maintain a secure Internet connection and an updated browser (Ashop recommends Mozilla Firefox and Google Chrome).
Ease of Use
As I've already stated, Ashop provides a Free 14-Day Trial, so you get a feel for their platform before you make any commitments.
They start you out with the Starter Plan's feature set. When you log in for the first time, you'll see that Ashop gives you the option to try out the Professional Plan for 14 days at only $1.

Do you recognize that clever marketing? Once you opt-in for a trial of the Professional Plan, they'll have your credit card number. It'll be that much easier for you to continue subscribing to their platform. Well played, Ashop, well played.
I decided to continue my trial on the Starter Plan. Here's the dashboard I encountered upon first logging in.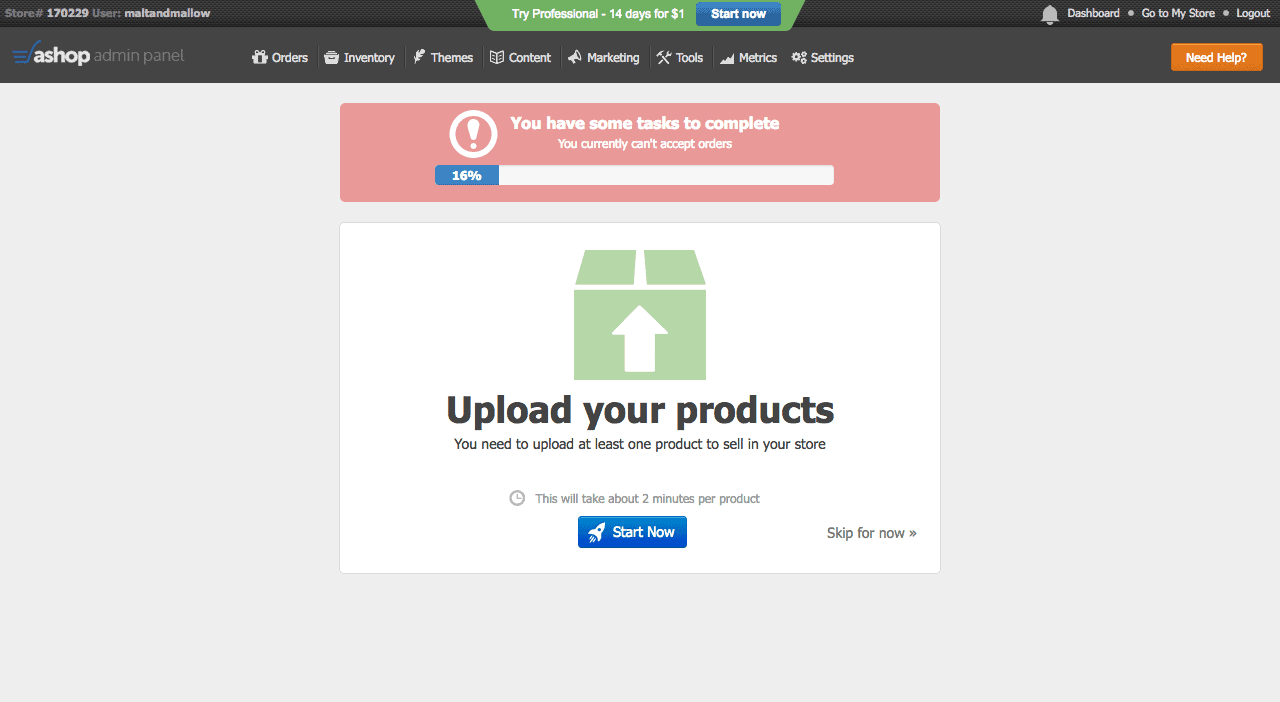 A startup wizard took me through the basics of setting up an online store: Adding a product, setting up tax rules, managing shipping settings, linking a payment gateway, etc.
I was then released to explore on my own. Here's what the dashboard normally looks like.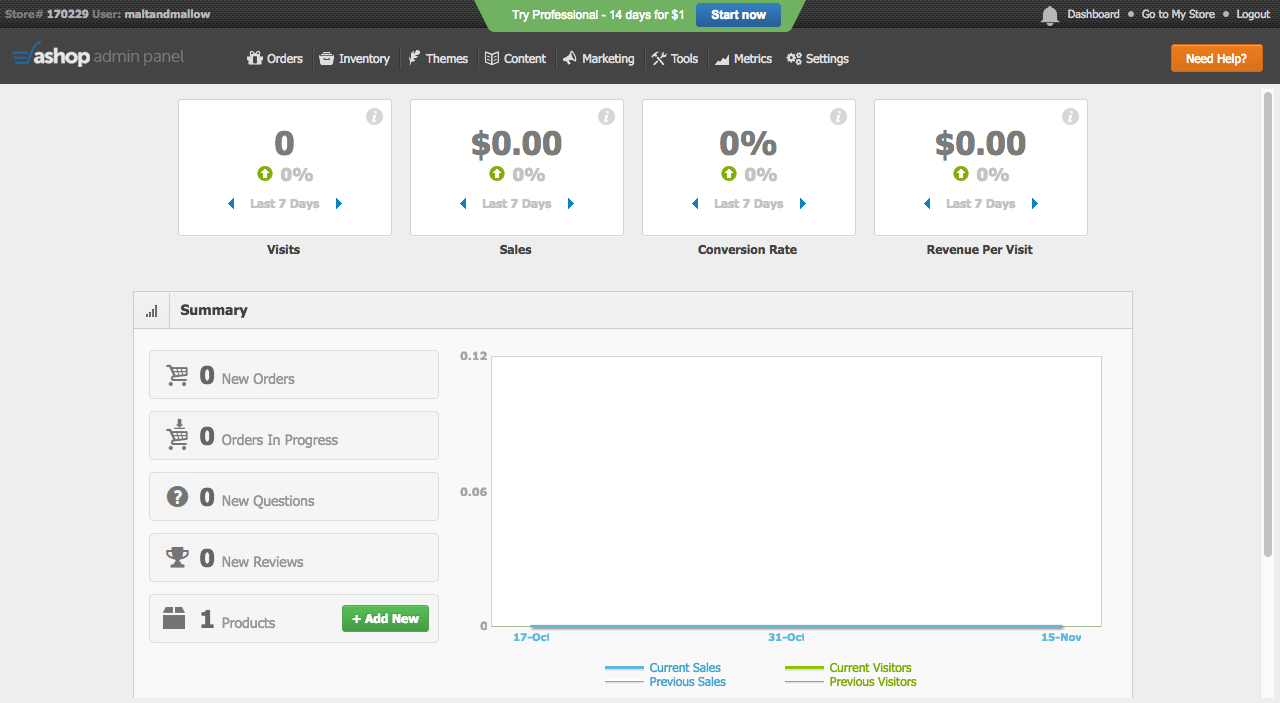 I'm pleased with Ashop's usability in general. I took a few minutes familiarizing myself with the drop down selections, and then I got to adding products.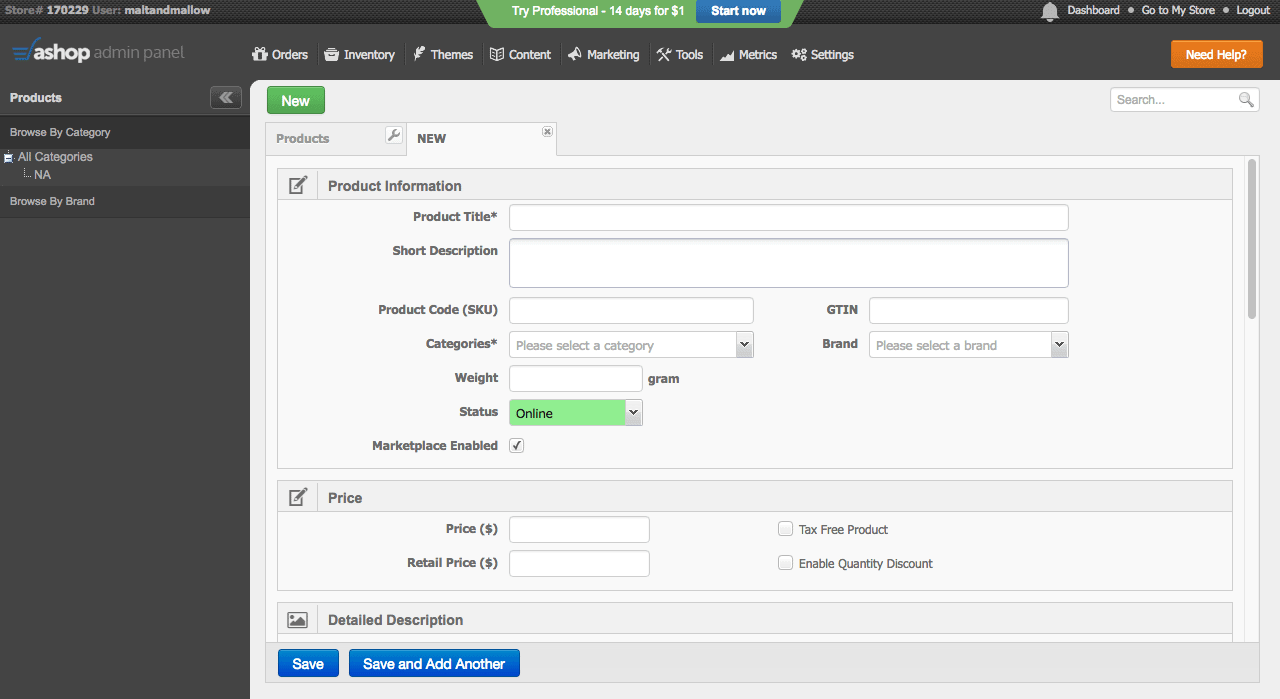 Most of the information you need to add to a product is available on one page (I say most because Ashop does not include product-specific shipping settings).
I also created a coupon code.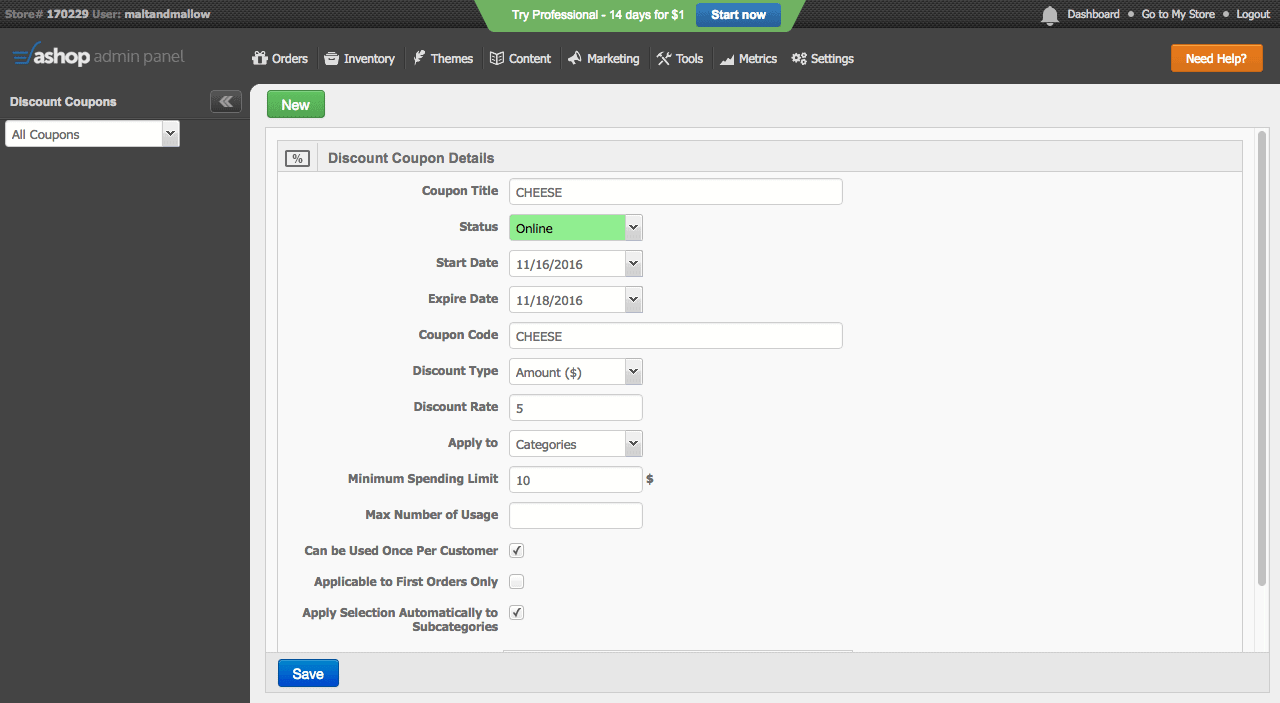 I was able to make my coupon apply to individual brands or categories at a minimum spending limit.
Just for fun, I tried out the Newsletter Manager. I created an email campaign and sent a test email to myself.
I finally checked out Ashop's WYSIWYG editor, which I deem acceptable. (Read more on design tools in "Web Design" below).
As a whole, I give Ashop a solid B regarding ease of use.
Features
I'm disappointed that Ashop allots features based on price point. The Starter pack really seems lacking without mobile-optimized themes and access to all available payment gateways. However, the professional plan is well-equipped with the features your business needs.
Here's an abbreviated list of Ashop's features, gleaned from these web pages. Keep in mind that some of these features are only available on higher plans.
Inventory
Brands and categories: File products under brands and categories to help customers find items faster.
Product variations: List various colors, sizes, and styles for each product.
Stock management: Receive low stock alerts based on product or product variation. Update your stock records in bulk or take advantage of automated inventory updates.
Pre-purchase for out of stock: Let customers purchase out of stock items.
Digital goods: Sell downloadable products alongside your physical products.
Gift certificates: Let current customers give store credit to future customers.
Discounts and coupons: Discount by percentage or a flat dollar amount. Set discounts to apply only to orders with a minimum spending value. Create customer specific discounts.
Storefront features
Mobile storefront: Design a separate template for mobile shopping.
Related products: Use cross-sell and upsell marketing strategies.
Faceted search: Customers can narrow their searches by size, color, and price. This feature is usually only available on enterprise plans.
Multicurrency: Accept multiple currencies. Your store can change the currency displayed based on your customer's IP address.
Checkout options: Customers can checkout as a guest, create an account, or sign in via their Facebook accounts.
Shipping and Tax
Real-time shipping: Connect your account to UPS, USPS, FedEx, and AU Post for real-time shipping rates.
Custom shipping rules: Set your own shipping rules based on weight or a flat rate.
Tax rules: Base rules on state and country tax laws.
Order Management
SMS alerts: Receive text alerts for every new order.
Bulk order processing: You can also feed your orders to a third-party fulfillment service.
MaxMind Fraud Detection: Make sure that all of your orders are from legitimate customers. This features may include additional fees.
Marketing and Social
Facebook store: Set up shop right on your Facebook page.
Newsletters: Create an email campaign and send autoresponder emails.
Product feed: Export your products to price comparison engines.
SEO tools: Ashop provides sitemaps, robots text, meta tags, crawler-friendly URLs, and 301 redirects.
Metrics: View a few analytics in your admin.
CMS
WYSIWYG (What You See Is What You Get) editor: Easily change the look and feel of your site.
Blog: Boost your SEO and customer loyalty with a blog.
Product reviews and Q&A: Encourage customer interaction on your site.
B2B Features
Hide products: Make sure that only B2B customers view B2B products.
Pricing: Set different prices for B2B and B2C customers.
Purchasing options: List distinct shipping and payment options for B2B buyers.
Quantity discounts: Give discounts for bulk purchases.
Web Design
Ashop has over 80 free templates available, though I find the theme selection rather bland and dated. They aren't terrible themes; they just aren't very appealing.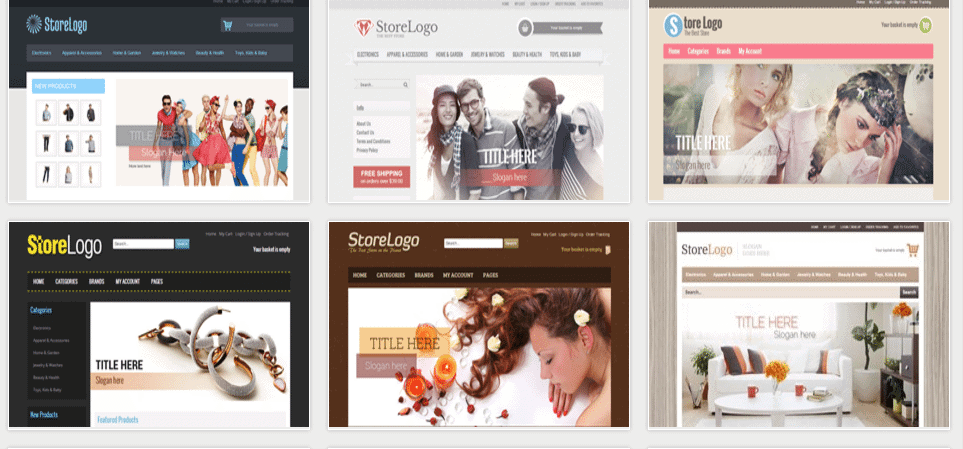 Not a whole lot of creativity there.
Fortunately, it's easy to customize Ashop's themes. The WYSIWYG editor in Ashop's admin lets you add and remove widgets and change background, fonts, and colors. You can also add and update content from the WYSIWYG.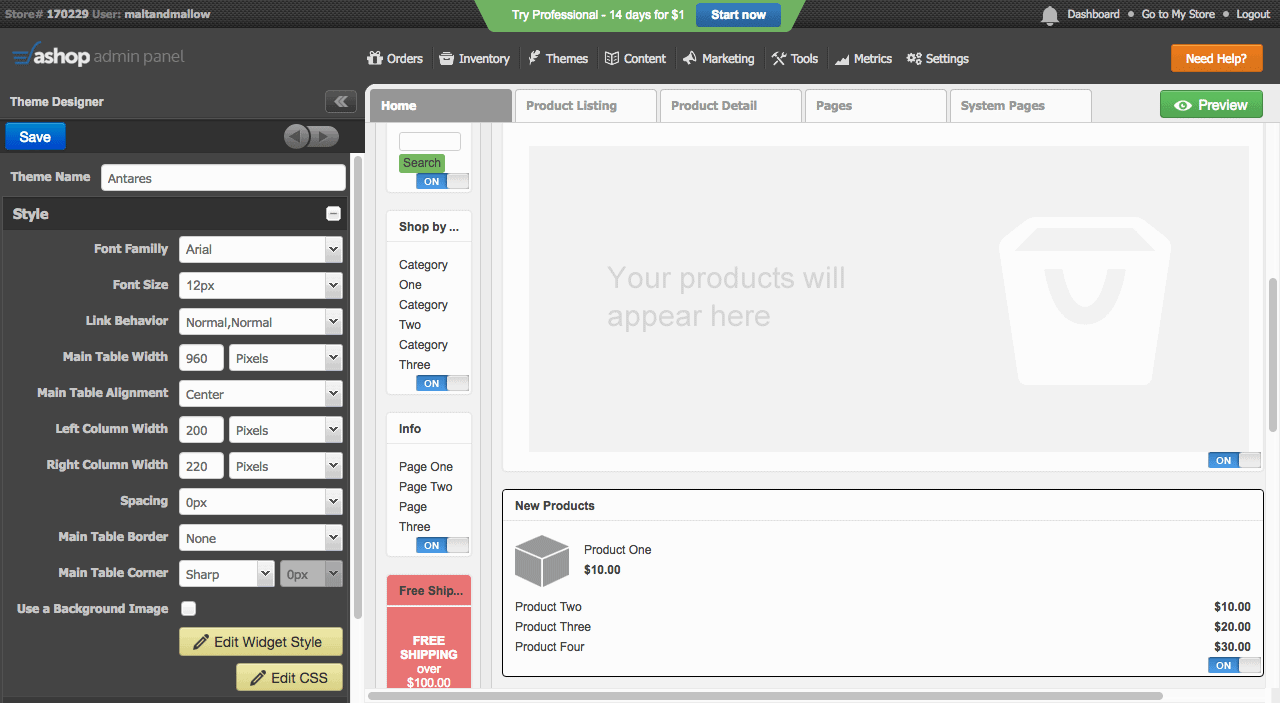 You can also edit your theme using HTML/CSS files.
If you're looking to view a few stores that have used Ashop to build their sites, just take a look at Ashop's gallery.
Integrations & Add-Ons
Ashop offers very little by way of add-ons.
You can use Ashop's Facebook Connect feature to let customers sign in via their Facebook pages, and higher level plans give you access to MaxMind Fraud Detection.
You'll need to sign up for a Zapier account in order to integrate with any accounting software or email campaign software.
Payment Processing
Ashop supports about 70 payment gateways, though US merchants should note that many of these are Australia-only payment gateways.
Furthermore, you should keep in mind that merchants on the lowest plan are restricted in which payment gateways they can use.
Here are a few US payment gateways that Ashop supports:
Customer Service & Support
You can reach Ashop's support through a variety of channels. I've listed (and hyperlinked) them below.
Phone: Contact Form

Support US: 1-843-268-0739
Sales US: 1-888-445-1153

Email: Available in the Contact Portal
Web Ticket: Available 24/7. Ashop usually responds within an hour.
Knowledge Base: The knowledge base is not extensive, but it is finally available.
Forum: Ashop's forum is fairly active.
Blog: A source of Ashop news and eCommerce tips.
Video Tutorials: Youtube tutorials that explain the basics.
Ecommerce School: Guides and white pages about selling online.
Live Chat: Find a link to Ashop's live chat in your admin.
You can also hire Ashop's Professional Services at an additional (substantial) cost. They can help you set up your store, or assist in design or SEO.
Negatives Reviews & Complaints
There aren't a whole lot of people online talking about Ashop. In fact, Ashop's Facebook and Twitter pages have been inactive since 2014. It's strange to see such little interaction from a SaaS shopping cart. For a few minutes, I even thought that perhaps Ashop was no more (a quick live chat confirmed that indeed, Ashop was still operating as a company).
Because very few customers have said anything about the pros and cons of the platform, I've decided to list my own thoughts on the matter.
Outdated software: Ashop's backend feels very much dated. I spent a good portion of time touring around Ashop's website looking for update information, without any luck. I asked a representative if he had any of this information available, and he promised me that I'd have update records emailed to me. Despite talking to two representatives, I never received the information. According to the date at the bottom of each web page, Ashop's website was last updated in 2012, and I suspect that was the date of their last software update as well.
No in-house integrations: Ashop only offers integrations through a connection with Zapier, and you'll need to pay for Zapier's services in order to use them.
Boring templates: While Ashop's templates are not the worst I've seen, they're far from imaginative. It bothers me that "Mobile-optimized" themes are not available on the Starter plan.
Feature-based pricing plans: The Starter Plan isn't really an option if you're planning to sell online. You simply can't compete in today's market without mobile ready themes.
Positive Reviews & Testimonials
Here are the good things I have to say about Ashop.
Ease of use: It took me very little time to get the hang of Ashop's admin. Ashop is a good fit for those who are less technically inclined.
Good support options: I was able to reach support by live chat within seconds. Ashop offers a wide range of support options to answer any questions or concerns you may have.
Great WYSIWYG editor: While I'm not a big fan of Ashop's themes, I was relieved to discover how easy their WYSIWYG tool was to use. I was able to make changes to my storefront in minutes.
Security
Every Ashop store comes with a 128-bit SSL certificate from DigiCert and a Content Delivery Network through Google CDN. Your site is also guaranteed 24/7 site monitoring as well as redundancy-proof backups. Ashop is Level 1 PCI DSS compliant.
Enterprise level plans also receive MaxMind fraud protection.
Read more about Ashop's security and hosting.
Final Verdict
I like Ashop, primarily because of its usability and the availability of its customer service. But the company still has some work to do to win my total admiration.
First, they should spice up their themes. The web designer is great, but the current themes are lacking a lot of the image-focused design that's become so popular as of late.
Most importantly, Ashop should work to develop their own add-on marketplace so users don't have to depend upon Zapier for their integrations. Ashop should also work to update their software more regularly and to be transparent about those updates.
Until then, I'll continue to view Ashop as "good, but lacking."
---
Featured Free eCommerce Plan 🔥
Square Online


---
Get a free website builder, online ordering, gift cards, in-store pick-up options, and dozens of other features for eCommerce and hybrid businesses. Free options available. Learn more from Square.
Featured Free eCommerce Plan 🔥
Square Online


---
Get a free website builder, online ordering, gift cards, in-store pick-up options, and dozens of other features for eCommerce and hybrid businesses. Free options available. Learn more from Square.
To learn more about how we score our reviews, see our
eCommerce Software Rating Criteria
.