Expert Analyst & Reviewer

UPDATED
Advertiser Disclosure: Our unbiased reviews and content are supported in part by
affiliate partnerships
, and we adhere to strict
guidelines
to preserve editorial integrity.
AWeber

Pros
Easy to use
Numerous templates
Generous free plan
24/7 US-based customer service
Cons
Relatively higher cost for subscriber tiers
Credit card required for free trial
Can be difficult to cancel
AWeber Overview
For many small businesses, AWeber is an excellent option that is far more robust than many email marketing companies on the market. As this AWeber review will show, it's a full-featured, modern program, and it works especially well for businesses that already have ambitious email marketing goals in mind.
However, there are some drawbacks that may cause some types of businesses to take a second look. Notably, AWeber pricing is a little on the spendy side, especially for businesses with very small lists (1,000 and under). Once you hit the 2,500-subscriber mark, costs are more in line with industry averages. Keep in mind that the company has no send-based subscription plan, which means if you have a large list but send infrequent emails, there are probably better choices for you.
However, even with the pricing in mind, any AWeber review would be remiss if it didn't also acknowledge that the platform offers all its features to all tiers. For that reason, AWeber is best for businesses that are ready to jump into using all the features right away. And because there is just so much to dive into, it's a great value. Overall, AWeber is an excellent option and earns our 5-star rating. Let's take a look at what sets this platform apart from the rest.
AWeber Pricing
AWeber pricing depends on users' subscriber count. If your count is less than 500, you can use AWeber's limited free plan. Companies with lists over 500 will need to sign on for a paid plan. Subscribers can save approximately 20% by paying annually or 15% by paying quarterly. If you exceed the monthly subscriber limit on your plan, you'll be billed for the next plan up. Unfortunately, there's no alert or warning to tell you when you're getting close.
You can test the software by signing up for a 30-day free trial. You will need to enter credit card information to access the free trial, and you will be billed automatically after your trial period ends. After the introductory month, there is a single list-based pricing plan available. (As with most ESPs, one contact stored on two separate lists qualifies as two subscribers.)
All paid plans allow for unlimited emails.
AWeber's Free Plan
AWeber's Free plan costs $0/month and includes the following:
500 subscribers
3,000 email sends
One list profile
Unlimited users
Create and send newsletters
Email automation
RSS to email
Drag-and-drop email builder
Templates
HTML emails
Dynamic content
AMP emails
Professional images
Unlimited landing pages
Page templates
Video landing pages
Google Analytics and Facebook Pixel tracking
Custom domains
Signup forms
WordPress plugin
Send to basic segments
Simple subscriber and message analytics
eCommerce transaction fee of 1%
24/7 live support
Up to 50,000 WPN (web push notification) subscribers
AWeber's Pro Plan
The Pro plan starts at $19.99/month for up to 500 subscribers and rises with your list size:
Up To 2,500 Subscribers: $29.99/month
Up To 5,000 Subscribers: $49.99/month
Up To 10,000 Subscribers: $69.99/month
Up To 25,000 Subscribers: $149.99/month
Over 25,000 Subscribers: Contact AWeber for custom pricing
The Pro plan includes everything on the free plan plus these features:
Email split testing
Behavioral automation
Cart abandonment/purchase tagging
Branded click-tracking links
Remove AWeber branding
Signup form split testing
Save and send to custom segments
Advanced message analytics
Advanced audience/account analytics
Webpage tracking
Email sales tracking
eCommerce transaction fee of 0.6%
Unlimited WPN subscribers
The thing to keep in mind when you are comparing pricing plans is that it comes down to your list size. The pricing is meant to scale up with your business size itself, not with additional features. What's great about that is that no matter what size your business is, you can jump right in and create the email campaign you want, and your tier does not limit it.
While we're happy to see the free trial is available, we notice that AWeber requires a credit card to access it. That means you will need to be sure you cancel manually if you decide you don't want to stick with AWeber. Overall, the software offers excellent value for the cost in that regard, and you'll be able to try all of the features right from the start, even during your free trial.
Cloud-Based Or Locally-Installed
AWeber is cloud-based.
Hardware & Software Requirements
Supported operating systems and browsers for AWeber functionality are as follows:
Windows 7, 8.1, or 10 (use latest versions of):
Edge
Google Chrome
Mozilla Firefox
Mac OS X:
Safari
Google Chrome
Mozilla Firefox
Linux / Ubuntu:
AWeber also has a few apps available for iOS and Android, including AWeber Stats, Atom App, and Curate.
Specific Size Of Business
The AWeber platform is priced right for small businesses, with a feature set that is available right from the start, making it ideal when it comes time to scale. All plans, including the free plan, allow unlimited users, so you never have to worry about sharing login data.
The Free plan, available to users with fewer than 500 subscribers, includes a generous assortment of advanced features. Those on a paid plan will appreciate that no matter what service tier your list size lands you in. you'll have access to the full range of features. However, some users on the smaller end may find that they are paying more for AWeber in comparison to other popular email marketing software.
Ease Of Use
AWeber finds a healthy balance between ease of use and robust functionality. There are some nice features — particularly in the autoresponder realm. Navigation is intuitive enough that I was able to perform basic tasks without looking up tutorials. When I did find myself at a loss and turned to the online help resources, I was quite impressed with the range and scope of guidance available.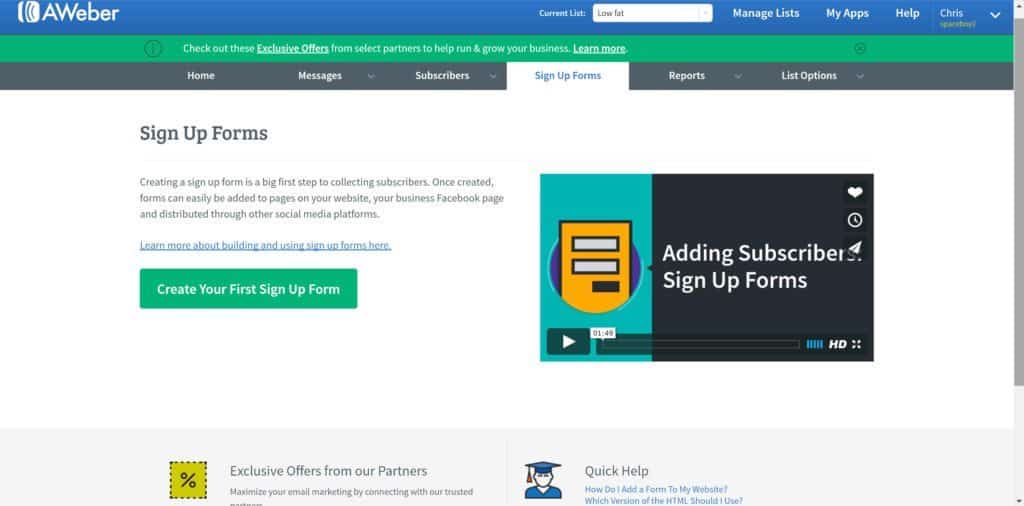 Upon signing up, there's a skippable introductory video. AWeber has a bit more of a setup procedure than most ESPs. To get started, you'll need to fill out some information, including the business address you want to feature on the bottom of your emails, as well as any customizations you want to make to AWeber's standard opt-in confirmation message. Once you've finished those basic configurations, you'll be free to explore the program.
Six tabs along the top of the screen direct you to Home, Messages, Subscribers, Sign Up Forms, Reports, and List Options. Some of these have drop-down options. Links to My Lists, My Apps, and Help, along with My Account, can be found in the upper right-hand corner. Your home page is an account overview that displays new subscribers, list stats, scheduled messages, and recently sent messages.
AWeber Features
AWeber has a very nice feature set, particularly in the area of autoresponders. Some highlights include:
Editor: The drag-and-drop WYSIWYG editor provides users with a huge choice of 700+ templates, all of which utilize responsive design for viewing on mobile devices. Alternatively, users can create messages in plain text format or code their own templates using HTML.
Follow-Up Series (Autoresponders): In addition to one-time email blasts (called Broadcasts), AWeber allows you to create chains of autoresponders (campaigns). An example would be a welcome email that gets sent to each new subscriber who signs up, then a series of weekly "How To" emails explaining the various applications of your product. You can set the interval between these messages to anywhere between 0 and 999 days. You can also start subscribers at different points in the cycle if you wish. For instance, if you had a separate signup form for advanced flying widget users, you could start them on #5 of your series ("New Applications of Flying Widgets") instead of #1 ("What is a Flying Widget?"). You can set up separate follow-up series for each list, and you can copy them between lists. You can even set it to stop sending messages once the email has been opened.
Signup Forms: You can create a signup form for your website using one of the hundreds of provided templates. There are many options for customization. Select from various form styles: inline, pop-over, pop-up, or lightbox. You can even split-test your signup forms. All utilize responsive design and will scale to mobile devices. You can toggle Facebook sign-in, choose from several "Thank You" page options (including standard, audio, video, and no page), and select tracking options. AWeber provides both Javascript and HTML code options, or if you just want to host your form with AWeber, the company will do that too. You can also put a signup form on your Facebook business page.
List Segmentation: You can segment your lists to deliver tailored content to your subscribers. Lists can be segmented by nearly any criteria you can imagine: by birthday month, location, people who specify a certain interest on your signup form, or by people who click, visit, purchase, or open a message.
Send Windows: You can schedule your follow-up series to only send on certain days and/or times, based on the recipient's time zone.
Global Text Snippets: This tool allows you to change the information in many email messages (such as store hours) all at once.
Subscriber Options: AWeber allows you to provide your subscribers with a range of unsubscribing and preference change options. You can allow subscribers to update any fields you wish (for instance, email address or phone number), in addition to providing them with summary descriptions of each list they are subscribed to.
Automation Rules: You can set up rules that automatically remove or add your subscribers to lists based on their subscriptions to your other lists. For instance, you could set a rule that automatically removes subscribers from your "Prospects" list after they purchase a product.
A/B Split Testing: Split testing is a great way to optimize your emails, and AWeber makes it pretty painless. You can split-test broadcast messages by subject line, content, or time sent. You can also split-test signup forms.
Analytics & Reports: AWeber provides a wide range of reports on everything from open rate to sales. These can be viewed online or downloaded in CSV format. You can compile the reports that are most important to you and use them to create your own dashboard in the reporting area. Download the AWeber Stats app, for iOS and Android, to view reports on the go.
Blog Broadcasts: A real boon to bloggers looking to boost their readership, this RSS tool allows users to email their blog audience automatically each time they post or put all their articles into a digest that's grouped daily, weekly, or monthly by using a simple template design.
API: AWeber provides an API so that developers can create custom integrations with other apps and programs.
Unlimited images: AWeber offers unlimited image hosting for all accounts, with a maximum image size of 10MB each. All users also have access to the software's image library, which contains over 6,000+ images.
Below, we take an in-depth look at a few of the core features.
Campaign Creation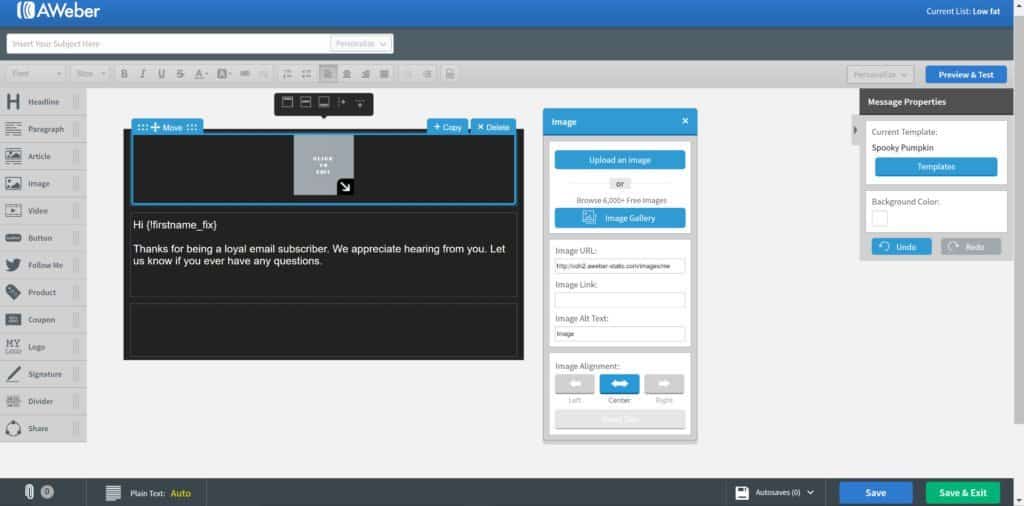 AWeber offers three email editors: a drag-and-drop WYSIWYG editor, a plain text editor, and an HTML editor for those who prefer to code their emails. The WYSIWYG editor is pretty easy to use and allows for a fair degree of customization, though not quite as much as I would have liked. You can insert a simple "Click here" button, coupon, logo, or signature with the click of a button. Social share buttons are easy to generate once you link AWeber to your Facebook and Twitter accounts. Drafts autosave every two minutes, and you can see a list of previous versions (so if you accidentally delete something, you usually can retrieve it).
To start, you'll have 700+ templates to choose from. There are some very nice layout customization options here once you learn how to use them. AWeber uses both "sections" and "blocks" in its organization. Blocks are elements, such as text boxes, images, etc. Sections are the frameworks in which they exist. Most programs use similar organizations, though they may use different terminology. The difference comes in your ability to edit or customize the sections themselves. In previous versions, the ability to customize elements such as buttons was limited —you couldn't change the text of buttons — but you now can easily customize those elements.
In AWeber, you can easily split sections into as many rows or columns as you wish. You can also adjust the sizes of those rows and columns the same way you can adjust cell sizes in spreadsheets. This gives you a lot of control over exactly where elements appear and how they line up. It also might mean a bit of a steeper learning curve at first.
Most of the editor's shortcomings are image-related, even for basic functions, such as cropping. You can resize an image, but that's it. In addition, getting at the HTML and CSS is a bit of a pain. It can be done, but you'll need to save your message as a template, then edit it as a template, save your changes, then start a new message using that template. It works, but you'll waste a lot of time clicking and scrolling.
Sending The Email (With A Clean List)
Before sending your email, you can preview it for desktop and mobile. You can also check the message for potential content filtering problems by saving it and checking its spam score.
As with most ESPs, you'll need to certify that any list you upload is permission-based and conforms with the provider's anti-spam policies. AWeber takes this a step farther than some. You will need to enter the source of the email list when you upload it, and AWeber requires confirmed opt-in for all addresses. That means your first email will have to be a request for your subscribers to confirm their subscriptions. Anyone who doesn't confirm can't be on your list. (AWeber does allow some exceptions to this rule if you have a list that has already gone through a confirmed opt-in with another ESP.)
AWeber has a default message you can use for subscribers to confirm their subscriptions; you can also customize it or use your own if you wish. (Unfortunately, the confirmation request went directly to the spam box of my test Hotmail account.)
You can add lists in the following ways:
Upload a .csv, .txt, .xls, .xlsx, or .tsv file
Manually copy and paste a block of addresses into a text box
Manually add single contacts (up to 10)
You can add up to 25 custom fields for subscriber information and sort them using AWeber's powerful tagging system.
Once you've got your list set up, sending the email is very easy. You can opt to queue it immediately (AWeber will send it within 30 minutes) or schedule it for whatever date/time you wish. You can also post it to an RSS feed, publish it to your webpage, and post it to Facebook and Twitter.
My test email had no problems with spam filters. The appearance was similar to the preview in Gmail and Hotmail, but there was a serious problem with Yahoo: all text showed up centered regardless of its original format.
AWeber's automation system is simple but pretty powerful. You can initiate an automation sequence when a contact is added to your list or a tag is applied.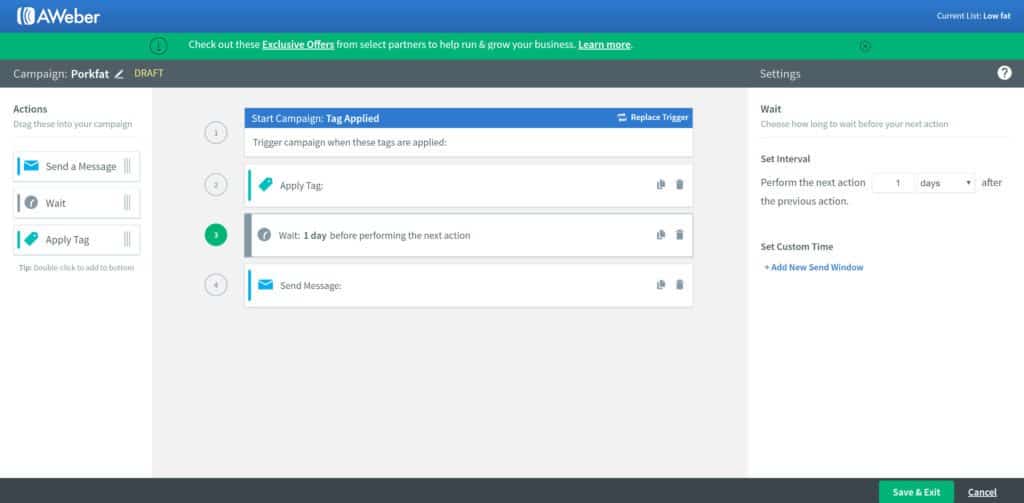 Reporting
About an hour after I sent my message, I received a Quick Stats email from AWeber, informing me of the number of sends and opens on my recently delivered message.
As for reporting options, AWeber presents the standard raw numbers and percentages (clicks, opens, unsubscribes, and the like). It also includes more advanced data, such as opens, clicks, revenue over time, and subscriber growth.
Additionally, you can see stats by location, area code, or designated market area. You're also able to compare results across your past 20 emails. You can track subscribers based on their signup method, and the list segmentation options provide plenty of ways to optimize your email marketing. Reports are well laid out and easy to understand; much of the data is presented in both chart and table format.
AWeber Customer Support
My experiences with customer support were, for the most part, very good. As a rule, representatives were friendly, helpful, and prompt in responding to my queries. Response time varied between 20 minutes and six business hours.
AWeber offers the following support resources:
Phone: Available 8AM to 8PM Eastern Time.
Email: Contact AWeber via email, or use the company's online contact form.
Live Chat: Available 24/7!
Knowledgebase: This searchable collection has hundreds of articles on the software, including walk-throughs, troubleshooting, and explanations of software features. It's a great resource for both new and experienced email marketers. Articles provide links to video tutorials as well as step-by-step written instructions accompanied by screenshots.
Guides: Learn about advanced email marketing techniques and get industry-specific pointers from AWeber's series of email marketing guides. All guides can be downloaded as PDFs.
Videos: AWeber's collection of video tutorials covers topics from basic account setup and getting started to split testing and integrating with Google Analytics.
Live Webinars: AWeber provides live and on-demand webinars that focus on educating users about different aspects of the software and email marketing in general. Each webinar is typically offered every one to two weeks, except for "Setting Up Your Account in 15 Minutes," which is available every weekday.
Blog: The AWeber team posts weekly entries to the company blog. Articles typically discuss new features of the software, email marketing advice, and general tips for small business owners.
Social Media: AWeber generally responds to user comments and questions on Facebook within 24 hours (and often within an hour or two). Comments on Twitter are likely to get a response within a few hours. You can also check out the company on LinkedIn and Google+.
What sets AWeber apart when it comes to customer service is the 24/7 US-based support team that is available to all accounts. That's a very rare offer in the SaaS space, generally, and even more so with email marketing service providers. So it's not surprising that AWeber has won some awards in the past few years for customer service. For that reason, in addition to the plethora of online tools and resources, we are happy to give AWeber an excellent rating for customer service.
AWeber Reviews
On the whole, user feedback about AWeber seems to be pretty positive. At the BBB, AWeber has an A- rating. And when we got to the detailed user-review platform of G2, AWeber has a 4.2/5 star rating. We break down some of the common complaints and praise below.
Negative AWeber Reviews & Complaints
Most of the complaints I note below are from users who like many aspects of the software but also feel it has some problems that need addressing. There were few patterns discernable, however. The company has only seven complaints in the past three years with the BBB.
The most common complaints I found are as follows:
Price: Several users feel that the price is too high for many small businesses, especially those that don't need all the bells and whistles AWeber has to offer. This is compounded by the fact you'll need to pay the monthly fee based on your number of subscribers, whether or not you are actually sending emails. While automatic price increase as you hit your subscriber ceiling is clearly listed on the pricing guide, it can be frustrating if you forget about it and receive an unwelcome billing surprise.
Trouble Canceling: Some users say they have difficulty figuring out how to cancel or that AWeber has continued to charge them after they canceled. A point of possible confusion is the option to put an account on hold for $4.99/month when one attempts to disable one's account. If you are trying to cancel your account, make sure you're not just accidentally suspending it. That's especially true for the free trial, since you'll have to enter credit card information to access it.
Positive AWeber Reviews & Testimonials
Most AWeber customers have positive things to say. Here are some of the most common themes:
Follow-Up Emails: One of AWeber's most popular features is the support for multiple autoresponder series. Users like the fact that they can create staggered campaigns with emails sent at set intervals, and that once the system is set up, it is fully automated and requires no action from the user.
Easy To Use: Most users agree that AWeber is overall easy to use, even for beginners.
Template Selection: Several users praise both the quantity and quality of templates available.
Great Customer Service: It's easy to find comments about fast, helpful, and personal customer service.
AWeber Integrations & Add-Ons
AWeber does an excellent job of providing all the right categories of integrations to its customers, and it surpasses much of the competition in this regard. The company offers over 100 add-ons and integrations with popular software programs and services in a variety of categories. You'll find lots of familiar names, like Zapier, WooCommerce, Shopify, Etsy, PayPal, WordPress, Facebook, LinkedInCalendly, and SurveyMonkey, to name just a very few. Search for integrations by name or browse under these category headings:
Content management
CRM
eCommerce
Landing page
Lead generation
Membership
Productivity tools
Social
Survey
Video
Webinar
And more
Security
AWeber is transparent about its uptime data, which is a nice touch. When I checked the last reporting period, it maintained over 99% uptime. There's also an incident log, with daily entries. Other than scheduled maintenance listings, I saw one unscheduled interruption during the past two weeks.
As far as its internal security, AWeber owns and operates the dedicated hardware resources, including a RAID-enabled database and multiple mail services. These are located in their own data center with a Tier 1 backbone connection and 24-hour on-site staff, full-time video monitoring, and key-code authentication.
For privacy, AWeber is TRUSTe approved and complies with the US-EU and the US-Swiss Safe Harbor frameworks.
Anti-Spam Policy & Protection
AWeber has a strict and comprehensive anti-spam policy to keep its deliverability rates high. Upon signing up for an AWeber account, you must certify that your list is permission-based and meets the company's anti-spam standards. Additionally, before your first mailing, you will need to send a subscription confirmation to all your subscribers. Anyone who doesn't confirm their subscription must be left on your list. This is known as confirmed opt-in. AWeber will sometimes make exceptions for lists that have already been through that process and have a proven history with another ESP.
Included in all accounts is Spam Score, a feature that shows you how your missive scores on SpamAssassin's tests. You can see what might cause email providers to chuck your message in the spam box; with any luck, you'll be able to spot potential problems before they occur.
AWeber FAQs
Final Verdict Of AWeber Email Marketing
After a thorough AWeber review, I can conclude that this email marketing software has a lot to offer small businesses that want to get a full email marketing campaign up and running. The software is easy to use, with one of the most intuitive and easiest-to-use autoresponder series I've ever seen. The WYSIWYG editor has some nice features, too, and recent updates have improved the email design experience significantly. The analytics and reporting capabilities are a step above par, as is AWeber's number of integrations. What rounds out the 5-star rating is the 24/7 US-based customer service.
One relatively small point of hesitation is AWeber pricing, specifically where small companies are concerned. If you don't need all of AWeber's numerous bells and whistles, there's no reason to pay for them.
The flip side to the price point vs. feature set situation is that users should have a good deal of room to grow with AWeber. You can start with simple functions and move into more complex areas as you gain confidence, and the needs of your business expand. If you like what you've read here, I'd suggest you give AWeber's free trial a go and see if it seems like a good fit for your company.
Don't forget to make use of AWeber's impressive training tools, including a loaded knowledgebase and live and on-demand webinars. Get a leg up on your email marketing strategy by starting with our list of 7 email marketing techniques for engaging customers and building trust. And if you feel like an email marketing pro, jump ahead and compare your techniques against our list of the very best email marketing strategies.
---
Featured Free Corporate Card
Ramp


---
Ramp offers a free corporate card for virtually any business. Start earning rewards with your corporate spending today. Get your free card.
Featured Free Corporate Card
Ramp


---
Ramp offers a free corporate card for virtually any business. Start earning rewards with your corporate spending today. Get your free card.
To learn more about how we score our reviews, see our
Email Marketing Software Rating Criteria
.