Expert Analyst & Reviewer

UPDATED
Advertiser Disclosure: Our unbiased reviews and content are supported in part by
affiliate partnerships
, and we adhere to strict
guidelines
to preserve editorial integrity.
Ballpark

Pros
Easy to use
Unlimited invoices
Good customer service
Cons
No mobile apps
Limited integrations
No reports
No invoice customizations
Ballpark Overview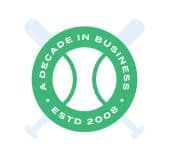 Ballpark was founded by Andrew Wilkinson (the founder of MetaLab) in 2006 — the same people that brought the world the home-run-of-a-software Slack. Now the question is, does Ballpark hit it out of the park as well or does this software strike out?
Ballpark was bought out by SimpleFocus in 2015, and since then, the company has been rolling out improvements like adding a project management feature. The biggest change came in 2018 when Ballpark was completely redesigned. The software is now easier to use and has a much more modern UI. But is that enough to make Ballpark the right choice for your business?
While we love the new design, Ballpark still has some serious drawbacks that keep the software from holding up to the competition. There are no mobile apps, no live bank feeds, no reports, limited integrations, incredibly limited support options, and the new pricing structure can get quite expensive if you need multiple users.
Ballpark isn't out of the game entirely, but there are a lot of other programs that play the game better. Check out our top-rated invoicing picks to find a good Ballpark alternative. If you are still interested in Ballpark, continue reading.
Pricing
Along with a brand new redesign, Ballpark has a brand new pricing structure that is more simple and more affordable than the previous plans — that is if you're a freelancer or micro business owner. For businesses with a large number of users, Ballpark can be incredibly expensive. Ballpark's pricing is a flat fee of $19/month plus $9/month for each additional user. Here's a breakdown of what the cost could look like depending on the size of business you run.
Payments are made monthly, and you can cancel your subscription at any time. There's a free 14-day trial, no credit card information required. Here's what you get with a Ballpark subscription:
Ballpark
$19/month + $9/month per extra user
Unlimited invoices
Unlimited estimates
Contact management
Expenses
Project management
Time tracking
Note: Once you hit 100 users, your company qualifies for a pricing discount. Contact Ballpark directly for details.
Extra Costs
There are a few extra costs and services that you may want to add.
Custom Domain & Invoice Design: For an extra $16/month, Ballpark will set up a custom domain for you and will create custom invoice and estimate templates to reflect your company brand.
Concierge Onboarding: This service doesn't cost a penny. Ballpark will import all of your existing data into Ballpark for free. Once you send over the files, the Ballpark team will give you an estimate on how long the process should take, and then they'll train you and your team on how to use the software once everything's set up. According to Ballpark:
There are no strings attached, and there's no commitment required to get started. We want the chance to earn your business.
Cloud-Based Or Locally-Installed
Cloud-based. No downloads or installation required.
Hardware & Software Requirements
As cloud-based software, Ballpark works with nearly any device so long as you have an internet connection. No mobile apps are available at this time, although you can access Ballpark on your mobile web browser.
Specific Size Of Business
Ballpark is designed for freelancers and growing agencies that need a simple invoicing solution. The invoicing features Ballpark offers are ideal for product-based or service-based businesses and the new pricing structure makes Ballpark a more realistic option for small business owners — for businesses with a lot of users Ballpark is going to get really expensive really fast. For freelancers wanting more advanced freelance-specific features like proposals and contracts or self-employment tax support, we recommend taking a look at AND CO and QuickBooks Self-Employed instead.
The software is not ideal for businesses in need of live bank feeds, accounts payable, or reports as Ballpark does not offer these features. We recommend taking look at Zoho Invoice instead if you need these capabilities.
You can have numerous users with Ballpark and there are user permissions available. You can set three user roles: admin, basic, and timer.
Ease Of Use
Ballpark has always been easy to use, but with the recent redesign, it's even more so. The UI is much more modern and is generally well-organized, although there are still occasional navigational difficulties. If you do happen to get stuck, there aren't many resources to help you learn the software, but you can fill in a support form from directly within the program.
Features
Ballpark offers a good selection of invoice features including most everything you'd expect to from typical invoicing software — minus live bank feeds and reports. Here's what to expect from Ballpark:
Dashboard: The new Ballpark dashboard has charts to view your time, money, invoices, estimates, and recent activity. You can filter the recent activity chart to drill down to the data you want to see.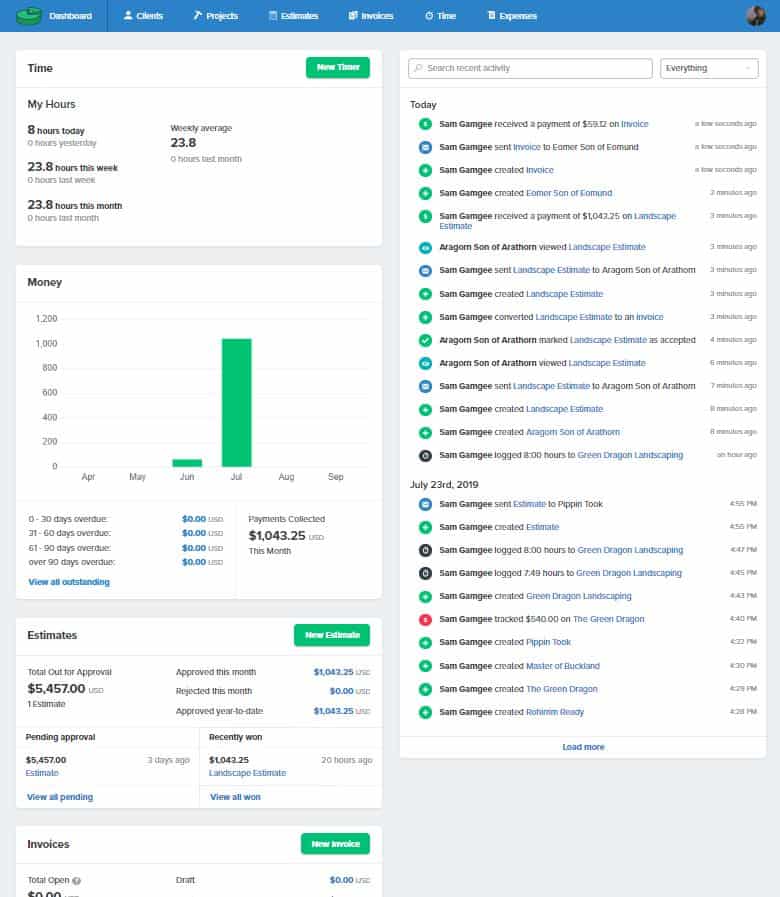 Invoicing: Ballpark offers three basic invoice templates, and there are no design customizations available (unless you pay $16/month extra for custom-designed invoices). Ballpark does support recurring invoices and you can attach files to invoices as well. You can also set automatic reminders for upcoming and overdue invoices.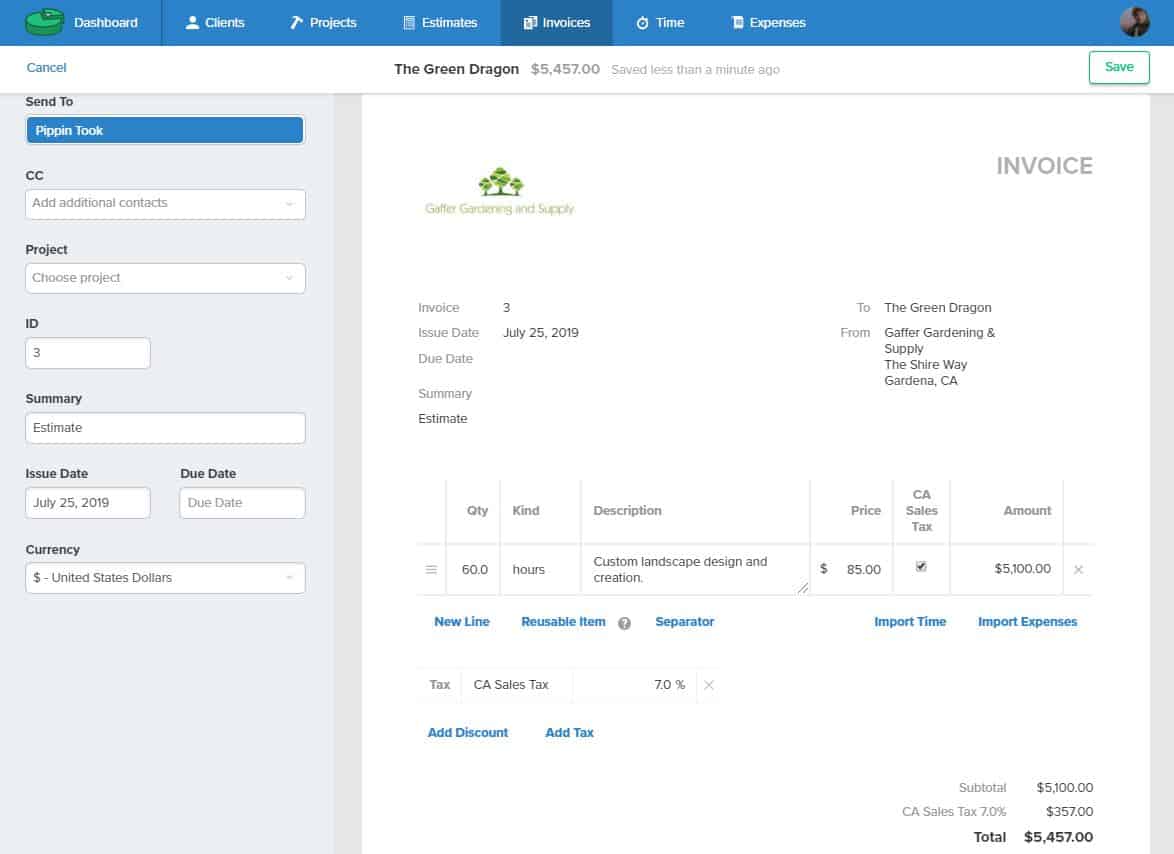 Estimates: You can send estimates and easily convert estimates into invoices. You can change the name of your estimates to quotes or proposals. You can also discuss estimates directly with the client via Ballpark's client discussion section, which is probably the coolest feature Ballpark offers.
Client Portal: When receiving an invoice or estimate, customers gain access to their very own client portal. Clients can comment on estimates, decline estimates, accept estimates, invite others to view an estimate or invoice, print an estimate or invoice, download a .pdf of an estimate or invoice, or pay an invoice directly from their client portal.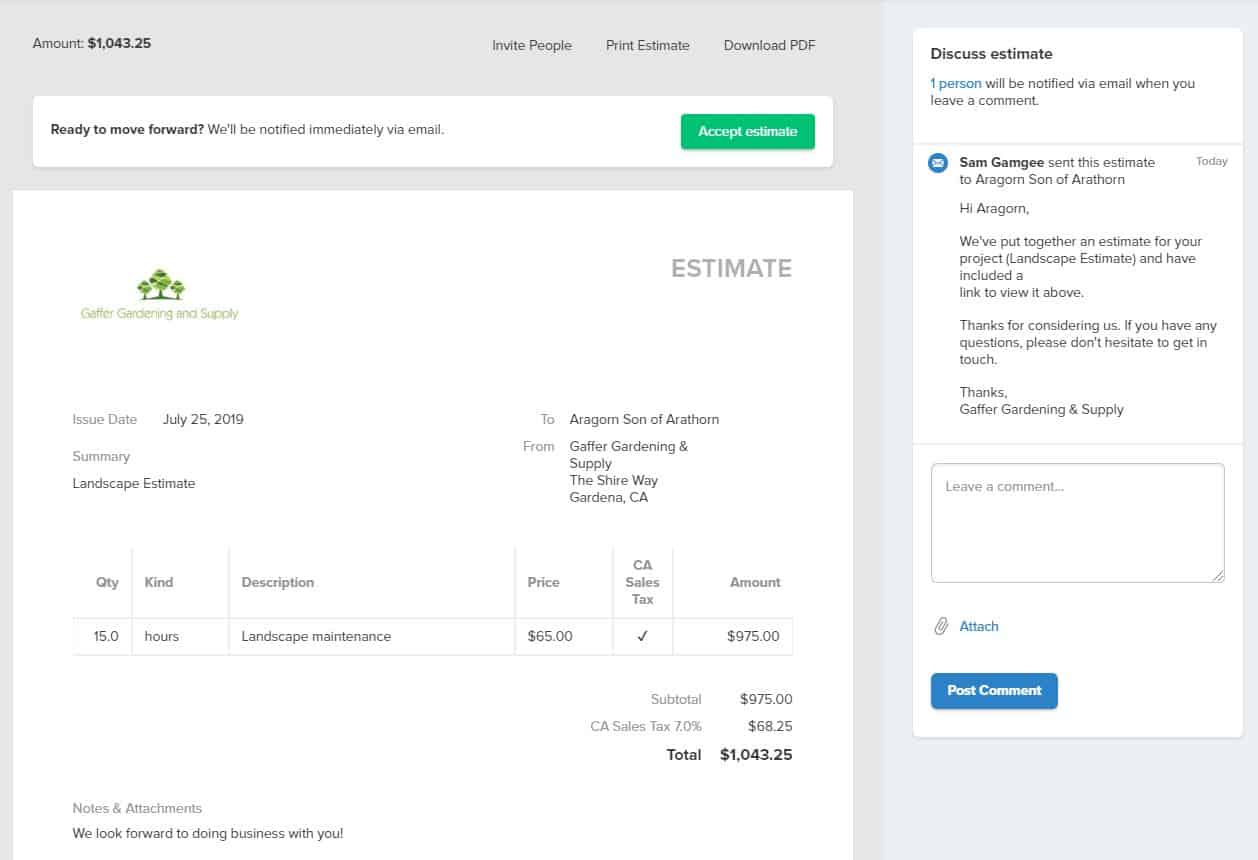 Contact Management: When saving a contact in Ballpark, you can add a company name, contact name, and basic contact information. When you click on a contact, there's a nice client dashboard that shows any overdue payments, unbilled hours or expenses, how long the client typically takes to pay, and more.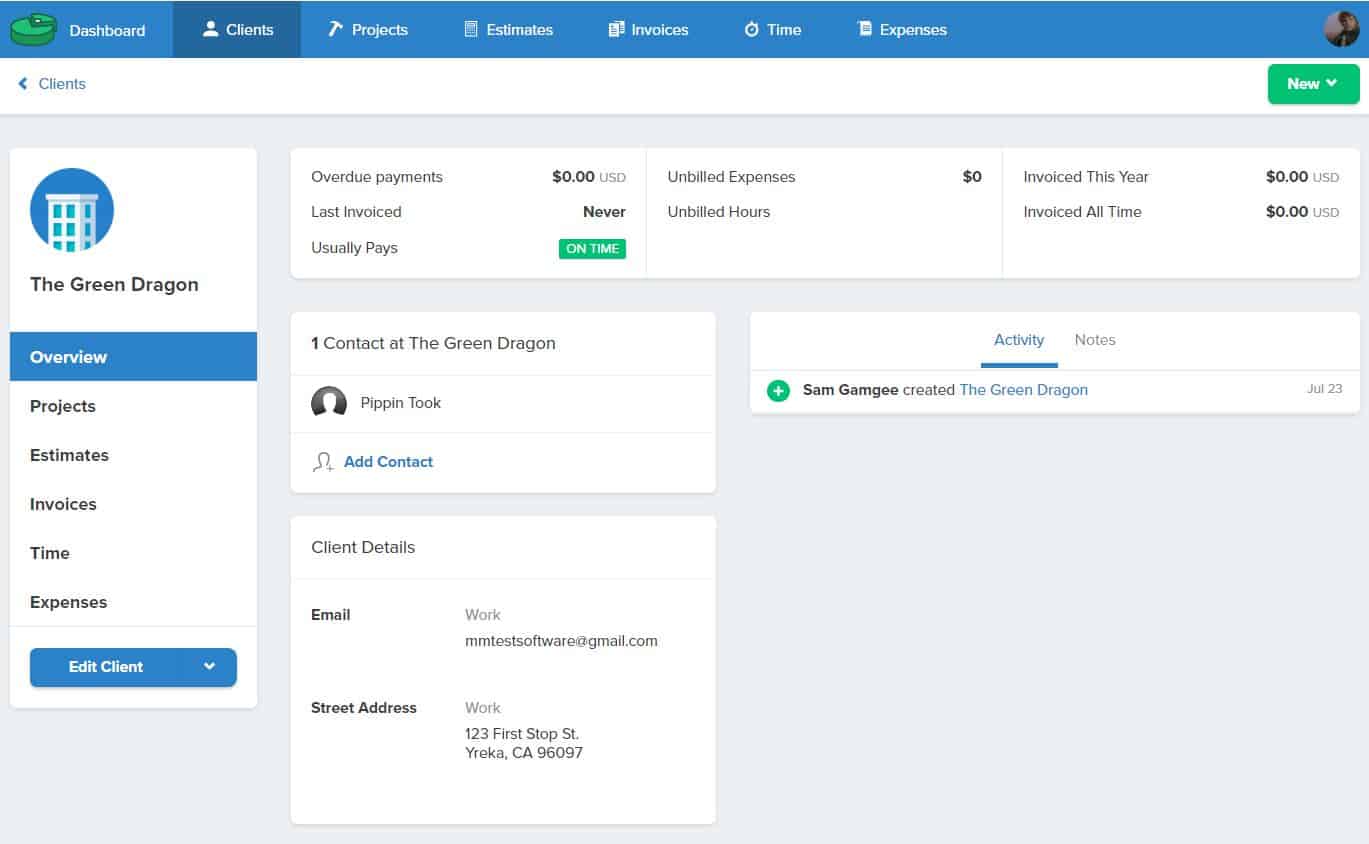 Expense Tracking: Ballpark's expense tracking feature is incredibly limited compared to other software options. Ballpark does not offer live bank feeds and there is no way to import a bank statement into the software, leaving you to add every single expense by hand. You can add an expense description, category, amount, and the date an expense was created. You can also mark expenses as billable or unbillable. All expenses have to be attached to a project, company, or client, which just isn't realistic considering all of the expenses small business owners face.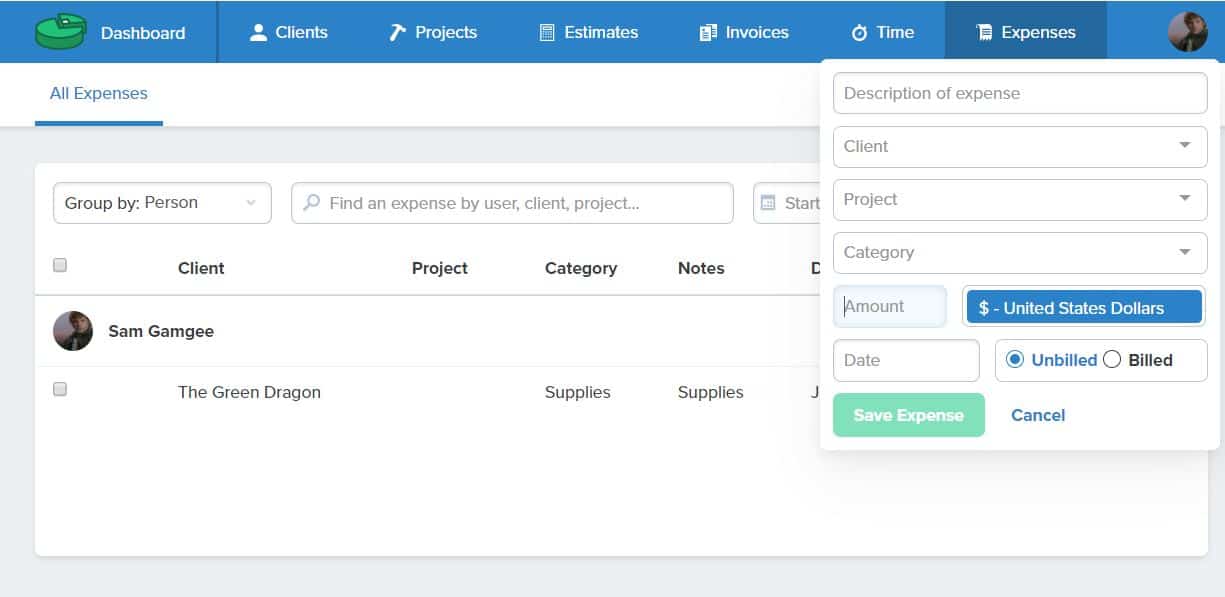 Items: You can create a "reusable items" list in settings. This is not a full inventory solution, but you can add an item quantity, kind (product, service, etc.), description, and price.
Project Management: With Ballpark's project management feature you can easily create a project and add a budget for hours, client, descriptions, and code. You can attach hours and expenses to projects and invoice projects as well, although this process could be more intuitive. There is no way to budget for costs at this time.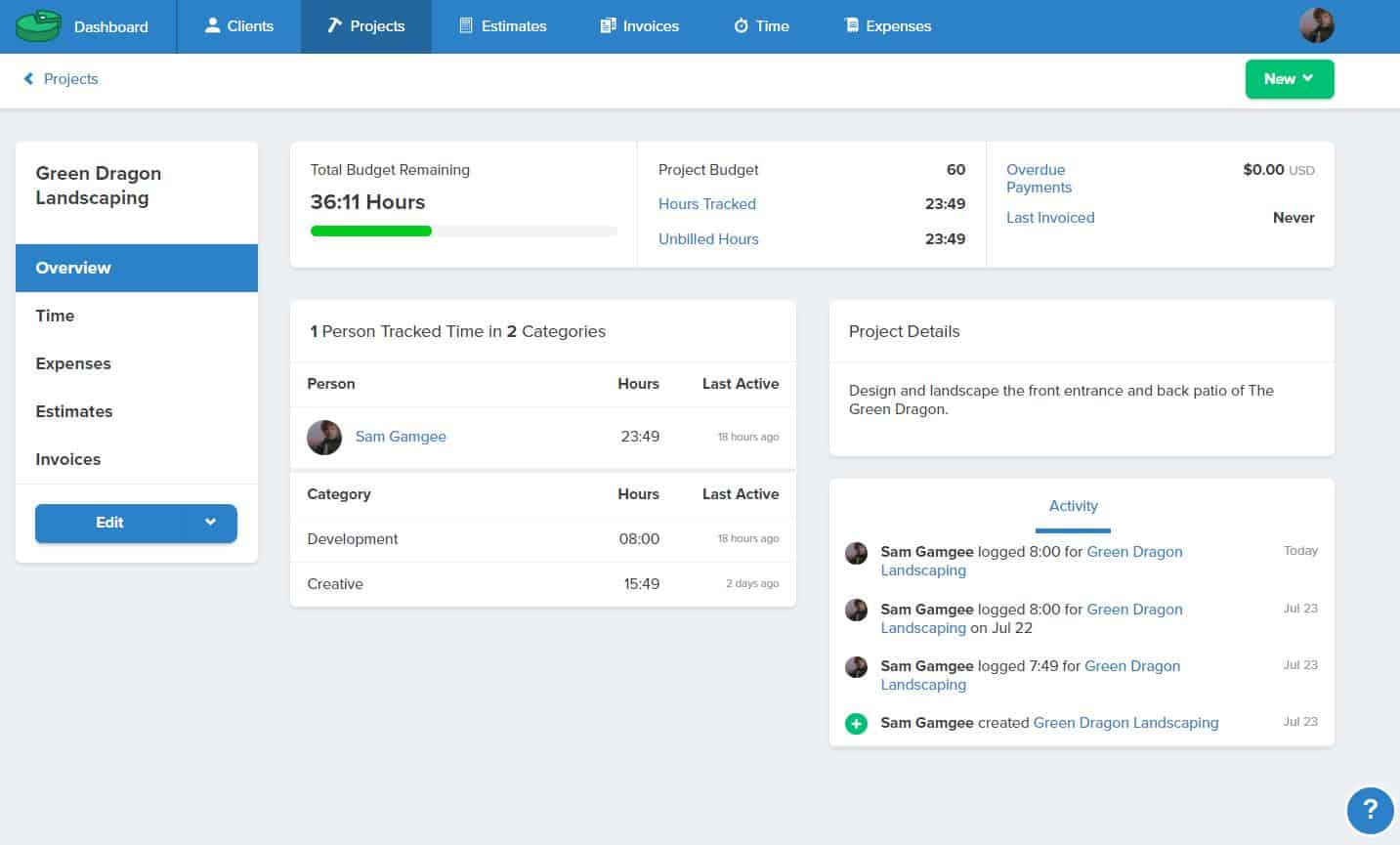 Time Tracking: You can enter time manually or use the built-in timer to log hours and attach them to projects.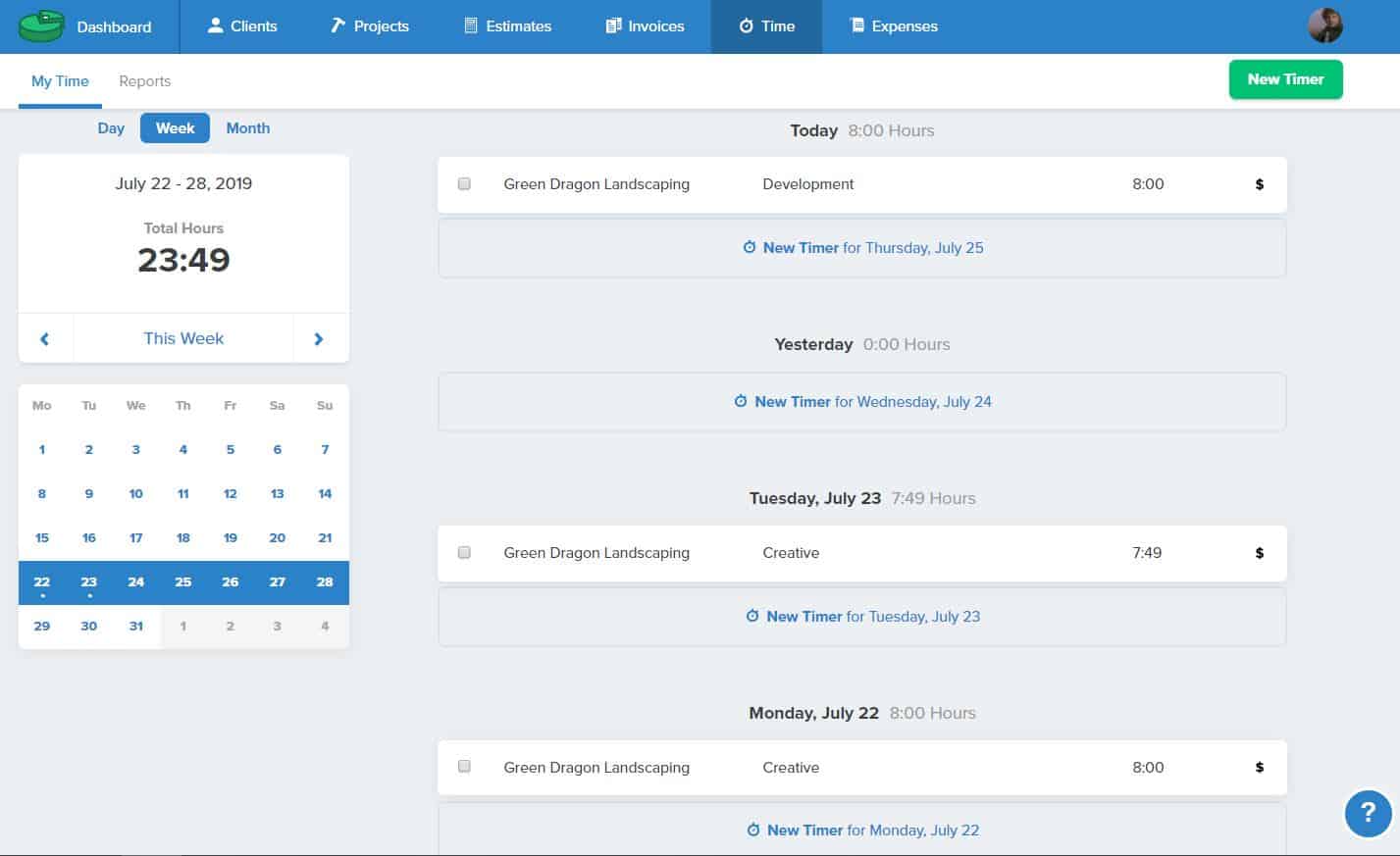 Default Email Messages: You can set default email messages for both estimates and invoices.
Sales Tax: You can add two sales tax rates in Ballpark. While this isn't ideal, you can manually adjust the tax rate when creating an invoice.
Multiple Currencies: Ballpark supports over 150 currencies.
Importing & Exporting: You can import data from Freshbooks, but that's it as far as importing goes. You can export estimates, invoices, and contacts.
Customer Service & Support
Compared to most software, Ballpark has an incredibly small number of support options, and since our last review, the software has gotten rid of their help center and chat. Nearly every software offers at least a basic help center. Basically, your only option is to fill out a support form. Ballpark's saving grace is that the responses to their support form are fairly quick. Most questions I sent were responded to within a few hours, and some were responded to within minutes.
Customer service is available Monday through Friday from 9 AM to 5 PM. The small number of support options include:
Contact Form: Ballpark also provides a contact form.
Ballpark Blog: Ballpark has a small blog featuring updates and other company news.
Social Media: Ballpark has accounts on Twitter, Facebook, and Google +.
User Reviews
Negative Reviews & Complaints
Ballpark hardly has any customer reviews online and its internet presence is nearly nonexistent (and drowned out by dozens of baseball ballpark sites). For this reason, I created a list of my own issues with the software that could be potential problems for customers.
No Mobile Apps: Ballpark used to have mobile apps, but after the company was bought out, Simple Focus discontinued the iPhone app and hasn't introduced any new mobile apps.
Limited Integrations: Ballpark is severely lacking integrations.
Poor Expense Tracking: Most invoicing software programs have live bank feeds that allow users to connect to their bank automatically (or at least offer a way to import bank statements manually). Ballpark has neither of these options.
Limited Support Resources: While Ballpark has wonderful response time for emails, more support avenues are a must.
Too Expensive: While the Ballpark could be economical for small businesses with few users, the cost of multiple users can add up quickly — and if you're going to be spending that much on software, you might as well go with a more affordable invoicing software that gives you more bang for your buck or move on to full-fledged accounting software.
Positive Reviews & Testimonials
Since there are hardly any customer reviews, we created our own lists of software highlights as well. Here are Ballpark's strong points:
Easy To Use: The software is easy to use and doesn't take long to learn.
Unique Features: Ballpark has some unique touches like being able to communicate with customers about estimates and invoices.
Modern UI: The new UI redesign gave Ballpark a much-needed facelift.
Integrations & Add-Ons
Ballpark only offers three integrations — Stripe, PayPal, and Highrise. If your company needs an invoicing program with a larger selection of integrations, we recommend taking a look at Harvest or Square Invoices instead.
Security
Ballpark is not very forthright about security measures on their website, which is worrisome, but they are willing to share more details if you contact them directly. According to Ballpark's customer service team, the company uses SSL encryption. Data is backed up regularly, and the company uses Heroku to host their servers. Ballpark does not store any customer credit card information; all credit card information is controlled by Stripe. Ballpark is also GDPR compliant.
Final Verdict
In the invoicing field, Ballpark has some good things going for it but strikes out on several fronts. Ballpark offers almost all of the features one would expect to find in a top invoicing software and throws in some unique touches like client communication. However, the features themselves don't have the depth to truly compete with those of vendors like Zoho Invoice and FreshBooks, and the lack of live bank feeds and reports could be an issue for some business owners. The limited integrations, lack of mobile apps, and the incredibly small number of support resources also don't paint the software in a good light.
It's worth noting that the support the software does have is timely and helpful. Overall, it's not that Ballpark is bad, it's just that other invoicing options are better, and they don't cost an arm and a leg if you have multiple users.
That being said, since acquiring the software, Simple Focus has made several positive changes, and the latest redesign was a huge step in the right direction. So if this company keeps this up, we might see Ballpark move up to the major leagues yet.
If you're interested in Ballpark, take advantage of the free 14-day trial, or check out our comprehensive invoicing reviews to find the perfect invoicing software for your business.
---
Try A Top Pick For Payroll
ADP Payroll


---
We like ADP Payroll for its advanced employee management, strong payroll features, and great customer support. Get three months free when you sign up through our links! Get Started.
Try A Top Pick For Payroll
ADP Payroll


---
We like ADP Payroll for its advanced employee management, strong payroll features, and great customer support. Get three months free when you sign up through our links! Get Started.
To learn more about how we score our reviews, see our
Invoicing Software Rating Criteria
.