BankCard USA Review
This payment processor suffers from poor customer support, extra fees, and expensive leases, but may still be a good option if your business is considered "high-risk."
Expert Analyst & Reviewer

UPDATED
Advertiser Disclosure: Our unbiased reviews and content are supported in part by
affiliate partnerships
, and we adhere to strict
guidelines
to preserve editorial integrity.
BankCard USA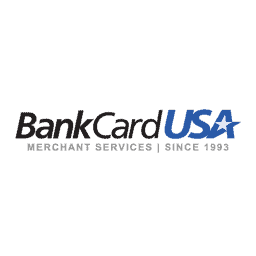 BankCard USA At A Glance
BankCard USA Merchant Services is a registered ISO of Wells Fargo Bank, Westamerica Bank, Esquire Bank, and Concord, CA, N.A. and owned by Quisitive Payment Solutions
Quisitive has stated an intention to migrate BankCard USA customers to its LedgerPay service in 2023
BankCard USA has traditionally used a number of back-end processors to provide merchant services
---
Pros
eCheck processing offered
PCI-compliant solution
Cons
Untransparent tiered pricing
Early termination fee
Expensive hardware leases
Poor customer support
No pricing is disclosed online
What Is BankCard USA?
BankCard USA is a merchant services provider that provides basic services for both retail and eCommerce businesses and can also accommodate some high-risk businesses.
The company's standard contract provisions, coupled with pricey account fees and expensive tiered processing rate plans, make it a relatively poor choice for any business with a low or highly variable monthly processing volume. Larger businesses that have the leverage to negotiate a more flexible contract and interchange-plus processing rates might be able to secure a more favorable deal. However, BankCard might not be able to offer you some of the specialized services that other providers do.
Products & Services
BankCard USA offers all the industry-standard services and features you'll need to run a business and accept credit and debit cards. However, it doesn't provide much detailed information about these offerings. Also, the product line-up appears to be very basic compared to what other providers offer.
Here's a list of what you can get:
Merchant Accounts: BankCard USA is not a direct processor, and most merchant accounts are issued through Fiserv (formerly First Data). Keep in mind that if you're a high-risk merchant, BankCard USA, like all other high-risk providers, works with several banks to get you approved.
Countertop Credit Card Terminals: The company offers a limited but perfectly adequate selection in this area. The ever-popular Verifone VX520 and the wireless Verifone VX680 are the only traditional terminals advertised. Still, either one is an excellent choice for most small business retailers, as they support both EMV and NFC-based payment methods. You can also pair the VX520 terminal with the Verifone VX805 PIN Pad to help guard against fraud and take advantage of lower PIN debit processing rates. BankCard USA doesn't advertise pricing on its terminals, but you should now have the option to purchase your equipment outright. Even if they're offered, terminal leases should be avoided under all circumstances. You can also bring your existing compatible terminal and have it reprogrammed to work with BankCard USA's processing system.
Point Of Sale (POS) Systems: As a Fiserv reseller, BankCard USA also sells the popular line of Clover POS systems and smart terminals. Products available include the Clover Station, Clover Flex, and Clover Mini. The company also offers a full line of Clover accessories, such as cash drawers, barcode scanners, and much more. If you're primarily interested in using Clover products in your business, check out our recommendations for the best Clover resellers. While it pays to shop around, you'll also want to avoid buying a lower-priced Clover product from a third party that will be incompatible with your merchant account.
Mobile Processing: BankCard USA offers the Clover Go card reader as a mobile payment option. This reader supports EMV and NFC-based payment methods and uses Bluetooth to connect to your smartphone or tablet rather than relying on a headphone jack.
Payment Gateway: The company doesn't offer the robust support for eCommerce that many other merchant account providers do today, but it does cover the basics fairly well. While BankCard doesn't have a proprietary gateway of its own, it does offer several of the more popular third-party gateways on the market, including Authorize.Net and Fiserv's proprietary Payeezy gateway. Gateways from USAePay and eProcessing Network are also supported.
Virtual Terminal: Old-school mail order and telephone order businesses that don't have a website can use a virtual terminal program on their laptop or desktop computer to manually key in their customers' card information when accepting orders. BankCard USA uses the Authorize.Net virtual terminal for this purpose but may also support other programs. You can also add the ability to process in-person transactions by adding a compatible Bluetooth or USB-connected card reader.
eCheck/ACH Processing: The company supports echeck processing, including the ability to convert a paper check into an echeck with a desktop check scanner. Pricing is not disclosed for this optional service.
Bankcard USA Fees & Rates
Although BankCard USA doesn't advertise its processing rates on its website, the company appears to offer both tiered pricing and interchange-plus pricing. Interestingly, the educational materials it provides in the Resources section of its website advise you to look for interchange-plus pricing and avoid processors that only offer tiered pricing. We couldn't agree more.
Be wary of sales representatives trying to steer you into the more expensive tiered pricing plans. If you want interchange-plus pricing, you'll have to ask for it. Even then, you might be told that it's not available to you. Remember that this company is marketing to high-risk merchants who've been turned down for merchant accounts by other processing companies.
What about account fees? Again, there's no mention of these on the website, but you can rest assured that they'll be included in your contract. Based on the data we've been able to acquire, most of the fees the company charges are near or slightly above the industry average. You should expect to pay a monthly account fee, have a monthly minimum requirement, and pay annual fees for PCI compliance (possibly as high as $200 per year). If you break your contract, there's also an early termination fee (ranging from $95 to $295).
High-risk merchants can expect a lot more variation due to the nature of high-risk merchant accounts. BankCard USA uses several providers, so there may not be a lot of consistency from one account to the next.
Sales & Advertising Transparency
The days of BankCard USA advertising "teaser rate" information and "$1,000 low rate guarantee" from its main website are thankfully over. Unfortunately, this leaves the company with essentially no information about rates or fees on its site at all.
Traditional merchant account providers such as BankCard USA often appear to regard their websites as merely another form of advertising and nothing more. The site's goal is not to educate consumers or help them make an informed decision but rather to lure them into picking up the phone and calling one of the company's sales agents, where they'll be subjected to a high-pressure sales pitch.
Site navigation is simple, making finding information about important subjects much easier. The company has also added numerous explainer-type articles that help explain the basics of credit card processing to a struggling new business owner. Some information about the company's products and services is also included, although it's not as extensive as we've seen with many other providers. Missing, of course, is any mention of what any of these things will actually cost you. For answers to that important question, you'll have to contact the company's sales department.
BankCard USA now employs an in-house team, some of whom have been with the company for many years. Unfortunately, the company also uses independent sales agents, many of whom are poorly trained and notorious for failing to disclose relevant terms in the contracts they're trying to sell to you.
If you're going to talk to a BankCard USA sales agent, our advice is to check the company website and make sure you're talking to one of their in-house sales representatives. In most cases, they'll be able to provide better service than the independent agents.
Contract Length & Early Termination Fee
BankCard USA offers a standard contract that runs for an initial term of three years. Unlike most traditional processors, there is no automatic renewal clause that extends your contract for additional one-year (or even two-year) periods at the end of the initial term. Instead, your account will remain open indefinitely, and you will continue to be billed every month until you provide the requisite 30 days' notice to close your account.
The standard contract also includes an early termination fee (ETF) that you will have to pay if you close your account within the initial three-year term. This fee can range from $95 to as high as $295 and will be specified in your contract documents. Once you've completed the initial three-year term, the ETF no longer applies, and you can close your account without penalty.
We've heard reports — not spelled out in BankCard USA's standard contract — that the company will now waive the early termination fee entirely for new accounts. The only caveat is that merchants who elect to include a "free" credit card terminal with their account and then cancel within the first year of their contract will be charged an ETF of $99. While this is a better deal than the industry standard, we'd like to see this informal policy spelled out in the company's standard contract documents.
As always, you'll want to get any waiver to the standard contract terms in writing for your own protection. It's also critically important to thoroughly review your entire contract before signing up. Fortunately, BankCard USA's standard Merchant Account Terms and Conditions are available online for you to review before you even contact the company.
Customer Service & Technical Support
| BankCard USA Support | Availability |
| --- | --- |
| Phone Support | |
| Email Support | |
| Support Tickets | |
| Live Chat | |
| Dedicated Support Representative | |
| Knowledge Base or Help Center | |
| Videos & Tutorials | |
| Company Blog | |
| Social Media | |
Many of the complaints about the company we've found across the internet cite poor customer service, particularly the company's telephone support. Long waits, un-returned calls, and downright rude customer service representatives seem to be common problems. This certainly seems like an area that needs improvement.
Bankcard USA Merchant Services Reviews & Complaints
Negative Bankcard USA Reviews & Complaints
BankCard USA has been accredited by the Better Business Bureau since 2002 and currently has an A+ rating. Like virtually all merchant services providers, the company has its share of complaints — five formal complaints have been filed within the past three years, three in the last 12 months.
You'll also find complaints about the company elsewhere on the web. Ripoff Report, ComplaintsBoard.com, TrustLink, and others all feature a litany of woes from unhappy merchants. In fairness, however, the majority of these complaints are several years old at this point.
Common complaints against BankCard USA include:
Failure To Disclose Important Contract Terms: This is a common complaint with all processing companies that use independent sales agents. Terms regarding processing rates and early termination fees are frequently not disclosed unless the merchant presses the agent for more information. You can protect yourself from this by (1) not relying on your sales agent's verbal assurances for anything and (2) carefully reading your entire contract and application before signing up. Pay special attention to the fee schedule included as part of the application.
Withholding Of Funds/Termination Of Accounts: This can happen for a number of reasons. Chargebacks and suspicious charges can easily raise a red flag that will either get you suspended or shut down. Fiserv (the main back-end processor used by the company) has been known to be a bit trigger-happy when it comes to holding funds or terminating accounts. You're going to want to learn how to avoid holds and minimize chargebacks if you sign up with BankCard (or any other provider).
Expensive Terminal Leases: There are still a lot of older complaints out there from merchants who have gotten stuck in lengthy terminal leases, which are very expensive to get out of. Most terminal leases run a minimum of four years (i.e., longer than your merchant account contract), so you can imagine the cost if you decide you want to break the contract early. My recommendation is that you never lease a terminal under any circumstances. Terminals are very cheap to purchase these days, and BankCard USA now recommends that you buy your terminals on its website.
Positive Bankcard Reviews & Testimonials
BankCard USA used to post testimonials on their site, but these testimonials have all since been removed. There aren't a ton of customers dropping unsolicited positive reviews either.
The handful of positive user reviews out there tended to praise customer service and call out specific representatives they felt had served them well.
Merchant Services Alternatives to BankCard USA
Looking for alternatives to BankCard USA? We recommend one of the following:
Payment Cloud
High-risk merchants may feel like they don't have too many choices when it comes to merchant accounts, but even if your business is difficult to serve, you do have options.
Like most high-risk merchant account providers, PaymentCloud relies on a network of third-party partners to provide customers with credit card processing. Unlike many high-risk processors, PaymentCloud won't nickel-and-dime you on setup fees. The company also boasts an excellent reputation and customer service, which are important factors if you're at increased risk of account holds and freezes due to the nature of your business.
Stax
If you've been in business for a while, you may have gotten complacent with your credit card processor. There's nothing wrong with that if you're getting great rates and service, but you may have missed out on some of the biggest innovations in the payment industry.
Stax by Fattmerchant is one of those innovators, providing cost-effective membership pricing to customers with no long-term contracts or early termination fees. Membership pricing is a good fit for mid-to-high volume merchants who want to save on transaction fees. What this means in practice is that, rather than pay a markup percentage and a flat fee to your processor with every transaction, you'll just pay the flat fee and a monthly fee. This can be especially effective if you're selling big-ticket items.
Square
Square is one of the biggest names in credit card processing, and with good reason — the company provides a massive platform for small businesses that's simple to use and understand.
Square charges a simple flat rate for transactions, meaning that any card you scan that Square can accommodate will be charged the same transaction fee. There are no other fees unless you decide to sign up for a premium service. Square's model is geared toward lower-volume, low-risk businesses, making it a very convenient service for new businesses.
Final Verdict
With a new owner that seems mainly interested in transitioning existing BankCard USA legacy customers over to its new infrastructure, there's really no reason to sign up directly with BankCard USA at this time.
For now, BankCard USA continues to earn an overall score of 3 out of 5 stars. This is an average (at best) score, and there's plenty of room for improvement. Hopefully, Quisitive will adopt more transparent strategies when it gets LedgerPay up and fully running.
Please check out our Merchant Account Comparison Chart to see some of our favorite providers as an alternative. Again, if you've had any experience with BankCard USA, please leave a comment and tell us all about it!
---
Our Top Pick To Save On Payment Processing 💰
PaymentCloud


---
PaymentCloud has an excellent track record for service quality, support, and fair pricing. Learn more from PaymentCloud.
Our Top Pick To Save On Payment Processing 💰
PaymentCloud


---
PaymentCloud has an excellent track record for service quality, support, and fair pricing. Learn more from PaymentCloud.
To learn more about how we score our reviews, see our
Credit Card Processor Rating Criteria
.