Expert Analyst & Reviewer

UPDATED
Advertiser Disclosure: Our unbiased reviews and content are supported in part by
affiliate partnerships
, and we adhere to strict
guidelines
to preserve editorial integrity.
Benchmark Email

Pros
Excellent customer service
Easy-to-use platform
Advanced feature set
Free plan available, no credit card required
Cons
Occasional bugs reported
Usage limits
Benchmark Overview
Benchmark email marketing provides an excellent feature set for almost any type of small business. An in-depth Benchmark Email review shows that the software's guided workflows and attractive, easy-to-use platform delivers what most users need to tackle their email marketing goals. And with a free plan that is surprisingly robust for the price tag, Benchmark marketing offers options that fit nearly every budget. If you can afford a little more, the paid Pro plan delivers an even greater capacity to send targeted campaigns to your contacts based on their interactions with you.
Thanks to 1,500+ integrations, you'll also find it easy to coordinate with other essential platforms at your organization, too. Does it sound too good to be true? Read on for a full Benchmark Email review to learn all about the software's many benefits and some of its drawbacks, too, so you can determine if this is a smart option for your small business email marketing needs.
Benchmark Pricing
The Benchmark pricing model reflects a very competitive value, considering what's included with the platform compared to other email marketing options available. Even better, you can try out many of its features on the free plan, and when it is time to upgrade to Pro plan, pricing is based on the number of contacts you have. Here's how that breaks down:
Free Plan
As the name implies, the free plan costs $0/month, and it does not require a credit card. Users of the Free plan will have a little Benchmark logo at the bottom of their emails — a relatively small price to pay for access to free Benchmark email marketing. While the Free plan allows unlimited contacts, users are limited to 250 emails per month, and you won't have access to more advanced features, such as A/B testing or advanced automation features. Here's what does come with Benchmark's free plan:
Unlimited subscribers
250 emails per month
Online support
Responsive templates
Drag-and-drop email editor
Signup forms
Basic drip campaigns
RSS email campaigns
Email delivery management
Google Analytics tracking
List management and basic segmentation
Live engagement reports
Open-by-hour reports
Click heatmap reports
Open by device reports
Surveys and polls
Unlimited video storage
10MB of free image gallery storage
Social media integrations
eCommerce integrations
Email template integrations
Contact list integrations
Reputation health scoring (after sending 500 emails)
Pro Plan
If you have more than 250 contacts, or you want to get into all of Benchmark's features, you'll need to upgrade to a paid plan. But the good news is that Benchmark's pricing plans inch up based on the number of contacts. You can easily determine exactly what you'll pay by using its online calculator feature.
Pricing starts at $13/month for all PRO features and up to 600 contacts and unlimited sent emails. Pro pricing is available for up to 100,000 contacts. All the following prices include unlimited emails:
1,000 contacts is $20/month
2,500 contacts is $30/month
5,000 contacts is $49/month
10,000 contacts is $76/month
15,000 contacts is $100/month
20,000 contacts is $117/month
25,000 contacts is $144/month
30,000 contacts is $185/month
50,000 contacts is $237/month
75,000 contacts is $331/month
100,000 contacts is $424/month
Any size PRO plan includes everything on the free plan, plus:
Premium support (knowledgebase, live chat and phone)
Advanced email marketing
Pro marketing automation
Advanced lead generation
Advanced reporting
List verification (up to 200,000 contacts)
Behavior-based emails
Advanced segmentation
Website tracking
Landing pages
Remove Benchmark logo
Master and subaccounts with security pins
A/B testing to test subject line, send time, and more
Enterprise
Businesses with large subscriber lists may be interested in Benchmark's Enterprise plan. Pricing varies by the number of contacts you have, starting at $611/month for up to 125,000 and going to $892 for $200,000. Custom pricing is available to meet your business's needs. Recommended for those with more than 100,000 contacts, it includes everything in the Pro plan, plus:
Email white-labeling
Dedicated IP
Priority support
Free email list verification (for up to 200,000 contacts)
Inbox checkers (up to 200 tests)
Managed account setup
Deliverability monitoring
Semi-annual health checkups
Extra Costs
You can choose from several add-ons offered by Benchmark Email:
List Verification: The price starts at $3 per 1,000 contacts.
Image Hosting: If you want to upgrade your storage options to include all your images, logos, and graphics, it will cost you an extra $5 each month.
Dedicated IP: For a monthly fee of $29.95, you will get your own IP address. That can boost your reputation and improve email delivery rates.
Inbox Checkers: You can perform 100 email tests for a fee of $14, allowing you to see how your email messages will appear in every inbox, on every browser, and on any device.
Non-Profit Discount: If your organization is a registered non-profit, you can receive a 25% discount on Benchmark Email services.
To sum up this pricing roundup, Benchmark delivers an exemplary value for the price, including a generous try-before-you-buy free plan (and with no credit card required), and provides a robust set of features to satisfy your marketing department. For these reasons, Benchmark earns a well-deserved excellent rating in the pricing category.
Cloud-Based Or Locally-Installed
Benchmark is entirely cloud-based and does not require any installation on your computer.
Hardware & Software Requirements
Since Benchmark is a browser-based service, you won't have any software to install, and it will work just fine on a Mac or on your PC. Just like most any other email marketing platform, you'll want to run the latest web browser:
Microsoft Internet Explorer 9 or IE10 or IE11
Mozilla Firefox
Safari 5.0
Google Chrome
Benchmark Email also has an iPhone app that allows you to check your reporting or add contacts. You won't be able to use the professional email editor on the mobile app. However, you do have access to exclusive iPhone templates that are simpler in design and can be used to send a one-off email blast, message, or video to your list. Having a functional email marketing app is somewhat rare, and it's a bonus.
Benchmark has no notable limitations as far as hardware or software requirements. You'll be able to access what you need on all browsers, earning it an excellent rating in this category as well.
Specific Size Of Business
Benchmark has been designed to serve everyone from the smallest kitchen-table startup to the largest email marketers. The generous Free plan accommodates users with up to 500 contacts, and the Enterprise plan
Ease Of Use
Signup and onboarding for a Benchmark account are straightforward and easy. After entering your name, email, phone number, and company name, you need to confirm your email address. It's worth mentioning again that I did not have to share any billing or credit card data with Benchmark before I signed up and started creating and sending an email campaign.
Once I logged into my new account (using the free plan), I was greeted by an attractive UI that was easy to navigate, with clear direction on how to create my first email campaign and easy-to-find workflows based on my needs. Everything is intuitive and easy to navigate, with easily searchable FAQS and nice help options if I did have any questions. I can confidently say Benchmark is easy to use even for someone who has little to no email marketing experience.
Benchmark Email Marketing Features
When I reviewed the features that Benchmark provides, I found a robust offering featuring a plethora of situational templates. Unless otherwise noted, the free plan includes the features you see below. This list serves to highlight some of the more notable features but is in no way exhaustive. Refer back to our pricing section for a more comprehensive list of what's included and to determine what limitations, if any, you have with features or deliverability.
Dashboard: Benchmark's dashboard is intuitive and easy to navigate.
Creating & Customizing Emails: Benchmark Email offers hundreds of industry-specific themed templates. All users have access to this generous library, containing over 500 templates, divided into industry-specific categories such as business, education, entertainment, and retail. There is also a category for social media-specific templates.
Landing Pages: With a few simple steps, you can create a branded landing page, using Benchmark's drag-and-drop builder. Or start with a landing page template and add your own touches.
Customer Tracking: Benchmark lets users with paid accounts track customers in two ways. Use signup forms or embedded links in your email. Customers who visit your site via either method will be automatically tracked, with the data stored for 60 days; customers who visit again with 60 days will have their data renewed.
Signup Forms: Users on paid Benchmark plans can use signup forms to track customers. All you have to do is copy and paste the signup form's website tracking code into your webpage.
Email Segmentation: You can organize contacts (by state, business name, tracking code, and so on). When you select a contact list, you'll have the option to send your email campaign to the segments you've designated. Advanced segmentation is available on the Pro plan.
Split Testing: Available with a paid plan, Benchmark's A/B testing is available as an option through your Dashboard.
Reporting & Analytics: Benchmark's email reports are quite fast. Benchmark provides users with stats for clicks, forwards, bounces, unsubscribes, and abuse. Each stat further breaks down to the exact email addresses associated with a given action. Users can export this data for further analysis via a CSV or XLS file. There is also a social media area that reports shares via Facebook, Twitter, or LinkedIn, as well as a map that breaks down who opens your emails by country. When I sent my first email, I checked reports to see what information was going to be measured. I noticed right away that each link has its separate click-through-rate tracking percent in the rectangular box shown under the links in the image below. This distinction is something that will help a marketing team figure out which story in a newsletter was most popular or which offer did the best, for example.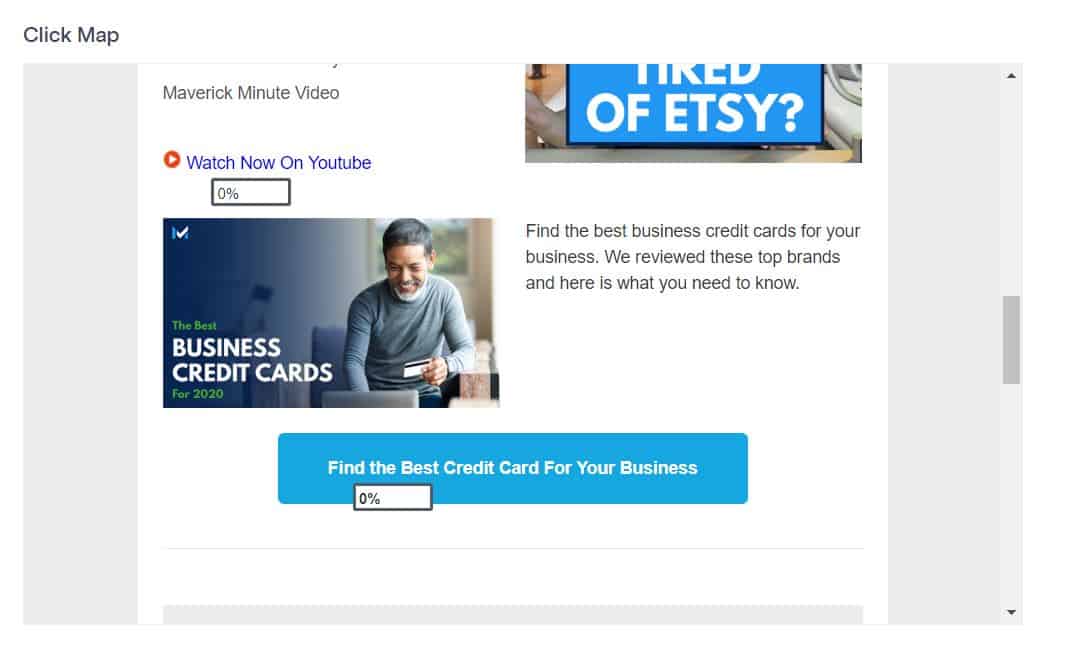 Signup Forms: Benchmark provides a few signup forms for you to aid in growing your email list.
Autoresponses: With the Pro plan, you can create automations based on birthdays, reminder dates, or engagement automation (e.g., after a contact opens an email or clicks on a specific link). Automation LITE can be used with the free plan to create a welcome email.
Online Surveys: You can create professional-looking online surveys using one of Benchmark's online survey templates. Post your survey on your website or build it directly into an email.
RSS To Email: Regular bloggers can create newsletters from their blogs automatically through the RSS-to-email feature, which works with any blog that handles an RSS-feed. Users only have to set up a campaign and template within Benchmark once.
Multiple Languages: You can adjust your settings to automatically translate some text: your header and footer; your permission reminder message; links to manage, unsubscribe, forward, and report; and the content on your manage/unsubscribe and forward pages. There are almost three dozen available languages.
Responsive Templates: Responsive templates aren't just mobile-friendly when displaying emails; they actually adjust dynamically by rearranging text, images, and blocks to look better on any device.

API Integration: An API (Application Program Interface) allows different software programs to communicate with one another without a formal plugin connection. In a nutshell, this allows them to perform three functions: manage contact lists, manage campaigns and campaign sending, and check statistics.
Video Emails: One of the best-known distinctive advantages of Benchmark is its support for video emails. If your company is video-oriented, you'll find what you need.
Mobile Apps: Benchmark's mobile apps allow customers with an iPhone to access several functions on the road. You can access and add contacts, read reports, send videos through integration with a YouTube account, and even design and send quick email blasts with one of the iPhone-exclusive templates. This is quite a bit more than many other companies offer on their mobile apps, making Benchmark's app considerably more functional.
When I compare Benchmark's features with other email marketing platforms, I can confidently award it an excellent in this category. Additionally, we've observed that the feature-set continues to evolve and regularly improve, which is a good signal of long-term value.
Benchmark Customer Service & Support
Benchmark offers its users a lot of support resources. Customer service is generally responsive, with minimal waiting times. The site offers good learning resources that I was able to find easily through searching the database.
What really impressed me was the email communication I received from my Benchmark Guide. I received an email as soon as I signed up with an offer for a quick call and then another one a couple of days later. I hadn't created a campaign by this point, and my guide checked in again to ask me if I needed a 15-minute demo she could help me with.
All of these touchpoints were under the completely free plan, and I have to say it was very refreshing. I haven't heard of this type of outreach on even a paid account, let alone a free account. I can see why customers specifically call Benchmark out for good support. It's something you don't always see, and there is a good reason — it's expensive for the platform! Despite this, you'll find many avenues of support and a strong library of resources that have improved since our last Benchmark review.
Here are some of the resources Benchmark offers:
Phone: Available 24/7, in nine different languages.
Email: Available 24/7, you may receive a response in moments or within 24 hours.
Live Chat: English speakers can reach Benchmark's support team via live chat 24/7.
Guides & Downloads: The Benchmark website includes a Resources section with guides that help you get started and improve your approach to your campaigns, too.
Videos: Benchmark offers dozens of video tutorials that can help you with nearly every feature it offers.
Knowledgebase/FAQ: This resource is built for those getting started, and it offers a searchable list view of some of the most frequently asked questions by new customers.
Email Marketing Guide: This resource is set up like a how-to with steps and statistics that help you navigate email marketing and come up with better strategies.
Blog: Benchmark has an extensive blog, with new posts weekly, and you can search its contents by category. To give you an idea of the scope, the blog has over fourteen categories you can choose from and search, including eCommerce, inbound marketing, social media, marketing automation, and more.
Additionally, Benchmark offers support in nine different languages from its international offices. If your inquiry is less time-sensitive, you can send an email that will likely receive a response in 24 hours or less.
I'm impressed by Benchmark with its personalized support and 24-hour customer service. Customers report positive experiences across the board, and I can attest that its support team is on the proactive side when it comes to customer care. They reached out to me first to make sure I understood how to set up my first email campaign. For these reasons, I'm easily awarding Benchmark an excellent rating in customer service and technical support.
Benchmark Reviews
Benchmark has more than a half-million users, ranging from small businesses to featured international brands. The use of the brand logos on the site and fully named and attributed customer testimonials are great indicators that people are, in fact, satisfied with Benchmark.
To do full due diligence, I wanted to take a look at some independent review sites. This is what I found:
G2: 4.1 out of 5 stars with 50 reviews
TrustRadius: 8.7 out of 10 stars with 16 reviews
Capterra: 4.2 out of 5 stars with 152 reviews
Negative Reviews & Complaints
I was not able to find many people who disliked their overall Benchmark experience. However, I was able to find a couple of dings that showed up more than once:
Restrictive email editor
Inconsistent display upon sending the email
Limited signup form options
If I go about four years back, users complain about send-time issues, but I'm not seeing anything currently mentioned, which leads me to believe Benchmark has improved with send-time consistency and accuracy. Here are some more current issues that reviewers on G2 and TrustRadius, respectively, cited as issues with Benchmark:
Some of the customization options [are] limited so when we really need to have something look a certain way, the text or spacing might be slightly off and is difficult to fix without coding knowledge…

You can customize well in the editor but it can be an extremely painful experience if you make a mistake. There's no undo button after you save something.
I'd like to note that I spotted at least a few instances where a user complained about something that Benchmark has updated in the last several years. Namely, improving automations, the ability to export reporting data, and email send-time consistency. This observation leaves me with the impression that the company does pay close attention to reviews and strives to improve. In fact, if you spend time reading user reviews, you'll notice that a Benchmark representative often responds.
Positive Reviews & Testimonials
Whenever I analyze public reviews, I always keep in mind a little thing called negativity bias. This term refers to the observable fact that people typically write a review if they are feeling negative. So if a company has overall good reviews, you can bet that it is a solid choice. Another thing to keep in mind is that the capacity of the user may play a big part in any particular frustration. For example, I noted that for as many negative dings on the email editor being frustrating, I found even more who cited it was easy to use (go figure). Here's what I mean, with the following quotes coming from reviewers on Capterra:
When creating an email, it is ever so easy. There are many templates to chooses from and if you don't want a template you don't have to use one! I can create an email within minutes as the click and drop feature allows me to have my email layouts exactly the way I want it.

The platform is very user-friendly. It doesn't take much effort to get up to speed on how to use it, and there are many email templates to choose from so you don't always have to create something from scratch! I think it's good value for the money, and the support team has been very helpful in my experience.
Users also mentioned the following things as pros on the three customer review sites I examined:
Convenient and easy to navigate for adding lists and contacts
More control over the look and feel of the final email
Flexibility with custom coding is a plus
Templates and email editor is easy to use
Good email automation options
Detailed tracking information on sent campaigns
Benchmark itself has a unique section that shows off its customer testimonials — and I have yet to see many companies feature something this personalized. Videos highlight local businesses and how they use Benchmark for their email campaigns. There are a lot of reasons to feel comfortable with Benchmark's reviews, so I'm giving the company a solid good rating in the user review category.
Benchmark Integrations & Add-Ons
Since our last review of Benchmark, it has significantly increased the integrations you can utilize from twenty to over a whopping 1,500+ integrations. That's certainly above the industry average that I've come across, and you should have no trouble finding what you need. That includes big-name integrations, like Zapier, SurveyMonkey, Facebook, PayPal, Zendesk, Shopify, Zoho, WordPress, Freshbooks, and more.
Of course, with hundreds to choose from, the available integrations go far beyond that small sample. You'll likely be able to find exactly what you need at the company's full library, and if you can't, Benchmark developers are on hand to potentially create what you need ad hoc. There's also a RESTful API that you can use to fill in any gaps you find. Overall, I'd say Benchmark deserves an excellent rating for the large list of integrations it offers.
Security
Benchmark is compliant in GDPR, Trust Arc, Can-Spam, and Privacy Shield Framework. Benchmark uses up to TLS 1.3 for transmitting emails with the email service providers that support it. TLS 1.3 is a new encryption protocol update that reduces HTTPS overhead and is more secure than TLS 1.2, resulting in greater speed. The company also recommends users follow its recommended best practices to keep their customers and their own companies secure from cyber threats.
Like all legitimate ESPs, Benchmark takes spam seriously and outlines a clear zero-tolerance policy for any of its users trying to engage in spam activities. The company is fully in compliance with the US CAN-SPAM Act of 2003. Benchmark also takes several measures to preserve its reputation as a spam-free provider.
To prevent users from unknowingly sending spam-like materials, Benchmark provides a spam check feature that looks for words commonly used in spam messages. It scores each email, and in the event of a high score, the program suggests better alternatives for you. Individualized IP addresses also help large-volume senders reduce their spam numbers. Benchmark provides good security overall, and you can reasonably trust the security of your email communications.
Final Verdict On Benchmark Email Marketing
I found the Benchmark email marketing platform easy to use, observably open to innovation based on customer needs, and competitively priced for the features offered. As far as free email marketing options, it very well may be the best in the business.
Benchmark is a fantastic option for anyone who just wants to dip into email marketing — particularly small, local businesses. If you operate a small or even medium-sized business and are looking for a simple email marketing program with a host of great features, Benchmark is an excellent choice. It offers a generous try-before-you-buy option and provides a lot for the money with its paid levels. It also gives excellent support, and the company appears to be sensitive to the needs of its users. You can't ask for much more! I'm very comfortable giving Benchmark a 5-star review for these reasons.
Benchmark is far from your only option, however. Check out The Best Free Email Marketing Software Programs to compare other companies that let you try before you buy and offer generous free plans. And when you need some tips on improving your email campaigns overall, check out How To Create A Successful Email Marketing Strategy. If you have experience with Benchmark email marketing, by all means, share in the comments below. We'd love to hear from you.
---
The Merchant Maverick Seal of Approval 🏆
Benchmark Email


---



After hours of in-depth research and evaluation, we can confidently recommend this brand to our readers. Get started today and see Benchmark Email for yourself.
The Merchant Maverick Seal of Approval 🏆
Benchmark Email


---



After hours of in-depth research and evaluation, we can confidently recommend this brand to our readers. Get started today and see Benchmark Email for yourself.
To learn more about how we score our reviews, see our
Email Marketing Software Rating Criteria
.