Bento For Business Review
Expert Analyst & Reviewer

UPDATED
Advertiser Disclosure: Our unbiased reviews and content are supported in part by
affiliate partnerships
, and we adhere to strict
guidelines
to preserve editorial integrity.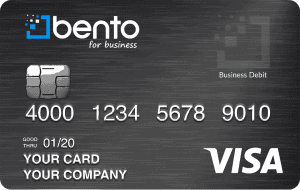 Need help finding a lender?
Date Established

2013

Location

San Francisco
Bento for Business is more than just a debit card — it's a fully built expense management suite that can help businesses track where and how they spend their all-important cash.
Whether this works for your business will depend on your unique situation. Bento doesn't come with any sort of rewards system, nor does it pack in features commonly seen with credit cards. Plus, the Bento Card itself is ultimately a Visa debit card — you won't be able to carry a balance by attaching your business to Bento.
As with most things, these negatives are offset by a few positives. For instance, Bento doesn't have an in-depth application process like you might see with a credit card. It also comes with robust tools to track and manage your employees' spending — it's not uncommon for small business credit cards to lack in this department.
Is Bento for Business right for your business? Keep reading to get the deets on this card-focused management suite.
Eligibility
Bento doesn't outline any specific credit requirements for using its service — it isn't a credit card after all. However, Bento does consider "basic business and personal information," and you may be approved instantly after your ID is successfully verified. This includes making sure you operate a verifiable business and aren't a criminal nor on the US government's terrorist watch list.
You must also operate an existing, verified checking or savings bank account because Bento is not a bank account itself.
Bento For Business At A Glance
Bento for Business


---


Visit Site

Annual Fee:


---

$0-$149 per month

Purchase APR:


---

N/A (this is a debit card)
Rewards For Spending
Bento's aim is on saving money — not helping businesses earn money while spending.
No Rewards
Bento likes to market that its product helps save businesses money. It claims its expense management solutions have saved customers tens of millions of dollars. As such, there are no spending rewards to go along with Bento's Visa debit card.
While a lack of rewards isn't surprising — Bento isn't a credit card after all — there are still a few debit cards out there that let users rack in cash back or points whenever they whip their card out for a purchase.
Redeeming Rewards
With no rewards to speak of, there's not much to see here.
Nothing To Redeem
Since Bento doesn't come with rewards for spending, there's nothing to redeem. Instead, any savings from using Bento will come more passively and will depend on how effectively your business can take advantage of Bento's expense management software.
Card Benefits
Bento packs in a few benefits for businesses that use its services.
Virtual Cards
Bento offers the ability to set up virtual Visa debit cards for single-use phone/online purchases, vendor-assigned card numbers, and increased visibility for subscriptions or "other budget-line items."
According to Bento, its virtual cards can be issued, edited, and used instantly. This means that virtual cards can be used while you are waiting to receive a physical card through the mail.
Employee Spending Controls
Besides the ability to issue employees Bento debit cards, you'll also be able to set spending controls. With such controls, you can turn cards on and off for specific trips or enable usage on only certain days of the week. On top of time-centric controls, you can also enable specific cards to be usable only on specific categories (such as gas stations or restaurants) as well as toggling international spending on and off. Controls further include the ability to allow/deny online or phone purchases on a per-card basis.
Beyond those rich control features, budgeting tools within Bento can also help enforce your business's expense policies. It's additionally worth a mention that spending controls exist for both physical and virtual Bento cards.
Note that employees cannot withdraw cash from an ATM; that feature is reserved for the business owner associated with the Bento account.
Business To Business Payments
Bento for Business features a fairly simple invoicing perk that allows users the option to pay vendors straight from their Bento funds. You'll simply need to enter in the vendor's business name, email, payment amount, and invoice/PO number/payment description right in your Bento account. Bento will then email the vendor, who can choose to deposit the funds as they see fit.
This feature can help your business manage its payments right alongside card payments, potentially giving you a better snapshot of your finances all in one place. You also won't have to worry about cutting a check or sharing card info over the phone.
Security Features
Bento uses 256-bit SSL encryption to store personal data. This personal data is then saved in "highly secure data centers," according to Bento.
Additionally, funds held within Bento are FDIC insured for up to $250,000 through The Bankcorp Bank. Plus, as touched on above, international transactions can be toggled off — potentially combating foreign scammers.
Real-Time Reports
Bento includes a solid slate of tools to aid your business's financial health. Perhaps most noteworthy is Bento's real-time reports that enable you to see how your business is spending money and who is spending it. You can also manage your expense budget while also taking advantage of automatic controls that aim to "reduc[e] organizational friction."
Looking past real-time reports, Bento can also tap into your accounting system while its mobile app lets users upload receipts via photo. Additionally, adjustable administrative privileges can be given to specific team members.
Rates & Fees
After a roughly two-month trial period, Bento will come with a cost for some businesses. There are a few standard fees to watch out for too.
4 Pricing Plans
Bento is free to use for the first 60 days (provided your business requests 50 or fewer cards). After those 60 days are up, your business will be slotted into one of four plans. The pricing for these plans are based on the number of cards your business requires:
Zero To Two Cards: Free forever ("Starter" plan)
Up To 10 Cards: $29 a month ("Team" plan)
Up To 25 Cards: $69 a month ("Professional" plan)
Unlimited Number Of Cards: $149 a month ("Enterprise" plan)
If your business is spending more than $20,000 per month via your Bento account, you may qualify for a free plan. Note that this option won't be automatically applied to your business — you'll need to reach out to Bento first to see if you qualify.
Other Fees
There are no startup, load, or card issuance fees to worry about. Plus, because this isn't a credit card, you don't have to consider interest rates or overdraft fees.
Bento does have a few other fees to keep in mind, however. Here's a quick rundown of what you might get dinged outside of your monthly rate:
International ATM Withdrawals: $3 per transaction (Bento doesn't charge for domestic ATM withdrawals)
Card Expedite Fee: $20 per card (standard speed card replacements don't cost anything)
Refund Check Fee: $15 per check
Foreign Transaction Fee: Up to 3% of each transaction
Is Bento For Business Right For You?
The Bento Card won't be a credit card for your business — it won't even be a normal debit card. Instead, this is a service that allows for granular employee spending controls and adjustable virtual cards. This could make Bento a great option for businesses just looking to get a better handle on how their employees spend company cash. However, those that are in the market for building credit or want to take advantage of the cash-flow controls credit cards offer should look to other pastures.
You might want to apply if…
You are in the market for an expense management suite
You need employee spending controls
Your business doesn't want rewards for spending
Your credit is too low to qualify for a credit card
You might want to look for a different card if…
You are looking to build credit
Your business needs to carry a balance
You want some type of spending rewards
You need more than two cards and can't afford monthly fees
---
Featured Free Corporate Card
Ramp


---



Ramp offers a free corporate card for virtually any business. Start earning rewards with your corporate spending today. Get your free card.
Featured Free Corporate Card
Ramp


---



Ramp offers a free corporate card for virtually any business. Start earning rewards with your corporate spending today. Get your free card.
To learn more about how we score our reviews, see our
Business Credit Card Rating Criteria
.