Expert Analyst & Reviewer

UPDATED
Advertiser Disclosure: Our unbiased reviews and content are supported in part by
affiliate partnerships
, and we adhere to strict
guidelines
to preserve editorial integrity.
Overview:
Bepoz got its start in Australia and has since taken off internationally. In 2004, the company created its own POS which is currently available in eight different countries. Bepoz has some truly outstanding features, particularly on the backend, with one of the most advanced reporting systems imaginable, a host of technological advances, and the ability to customize virtually anything from table and button alignments to intricate marketing campaigns. For larger businesses with multiple locations and/or ambitious and creative owners, Bepoz offers features rarely seen anywhere else.
Bepoz is probably best suited for mid-sized to large-scale operations although it has the capability of handling almost any type of business. The product can be about as simple or complicated as you want it to be; it has the basic functionality needed to handle a handful of local coffee shops, but its powerhouse reporting and inventory monitoring features could accommodate something as complex as a full-service resort.
Bepoz is Windows-based, a rarity in today's market. This fact may turn off Apple or iOS loyalists, but the company assures me that, if a client is dead-set on using iPads, Bepoz can install a server to make that possible. In fact, Bepoz is in the process of developing apps for Apple and Android and is currently running a handful of operations on iOS in Australia.
Pricing:
Bepoz is in the process of switching to a single pricing option, claiming that most clients upgrade to its Corporate plan once they realize the options that are available. The Corporate plan is $119 per month for the first station and $49 for each additional station with no long-term contracts necessary.
Cloud-Based or Locally-Installed:
Hybrid system. While Bepoz is installed locally and technicians can be brought on-site if those services are necessary, the company also has its own unique cloud, giving clients a private, public, or hybrid option. With the hybrid option (which Bepoz clearly pitches through its description on the website), clients have a master database but can also manage tasks remotely from virtually any device with internet access.
Specific Industry:
Bepoz is equipped to handle virtually any type of retail industry. The company offers some unique restaurant-specific features but its ability to handle and track large numbers of employees and complex inventories makes it a strong candidate for resorts, spas, college cafeterias etc.
Specific Size of Business:
If you are just getting off the ground and only need one or two stations at a single location, Bepoz can certainly handle your needs but its capacities are probably better suited towards mid-sized and larger businesses. The software can be customized to hide many of its extensive back-end features if a business has no need for them but, in order to get the most bang for your buck, you would probably be better off if your business was run from multiple locations.
Hardware and Operating System Requirements:
Any tablet or handheld device that is running Windows CE should sync up seamlessly with the Bepoz software. The product is sold a la carte and Bepoz can arrange for on-site installation if necessary.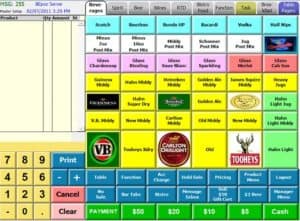 Ease of Use:
Bepoz's interface is completely customizable; moreover, customization work can be done by you or by Bepoz technicians prior to receiving and setting up the software. Bepoz has an open API, giving clients the ability to go in and make the POS unique to their own needs. Overall, most of the features on the front end are fairly self-explanatory and minimal training should be required, especially for employees with any previous POS experience.
Order taking: The color coding system easily separates different types of menu items and it is easy to add orders to the ticket. When clicking on items, the software quickly and effectively takes you through any add-ons and the ticket is displayed on the left at all times. There are quick tender buttons along the bottom and custom modifications can be easily accessed. Bepoz also has the ability to create 3D buttons and add graphic menu and table elements to simplify things further. I also liked the ability to see inventory levels on the front screen as you are ringing up products. The color coding system also makes it easy to see where customers are at throughout their meals.
Menu options: A fun and easy-to-use feature that would be valuable in a bar setting or highly-trafficked restaurant is the ability to type in a recipe for a drink or entree that a chef or bartender could click on and pull up immediately on the screen in a pinch.
Ticket splitting: Bepoz was created with efficiency in mind and divvying up complicated checks is simple. Even for a group of 20 people who all want to pay separately (and please don't actually do this to your server), it takes just three button pushes to have the checks ready for printing.
Back end: This really is "the heartbeat of Bepoz" according to one of its marketing members. Bepoz's robust feature set is a bit daunting at times. The inventory and employee management features are mammoth and can be easily pared down for smaller businesses. For someone who grew up in the 90s and is very familiar with Windows operating systems, the layout makes a lot of sense, although navigating through various tabs to quickly find the information you're looking for is not always an easy task.
Features:
Bepoz has everything you would expect to find in a well-built POS so I'll try and highlight a few of the areas where it stands out.
Multi-Location Capabilities: Managers and owners can access inventory or sales information from anywhere with internet access. You can access restaurant and retail sales all from one location and can send out messages to employees working at multiple locations informing them of incentives or items to push. You can also customize promotions, giving customers who have reached certain rewards levels their own unique benefits.
Mobility: For restaurant and retail businesses, Bepoz has the functionality to offer table-side ordering, purchase order creation, store to store transfers, and line busting, all with the goal of making things as convenient as possible for customers.
Inventory Control: The entire back end of Bepoz is definable and can be adjusted or edited. Inventory management is a huge selling point for this POS. You have the ability to create purchase orders and enter invoices, transfer stock to alternate locations, and track items that you are selling inefficiently. Once you've gotten used to the back end a bit, that last function is extremely useful. Bepoz can quickly analyze which products are selling well, which products offer the best return, and which items you are purchasing too much of, allowing you to make adjustments with a simple click of a button. Bepoz also features the Smart PDE on most handheld devices which can be plugged into computers and downloaded. This comes with a built-in scanner, allowing managers to enter stock counts, enter purchase orders, scan inventory, assign barcodes, and inventory ingredient levels. It is also easy to set minimum and maximum levels based on sales history.
Customers & Membership Management: For use in gyms, spas, country clubs, or other businesses requiring membership, Bepoz has a handful of features that are missing in other POS systems. Bepoz can easily manage customers' recurring payments and set product prices that are only available to customers at specific membership levels. This can also be used in bar settings when specific items may be discounted for happy hours, etc.
Customer Loyalty: Bepoz has some ingenious ways of making sure that businesses keep as many customers as possible. The POS can create complex rewards systems (allowing customers to reach Silver, Gold, and Platinum levels, for example) to incentivize people to return.
Gift Cards and Certificates: Bepoz has its own free internal gift card system but it can integrate with third-party gift card systems as well. Within its own system, Bepoz manages balances that can be reported across multiple locations. Each card or certificate also has its own unique barcode.
Email and Text Message Marketing: For owners who are big on unique marketing practices and tracking customers, Bepoz has some exciting options. All customer information is stored in one easily accessible place and emails can be created and sent out to specific groups. Individual messages can also be sent to employees remotely.
Vouchers: Another way Bepoz helps businesses connect with customers is through its impressive voucher system. The POS can print out coupons based on what items an individual frequently purchases, offering a certain percentage off the next purchase, complete with an expiration date to make sure that customer is back quickly. They can also be sent out automatically to specific customers who have either made a certain number of purchases or who have obtained a membership level.
Reporting and Analysis: Bepoz claims that most of its customers no longer use Excel anymore because its own reporting programming is just as functional. Reports can be automated to be sent at specific intervals via email or text and can be accessed remotely on a laptop or phone. Since every tab is definable, managers can add literally hundreds of fields to provide as detailed reporting as they need and then use filters to track employee performance and item sales. Bepoz also has a function that can analyze your reports, giving recommendations on what to do with inventory as well as changes in supply costs, for example. There is also a full suite of audit options available where every button press is logged and can be accessed.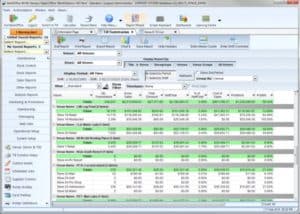 Customer Engagement: Along with rewarding customer loyalty and tracking memberships, Bepoz has unique ways to target individuals. Once a customer is in the system, it is easy to access his or her information and managers can even pull up a customer's profile with a picture and an extensive purchase history. This helps the business tailor promotions and even predict what products the customer might purchase in the future.
Integrations and Add-Ons:
Accounting: Bepoz integrates with multiple accounting programs like QuickBooks, Xero, Attaché, MYOB, or Adept and has the ability to create a link for a client's own personal system.
RoomCharge Link to Property Management System: Bepoz can connect directly to Fidelio and other Property Management Systems to allow guests at a resort or hotel to easily make purchases and send them to their room bill.
Gaming Integrations: For use in casinos, Bepoz connects with gaming systems, allowing guests to easily rack up and transfer things like rewards points.
Dispensing Systems: For use in liquor stores or bars, Bepoz integrates with dispensing systems, allowing managers to track and compare sales of beer, liquor, and wines.
Compatible Credit Card Processors:
Bepoz says that it is compatible with any non-chip card processor and about 95% of chip card processors including:
Customer Service and Support:
Bepoz offers 24/7 emergency phone support and has technicians available around the clock. For basic questions, Bepoz can be reached by phone at normal business hours Monday through Friday or by email. I found the 24/7 customer support to be quick and helpful but when I emailed with some basic questions, it took far longer than the promised one business day to receive an answer. However, Bepoz is committed to putting as much power in the clients' hands as they would like. On its website, Bepoz has a learning center for training, articles to help with set-up, and a quick and easy FAQ site for trouble shooting.
Blog: The website updates its blog weekly with useful information on how to get the most out of your POS system.
Social Media: Bepoz also has active Facebook and Twitter feeds that, although they aren't bursting with information, are at least another means of contacting them. There are also a few YouTube clips with things like till walk-throughs (these are all done in Australian and the way the narrator says "beef nachos" is outstanding).
Negative Review and Complaints:
Reviews of any sort are fairly hard to come by which is a little strange for a company as large as Bepoz.
Customer service: There were a few complaints about the company's customer service, stating that technicians weren't readily available or weren't responsive fast enough when problems were encountered.
Training: Others were upset about difficulty getting started with the product. Bepoz doesn't offer a free trial and seems to put a lot of confidence in its clients' abilities so, as I mentioned earlier, for someone just starting up a new business with a lack of experience, I could see how this would be problematic.
Positive Reviews and Testimonials:
Most positive reviews were happy with the functionality of Bepoz's front end while being blown away by all it offers from a management standpoint. Again, if you have experience in the POS industry and know what you're looking for in a product, chances are you will be very satisfied with Bepoz. There are also testimonials available on the company's website.
Security:
To log in, employees can be given a pin number, keycard, or scan their fingerprint. The system also logs every keystroke and transaction to cut down on fraud. There are some other nice security features as well:
Compulsory Drawer Close: Bepoz's cash drawer can force employees to close the drawer after each transaction, making it difficult to hand out freebies to friends without actually ringing in an item. Bepoz can require the drawer be closed first before a transaction can begin.
Blind Drops: Bepoz can also be set up so that servers or bartenders have to count up money in the drawer without the benefit of knowing how much is supposed to be there, not allowing them to fudge the numbers. The system can force an override if the count is off by a certain amount.
Alerts & Audit Logs: The Alerts system in Bepoz can quickly and subtly send a manager an email or text message if any suspicious transaction has taken place. Managers can program the software so they are alerted every time a combination of specific keystrokes are entered or if a high-end item that is rarely sold is suddenly purchased.
Security Camera Integration: Bepoz can also integrate with many security camera systems and can even overlay the transaction details over the top of the camera feed. This makes is easier for a manager to see exactly what employees are doling out discounts and to which customers.
Final Verdict:
Bepoz is a truly impressive POS system in terms of raw potential—for the right business owner. A large-scale organization with defined marketing goals, a large amount of inventory, and a diverse set of employees will find that this POS features everything it could possibly want. The ability to not only handle multiple locations but multiple types of businesses at one location (like gift shops, bars, and restaurants at a casino) makes this an alluring option. The customization options are excellent, as is Bepoz's willingness to work closely with clients, and calling Bepoz's back-end features robust is a resounding understatement.
That being said, for many business owners, it's difficult to imagine actually utilizing all of the functions Bepoz makes available. Although it's possible to hide many of those features, the back end can still be a bit unwieldy at times, particularly for a smaller company. From a functionality standpoint, Bepoz features everything you could possibly ask for in a product at a reasonable and easily defined price point. For a large client or one that is looking to expand, Bepoz is certainly worth a serious look.
---
We've done in-depth testing of each and confidently recommend them.
We've done in-depth testing of each and confidently recommend them.
To learn more about how we score our reviews, see our
Point Of Sale (POS) Software Rating Criteria
.