BigCommerce Enterprise Review 2023
The BigCommerce Enterprise platform is designed to help businesses manage large sales volumes and high traffic, offering built-in integrations to multiple sales platforms and multi-currency support.
Expert Analyst & Reviewer

UPDATED
Advertiser Disclosure: Our unbiased reviews and content are supported in part by
affiliate partnerships
, and we adhere to strict
guidelines
to preserve editorial integrity.
BigCommerce Enterprise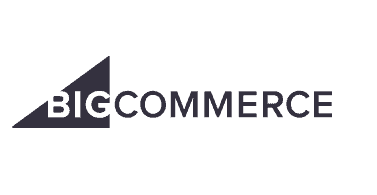 Pros
Suited for large businesses
Scalable
Reliable uptime
Excellent comprehensive features
Cons
Unclear pricing
Mixed reviews on customer support
BigCommerce Enterprise Overview
BigCommerce is a highly rated eCommerce platform. In fact, here at Merchant Maverick, we awarded the software a perfect 5/5 stars in our recent comprehensive BigCommerce review. Those stars were earned by the excellent features and integrations BigCommerce delivers, including a wide range of payment processing options, as well as the software's reliable customer support and ease of use.
Despite our regard for BigCommerce, we know it's not for everyone. With the lowest price plan coming in at $29.95/month, startups and very small eCommerce businesses might want to keep looking for a better price or even one of the free eCommerce platforms available. And, with its annual sales cap of $400,000, the BigCommerce Pro plan could mean some online shops are a little too successful to work with BigCommerce.
Good news: If you're at or near that sales cap, you don't need to rule out BigCommerce for your eCommerce needs. Before you make up your mind, take a look at BigCommerce Enterprise. Made to serve large businesses that are drowning in sales and need help managing their online platforms, BigCommerce Enterprise is a premium-level website hosting service that combines everything we like about BigCommerce with the extra features and service you need to manage huge traffic flows and facilitate high conversion rates.
So if you're looking to switch to a service that can handle your high-volume store, keep reading to learn more about BigCommerce Enterprise and what it delivers.
What is BigCommerce Enterprise?
BigCommerce Enterprise is a powerful and flexible eCommerce platform aimed at businesses making $450K+ in sales each year. It builds on BigCommerce's strong platform and adds extras to meet the needs of the biggest online sellers, like Skullcandy, Ben & Jerry's, and Camelbak, to name a few current users.
Of course, BigCommerce Enterprise has a price tag to match its expansive features and capabilities. Is it worth the investment? Let's find out.
BigCommerce Enterprise Pricing
It's tricky to evaluate BigCommerce Enterprise pricing because truth be told, we don't know what that pricing is. The company is more than a bit cagey about BigCommerce Enterprise. It seems the only way to get a price is to speak to a sales representative and share some details about your company, your sales, and your goals.
Here's what we do know: BigCommerce Enterprise pricing is based on your company's sales and, as such, will vary from business to business. A BigCommerce representative confirmed that pricing depends mainly on two variables: your average order value and the average number of orders you process each month. While pricing will look very different for each merchant, Enterprise's plans begin at about $400 per month and can range up to $15,000 per month.
Start with a trial
to see if it's right for you before you buy.
BigCommerce Enterprise Features
Some eCommerce plans are loaded with features. Then there's BigCommerce, which takes it to the next level. For starters, all BigCommerce plans, even the entry-level Standard plan, allow unlimited storage, products, staff accounts, and bandwidth for your online store. And all BigCommerce plans allow multi-channel selling (in multiple currencies) and much more, with the top plan adding advanced tools like abandoned cart savers, custom product filtering, stored credit cards, and persistent cart.
As you'd expect, BigCommerce Enterprise delivers all that, and more. Here is a rundown of what you can expect with this enterprise-level plan:
BigCommerce Enterprise Themes
BigCommerce Enterprise stores are built on BigCommerce software, and that includes three or four style variations. You can also purchase a theme for your store, if you have $150-$300 to invest. And of course, you can access the API to develop your own theme. All the themes are mobile responsive, and it's easy to view them in mobile, tablet, and standard form from your dashboard.
Some paid themes are optimized for large catalogs, which may appeal to Enterprise customers. You can use other factors to narrow your search too, like B2B and large images, for example. Here's a sample of the large catalog themes, along with the search options available.
If you're interested in a custom-designed website, BigCommerce maintains a list of partners who are ready to work with you.
Types Of Payments Accepted With BigCommerce Enterprise
BigCommerce Enterprise accepts more than 65 pre-integrated payment gateways, serving 230 countries and 140+ currencies. These are PCI-complaint and already integrated, and you won't face any limits on how many you can use in your store. Here's another thing you won't have to deal with: added transaction fees. Though you'll pay the unavoidable payment processing fees, BigCommerce won't add any additional fees when you make a sale. And thanks to a special rate negotiated with Braintree, BigCommerce Enterprise customers pay a low rate of 2.05% + $0.49 on sales made via PayPal.
Here are some other payment processing options:
Mobile Wallets: Apple Pay, Google Pay, and Amazon Pay
Instant Set-Up: Your BigCommerce store is already set up to accept major credit cards, PayPal, and Apple Pay in a single click.
International Payments: Choose Adyen to accept more local payment methods around the globe
Financing Options: Offer checkout financing options like Klarna, Affirm, Sezzle, and PayPal Credit. European customers soon will be able to "try before they buy," too.
Selling On Multiple Sales Channels With BigCommerce Enterprise
All BigCommerce stores come with built-in integrations to Amazon, eBay, Facebook, Instagram, Pinterest, and Google Shopping. You can manage your sales on all those sites from your store admin. Your BigCommerce store also includes a POS connection via Square, Vend, Clover, Heartland Retail, and others.
Does BigCommerce Enterprise Offer Buy Buttons?
Use BigCommerce's buy buttons to sell on any website, including your blog and social media. You can even embed links on marketing emails that take customers straight to checkout. The BigCommerce buy button is mobile responsive and can scale intelligently. It requires no JavaScript and is compatible with any website where you can add HTML. Customize your buy button with your own colors, fonts, and texts, and track view and conversions with Google Analytics.
Selling Internationally
BigCommerce Enterprise includes 100+ currency options so customers can pay how they choose. You can customize product catalogs, pricing, and promotions for your target regions, using different strategies domestically and overseas. Use your CMS frontend experience of choice and trackback to a single PCI-compliant BigCommerce checkout. It's also possible to connect with local carriers and automate taxes.
BigCommerce Enterprise Marketing Features
Conversion is one of BigCommerce's hallmarks, with an overall focus on converting browsers into buyers. Here are a few BigCommerce tools you can count on:
Single-Page Checkout: This eCommerce must-have is included as a premium feature on many platforms, but it's standard with all BigCommerce accounts, including BigCommerce Enterprise.
Abandoned Cart Saver: BigCommerce includes built-in tools for recovering abandoned carts. Send customized emails to customers who leave your site without buying the merchandise in their carts. You can include a coupon or special offer to entice them to complete their purchase. If you have multiple storefronts, you can use default global templates and settings or you can enable and customize templates for each storefront. There's no limit to the number of templates you can create, but you'll be limited to three active templates per store
Faceted (Filtered) Search: Allow shoppers to refine product searches based on multiple attributes like price, color, size, or reviews. That makes it easier for customers to find the products they want. Product filters appear on category, brand, and search pages. A list of available filters is automatically generated, with new filters generated when you add new criteria to your products. You can manage which filters appear in the storefront, set category-specific filters, and change the sort order for filter values.
Headless Commerce: BigCommerce Enterprise allows users to decouple their site's front-end from the back-end commerce functionality. That lets you update and edit without interfering with front-end operations. And you'll be able to deliver bespoke user experiences through your CMS, DXP, PWA, or custom front-end, with BigCommerce powering your back-end commerce. The core components of this SaaS platform are open to expansion and connection to any other environment via API.
Customer Groups & Segmentation: Classify customers into different segments using the Customer Groups feature. This will allow you to set up a loyalty group, a wholesale group, a members-only group, and more. Under each parent category, you can create additional child categories. Use price lists to provide custom pricing and category-level discounts.
SMS Marketing: Send promotional messages via text message to communicate offers and other information to existing customers who give you permission to send such messages. BigCommerce partners with leading SMS providers, including Klaviyo, Omnisend, Listrak, and Attentive.
Social Marketing: Connect your BigCommerce store with Facebook, Instagram, Twitter, and LinkedIn to capture customers' attention.
Product Ratings & Reviews: This capability is built into every BigCommerce store.
BigCommerce Enterprise Product Limits
Like all the other BigCommerce plans, BigCommerce enterprise comes with unlimited products, file storage, staff accounts, and bandwidth.
Inventory Management With BigCommerce Enterprise
BigCommerce makes it easy to manage inventory across all your sales channels, with a powerful inventory management system built into the software. Here's what you can expect:
Inventory Sync: Whether you're selling in person, on marketplaces like Amazon or eBay, or on social media platforms, the BigCommerce Channel Manager connects inventory across all your sites.
Track Inventory: By product or by SKU, keep an eye on stock levels so you know what you have on hand. Edit stock levels individually or use the catalog import/export feature to update thousands of products at once.
Central Processing: Process, fulfill, and track orders for all sales from a single location.
Stock Notifications: Set low-stock notifications and you'll never be surprised by running out of inventory. You can also enable stock levels and out-of-stock notifications on your storefront, so your customers will be informed, too.
Real-Time Syncing: Real-time, two-way inventory syncing keeps your stock updated whenever and wherever you make a sale.
Product Filtering: Customers can use dynamic product filtering to narrow their searches. Set custom filtering fields in faceted search.
BigCommerce Enterprise Shipping Tools
Customers can access real-time shipping quotes from UPS, USPS, FedEx, Canada Post, Australia Post, Royal Mail, and more. Easy-to-add integrations enable dropshipping, with multiple partners available including Sprocket, Doba, AliExpress, Printful, and Art of Where.
BigCommerce Enterprise SEO Tools
Built-in SEO tools include SEO-enhanced URLs right out of the box, with each unique page receiving its own URL. If you have a better strategy in mind, you customize your URL settings. Built-in microdata, called rich snippets, in your product pages enhance search result listings with information about ratings, price, brand, and stock levels. BigCommerce offers automatic 301 redirects and URL rewrites as you make changes and move pages on your site. The auto-populated URL will adjust to reflect the change, and the old URL will redirect to the new one. BigCommerce also lets you optimize site SEO by allowing you to control which pages are crawled by Google, and the BigCommerce content delivery system makes sure your site loads quickly for shoppers and for search engines alike.
Blogging
All BigCommerce websites come with built-in blogging capabilities.
BigCommerce Enterprise Discounts & Coupons
You won't need to download a separate app to offer discounts and promotions, because you'll find 70+ discount options out of the box with BigCommerce. Set parameters to define cart-level discounting rules and auto-apply them. You can combine rules across product prices and customer groups, too. Run flash sales, try out BOGO offers, bundle discounts, experiment with targeting, set thresholds, and more. You can also set promotional offers to push specific brands in your catalog, with dollars or percentages off, excluding categories if you'd like, and have it all apply at checkout.
Developer Tools
If you can't find your favorite app listed on BigCommerce's Apps and Integrations page, it's easy for a developer to build you a new application or foot a connection. There's no limit to API calls with BigCommerce Enterprise, meaning that developers will have no trouble syncing or integrating multiple apps with your store. And BigCommerce's RESTful API uses non-proprietary languages and open documentation. If you don't yet have a developer and you're looking for someone to help, BigCommerce maintains a list of partners who would love to work with you.
In-Person Selling Tools
Use the built-in POS connections with Square, Vend, Clover, Heartland Retail, and others to sell in retail or pop-up locations.
Reliable Hosting & Security
BigCommerce Enterprise boasts a 99.99% uptime. Your platform will automatically scale to handle as much traffic and as many orders as you can bring in. They also offer bank-grade security, which includes DDoS protection.
High-Level Customer Service
Enterprise clients' questions and requests are moved to the top of the customer service pile. BigCommerce calls this "express routing." You'll also be eligible for BigCommerce consulting. Depending on the level of support you negotiate during pricing, you may be partnered with an Account Manager who provides individualized support long-term.
Is BigCommerce Enterprise Easy To Use?
BigCommerce Enterprise uses the same dashboard employed by basic BigCommerce plans. Thankfully, BigCommerce's dashboard is one of the cleanest on the market, and you'll find plenty of tutorial videos to help you if you need it.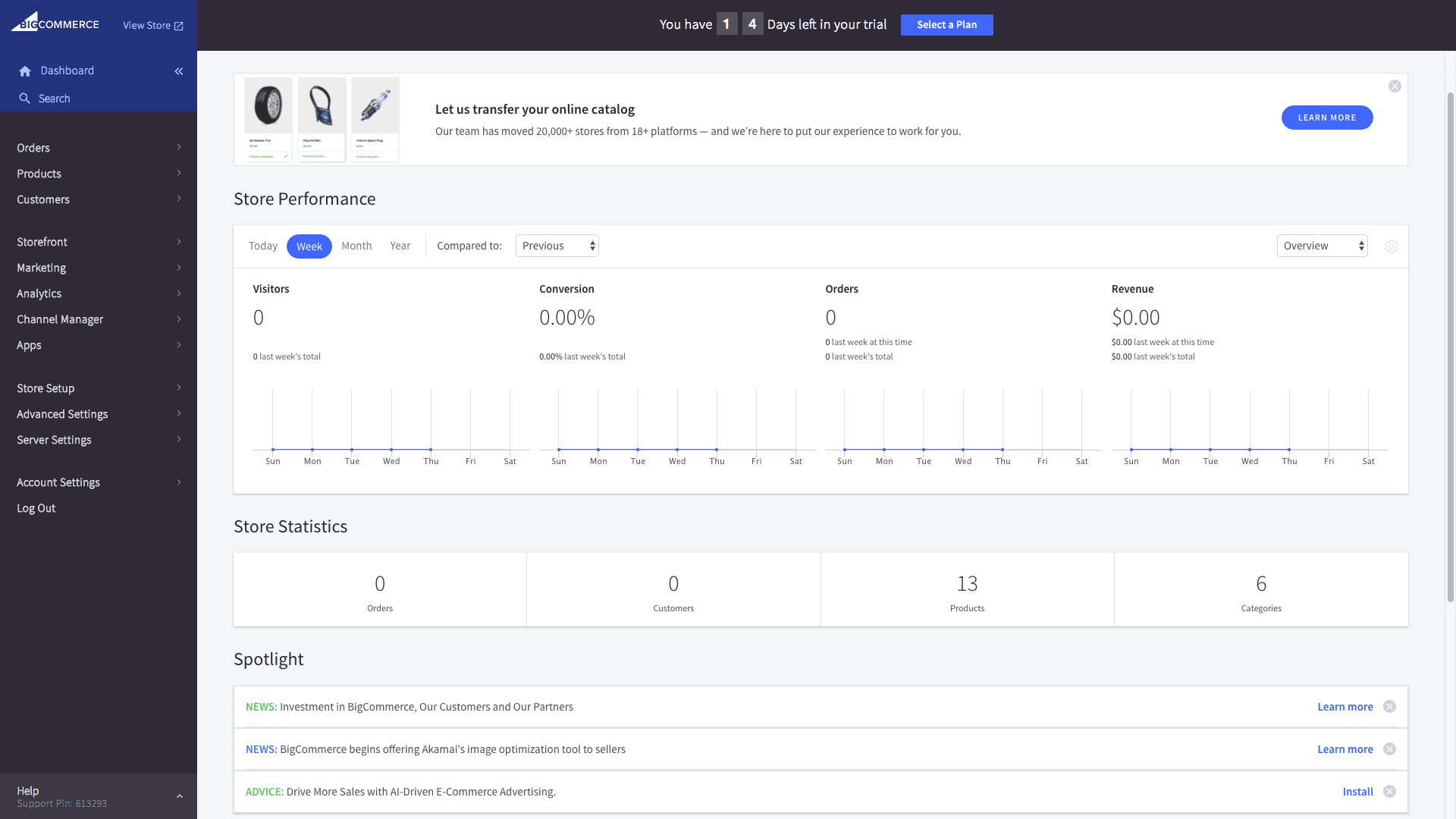 When I signed up for my free 15-day trial and created an account, I started with a short tutorial that showed me where all the basic features of my dashboard were. Even without the tutorial, I'd still probably have managed to find everything I needed right off the bat. It's all located conveniently on the toolbar to the left. Getting a store up and running is relatively simple, and adding products and applications is particularly so. Just point and click.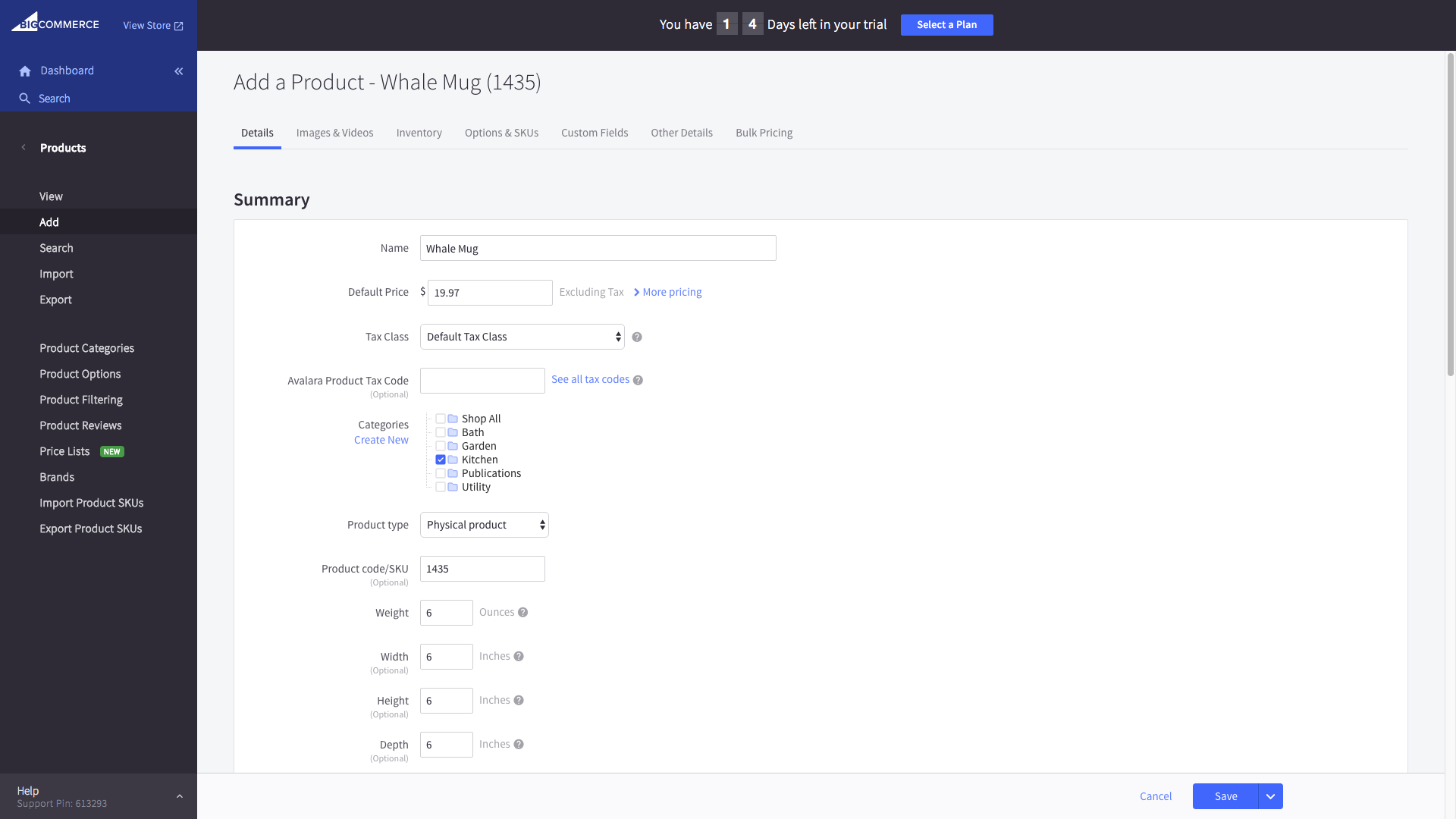 Creating discounts is also simple. I was given the option of applying my discount to specific categories, which I always like to see. You can also set your discount to activate when certain products are added to the cart. It seems that BigCommerce's discount engine is complex enough to handle most businesses' needs.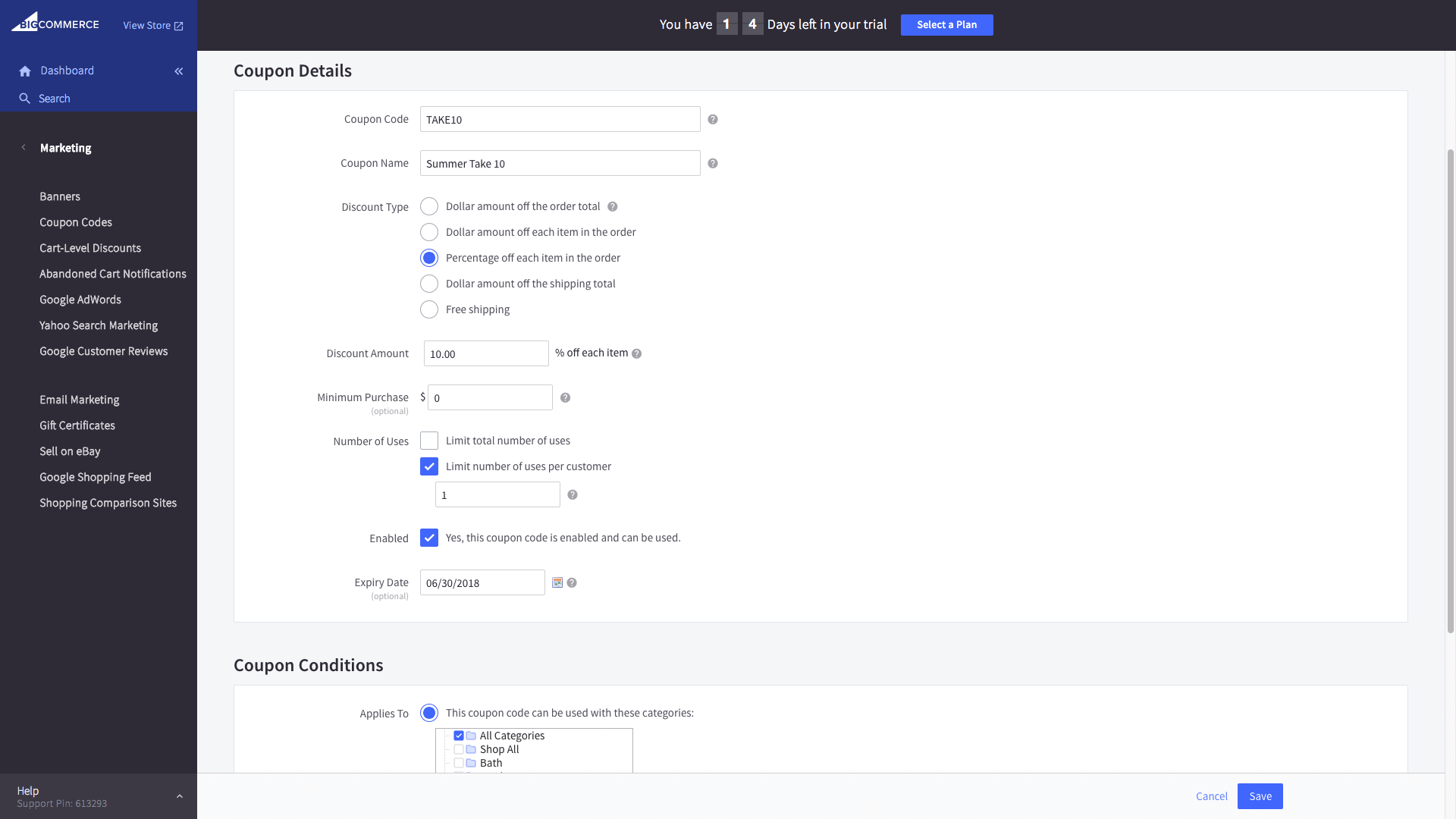 Adjusting the front end of your site is painless. BigCommerce offers a WYSIWYG (what you see is what you get) editor to make changes to web pages and banners. You can change colors and alter the way your products are displayed without touching any code.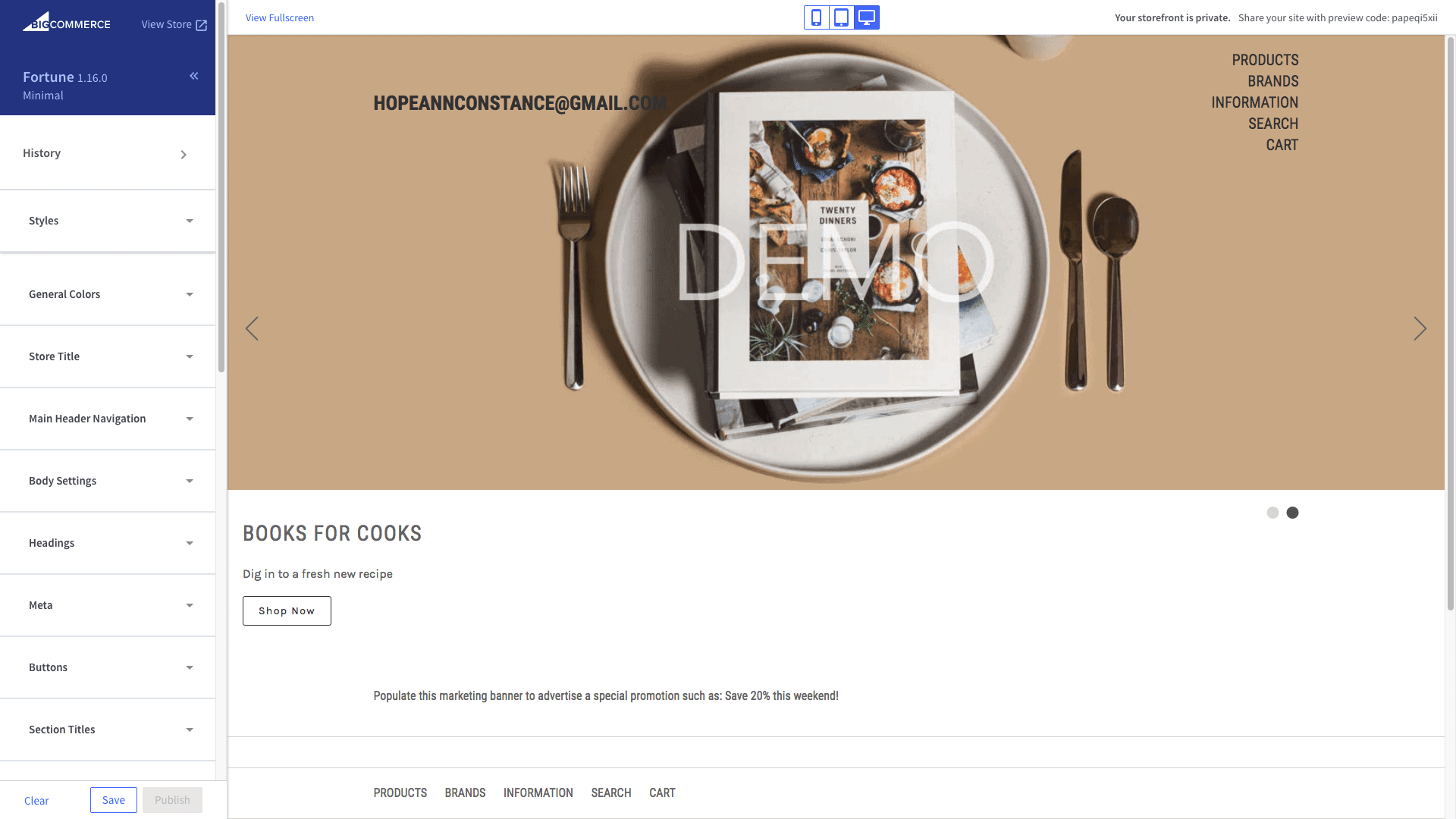 Sign up for a 15-day trial
to explore BigCommerce's dashboard for yourself, no credit card required.
Customer Service & Support
All BigCommerce users have access to a comprehensive range of support options. At the Enterprise level, you gain these additional options:
Express Routed Support: BigCommerce says larger merchants on the Priority Support level will be able to reach a senior support team member in 30 seconds. However, it's important to note that you'll find tiers even within Enterprise services, which means that your company may still rank below other, larger companies. Depending on the size of your business, you may be paired with an account manager who can create a success plan for your business and advocate for you for bug fixes and feature requests. Read more about Premium Account Services.
Onboarding Consultants: Dedicated experts will help you with data migration, building a launch plan, and launching your store, which BigCommerce says takes customers, on average, four months or less.
These additional resources are available in addition to the following options, which are open to all BigCommerce subscribers:
Phone
Email
Contact Form
Live Chat
Help Center: Knowledgebase as well as product news and updates, developer docs, user guides, and tutorials
Community Forum: Community groups, town halls, an ideas forum, and a Q&A forum
Guides: Comprehensive guides on specific aspects of running an online store
Videos: A series of video tutorials guide you through the basics of using BigCommerce. There's also an archive of topical webinars.
Find An Adviser: Check out the Partner Marketplace or consult with your onboarding consultant to connect with developers and other experts who can help you build and customize your store.
Blog: Information on the eCommerce industry, product news, and announcements
Social Media: Twitter, Facebook, LinkedIn, YouTube, Pinterest, and Instagram
BigCommerce Enterprise Integrations & Add-Ons
With 1,000+ add-ons, there's a good chance you'll find what you need in the BigCommerce app store. Keep in mind, too, that BigCommerce comes loaded with advanced features that you'd have to add on to another platform. So you might not need as many integrations with BigCommerce as you would with a different platform.
The app store is searchable by name or you can look under 21 category headings. Under Sales Channels, for example, choose from 54 apps listed in the subcategories of Comparison Shopping Engines, Marketplaces, and Multichannel Listings. That lets you add integrations like TikTok for Business, Shopventory, Facebook Ads, Sellbrite, and more. On the main page, you'll see the top free apps listed, including Mailchimp, Yotpo Product Reviews, and QuickBooks Online, in addition to paid apps like Shopstation and Zapier. Available apps include customer ratings and reviews, though not all of them have any attached.
BigCommerce Enterprise Reviews
In general, BigCommerce gets mixed reviews from users. While most comments found online are directed at BigCommerce in general and not the Enterprise version of the software, it's still helpful to consider the comments on the company as a whole. That said, here are some recent and recurring complaints and compliments found online.
Negative BigCommerce Enterprise Reviews & Complaints
Learning Curve: Some users say that it's not that easy to use BigCommerce software right out of the box, and the video tutorials and other built-in resources are outdated and unhelpful.
Unimpressive Reporting Capabilities: While the built-in reporting functions may not wow you, you can add on an integration to give you more advanced reporting functionality.
Poor Customer Service: Many customers complain of ignored tickets, dropped phone calls, and general miscommunications involving the prices of additional features, and they say it's a pain to use the PIN to make a call. Presumably, this is a non-issue at the Enterprise level of support, but I can't be certain.
Positive BigCommerce Enterprise Reviews & Testimonials
There are, of course, loads of success stories featured on BigCommerce's Case Studies page, and you can sort them by what eCommerce platform they migrated from, if you're interested in what your own experience migrating might look like. Here are some things they have in common:
Conversion Boost: It turns out that "conversion" is BigCommerce Enterprise's buzzword for a reason. These businesses boast conversion rates that range from 33%-400% increases. Conversions are likely due in part to BigCommerce's strong SEO features and single-page checkout features.
Multi-Channel Sales: Right out of the box, a BigCommerce site is ready to sell on Amazon, eBay, Walmart, Facebook, Instagram, Google Shopping, and more. If you want to sell on TikTok, there's an app for that. Wherever your customers are, including in person, you can use BigCommerce tools to reach them.
Consistent Uptime: When you're getting thousands of hits an hour, it's good to know that your site won't glitch or crash under the weight of all that traffic. Unlimited bandwidth sure helps too.
Final Verdict of BigCommerce Enterprise
I have mixed feelings about BigCommerce Enterprise. In general, I think Enterprise offers a lot of important features for high-volume businesses and does so in a way that's easy to use and easy to integrate into your current software. I'm still impressed by this cart's conversion features and near-perfect uptime.
On the other hand, I'm a little leery of BigCommerce's lack of communication on two points: their pricing and the priority levels within Enterprise.
My recommendation? Before committing to BigCommerce Enterprise, contact a sales representative who can give you some specifics on the services BigCommerce Enterprise offers — and who will tell you what price point you'll be looking at. Ask about potential pricing fluctuations in the future. Remember that not all Enterprise accounts are equal and find out where your company lies in Enterprise's priorities. Ultimately, if you decide BigCommerce Enterprise fits your business needs, you'll find many of the tools needed for online sales success, and we wish you well!
BigCommerce Enterprise FAQs
---
The Merchant Maverick Seal of Approval 🏆
BigCommerce Enterprise


---
After hours of in-depth research and evaluation, we can confidently recommend this brand to our readers. Get started today and see BigCommerce Enterprise for yourself.
The Merchant Maverick Seal of Approval 🏆
BigCommerce Enterprise


---
After hours of in-depth research and evaluation, we can confidently recommend this brand to our readers. Get started today and see BigCommerce Enterprise for yourself.
To learn more about how we score our reviews, see our
eCommerce Software Rating Criteria
.