BigCommerce Enterprise Review
Contributor

Updated on:
Advertiser Disclosure: Our unbiased reviews and content are supported in part by
affiliate partnerships
, and we adhere to strict
guidelines
to preserve editorial integrity.
Pros
Suited for large businesses
Scalable
Reliable uptime
Excellent customer support
Cons
BigCommerce Enterprise Overview
In the past few years, we've seen the unveiling of premium-level website hosting services. These SaaS (software as a service) systems are directed at large businesses that are drowning in sales and need help managing their online platforms. BigCommerce Enterprise is BigCommerce's contribution to this rising market.
BigCommerce Enterprise is the highest level of service BigCommerce provides to its merchants. As I've already mentioned, it is intended for high-volume businesses, usually those that are dealing in over $450K in annual sales (and BigCommerce Enterprise has had no problem finding clients of that caliber). Big-name merchants, including Toyota and Gibson, use BigCommerce Enterprise for their online sales platforms.
Enterprise's features are intended to manage huge influxes in traffic and to facilitate high conversion rates. Merchants have 99.99% uptime, so their sites won't crash even on the busiest days. Faceted (filtered) search and speedy checkout pages convert browsers into buyers.
Since the development of BigCommerce Enterprise, BigCommerce has shown no signs of slowing down. In the past year, they've added new features and new partners, including an integration with ShopKeep POS. BigCommerce currently employs over 500 staff members, and they're still hiring. This company is ready to grow alongside you.
If you're looking into BigCommerce but don't yet need Enterprise-level services, be sure to check out our review of BigCommerce's basic plans. However, if you're looking to switch to a service that can handle your high volume store, keep reading.
Pricing
Pricing for BigCommerce Enterprise is based on your company's sales, and as such, varies from business to business. I spoke with a BigCommerce representative, and he told me that pricing depends mainly on two factors: your average order value and the average number of orders you process per month.
While pricing will look very different for each merchant, Enterprise's plans begin at about $400 per month and can range up to $15,000 per month. Start with a trial to see if it's right for you before you buy.
Note: In April 2016, BigCommerce made dramatic changes to their pricing system for basic plans, stirring up a lot of anger in many of their customers. While this doesn't impact Enterprise pricing necessarily, it's important to keep a price spike like this one in mind when considering a platform. See more on this issue in the Negative Reviews and Complaints section of this review.
Web-Based Or Locally-Installed
BigCommerce Enterprise is SaaS (Software as a Service). It is web-based software that you can log into from your browser.
Hardware & Software Requirements
No specific hardware or software is required. Just make sure you have a good computer, an excellent internet connection, and an updated web browser.
Specific Size Of Business
Enterprise is designed for large companies with annual revenues of over $450K. It's perfect for companies that are looking for higher customer support and need their site to handle lots of traffic. Current clients include the Martha Stewart Cafe and CamelBak.
Ease Of Use
BigCommerce Enterprise uses the same dashboard employed by basic BigCommerce plans. Thankfully, BigCommerce's dashboard is one of the cleanest on the market, and it comes with plenty of tutorial videos.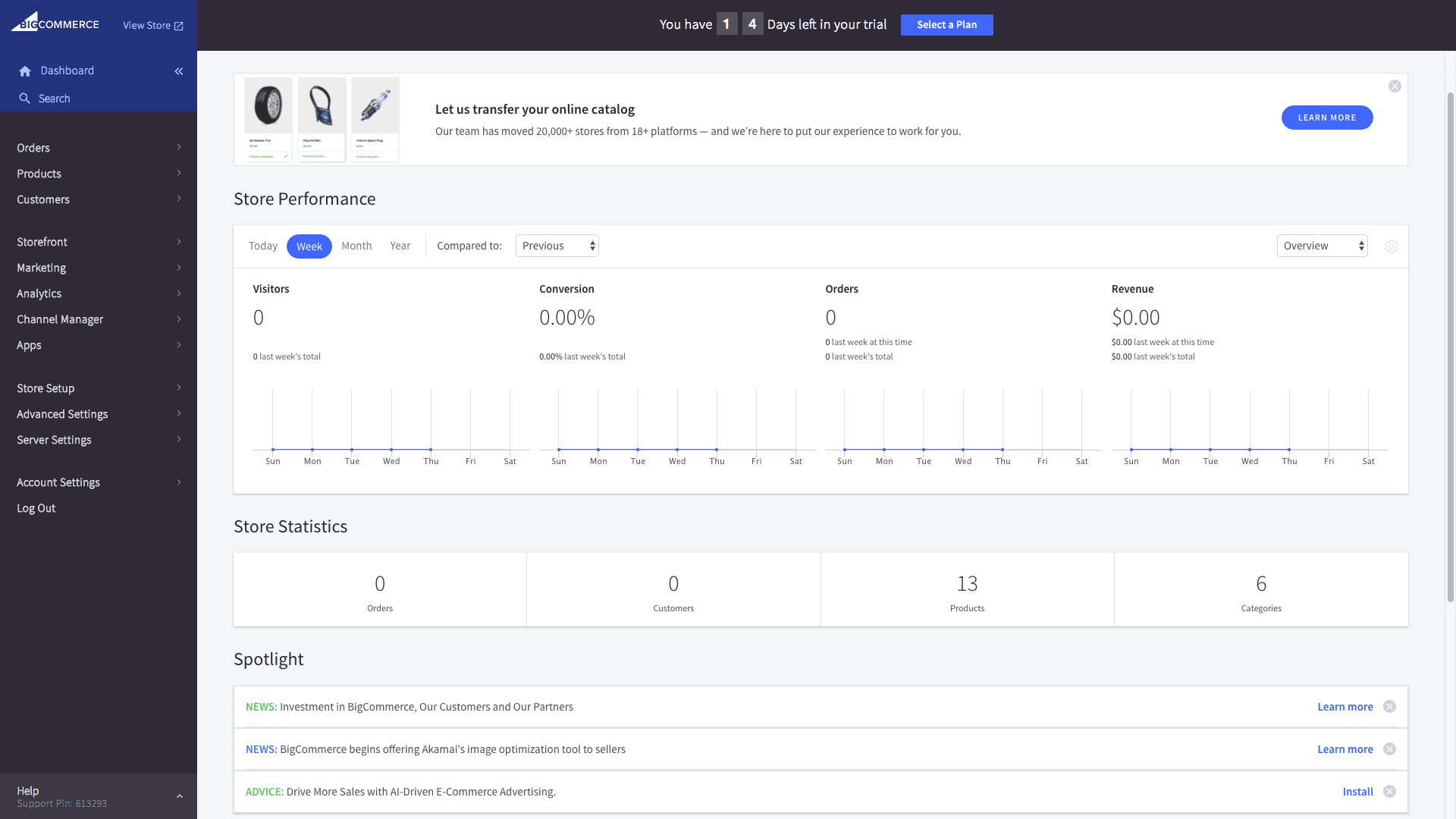 When I signed up for my free 15-day trial and created an account, I was greeted with a short tutorial that showed me where all the basic features of my dashboard were. Even without the tutorial, I'd still probably have managed to find everything I needed right off the bat. It's all located conveniently on the toolbar to the left.
Getting a store up and running is as easy as it could possibly be, and adding products and applications is particulary simple. Just point and click.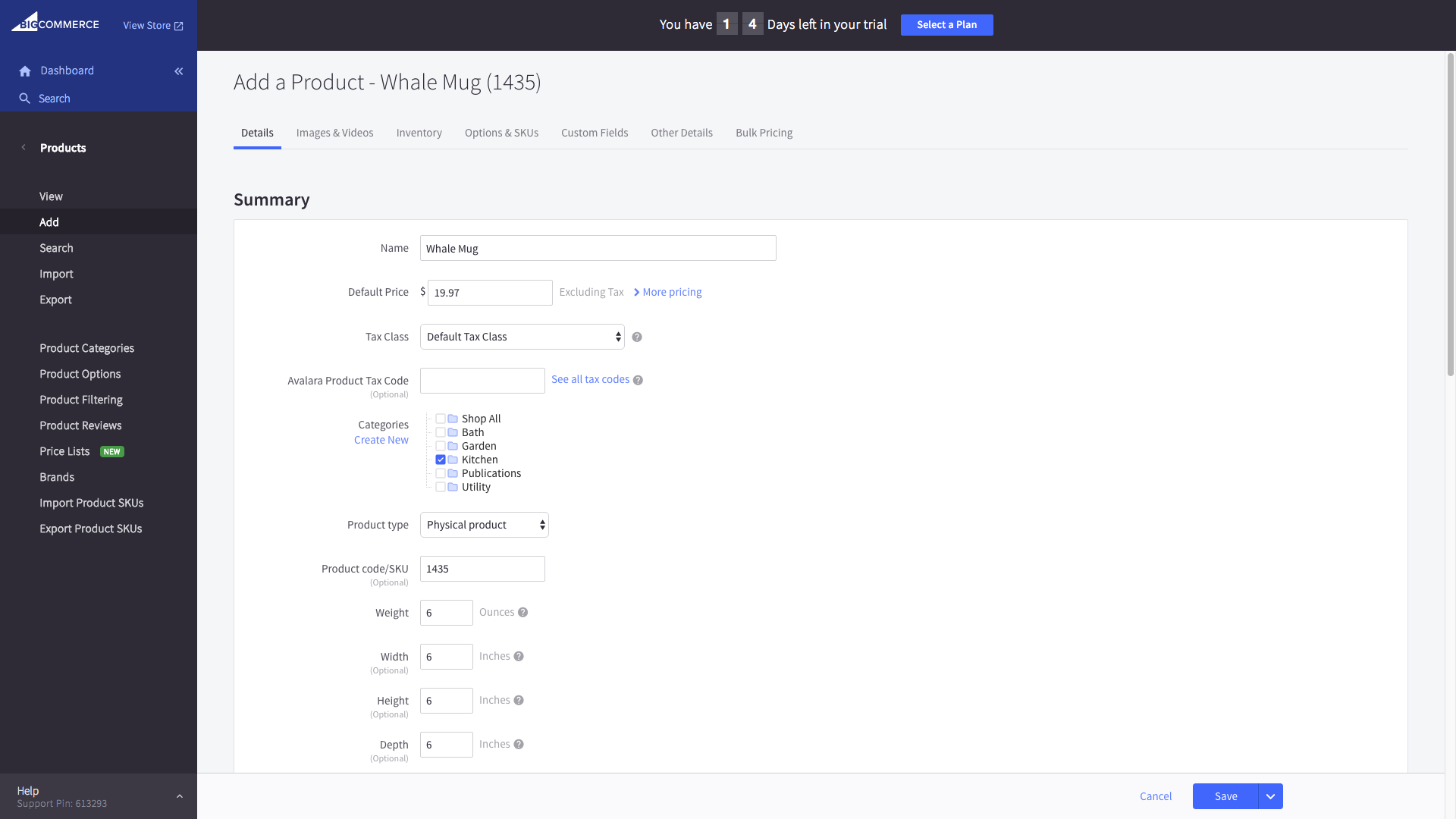 Creating discounts is also simple. I was given the option of applying my discount to specific categories, which I always like to see. You can also set your discount to activate when certain products are added to cart. It seems that BigCommerce's discount engine is complex enough to handle most businesses' needs.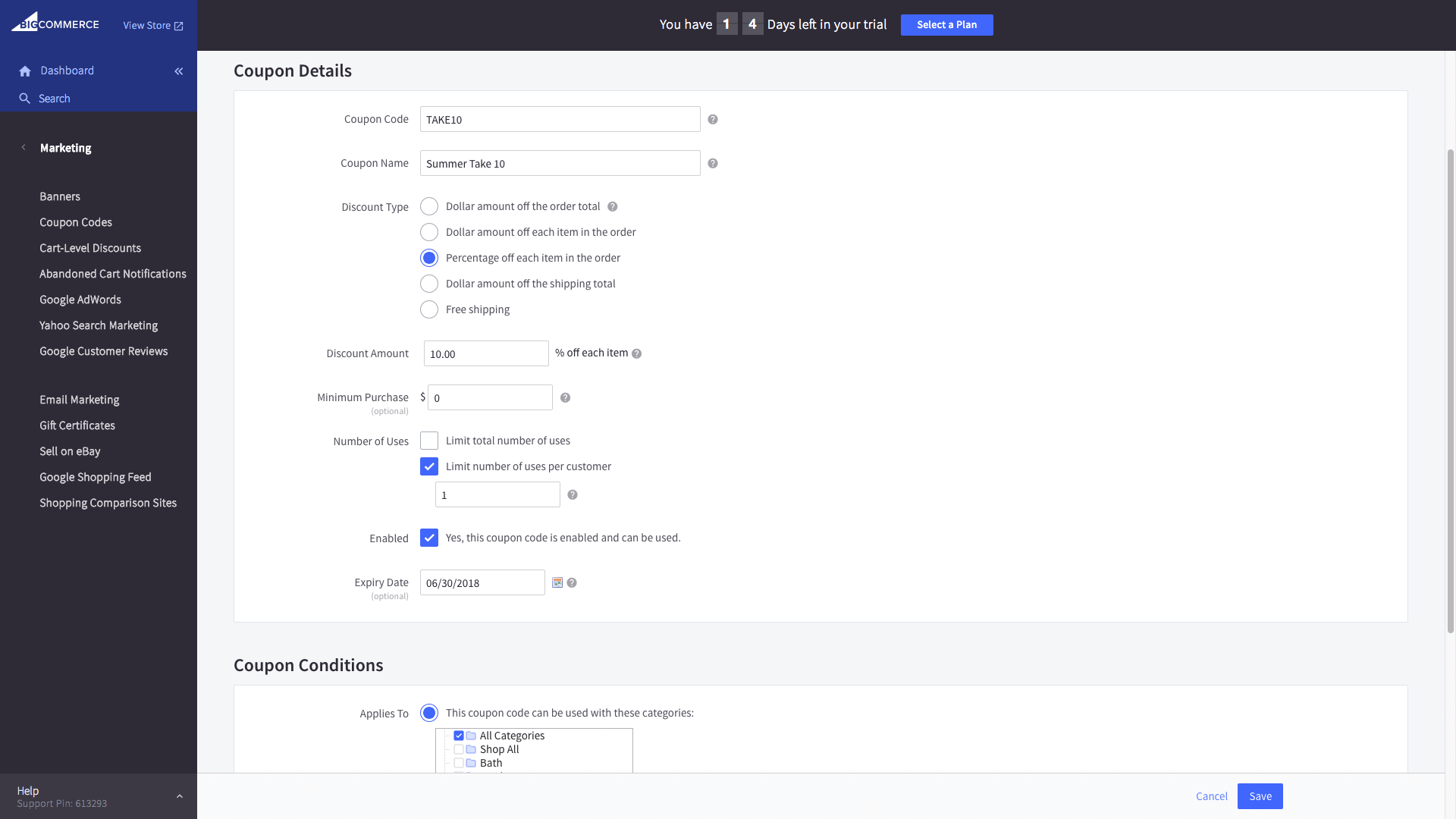 Adjusting the front end of your site is painless. BigCommerce offers a WYSIWYG (what you see is what you get) editor to make changes to web pages and banners. You can change colors and alter the way your products are displayed without touching any code.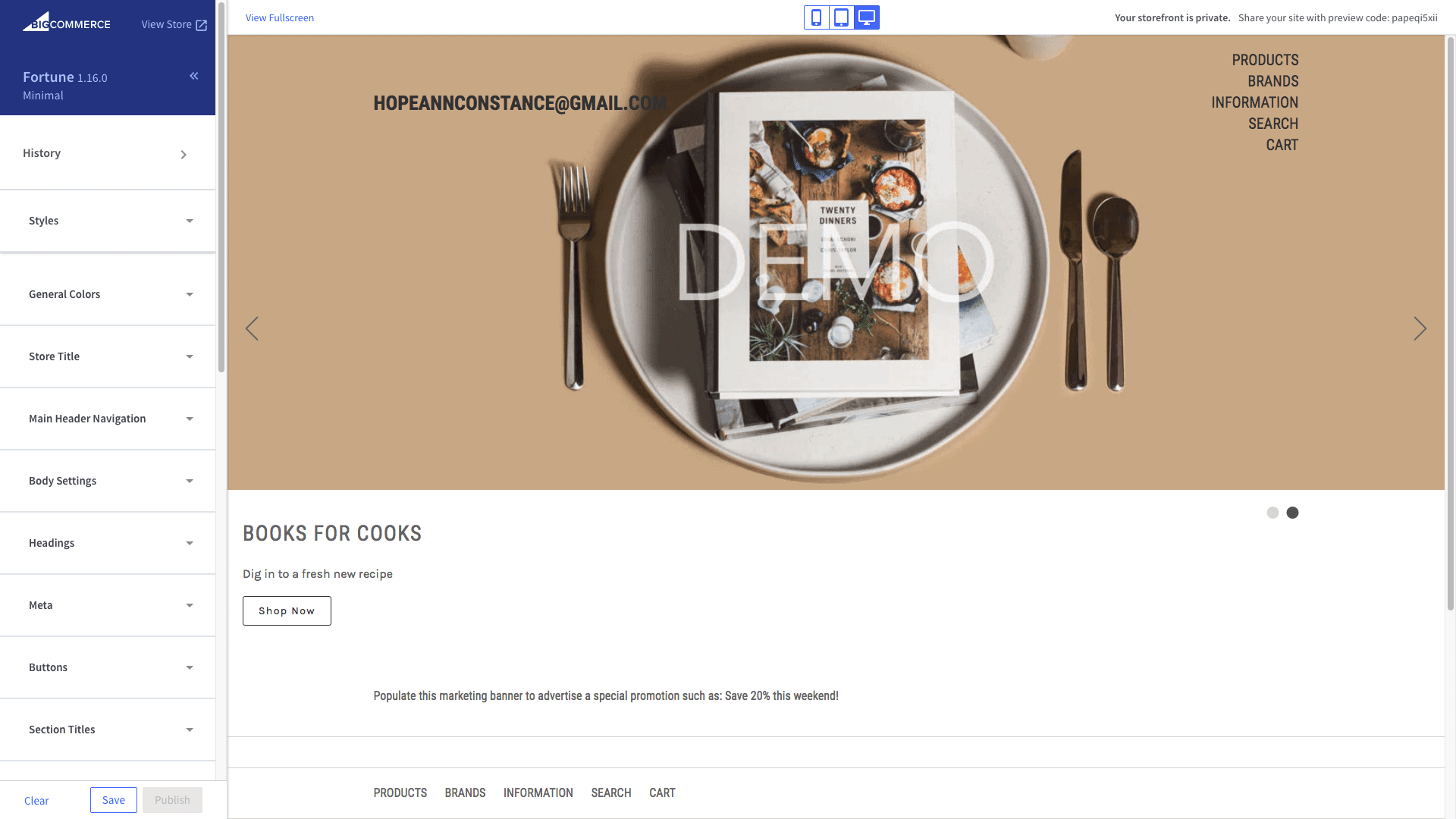 Unfortunately, in order to make any larger changes to the layout of your theme, you're going to have to dive into the source code. Hopefully, you've got people for that.
Overall, I was quite pleased with the usability of BigCommerce's back end.
Sign up for a 15-day trial
to explore BigCommerce's dashboard for yourself, no credit card required.
Features
BigCommerce Enterprise incorporates all of BigCommerce's basic features with unlimited API calls, custom facets, and other tools to meet merchants' specific needs.
BigCommerce already offers an impressive range of features, including unlimited bandwidth, integrations with social media for sharing products and purchases, single page checkout (a must for quick transactions), and PayPal Express Checkout (which simplifies the process even further).
On top of the basic features, the following advanced features are also available to Enterprise merchants:
Reliable Hosting & Security: BigCommerce Enterprise boasts a 99.99% uptime. You platform will automatically scale to handle as much traffic and as many orders as you can bring in. They also offer bank-grade security, which includes DDoS protection.
Comprehensive Conversion Tools: Conversion is one of BigCommerce's buzzwords. This company is all about converting browsers into buyers, and you probably are too. BigCommerce plans above the Plus plans feature Abandoned Cart Saver, which sends out emails to customers who have left your site without buying the merchandise in their carts. BigCommerce boasts a 15% recovery rate on those abandoned carts. Faceted (Filtered) Search helps your customers find (and buy) what they want quickly and easily (Available on Pro and Enterprise).
Additional Shipping Support: Enterprise comes with ShipperHQ, a shipping rate calculation tool that gives your customers real-time shipping quotes so there will be no surprises at checkout.
Custom Facets (Product Filtering): Use your custom product fields as product filters.
No Limits To API Calls: Transfer data between integrations in real time. Read more on BigCommerce's API.
Higher Level Customer Service: When you're an Enterprise client, your questions and requests are moved to the top of the pile. BigCommerce calls this "Express Routing." You'll also be eligible for BigCommerce consulting. Depending on the level of support you negotiate during pricing, you may be partnered with an Account Manager who provides individualized support long-term.
Web Design
BigCommerce's themes are reasonably attractive across the board. In my opinion, the priced designs (usually around $145-$195) aren't much better looking than their free counterparts. Why pay when the free version is just as good?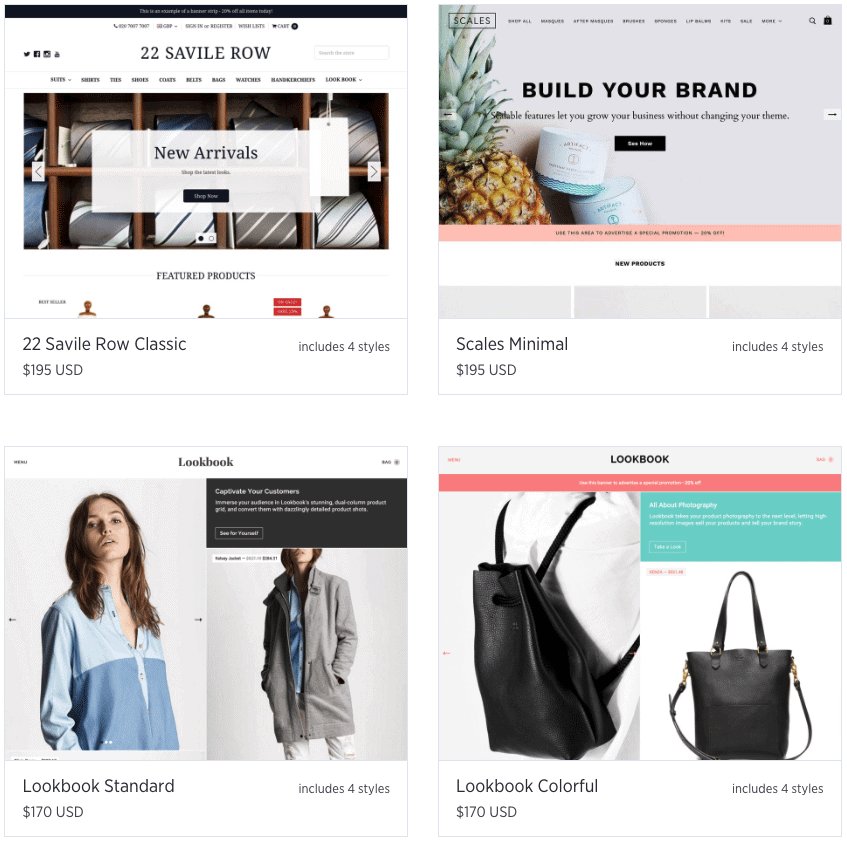 If you're looking for something more individualized, of course, the best approach is to have a designer create something custom for you. Take a look at BigCommerce's partnered web designers.
Every theme features mobile responsive design, which is a necessity in today's market. Responsive features look great on every screen, be it a smartphone, tablet, or computer.
Integrations & Add-Ons
BigCommerce Enterprise integrates easily with other software and applications. In fact, there are so many integrations listed on BigCommerce's web page that it would be too overwhelming for me to name all of them here. So, here's the full list and a few of the highlights:
Prebuilt Integrations With Leading ERP Systems: Including NetSuite and Brightpearl.
Established Integration With Avalara: Avalara is a sales tax automation system that is already connected to your premium account.
Integrates With Several Accounting Apps: A few are Quickbooks, Xero, and Sage.
Ability To Integrate With Marketing & Conversion Apps: Like MailChimp, which is an email marketing and automation app, and Google AdWords.
Integration With Leading POS System: BigCommerce now integrates with ShopKeep, which is a small step up for BigCommerce and a big step up for ShopKeep. Read more about this integration on our blog.
Google Shopping Integration: Google has developed an app to easily connect your BigCommerce platform to Google Shopping. When you update products on your site, they will automatically update in your Google Shopping feed.
If you can't find your favorite app listed on BigCommerce's Apps and Integrations page, it's easy for your developers to build you a new application or foot a connection. There's no limit to API calls with BigCommerce, meaning that developers have no trouble syncing or integrating multiple apps with your store. And BigCommerce's RESTful API uses non-proprietary languages and open documentation. If you don't yet have a developer and you're looking for someone to help, check out BigCommerce's list of partners.
Payment Processing
BigCommerce Enterprise supports 40+ payment gateways, including connections to Stripe, PayPal, 2Checkout, Authorize.Net, and Square.
BigCommerce also offers a native integration with VISA Checkout, which lets you streamline the checkout process for your customers. Another recent addition is an integration with Klarna Checkout.
Qualifying merchants also have the option to partner with PayPal (powered by Braintree). PayPal offers reduced rates on transaction fees to BigCommerce merchants.

See the full list of payment solutions.
Customer Service & Technical Support
BigCommerce Enterprise services include comprehensive customer service. As mentioned above, Enterprise clients are provided with Express Routed Support. That means your questions will be answered quickly and fully the first time. BigCommerce says larger merchants on the Priority Support level will be able to reach a senior support team member in thirty seconds.
It should be made known, however, that just because you're an Enterprise client does not mean that you are the absolute highest priority. There are tiers even within Enterprise services, which means that your company (with its unique needs and price point) may still be ranked below some companies and above others. It all depends on what you work out during your pricing consultation.
Depending on the size of your business, you may be paired with an account manager who can create a success plan for your business and advocate for you for bug fixes and feature requests. Read more about Premium Account Services.
You'll also have access to dedicated onboarding consultants, who can help you launch your store in about four months.
If you're looking for a quick fix, BigCommerce's Community Board and Guides answer frequently-asked questions. And, there's always BigCommerce University. It provides detailed, moderately-paced videos to get you up and running. Take a look at BigCommerce's support center for more resources.
Phone, email, web tickets, and live chat support are available 24/7, but be aware that you'll need your store's PIN (which can be found in your account details on the bottom of your dashboard) in order to access the live chat. This PIN is what facilitates the priority routing that we were talking about before.
Here are the numbers you can call to reach BigCommerce:
US: 1-888-699-8911 (toll-free)
Int: 1-512-758-7588
Negative Reviews & Complaints
While most complaints are directed at BigCommerce in general and not BigCommerce Enterprise specifically, I find it's always helpful to consider the comments on the company as a whole before making a decision.
That being said, here are some complaints I found frequently online:
Sudden (Dramatic) Pricing Change: At the turn of 2016, BigCommerce introduced a new pricing system based on the volume of merchant sales; the new pricing began in April 2016. For some customers, this meant a drastic rise in price: we're talking a 400%-800% increase. When I asked a sales representative about this change, he informed me that the new pricing system is meant to ensure that huge businesses cannot stay at $30/month plans, which, I'll admit, makes sense for BigCommerce. At the same time, I can understand their clients' frustration at the added expense. Not cool, BigCommerce.
Lack Of Technical Support For Customization: BigCommerce does not claim any responsibility for supporting its clients in the customization of their sites. If you're going to make changes in the HTML/CSS and something gets messed up, you probably won't get as much help as you'd like. Most complaining customers write that they were told to hire an expert to assist them at extra expense.
Poor Customer Service: Many customers complain of ignored tickets, dropped phone calls, and general miscommunications involving the prices of additional features. Hopefully, this is a non-issue at the Enterprise level of support, but I can't be certain.
Positive Reviews & Testimonials
There are, of course, loads of success stories featured on BigCommerce's Case Studies page. Here are some things they have in common:
Usability: Users love that the admin is easy to learn and implement, which means you'll be able to publish your store sooner.
Improved Conversion Rates: It turns out that "conversion" is BigCommerce Enterprise's buzzword for a reason. These businesses boast conversion rates that range from 33%-400% increases. Conversions are likely due in part to BigCommerce's strong SEO features and single page checkout features.
Consistent Uptime: When you're getting thousands of hits an hour, it's good to know that your site won't glitch or crash under the weight of all that traffic. Unlimited bandwidth sure helps too.
Security
As you would expect in a shopping cart this well-known, BigCommerce Enterprise is Level 1 PCI DSS 3.2 (Payment Card Industry Data Security Standard) compliant.
The software features built-in bank-grade DDoS (Distributed Denial of Service) protection, which is typically very expensive.
Final Verdict
I have mixed feelings about BigCommerce Enterprise. In general, I think Enterprise offers a lot of important features for high-volume businesses and does so in a way that's easy to use and easy to integrate into your current software. I'm still impressed by this cart's conversion features and near-perfect uptime.
On the other hand, I'm a little wary of BigCommerce's lack of communication on two points: their pricing changes and the priority levels within Enterprise.
My recommendation? Before committing to BigCommerce Enterprise, contact a sales representative who can give you some specifics on the services BigCommerce Enterprise offers (and at what price point). Ask about potential pricing fluctuations in the future. Remember that not all Enterprise accounts are equal and find out where your company lies in Enterprise's priorities.
---
The Merchant Maverick Seal of Approval 🏆
BigCommerce Enterprise


---



After hours of in-depth research and evaluation, we can confidently recommend this brand to our readers. Get started today and see BigCommerce Enterprise for yourself.
The Merchant Maverick Seal of Approval 🏆
BigCommerce Enterprise


---



After hours of in-depth research and evaluation, we can confidently recommend this brand to our readers. Get started today and see BigCommerce Enterprise for yourself.
To learn more about how we score our reviews, see our
eCommerce Software Rating Criteria
.
Read Next