Expert Analyst & Reviewer

UPDATED
Advertiser Disclosure: Our unbiased reviews and content are supported in part by
affiliate partnerships
, and we adhere to strict
guidelines
to preserve editorial integrity.
BillingOrchard

Pros
Unlimited users
Unlimited invoices
Cons
Limited features
No mobile apps
Limited invoice customizations
Buggy
Expensive monthly cost
BillingOrchard Overview
Launched in 2001, BillingOrchard was one of the first programs of its kind to hit the market. It aimed to solve small business owner's invoicing needs and automate their billing processes. BillingOrchard was acquired by Payscape in 2016. We've yet to see Payscape make any significant changes to the software. The company may have been able to accomplish its goal of being an invoicing and billing solution in its earlier years, but the software no longer holds up to the competition.
Billing Orchard's features only cover the basics. There are no invoice customizations, limited time tracking, no mobile apps, limited integrations, and no live bank feeds. To top it off, the software is severely overpriced and the software has a history of glitches. So what's the good side? If we had to choose a highlight of BillingOrchard it would be the unlimited users, multi-lingual invoicing, and their ecommerce offerings. Payscape offers ecommerce and payment processing solutions that integrate directly with BillingOrchard.
However, for most users, the pros simply don't outweigh the cons. While the software is designed for small businesses, the current state of BillingOrchard simply doesn't meet those needs — at least not as well as its competitors.
If you are looking for strong invoicing, check out Zoho Invoice or Invoice Ninja. Both are more affordable and offer far more features. If you are looking for a combined invoicing and payments solution, take a look are Square Invoices instead. Or, explore all of your invoicing options by reading our comprehensive invoicing reviews.
If you'd still like to learn more about BillingOrchard, continue reading.
Pricing
BillingOrchard offers three pricing plans. Payments are made monthly, and you can cancel the service at any time. There is a 15-day free trial with no credit card information required. There is also a referral program where you can get a $5 credit for each person you get to use the software.
Despite the referral program, there's no world in which BillingOrchard's prices are competitive — especially considering the limited features you get with the subscription. The unlimited users are a nice addition, but the user permissions are weak, which could be a big issue for some businesses.
Here's what you get with BillingOrchard's pricing:
Oak
$19.95/month
Unlimited invoices
Unlimited estimates
Contact management
Project management
Time tracking
Reporting
Up to 5000 transactions
Unlimited users
Orchard
$29.95/month
Unlimited invoices
Unlimited estimates
Contact management
Project management
Time tracking
Reporting
Flat rate for credit card processing
Up to 5000 transactions
Unlimited users
Forest
$69.95/month
Unlimited invoices
Unlimited estimates
Contact management
Project management
Reporting
Time tracking
Flat rate for credit card processing
5000+ transactions
Unlimited users
Extra Costs
There are a few extra costs and services to be aware of before signing up with BillingOrchard.
Credit Card Processing: With the Orchard and Forest plans, you receive a flat credit processing rate of 2.9% + $0.29/per transaction. You can still accept credit cards on the Oak plan, and funds take up to 48 hours to be deposited. Contact Billing Orchard directly for details.
eChecks: You can accept eChecks for $14.95.
Website Building: You can purchase a web design add-on where BillingORchard will create a custom website for your business. Contact BillingOrchard directly for details.
Support Ticket: For $10/month you can add a support ticket system to your subscription to help manage your clients.
In addition to these extra fees, Payscape offers several other small business products that you can add to your BillingOrchard account. These products include Insights, eCommerce, Lending, Online Registration, POS, and more. Contact Payscape for more information and pricing details.
Cloud-Based Or Locally-Installed
Cloud-based. No downloads or installation required.
Hardware & Software Requirements
As cloud-based software, BillingOrchard is compatible with nearly any device so long as you have an internet connection. There are no mobile apps at this time, although you can access BillingOrchard on your mobile web browser.
Specific Size Of Business
BillingOrchard is designed for small businesses in need of an invoicing solution. The software is ideal for service-based businesses and is not designed for product-based businesses. While the software does cover the basics, the steep pricing puts it out of range for most small businesses. There are more affordable invoicing options out there, like Zoho Invoice and Square Invoices, that give you access to more features for less.
The software is also missing live bank feeds and accounts payable, so if your business needs these features we recommend looking at other options. On the plus side, BillingOrchard does offer unlimited users, although the user permissions could be more advanced.
Ease Of Use
BillingOrchard is easy to set up, but the UI is outdated and certain features are difficult to find making the software hard to navigate at times. The software also has a history of glitches and bugs. While retesting the software this time around, I ran into a consistent glitch where every time I clicked the "save" button on a screen, the software would freeze and nothing would happen. There is a new user walkthrough available, and you can schedule a demo with a trained BillingOrchard representative to help you learn the software as well.
Features
BillingOrchard covers basic invoicing features and gears these features to service or project-based businesses. Here's what to expect with BillingOrchard:
Dashboard: BillingOrchard offers a simple dashboard with charts marking YTD (year-to-date) Income, a Quick Accounts Summary, Aging Invoices, Future Recurring Revenue, and Clients with Pending Items. You can also access the Help Center directly from the dashboard.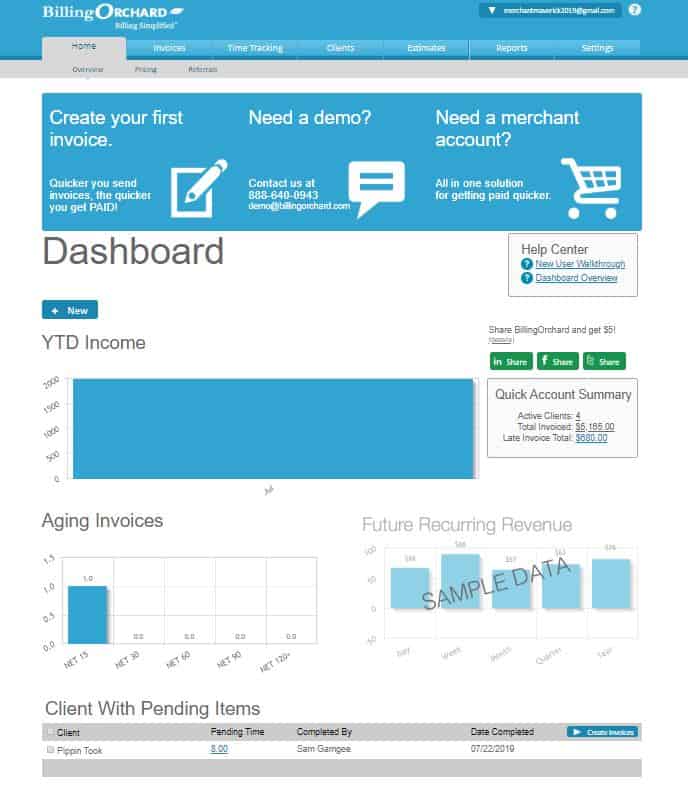 Invoicing: BillingOrchard offers a single invoicing template with no customizations except adding a company logo. You can set recurring invoices and invoice reminders. You can invoice for services and projects. The software is not set up to invoice for items.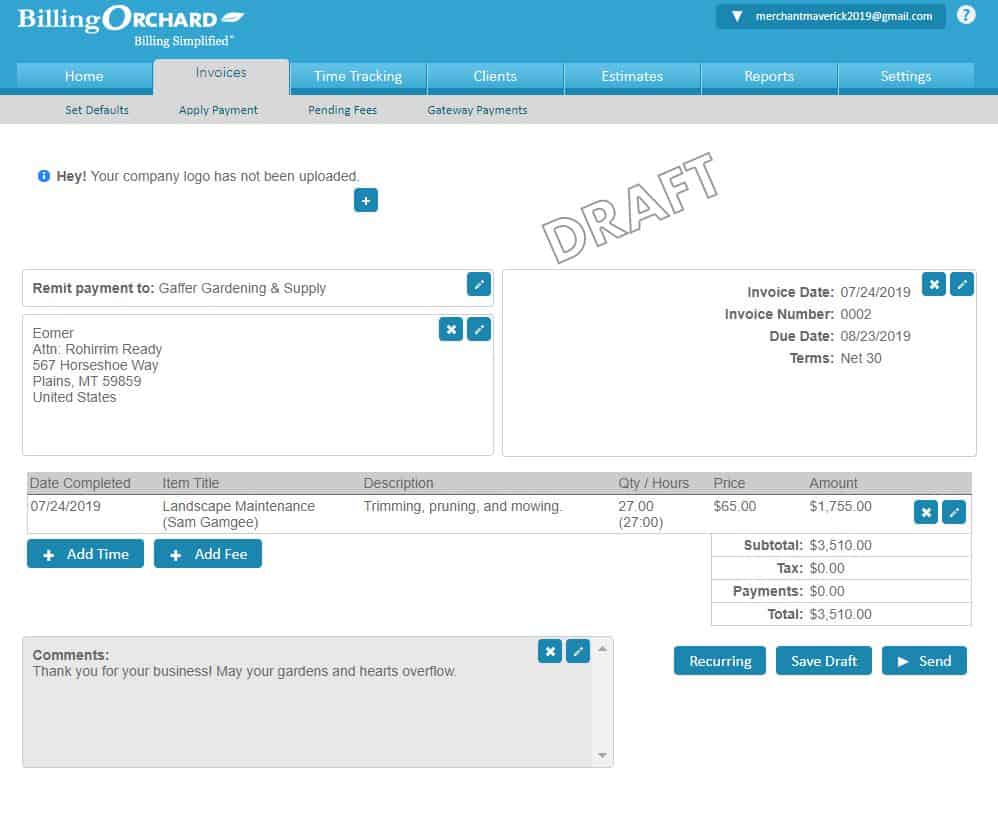 Estimates: You can create and send estimates to customers. Once an estimate is approved, you can easily convert it into an invoice.
Client Portal: Customers will receive estimates and invoices in a client portal. Customers can approve or decline estimates and pay invoices directly from the client portal. As far as client portals go, BillingOrchard's is far from the most attractive, but it gets the job done.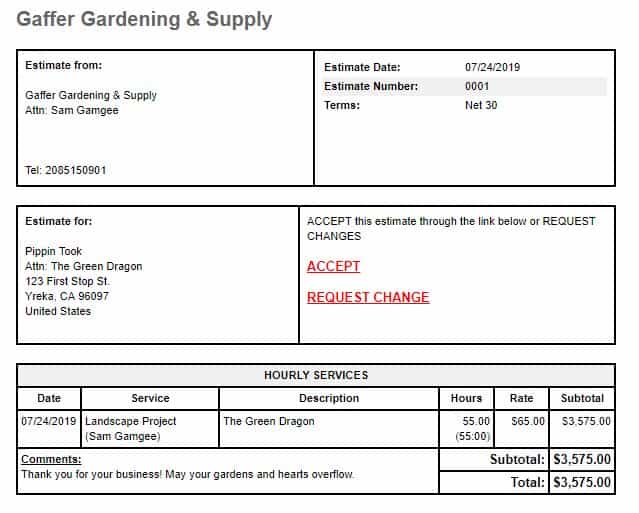 Contact Management: You can import or manually enter contacts with the following information: contact, client name, email, phone, address, notes, and a custom field. When you create a new customer you have to set a username and password for them, which is weird. I have never seen another company do this. My first issue with this is customers should be in control of setting their own username and password. And secondly, why would a customer need a username and password anyway?
Expense Tracking: BillingOrchard has a very basic expense tracking feature where you can input transactions manually. There is no way to import bank statements and no live bank feeds. This feature is hard to locate and is found under Reports. Recurring billing is also available.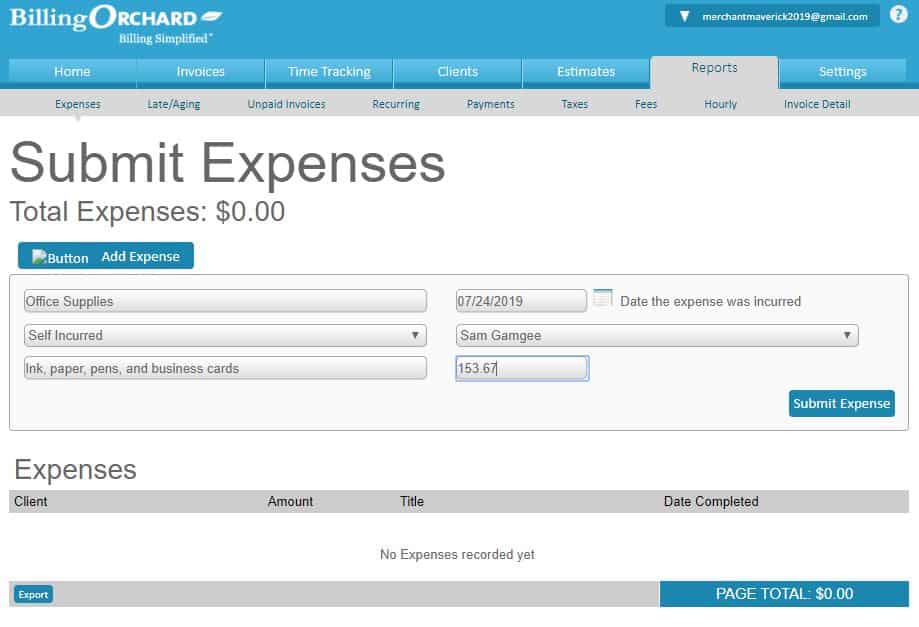 Items List: As we mentioned earlier, BillingOrchard is not designed for product-based businesses, so you won't find an item list. Instead, you can input either service fees or miscellaneous fees. You can record a service name, description, and default hourly rate.
Project Management: When you create a project, you can include a client, project title, project estimate, and full proposal/description. You can easily create project invoices.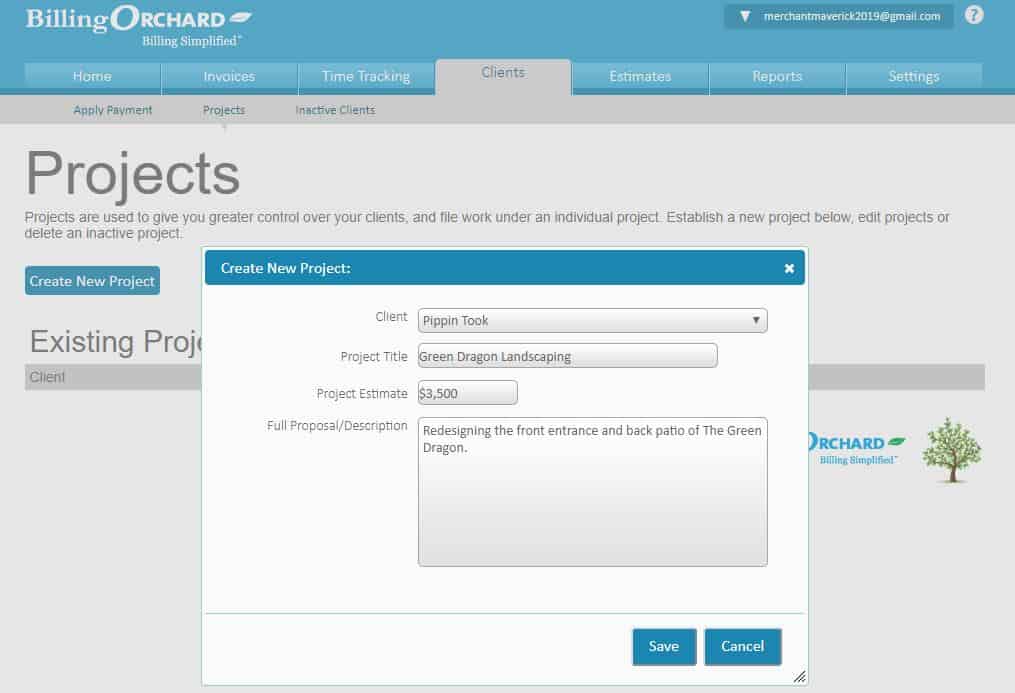 Time Tracking: BillingOrchard offers a basic time tracking feature where you can manually input hours. You can also add a title to the time recorded, a description, completion date, and any hours or rate preferences. Time has to be attached to a client.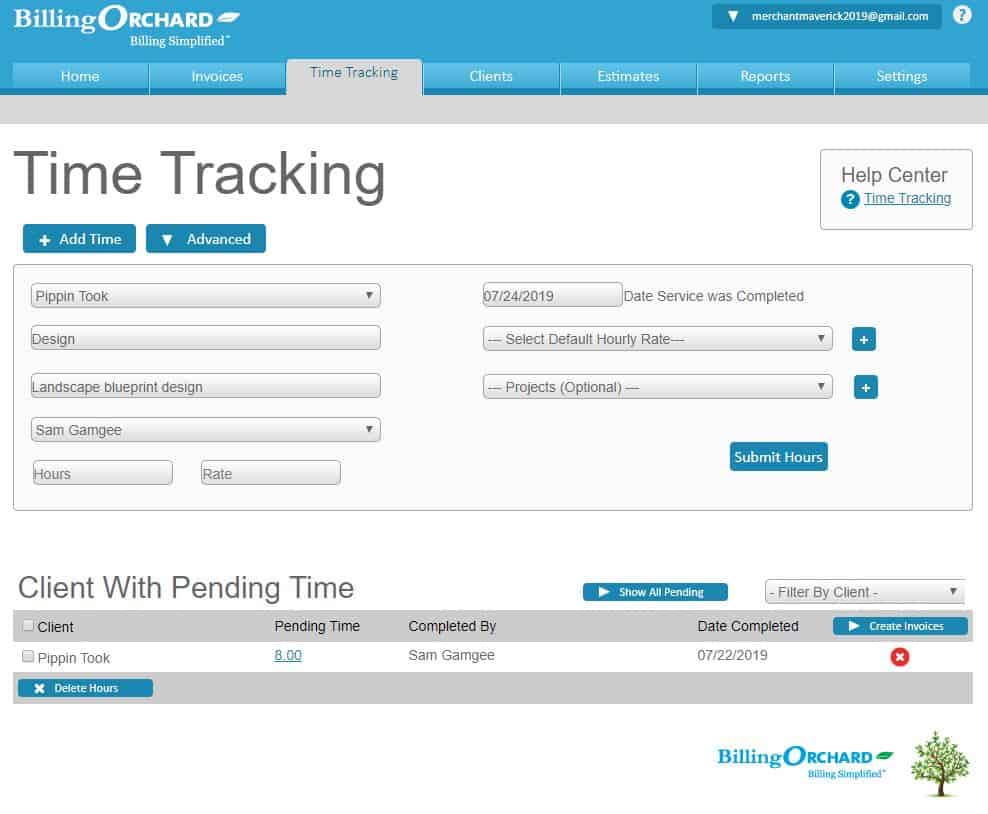 Reports: BillingOrchard has added three new reports since our last review for a total of nine reports. These reports revolve around revenue, taxes, expenses, and aging accounts.
Default Email Messages: You can set automatic email messaging with customizable default email messages for recurring invoices, resending past invoices, credit card expiration notices, credit card declined notices, and client invites.
Sales Tax: There is only one sales tax rate allowed and it is automatically applied to every invoice.
Multiple Languages: BillingOrchard supports both English and Spanish.
Importing & Exporting: You can import clients via .csv. You can export clients, invoices, and reports.
Customer Service & Support
In the past, BillingOrchard was not clear about customer service pricing and the support experiences I had were poor. When updating our review this time, support was much more timely, and I was assured there is no extra cost for support.
BillingOrchard offers phone support and email support. All of the emails I sent were answered in under 5 hours, with some taking only minutes. This is a vast improvement from our previous review where representatives closed several of my support tickets before answering them and ignored my emails for four days when I experienced a bug that left the software inoperable.
The customer service team can be reached from 8 AM – 5 PM EST. Here are the ways you can contact BillingOrchard:
Phone: You can call the BillingOrchard team.
Email: BillingOrchard has several emails: one for support, one for sales, and one for scheduling a demo.
Help Center: BillingOrchard.com has a help center with 100+ how-to articles. You can also contact support directly from the help center. However, it's worth noting that half of the help center is for the old Legacy version of the software and half is for the new Orchard version of the software.
FAQs: There's an FAQ section on BillingOrchard's website for common questions and concerns.
YouTube: There is a BillingOrchard YouTube channel with almost 50 videos, but most are several years old and are for the Legacy version of BillingOrchard.
Social Media: BillingOrchard has FaceBook and Twitter accounts, but these accounts haven't been updated since the company was acquired by Payscape.
User Review
Negative Reviews & Complaints
Overall, BillingOrchard hasn't received very many reviews. The reviews that do exist are a mix of positive and negative but lean more on the positive side. Here are a few issues users do report with the software:
Difficult To Use: A couple of users found the software difficult to use and navigate.
Not Updated Enough: One user complained about the lack of updates.
No Mobile Apps: One user wishes there were mobile apps available.
Positive Reviews & Testimonials
BillingOrchard receives 3.5/5 stars on Capterra (based on 9 ratings) and 4.3/5 stars on their Facebook page (based on 8 ratings). The majority of these reviews are outdated. Although many of these reviews are outdated, we still want to give you an idea of the Blinksale user experience from real people. Here are the things users liked most about the software:
Easy To Use: The biggest praise about the software is that it's easy to use.
Good Features: Users like the recurring invoices feature and the ability to accept payments online.
Good Customer Service: A couple of users praise BillingOrchard's customer service and say the company is quick to respond.
Here are a few ways that current users enjoy the software:
I adore this company/service/lifesaver! It has SO streamlined the business end of teaching dance and is encouraging parents to keep up with their tuition payments better. They love it! AND, the customer service is phenomenal… every question I've had has been answered super quickly and completely! Highly recommend!!

I love that collecting payments is easier and I get paid much faster than before. I've also gotten feedback from clients that they find the payment process simple and easy.
Integrations & Add-Ons
BillingOrchard has only four integrations: Payscape, PayPal, Authorize.Net, and QuickBooks Online. If the QBO integration is what drew you to BillingOrchard, for the price, you might as well cut out out the middle man and just use QuickBooks Online which includes invoicing. API is available for developers.
If your company needs an invoicing program with a larger selection of invoices, we recommend taking a look at Harvest or Square Invoices instead.
Security
BillingOrchard doesn't provide much security information other than that they are PCI compliant and use SSL encryption. The company also has an uptime of 99.99% on average. While the uptime is great, the lack of transparency is a bit concerning. Additionally, our payments processing expert, Melissa Johnson, says this about Payscape (the company that bought-out BillingOrchard) based on the lack of transparency regarding their own product and the use of licensed products from other companies such as First American Payments Systems:
I am suspicious of Payscape and would not necessarily recommend working with them for payment processing.
All of this said, Payscape may offer more security measures than they let out, but you'll have to contact the company directly to learn more.
Final Verdict
BillingOrchard was one of the first invoicing solutions on the market, but a lot has changed since 2001, and Billing Orchard? Not so much. While BillingOrchard has some good things going for it — unlimited users, basic features, multi-lingual invoicing — the pros aren't enough to outweigh the cons, with the biggest con being the price of the software. BillingOrchard is far more expensive than its competitors, and your money doesn't go nearly as far in terms of features. With BillingOrchard, there are no live bank feeds, limited invoice customizations, and limited integrations. The weak user permissions also make the unlimited users almost obsolete.
BillingOrchard is geared toward service-based businesses or existing Payscape users that need an invoicing solution. However, there are many more capable and affordable invoicing solutions out there that satisfy these needs.
If you're looking for strong, affordable invoicing software, we recommend taking a look at Zoho Invoice or Invoice Ninja. If the built-in payment gateway is what drew you in, check out Square Invoices for a much better option. Or, take a look at all of our invoicing reviews to explore all of your choices. If you're still interested in BillingOrchard, be sure to take advantage of the free 15-day trial, and let us know what you think in the comments below.
---
Try A Top Pick For Payroll
ADP Payroll


---
We like ADP Payroll for its advanced employee management, strong payroll features, and great customer support. Get three months free when you sign up through our links! Get Started.
Try A Top Pick For Payroll
ADP Payroll


---
We like ADP Payroll for its advanced employee management, strong payroll features, and great customer support. Get three months free when you sign up through our links! Get Started.
To learn more about how we score our reviews, see our
Invoicing Software Rating Criteria
.