Expert Analyst & Reviewer

UPDATED
Advertiser Disclosure: Our unbiased reviews and content are supported in part by
affiliate partnerships
, and we adhere to strict
guidelines
to preserve editorial integrity.
Bindo POS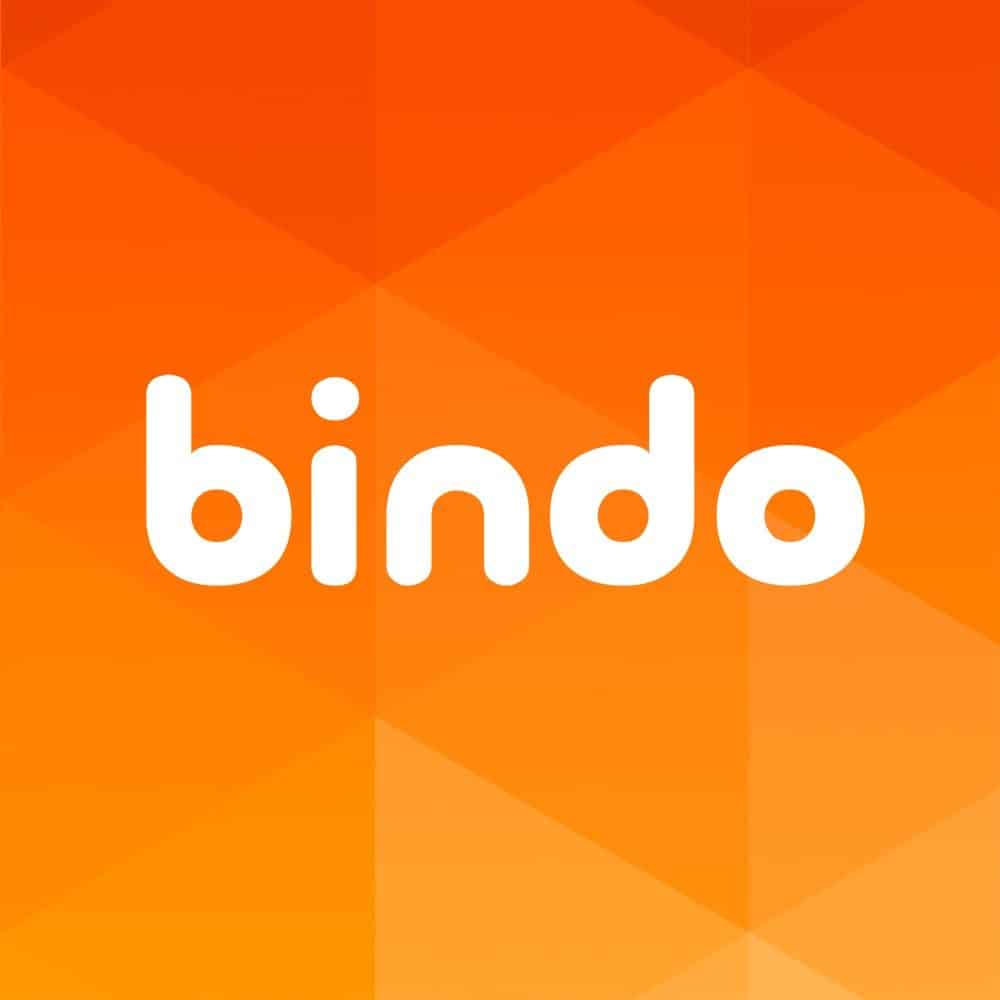 Pros
Free eCommerce features
Free customer service
Advanced inventory management
Cons
Buggy software
Expensive equipment leases
Inadequate customer support
Bindo POS Overview
Bindo POS is an iPad-based retail and QSR point of sale system, designed in part to give small business owners a stake in the online shopping phenomenon. In 2010, founders Jason Ngan and Brad Lauster formed a small startup based out of New York City; the company's flagship product, Bindo POS, was launched in 2013. In 2014, the company raised $1.8 million in seed funding for an Asia expansion to open offices in Singapore and Hong Kong. That same year, Bindo claimed to have processed over $500 million in sales, which is a pretty significant amount.
But, as you may be thinking, 2014 was kind of a long time ago.
Well, you're right, and despite the company's promising start, we haven't heard too much from Bindo since then. The company is still around, though. Bindo initially separated itself from most other POS systems because it was intentionally suited to help businesses compete with large online retailers. These features are still available. Store owners can quickly add and manage inventory in the cloud while maintaining both online and brick-and-mortar establishments. Bindo Marketplace makes it possible to connect directly with buyers in your area, allowing them to make online same-day delivery purchases. Store and eCommerce transactions are automatically synchronized with Bindo, ensuring that even online inventory data stays current.
Co-founder Brad Lauster once summed up Bindo's most significant selling point in this way:
We are not interested in simply providing an online storefront for merchants to promote themselves; we are aggressively co-marketing our marketplace with our merchants so that together, we have the means to battle the Goliaths of e-commerce.
The Marketplace and other POS features are still functional and, dare I say, impressive. But, unfortunately, Bindo never really gained much traction in the admittedly crowded POS marketplace. Software bugs and instability issues have plagued the company more or less since its inception. Perhaps mainly for this reason — and maybe also for not providing enough of an advantage over other competing POS software, as eCommerce has become par for the course with cloud POS systems — Bindo doesn't seem to have expanded much. If anything, it has scaled back its operations in the past few years.
Don't have time to read an entire review? Take a look at our top-rated point of sale solutions for a few quick recommendations. Every option we present here offers excellent customer support, detailed user interfaces, and easy-to-use software, all for a reasonable price.
Pricing
Bindo POS offers a free, 14-day trial, advertising that it requires no credit cards, no contract, and no commitments.
After that, price points — and commitments — are a bit less cut and dry. From what we can suss out, plans are custom-tailored to each business. Bindo assigns an agent to work with you and help you set up your POS and online store. The company is generally reticent about exact pricing, and its website doesn't mention pricing at all. However, I discovered elsewhere that Bindo primarily bases its pricing on how many SKU numbers you expect to need. For low-end merchants in the United States with 50 SKUs or less, people report subscription prices near $59-$80/month. The mid-level average in the US seems to be around $150/month. All subscriptions include access to eCommerce features as well as free technical support.
Of course, the price of the software itself does not include credit card processing fees, which will depend on your merchant account. Bindo does not offer in-house merchant services.
Now for the bad stuff: Bindo charges a $150 activation fee unless you bill annually, committing you for one year. Even worse, customers complain about lengthy equipment leases keeping them trapped with the system for as long as three years. For this reason, we always recommend buying rather than leasing your POS terminal, the same as with any credit card processing hardware.
Cloud-Based Or Locally-Installed
Bindo is entirely cloud-based and does rely on a Wi-Fi connection to function fully. Bindo also has some offline capabilities in case you experience an internet outage. Retail owners, for example, can continue to queue up transactions even when their internet goes down. Bindo has also added a fully offline version that restaurants can use during an internet outage. Business owners choose an iPad to work as the master register. If there is an internet outage, the iPad turns into a local on-site server. As long as there is a network connection to the master register, you can continue to run your restaurant, print receipts, print kitchen slips, and perform other necessary functions. Bindo does not support offline credit card processing, though.
From what I've read in customer reviews, a high-speed internet connection is essential when using Bindo, or you risk partial shutdowns, screens freezing, and other annoyances. It's best to opt for a wireless service that offers real speeds of at least 10 Mbps for downloads and 5 Mbps for uploads. That means you should look for theoretical max speeds well above this threshold.
Specific Industry
Bindo POS initially only supported retail industries (pet stores, wine/liquor merchants, salons, clothing establishments, etc.). It later added restaurant-specific features, such as reservation management, raw ingredient tracking, menu modifiers, floor plan set up, online ordering, and ingredient-level tracking, making Bindo an option for quick-service and full-service restaurants.
Specific Size Of Business
Though the company's mission statement implies a focus on small business, the subscription price points and the depth of available features indicate that Bindo aims to cater to medium and large retail operations as well. Whatever size business you have, Bindo POS is capable of storing thousands of inventory items.
Ease Of Use
Like most iPad-based POS systems, Bindo is intuitive with a clean-looking interface. For the most part, all buttons are labeled clearly and respond quickly with a touch of your finger. It did not take me long to get the hang of the system once I understood the features. However, you kind of have to figure out how things work for yourself, and if you have no prior POS experience, you could get a little lost. There is a "Getting Started" guide on the website, but my interface and feature-set did not exactly match those in the guide. It would be nice to have some type of guided set up within the app, personalized onboarding, or even just a video tutorial to explain the setup process.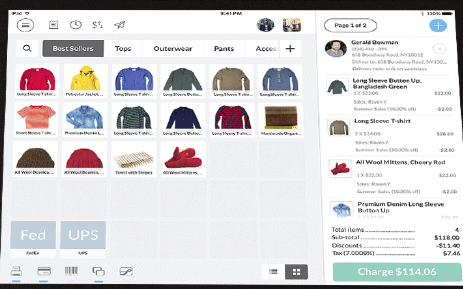 Despite a somewhat challenging initial setup process, Bindo does include some features that save time and effort:
Importing Data: Bindo takes the drudgery out of a usually mind-numbing task. It allows you to quickly export inventory from your current setup into a spreadsheet file and from there to your Bindo account. You can save yourself a whole lot of time and effort by uploading information (images, UPCs, prices, brand names, tax rates, etc.) directly into your store without being forced to scan and edit each item you sell manually. There are a few caveats, however. As part of the "onboarding" process, Bindo will import any number of inventory spreadsheets for two weeks. Afterward, the company agrees to process one spreadsheet/month/store. If you need to upload more than one spreadsheet a month, Bindo will charge you $250/import.
Adding New Items: It's not hard to add new items to your stock. All you have to do is access your register and scan the item you want to include in your inventory. Then you simply type in the price and voila! The item is added to your inventory list (and/or to the current sale, if relevant). If you'd like, you can scan in the UPC or add it manually. It's also possible to edit the price/quantity/tax rate/etc., of newly entered items at that time. Note: Editing items that already have an official UPC number is a bit of a grey area and can lead to potential fraud on the part of users. If you need to change critical information about an item of merchandise (the name, brand, image, or description, for example), you must first get approval from Bindo.
Creating A Matrix: The ability to create a product matrix is one of Bindo's more inspired features. It enables the swift creation of different attributes and values for a single product. For example, if you sell a particular style of baseball caps, you might want to sell it in various colors and sizes. After you form a matrix by inputting applicable variables, Bindo automatically calculates every possible combination of size and color for you. After that, you can price and name each permutation as you see fit.
Favorites Grid: Another feature designed with the end-user in mind, Bindo's favorites grid provides shortcuts on your register screen to the most common items in your inventory or on your menu. That saves time and movement and generally speeds up the checkout process. You can create six pages of favorites and rename and/or organize them in a way that makes the most sense to your employees.
Hardware & Operating System Requirements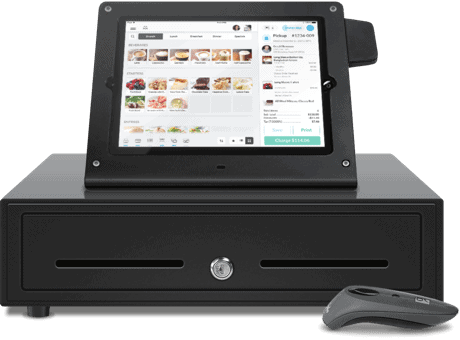 Bindo POS can be installed on any iPad running iOS 10.0 or later. Although the App Store states that any device running iOS 10.0, including iPhone and iPod Touch, can run the app, I discovered that you have to use an iPad for full register functionality. Bindo is also now available on Android and can run on any relatively current tablet.
As for peripheral hardware support, the company advertises its recommended setup on its website. Each hardware order comes with free shipping within the US, a 30-day return policy, and free tech support to iron out any glitches. Again, if you need POS equipment, we recommend purchasing it outright rather than leasing it. You can buy assorted hardware from the website, and there is at least one convenient package that the company offers as well.
Features
Though Bindo customers have complained of glitches and outages affecting Bindo's functionally, the features themselves are quite impressive:
Register Features: Bindo has a fairly robust register, which is always nice to see in a POS system. When checking a customer out, you can scan their items, add their purchases from a favorites list, or simply scroll through your entire inventory to find what you're looking for. Bindo allows customers to pay in a variety of ways, and you also have the option to split tender. You can apply discounts or coupons to individual items or a customer's entire purchase order. If necessary, you can also apply multiple discounts to one order. There are other practical features as well. For example, the Bindo register gives you the ability to hold receipts (save or hold a customer's items that have already been rung up) if you need to move on to other customers in line. The register also allows you to store customer information, issue refunds, print out duplicate receipts, and email receipts or gift receipts directly to the customer.
Adding Custom Products: If you're selling a custom product that has no official UPC (or you wish to designate services/fees), you can use the Add Custom Product feature.
Inventory Management: As I mentioned in the Ease Of Use section above, Bindo excels in inventory management, and it's way ahead of the rest of the POS industry in this respect. It is a breeze to transfer your inventory initially, and Bindo's SST (simple scan technology) is even more impressive. Using SST, you can scan a manufacturer's barcode, and Bindo will automatically retrieve a photo, title, and description of the product from the company's database of over 10,000,000 products. In essence, you don't have to do any leg work; all of the information about each item you sell is auto-filled for you. It is (as any fifth-grader worth their salt could tell you) easy peasy lemon squeezy. Bindo's inventory management features also enable you to keep a close eye on stock and sales and view real-time updates. You can search for individual items and add/delete your wares whenever necessary. Bindo also offers multistore management.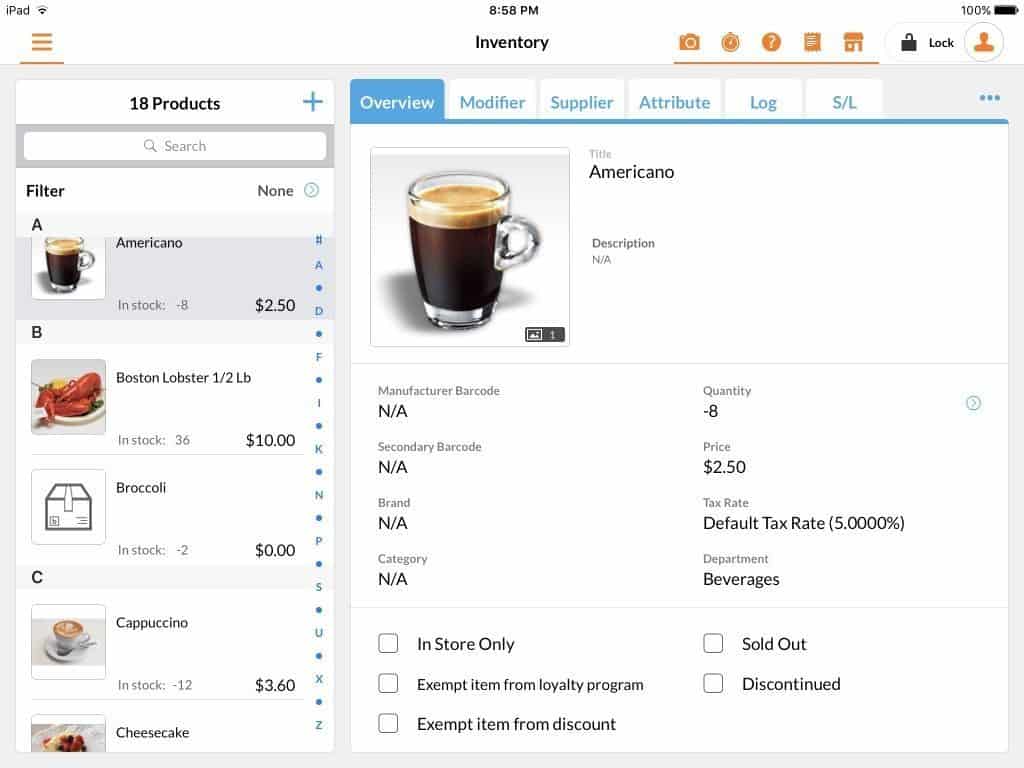 Purchase Orders: Bindo organizes purchase orders in one place, so you can view created, submitted, fulfilled, and/or canceled orders "with the tap of a finger." Each purchase order is populated with relevant information, including an image of the product, order number, associated supplier(s), status, the name of the person who generated the order, and so forth. Also, immediately after a purchase order is created, Bindo will inform you of any out-of-stock merchandise and provide alerts about items that are currently running low. The "virtual vault" for purchase orders also includes invoices, quotes, supplier information, and receipts, so everything is safe, accessible, and in one, easy-to-find location.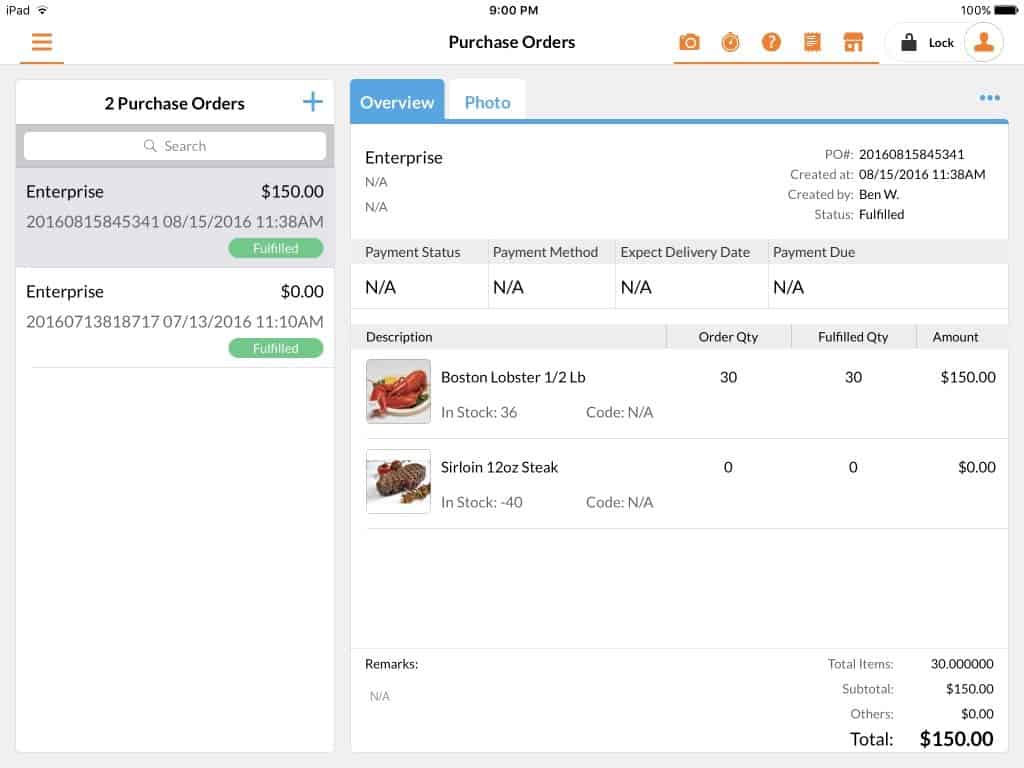 Credit Card Batching: Bindo automatically batches two times per day: once at 4 PM and once at 11 PM (we're assuming EST, but this isn't made clear). Visa/Mastercard/Discover cards batch together, while American Express batches by itself (this means that if you accept Amex, you'll have a total of four batches/day). However, you can adjust your batch times if needed.
Employee Management & CRM Features
Staff Management: Bindo's PIN-based staff management system allows you to keep track of who's working (on which register) and for how long. In an ideal world, you would trust everyone in your employ, but the reality is that some people will try to take advantage of you. Bindo side-steps this issue with a built-in Identity Safeguard, which uses individual passwords (four-digit PINs) and takes a picture each time an employee checks in or out. As a backup, you can manually adjust the time if an employee accidentally forgets to clock in.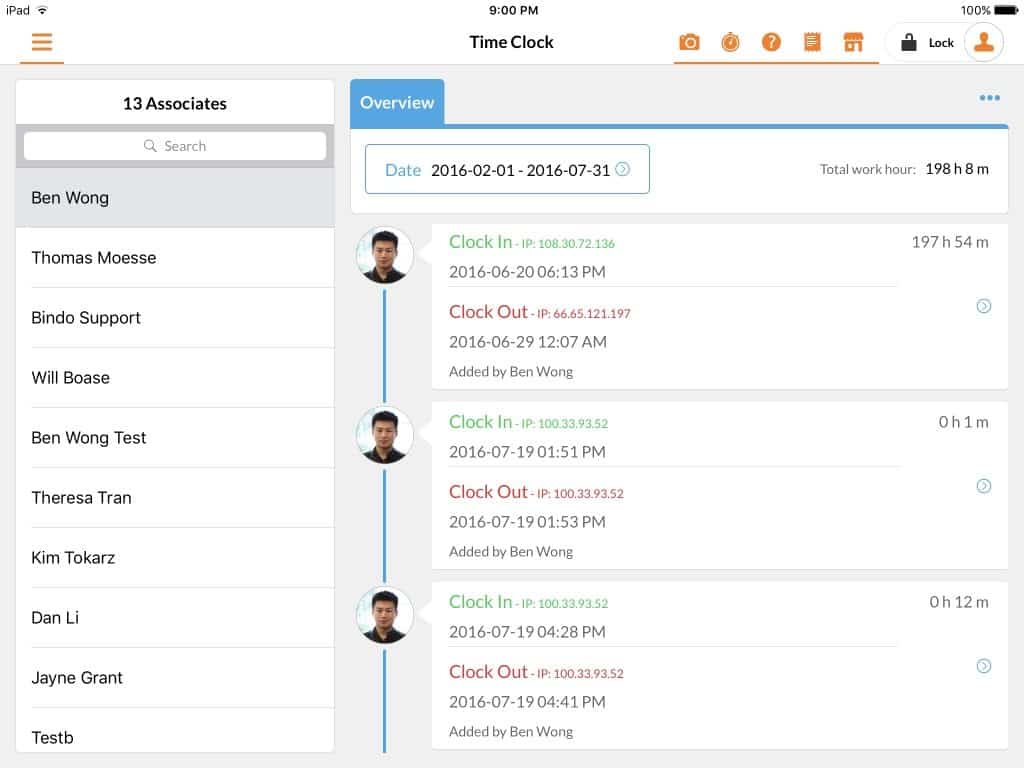 Permissions: Employees can be given one of three permission statuses: Manager, Associate, or Junior Associate. Managers have full access to all of Bindo's features. On the other hand, associates can access most features, including information about customers and inventory, but cannot change settings or view reports or the time clock. Junior Associates have access only to the register.
Customer Management: Good customer management is Business 101, so I am pleased with how far Bindo POS has gone to promote healthy, personalized CRM. First off, Bindo lets you create fairly complex profiles for each customer, including names, email addresses, and even seemingly small details, such as brand preferences and birthdays. Every purchase a customer makes is recorded on their profile, making it easy for you to follow trends. It's also convenient for customers who want to repurchase an item but can't remember the name, size, or brand. All of this information is extremely helpful for reporting purposes. Knowing important data — the average amount a customer spends, how many times they visit your store, the type/amount of items purchased — is valuable for marketing purposes. That's especially true if you're using a targeted marketing approach and/or trying to get the most out of your email marketing software. After all, if you can accurately understand who your best customers are, you're more likely to be effective in your efforts to keep them coming back.
Loyalty Programs: Unlike many of its competitors, Bindo offers a flexible, multitier loyalty feature that helps track customer spending and rewards via three different methods: by the number of orders/visits, by the number of individual products purchased, or by total dollar amount spent. Read our post on loyalty programs if you'd like to learn more about how tiered loyalty programs generally operate. You can create as many tiers as you wish for your loyalty program. Fortunately, the loyalty program does not require customers to physically carry a card, so people are more likely to participate.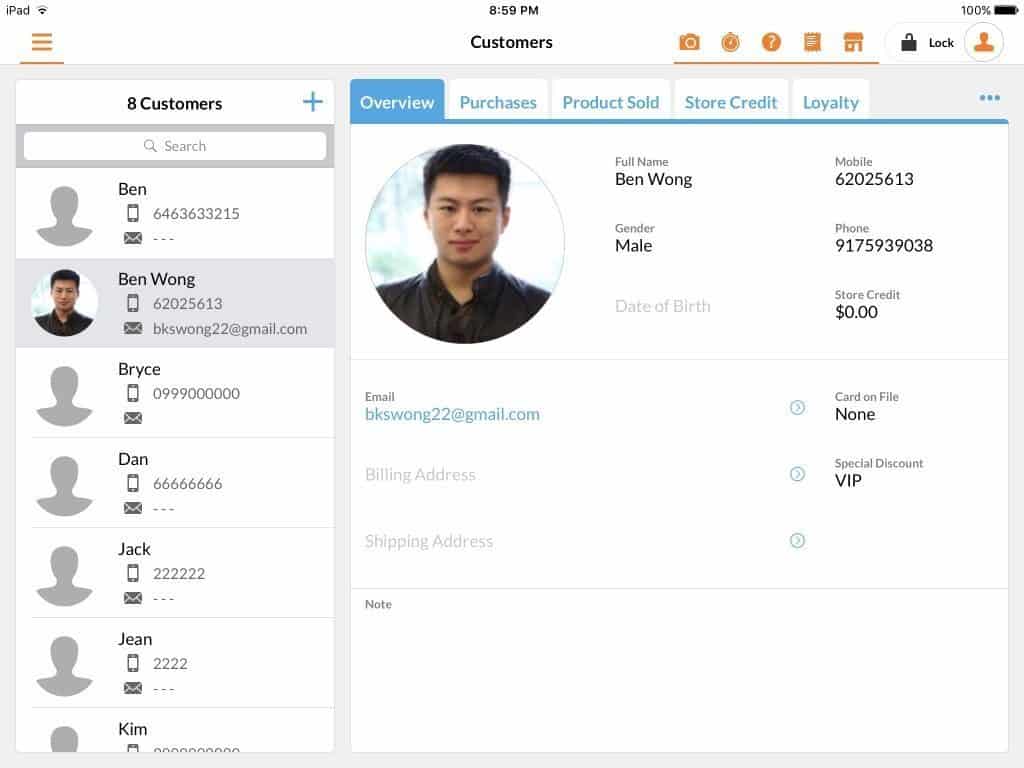 Advanced Features
Reporting: One of the most critical functions of a POS is to provide you with data to make smart, informed decisions about your business. To that end, Bindo provides a wide variety of reports, including sales summary reports, income statement analyses, and side-by-side comparisons of your best and worst-selling products. You can also take any metric and compare it against past performance. The Transaction Breakdown Report is especially useful, as it allows you to view every single detail of a sale or filter the information that interests you most. There are no time restrictions for reports. As long as you're an active Bindo subscriber, you can access data or run reports across any timeframe. Of course, you can export your reports whenever you want via email. However, the option to print reports is only available for the Sales Summary Report.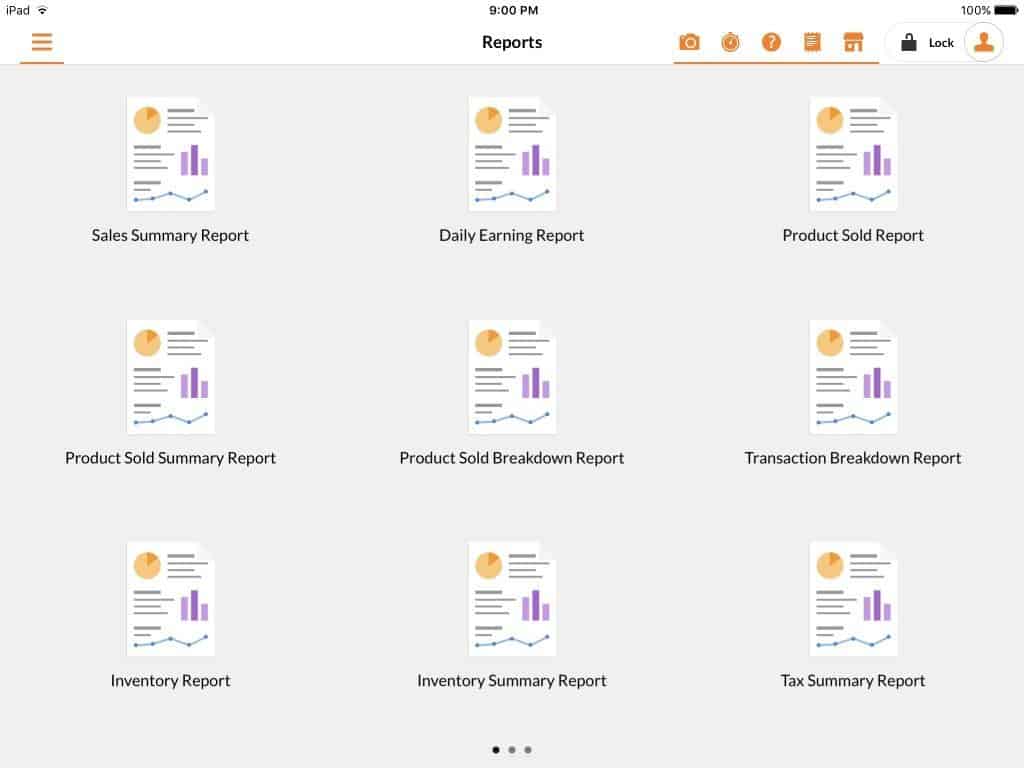 Mobile POS Option: Because Bindo is an iPad-based POS, you and your employees don't have to be tied to your checkout counter. If it looks like people are facing a long wait, you can simply grab your iPad and work your way down the line taking payments, issuing receipts, and doing whatever else that needs doing. Plus, the inherent portability of an iPad ensures that you can view reports, timesheets, etc., even when you're away from the store.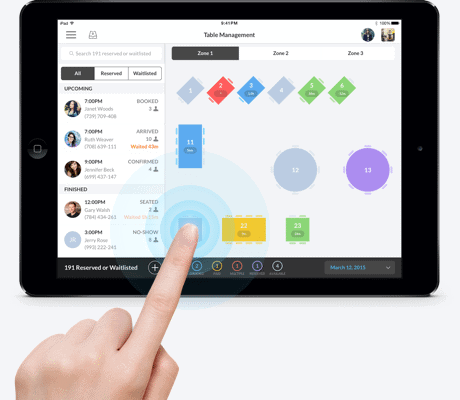 Bindo Storefront: Bindo Storefront provides a customizable way to improve your current website with a full POS eCommerce/online ordering/reservations integration. Bindo is responsible for back-end processing, but you have complete access to your source code. If you've got basic HTML editing skills, you should have no problem setting up your site in just a few minutes. Of course, you always have the option of hiring an external third-party developer. Bindo Storefront allows you to accept credit cards and other payment methods with the same Bindo payment gateway you use in your physical store. That keeps all your business avenues consistent, easy to track, and easy to manage from a single location. To design a site unique to your business, you can customize the header text and product layouts as well as button colors, background colors, highlight colors, and product image size.
Multiple Store Management: Bindo is suited for managing multiple brick-and-mortar stores, and it enables you to view employee sales data for your entire workforce in one place. The single catalog management feature allows you to synchronize inventory across all locations and know where any product is at any given time. That way, if a customer can't find an item at one location, you can direct them to the nearest store with the item in stock. Conveniently, there are multiuser management features, so you can grow at your own pace, whether you have two employees or thousands of workers nationwide.
Custom Gift Cards: Bindo enables you to make customized gift cards featuring your store's logo. The gift cards themselves don't have to be purchased through one of Bindo's partnering gift card vendors; you can get them anywhere. You'll likely get a better deal by going with one of the preferred vendors, though. Gift cards are fitted up with both magstripes and PINs so that people can use them in your shop or online. You can transfer a balance from one gift card to another (or from one customer to another), link a card to a specific customer, and suspend cards so that they cannot be used again. All in all, these cards function well and are on par with industry standards.
Bindo Marketplace: Bindo Marketplace is an innovative app that allows you to connect your stores (both online and brick-and-mortar) with potential consumers in your neighborhood. It is, for lack of a better metaphor, a local, neighborhood version of Amazon.com. Customers can see at a glance what is in stock and order items online or have products delivered to their door right from local stores. Nearby customers get access to all the stores in the vicinity that use the Bindo Marketplace app. According to Bindo, this will "hopefully make them more likely to buy from local mom-and-pop stores instead of large e-commerce businesses like Amazon.com." As a shop owner, you can increase your visibility by providing detailed descriptions of your store on the Bindo Marketplace, specifying your return/exchange policies, including information about shipping/handling costs, and generally making your brand appealing to a local market. Bindo Marketplace fully integrates with Bindo POS so that you have just one portal to manage your inventory.
Restaurant-Centric Features: Bindo offers some restaurant-centric features. Create a floor plan with numbered tables that can be color-coded to indicate a table's status, whether it's open, already contains an assigned party, or is reserved. You can also generate a waitlist, though the heat map allows you to quickly identify your peak hours, so you can suggest a better time slot for customers when you're overbooked. Generally, though, Bindo is more suited to QSR, and I would not recommend it for full-service restaurants.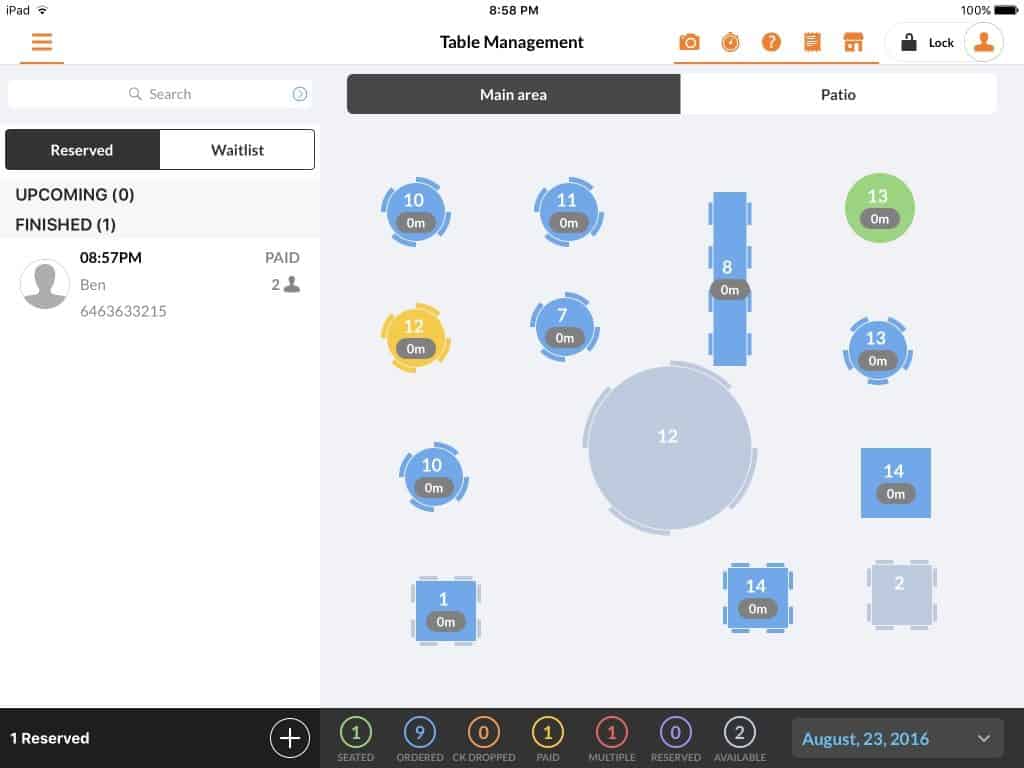 Customer Service & Support
All Bindo accounts include customer service, and all plans and service levels include technical assistance. However, customers have complained that customer support cannot address their problems adequately and that updates to fix issues are few and far between. Bindo offers support via email, but I was not able to get a response when I sent an email. In years past, Bindo offered a live chat feature, but it is now absent. Fortunately, users can also get in contact with Bindo's US-based support tech, Dan, via the phone from the hours of 9:30 AM EST to 7:30 PM EST. Other support services include:
Support Page: The Bindo support page includes a searchable knowledgebase, an FAQ section, and a selection of well-written instructional articles, often accompanied by screenshots. I read the entire database and found it extremely helpful during the initial stages of learning the software.
Video Tutorials: There are a few video tutorials sprinkled throughout Bindo's official support section. The best, most reliable way to find tutorial videos, however, is on YouTube. There is a decent selection of videos available there, teaching everything from customer engagement to register features to inventory management. However, Bindo has not posted any new videos in the past year.
Social Media Engagement: Bindo does have social media accounts on YouTube, Facebook, Twitter, and Instagram, but most of these have not been updated in years. Additionally, the blog on Bindo's website has not been updated in over a year, and the Press Center section of the website has not featured a new press release since 2014.
Bindo is a small company, and that can be a nice thing in terms of customer service. However, I get the troubling impression that while still accepting new customers and doing its best to support existing customers, Bindo has recently done a lot of scaling back on support and updates.
Integrations & Add-Ons
Bindo offers a few integrations with third-party software programs:
If you would like to integrate with an add-on not mentioned above, you can request access to Bindo's API. Once you have access to the API, you can build eCommerce plugins (Bindo Market Embed, for example). Or you can integrate with consolidated CRM systems, warehouse management software, and third-party accounting systems.
Compatible Credit Card Processors
Bindo POS works with the vast majority of credit card readers and is self-described as "processor agnostic." The system can process Visa, Mastercard, Discover, AMEX, China UnionPay, JCB, Diner's Club, and more.
If you want to have your credit card terminal and payment processing integrated into Bindo, you can work with one of the company's supported payment processors. These are WorldPay/Vantiv, Global Payments, First Data (now Fiserv), TSYS, Heartland Payment Systems, Bank of America Merchant Services, Chase Merchant Services, and Merchant e-Solutions. Bindo guarantees payment processor integration within 24 hours.
You can also use an external payment terminal and have your own choice of processor. Check out some of our favorite payment processors if you need one.
User Reviews
Negative Reviews & Complaints
Bindo has no shortage of disgruntled customers. All you have to do to see them is scroll down to the comments section in this review.
In general, users have the following common problems with Bindo POS:
Customer/Tech Support Issues: Some users feel that tools for training/self-help and support are too limited or that customer support cannot address software glitches adequately or outages in a timely manner. They find customer service can be hard to reach via phone at times or isn't as responsive as they'd like.
Software Bugs & Outages: Additionally, the software tends to be buggy and unreliable, particularly if you don't have a super-fast internet connection. Several users have complained of glitches or issues that prevent them from doing business for hours at a time.
Lengthy Terminal Leases: Customers who leased their POS equipment complain about being stuck in three-year contracts with a system they are not happy with. Even more concerning, several of these customers say they did not understand that they had agreed to such a long term at the time of signing.
Problems With Reports: Several reviewers report inaccurate sales, tax, and inventory reports.
Hardware Compatibility Issues: Multiple customers report printer and scanner connectivity issues, resulting in such problems as not being able to print tickets from the kitchen printers or only being able to scan items with one iPad in a three-iPad setup.
Positive Reviews & Testimonials
Many customers do appreciate Bindo's thoughtful feature-set and affordable price point. Satisfied Bindo customers praise the following:
Reasonable price tag
Ease of use
Customizable interface and features
Thoughtful, robust CRM, invoicing, and purchase order features
Large inventory database
There aren't too many recent reviews of Bindo POS to be found. Still, at least one review from 2018/2019 mentions that the system has become more stable lately (though some others still complain about its instability and glitches).
Final Verdict
Bindo has a pretty great feature-set. Not many companies offer such varied features with their POS systems. Bindo makes it possible to, theoretically, ring up customers while also marketing your brand, managing large inventories, and analyzing data. And you can do all of this with just one humble little iPad! Being able to add a free online store to your business' website, while awesome and well-conceived, is just the bright red cherry on top.
No sundae is ever perfect, though. Much as I try, I can rarely find one without nuts or whipped cream, both of which I despise. In the same way, Bindo has its flaws. Multiple users have complained of bugs, stalls, freezes, and crashes that interrupt business and disturb cash flow. Making sure that you have fast Wi-Fi is a good deterrent to these kinds of problems, but you shouldn't have to have lightning speed internet to avoid system crashes (and for some store owners, spotty internet is just par for the course). In short, be sure you do your research before signing any contracts to ensure Bindo is the right choice for your business.
After getting off to an impressive start, attracting a lot of investors and interest after its 2014 beta launch, I get the impression that Bindo has since lost much of its luster. It's hard to get excited about a product or even have much confidence in it when the company itself doesn't seem very jazzed about it. Moreover, Bindo's main defining feature, eCommerce, never really seemed to catch on. It was instead overshadowed in part by the technical issues brick-and-mortar stores have experienced with this system and, in part, by the plethora of other eCommerce solutions available — several of which integrate directly with Bindo POS.
Bottom line: if you are willing to scrape away nuts and whipped cream to get to the hot fudge sundae below, as I am, you might be willing to take Bindo as you find it, flaws and all. Just be sure you know the limitations and risks and how long you'll be committed before you sign on the dotted line.
---
We've done in-depth research on each and confidently recommend them.
We've done in-depth research on each and confidently recommend them.
To learn more about how we score our reviews, see our
Point Of Sale (POS) Software Rating Criteria
.