Contributor

UPDATED
Advertiser Disclosure: Our unbiased reviews and content are supported in part by
affiliate partnerships
, and we adhere to strict
guidelines
to preserve editorial integrity.
Pros
Easy to use
Modern user interface
Unlimited users
Reasonable monthly cost
Cons
Limited integrations
No mobile apps
Binfire Overview
Binfire was created in 2008 by David R. Robins and M. Ariel "to bring innovative and affordable online collaboration and project management tools to professionals and small businesses." Originally developed as an online file hosting service with collaborative features, Binfire has since morphed into a sleek and complex project management software. According to founders Robins and Ariel:
Our main emphasis is to help teams achieve better result and higher productivity by combining project management and collaboration tools in one cohesive application. Regardless of whether your team is located in one room or across the continent (different cities, countries and continents) Binfire will help your team to work smoothly and efficiently…
This unique software system is touted as a new kind of working space—an online, virtual office where people from all over the globe can communicate, pool resources, and pull together towards a common goal. Designed for flexibility and to suit a wide range of industries, Binfire can support many different project management methodologies, including Scrum, Agile, Waterfall, and work-breakdown structure. To date, Binfire has been used by big-name clients like Stanford University, Northwestern University, Caterpillar, Teva, and Bristol-Meyers Squibb. Though Binfire is headquartered in Boca Raton, Florida, most of the product's new research and development takes place in Israel and Romania.
Web-Based (SaaS) or On-Premise
Binfire is entirely web-based software; all information is stored in the cloud.
Pricing
Binfire offers a fairly complex pricing plan, all in the service of ensuring you get exactly what you need with your hard-earned dollars. Below, I will explain the basic pricing for each plan (assuming you're paying for six employees). Each plan is available for different numbers of employees, from six to unlimited. For a full explanation, click here. Without having to read through each plan, though, suffice it to say that the more employees you pay for, the less expensive it is per employee, though it does take until 100 employees for the price reduction to begin.
Basic Plan
$30/month
10 projects
10 GB storage
Email support
Pro Plan
$45/month
30 projects
20 GB storage
Priority Email Support
Corp Plan
$60/month or $3,900/year
500 projects
50 GB storage
Live support
Guest Users (same as normal users)
Enterprise Plan
$90/month or $6900/year
Unlimited Projects
100 GB Storage
Live support 24/7
Unlimited guest users
Before committing to a paid subscription, you may sign up for a month-long trial version of the software which gives you access to two projects and two GB storage. In my experience, there is a slight delay of several minutes between creating a new trial account and actually being able to access it, so if your login information doesn't work right away, wait about five minutes and try again. Custom plans are available for organizations with special needs or those with larger project/storage requirements.
For more information about specialized rates, contact Binfire directly at [email protected]. Additionally, as of September 2013, Binfire offers discounts for educators, students, and non-profits. Contact the same email as above for more information.
Ease Of Use
Binfire greets you, upon your first log-in, with a quick tutorial in the basic operations of your new software. I love it when a feature like this is included; it's nice to get a little help during that vulnerable moment when you first log in and everything is new and hard to understand. What you immediately discover, after working through that first tutorial, is how easy this program is to use. Honestly, Binfire feels a little bit like a more-developed Trello. The drag-and-drop capabilities, the agile mentality, the common-sense layout—all of these feel so right, so easy to use.
I love the way the UI is laid out, with "boards" where you can sort your work into backlogged tasks, open tasks, "working on" tasks, "waiting for approval" tasks, and done tasks.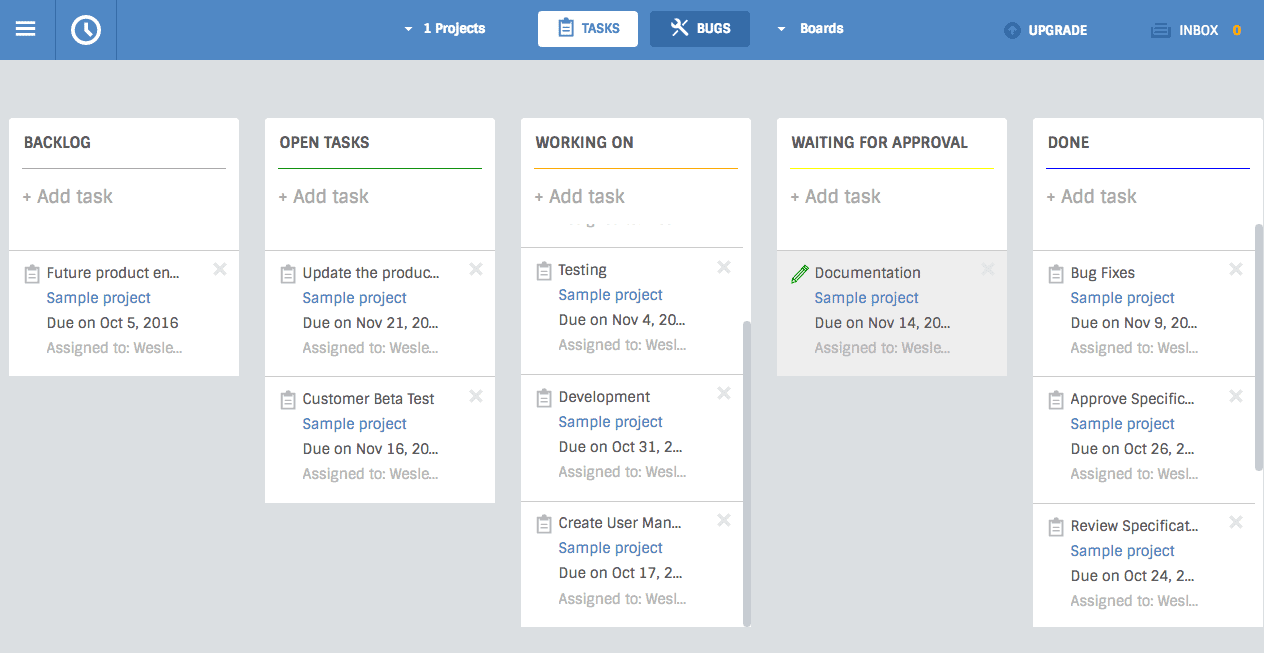 Notice the little clock icon in the upper left corner; by clicking on that, you can start a timer to track your work time. This is how easy time sheets should be (and often aren't).
I don't want to keep gushing about how much I like Binfire's UI, though I do want to draw your attention to one more thing. Right next to the clock button you will see a "hamburger" menu icon. Click on that and you can access your personal dashboard as well as any timesheets, files, and projects you are part of. Now, this kind of menu is found in most project management software programs, but it is usually a permanent screen feature. Binfire, conversely, has chosen to streamline its UI by making that information available only when you click the menu icon. Its such a good design choice, since it allows users to focus on the job at hand without getting distracted by a cluttered interface.
Customer Service & Support
Binfire has set up a good customer support system, and in my experience service reps are quick, friendly, and eager to please. Primary support services include:
Email & Phone Support: All users–even those on the 30-day trial–are given access to round-the-clock customer support via email ([email protected]). Email support is also available directly from your account page (simply click the "HELP" button). Binfire's stated goal is to answer any and all questions within a four-hour time period (providing the message is sent between 6:00 AM – 5:00 PM, EST). Subscribers at the "Biz" level or higher also have access to what Binfire calls "live" support, which allows customers to contact support by Skype or over the phone.
Social Media Engagement: Unfortunately, the Binfire Twitter feed does not seem to be integrated yet with the customer service desk; however, it is a good place to look for blog links, articles, information about updates, and so forth. The company's Facebook page is just a less-abbreviated version of the Twitter feed. It's fine for general information, but not the place to look for personal customer service.
Binfire Website: Of all the websites I have browsed while reviewing project management software, this may be my favorite. It feels cool, slick, modern, and everything works. Our original review criticized Binfire for excessive grammar and spelling errors, and it seems they paid attention! Currently, there are no spelling or grammar errors, only great information on a backdrop of excellent design.
User Guide: This guide is an exhaustive list of how-tos, explanations, and other articles about the inner workings of Binfire. Again, our original review criticized this guide for grammatical errors and misspelled words, but that issue has been rectified. I found the articles useful, and there seems to be one of them for every conceivable topic under the sun.
Negative Reviews & Complaints
Most of the complaints about Binfire have nothing to do with its actual features and functions, and everything to do with its obvious lacks. Users are especially irked by the following oversights:
No Mobile App: Binfire's current lack of native mobile apps make it impractical for many businesses. I have been assured by company reps that there is a mobile app currently in development; however, there is as yet no solid release date for the new app.
Poor Integrations: This software has a shocking lack of integration with 3rd-party apps, currently working only with Dropbox, Google Drive, Google Docs, and Google Calendar.
Positive Reviews & Testimonials
Binfire stands out from its competition in many ways. Some of its most customer-appreciated features include:
Elegant Interface: Experienced and novice project managers alike seem to appreciate Binfire's sleek, intuitive UI.
Whiteboard: This ingenious collaborative tool is much-loved among Binfire users, especially those that conduct the majority of their business overseas or employ lots of independent contractors.
Private Tweets: Many people enjoy using Binfire's brief status tweets to communicate with coworkers, and some managers claim that it is a much easier way to track down information and progress reports.
Suitability For Distributed Teams: Binfire is truly one of the best tools around for long-distance collaboration.
The following are excerpts from positive customer reviews:
I've been using Binfire for more than a year now and really recommend it. Binfire easily helps you in arranging your tasks and viewing them on a Gantt chart – try this and you won't know how you lived without it.

One of the best project management and collaboration site on the web. Great task manager, Interactive Gantt and a fantastic dashboard that shows each project member what they need to work on every day. Makes the project managers job easier.

Binfire.com is the best project management and collaboration application for both experienced and novice project managers alike! It is a full featured project management app, yet easy to use! Highly recommended.
Features
Binfire is rich is practical and innovative features, including:
Whiteboard: Each project within Binfire is designated its own interactive, live collaboration tool, "designed to help remote teams collaborate as though they are in the same room." Users can write, scribble, or draw on the project Whiteboard, and they may also attach documents (jpg, PNG, or PDF). Whiteboards may be used by one or more team members for any number of purposes: brainstorming, presentation, review, etc, and there is no limit to the number of boards that can be created per project. A hand tool is available at top of the screen, allowing one team member to guide the cursor and "direct all participants' attention to a specific area or object in the whiteboard," but anyone present at a Whiteboard session is able to participate and collaborate in real time. Like everything in Binfire, Whiteboards are automatically saved so that you never lose valuable information. I think this is an amazing concept, sadly overlooked by most other project management systems, with real-world, practical application for multiple industries.
Group Chat: Binfire's core concept—creating a virtual office—is helped along by the Whiteboard and also by another important interactive feature: group chat. A well-designed instant messaging tool, Binfire's group chat allows you hold one or more conversations with coworkers in real time, even as you move from page to page within your account; the chat box(es) and any corresponding text will remain on the screen even if you are looking at a different aspect of your project. Users may obtain full chat histories at any time, as all content is autosaved and stored for future reference. Binfire also keeps a detailed record of who was involved in each discussion and at what point they signed off, which helps to maintain accountability.
Tasks: Binfire comes with fairly intricate task capabilities. For example, users may create up to six levels of subtasks (complete with dependencies), set specific start and end dates for tasks and subtasks, and attach files and comments. Users are also able to tag each task multiple times for organizational purposes. This is especially practical for businesses that use Agile project management techniques.
Project Mission Statements: I like this concept quite a bit. Instead of creating a standard descriptor for each project, managers can craft a true mission statement to remind workers of important goals and ensure that the team "never forgets the big picture and stays focused throughout the project's life cycle."
Dashboard: Both Binfire's private and project-specific dashboards are an integral part of the software's clean and simple UI. Each user is given a personal dashboard which shows a basic, well-organized overview of which tasks are late, and which are due today or tomorrow. On the bottom of the personal dashboard you can also see a concise calendar view of all impending tasks over the next two week period. Project dashboards have a similar layout, but with more specific information and notifications. I tend to admire interfaces that are bold and obvious. Binfire's dashboards are bright, colorful, and straightforward, so I'm a big fan.
Interactive Gantt Charts: Binfire allows managers and administrators to change project details (extend or shorten tasks, create or remove dependencies, and update the progress of tasks from 0-100%) directly from the associated Gantt chart; changes, of course, are reflected in real time. Gantts may be viewed on a number of time scales, including days, weeks, months, and years, and are easily exported and printed as PNG files for purposes of reporting or presentation.
Burndown Chart: This is a complex graphical representation of the health of each Binfire project, automatically updated any time a project or project details are altered. The Burndown Chart is a great reporting tool, allowing managers to quickly determine whether projects and tasks are on schedule and/or how far behind or ahead a project or tasks has become. It also informs users how many resource hours remain on any given project.
File Management: Every Binfire user is given access to his/her own private web folder to store personal or sensitive files. Additionally, each project comes with a public file folder, fully accessible to all project members. In keeping with Binfire's dedication to collaborative efforts in the workplace, public folders come with unique features such as file versioning and file locking. Binfire automatically saves every new version of an uploaded file, and users can access any of these versions to delete or share information, download new information, and rename, lock, move, or copy files. The lock feature comes in handy if you are working on a file and don't want someone else to alter it or upload a new version until you've finished. For those of you who like to keep a finger in every pie, you can "star" files so that you will receive an instant notification any time changes occur or a new version is uploaded.
Integrations & Add-Ons
Binfire offers a fairly limited list of integrations: Google Drive, Google Docs, Google Calendar, and Dropbox. Personally, these integrations are all I would need, but obviously, some of you are going to have more complex needs than a guy who writes product reviews for a business website.
Security
Binfire protects users in the following ways:
Secure Hosting: Binfire is hosted by Rackspace.com; all Binfire files are kept in secure Rackspace file-storage servers.
Encryption: Files and communiques within Binfire are guarded by 256 bit encryption, "the same security safeguards as bank use to secure your financial transactions."
Daily Backups: Binfire servers are backed up daily in several different locations throughout the USA.
Final Verdict
Every so often, a company comes along that forces me to sit up and take notice. Binfire belongs to an exclusive group of project management software systems: programs that do not bore me with their predictability and uniformity. This is an exciting and innovative product with well-conceived ideas, designed to address real problems in the 21st-century workplace. Granted, not all businesses need a tool that boosts teamwork and cooperation across time and space, and if you have a small office with a few local employees, Binfire's collaborative features may seem unimpressive or unnecessary.
I, however, number among the thousands of workers who do have to communicate over long distances—sometimes with people I've never met or spoken to—and that is why I find Binfire so fascinating. The Whiteboard, especially, is truly a joy to behold and even fun to use. The user interface is clean and intuitive, and the software's effortless autosave function is a stroke of brilliance. Binfire's true Achille's heel is the bewildering dearth of relevant integrations and the even more puzzling lack of a mobile application. A program like this, built entirely on a foundation of collaboration and remote communication, should have been first in line to release native mobile apps. It is a disappointing oversight, and like I mentioned before, could end up being a deal-breaker for some potential customers.
Even if you think that your business does not require complicated collaborative tools, I highly recommend signing up for the free 30-day trial of this software. Binfire, in my opinion, has the unbelievable advantage of being a software system that employees will actually want to use.
---
Featured Free Corporate Card
Ramp


---
Ramp offers a free corporate card for virtually any business. Start earning rewards with your corporate spending today. Get your free card.
Featured Free Corporate Card
Ramp


---
Ramp offers a free corporate card for virtually any business. Start earning rewards with your corporate spending today. Get your free card.
To learn more about how we score our reviews, see our
Project Management Software Rating Criteria
.