Blackbaud Merchant Services Review
Writer

UPDATED
Advertiser Disclosure: Our unbiased reviews and content are supported in part by
affiliate partnerships
, and we adhere to strict
guidelines
to preserve editorial integrity.
Pros
Good for medium and large nonprofits
Predictable flat-rate pricing
No setup or application fees
No monthly fee
No monthly minimum

Few public complaints
Cons
Additional software subscription required
Expensive for low-volume nonprofits
Weekly payout schedule
Blackbaud Merchant Services Overview
To understand Blackbaud Merchant Services, we must first take a step back and look at the larger entity called Blackbaud. Founded in 1981 and headquartered in Charleston, SC, Blackbaud is a leading supplier of software solutions designed for the unique needs of the nonprofit sector. Most of its clients are medium to large size nonprofits — think hospitals, philanthropic foundations, educational institutions and the like.
A quick look through the Blackbaud website reveals the sheer number of products and services offered for these organizations — CRM, accounting, event ticketing, volunteer management, web hosting, marketing, database software, consulting, and more. The software applications all have cool-sounding names like Raiser's Edge NXT, Altru, and eTapestry, but it's easy to lose track of exactly what function each product serves. (The Avengers analogy didn't help much.)
Effectively accepting and processing donations is critical to managing a nonprofit, and Blackbaud has maintained partnerships with various processors and payment gateways over the years. In 2010, Blackbaud fully launched its own white-label payment facilitation service called Blackbaud Merchant Services (BBMS). It's "white-label" because it actually uses the processing infrastructure of Stripe and First Data behind the scenes.
This white-labeling or "co-branding" of payment processing is a shrewd strategy for platforms like Blackbaud. The behind-the-scenes processor gains access to a large pool of merchants within an established platform, and the platform usually gets a cut of payment processing revenue in exchange. In turn, merchants who opt for the platform's in-house payment provider often qualify for special processing rates. Meanwhile, if you chose a different processor or gateway to use with Blackbaud instead of BBMS, you may be charged extra fees.
Here's the point in all of this: if you're not already a client of Blackbaud, the first decision you need to make is whether or not you want to use Blackbaud-proper to begin with. At this point, I doubt nonprofits are signing up for Blackbaud software just because they want to use BBMS for processing payments. By the same token, nonprofits already using Blackbaud will be strongly incentivized to choose BBMS over any other processor. For the purpose of this review, we will focus on Blackbaud Merchant Services in its own right as a payment acceptance option — not the entire Blackbaud software suite.
BBMS uses a flat-rate pricing model that's a bit of a spin on Stripe's normal pricing. Blackbaud calls it OneRATE, and it's 2.598% + $0.26 for North America. With no separate fees for Amex or international transactions, I can definitely see the appeal for nonprofits accepting donations from around the world.
Of course, there is also the cost of a subscription to one or more Blackbaud software applications to consider. Nonprofits have complained that some Blackbaud applications can be expensive or have steep learning curves, and require a long-term commitment. You may also find yourself quite limited to Blackbaud software due to expensive, clumsy, or nonexistent integrations with third-party software applications.
There are lots of detailed reviews and resources online covering Blackbaud's myriad and widely-used software offerings, so you should be fairly well covered in that department. For more on Blackbaud Merchant Services specifically, you've come to the right place!
Products & Services
Even though BBMS requires an additional signup process, Blackbaud software applications that involve payment acceptance generally come with a BBMS account by default. Still, you'll want to check the Blackbaud platform you're interested in to see if the specific features you'll need from BBMS are available within that platform, as well as in your country. You can also choose to connect a different processor and gateway, but Blackbaud says "there will be additional fees, applications, and setup time" for this.
Here's what BBMS offers in a nutshell:
Card Processing: BBMS accounts are available for merchants based in the US, Canada, UK, and Ireland. With a BBMS account, you can accept card payments from anywhere in the world long as your donors use Visa, Mastercard, American Express, Discover, Diner's Club International, or Maestro cards.
Payment Gateway: For processing credit cards online, the BBMS payment gateway comes standard. Alternatively, you can connect an approved third-party gateway for an additional cost.
ACH Processing: Direct debit processing is available for US merchants. ACH for Canadian merchants requires hooking up a separate gateway.
Recurring Payments: A big focus of Blackbaud is helping you transform your one-time donors into recurring givers. Blackbaud refers to this as sustained giving, and it's handled within the BBMS gateway. For an additional fee, an automatic credit card updater will guard against suddenly losing recurring donations when donors' credit cards expire.
Mobile Payments: The Blackbaud MobilePay app for iOS and Android is available to use as a virtual terminal for on-the-go transactions, or in conjunction with an audio-jack mobile card reader. BBMS accounts may qualify for up to two of these card readers at no cost. Note that the readers provided by Blackbaud are not currently EMV capable, but there is an extra liability protection program in place until chip card readers are offered.
Digital Wallet Acceptance: Apple Pay, Masterpass, and Visa Checkout are available on some Blackbaud platforms.
Reports & Reconciliation: Like with most processors, you'll can view transaction data in real-time and create custom reports. BBMS emphasizes that it provides pre-reconciled bank deposits that include transactions from all the card brands you accept, including Amex. Your funds are disbursed into your designated bank account four times per month.
Fraud Management: The standard fraud protection that comes with your account includes Address Verification Service (AVS), Card Security Code (CSC), and 3D Secure. For a per-transaction fee, you can set additional premium parameters for online transactions.
PCI Compliance: There is actually a separate product from Blackbaud called Blackbaud Payment Service (BBPS, easily confused with BBMS), which is a data storage vault with encryption/tokenization capability. This is in place for Blackbaud's whole suite of software applications, independent of which processor or gateway is used for payment acceptance, and keeps everything Level 1 PCI compliant. According to the account setup guide, you need both a BBMS account and a BBPS account to process payments.
Fees & Rates
The Blackbaud Merchant Services pricing setup is predicated on one flat fee of 2.598% + $0.26 for all credit card transactions, and no monthly fees. The main pricing page for BBMS provides the basics of the model, but the exact amount of the "OneRATE" is only found further down into the website inside knowledgebase articles. I've summarized most complete rate and fee breakdown I've found below:
US
Visa, MC, Disc, Amex, JBC: 2.598% + $0.26
ACH/Direct Debit: $0.75
ACH Returned Transaction: $5
Chargebacks: $15
Premium Fraud Protection (Optional): $0.05 per transaction
Credit Card Automatic Updater (Optional): $0.30 per card, minimum $30/month
Canada
Visa, MC, Disc, Amex: 2.598% + $0.26
Chargebacks $15
Premium Fraud Protection (Optional): $0.05 per transaction
Credit Card Automatic Updater (Optional): $0.30 per card, minimum $30/month
For merchants in the UK, there are actually two rates: 2.75% + £0.19 for Visa/MC/Disc/Maestro and 3.50% + £0.19 for Amex. The same two rates apply for Ireland — just sub in EUR for GBP.
Fees Not Charged:
Setup Fee
Monthly Fee
Annual Fee
PCI Fee
Statement Fee
Monthly Minimum Fee
Gateway Fee
Cross-Border Fees
Batch Fee
Basic Fraud Protection
How does this pricing compare to other payment acceptance options for nonprofits? Well, the normal going rate for eCommerce transactions with merchant aggregators like Stripe or PayPal is 2.9% + $0.30, but some offer a nonprofit discount (I've seen 2.2% + $0.30 within other platforms, for example). Meanwhile, many nonprofit discounts do not include American Express cards like BBMS does, so you could still pay more to accept those. Even some processors that specialize only in nonprofits still charge a higher rate for Amex.
Other pricing factors to consider are whether an additional fee for international cards (often 1%) and/or a currency conversion fee (often another 1%) will be charged. These fees add up quickly for global organizations. With BBMS, the FAQ states that US merchants are spared from both cross-border and currency conversion fees. Clients in other countries may be charged currency conversion fees in certain cases, but the complete lack of cross-border fees for all processing with BBMS could be a big advantage for nonprofits with a global reach.
Some traditional merchant account providers with interchange-plus pricing offer a special nonprofit deal as well. Take Helcim (and read our review), for example. If you want interchange-plus pricing while using Blackbaud software, I'd suggest asking which of its supported processors offer this model as an option. Still, I'm guessing the additional fees required to hook up a separate gateway and/or processor to Blackbaud might outweigh any benefit in most cases. Blackbaud will definitely incentivize you to choose or migrate over to BBMS.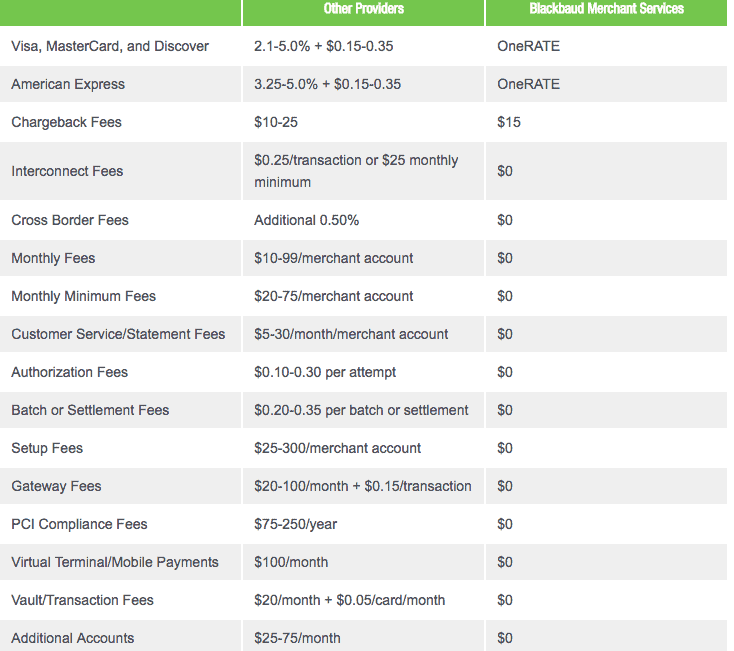 Contract Length & Early Termination Fee
We'll start this section with the bottom line: there are no long-term contracts or early termination fees with Blackbaud Merchant Services. Therefore, your larger concern will be the terms and conditions of your subscription to the piece(s) of Blackbaud software to which you connect your BBMS account. Those subscriptions can definitely be set up for longer periods, including both initial terms and auto-renewals. Know the terms and ask for a trial period.
That's the basic information you need to know; now I'll briefly cover signing up for BBMS. To process payments from within Blackbaud software, you first need a Blackbaud Payment Services (BBPS, not BBMS) account. In case you missed it earlier, BBPS is the encrypted data storage vault that's connected to the whole Blackbaud platform suite and comes with your subscription to Blackbaud products. Once you're with BBPS, you can either chose BBMS for processing, or an alternate gateway and processor. This is all explained (rather confusingly) in an addendum to the BBPS agreement.
Remember, BBMS actually uses Stripe and First Data for processing. The above addendum links to sub-merchant agreements for Stripe, Wells Fargo Bank, and First Data Canada. You'll enter a sub-merchant agreement with both Blackbaud and one (or perhaps more) of these processing entities. As such, you will not have a dedicated merchant account. Instead, you'll become part of an aggregated merchant account with multiple merchants. This is a common setup for merchants within a platform or marketplace.
Sales & Advertising Transparency
When first evaluating a payment processor's transparency, I look for clearly posted pricing details and legal terms. The Blackbaud Merchant Services section of the Blackbaud site gets above average marks in this area. The actual OneRATE itself is a bit difficult to find, but it is findable. It also takes a bit of digging to find and then understand the terms and conditions for BBMS. But, again, at least they're publicly available.
Overall, Blackbaud is hit and miss with how much pricing detail it publicizes for each product. I would like the actual costs of BBMS linked directly from the main BBMS pricing page, which is more of a "see how we stack up against the worst of the other guys" teaser at this point. There's no sense in burying the processing rate and other costs inside the Canadian FAQ (but mysteriously leaving it out of the US one) and knowledgebase articles, since there is really nothing for BBMS to be ashamed of here.
I honestly think whole website's organization could use a complete overhaul — there are just so many different product offerings from Blackbaud that have been developed or grafted in over multiple decades, each leaving its own meandering trail of information. Still, I don't see anything intentionally deceptive in Blackbaud's overall online marketing.
As it stands, Blackbaud Merchant Services is not heavily promoted for potential nonprofits visiting the main Blackbaud site. You've got to actively look for it within the dropdown menus: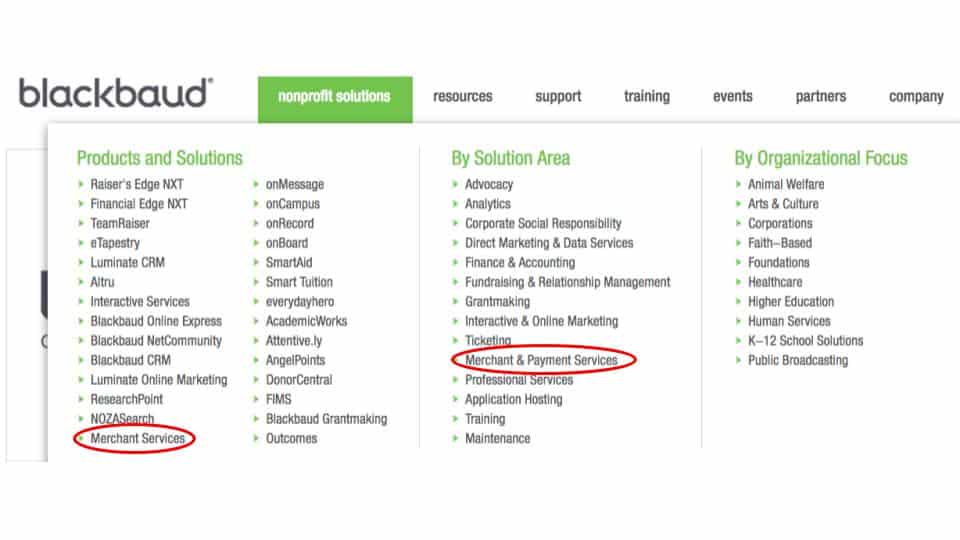 As we've been saying all along, you're most likely to encounter BBMS as a payment processing option after you're already subscribed to another product off that epic dropdown menu, or you're at least keen on signing up. Once you're on with Blackbaud, you'll quickly learn that choosing something other than the embedded BBMS option for processing donations will come at your own financial and logistical peril. It's not a hard sell — it's just the way things are set up. All things considered, it makes sense that we haven't seen complaints about aggressive or deceptive sales tactics with BBMS. There are also no badly-regulated ISOs or independent agents pounding the pavement on behalf of Blackbaud Merchant Services.
Customer Service & Technical Support
Customer support for BBMS comes with your support to your main subscription with Blackbaud software. Integrated customer service is one nice advantage to using a platform's in-house payment processor.
There's way too much to completely cover on this topic — so many Blackbaud products to support, so little time. I've come across webinars, knowledgebase articles, tutorial videos, and even an entire Blackbaud Training University. Robust (and sometimes complicated) software requires robust training, so keep that in mind. Also, note that some advanced support and maintenance will come at an additional, non-publicized cost.
I've noticed that occasionally some juicy BBMS factoids are tucked inside support resources for other Blackbaud other products. Therefore, I'll link to a few general customer resources, as well BBMS-specific ones.
General Support Information
BBMS-Specific Information
Resources: The main tab for accessing most BBMS-specific resources.
FAQ: Basic yet helpful info on BBMS.
Contact Overview: A summary of BBMS resources and ways to get in touch.
Live Chat: Monday-Thursday, 8:30 AM-8:00 PM ET, Friday, 9:00 AM – 8:00 PM ET
Phone: Same hours as above. (Here's the complete phone tree)
How-To Documentation: Contains a few user guides for BBMS and BBPS.
Instructional Videos: The video library is quite small for BBMS.
With so much information at blackbaud.com about so many products, it can be a little difficult to find exactly what you're looking for about BBMS. However, I had great success with calling the customer support phone number and using the sales live chat (I'm assuming the live support chat works just as well).
Negative Reviews & Complaints
There are plenty of reviews out there — both positive and negative — for the various Blackbaud product offerings. The takeaway from what I've read is that you must carefully discern if Blackbaud is a good fit for an organization of your size, as well as the resources you can devote to learning the software. Blackbaud does have a few products geared toward smaller nonprofits, but even those may end up too expensive and intricate for some organizations. Also, keep in mind that you're sort of buying into a whole ecosystem of products for managing your nonprofit with Blackbaud. If you prefer to keep your options open and your integrations à la carte, Blackbaud may not be right for you.
The great news is that I haven't read complaints around the internet specifically about the Blackbaud Merchant Services division. Blackbaud-proper has an A- rated BBB profile, but none of the four total complaints over the last three years are about BBMS. Blackbaud responds to BBB complaints in a measured and firm manner, and perhaps that partially explains why none of the posted complaints were resolved to the merchant's satisfaction. Below is one representative response, in which a nonprofit had requested a refund of several thousands of dollars in subscription fees after realizing the eTapestry software (one of Blackbaud's products for smaller nonprofits) was too complex and expensive for its needs:
I'm reaching out to offer cancellation of the attached 3-year eTapestry contract signed last year, due to the lack of us being transparent with the ability for a trial. While the letter from the BBB was forwarded to me, it is not the reason we are coming to this agreement. Please understand that it's normal process to honor contracts as we get contacted for so many various reasons we cannot just cut all contracts every time we get a call.

Let me know if you would rather discuss live, but I will proceed with the cancellation effective immediately once I hear back from you. Any open invoices will be credited, but no refund will be sent.
This serves as an excellent reminder to be careful what you sign up for. Although BBMS cancelation itself may be easy, Blackbaud software contracts often last multiple years and include automatic renewals. Of course, if you want out of Blackbaud software, you'll be looking for a new payment processor as well.
Positive Reviews & Testimonials
Blackbaud is among the most well-known and widely-used providers of software for medium to large nonprofits. The company has won several awards over the years. Just like with negative reviews, you can find plenty of positive feedback around the internet from users of all the Blackbaud software applications, And, just like with negative reviews, I haven't come across many positive reviews from merchants expressing specific affection for BBMS, aside from on Blackbaud's own website.
BBMS does get its very own customer testimonial section at Blackbaud. Twenty-five customers are currently featured with written case studies, fully-produced video testimonials, or interview-style videos for each organization. Most of them promote multiple Blackbaud products at once, but all include a BBMS component. Although all produced and marketed by Blackbaud, I like that many of the testimonials include concrete, tangible data on how BBMS improved their organizations.
Here are some of the benefits highlighted by the testimonials:
Maintained more monthly donors with Credit Card Updater
Increased overall donations/revenue
Saved money in overall processing fees
Saved money due to Amex and multiple currencies included in OneRATE
Fully-integrated processor and mobile payments system saves time and resources
Ease of matching donor records and bank deposits with donations
Ability to use one processor across multiple Blackbaud applications
Do you have personal experience using Blackbaud Merchant Services? We'd love to know your thoughts on how it compares to other processors you've tried or explored, either within Blackbaud or separate from Blackbaud. If you're so inclined, leave us a comment!
Final Verdict
Blackbaud aims to provide a one-vendor solution to all your nonprofit software needs, including processing donations in-house with Blackbaud Merchant Services. For its nonprofit target market, there are advantages and disadvantages to going this all-in-one, integrated route. If you're not already tied to a specific software application for managing your organization, your field of payment processing options also widens. You might be able to save money overall by shopping around. On the other hand, there are definite efficiency and customer support benefits when all your services are integrated, which can ultimately translate into cost savings.
When considering BBMS, remember that you have the cost of a monthly or annual subscription to Blackbaud software to account for along with your card processing fees. As with any payment processor that's integrated into a software platform, you need to familiarize yourself with the costs, terms and conditions of both systems. It's like the saying goes: You marry the whole family.
As far as I can see, if you're already all-in on Blackbaud, you might as well use BBMS, especially if you process a lot of Amex and/or international donations. The "OneRATE" (and no monthly fee) could still save you money, even though it's in line with a mid-qualified or non-qualified tier of a typical tiered pricing program. A nonprofit large enough for its own dedicated merchant account but not wanting to commit to the Blackbaud suite of products may want to look into a traditional MSP with interchange-plus pricing and a nonprofit discount. Meanwhile, a smaller nonprofit with a low monthly volume, low average donation size, and a fair amount of card-present donations may find the overall Blackbaud solution expensive and cumbersome. These outfits may still benefit from PayPal or another mobile processor, which also have more frequent payout schedules than BBMS.
Blackbaud Merchant Services is a great option for medium or large sized nonprofits that already want to use one or more Blackbaud products. At a rating of 4.5 stars, the half star penalty is mostly for the expense, complexity and commitment-level required by the software BBMS sits inside, which could be problematic for smaller nonprofits.
---
Our Top Pick To Save On Payment Processing 💰
PaymentCloud


---
PaymentCloud has an excellent track record for service quality, support, and fair pricing. Learn more from PaymentCloud.
Our Top Pick To Save On Payment Processing 💰
PaymentCloud


---
PaymentCloud has an excellent track record for service quality, support, and fair pricing. Learn more from PaymentCloud.
To learn more about how we score our reviews, see our
Credit Card Processor Rating Criteria
.