Expert Analyst & Reviewer

UPDATED
Advertiser Disclosure: Our unbiased reviews and content are supported in part by
affiliate partnerships
, and we adhere to strict
guidelines
to preserve editorial integrity.
Blinksale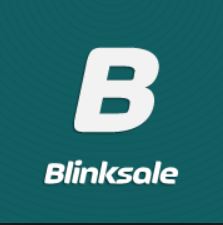 Pros
Easy to use
Unlimited users
Unlimited invoices
Cons
Limited features
No reports
No Android app
No items or inventory
Limited integrations
No user permissions
Blinksale Overview
Blinksale was created back in 2005. In its prime, Blinksale was a strong invoicing software for freelancers and small business owners. But the times have changed, and Blinksale? Not so much.
Blinksale is an easy-to-use invoicing solution that offers 14 invoice templates and a client portal where customers can pay invoices directly online. Contact management and unlimited users are other pluses, and the price is affordable.
However, at this point, Blinksale has fallen far behind the competition. It currently lacks even the most basic invoicing software features, including expense tracking and reporting. In addition, there's no items list, no time tracking, no project management, no importing capabilities, no user permissions… you get the picture. Software updates have been stagnant, and customer reviews and support resources are similarly outdated. However, I have heard rumors that a brand new version of Blinksale is in the works. Hopefully, the update will solve a lot of the software's shortcomings.
Until then, you could get a lot more bang out of your buck and more security by looking at a full-featured, regularly updated software like Zoho Invoice, or one of our other top-rated invoicing solutions. If you are still curious about Blinksale, continue reading.
Pricing
Blinksale offers a single pricing plan with a small monthly cost. While this price is affordable, the amount of features you get for the cost is very limited compared to other programs. Unlimited invoices, clients, and users are a nice touch, but with no user permissions and a severe lack of typical invoicing software features, these pros don't outweigh the cons.
Blinksale subscriptions are paid monthly. There is a free 15-day trial as well. No credit card information is required, and you can cancel your subscription at any time. Blinksale also offers a referral program where you can earn a free month of service. Contact Blinksale directly for details.
Here's what you get with Blinksale's pricing plan:
Blinksale Unlimited
$15/month
Unlimited invoices
Recurring invoices
Unlimited estimates
Contact management
Recurring invoices
Multi-currency support
Unlimited users
Cloud-Based Or Locally-Installed
Cloud-based. No downloads or installation required.
Hardware & Software Requirements
As cloud-based software, Blinksale is compatible with nearly any device so long as you have an internet connection. Blinksale does offer an iPhone app (iOS 7.1+). There is no Android app at this time.
Specific Size Of Business
Blinksale was designed for freelancers and small business owners, although most freelancers would be better off with a freelance-specific software, like AND CO or QuickBooks Self-Employed. The selling point of Blinksale is its simplicity and affordability. The unlimited invoices, customers, and users seem tempting. However, Blinksale lacks typical invoicing features such as expense tracking, accounts payable, time tracking, project management, and reporting. There are no user permissions available either, making the unlimited users almost obsolete.
For these reasons, we recommend business owners look elsewhere for an invoicing solution. Check out our comprehensive invoicing reviews to find the right invoicing software for your business.
Ease Of Use
Blinksale is generally easy to use and the features are simple so it doesn't take long to learn the software. However, the UI is outdated making it difficult to navigate at times.
Features
Sometimes simple is better. But in this case, simple means limited. Blinksale offers very basic invoicing features and is missing many of the standard features you'd expect to find with invoicing software (like expense tracking and reporting). Here are the features the software does have:
Dashboard: Blinksale has a basic dashboard where you can view open invoices and estimates and any recently closed/approved invoices or estimates. The symbol for invoices and estimates is so similar that it's hard to read the dashboard at times. The dashboard is also missing a payments view.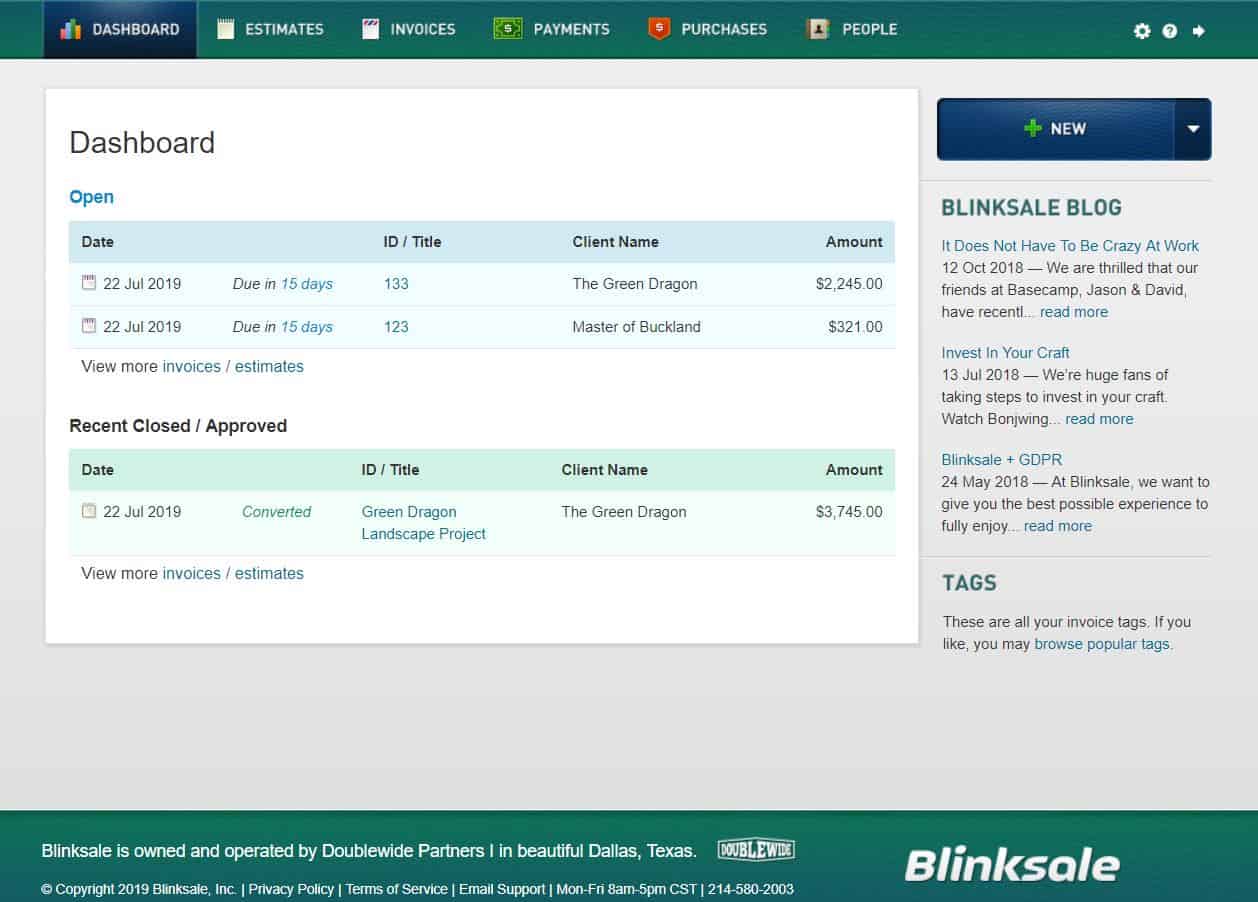 Invoicing: Blinksale offers 14 invoice templates (though many of these are the same template, just with a different color scheme). You can also create your own template using HTML and CSS, which is a nice addition. You can set invoice reminders, late fees, and recurring invoices. Blinksale lets you set default invoice messages, and you can filter invoices by tags. The selection of automations is nice, but the actual invoice creation has some oversights. Mainly, there's only a spot for a description and a price, and no place to enter an item/service name. There is also no place to save items in the software, and the software will not remember previously recorded items. You can choose to invoice based on hours, days, service, or product. You can also add sales tax and freight (or shipping) to any invoice.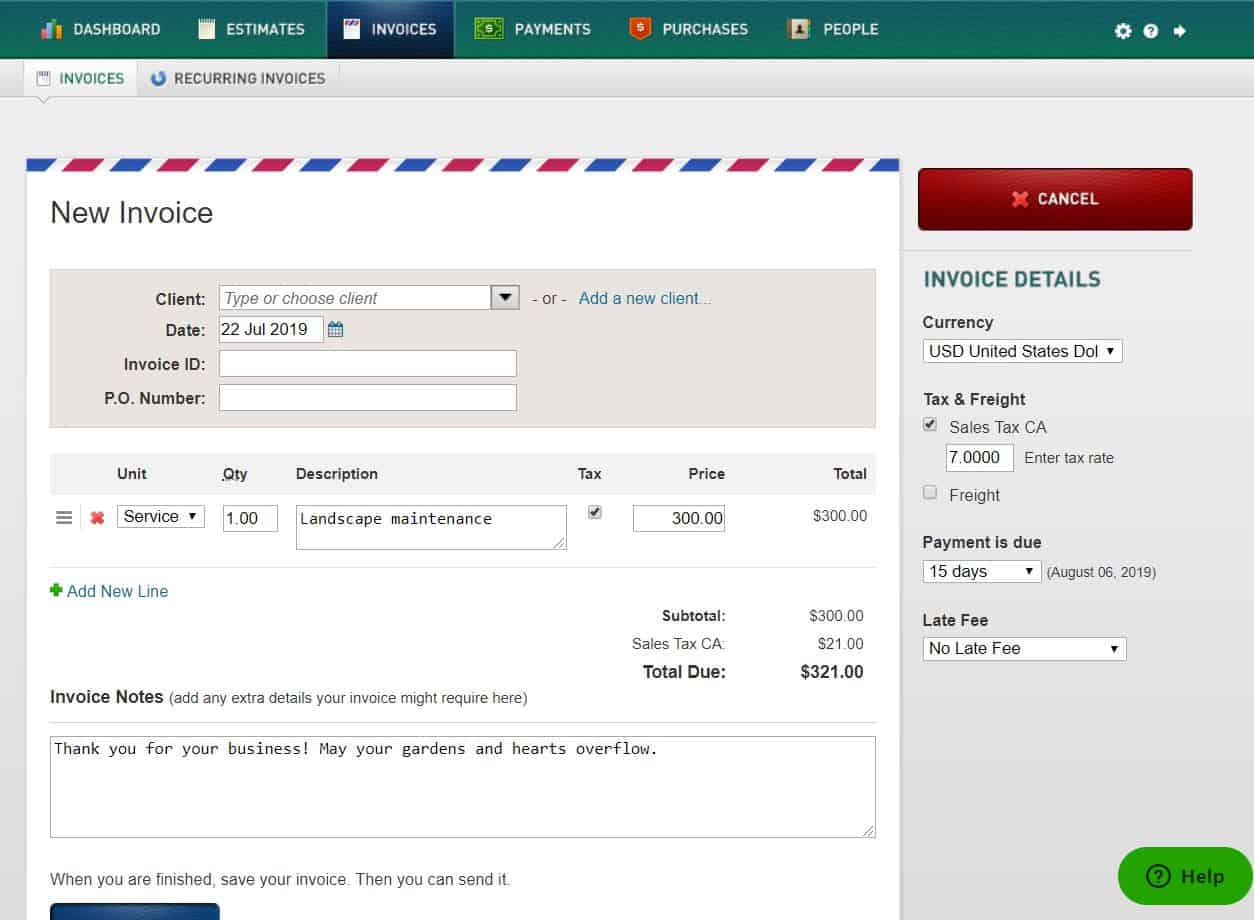 Estimates: You can create estimates and save them as drafts in Blinksale. You can easily convert estimates into invoices. The only downside is that Blinksale uses the same default customer notes for both invoices an estimates, so if your default is "thank you for your business," this will show up on your invoices and estimates (unless you remember to change it manually on each estimate).
Client Portal: The client portal allows customers to view their estimates and invoices in their own custom dashboard. They can view, accept, decline, or comment on estimates, and can view, print, and pay invoices directly online.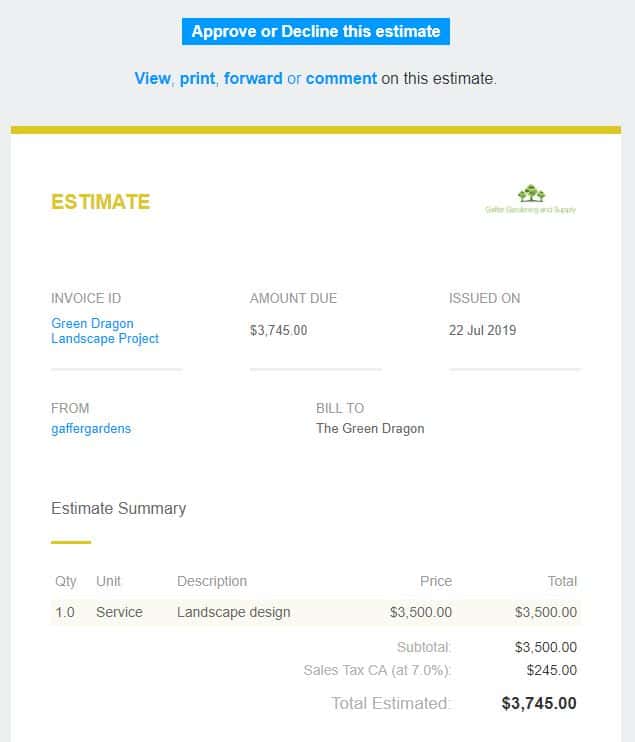 Contact Management: You can create a company contact with the following information: the company's name, address, website, phone, fax, and tax ID. You can also add multiple contacts to the company. There's no easy way to see a contact's history.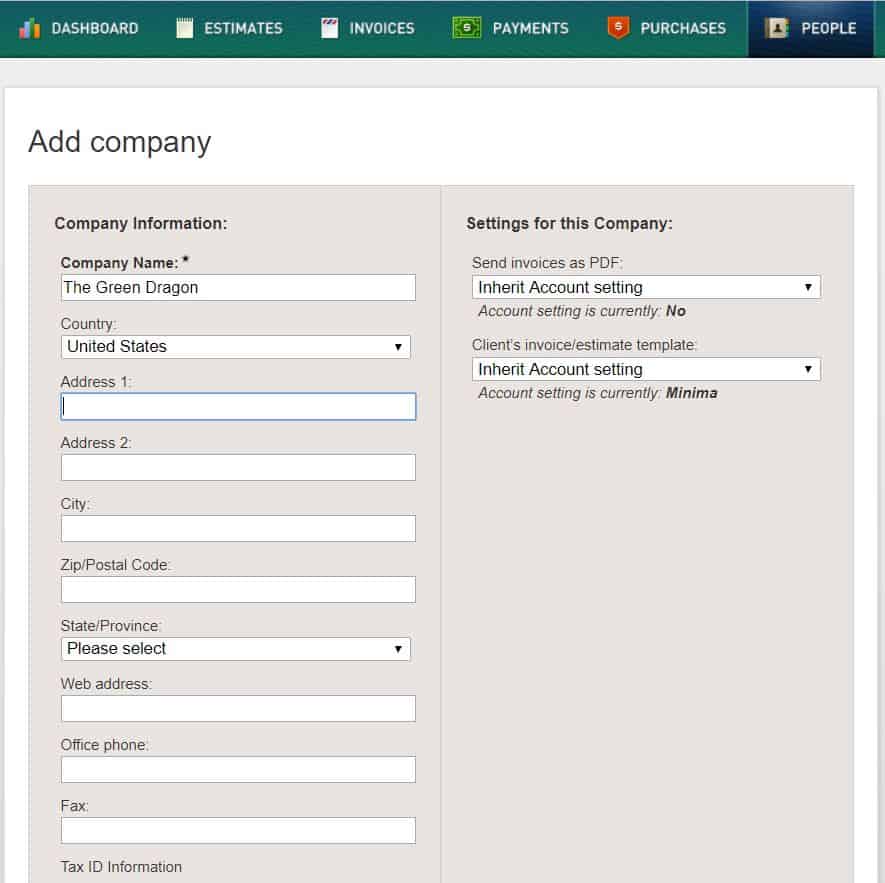 Accounts Payable: Blinksale doesn't have a full accounts payable feature. Instead of typical bill management, you can manage purchase only for when another Blinksale user sends you an invoice. This is not a full accounts payable or expense tracking feature and only works with fellow Blinksale users. There is also no way to import bank statements or use live bank feeds.
Default Email Messages: You can create default email messages for invoices.
Thank You Notes: Not only can you send thank you notes to customers, but you can also choose from 12 fun thank you note templates, which is a nice touch. You can also design your own thank you notes if you have coding experience.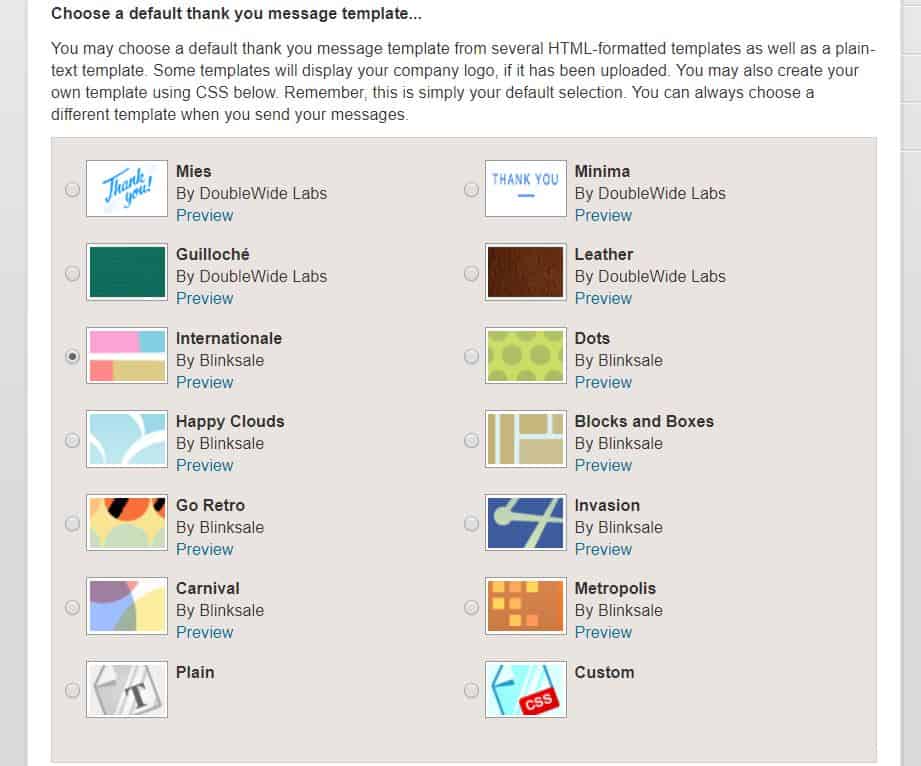 Sales Tax: You can enter a single sale tax rate that you can then edit on individual invoices if needed.
Multiple Currencies: Blinksale supports over 170 different currencies.
Importing & Exporting: You can export your customers, users, estimates, and invoices. There are no importing capabilities.
Customer Service & Support
Blinksale begins to redeem themselves in the customer service department. The company offers phone and email support. In my experience, most every email I sent was answered with an hour. Phone support is helpful once you are able to reach them. However, both times I called, I was sent straight to a voicemail where I was prompted to leave my name and number. The first time, three days had passed and no one had called. The second time I called back, I received a return call a half-hour later. All the representatives I spoke with were friendly and informative, and often the president of the company answers customer questions.
While the email and phone support were positive, Blinksale dropped the ball with its other support options. The company's YouTube channel is nearly nonexistent and the social media accounts are updated sporadically.
You can contact Blinksale during regular business hours using the following support options:
Phone: You can contact support by phone.
Email: You can email the company directly as well.
Contact Form: Blinksale also has a contact form.
Help Center: Blinksale has a decent help center with dozens of articles covering common questions about the software. The answers are relatively short but still get the job done.
Blog: Although it isn't updated often, Blinksale does have a blog. The blog is much easier to navigate than it was during our last review.
YouTube: Blinksale has a YouTube channel with a single video from eight years ago.
Report A Bug: If you encounter a bug or glitch in Blinksale, you can report the bug to the company.
Social Media: Blinksale has Twitter and Facebook accounts. Both are infrequently updated but feature a few helpful blog posts.
User Reviews
Negative Reviews & Complaints
Blinksale has very few customer reviews. The reviews that exist are generally positive, but the vast majority of them are from 2014 or earlier. Since there is such a small sampling of current reviews, I've created my own list of drawbacks about the software.
Lack Of Features: Blinksale lacks many of the key features it takes to compete in the invoicing software world. There is no time tracking and no project management. I could forgive these oversights, except the list doesn't end there. There is no expense tracking, no reports, and no way to save items — even the most basic invoicing programs offer these features. There's also a lack of user permissions.
Poor Design: While the Blinksale interface is incredibly easy to use and navigate, the software could use a facelift.
Limited Integrations: Blinksale only offers three integrations.
Stagnant Updates: Between the lack of feature updates and the outdated customer reviews and customer support resources, it seems to me that Blinksale may be past its prime. Lack of updates is never a good omen for a software company. A strong software should often be improving its offerings and listening to customer wants and needs.
Here's what one user said about Blinksale:
Some dev promised me 2 years ago that they would be adding new features, gateways, integrations, etc….. the software is EXACTLY the same today as it was back then. Blinksale is a sinking ship that's being overshadowed by other free alternatives that actually respond to requests.
Positive Reviews & Testimonials
Since our last review update in 2016, I can count on one hand the number of new customer reviews Blinksale has received. The majority of the reviews are positive, but with so few recent reviews to go off of, it's difficult to get a picture of the true Blinksale user experience.
Blinksale receives 5/5 stars on Capterra (based on 25 ratings, most from 2014 or earlier), 4.8/5 stars on G2Crowd (based on three ratings), and 4/5 stars on the Apple store (based on 15 ratings). Although many of these reviews are outdated, we still want to give you an idea of the Blinksale user experience from real people.
Here are the most common things users praise:
Easy To Use: Many users find the software easy to use, especially for freelancers who don't have time for complicated software. They also like that the client portal is easy for customers to use.
Good Invoicing: Users appreciate that Blinksale has good invoices and make it easy to bill clients. They also like the ability to receive payments online and schedule recurring invoices.
Strong Customer Support: Apart from being easy to use, this is by far one of the most common comments about Blinksale. Users loved the customer service support and report fast responses and kind support representatives.
Here's what a few users are saying about Blinksale:
Since starting freelancing there is one product that has helped me more than anything and that is Blinksale. It's not in my nature to focus on this side of business but this product has worked hard to make my work efficient. Very thankful for what Blinksale is and cannot recommend it high enough for people looking to simplify their business.

First of all, for the price for the unlimited plan, you can't go wrong. This app is amazing, allows you to get paid on time, is easy for the customer and helps keep you organized as well. My favorite feature is the "estimate" feature that allows the client to proof an invoice/proposal before paying.
Integrations & Add-Ons
Blinksale only offers three integrations: PayPal, Stripe, and Basecamp. If your company needs an invoicing program with a larger selection of integrations, we recommend taking a look at Harvest or Square Invoices instead.
Security
Blinksale uses GeoTrust for SSL encryption, Amazon Web Services for hosting servers, and JetPay to manage credit card information. As such, Blinksale doesn't list a ton of details about the specific security measures employed by these companies. Check out each company's site or contact Blinksale directly for more information. Blinksale is GDPR compliant.
Final Verdict
Blinksale has a few notable perks: affordable pricing, ease of use, invoice automations, thank you notes, and unlimited invoices and users. However, these pros don't outweigh the cons in this scenario. Since I first reviewed this software in 2016, I have noticed no improvements to the software's features or design.
It may have been a good solution in years past, but as other invoicing companies have stepped up their game, Blinksale seems to have fallen far behind. Good invoicing software offers more than just invoicing and provides expense tracking and reporting at the very least. And great invoicing software offers time tracking, project management, and full accounts payable as well — all of which Blinksale lacks.
We have heard that the software is being redesigned and that a new version of Blinksale will be released soon. While we look forward to this much-needed update, at this point in time, we don't recommend Blinksale as a good invoicing solution.
Take a look at Zoho Invoice, FreshBooks, or any of our invoicing software reviews to find a Blinksale alternative. If you are a freelancer, AND CO or QuickBooks Self-Employed might be more up your alley. If you do decide to give Blinksale a try, be sure to use the free 15-day trial first, and let us know what you think in the comments below.
---
Try A Top Pick For Payroll
ADP Payroll


---
We like ADP Payroll for its advanced employee management, strong payroll features, and great customer support. Get three months free when you sign up through our links! Get Started.
Try A Top Pick For Payroll
ADP Payroll


---
We like ADP Payroll for its advanced employee management, strong payroll features, and great customer support. Get three months free when you sign up through our links! Get Started.
To learn more about how we score our reviews, see our
Invoicing Software Rating Criteria
.