Expert Analyst & Reviewer

UPDATED
Advertiser Disclosure: Our unbiased reviews and content are supported in part by
affiliate partnerships
, and we adhere to strict
guidelines
to preserve editorial integrity.
Pros
Easy to use
Well-designed user interface
Numerous payment gateway integrations
Cons
Expensive Monthly cost
Rudimentary feature set
Overview:
Mike Iwasiow founded BookedIN in 2009, after 12 years of independent information technology consulting as a "one-stop business solution" to help businesses "get noticed, get booked, and get paid."
Since launching in 2009, the company has continuously interacted with customers online and is growing steadily. BookedIN is something of the quiet-but-talented kid in the room when it comes to booking software, offering a strong array of features at a reasonable price. It's not a full platform like some of the more expensive options out there, but BookedIN has proven itself a reliable solution for many professionals. It's unique in several ways and very committed to simplicity and ease of use.
For individuals who only need to make a few booking per month, BookedIN also offers a completely free plan, which is always nice.
Pricing:
BookedIN's 30 day free trial requires no obligation or credit card. Afterwards, you'll have access to the free plan. BookIN's pricing structure has changed recently. The pay-as-you-go pricing has increased significantly, but the unlimited booking pricing schemes have been simplified and provide a pretty good value for multiple users.
Just The Basics: Free
Pay As You Go
Purchase blocks of 10 – 250 bookings, which will be renewed automatically when you have 10 left. Buy in bulk for a better price per booking. You can purchase them in the following blocks:
$50/10 bookings ($5 per)
$100/20 bookings ($5 per)
$150/50 bookings ($3 per)
$300/100 bookings ($3 per)
$500/250 bookings ($2 per)
Sky Is The Limit
Unlimited bookings. Higher tiers grant additional calendars for multiple users. If you pay annually, you'll receive a 22 percent discount.
$24/mo: 1 calendar
$39/mo: 2-5 calendars
$54/mo: 6-10 calendars
$69/mo: 11+ calendars
Ease of Use: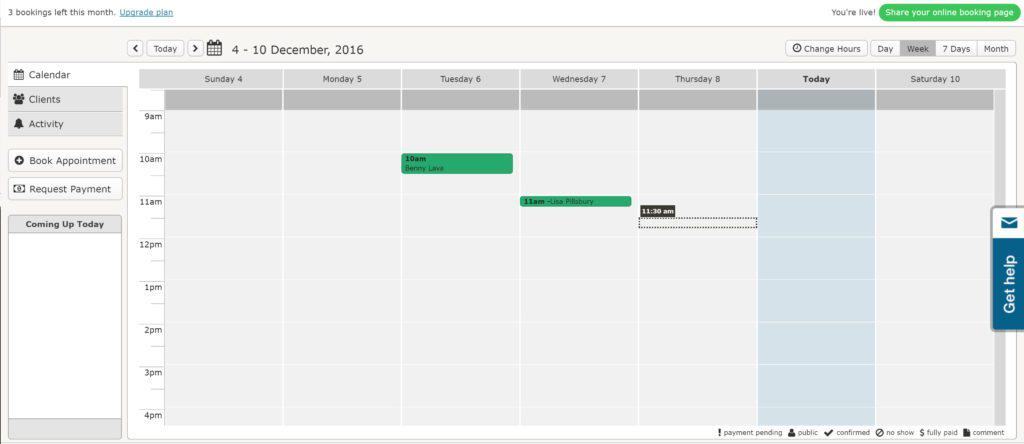 BookedIN founder and CEO Mike Iwasiow's professed commitment to ease of use comes through in this software's user experience. The interface and graphics are beginning to look slightly dated, but have little impact on BookedIN's functionality. Here's what makes BookedIN stand out:
Setup: Setup could not be simpler. Your name, your business' name, your email, and a password are all you need to open your webpage and start booking in under a minute. A window that pops up when you first login to the site suggests your next steps; the "help" button for email, phone, and FAQ support is always available in the header; videos accessible through BookedIN's YouTube page and articles on the blog outline the setup process in detail for anyone who might struggle with the software. You'll also receive an email with helpful links in case you end up regretting clicking through the optional tutorial prompts.
Graphic User Interface: With a minimalist color scheme and a manageable number of options, BookedIN favors utility over beauty. Tabs, buttons, and windows are clearly distinguishable. The scheduler and client list are the most easily accessible items on the main page, with one-click buttons for booking and requesting payment. Everything else related to the business can be found under the less obvious but always present "Settings" menu. The site feels centralized, focused, and intuitive.
Setting Up Services: Creating services involves setting optional categorization and price, break time (padding after the service for rest or cleanup), and lead time. These settings, as well as payment options (Offer discount for early payment? Require prepayment? Allow tip?), are fully customizable for each service type.
Users and Resources: You can create user accounts for people allowed to view the schedule, book appointments, and/or change settings. Staff members who provide services, rooms, and equipment all count as "Resources" in BookedIN, are assigned specific services, and receive their own calendar.
"What's This?" Popup Windows: Many settings have a small clickable text beside them with some variation of the question "What is this?" Clicking on it opens a small popup window simply explaining the setting, option, or headline.
Customer Booking: You can easily integrate a BookedIN button into Facebook or any website, which is fabulous. The automatically created business webpage, though clean and professional looking, lacks some features. Customers can only view available time slots by day, for example; there's no way to see what days in a month or week have open times. No business description (only the name, number, and address (with map)) appears on the site, with a BookedIN logo as big as the business' name in the header. Ultimately however, booking is undeniably simple, requiring only two steps (choosing the time slot under the appropriate resource name and entering your personal information). A recent time-saving improvement allows clients to browse only days that have available appointments.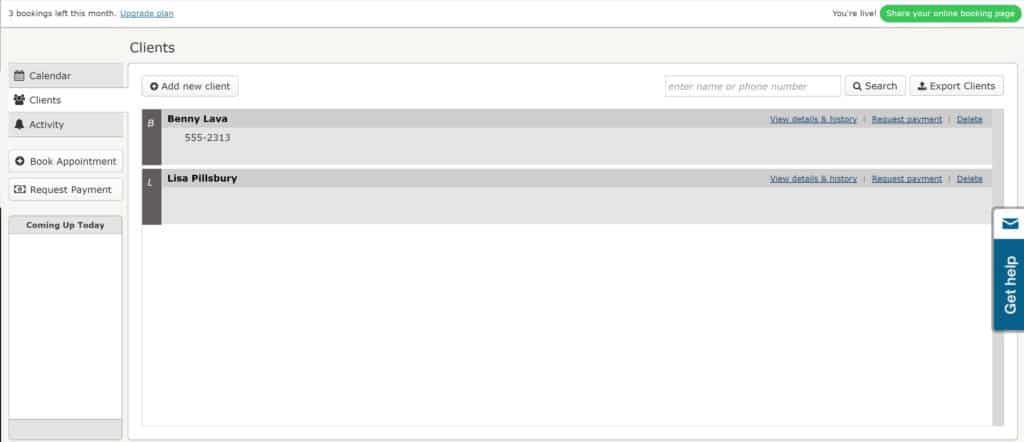 Customer Service and Support:
BookedIN's customer service and outreach is thorough and relatively efficient. A small team dedicated to customer interaction keeps up two blogs, presents updates and comments through many social media portals, schedules calls and demos, and responds to customer emails. Those looking to teach themselves can always find video tutorials and articles online as well. In summary, BookedIN is available to customers via:
Book a One-on-One Session: Schedule time with a BookedIN Support Specialist. You can ask for a personalized tour, help with account setup, or time to ask general questions.
Phone Support: You can also call BookedIN's office in Winnipeg (ie. Central Time) to ask for help or information.
Knowledge Base: BookedIN's support articles offer instruction on integration, setup, use, and account/billing.
Youtube: Nine approximately 2-minute tutorials, including instruction in calendar syncing and basic setup as well as short demos of the software.
Facebook: BookedIN's activity on Facebook is mostly limited to posting links to the company's blog and to other sources with infographics, articles, or advice about small business.
Blog: BookedIN's blog describes new features and company updates.
GooglePlus: The company has an established presence on GooglePlus.
Negative Reviews and Complaints:
The majority of complaints from users available online were spurred by BookedIN's sudden payment plan change in 2012 from unlimited free self-booked appointments to a severely limited basic payment plan (up to 5 free bookings). This sudden shift alienated customers who used the software not to advertise their services but to keep track of their schedules. No other complaints have come up consistently, though other problems and suggestions appeared occasionally:
No Class/Group Booking: BookedIN lacks the capacity to schedule multiple people for certain time slots.
Scheduling Not Integrated into Website: One customer wanted the ability to integrate BookedIN's scheduler into his website without redirecting customers to the BookedIN webpage. This feature is promised but not yet available.
Business Webpage: The business webpage is totally uncustomizable, lacking even business details for customers to view. Customers can't see open times by week or month, only individual days.
Lacks Reports Function: BookedIN doesn't generate reports of appointments or revenue to help keep track of business stats.
No Longer Free: As mentioned, in late 2012 BookedIN changed its usage policy from allowing free self-created (rather than public) bookings to limiting free bookings. One unhappy user described the change as seeming "like a bait and switch."
Positive Reviews and Testimonials:
Customers simply love using BookedIN. The software received 4/5 stars on both AppAppeal and Google's Chrome Web Store. CNet's Download.com ranked BookedIN #4 in its Small Business Software category. Along with praise for its customer service, users remarked on the following:
Good User Interface: An AppAppeal reviewer gave BookedIN 4/5 stars, describing it as "very well designed," "clean and simple," "easy to navigate," and bug-free. Another user called it "slick."
Client Ease of Use: Several business owners reported that their clients actually enjoy using the app.
Easy to Use: One Chrome Web Store reviewer called it "seriously easy to use," and others made similar claims about how simple it is to navigate, especially compared with other appointment software.
Features:
BookedIN's features reflect its aim to be a simple-to-use "one-stop shop." Its integration with PayPal makes for uniquely robust customer payment options. It provides tools for businesses to market themselves. In addition to the basic features of online scheduling software, you can expect:
Payment Options: More than any other, the awesome payment features makes BookedIN a streamlined small business solution way beyond basic scheduling. For details, scroll down to Payments.
Interactive Calendar: Though other software solutions also offer clickable, fun-to-use calendars, in BookedIN you can actually create new, custom services (rather than having to choose from a set of preset services) as you schedule appointments. If you choose, you can save the service in the system after you've scheduled it. Creating and clicking appointments opens a popout window with the appointment details and a link to the client profile.
Marketing: Like many other scheduling solutions, BookedIN creates a webpage for your business automatically, for the sake of having an online presence as well as making booking easy for clients. Unlike most other software, however, BookedIN automatically ranks your new webpage on Google, making it easy for potential clients to find you rather than counting on clients you personally market to.
Flexible Book Now Button: Clients can link to the BookedIN page through a button on a business' website, Facebook page, Craigslist ad, or straight the webpage automatically created by BookedIN. All are painless to use and simple to set up.
Internationality: BookedIN can be used across the world, where in fact thousands of users are located. Choose any time zone or currency for your business during setup.
Reliability: BookedIN runs on Google App Engine and backs up data constantly, which keeps their downtime at a minimum and all your information about bookings and payment history available at any time.
Widgets: A new feature allows businesses to integrate a BookedIN widget into their website, which allows customers to book appointments and take payments directly from the site.
Mobile App: BookedIN has released their long-awaited mobile scheduling app for iOS and Android. The app has been well-received on Android, garnering a 4.5 on Google Play. The iOS version currently doesn't have enough ratings to produce a score.
Payments:
BookedIN users of any payment plan can take payments through a PayPal account. BookedIN allows you to take deposits, partial payments, and full payments either before or after appointments – as well as send automatic receipts to clients afterward. Allow clients to pay through email, offer discounts for paying early, and take tips. You can also choose whether to make a deposit or upfront payment refundable or not.
While BookedIN's cost has gone up, there's some good news for users who collect payments through the software: BookedIN no longer charges a fee for processing payments. Third party charges from payment services like Pay Pal still apply, however.
Security:
BookedIN's main claim to security rests on the fact that the software runs on Google App Engine and is therefore "bound by the same security and privacy policies as Google's own software." The company also ensures that passwords are stored only after being encrypted and outsources all its payment processing to PayPal, which means that no security breach in the software itself would compromise client payment data.
Integrations and Add-Ons:
BookedIN has limited but essential integrations for payment processing, marketing, and scheduling:
PayPal: BookedIN has a very tight integration with PayPal, through which it takes payments either upfront or after appointments and issues customer receipts.
Facebook App: Add a page tab to your business Facebook page to add a Book Now button that takes Facebook visitors to the business scheduling webpage.
Calendars: BookedIN supports two-way integrations with Outlook, Google Calendar, and iCal.
Final Verdict:
BookedIN offers detailed and flexible (though expensive) payment options; a truly well designed, fun user interface; and a unique offering of payment plans. It has a lot to offer the small business looking for subtle customer payment options, software that is both beautiful and easy to use, and the ability to pay for blocks of bookings (rather than a monthly fee). The company is ambitious, with a wide-reaching vision that seems to motivate its team to seek excellence, consistency, and a good reputation online and among their customers.
Though the cost of the Pay-As-You-Go plans has risen enough to make them a fairly poor value, the cost of the unlimited plans is quite reasonable.
BookedIN may not be appropriate for the user looking for a high level of customization or very specialized types of booking (classes, tours, etc.), but this little Canadian startup does help you market your business through webpage rankings and a flexible Book Now button and a number of other helpful features. It's an exciting company with a solid product that's worth looking into for solo practitioners and small business owners.
---
Featured Free Corporate Card
Ramp


---
Ramp offers a free corporate card for virtually any business. Start earning rewards with your corporate spending today. Get your free card.
Featured Free Corporate Card
Ramp


---
Ramp offers a free corporate card for virtually any business. Start earning rewards with your corporate spending today. Get your free card.
To learn more about how we score our reviews, see our
Booking Software Rating Criteria
.