Expert Analyst & Reviewer

UPDATED
Advertiser Disclosure: Our unbiased reviews and content are supported in part by
affiliate partnerships
, and we adhere to strict
guidelines
to preserve editorial integrity.
Bookeo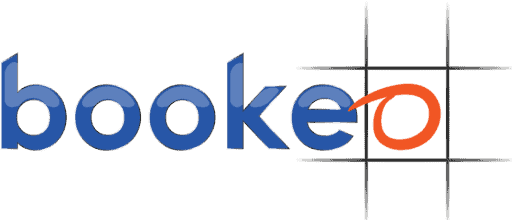 Pros
Customizable feature set
Easy to use
Good customer support
Good value
Cons
Can struggle to accommodate unique circumstances
Outdated user interface
Overview
Over the last decade, Sydney, Australia-based Bookeo has developed a reputation for rapidly iterating on its flexible and powerful scheduling software. This has helped keep the software relevant even against massive business software platforms that include some scheduling tools.
Bookeo appointments offer a surprising variety of marketing solutions. The software integrates with many payment platforms, boasts excellent security features, and integrates with a decent number of third-party software applications for added functionality. The company continues to upgrade and update its products, releasing significant feature additions every few months. In keeping with the times, Bookeo recently released a COVID-19 version of their software that focuses on scheduling in the age of social distancing.
Bookeo remains a great lightweight scheduling solution that can scale with your business. Want to know more? Keep reading our Bookeo review.
Bookeo Pricing
Bookeo's pricing differs by product, but each version offers a 30-day free trial and a 30-day money-back guarantee on the first paid month of subscription. Bookeo accounts require no set-up or processing fees and no contracts. (Subscriptions must be paid via Visa or Mastercard.) If your business needs more than the biggest plan in any category allows for, you can contact Bookeo for custom pricing. Subscriptions are priced as follows:
Bookeo Appointments
Bookeo Appointments plan tiers all have the same features (calendar, client database, online payments, reporting tools, website integration), but different consultant, staff, and booking caps.
In general: The more you pay, the more you'll get.
Solo: $14.95/month
1 staff login
1 consultant,
200 bookings/month
Small: $29.95/month
3 staff logins
3 consultants
1,000 bookings/month
Standard: $39.95
20 staff logins
20 consultants
1,000 bookings/month
Large: $79.95/month
40 staff logins
40 consultants
2,000 bookings/month
Bookeo Classes & Courses
Bookeo Classes & Courses are geared towards, as you might guess, schedules that involve a large number of participants. Like Bookeo appointments, the differences between the plans aren't features, but the number of staff, resources, and bookings you're allowed.
Standard: $39.95 per Month
20 Teachers/resources
1000 Booking per month
Large: $79.95 per Month
40 Teachers/resources
2000 Booking per month
X-Large: $119.95 per Month
60 Teachers/resources
3000 Booking per month
Bookeo Tours & Activities
Plans for tours and activities vary according to the size of the business, measured in the number of staff/vehicles and of bookings per month. The feature set for each pricing tier is the same.
Standard: $39.95 per Month
20 Staff/vehicles
1000 Booking per month
Large: $79.95 per Month
40 Staff/vehicles
2000 Booking per month
X-Large: $119.95 per Month
60 Staff/vehicles
3000 Booking per month
COVID-19 Edition
Bookeo's new product offering is designed to track and limit the number of people in your establishment at any given time and help you stagger appointments to create shorter lines.
Standard: $39.95 per Month
20 Staff
1000 Booking per month
Large: $79.95 per Month
40 Staff
2000 Booking per month
X-Large: $119.95 per Month
60 Staff
3000 Booking per month
Extra Costs
Bookeo doesn't have any features hidden behind subsequent paywalls. Services you integrate with Bookeo may have their own fees, but Bookeo will not itself charge you to use them.
The only other charge applies to businesses that want to send SMS reminders to customers or receive Fax notifications (which is apparently a thing people still do). Bookeo uses a credit system, with each SMS message consuming one credit. Fax costs vary depending on where you're located. In the U.S. they cost 1 credit. Credits can be purchased as follows:
40 for $5 ($0.12 per)
250 for $25 ($0.10 per)
1100 for $100 ($0.09 per)
Credits expire 24 months from the date of purchase.
Cloud-Based Or Locally-Installed
Bookeo is a software-as-a-service (SaaS) and is run entirely through your browser. All functions available on desktop are also available on mobile browsers. There is no mobile app.
Hardware & Software Requirements
Bookeo is compatible with most modern, up-to-date browsers and uses responsive design to display its full set of features on mobile devices.
Specific Size Of Business
Bookeo is designed to be efficient and scalable and, for the most part, it succeeds. Small businesses have access to the same suite of features as their larger counterparts at a price point that's more affordable to them.
While Bookeo does a good job of covering much of the spectrum, the lack of a free plan will likely make it a poor choice for sole proprietorships with very limited scheduling needs. Likewise, very large businesses will probably have more efficient options for handling their complex booking needs. Everyone in-between can probably make good use of Bookeo, however.
Ease of Use
I found Bookeo very user-friendly and straightforward. Action items and information are clearly distinguishable and items within the software are grouped in intuitive and manageable ways. While there isn't much setup support, I found the tutorials in the Help Portal precise and sufficient. You can even try a live demo on Bookeo's website without having to sign up for anything. The interface is starting to look a little dated graphically, but beneath the aging paint job is an application that is carefully, and frequently, maintained and updated.
Bookeo relies heavily on buttons and icons in its graphic user interface. White and shades of blue form the backdrop for occasionally vivid highlights (including detailed icons and a color-coded calendar key). Bookeo avoids crowding too much information into any one screen or pane by separating related pages into tabs and making full use of interactive drop-down menus, buttons, text areas, and checkboxes. The only downside to this is that it can sometimes be challenging to find exactly what you're looking for, but for the most part, you can follow your intuition.
Bookeo Appointments Features
Bookeo offers a substantial feature set that covers most of the situations a typical business will encounter. It doesn't have everything you could possibly want, however, so businesses with very specific and unusual needs may need more than Bookeo offers.
Bookeo's most striking capabilities are found in the wide variety of marketing solutions, though it's also notably flexible in both payment and scheduling options, creates great reports, and supports international users.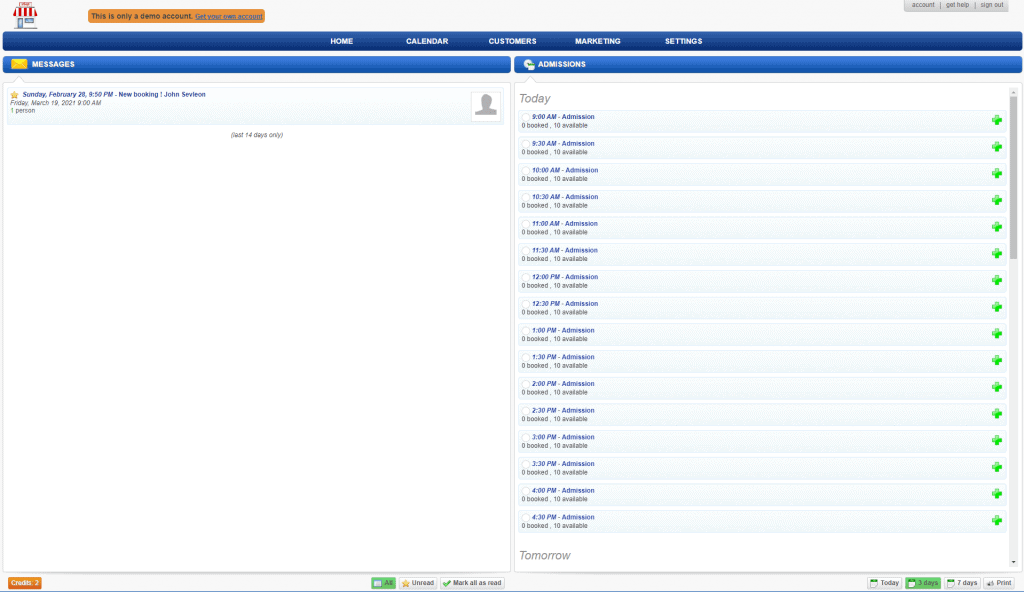 Dashboard: Your account site is organized in five simple tabs: Home, Calendar, Customers, Marketing, and Settings. Prominently displayed are your messages and admissions. Navigating the site isn't hard, although it's not exactly slick. Clicking on a tab will take you to another page with numerous links to other features; there's no pulldown option.

Scheduling: Of course, what good would great marketing and great payment options do if your booking system can't manage your schedule very well? Bookeo allows users a lot of control over scheduling. For one thing, you can manage resources (one per booking—each one comes with a wealth of settings of its own). You can book group events. Additionally, you have the power to create bookings in the past, open time outside the regular schedule, book multiple bookings in a single transaction (with "Booking Cart"), offer extras, and (my personal favorite) automatically accept a booking for a class/tour only when the minimum number of participants request the class/tour at that time. A number of improvements have been made to this feature to help ensure that bookings are completed and that you'll avoid degenerate customer behavior that you hadn't planned for (like double discounts). For customers to make an appointment, they must register with Bookeo by providing their name, email address (with whatever other contact details you mandate), and password. This allows clients to sign into their own customer area, from which they can keep track of their profile, credits, and other information in addition to their bookings. The customer booking site is definitely above average, offering the client lots of options besides just picking the date and appointment type. (As with nearly all automatic customer-facing sites, however, I wish the business details were more prominently displayed.) The confirmation email is clear and professional, giving the client the chance to view and print the booking details. A recent improvement to the client booking system allows users to book multiple appointments without having to re-enter all of their information for each booking. On the user end, you can now set custom fields to collect information on clients that is pertinent to your business.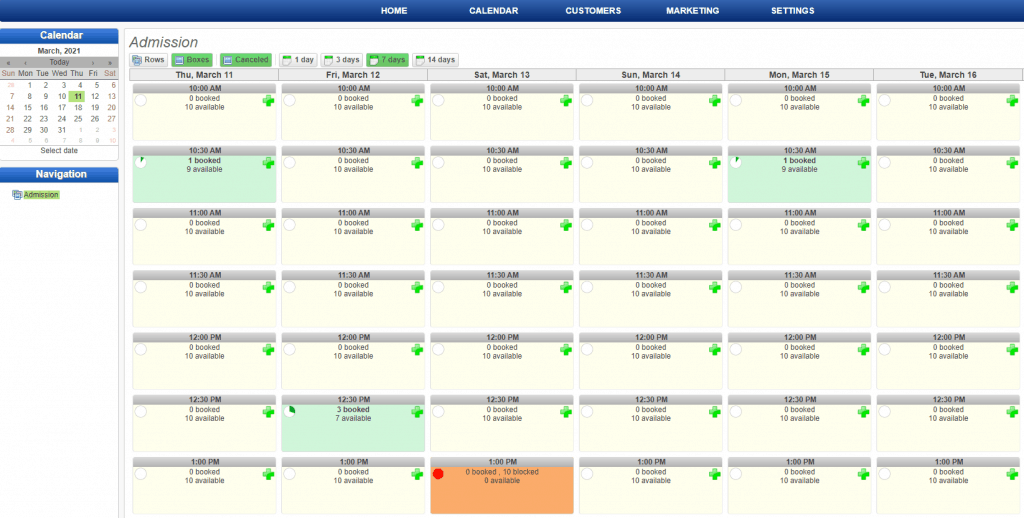 Calendar: Managing your calendar from within your account is a breeze. It appears with a sidebar for navigating between months and years as well as by resource. You can view the main calendar 1 day, 3 days, 7 days, or 14 days at a time. Unavailable times are shown as gray; open and reserved spots appear as color-coded slots. You can create a booking of any length by clicking and dragging a block of time on the calendar, which opens a pop-out with all the information you could ever want about that booking (characteristically grouped in tabs). The booking summary includes payment information, notes, and customer details. Hovering over a booking opens a little speech bubble with the most basic information for a quick view.
Email/Text Reminders: Both email and text reminders need to be enabled. Text reminders are one of the only features in Bookeo that require a supplemental fee. Each message costs 1 credit. Credits can be bought in bundles ranging from $0.09 – $0.12 per credit.
CRM: Bookeo's customer management system is pretty straightforward and accessible from most of the places you'd want it to be. Your list is exportable in a machine-readable format. Each customer entry tracks contact details, preferences (like language), tax exemptions, the customer's latest bookings, any notes you add, and any credit cards on file. You can also give credits to your customers if you wish.
Reporting & Analytics: Bookeo has expanded what kinds of reports users can create in recent years. You can choose detailed summaries of any promotions (with stats), prepaid credits, bookings, customers, and payments. When you download a report as an XLS file, you can see even more fields. Of course, you can customize reports to show only the dates and types of information you're interested in. You can use reports to determine customer preferences or keep track of revenue and the hours your staff has worked.
Promotions: Bookeo seems very committed to helping its users promote their businesses effectively. They make marketing simple with booking buttons and links, integration with LivingSocial and Groupon, self-created deals, percent-based or fixed discounts, gift vouchers, prepaid packages, social network integration, marketing campaign emails, memberships, conversion tracking and analytics, and the option of adding pics and video to your product descriptions. You can choose whether to publish reviews and which section should be displayed as the summary. Reviews can automatically display on the booking page and your website. You can customize their appearance and export them to a spreadsheet.
Gift Certificates: You can award gift certificates through Bookeo's marketing tools. These come in both "generic" and "specific" forms. You're given quite a bit of freedom to customize both the look and text of your gift certificates. There are also testing tools that allow you to test the voucher purchasing and redemption processes.
Multiple Languages: Bookeo's customer interface is available in over 30 languages, which you can set through the use of language codes. The admin interface is available in English, French, German, Italian, and Spanish. You can set one currency for your business and have the option to show your timezone to customers on your page and confirmation email, but Bookeo doesn't detect or convert your customers' time zones.
Flexible Payment Options: In addition to choosing whether to ask for full payment or deposits upfront, Bookeo allows you to set cancellation fees and differing pricing for various times and seasons. It allows you to require customers to pay within a certain amount of time either before or after a booking and gives you the power to assign prepaid packages to certain customers or only those signed up for recurring payments (making them a "member"). Finally, Bookeo is flexible enough to handle many widely differing tax systems across the world (like percentage, fixed, and compound taxes) and breaks the charges down for the customer in their booking summary.
Private Booking: This feature is fairly robust and allows you to set up events as completely private, or to block out a certain number of seats for just your friends/coworkers/family. A related feature allows you to set events as "Hidden," so that only customers who are sent a secret link can see the event.
API: Bookeo has an API, which has an enormous effect on the types and number of programs that Bookeo can interact with. The API allows outside programs to access Bookeo's information: for example, querying a user's booking history. While you'll probably need some development experience to make direct use of the API yourself, all users will likely benefit, as programs and scripts are written to take advantage of it.
Bookeo Customer Service & Support
Bookeo's customer service centers on its Help Portal, which consists of 300 tutorials and an email support form. I also received some support via a live chat on Bookeo's promotional website and an email from a customer service rep sent when I signed up for a trial account.
A full list of customer support options follows:
Phone: In addition to an address and email address, Bookeo publishes separate emails for sales and billing as well as separate phone numbers for different markets.
Contact Form: You can contact Bookeo by email through its website.
Live Chat: Live chat support is available on the website through an icon in the lower right-hand corner.
In-Software Help: Clicking on the "get help" button in Bookeo will link you to the Bookeo Support Center.
Help Portal: You can email Bookeo or search its hundreds of visual-laden tutorials through the help portal.
Blogs: Bookeo publishes a blog with mostly updates and announcements. It has been running since October 2010 and has a little less than a post-per-month on average. The company also kept an Industry News Blog from January – November 2012, when it seems to have been abandoned.
Social Media: Bookeo has garnered over 900 likes on Facebook and almost 400 followers on Twitter, where it engages with other users and posts in spurts.
Demos: On Bookeo's promotional site, you can test any of the three versions of the software as both a manager and a customer.
Bookeo Appointments Reviews
Negative Reviews & Complaints
Bookeo isn't currently being tracked by the Better Business Bureau, but there are numerous user reviews on sites like Capterra (4.3/5) and G2Crowd (3.5/5). Complaints about Bookeo tend to relate to customer service. The following negative feedback also appeared:
Insufficient Customer Support: Several users complained that Bookeo only offers self-service and email support. One reviewer wanted tutorial videos, and another became disappointed with a drop in support quality once his website went live and required more data (and therefore more issues).

Interface Issues: One reviewer suggested there are too many steps for customers to make a booking, while another had difficulty navigating the setup process.
Waiting for Promised Features: Whether users irrationally expected certain features at certain times or Bookeo inadvertently led them on, several users complained that Bookeo was slow to release some of its new features.

Limited Features: While Bookeo does offer a lot of features, businesses that encounter unique situations sometimes struggled to resolve them using Bookeo.
Positive Reviews & Testimonials
Ironically, praise about Bookeo revolves around the same customer service, which is also a hot topic for many complaints. Some highlights include:
"Unsurpassed" Customer Service: Many loyal customers cite Bookeo's speedy, courteous, and clear replies to emails.

User-Friendly: One reviewer writes, "The management side of the software is straightforward with all the functionality you could want from a service like this". Bookeo Tours is apparently particularly easy to use relative to other industry software.

Customizable: One reviewer chose Bookeo for its ability to manage unique situations. Others praised outright how customizable the software is or described it as "innovative" and oft-upgraded.

Good value: Some users remarked that Bookeo gives you a lot for your money.
Bookeo Integrations & Add-Ons
Bookeo is compatible with 13 different payment gateways, one of which you'll need to utilize if you want to take payments through Bookeo. Notable options include Stripe, Square, Authorize.Net, Braintree, and 2Checkout. Additionally, it integrates with four other shopping carts, including Shopify.
Bookeo also integrates with 16 different website builders, including WordPress and Weebly. Beyond that, you're looking at 15 integrations that include "deal of the day" services, accounting system (yes, Quickbooks is supported), social media, and marketing tools.
You can sync your Bookeo contacts with over 160 other applications through Piesync.
Security
Bookeo describes itself as "paranoid about data security." This translates to SSL encryption (128 or 256 bits) throughout the software, hosting across nine data centers across the globe with triple redundancy, and real-time backups with four daily backup snapshots on redundant cloud servers.
Final Verdict Of Bookeo
Bookeo has proven itself a trustworthy company in its regular software upgrades, exhaustive customization options, extreme security measures, and integrations with other software.
The application is a formidable mix of simplicity and robust functionality hindered only by its limited and sometimes inconsistent customer support. As long as your scheduling needs don't fall too far from what the typical business experiences or you aren't completely turned off by its dated look, Bookeo will provide excellent value for your dollar.
Bookeo remains a strong contender in comparison to other scheduling services by offering all of the basics in an easy-to-use package. With all of its features available to all users, a healthy set of integrations, and a scalable pricing model, it serves as a good "jack of all trades" booking software, even if it doesn't especially master any one area. It's time to update those graphics, though.
---
The Merchant Maverick Seal of Approval 🏆
Bookeo


---
After hours of in-depth research and evaluation, we can confidently recommend this brand to our readers. Get started today and see Bookeo for yourself.
The Merchant Maverick Seal of Approval 🏆
Bookeo


---
After hours of in-depth research and evaluation, we can confidently recommend this brand to our readers. Get started today and see Bookeo for yourself.
To learn more about how we score our reviews, see our
Booking Software Rating Criteria
.