Expert Analyst & Reviewer

UPDATED
Advertiser Disclosure: Our unbiased reviews and content are supported in part by
affiliate partnerships
, and we adhere to strict
guidelines
to preserve editorial integrity.
Pros
Easy to Use
Well-designed user interface
Cons
Buggy
Poor public reputation
Overview:
Supercenters tend to get a bad name. We hear stories about big box stores moving into towns, driving competitors out of business with one-stop-shopping and cutthroat prices. Most of us, however, have been drawn to the convenience of those stores at one time or another.
While Booker isn't sitting in a strip mall on the outskirts of town, it does aim to be a one-stop-shop for your business software needs, and it hopes to do so in a simple and affordable way.
Booker covers a lot of bases and does so at a fairly reasonable price. Whether it does so well enough for your business will probably be a function of how many employees you have and how patient you are.
Pricing:
Booker has a simple tiered pricing structure that unrolls the vast majority of its features at the basic level. There's no free trial, but you can schedule a demo with a customer service rep if you're interested in the software.
Basic: $85/month: Online appointment book and bookings, integrated point-of-sale, package and series management, gift certificates and eCommerce, optional credit card processing
Standard: $135/month. Everything you get with Basic, plus unlimited document storage, loyalty points and rewards, membership management.
Custom: Variable. Booker will set up a customized account with flexible options, including multi-location options, custom customer fields, IP lock, API access.
Additional Costs/Add-ons
The following features are available as optional add-ons:
Booker Customer App: A mobile app available to Booker customers. Android and iOS versions are available.
Booker Marketing Network: Users of this feature will be able to add booking features to their business listings on any of Booker's partner sites.
User Experience: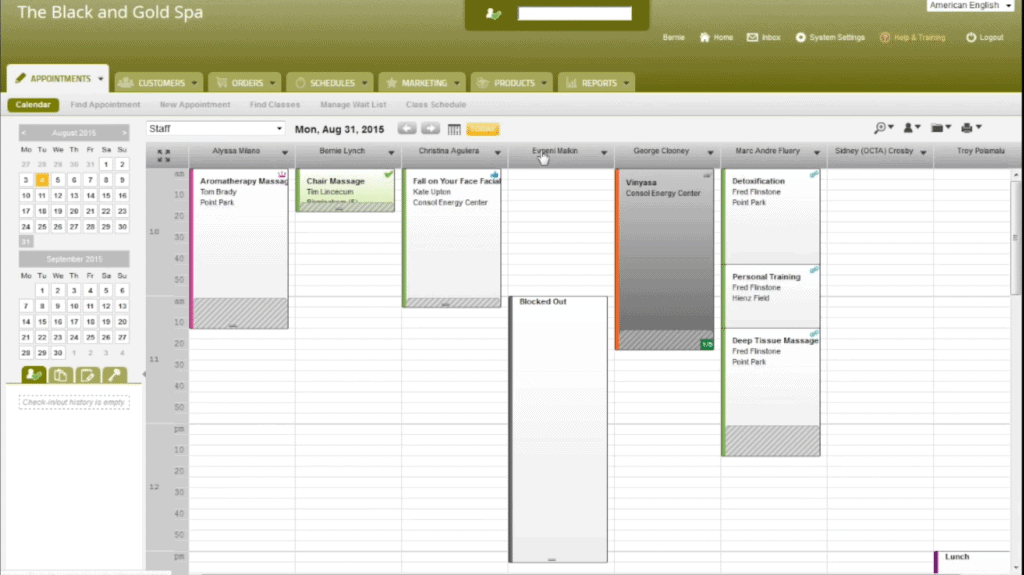 Booker strikes a balance between complexity and feature-depth that should prove to be fairly intuitive for most users, albeit at the cost of a lot of tabs and sub-tabs. Still, there's nothing here that should make you want to tear your hair out in frustration. While the interface looks just a tad dated visually, it's still very functional and responsive.
Scheduling/Calendar: Booker makes managing multiple staff members a breeze. The program assumes you won't be alone and makes viewing and assigning staff availabilities (and permissions) simple and easy. You can reassign appointments to staff using a simple drag-and-drop interface. The color-coding system is super handy for easy visual reference. Additionally, you can resize your columns on the fly using sliders. Adding new appointments is as simple as clicking on an empty slot on the calendar. You'll then enter customer information, the type of appointment, and the staff member who will be handling it. You can store information from previous clients to avoid having to reenter their data down the road. When you're ready to confirm the booking, you have the option to send email or text confirmations to the client.
Point of Sale: Booker offers POS for merchants who need that functionality built-in. While it isn't necessarily as fully featured as some of the more dedicated POS software suites, it should do the trick for anyone who doesn't have highly complex inventory management to perform. You'll be able to view a client's purchase history, add preset items to their cart, and process cash, checks, and credit cards. If you've paid out for the Standard package, you'll also be able to assign and process loyalty points in transactions. You will, of course, need additional hardware to scan credit cards. Note, you can conduct online sales through the customer booking feature.
Marketing: Booker has some integrated marketing features that can help you center your online business activities in one place. For example, from the Marketing tab, you'll be able to do social media blasts to Facebook and Twitter. For email marketing, Booker partners with MailChimp. Booker helps you manage some simple email marketing automation tasks by setting conditions in which the customer will automatically receive emails from you (birthdays, thank yous, we-miss-yous, etc).
Customer Booking Experience: Setting up customer booking is accomplished by simply copying and pasting some HTML to your website, which will manifest as a button that links the customer to your booking page. The booking page is fully customizable, so you can make it more closely resemble your business's style than Booker's. Customers can select services you've made available through a series of drop-down menus. They'll get a number (you determine how many) of potential appointment slots to choose from. Frequent customers can create accounts to store their booking information. You can also process credit card transactions through the booking feature if you require payment upfront or place a hold in case of cancellation. Note, the customer will actually be directly booking the time slot rather than making a request to book the time slot.
CRM and Analytics: Booker retains a log of all the interactions it has processed between you and each client. This includes appointments and sales. You can take this a step farther by setting customized alerts on customers that will remind you of useful information to keep in mind while you're interacting with them (the customer has children, the customer frequently has to cancel appointments, reminders about what products they like, etc.). As far as reports go, Booker tracks almost everything it does–from staff performance, to payroll, to customer behavior–and can, in turn, spit it out in a report for you.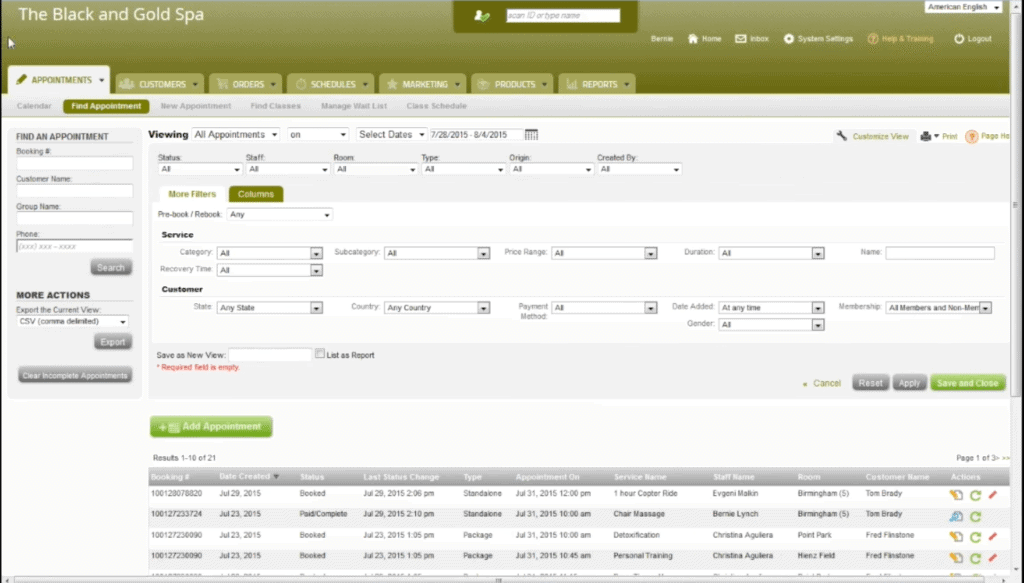 Payments
Booker providers payment processing services through platform-ready integrations with First Data, Bank of America, Wells Fargo, PNC, Vantiv, Integrity, and subLyme.
Customer Service and Support:
Booker offers live support 9 a.m. to 9 p.m. ET during weekdays, and 10 a.m. to 7 p.m. ET on weekends. There are a number of different ways to access support resources:
Phone: Call 866-966-9885 during the hours listed above.
Chat: Customers can access live chat support by clicking on "Help & Training" from within the program.
Email: You can reach email support at [email protected]
Help Center: Contains links, articles, and alerts to help you resolve issues
Blog: Articles and links on topics which may be useful to merchants.
Negative Reviews and Complaints:
The software has gotten mixed-to-positive reviews on G2Crowd, where it ranks around 3.9 out of 5 stars. Common criticisms include:
Buggy: A lot of users reported encountering unexpected performance issues which required contact with the company. Further, a portion of those users reported that Booker Software struggled to identify and resolve the issues quickly.
Customer Service/Aggressive Upselling: This complaint is largely related to the above issue, but other users reported dissatisfaction with customer service, particularly in the realm of aggressive sales pitches.
Mobile apps: A few users wished more features were accessible on the mobile apps.
Reports: Some users expressed frustration about being unable to customize reports to fit the specifics of their business.
Positive Reviews and Testimonials:
The Better Business Bureau has logged a small number of complaints, but most of those have aged out of their rating criteria. BBB currently rates Booker A+. Despite some of the harsh criticisms out there, there are plenty of users singing Booker's praises as well.
Client Interface: It's an optional feature, but users reported that their customers really appreciated the elegant design and ease-of-use of the client-facing booking/shopping features.
Marketing Tools: You can accomplish a fair amount of marketing tasks from directly within Booker. Overall, customers appreciated these easy email blast feature.
Employee management: Booker made scheduling employees painless for some users, who said they liked that their employees could check their schedules from their mobile devices.
Ease of Use: For all the features Booker offers, it's remarkably easy to use, which a number of users have noted.
Features:
A list of Booker's main features can be found here. The software's more unusual features include:
Social Promotion: You can send social media blasts and email campaigns directly from Booker.
Booker Marketing Network: It's an add-on, but you can link your booking page to your listing in a number of popular sites like Yelp.
Point of Sale: Booker comes equipped with point-of-sale functionality.
Security:
Booker Software is a PCI Level 1 Service provider and must maintain compliance with the PCI DSS standard.
Booker's information security program, built mainly around industry-standard PCI compliance, is a comprehensive governance framework designed to educate, protect, detect and respond to security incidents.
Physical access to data centers requires two-factor authentication.
You can read more about Booker's security policy here.
Integrations and Add-ons:
Booker does a lot of things for you out-of-the-box, but you may have a difficult time finding additional integrations for it, especially since the API is only available at the highest tier. Booker integrates with:
Final Verdict:
On paper, Booker is a something of a godsend; a reasonably priced platform that functions as a one-stop shop for all your digital business needs. It's got booking, marketing, point of sale, and analytics—all under one roof! And, truth be told, when the software is functioning as it should, it's very nearly what you'd hope it would be. Booker is packed with features.
Unfortunately, Booker has some issues that keep it from consistently functioning as advertised, the most serious of which is its slow performance. While this isn't an insurmountable issue, it is concerning enough that I'd recommend caution before diving into Booker. In conclusion, before you make any big decisions, I'd recommend taking the guided tour, reading as many user reviews as you can, and determining whether or not Booker meets your needs and does so within your price range.
---
Featured Free Corporate Card
Ramp


---
Ramp offers a free corporate card for virtually any business. Start earning rewards with your corporate spending today. Get your free card.
Featured Free Corporate Card
Ramp


---
Ramp offers a free corporate card for virtually any business. Start earning rewards with your corporate spending today. Get your free card.
To learn more about how we score our reviews, see our
Booking Software Rating Criteria
.