Expert Analyst & Reviewer

UPDATED
Advertiser Disclosure: Our unbiased reviews and content are supported in part by
affiliate partnerships
, and we adhere to strict
guidelines
to preserve editorial integrity.
Pros
Easy to use
AI Design Assistant works well
Excellent eCommerce
Mobile responsive
Cons
Expensive
No unique standout features
Bookmark Overview
Bookmark is a website builder that seeks to take the burden of building a website out of the hands of life-preoccupied consumers with its AI-powered automatic website creation. The field of automated website builders runs the gamut from decent but flawed products like Impress.ly (see our review) to overhyped busts like The Grid (see our review). At long last, do we have an automated website builder that truly fulfills the potential of AI-powered web design?
Founded and led by David Kosmeyer since 2014 and based in Toronto, Bookmark describes their product thusly:
Bookmark.com is a website creation tool for non-technical people. Our simple, drag-and-drop technology combined with AIDA (artificial intelligence design assistant) makes creating a professional website fast, easy and fun.
Does Bookmark's AIDA truly bring automated website creation to the grinding masses? Read my Bookmark review to get your automated answer.
Pricing
Like most website builders, Bookmark employs the freemium pricing model. You can set up an account and use their platform entirely for free, but you'll miss out on some of the more advanced features, premium support, unlimited storage, and that you'll get with Bookmark's two paid plans — and you'll have to use Bookmark branding. Here's what Bookmark has on offer:
Free
Mobile website
Free hosting
Free subdomain
Five sites
500 MB storage
Bookmark branding
Professional
$11.99/month (billed annually)
$14.99/month (billed by month)
Unlimited storage
Unlimited bandwidth
Unlimited sites
Unlimited pages
Free domain for one year
SSL certificate
Advanced analytics
Advanced SEO
Video backgrounds
No branding
Connect your domain
E-learning courses
Premium support
Business
$24.99/month (billed annually)
$29.99/month (billed by month)
All of the above, PLUS:
Three email addresses, free for the first year
eCommerce/Online Store
1000 product website
No transaction fees
Shopping cart on your domain
Sell digital goods
Advertise on major marketplaces
Wholesale pricing groups
Edit orders
Sell on eBay
Discount coupons
Android and iOS Store management app
Sell on the go with PayPal Here and iZettle
In addition to their website builder, Bookmark offers 16 sets of online courses (referred to as e-Learning Courses).
Web-Hosted Or Licensed
Bookmark is web-hosted.
Hardware & Software Requirements
Bookmark works with all major web browsers.
Business Types Supported
When you start creating your Bookmark site, AIDA (that's the Artificial Intelligence Design Assistant, remember?) slides into view to prompt you to choose what sort of website you want to create. There are 615 options to choose from, so just about every possible business specialty is covered. Bookmark's "most popular" website types are:
Accommodations
Restaurants
Social Media Marketing
Photographers
Coffee Shop
Artist
Personal Brand
Personal Trainers
Construction Contractor
Wedding Events
Ease Of Use
After you choose your website type, you'll be prompted to enter the name of your business. If you have a Business subscription, you can choose whether you want an online store. You then enter contact information and a logo for your business. AIDA will scan the web to see if your business has an existing web presence (if so, it will pull your content and import it) and creates a website for you. You'll preview your website in desktop, tablet, and mobile form. If you find your newly-generated site lacking, just hit the Create New Website button to scrap it and generate another one. Once you approve of what AIDA generates, just hit 'Edit Website' to begin editing what AIDA hath bequeathed unto you.
Thankfully, for those seeking a high degree of guidance, the editor will walk you through the rest of the editing process. After clicking 'Edit Website,' a box pops up, offering to help you with the following tasks:
Want a New Website?
Change Website Style
Change Website Fonts
Customize Website Sections
Customize Pages
Add & Delete Modules
Drag & Drop Modules
Change Pictures & Media
Search Engine Optimization
Get Advanced Help
Publish Website
Click on one of these prompts and the editor will tell you how to perform the task in question. If that's not enough, you can then have the editor actually perform the task for you.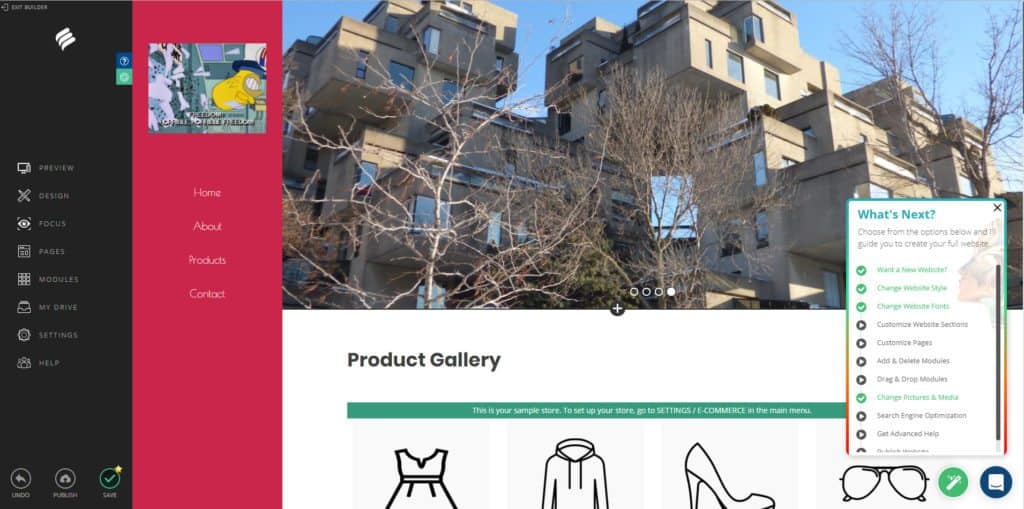 If this level of help still isn't enough, Bookmark provides a series of 26 how-to videos, a vast selection of guides, a community forum, and live chat.
Move your cursor around your site and you'll find you can select any of your elements and drag them wherever you want around the page and/or edit the element however you wish. The editing process feels completely intuitive.
Adding elements to your site can be done directly by choosing the Modules option on the side of the editor and dragging an individual element onto your site. If you'd rather plop a pre-designed content block onto your site so you don't have to get into the nitty-gritty of element placement, Bookmark's Focus system is for you.
A Focus is a content block designed for a specific purpose — a price table, a checklist, a photo gallery, five different image + text content combinations, etc. — that you can plop onto your site. You can then rearrange the order of the Focuses on your site or you can edit/move elements within said Focus. I appreciate the fact that Bookmark's editor gives you a granular level of control over your site while still allowing the kind of broad-strokes editing that most novice website owners will want to employ.
All in all, Bookmark's conception of an AI-powered website creation tool for non-techies works very well in that the learning curve is close to non-existent. Bookmark's editing model makes it just about as easy as it can possibly be for an amateur to create a passable-to-good website while retaining a healthy degree of customizability. However, I still encountered the occasional ease-of-use frustration. For instance, when putting together an image gallery, I found an "Enable Pinterest" option, but no further guidance as to how I could actually link my images to a Pinterest account.
Features
Bookmark's focus is on simple automated website creation for small business owners and entrepreneurs, so you won't find a huge number of advanced features and add-ons. Beyond the core features carried by nearly all website builders — like image galleries and a map from Google Maps — the primary feature Bookmark focuses on is eCommerce. And while there's no equivalent of Weebly's (see our review) App Center or the Wix (see our review) App Market to be found here, you do get access to a decent variety of third-party POWr apps, of which there are 50. Keep in mind, however, that most of these POWr apps are freemium and require their own subscription if you want to get the most you can out of them.
Let's delve into the primary features Bookmark has on offer:
eCommerce: If you have a Business subscription, you'll be able to enable eCommerce right from the start of the automated site creation process. Your new site will be pre-loaded with an online store (referred to as the Product Gallery). You're then guided through every aspect of creating your online store: adding your products, verifying your geographic settings, setting up shipping and pickup (though you can offer digital products as well), and setting up payment processing. You can add your store to Facebook, eBay, Amazon, and other marketplaces. You can choose from between over 50 different payment processors. You can set up discounts and coupons. You can even have Bookmark automatically handle international taxes for you based on your store's location and your customers' location. There's also an eCommerce mobile app for iOS and Android with which you can manage your products, process orders, get new order notifications, edit inventory, and track your sales. Put it all together, and Bookmark provides just the kind of well-featured and sophisticated eCommerce system you would hope to get for $24.99 a month.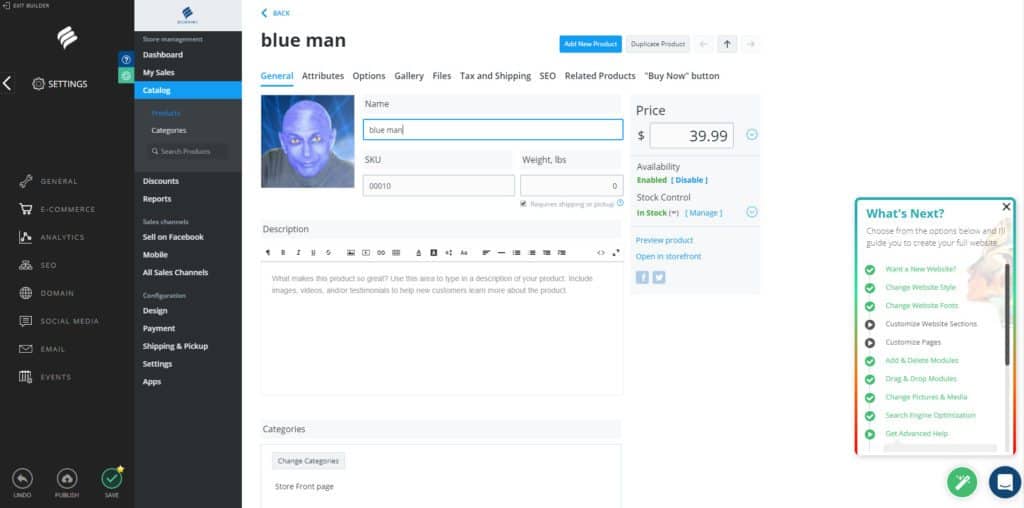 Contact Form: Bookmark's standard contact form is only minimally customizable and is of limited utility if you need anything beyond a very generic contact form. Thankfully, you can also add POWr's form builder, a much more robust tool. With it, you can design an entirely original form, integrate Captchas, connect to Google Sheets, and more. You'll also be able to connect your form to a MailChimp (see our review) list, but this is one of the form builder features reserved for premium POWr subscribers.
Social Media Integrations: Bookmark makes it easy for you to connect your site to your social media channels. The "social" module lets you quickly add buttons that link to your social media accounts (22 are available), and you can add Facebook comments and reviews as well.
Noth that Bookmark does not currently have a native blogging tool. And while you can add a POWr microblog to your site, it's a rather limited feature, and you'll have to pay $39.99/month to POWr just to be able to make unlimited posts.
Other Bookmark features include a code widget that lets you inject custom HTML into your site, a file download button, video and audio players, an event registration tool, and many more.
Web Design & Editing
Templates: Bookmark's "templates" are mostly just arrangements of "focuses" (blocks of content) arranged by AIDA in accordance with your chosen business niche. The exception to this is the navigation menu. Sometimes, when having a site created for you, the navigation menu appears at the top of your page. Sometimes it comes in along the left side. Unfortunately, you can't do much to customize your navigation menu once AIDA generates it for you.
Mobile Editing: Bookmark doesn't have a mobile app for site editing, though there is an eCommerce mobile app you can use to manage your store on the go. I found the app to be quite handy and easy to use.
Customer Support
Along with all the how-to videos and guides, Bookmark provides direct customer support via live chat. You can also get help from the (small) Bookmark community by posting your question to the user forum.
Negative Reviews & Complaints
Bookmark isn't one of the more widely-used website builders around, so there aren't a lot of reviews or user testimonials to summarize. One reviewer critiqued the creation process for single-page websites, the lack of multi-layer menu support, and the small signature fonts found in the visual editor.
Positive Reviews & Testimonials
The review I just mentioned sounded mainly positive notes on Bookmark, praising the quality of the support guides, the ease of use, the automated creation process, and the level of statistics you get regarding your site visitors.
Final Thoughts
Bookmark doesn't have any singular dazzling feature that makes it stand out from the competition. And yet, it quietly does the job. Bookmark does just about everything an average small business owner would want their website builder to do while being exceedingly user-friendly, even for complete novices. The eCommerce package is impressive and thorough, and the POWr integrations should cover any feature holes left by the editor. And while Bookmark isn't the first to the automated-site-creation party, it handles the task with style. The paid plans could stand to be slightly less expensive, but Bookmark is a website builder that most businesses will be able to use successfully, and with an absolute minimum of fuss.
Four stars.
---
We've done in-depth research on each and confidently recommend them.
We've done in-depth research on each and confidently recommend them.
To learn more about how we score our reviews, see our
Website Builders Rating Criteria
.