Expert Analyst & Reviewer

UPDATED
Advertiser Disclosure: Our unbiased reviews and content are supported in part by
affiliate partnerships
, and we adhere to strict
guidelines
to preserve editorial integrity.
Pros
Modern user interface
Easy to use
Good customer support
Cons
Expensive monthly cost
Limited features
Poor public reputation
Overview:
It's fairly rare when a product challenges an industry's conventional wisdom; most companies are happy to iterate on existing ideas. Breezeworks, on the other hand, aims at an under-served niche and bends its features towards that end.
Breezeworks is a cloud-based scheduling program created specifically for small businesses whose specialists work out in the field rather than in a fixed location–plumbers, party entertainers, technicians, etc. This ends up having a fairly profound effect on the design of what might otherwise be a familiar-looking scheduling program.
While Breezeworks could certainly be used by stationary brick-and-mortar businesses, it's optimized for small teams that need to coordinate with each other without being in the same office (or in an office at all). Those teams may very well find Breezeworks to be a game-changer.
Pricing:
Breezeworks uses pricing tiers based both on the number of employees in an organization who will be using the software and the availability of certain features. The feature sets determine the base price point; each employee after the first costs an additional amount per month. You can save 20 percent per month by committing to a year. Breezeworks has shuffled around many of its features and, for users, that looks like a good thing for the most part.
Each tier has all the features of lower tiers.
Solo: $19.99/month:
Standard: $29.99/month + $11.99/mo per additional accounts:

All Core Features
Team Scheduling & Permissions
Team GPS Tracking & Dispatching

Premier: $49.99/month + $19.99/mo per additional accounts:

All Core Features
Team Scheduling & Permissions
Team GPS Tracking & Dispatching
Smart Scheduling & Real-Time Alerts
Quarterly Team Insight Reports
Personalized Team Training
User Experience:
Because it is cloud-based software, you can access Breezeworks in a browser, but–as you might expect from software geared toward people in the field–iOS and Android apps are Breezeworks' bread and butter. (I tested the iOS version). With that in mind, it's impressive just how much information and functionality the apps manage to convey on a small screen. You'll be doing some scrolling to see everything you need to see, but that is, at most, a minor gripe. One nice thing the app does is save just about everything you type into it for later use; this is a huge time-saver, particularly where virtual keyboards are concerned.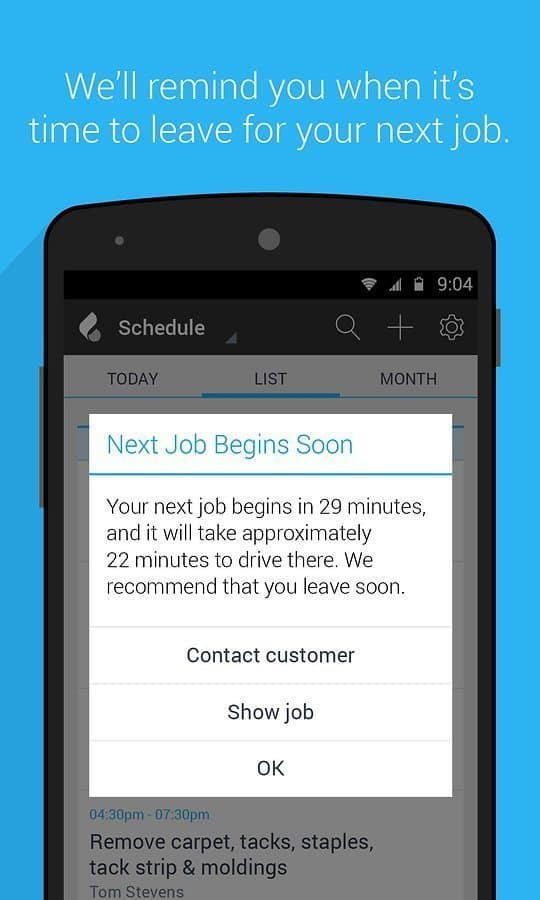 Scheduling/Calendar: You can access Breezeworks's calendar from a series of five tabs at the bottom of the app. In a lot of ways, the calendar is one of the app's least impressive features. That's not to say that it's bad, only that it offers a more familiar and basic level of functionality. You can view your schedule by the day, week, or month. The calendar is optimized for mobile, so navigating between weeks and months is simply a matter of swiping left or right. Your appointments are displayed in colorful blocks that will look familiar to anyone who has used booking software before. Where Breezeworks gets interesting, however, is when your appointment is drawing near. Since the app assumes you're out in the field, it's integrated with GPS functionality. Not only will it send you a notification about upcoming appointments, but it will factor in commute time to that location. If it doesn't look like you'll be able to make the appointment at the scheduled time, it will prompt you to contact your customer. If you've ever been on either end of a cable technician visit, you can appreciate how big this feature is when it comes to efficiency and customer satisfaction.
Team Coordination: Unless you're working solo and using the app on your own, you're likely to be part of a team of wandering specialists; it can be helpful for to know where everyone else is, in case, say, you need to send the closest specialist to a location on short notice. Breezeworks can track the position of each team member, which it updates every 15 minutes or 1/4 mile of movement. Users can set the hours of the day that Breezeworks will track them, so your coworkers won't necessarily be able to tell how often you're going out for late night burgers. Beyond location tracking, you can also use Breezeworks to send notes and photographic evidence of the jobs performed in the field back to headquarters.
Invoicing: Third party billing is available on Breezeworks through its partners (WePay and Square). This feature allows you to send a bill to the customer by email (the customer must approve the job and the work done). Breezeworks can process check, cash, or credit card transactions for you. If you don't want to shell out for extra hardware, you can process card transactions using your mobile device's camera.
CRM and Analytics: Breezeworks prefers not to reinvent the wheel when it can integrate with a third party service that offers the same features. When it comes to CRM, Breezeworks syncs up with Quickbooks to do the heavy-lifting analytics. There are some useful things you can do from the mobile app, however, including scheduling jobs through your contact list, viewing job locations associated with the customer, and seeing a history of payments and jobs. You can also set the means (if any) that the customer will be reminded of upcoming appointments (text or phone call). Simple, effective.
Automation: If Breezeworks came up short anywhere during its initial release, it was that it offered very little in the way of automation. To help smooth operations in the field, Breezeworks now offers some new automation features. Currently, to avoid the hassle of shuffling schedules, Breezeworks can calculate the best times to schedule an appointment based on employee schedules and where they'll be, geographically, at the time.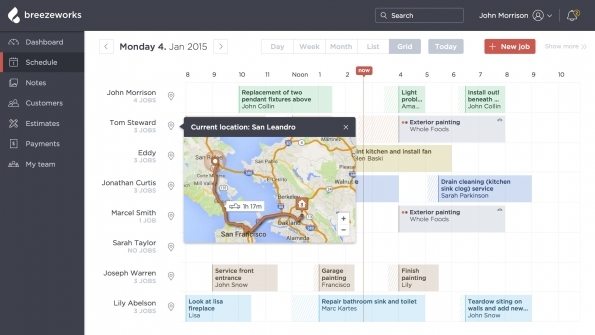 Customer Service and Support:
Breezeworks offers around-the-clock support:
Phone: Call 844-273-3939. There's also an option available within the app to call support from within the app.
Email: Support can be reached at [email protected]
Online FAQ: Answers frequently asked questions about the app.
Blog: Articles and links on topics which may be useful to specialists.
Negative Reviews and Complaints:
The vast majority of user feedback on Breezeworks is positive to very positive. Some users did take issue with the following:
Cost: Adding additional users runs up the cost of Breezeworks pretty quickly. One particular user said that it was a cost his small business couldn't bear on top of their existing digital overhead.
Limited features: Though this was usually brought up in otherwise positive reviews, many users had a wishlist of features they'd like to see added to Breezeworks.
App Design: While conceding that it "has potential," several users found the user interface to be hard or inconvenient to use.
Sales calls: Several people complained about "inappropriate" sales calls that started shortly after they activated their accounts
Positive Reviews and Testimonials:
Breezeworks has been extremely well-received on both iOS and Android, rating 4.5 stars on the former and 4.1 on the latter. Users liked Breezeworks':
Elegant Design: Considering how powerful it is, Breezeworks is remarkably simple to use.
Consolidation of Useful Features: Users remarked that they'd previously had to rely on multiple apps to perform all the on-site tasks they can perform with Breezeworks.
Responsive staff: People found staff to be readily available and extremely helpful in resolving issues with the product.
Serves its niche well: Many small businesses that use field workers consider Breezeworks to be a game changer.
Features:
Breezework's' main features can be found here. Its more unusual features include:
Team Management: Breezeworks gives you all the tools necessary to track and coordinate operatives in the field.
Invoicing: Breezeworks integrations allow specialists to bill customers on-site, with the same app.
GPS Functionality: Breezeworks users not only know that they have an appointment pending, but they'll also get an estimate of how long it will take them to reach the work site.
Security:
From Breezeworks's security policy:
"We have implemented commercially reasonable precautions, including, where appropriate, password protection, encryption, SSL, firewalls, and internal restrictions on who may access data to protect the information we collect from loss, misuse, and unauthorized access, disclosure, alteration, and destruction. Please be aware that despite our best efforts, no data security measures can guarantee 100% security.
You should take steps to protect against unauthorized access to your password, smartphone, and computer by, among other things, signing off after using a shared computer, choosing a robust password that nobody else knows or can easily guess, and keeping your log-in and password private. We are not responsible for any lost, stolen, or compromised passwords or for any activity on your account via unauthorized password activity."
Integrations and Add-ons:
Breezeworks integrates with:
Final Verdict:
Niche products tend to be underrated in the age of massive platforms and superstores. Breezeworks isn't everything every business could want in a booking app, but it is a product that faithfully and aggressively caters to the needs of its target market. If you're a small business (1-20 individuals) that does on-site work, Breezeworks is determined to make your life a whole lot easier. I don't think it's going too far to say that, for some businesses, this software could make or break their operation. And the fact that it is frequently updated with new features and functionality is just icing on the cake. The new automated scheduling feature goes a long way towards making deploying field agents as efficient as possible.
The one real caveat, from my perspective, is the cost. As an app that shines brightest when used by a small team, the monthly costs (which go up with each team member) could easily become prohibitively expensive for businesses with tight profit margins. The best software in the world is useless if it's out of your reach.
---
Featured Free Corporate Card
Ramp


---
Ramp offers a free corporate card for virtually any business. Start earning rewards with your corporate spending today. Get your free card.
Featured Free Corporate Card
Ramp


---
Ramp offers a free corporate card for virtually any business. Start earning rewards with your corporate spending today. Get your free card.
To learn more about how we score our reviews, see our
Booking Software Rating Criteria
.