QuicksilverOne From Capital One Review
Expert Analyst & Reviewer

Updated on:
Advertiser Disclosure: Our unbiased reviews and content are supported in part by
affiliate partnerships
, and we adhere to strict
guidelines
to preserve editorial integrity.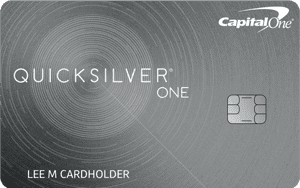 Need help finding a lender?
Date Established

1988

Location

McLean, Virginia
Looking for a cash back card but don't have great credit? QuicksilverOne® from Capital One® may just be up your alley.
Cash back cards often come with appealing rewards and simple rewards schemes. With the promise of 1.5% cash back, the QuicksilverOne card from Capital One hits both of those marks while also being aimed at applicants who might not have the best credit scores. That means young businesses — or businesses with a limited credit history — may want to consider this as their next credit card.
Of course, QuicksilverOne is marketed as a consumer card and isn't one of Capital One's business-centric credit cards, so businesses looking at the QuicksilverOne might want to keep that in mind. However, choosing to use a personal card for business can still be an excellent option with its own unique benefits.
Like the sound of the QuicksilverOne card so far? Keep reading to get the full details!
Eligibility
Capital One built the QuicksilverOne card for those aged 18 and above with fair or average credit. Per its website, Capital One considers you to have average credit if you have:
Defaulted on a loan in the past five years, OR
Limited credit history of three years or less
You'll likely also want to have a credit score of at least 580 — generally considered a fair credit score –before applying. Note that this number is just a recommendation; Capital One does not require a minimum credit score.
Don't know your credit score? Find out by visiting one of our favorite (and free!) credit score sites.
QuicksilverOne From Capital One At A Glance
QuicksilverOne from Capital One


---


Visit Site

Annual Fee:


---

$39

Purchase APR:


---

26.99% (variable)
Rewards For Spending
Despite being for fair credit users, the QuicksilverOne still packs a punch when it comes to rewards.
Unlimited 1.5% Cash Back On All Purchases
This card's rewards scheme is simple: You'll collect an unlimited 1.5% cash back on all purchases. This simplicity makes the QuicksilverOne a great choice for those who spend across a wide array of categories or don't want to deal with the calculus that comes with complex points programs.
Plus, 1.5% back is a decent rate, especially considering this card is for fair credit users. Of course, if you need a travel card or a card that rewards more for specific purchases, you may want to look elsewhere.
Redeeming Rewards
As a cash back card, the QuicksilverOne allows rewards to be redeemed for cash back. But there are a few quirks in the card's redemption process to keep in mind.
Earn Rewards As Cash Back
When you choose to receive your QuicksilverOne rewards as cash back, you can get a check sent your way, or you can receive them as a statement credit. To cash in your rewards, you'll use Capital One's online portal or mobile app. You can redeem the cash back for any amount — there's no minimum limit.
Multiple Redemption Options
Besides earning cash back, you can also use rewards to cover a recent purchase or to get gift cards. Note that the redemption rate may differ when redeeming rewards for gift cards.
Rewards Don't Expire
As long as your account is active, your rewards won't expire. Note, however, that if you close your account, you will lose any unredeemed rewards.
Card Benefits
As one of the major players in the credit card realm, Capital One usually does a solid job when it comes to extra benefits. The QuicksilverOne is no exception — you'll have access to a slew of perks if you add this bit of plastic to your wallet's arsenal.
Get Access To A Higher Credit Line
Because QuicksilverOne is included in Capital One's Credit Steps program, you may be eligible for a credit line increase once you make your first five payments on time. Note that your credit line may begin rather low (think $200 or thereabouts) but can increase once you hit that five-month streak.
If you keep paying on time, you may eventually outgrow the highest credit line allowed with QuicksilverOne. Should this happen, you'll likely need to apply for a different card that has a higher limit.
Fraud Coverage & Alerts
To help protect your account, Capital One will notify you via phone, text message, or email if it notices anything suspicious on your account.
You'll also be covered by $0 fraud liability if your card becomes lost or stolen, and authorized charges are placed on the card. Also, should your card go amiss, Capital One enables the ability to lock your card — preventing fraudsters from even placing charges.
With Capital One's AI assistant, Eno, you can request temporary virtual numbers that help protect your actual credit card number from being stolen on online marketplaces. Eno also alerts you in case of potential mistakes or unexpected charges.
Account Management Tools
Capital One includes a slew of account management tools with its cards. You'll be able to view monthly recurring transactions (such as subscriptions or bills) through Capital One's online portal. On top of this, you can set your card payment to be paid off automatically each month as well as set an authorized user for your card.
Travel Perks
While the QuicksilverOne card isn't a travel card, there are still a few benefits that can aid any traveler. These include:
Travel accident insurance for a covered loss on fares purchased with your card
24-hour travel assistance for lost or stolen cards
Auto rental collision waiver for damage due to theft or collision
Extended Warranty
An especially nice shopping benefit of this card is its extended warranty program. This feature will provide additional protection on eligible items purchased with your QuicksilverOne card.
Rates & Fees
Despite having a solid cash back rate and some excellent benefits, not everything is sunshine and roses with the QuicksilverOne card. You'll want to be wary that the card features a higher-than-average APR, and there's an annual fee to boot.
A Higher-Than-Average APR
With an APR of 26.99% (variable), cardholders will be paying a bit higher than they might with other cards on the market. This high APR is likely because the QuicksilverOne targets fair credit users, who might be riskier than those with better credit.
Of course, you can avoid paying the APR as long as you pay off your balance every month.
Annual Fee Of $39
As a bit of a downer, this card includes a $39 annual fee. While it's not as hefty as some other annual fees out there, it's still an annual fee nonetheless.
At $39 per year, you'll need to spend at least $6,333 annually* to overcome the fee with the card's reward rate of 1.5% cash back. Once you break the $6,333 spending barrier, then rewards will start earning you cash.
* How we got this number: $39 annual fee / 1.5% cash back = $6,333.
No Foreign Transaction Fee
While you do have to keep in mind the card's APR and annual fee, there isn't a foreign transaction fee to worry about. If you travel frequently but don't need a travel-specific card (or can't qualify for one), this could be a bonus for you.
Other Fees
There are no balance transfer fees with the QuicksilverOne card, but there is a fee for cash advances: either $10 or 3% of the advance, whichever is higher.
Is QuicksilverOne From Capital One Right For You?
You might want to apply if:
You have fair credit and want to earn cash back with every purchase
You are looking for a card to help you build credit
You'll spend enough to overcome the $39 annual fee
You might want to look for a different card if:
Your credit score is high enough to apply for cards with better rewards and benefits
You'd prefer a card designed specifically for business use
You won't spend enough to make the $39 annual fee worth it
You may be carrying a balance and want to avoid a high APR
---
Featured Free Corporate Card
Divvy


---



Divvy offers a free corporate card for virtually any business. Start earning rewards with your corporate spending today. Get your free card.
Featured Free Corporate Card
Divvy


---



Divvy offers a free corporate card for virtually any business. Start earning rewards with your corporate spending today. Get your free card.
To learn more about how we score our reviews, see our
Business Credit Card Rating Criteria
.
Read Next