UPDATED
Advertiser Disclosure: Our unbiased reviews and content are supported in part by
affiliate partnerships
, and we adhere to strict
guidelines
to preserve editorial integrity.
Pros
Specific functions for pharmacies
Integrated purchase orders
Cons
Lacks offline functionality
Mediocre customer service
Reporting is thin
Overview:
Cashier Live is a 100% cloud-based POS and inventory management SaaS ("software as a service") that was launched in 2008. It was founded by Tom and Thomas Greenhaw, a father-son duo motivated to provide a low-cost POS system to independent retailers and pharmacies.
Currently, Cashier Live manages over 1000 business accounts. Merchants can handle transactions and manage employees, customers, and inventory all from a single software interface accessible via a web browser and Internet connection.
In addition to working with traditional computer hardware, Cashier Live offers a free iPhone/iPad app version of the software called Cashier (similar to Square), which can scan barcodes, take payments, manage inventory, and track customers. The mobile POS system can only be used with an active Internet connection and comes with a full integration of Cashier Live functions (but only when used in conjunction with a Cashier Live subscription).
Cashier Live is not perfect, however, and struggles with a problem that all their competitors have managed to solve: maintaining a working POS without an active Internet connection. If you lose your Internet connection with Cashier Live, you lose your POS—and without a point of sale, there's no sale. Read on to learn more.
Don't have time to read an entire review? Take a look at our top rated Point of Sale solutions for a few quick recommendations. Every option we present here offers excellent customer support, detailed user interfaces, and easy-to-use software, all for a reasonable price.
Pricing:
Cashier Live offers just one pricing plan, and it is refreshingly transparent:
The Plan: $75/month per store
Unlimited Registers

Unlimited Inventory

Unlimited Support
Payments can be made month-to-month, but there is a discount for those paying a year in advance. You can get a free, 14-day trial of the software. No credit card is required for sign-up, and you may cancel at any time.
Cloud-Based or Locally-Installed:
Cloud-Based. Even the iOS app appears to function like the front-end of a web application. That is, there's no local cache of the store's data on the device itself; all transactions require communication with a server in the cloud. The benefits of having all your data hosted offsite are many: no need to do your own backups (or invest in the hardware to do so), no need to pay for continual software upgrades, one centralized system for both POS and inventory management, and access virtually anywhere. But if your Internet connection goes down and there's no local copy of your data, you'll have to turn people away. At that point, I'll bet you won't be thinking about how nice it is that someone else is backing up your data.
In response to this lack of functionality Cashier Live had this to say:
Broadband connections have become very reliable, and seldom if ever go down. If your location has Internet connectivity problems, we recommend that you use a dial-up connection as a backup. We are investigating how to support offline use of Cashier Live.
Saying connections "seldom if ever go down" is a bold claim, and I only wish that were some type of real-time Internet outage analyzer that anyone could access to fact check the company line here. But, no matter, because if you've got that dial-up connection as a backup, nothing else could possibly go wrong, correct? Outages on a grand scale by human error or software glitch are very rare, and things like this never happen. What about this one? Nope… nothing to see here.
The quote above is from a Cashier Live FAQ that appeared on the web early in 2012, by the way. The question and answer have been removed from the current FAQ, but Cashier Live appears no closer in their investigation to support offline selling. They might want to look to see how a few of their competitors tackle it.
Specific Industry:
If there is a specific industry for which Cashier Live is ideal, it is the pharmacy business. Cashier Live is the first web-based POS system certified by SIGIS for pharmacy-specific operations and needs. Other than that, the system is tailored for the small business merchant or mobile businesses looking for an easy-to-use POS they can take on the go.
Specific Size of Business:
Cashier Live has plans tailored for single store businesses as well as chains with multiple stores. They offer a flat pricing rate of $75 per store covering an unlimited number of registers.
Hardware and Operating System Requirements:
Operating Cashier Live requires any computer system with web-browsing capabilities and an active Internet connection. Furthermore, the system works best on Windows 7 or higher with Internet Explorer or Google Chrome. Use of peripheral devices such as a receipt printer or pole display requires the use of Internet Explorer 7 or higher. The mobile version requires an iPad, iPhone, or iPod Touch with an active Internet connection. Cashier Live recently added the ability to use an Elo PayPoint all-in-one system. (Pictured below)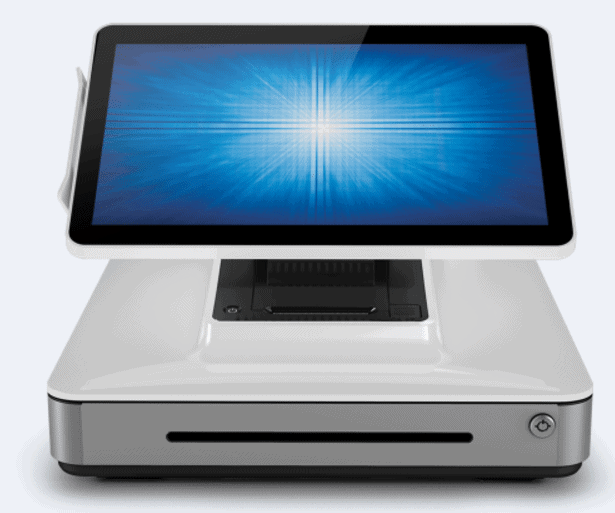 Cashier Live won't guarantee every type of hardware will work, but they say that a wide variety of hardware is compatible. Your best bet is to use the hardware sold by the company itself.
Ease of Use:
Cashier Live's interface is laid out well enough, and it's fairly intuitive navigating your way around. There's a bit of a learning curve in terms of the way the software handles things like inventory and POS, but that's to be expected any time one switches to a new platform. It doesn't take too long to get up to speed on the mechanics of the system. Setting up the store is very easy, with Cashier Live providing a walkthrough of initial steps. As you go through each step, you basically become familiar with how Cashier Live manages its data input and processes—it's a real nice way to get acclimated to the system.
Product Features:
You can take a "tour" of the software here, but below are some of Cashier Live's highlights.
Inventory Management

– Cashier Live's inventory system is similar to that of many of its competitors, keeping track of suppliers, products, descriptions, quantities, costs, prices, as well as item categories and departments. Inventory counting and maintenance can be done by walking around the store and scanning barcodes, followed by entering in descriptions, prices, and quantities. When using the iPhone Cashier app, this data automatically syncs with your account online. Inventory lists can also be imported into or exported from the Cashier Live system for quick setup or inventory analysis.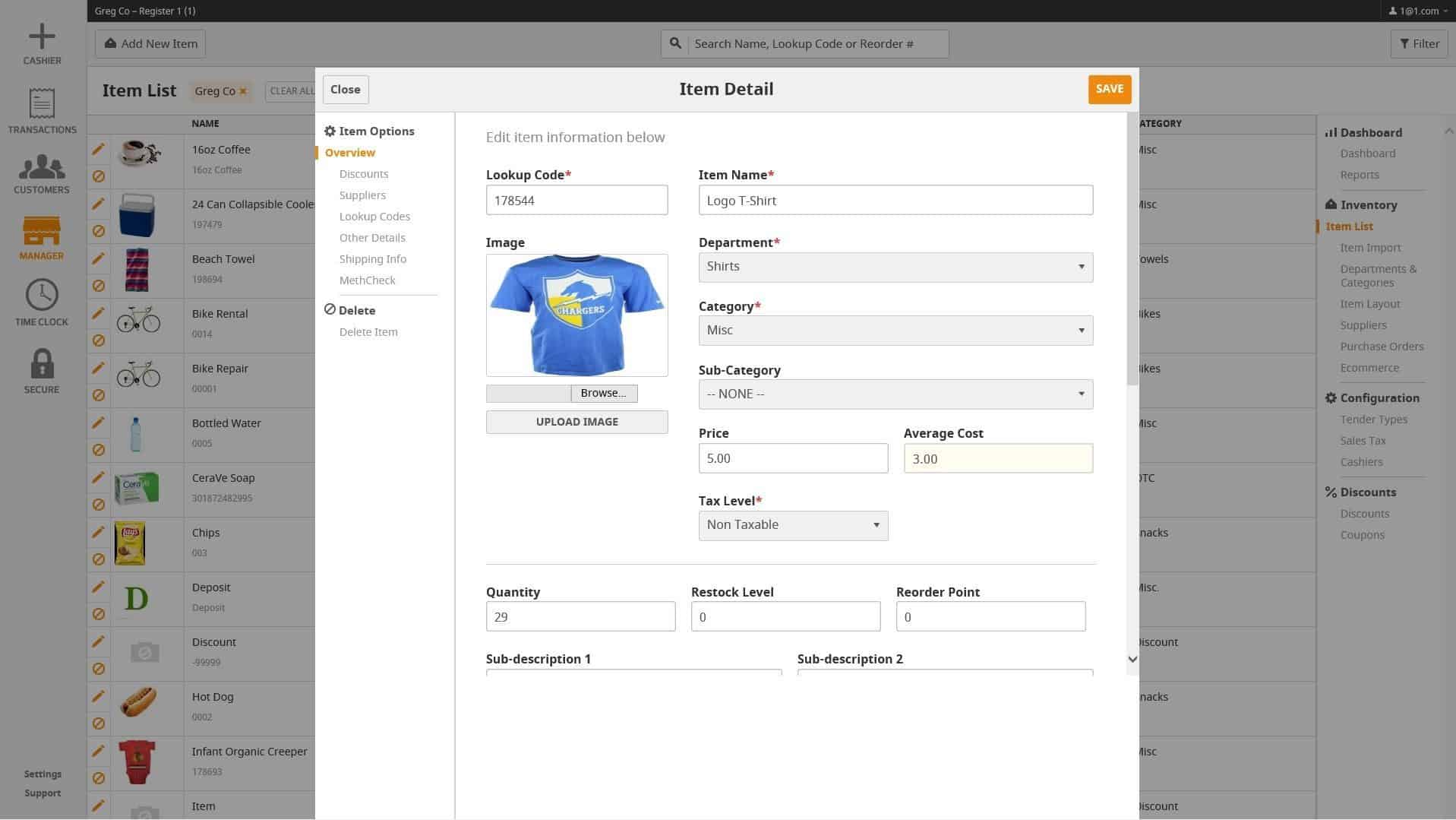 Pharmacy-Specific Features

– Cashier Live is the first

web POS system certified by the Special Interest Group for IIAS Standards (SIGIS). IIAS is the Inventory Information Approval System, a POS technology that works similar to the food stamp EBT (Electronic Benefit Transfer) card. In response to recent health care reform, SIGIS certifies whether a POS can be used for pharmacies to accept medical FSA (flexible spending account), HRA (health reimbursement account), or HSA (health savings account) cards for prescription or non-prescription (but behind the counter) medications, in a similar fashion to the food stamp system. Cashier Live complies with IRS guidelines regarding payment by these cards as well as regulations regarding the sale of pseudoephedrine medications. Additionally, the system comes with a large array of special pharmaceutical wholesalers like Ganz, Hallmark, Ty, Amerisource-Bergen, Cardinal, and McKesson whose inventory files are imported into the Cashier Live system so purchase orders can be completed and electronically sent, all swiftly within the system itself.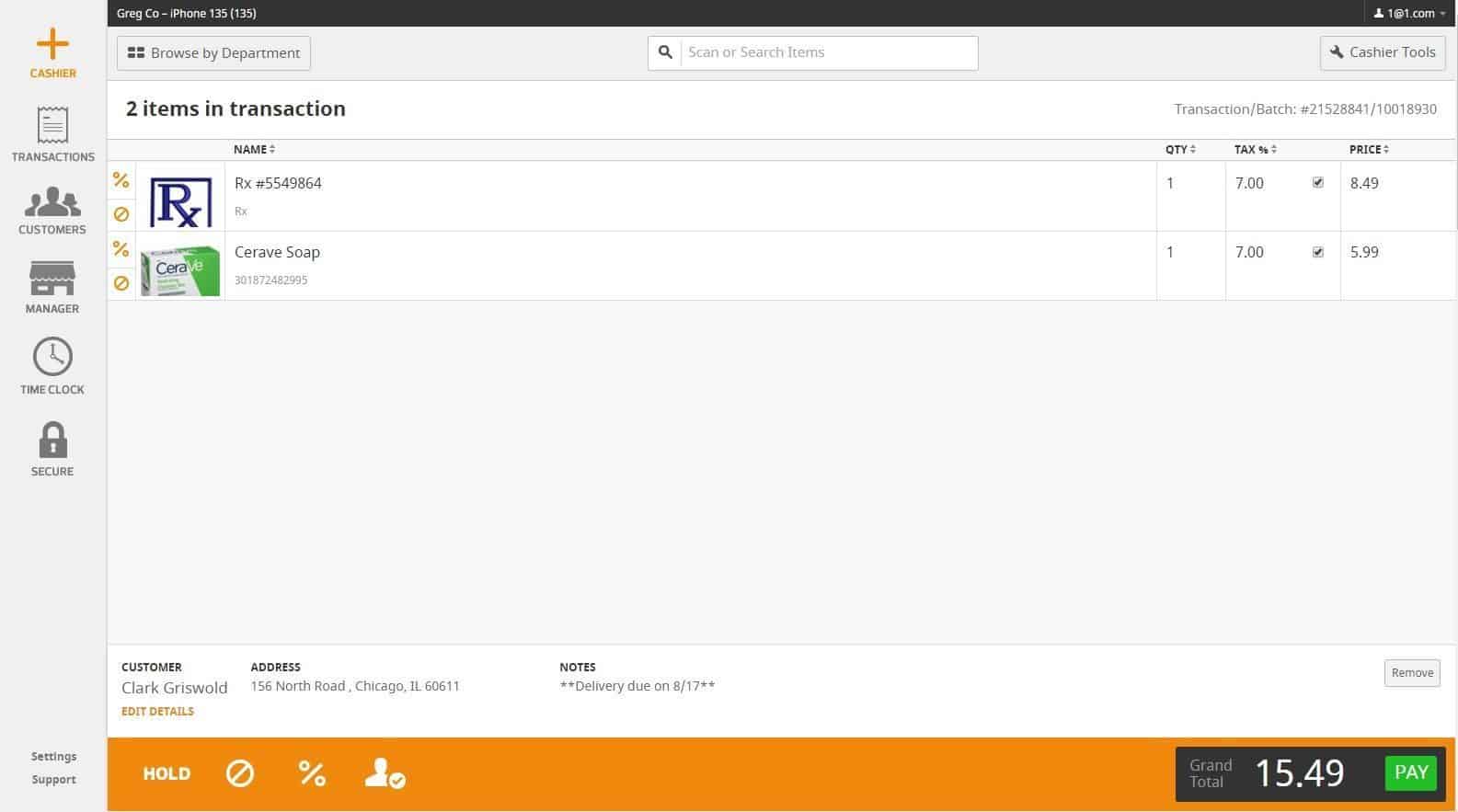 Integrated Purchase Ordering

– Purchase orders can also be created automatically based on past stock or predetermined restock levels.

Reporting

– The system comes with over 25 pre-fab sales or item history reports, organized by report name and coming with a brief description of the report. You can view reports within the system itself or export/open them in Excel to do your bookkeeping.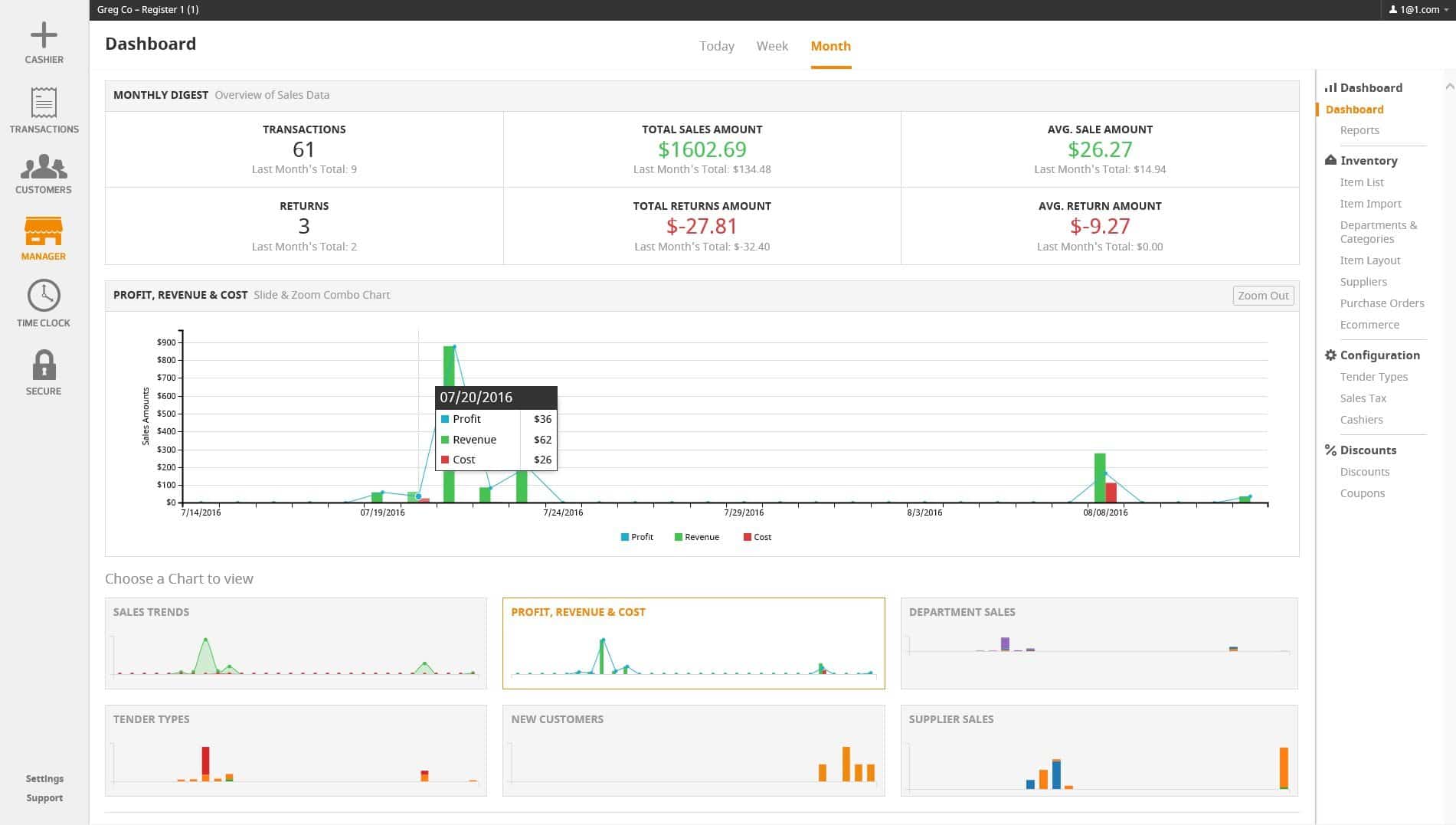 Employee Management

– Merchants can track their employees' time with a built-in time clock, restrict access for employees based on position, and view employee productivity/sales with cashier transaction reports.

Customer Relationship Management

– Retailers can create customer accounts for easy tracking of sales, implementation of loyalty programs, creating special discounts, and providing recommendations. Customer lists can be exported into spreadsheets for the creation of mailer labels.

Security

– Like most of its web-based competitors, data transfer on the Cashier Live system undergoes SSL encryption. Cashier Live servers are secured with firewall and intruder protections and the system is PCI-DSS compliant when it comes to the handling of all sensitive credit card information for payment processing.
Integrations and Add-Ons:
Cashier Live integrates with the following:
BigCommerce

– Cashier Live partners with BigCommerce for those looking to host a web store. They will take your inventory and directly upload it to your eCommerce database.

MailChimp

– You can import customer data into email marketing campaign program MailChimp.

QuickBooks

– Reports can be exported into a spreadsheet format for integration into QuickBooks.

Pharmacy Managment Systems – Cashier Live fully integrates with HBS, SpeedScript, RNA, and CarePoint. Cashier Live partially integrates with QS1, Rx30, PioneerRX, and Foundation Systems.
In the case of MailChimp and QuickBooks, Cashier Live is really stretching the meaning of the word "integration," which here means the ability to export lists in CSV format, which can then be imported into the software of your choice.
Compatible Credit Card Processors:
If you want to integrate credit card payments, Cashier Live can act as your processor and offers a flat rate of 2.7% on each transaction.
The 2.7% processing fee is debited automatically once a month from the same bank account where Cashier Live deposits your funds. Cashier Live does not integrate with outside credit card processors. However, it guarantees to match or beat your current processing rate if you're switching over from another company. Cashier Live recently added a direct integration with EMV/chip and pin support.
Customer Service and Technical Support:
All subscriptions to the Cashier Live service include Premium Support, giving you email, live chat, and phone access to the support team. Please note that "Premium" is just a word they chose to brand their support offering. Phone and chat support are only available Monday through Friday, 9 AM to 5 PM. Cashier Live does have staff managing their email support system 24/7 and if more extensive help is needed a technician may call to help resolve the problem. You can also watch the training videos.
In addition to these standard methods of supporting their customers, Cashier Live also offers professional services for hardware installation, card processing setup, importing inventory, and employee training. Social media outlets include the company's blog, a Facebook page, a Twitter feed, and a LinkedIn account.
Negative Reviews and Complaints:
Aside from the obvious technological and security holes discussed above, there are a couple other areas where Cashier Live could use some improvement:
Technical Support:

I was unimpressed by Cashier Live's after-hours support. Without any kind of knowledge base, how-to articles, or even a FAQ page, I was unable to do any troubleshooting myself. The training videos only cover basic functions and so I was forced to email or chat with support every time I had a question, leaving me dependent on a Monday through Friday, 9 to 5 support staff. Two of my after-hours emails were answered within about 3 hours while the rest were left unanswered until the next morning, which isn't bad for non-urgent issues, but terrible for emergencies.

Basic Reporting Suite:

Cashier Live's got a decent range of reports on various aspects of your business, but they are pretty basic. There is just not a large volume of reports to choose from and they aren't very customizable. This isn't exactly a deal-breaker, but it's something to be aware of.
Positive Reviews and Testimonials:
Of all the reviews I found, most people seem completely satisfied with Cashier Live, giving it 5-star ratings across different review sites. Here are some of the common points of praise:
Ease of Use: Most people talk about how easy the system is to set up, use, and train people on. In fact, this seems to be its primary function for most of the reviewers. More than half of the positive reviews I found were from education and training professionals who use this program to train students to use a cash register, scan barcodes, and perform basic inventory management. Some of these training programs include small student-run businesses that use this app in an actual retail environment. Beyond that, I didn't see many reviews from businesses any larger than a farmer's market stand.
Customer Support: Many customers are very satisfied with Cashier Live's support. Also, despite my earlier complaints about how disappointing Cashier Live's support is outside of the Monday through Friday, 9 to 5 hours, I was impressed with how responsive and knowledgeable the support staff was during their normal business hours. Each of my emails was responded to within about ten minutes (which is pretty rare in the POS industry), and my questions were answered in full by a very knowledgeable customer service representative. I also experienced immediate live chat responses. This experience is much more in line with what most users are reporting: an all around enjoyable interaction with the service reps.
Final Verdict:
In general, Cashier Live has got the right mix of features; its user base seems, for the most part, pretty pleased with the system. The lack of offline capabilities is less than ideal, but as long as you have a reliable internet connection that shouldn't be too much of a problem.
If you are interested in a system that offers offline protection you can look into an alternative cloud-based system (e.g. ShopKeep, Vend, ERPLY) that will work as well as or better than Cashier Live.
---
We've done in-depth research on each and confidently recommend them.
We've done in-depth research on each and confidently recommend them.
To learn more about how we score our reviews, see our
Point Of Sale (POS) Software Rating Criteria
.