Expert Analyst & Reviewer

UPDATED
Advertiser Disclosure: Our unbiased reviews and content are supported in part by
affiliate partnerships
, and we adhere to strict
guidelines
to preserve editorial integrity.
Pros
Strong back-end reporting
Perfect for high-end retailers
Omnicommerce
Great loyalty features
Cons
Confusing pricing structure
Cegid POS Overview
A man in an impeccable suit and neatly coiffed hair is walking down a seemingly endless hallway. Suddenly the walls become rows and rows of expensive gowns. He pauses, checking a price tag. A woman's arm appears, pulling him through the gowns. The scene shifts from black and white to color and he is standing on a glistening sandy beach. The elegant woman in a red dress gives him a coy smile before sprinting away. He looks down and his hands are filled with diamonds that run through his fingers. He looks back up and is standing in a high-end jewelry shop. The same gorgeous woman smiles at him, grabs his wrist and runs a price scanner over his Rolex watch. She hands him an tablet and they smile at each other knowingly before being sucked into the screen. The tablet falls to the floor and a word appears on the screen, repeatedly breathlessly by an unseen narrator: Cegid.
That would be my terrible Mad Men-style pitch of an ad for Cegid, a strong retail point of sale company that specializes in the fashion industry and is currently utilized in numerous luxury apparel and cosmetic shops worldwide. Cegid offers a sleek, newly-designed interface, but also comes with all of the standard backend POS features that make it functional for use in larger facilities like stadiums and museums. Founded in 1983, Cegid has grown steadily over the past 30 years and is now used in 75 countries by more than 32,000 individual locations worldwide. In fact, the company is one of France's leading software providers and, in 2016, Leaderboard named it the No. 1 retail software vendor.
Cegid can be both locally-installed or SaaS. The company boasts exceptional customer service and is versatile enough to tackle a variety of retail industries. Its new platform, Shopping, which is currently available for use with Cegid in the U.S., U.K., and France (and soon to be up in other countries as well), has one of the best-looking interfaces I've seen. It truly leans into the current trend of connecting employees with customers to give a more personalized buying experience.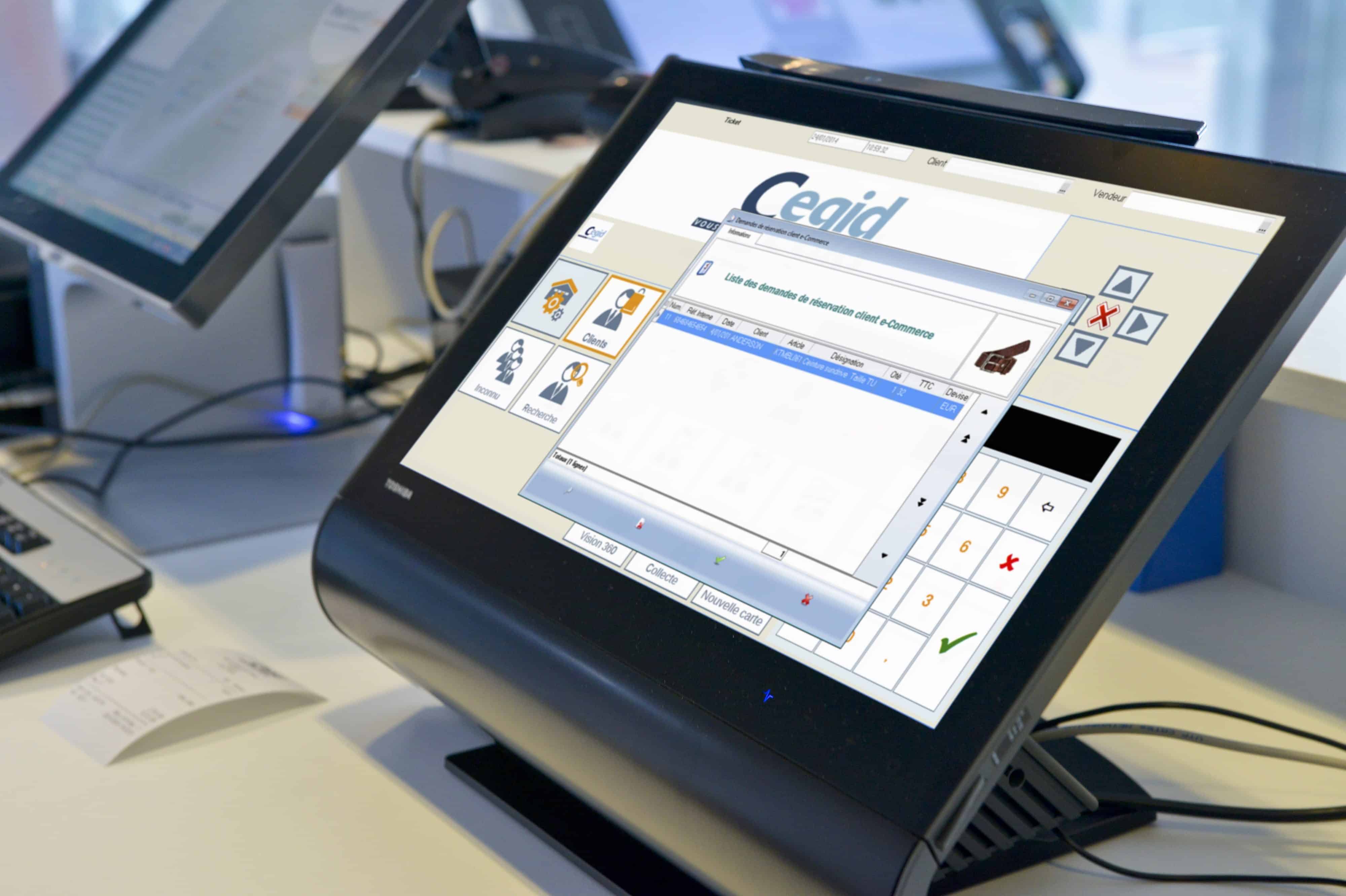 Pricing
Cegid's price is based on a number of factors, including the selected product configuration, add-on modules, and total 'seat count' (each seat is defined as one POS device or one back-office user). Cegid's licensing operates on a subscription model. License pricing begins at $319 per month; additional seats are listed at $159 per month. This pricing is based on a standard 36-month contract. Professional services and training are additional costs to the monthly subscription.
Cloud-based or Locally-Installed
As mentioned, Cegid is either locally-installed or SaaS (cloud-based), but based on my experience, most of the company's attention is given to the SaaS version.
Specific Industry
Cegid is a retail-specific POS but is suited for pretty much any non-food-industry place of business. The product has features and integrations that cater specifically to high-end establishments like jewelry stores and designer clothing shops. However, it can be used in pretty much any other retail capacity, including in gift shops and even full stadiums (the Baltimore Ravens football team is a customer).
Specific Size of Business
With strong inventory and employee management features on the backend, Cegid has the capacity to handle large clients and those with a variety of different retail operations. Because data is easily accessible and managed through the cloud, it is also a strong candidate for franchises. Basically any mid to large-sized retail business would be suited for Cegid.
Ease of Use
Cegid features a visually appealing design that is highly functional for both customers and employees. There are options for both a traditional POS station and for mobile phones and tablets. Everything is accessible from the home screen (either by scanning or with a few simple touches). The interface seems to be designed for employees to interact with customers. Items can be scanned or searched via keywords or a description.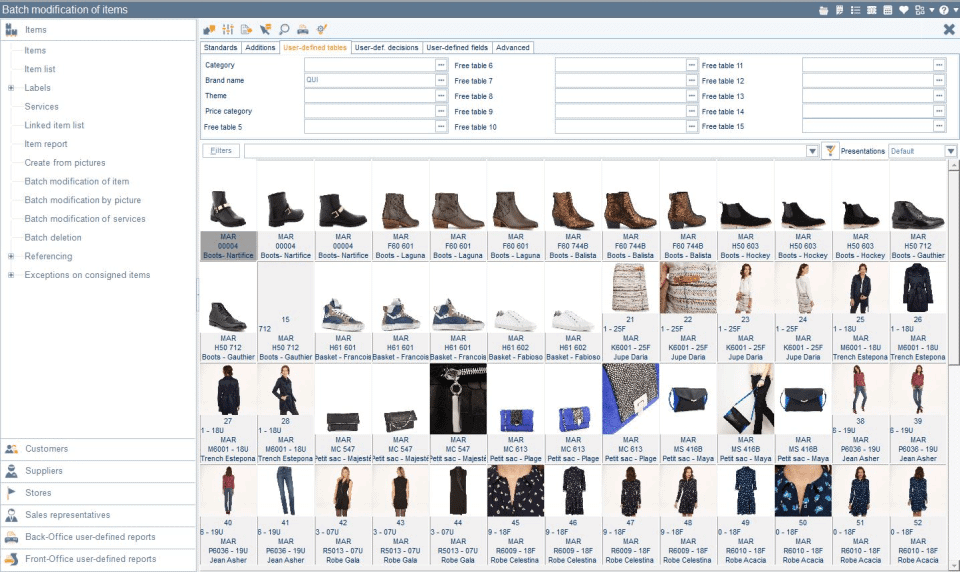 If there are opportunities to upsell an item, they automatically appear for the employee in the checkout process.
Customer management is extremely intuitive and one of this POS's strongest features. Not only does Cegid feature its own loyalty system, but a customer can be brought up quickly via a simple search and then added to the 'cart'. His or her information then appears on the top of the screen. Products can be added to the profile and discounts similarly applied.
The ability to look at inventory stock is another plus. You can quickly see both the amount of stock on hand at your location and whether items are available at other locations. The back office isn't as flashy, but it doesn't need to be. Reports are easily accessible and filters are simple to select. Overall, the design is intuitive. Very little training is necessary for anyone remotely familiar with POS software.
Hardware and Operating System Requirements
Cegid is compatible with both Windows and iOS software. This POS is compatible with:
HP:

RP9 POS, ElitePOS, and the Mx12 tablet

Aures:

Sango, Yuno, Nino and the SWING tablet

Microsoft:

Surface tablets

Apple:

iPod, iPhone, iPad mini, iPad

Epson
Honeywell
Toshiba
Ingenico
Verifone
Features
Omnicommerce: Cegid customers can shop virtually anywhere. This feature allows customers to select home delivery or to make store-to-store or store-to-supplier purchases on multiple devices. It also allows for real-time data to be collected on customers, helping employees recommend products to up-sell.
Merchandise Management: Cegid makes inventory control a streamlined process, permitting you to define your own categories while managing suppliers and delivery dates from a single device. It also has a function that can simulate when various products might sell better than others, allowing a manager to customize promotions to increase profits. Inventory data can be viewed across multiple locations.
Cloud and On-Demand: Setting up a new device takes just minutes with Cegid's cloud-based functionality. If you choose SaaS mode, Cegid takes over hosting and operating services (for an additional monthly fee).
Inventory Management: Cegid's management features are highly customizable and can be set for automatic restocking and purchasing at whatever levels you choose. It can also make predictions about which items will run out of stock (and when) and create new purchase orders with that data. The program can be set up to read into current trends (i.e. what styles or colors are selling more than usual) for greater purchasing accuracy. Employees have quick access to stock levels at all times and can easily set up transfers between locations.
Mobility: Cegid can be made available on a number of different devices to allow employees to interact with customers throughout a store. It can also handle multiple payment forms and exchanges, returns and e-receipts. Things like price checks and stock checks can be handled on the fly even while an employee is with a customer.
Loyalty: Cegid has its own loyalty program. Employees can access a customer's purchase history to review points quickly. Points, rewards, and discounts are stored within the system and show up on a customer's individual profile.
Statistics: Managers have real-time access to both customer and employee information. Stats, like how much an individual customer purchases per trip, can be viewed easily, and it's also easy to see which sales associates are your highest performers.
Digital Catalog: Cegid has a sleek design to display an individual business's products, allowing a customer to easily sort through inventory while reading customized information about each product. They can even watch videos on the product.
Employee Management: The POS features an integrated time clock which sends information directly to payroll. It also features sales reports by employee and tracks busy and slow sales times during the day. There is a function to create to-do lists and sales targets as well.
Analytics: Cegid feature more than 80 pre-defined reports within its system and its interface can be set up to use only those features that are most relevant to a particular business. One of the best analytic tools is a predictive function which can read into customers' buying habits and preferences.
Integrations and Add-Ons
Cegid has a full API ready to be utilized for integration. It is integrated with the following systems, among others:
ERP/Finance: SAP, Infor, Oracle, Sage, QuickBooks, Microsoft Dynamics (GP/AX/Nav/SL), BlueCherry
e-Commerce: Demandware, Hybris, ATG, Magento, IBM WebSphere, Shopify, PrestaShop
3PL/Logistics: Influx, Manhattan Associates, Reflex WMS
Marketing:Salesforce, Neolane, Experian, ConstantContact, MailChimp, Splio
PLM: Centric Software, TXT, Lectra
Tax-Free Shopping: Global Blue, TaxFree
EDI: SPS Commerce
RFID: Nedap
Traffic Counting: Footfal, Prodco
Compatible Credit Card Processors
Cegid works with nearly all major credit card processing companies including Adyen, Verifone, TenderRetail, and Cayan, among others.
Customer Service and Support
Direct Support:

Cegid has made a point to emphasize its customer service and the result is responsive and courteous communications with users. There is a live-chat function on Cegid's website but, more often than not, you simply give them your email address and they respond to you within 24 hours. You can also email the company directly, or there is a 24/7 phone number for support.

Social Media:

Cegid has active Twitter and Facebook feeds but, to get the most use out of them, you will need to have taken French as your foreign language in high school. They also have a LinkedIn account and a variety of videos on YouTube that answer some basic questions about the product available in both English and French.

Blog:

There is an active blog on the website that gives information about the company and also offers advice for business owners. It is well-written and fairly current.
The support I received (over the course of a few phone calls and emails) was friendly and the company seems committed to making the customer experience as positive as possible. When I called posing as a customer it was a little difficult to flush out pricing details, but if you have in mind what your business needs, they can give you a pretty good up-front estimate.
Security
Cegid does not store any sensitive information and its cloud activities are supervised by an Information Security Policy. Within individual stores, employees have individual passwords and suspicious behaviors–like overrides, cash drawer openings, and reimbursements–are all recorded.
Negative Reviews and Complaints
To be honest, negative reviews for Cegid are pretty few and far between. The company hasn't left a huge footprint on the internet, but from what I gather, users experience fewer issues than I've seen with most other POS companies of similar size. However, there were a few recurring gripes:
Poor Ease of Use: This is obviously a matter of opinion, but some found the software less than intuitive.
IT issues: One reviewer felt the IT department was not capable of handling their needs when a problem came up.
Customer Service: One user claimed that customer service was unresponsive when they needed to ask questions. That wasn't my own experience.
Positive Reviews and Testimonials
In general, this is what people like about Cegid:
Reports: A few reviewers mentioned the variety of reports that are offered and how easy they are to tailor to their specific businesses.
Functionality: Several users liked the fact that the interface is simple, making training easy for employees.
Customer Service: Multiple reviews complimented the support team and found the Cegid staff to be friendly and willing to help.
Purchase Orders: A few reviewers liked the inventory management system, highlighting how easy it is to create purchase orders and bring in new merchandise.
There are also a few testimonials on Cegid's website:
"Speed has become a performance criterion in our market, and we must have the right tools that enable us to achieve it" – André Louit, Chief Financial Officer, Longchamp.

"Following local regulations is one of the greatest challenges in Asia. Cegid proved to be a 'one-stop shop' for our overseas activity." – Dustan Steer, IT Director, Ted Baker
Final Thoughts
Cegid covers pretty much all the bases you would expect in a retail POS. It's one of the more customer-friendly POS systems I have encountered. I can see how this would be an impressive solution for both employees and customers, particularly for high-end retail shops. What's more, it actually has the reporting power to handle large-scale operations like resorts or stadiums.
Cegid is not the most cost-effective system around, but you won't be left lacking in features. For a large-scale or high-end business, it might be worth the price. 4 stars.
---
We've done in-depth research on each and confidently recommend them.
We've done in-depth research on each and confidently recommend them.
To learn more about how we score our reviews, see our
Point Of Sale (POS) Software Rating Criteria
.