Chyp (Formerly Securus Payments) Review
Writer

UPDATED
Advertiser Disclosure: Our unbiased reviews and content are supported in part by
affiliate partnerships
, and we adhere to strict
guidelines
to preserve editorial integrity.
Pros
No setup or application fee

Good customer support
Cons
Expensive hardware leases

Early termination fee

Deceptive advertising

Deceptive sales tactics
Chyp Overview
What is the first tab you click on a company's website if you want to learn more about it? (Hint: there's big clue in the previous sentence).
That's right: the classic "about" tab! Unfortunately for those interested in learning about Chyp, the "about" tab at gochyp.com does nothing and leads nowhere. So, let's pretend it leads right here instead.
About Chyp:
To understand this merchant account provider, we first travel back in time to Portland, Oregon circa 2009, when a company called Securus Payments was founded by school chums Steven Lemma and Mychol Robirds. By 2012, Securus was the Rose City's fastest growing private company, and Steven Lemma was featured as one of Portland Business Journal's "40 under 40" in February 2013.
Just one month later, however, the same publication ran an article titled "Why Portland's Fastest Growing Company Gets an F." The BBB had recently issued an F rating to Securus and alerted consumers to a growing pattern of complaints that the company used misleading and pushy sales tactics. Mr. Lemma disputed the fairness of this F rating, but also said he "can't control 200 and some agents across the nation." He was referring to Securus' large network of independent sales organizations (ISOs) in this statement he now really regrets making.
As complaints continued to pile up, Securus was bought by a publically traded firm called Excel Corporation in 2014. The original founders remained on as sales employees of Securus, until in April 2016, they broke off from Securus and formed a new company called Chyp.
Chyp is working to dissociate itself from the Securus brand and will be less than pleased that we've included "Formerly Securus" in this title of this review. However, we feel a responsibility to disclose the connection between the two brands for the following key reasons:
Excel Corporation bought Securus Payments from its original founders in 2014, but then resold all of Securus' operations to back to Lemma and Robirds under the new name Chyp in April 2016.
The core of the sales and operations team of Securus (approximately 100 employees) was also rehired by Chyp in 2016.
The same company founders have had continuous involvement in this entity, regardless of company name, from 2009 through the present. While Excel owned Securus in 2014-mid 2016, the original founders were employees on the sales team, so had less control over the business.
Chyp uses the same core business model as Securus did throughout its history: recruiting ISOs to set up low-rate card processing for merchants, and pairing these accounts with long-term equipment leases to offset the heavily discounted processing rates.
Chyp offers similar (and some identical) products and services, and uses very similar online marketing, to what is left of Securus.
On the other hand, Chyp started over from scratch boarding new merchants as of May 2016. In this sense, Chyp is a very young company with the chance to directly address any past issues when signing new clients. Meanwhile, the approximately 5000 businesses left from the Securus portfolio are no longer serviced by the Chyp team. The Securus brand was absorbed into eVance processing, Inc., a subsidiary of Excel Corporation, along with several other Excel acquisitions over the past few years. eVance (formerly Calpian Commerce) is a wholesale ISO of TSYS and First Data that manages the old Securus accounts from its offices in Atlanta, GA.
To make matters more confusing, Chyp is also a retail ISO of eVance. This was part of the agreement with Excel Corporation when the split occurred–that Chyp would board new merchants on eVance's wholesale platform for the next few years.
Whew. Maybe now you can relate to the poor soul who's been assigned to write the "About" tab for Chyp. If you didn't follow my crack at it, no worries. The important thing to know is that we'll be keeping Securus' history in mind in this review, while also examining what has and hasn't changed since the founders of Securus got their fresh start with Chyp in May 2016.
Products & Services
Chyp's three main specialties are the following:
Merchant Accounts: As a retail ISO for eVance, Chyp offers traditional merchant accounts for small, medium, and large businesses. eVance, in turn, runs processing on TSYS' or First Data's platform.
POS systems: Chyp pairs merchant accounts with leases for popular POS systems that include NCR Silver, Lightspeed, POS Lavu, and Clover, as well as leases for more basic EMV-ready card terminals. They can also integrate a Chyp account with your current POS system.
Cash Advances: Chyp Capital is pretty self-explanatory on the website, but arm yourself with some good cash advance advice before pursuing this option.
Additional features include:
Mobile Processing: Low volume, mobile merchants can select from three headphone jack readers and their associated mobile apps. Clover Go, a Magtek reader from eProceessingNewtork, or a PayAnywhere device are all options, but most of Chyp's merchants transition to a terminal lease once they process around 10K per month.
eCommerce: While Chyp specializes in point-of-sale, it also offers eCommerce solutions, payment gateways, virtual terminals and other common features of merchant accounts. Expect the Chyp team or associated ISO to customize and bundle a set of products and services to meet your needs, but also expect that many will be billed by a third party. Chyp is partnered with about 20 common payment gateways, for example.
"Free" processing: An intriguing ad panel on the Chyp site states they can "eliminate all debit and credit card fees." A very small percentage of Chyp's merchants are on this program for business that strongly favor cash but still want a credit option. As I understand it, an additional 3.75% charge for credit transactions is clearly disclosed and then added to the purchase price. So so a $10 item would cost $10.38, for example. A friend of Chyp's founders at DTI credit has patented a software application that funnels the funds to a special "trust account" and allows the payment to be split. In our example, that's $10 for the merchant and $0.38 for paying the interchange fee to the card network and what's left to Chyp. You'll note I've placed "free" in quotes because they do actually charge $100 a month for this service. While Chyp assures me they've set it up to be as legal as Fandango charging a convenience fee for buying a movie ticket online, the laws surrounding surcharges and convenience fees are tricky, as well as state and business-specific. Take a look at VISA's rules and get confirmation from an outside source that this is legal for your specific business.
Fees & Rates
The Securus Payments website includes a pricing panel with limited pricing information. I can't confirm if this is leftover from when the Chyp founders were at Securus, or if it's newly posted or altered since the April 2016 resale of Securus back to Excel Corporation. In contrast, Chyp provides no pricing details on their website. You'll get the standard justification if you ask: pricing varies from client to client.
Lucky for you lovely Merchant Maverick readers, I was able to sleuth up a snippet of rate and fee info from the founders over the phone. While most of the answers were still quite vague, here is what I obtained for fees:
Application/Set-up: None
Annual fee: None
Monthly fee: No standard monthly fee, apart from any separate monthly charges below
Statement fee: $2.50 average
Monthly minimum: Depends on account type, some plans have minimum fees
Gateway fee: If applicable, billed by third party
PCI fee: Depends on the processor (note: fee is referenced in some complaints)
Data breach coverage: Sometimes included at no extra charge, depends on the processor
Chargebacks: $25
Voice Authorization: $1.50, passed through from TSYS
Address Verification Service (AVS) fee: None
Regarding processing rates, Chyp offers both tiered and interchange-plus pricing. If you need a refresher on the difference between these rate structures, check out our pricing guides. The ultra-quick explanation is that tiered pricing groups all your transactions into three categories based on card type and charges a flat rate within each category, whereas interchange-plus pricing treats each transaction individually and charges a set markup over the wholesale rates from the card networks.
Here's what the CEO quoted me for average processing rates at Chyp:
Tiered Plans:
Qualified Credit: 1.29% + $0.05
Mid-Qualified Credit: 2.00% + $0.05
Non-Qualified Credit: 2.70% + $0.05
Interchange-Plus Plans: 0.10% + $0.10 markup
It's worth noting that the VP of Sales previously gave me a range of 0.10%-0.25% average markup for interchange-plus plans, so the above averages may still be on the low side. However, I'm also told that rates can drop as low as 1% for credit and 0% for debit. To make such "lower than interchange" processing rates financially tenable for Chyp, you'll definitely be on a multi-year contract and terminal lease.
Perhaps responding to industry demand for more transparent pricing structures in recent years, the founders tell me they do offer a higher portion of interchange-plus plans at Chyp than they did at Securus. Nevertheless, the classic Chyp plan is a tiered set-up paired with a lease for one or more POS terminals.
At Merchant Maverick, we caution merchants against equipment leases and strongly favor the transparency of interchange-plus pricing. The Chyp staff is quick to point out that tiered pricing works out cheaper for many businesses, such as those with a high percentage of regulated debit transactions and under 100K per month of volume. They'll also argue that an equipment lease makes good financial sense for a business that receives super low processing rates in return. These businesses apparently prefer the stability of a fixed lease payment and fairly negligible processing costs. Chyp says you must examine the terms, pricing, and account features as a whole to decide what really works best in each situation.
On that last point, at least, we can agree. But I'm still very reticent to recommend leasing a piece of equipment for thousands of dollars that you could buy for a few hundred. And all other factors aside, interchange plus pricing is inherently more transparent than tiered. Let's look at Chyp's contract terms in more detail to understand the full picture.
Contract Length & Early Termination Fees
If you sign up for a month-to-month plan with Chyp, expect your processing rates to be much higher than those quoted in the above section. This is because Chyp's standard account set-up is a 4-year contract with these low processing rates, plus an equipment lease of 2-4 years (most are 4). Every merchant account provider has to make money somehow, and with Chyp, it's through leasing POS equipment. Because you are on the hook with Chyp for multiple years, they are even willing to lose money on the deal for the first few months.
I'm told that Chyp contracts do not have automatic renewals, but make sure to get that in writing. When I asked about early termination fees, they replied that "standard cancellation fees apply." This means you're looking at several hundred dollars to quit your contract, plus whatever payout canceling your equipment lease requires.
However, they did say that sometimes cancellation fees are waived. Since Chyp relies so heavily on contracts to recoup their costs, I'm skeptical cancellation fees are eliminated at the outset very often. Waiving fees could be used as a concession if the merchant is filling a complaint down the road. But hey, please prove me wrong and negotiate those fees out of your contract up front! Also, consider that your leasing contract could be much less flexible.
Sales & Advertising Transparency
We typically start by examining the website's advertising in this section, which bears similarity in content and structure to Securus' site. It's difficult to tell what's left over at Securus from when the Chyp founders were there, and what's been altered since they left. You can definitely tell the same people were involved in both companies, but the Chyp website is more focused and less cluttered.
Maybe too uncluttered, though. We really need to see some basic rate and fee information online to earn full marks for advertising transparency. Of course, Chyp is welcome to customize plans for each merchant, but even a simple explanation of the available pricing structures would go a long way.
Other aspects of the site rub me the wrong way. Ads such as the "free processing" panel come across as teases, with very limited explanation unless you talk to a sales rep. There is also some sketchiness going on with merchant testimonies, but I'll save that for upcoming testimonial section of the review. See, I can tease, too!
The in-person sales experience is probably better with Chyp than the Securus of the past. For starters, they now seem more up-front and careful when disclosing lease and contract terms. Your experience with one of their ISOs vs. the in-house sales team will also be more comparable. Both sales forces undergo more rigorous vetting, training, and testing than previously required by Securus circa 2009-2014. Additional steps toward mutual understanding include the call each merchant receives from corporate to discuss the lease and contract terms at the time of signing, and all calls are recorded.
Speaking of leases again, I was told by the founders that Chyp is "less heavy on leasing" than Securus was in the past. Yet, take a look at the type of language you'll find on Chyp's LinkedIn, which also says the company was founded in 2009:
Chyp is looking to bring on agents and ISO's that want to earn more per deal and more per swipe! Our 85/15 split program with leasing combo is sure to bring success and growth income to your ISO! Chyp also has financing options to help boost your office to the next level! We want you to get to 100+ deals like we have done for our other partner ISO's! We will show you how to integrate leasing and processing as a package to enhance merchants stickiness! Lets chat, Thanks!! – Steven Lemma – [email protected] / 503.937.1816
Did that give you a little queasy feeling inside like it did me? In a nutshell, I'm just not convinced Chyp has moved on from their original business model at Securus–the one that incurred so much backlash in the early days. However, I do think they have better systems to support the model, and that they are probably more forthright with merchants about how it all works.
Customer Service & Technical Support
Chyp's regular business hours are Monday-Friday, 8:00am-4:30pm PST. Having called a few times, my level of service during business hours varied. One time I got the VP of Sales on my first try, while on another occasion I listened to hold music for 20 minutes. When I finally got through that time, I was told there was no one on the sales team (or any other team) available to answer my questions. Sure, if I already had an account in-process, I'd be calling up my designated sales rep, but just be aware that responsiveness may vary at the head office.
You'll definitely have better luck, however, if you need tech support and press menu option 2. All Chyp customers have access to 24/7 service through a US-based tech support company called Boomtown. After signing up for a merchant account with Chyp, a Boomtown representative calls to make sure you have your equipment and that it's all working properly. From that point on, you have immediate access to tech support via text, live chat, and even video conferencing through the Connect App, so you can actually skip calling Chyp altogether. The service even includes on-site tech support for emergencies.
As there was nothing like this at Securus, it's definitely a huge improvement. From my initial research, Boomtown looks like a great company. Meanwhile, clients still on Securus plans which are no longer serviced by Chyp can contact the eVance team in Atlanta, GA via the contact information on the Securus website.
Returning to the Chyp website, the lack of a FAQ, knowledge base, or any other educational materials is disappointing. Similar to the empty "About" tab, Chyp's Youtube, Instagram, and Glassdoor buttons are apparently just for show at the moment. The Twitter, Facebook, and LinkedIn buttons are active, and I did locate their actual Youtube channel with a video introducing the Chyp team.
Negative Reviews & Complaints
With the multilayer nature of merchant accounts, it's difficult to identify who is to blame for any problems, even under normal circumstances. Throw in all the swapping of owners, staff, merchant portfolios, and business names over the last few years with Chyp and Securus, and we're left with quite a jumbled trail of merchant reactions.
For now, let's start with a recap of the BBB warning about Securus, obtained from a cached version of the defunct Securus profile from October 7, 2016. By 2016, the total complaint number for Securus was pushing 150:
On February 1, 2013, BBB recognized a pattern of complaints from consumers regarding contract issues and selling practice issues. Consumers allege after initialing and signing a contract with Securus Payments, the company alters the contract. Consumers also allege the company tells them they can cancel services at any time, but consumers later learn there are cancellation fees involved. Consumers allege the company guarantees to save them money, but ultimately consumers discover they are paying more than with their previous processing company. Consumers further allege Securus Payments solicits their place of business several times a day, and when asked to be removed from the company's list, they still receive calls. Securus Payments is working with BBB in an effort to eliminate the underlying cause of the pattern of complaints.
I've bolded the key grievances above, which are also pretty representative of the additional complaints around the internet concerning Securus. But is Chyp fairing any better?
Yes and no. Chyp has an A- at the BBB and four complaints since the profile was created in October 2016. Three are already resolved to the merchant's satisfaction, and it looks like Chyp is working hard to resolve the fourth. I know they advocated with the BBB to get a new, separate profile for Chyp. What I don't know is how many complaints were filed based on interactions with the Chyp team between May 2016 and October 2016, perhaps on the old Securus profile, before the Chyp and Securus profiles were separated. eVance is also a potential absorber of Chyp complaints; one from August 2016 specifically mentions Chyp, for example.
The small number of Chyp complaints so far at the BBB, Facebook, and around the web are similar to those I bolded in the for Securus profile. Because of Chyp's business model, they are almost guaranteed a slow trickle of complaints from people who want out, for whatever reason, and are faced with huge bills to cancel. While Chyp's complaint responses do show concessions made when ending merchant account contracts, the lease contract is often the bigger problem.
As the situation continues to untangle in the coming months, we'll be watching for patterns in new merchant responses to Chyp.
Positive Reviews & Testimonials
Like the Securus website, Chyp features several short customer testimonials at gochyp.com. The wording is often is strange or vague, and errors are frequent. As I alluded to earlier, however, there's a bigger problem. See if you can pick it up from these screen shots: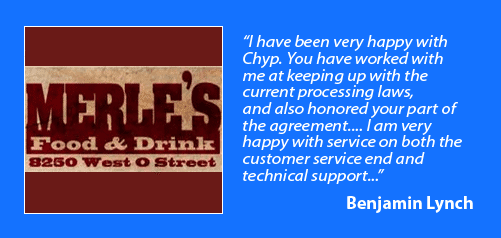 Here is another pair, and there are more where these came from: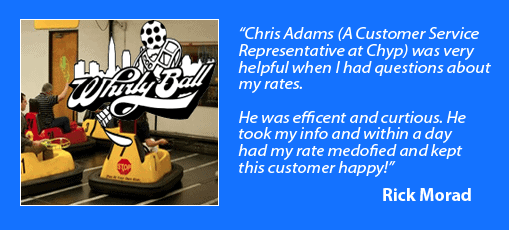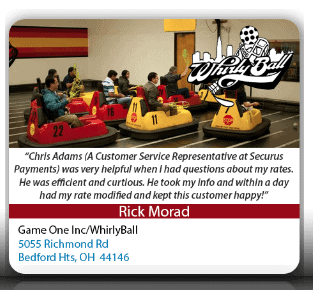 I'm calling a testimonial yellow card on Chyp. If eVance now has all your old Securus clients, you can't just copy and paste their testimonies and swap in your new company name. If you're gonna start over, you've actually gotta start over. I'm sure they worked hard for these clients and their reviews, but the recycled testimonials don't exactly scream honesty and a fresh start for Chyp.
Would you like to play another game, dear reader? This one's tougher! Spot the link between these three 5-star Facebook reviews: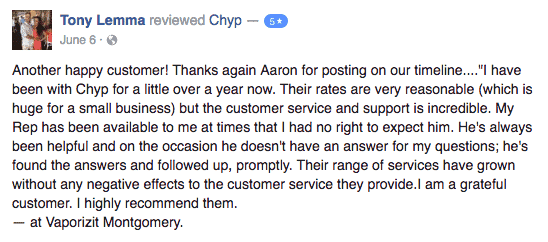 If you didn't catch it, these positive reviews were posted by company founders (Steven Lemma's brother Tony is one of the original team at Securus), thus artificially inflating the star rating. And by the way, how is it possible Vaporizit Montgomery had been with Chyp for a year in June 2016, when Chyp had only been in existence for one month? Time to pull out a testimonial red card for Chyp.
There are a few additional positive reviews on Facebook and elsewhere, including more that appear written by employees. I'm sure Chyp does have many happy customers, as their new portfolio is back up in the thousands. Unfortunately, the positive comments stand in the shadow of the above sketchiness.
Final Verdict:
I picture someone sitting down to write that missing "About" section on Chyp's website on multiple occasions over the past several months and then giving up each time. Do they risk bringing up their complicated history? As I writer, I can sympathize. And yet, this is the chance for Chyp to set their new course–to clearly define who they are, or at least who they aspire to be, under the new name.
As of this review's writing, Chyp's not taking that opportunity. Meanwhile, they shoot themselves in the foot by recycling Securus merchant testimonies and listing their founding date as 2009 on LinkedIn, thereby tying themselves back to Securus and calling their honesty into question at the same time.
In my conversations with executives, I never really got to the bottom of what went wrong from their perspective leading up to and including Securus' 2013 BBB debacle. The closest answer I heard was that they were young and inexperienced back then, but are more savvy business owners now.
While I believe this statement, I'm not sure to what extent their increased savviness is working for the merchant's benefit. I will grant that there is stronger customer service for POS systems, more customization of plans available, and better systems in place to guard against customers feeling deceived or misinformed.
Despite these options and improvements, we're still looking at a lot of new Chyp accounts with non-cancellable leases, long-term contracts, and early termination fees. Although I heard a passionate defense for these accounts each time I asked about them, the super-duper-low, "at cost" rate schemes offered in return lose their appeal when you're also making a long-term commitment to a company with a shaky record under a previous name.
We're giving Chyp a provisional 2.5-star rating and keeping a close eye on them. If you're not interested in leasing POS equipment with Chyp, check out our most highly rated providers to compare what they offer, or try our merchant account finder tool. Finally, take Chyp's advice and examine the whole package before signing up for any service.
---
Our Top Pick To Save On Payment Processing 💰
PaymentCloud


---
PaymentCloud has an excellent track record for service quality, support, and fair pricing. Learn more from PaymentCloud.
Our Top Pick To Save On Payment Processing 💰
PaymentCloud


---
PaymentCloud has an excellent track record for service quality, support, and fair pricing. Learn more from PaymentCloud.
To learn more about how we score our reviews, see our
Credit Card Processor Rating Criteria
.