Expert Analyst & Reviewer

UPDATED
Advertiser Disclosure: Our unbiased reviews and content are supported in part by
affiliate partnerships
, and we adhere to strict
guidelines
to preserve editorial integrity.
Pros
Very feature rich
Strong customer service
Point of sale included
Cons
Cin7 Inventory Overview
As any biblical scholar or mid-90s psychological thriller aficionado will surely know, the seven deadly sins are envy, gluttony, greed, lust, pride, sloth, and wrath. But if a modern, eighth deadly sin were to be included, it almost assuredly would be running a small business with a sub-par inventory management system. I have no idea if New Zealand-based Cin7 had ancient behavioral pitfalls or the David Fincher cult classic in mind when it started, but it's all I could think about when writing this review. Well, that, and the fact that Cin7 has actually put together a truly impressive and comprehensive inventory management system that also includes a point of sale platform and eCommerce tools.
Cin7 is probably not the best solution for very small businesses or business owners who are just starting out in the retail industry. To utilize everything the software has to offer (which isn't particularly cheap), you'll likely be heading up a mid-sized or fairly large business with robust or complex inventory needs. The software can hold up to 50,000 SKUs and has an extremely advanced purchase ordering system. It also has very highly rated customer service and nearly unanimous approval among its users.
If you're looking for a quick and easy system, you'll want to look elsewhere. But, if you find that some of the other management services or all-in-one point of sale systems on the market just don't have the depth your business needs when it comes to inventory, Cin7 will almost certainly be a contender.
Pricing
Cin7's pricing is quote-based, but plans start at around $299 a month. That's definitely on the pricey side but, in fairness to the company, you get a pretty good amount packed into the product. There are four basic plans to choose from and, from what I gather, you can pick and choose some of the features which will alter the price. The Starter package isn't recommended for users who are only planning on using the company's point of sale service, but all four plans are good for full users of the product. All packages come standard with:
Accounting Apps
EDI Apps
Payments Apps
Cin7 POS
eCommerce Apps
API Developer Support
Cin7 Production Jobs
Cin7 Online B2B
Marketplace Apps
Shipping Apps
API Access
Cin7 Pick n Pack App
3PL Apps
Sales and Marketing Apps
Web-Based Or Locally Installed
Cin7 is entirely cloud-based.
Ease Of Use
It probably goes without saying that inventory software with so many features is going to take some getting used to. There's a lot to digest and Cin7's UI can come across as overwhelming when you're first testing things out, but it's tough to fault the company for that. This complexity is simply a result of how much functionality is crammed into the app. It's not the sleekest system I've seen, especially when it comes to the point of sale format. There are a lot of icons to navigate and fields where you need to manually input data. In general, it feels like a little more automation would go a long way.
I was very impressed with Cin7's 10-day free trial, which allows you to walk yourself through your own demo or set up an appointment with a representative to help talk you through the system. It took me more than an entire day to really get into all of the functions to test them, but the demo certainly does its job and gives you access to everything. There is even an option to have some things set up ahead of time for you depending on your business.
This is definitely not software for the faint of heart or for a brand new business owner without much experience managing inventory.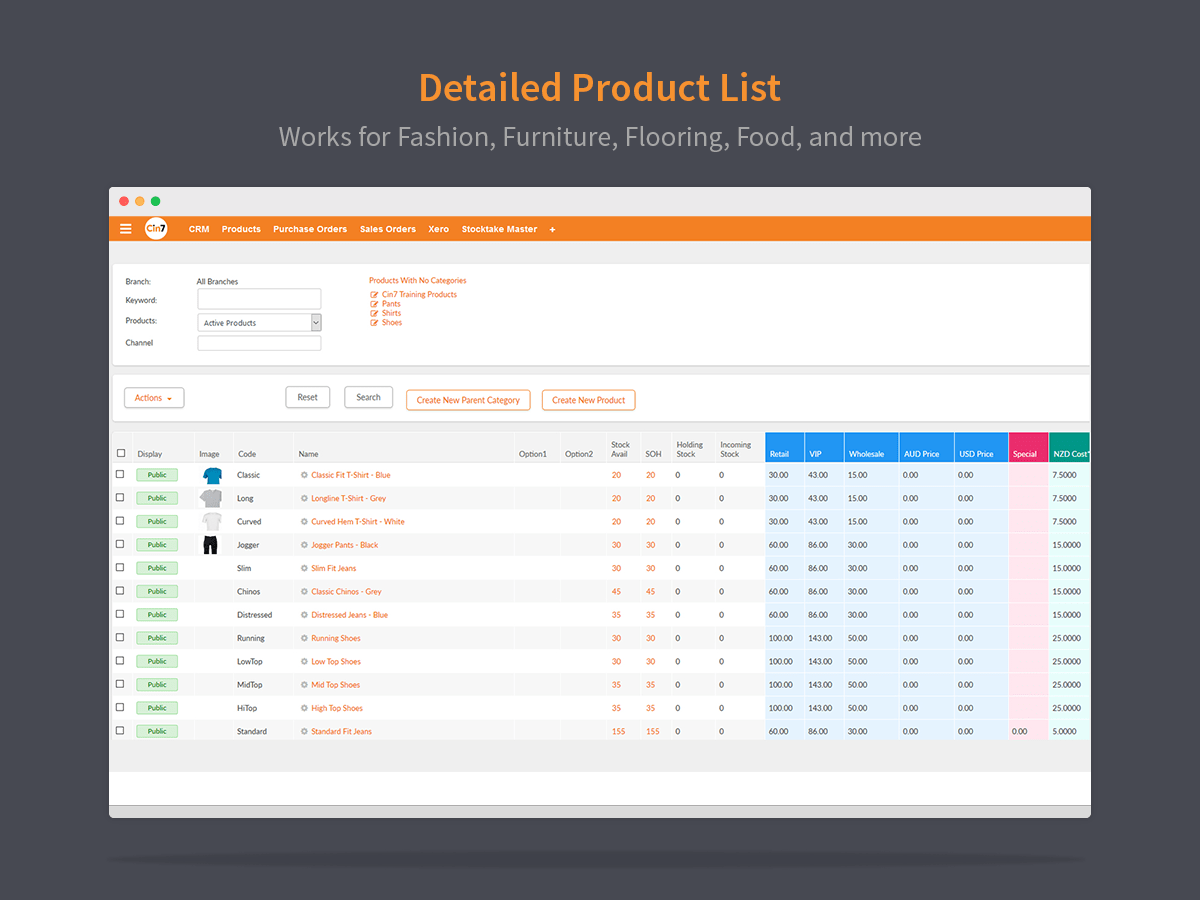 Once you get the lay of the land, Cin7 is impressive. It's difficult to believe that anyone would find its features lacking. Cin7 seems adept to handle even the most complicated or large-scale inventory needs and, while it certainly takes some time to get used to, it's still fairly intuitive overall.
Features
Where to start? Cin7 is exceptionally feature-rich, so I will try and point out a few areas where I feel it really shines against the rest of the competition:
Inventory Management

Back Ordering
Batch Importing: Updates are easy and are applied automatically
Branch Transfers
Custom Fields
Label Printing
Mobile Stocktaking: A particularly nice function that allows you to view and update your stock on your mobile device either on location or remotely
Multi-Currency Report
Stock Adjustment
Up to 50,000 SKUs
Customizable fields, pricing, templates, and search features: It's not the simplest thing in the world to do, but Cin7 is very customizable and the company can help with some of it in the initial set-up process but doing it manually can be time-consuming.
Batch Updates
Purchase Orders: Cin7 has one of the more advanced purchase order functions I've seen with the ability to apply customs duty to freight orders, lock in exchange rates, and use multi-currency purchases.
Batch and Serial Number Stock Control
Minimum Stock and Reordering Levels
Label Printing

Point Of Sale: Cin7 comes with fully functional POS software. On its own, the point of sale is adequate, featuring a slightly clunky interface but basic retail functionality. However, if you're using Cin7 for your inventory needs, the integrated POS becomes a bargain. Obviously, the system is feature-rich, with strong reporting and a surprisingly generous loyalty package. Additional features include:

Batch Sales
Gift Vouchers
Layaway Programs
Payment Integrations
In-screen Product Tabs
Pickup Store Options
Unlimited Registers
Offline Mode
Sales Reports by Staff
PC and Mac Compatible
Split Payments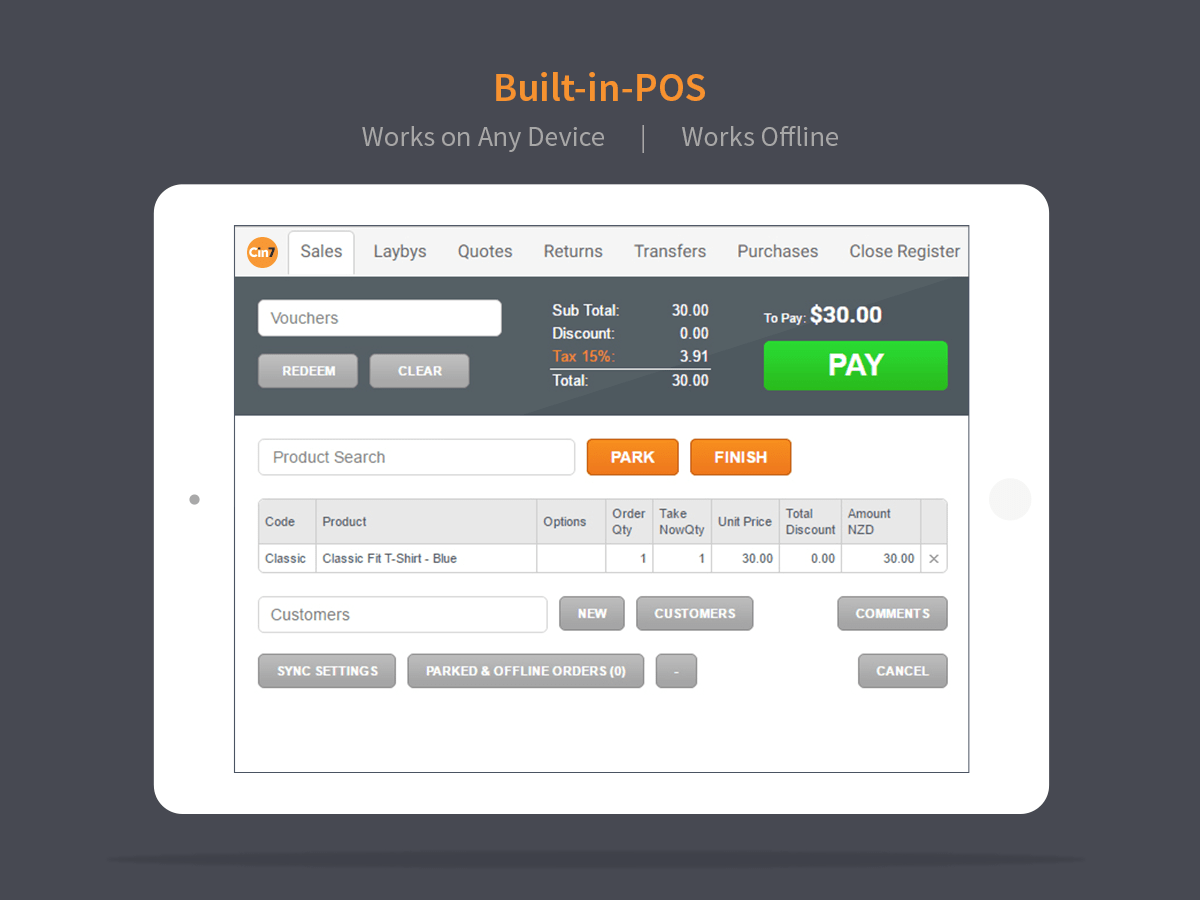 Warehouse Management
Reporting: You can export any report into Excel. The reporting dashboard is easy to read and shows sales by category and location. You can also see your best-selling products on the front page and look up your best-spending customers, along with any customer information you have stored for easy promotions. All of the reports update in real time and each user can select which reports they want to view under their own profile.
eCommerce
Negative Reviews & Complaints
Reviews for Cin7 online are overwhelmingly positive and there are quite a few of them on the typical software review sites. A handful of complaints do crop up, however:
Buggy Software: A few reviewers mentioned that the system would crash from time to time, particularly when first starting up. However, when pointing this out, some of these complainants also mentioned their internet was spotty at the time. Go figure.
Lack Of Features: There were a few comments from customers wishing that Cin7 had some more specific features. A couple of people mentioned that they would like to see more integrations.
Confusing Layout: A few customers mentioned that the interface (particularly in the back end) was a little clunky and, at times, difficult to navigate.
Positive Reviews & Testimonials
Strong Onboarding: A lot of people were very pleased with the start-up process from Cin7, pointing out that they received plenty of help and excellent support to get them up and running.
Breadth Of Features: Multiple customers mentioned that Cin7 comes with so many features that they haven't even been able to fully utilize everything yet. Customers were very happy with the high quality and functionality of the features as well.
Customizability: Many reviewers appreciated that the software seemed specifically created for their own retail business. People in the fashion industry, in particular, seemed very pleased with the product.
Integrations & Add-Ons
Cin7 integrates with a wide variety of companies and gives you some nice options in pretty much all aspects of the retail industry. Here are a few of the biggies, but you can always visit Cin7's website for a full listing:
Accounting: QuickBooks and Xero
eCommerce: Magento, Shopify, Neto, BigCommerce
Marketplaces: Amazon Seller, eBay, Joor, The Iconic
Retailers: Nordstrom, Woolworth's, Amazon, Walmart (coming soon)
Suppliers: Synnex, TechData
Logistics: 3PL Central, Amazon, Mainfreight, DHL
Shipping: Shiptheory, ShipStation, StarShip IT, Shippit
Marketing: MailChimp, Salesforce, Google Shopping
Payments: Authorize.Net, Payment Express, TransferMate
Final Verdict
I am a huge proponent of plug-and-play systems that make me feel like an expert just minute into my trial or demo. I recognize that this is probably a character flaw and a basic insecurity of my own, which may need therapy. And needless to say, Cin7 does not fall into this category. And yet, it was hard not to be impressed with the system. While you may be initially thrown by the overall cost, Cin7 packs everything you could think of into its software, including a solid point of sale, integrations with processors and eCommerce platforms, and an exceptionally deep inventory management system.
I routinely get queries from business owners who are initially impressed with sleek, ready-to-use POS programs but find that they just aren't robust enough in key areas like inventory or reporting. I'm happy to now have Cin7 in my pocket as a good alternative company to recommend to business owners who simply need more out of a point of sale or inventory solution. If you're budget-conscious, the $299/month beginning price is probably going to be a sticking point, but if you are looking for a service that will almost certainly not leave you wanting, check Cin7 out. You won't be sorry.
---
Featured Free Corporate Card
Ramp


---
Ramp offers a free corporate card for virtually any business. Start earning rewards with your corporate spending today. Get your free card.
Featured Free Corporate Card
Ramp


---
Ramp offers a free corporate card for virtually any business. Start earning rewards with your corporate spending today. Get your free card.
To learn more about how we score our reviews, see our
Inventory Software Rating Criteria
.