Expert Analyst & Reviewer

UPDATED
Advertiser Disclosure: Our unbiased reviews and content are supported in part by
affiliate partnerships
, and we adhere to strict
guidelines
to preserve editorial integrity.
Clear Books
Pros
Numerous features
UK-based
Reasonable monthly cost
Attractive invoice templates
Unlimited users
Cons
Limited integrations
Outdated UI
No mobile apps
Clear Books Overview
Everyone wants accurate, clear accounting, and for some, Clear Books may be the answer. This UK-based company has been around since 2008 and has been growing ever since.
For UK users, Clear Books is the whole package. Strong accounting, VAT support, unlimited users, and HMRC compliance make the software a great choice for UK small businesses. In true British fashion, many users say Clear Books "does what it says on the tin." It offers invoicing, project management, contact management, expense claims, and more. The company also provides ample support options and just introduced a free plan.
However, there are a few drawbacks to the software, including limited integrations and navigational difficulties. Some features, like inventory, are also not fully developed and the free plan is quite limited. For US users, in particular, the software holds some serious problems, including no sales tax support. (For US users, we recommend checking out our Xero review, QuickBooks Online review, or Wave review instead.)
Despite these drawbacks, Clear Books does have a lot to offer, especially for UK businesses. Keep reading to see if Clear Books is a good fit for your business.
Clear Books Pricing
Clear Books offers two paid pricing plans, as well as a new free plan. There is a free 30-day trial of both paid plans. No credit card information is required. Subscriptions are paid monthly, and you can cancel your account at any time.
Clear Books offers a 10% discount purchasing a year of service and a 20% discount for two years. Clear Books also has a referral program where you can get an additional 10% off per user you successfully refer.
Micro
£0
Enter sales
Enter bills and expenses
Bank transaction list
Basic VAT support
Small
£10.00/month
Invoicing
Estimates
Contact management
Banking
Bill management
Inventory
Project management
Time tracking
25 reports
Dividends
Unlimited users
Large
£21.50/month
Invoicing
Estimates
Contact management
Banking
Bill management
Inventory
Project management
Time tracking
25 reports
Dividends
VAT support
MTD compliance
Construction Industry Scheme (CIS)
Multi-currency support
Unlimited users
Extra Costs
Clear Books charges extra for payroll support. For two employees, the cost is £5.40/month; for three or more employees, it's £2.70/month per employee.
Note: The prices listed above do not include VAT. Clear Books charges VAT to all users, including those outside of the UK.
Cloud-Based Or Locally-Installed
Cloud-based. No downloads or installation required.
Hardware & Software Requirements
As cloud-based software, Clear Books works with nearly any device so long as you have an internet connection and are using the most up-to-date version of one of the following browsers:
Internet Explorer
Microsoft Edge
Mozilla Firefox
Apple Safari
Google Chrome
For the software to work correctly, you'll also need to have Javascript and cookies enabled. Stay up-to-date on Clear Books' system requirements using the company's Getting Started guide. Unfortunately, Clear Books no longer offers any mobile apps, although you can access Clear Books on your web browser.
Specific Size Of Business
Clear Books is ideal for UK businesses that need VAT support and strong accounting. The software was designed with the small business in mind but has the feature set and accounting capabilities to scale alongside larger businesses. You can have unlimited users and you can set multiple user roles and permissions.
While the software is ideal for Uk businesses, Clear Books supports 230+ countries. However, the software is not ideal for US businesses. While many features are still applicable, there is no sales tax or tax support for US businesses, so you'd get more for your money going with software designed for US companies. Check out our top recommended accounting programs to find a good Clear Books alternative.
Accounting Method
Both cash-basis and accrual accounting.
Ease Of Use
Clear Books has a nice UI that is generally well-organized; however, the software is difficult to navigate at times. The navigation is much improved since our last review, but the software still could be improved. Luckily, the company does have a getting started guide and how-to boxes to teach you how to use the software initially.
Clear Books Features
Clear Books has a large feature set with ample accounting capabilities. You can take a full feature tour or read below for a detailed overview of the main features available.
Clear Books Micro Dashboard: First of, let's cover Clear Books Micro — the free plan. Instead of being full accounting software, Clear Books Micro is more of a cloud-based accounting spreadsheet. You cannot create sales or bills, but you can enter their amounts and transaction details into a spreadsheet. The nice thing about Clear Books Micro is the software will turn that data into a dashboard with actionable insight into your business. You'll be able to see your profit and loss, a business summary, and your VAT. Clear Books Micro automatically calculates the VAT from the transactions you enter, so you can stay compliant with the tax laws. And that's Clear Books Micro for you! The following features in the rest of this section are going to be available for Clear Books Small and Large plans only.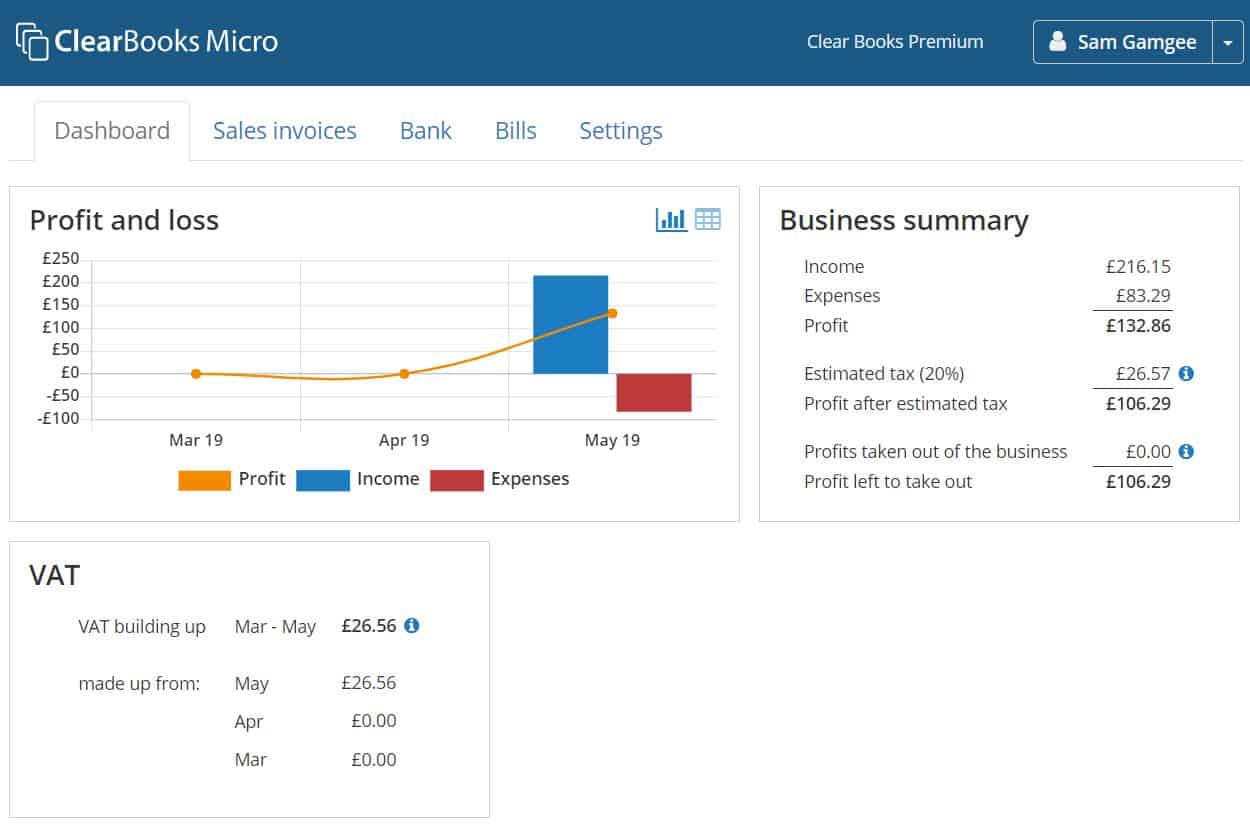 Dashboard: Clear Books has a customizable dashboard with over 15 charts and graphs that can be added and moved around to fit your taste. The default dashboard shows you Sales, Purchases, Bank Accounts, Expenses, Reports, Profit and Loss, VAT, and Tax & Dividends.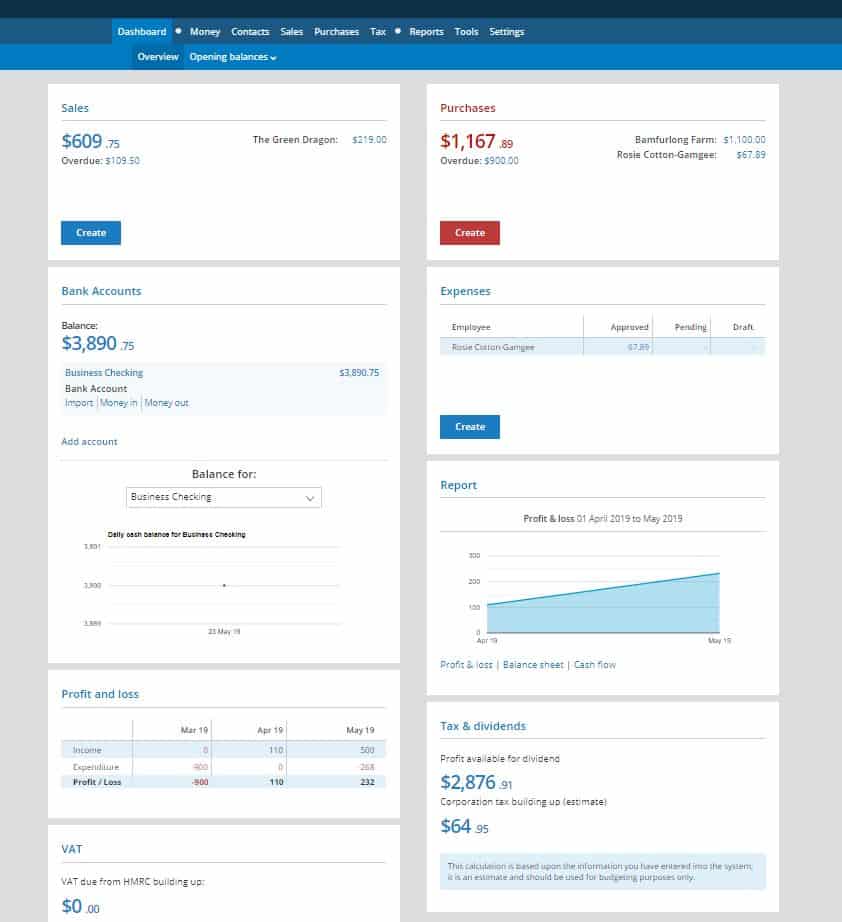 Invoicing: Clear Books offers 20 invoice templates (although many templates are just different color themes of the same template). You can create a custom template as well, and you have access to dozens of templates other business users have already created. You can add a logo and control what information is shown on your invoices. You can create recurring invoices, default email messages, bulk invoices, and discounts. Clear Books also supports recharge costs, which is their way of "recharging" expenses and time to customers. The coolest part about this invoicing feature is that you can encrypt your invoice .pdfs for additional security. As Clear Books is UK-based, there is no sales tax support for US users. To work around this, you'll have to manually calculate sales tax and add it as an invoice line item.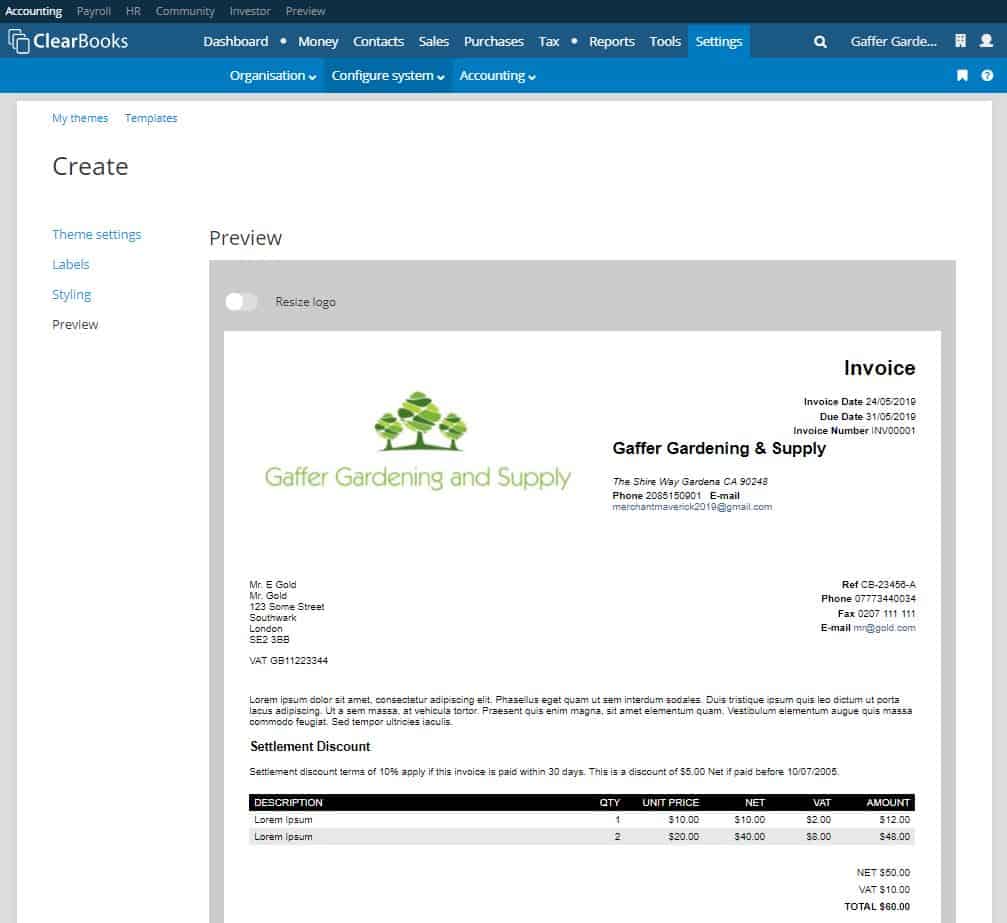 Estimates: You can easily create quotes or estimates and mark them as complete, accepted, rejected, or invoiced.
Contact Management: You can manage customers and suppliers with Clear Books. You can record basic contact information, default invoice preferences, bank details, social media handles, and a separate invoice address and delivery address. When you click on a customer, there's a nice contact dashboard where you can view their details, cash flow stats, position, cash flow activity, and notes. Clear Books also has a unique integration with Companies House, the UK's company registrar. You can search for a business and if they are recorded in the Companies House, Clear Books will automatically fill in their information for you.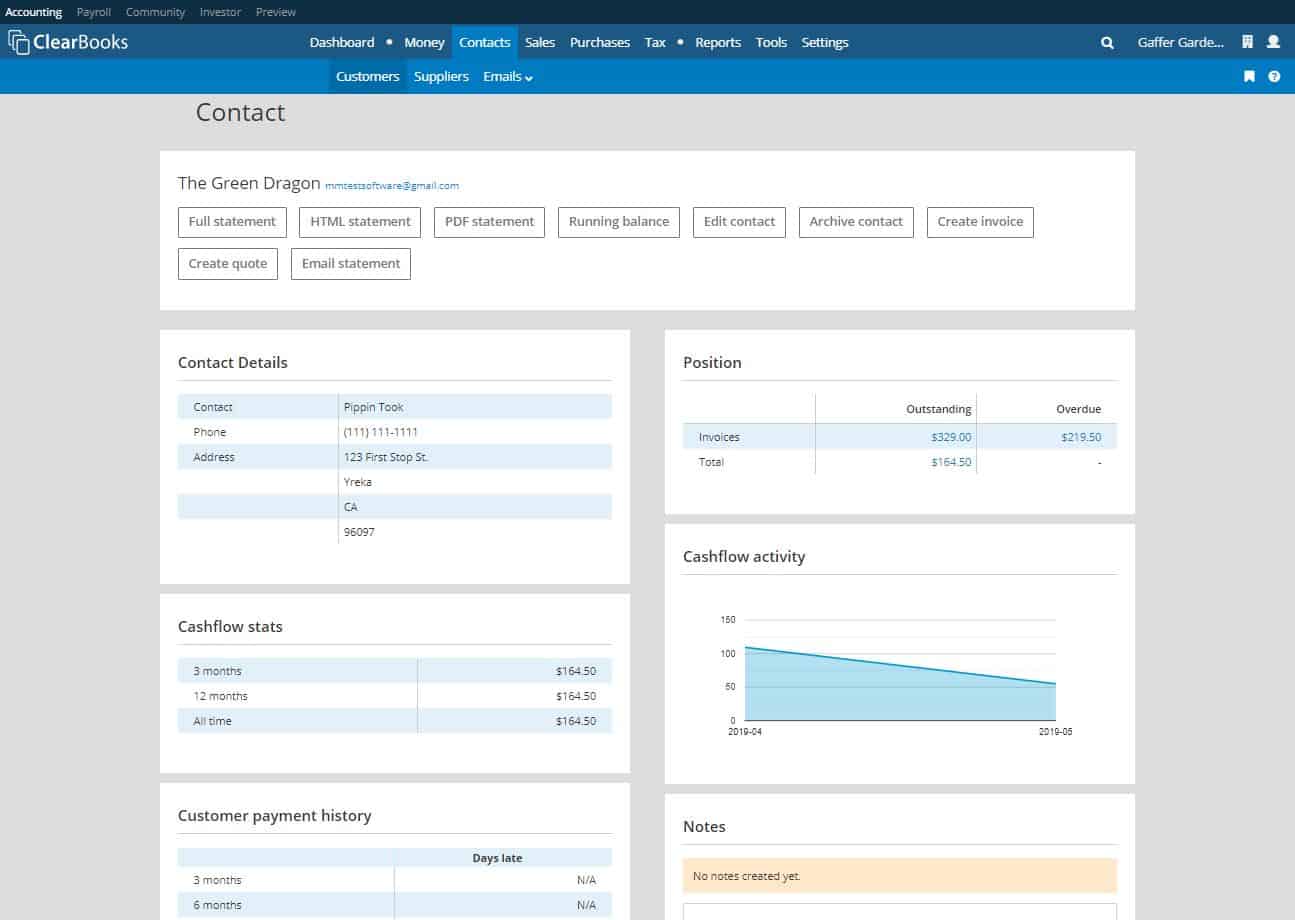 Expense Tracking: You can track expenses in Clear Books by connecting to your bank accounts or manually importing bank statements. You can set custom bank rules to help automatically categorize your transactions. Clear Books also supports expense claims which your employees can record and submit for approval. Note: Like most software using bank live feeds, Clear Books partners with Yodlee, which may violate some banks' Terms and Conditions. Consult with your bank to see whether live bank feeds are a good choice for you.
Bank Reconciliation: You can reconcile your bank accounts in Clear Books.
Chart Of Accounts: Clear Books provides a default chart of accounts, which you can customize as needed. You can add an account name, code, statement, default VAT rate, and more. You can also adjust the tax code format in Clear Books, and you can favorite up to five accounts so that they appear on your dashboard.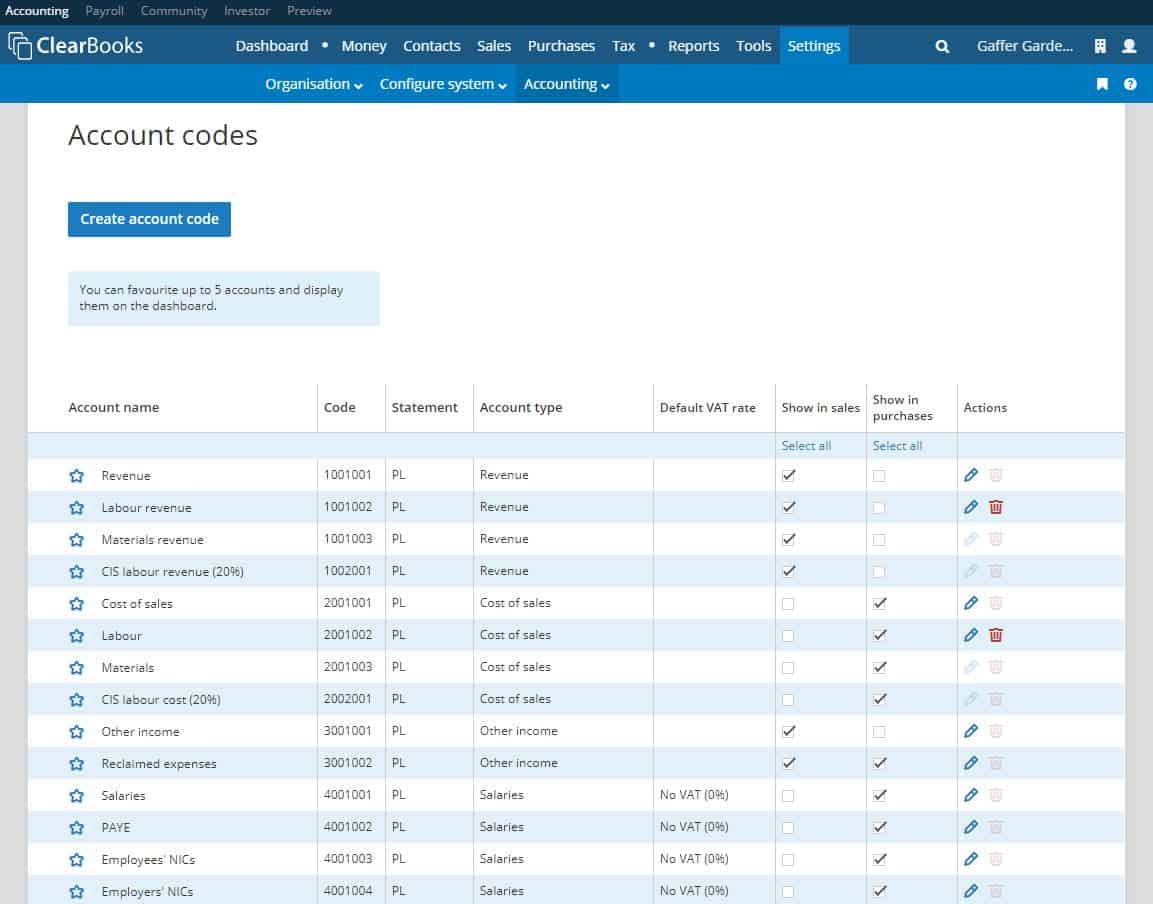 Fixed Asset Management: You can manage fixed assets and run depreciation within the software.
Accounts Payable: You can create bills and recurring bills in Clear Books. You can also create bills in bulk.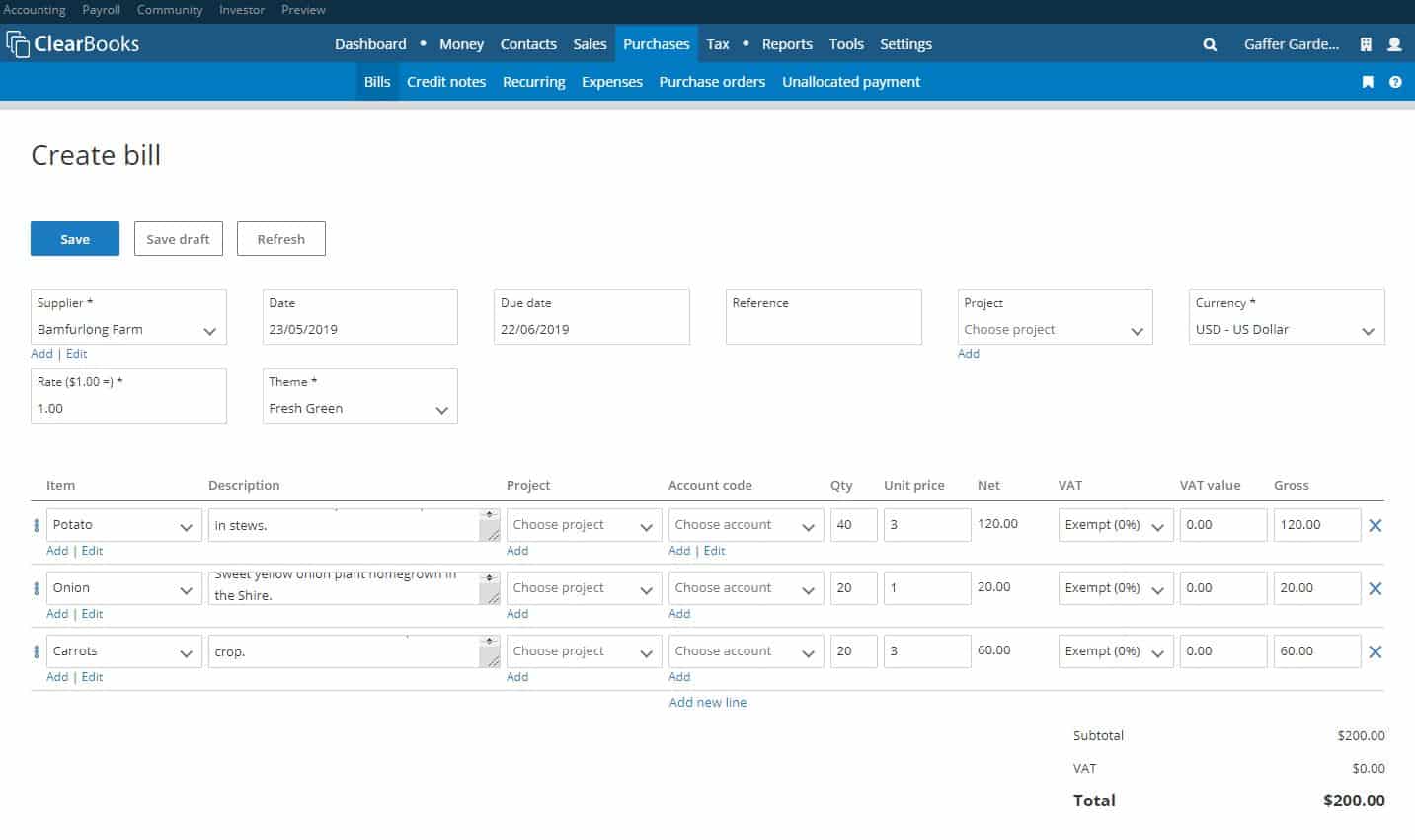 Inventory: You can add an item name, SKU number, and description of your inventory. You can also track item quantity and easily view a stock report and the stock history of each item. There are no low inventory reminders.
Time Tracking: This feature, though very unintuitive, offers the ability to track time that can then be billed to customers or attached to projects. You can enter hours manually or utilize the built-in timer. You can create employee timesheets as well.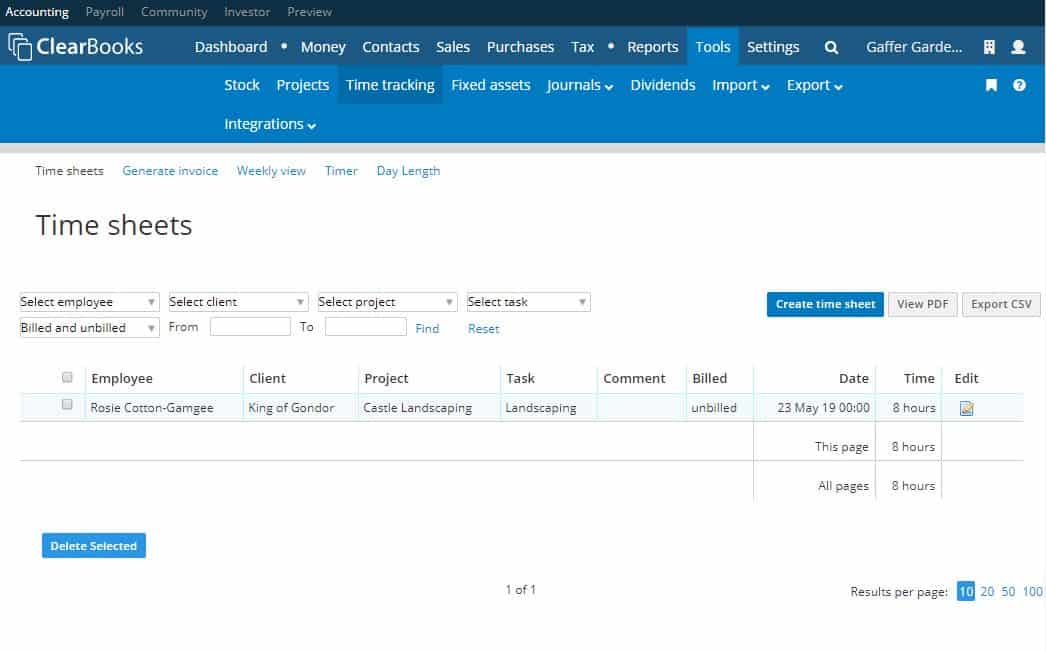 Project Management: You can create and assign projects in Clear Books. You can record a project name, status (open, closed, or archived), project description, logo, email, start and end dates, and more. You can also generate a project report. You can add time to projects but not expenses. There is also no job costing available.
Reports: Clear Books offer 25 reports. The company covers basic accounting reports and adds a few additional financial reports that come in handy. The cash flow and budget reports are particularly helpful.
Journal Entries: Clear Books supports journal entries.
Sales Orders: You can create sales orders in Clear Books.
Purchase Orders: You can create purchase orders as well.
Credit Memos: Clear Books supports credit memos (or credit notes).
Default Email Messages: You can set 11 different types of default email messages to help automate your accounting and billing process.
Dividends: Clear Books is one of the few small business accounting programs I've seen with dividends and a full dividends history.
Tax Support (Large Plan Only): Clear Books offers VAT support and is HMRC compliant. You can enable online VAT filing and MTD VAT submission from directly within the software. For CIS contractors and self-employed contractors in the UK, Clear Books also supplies several support options to make sure your business follows all the proper rules and regulations.
Mileage Tracking: You can create mileage receipts in Clear Books with basic information like the name of the employee driving, the vehicle type, the gas type, and a description.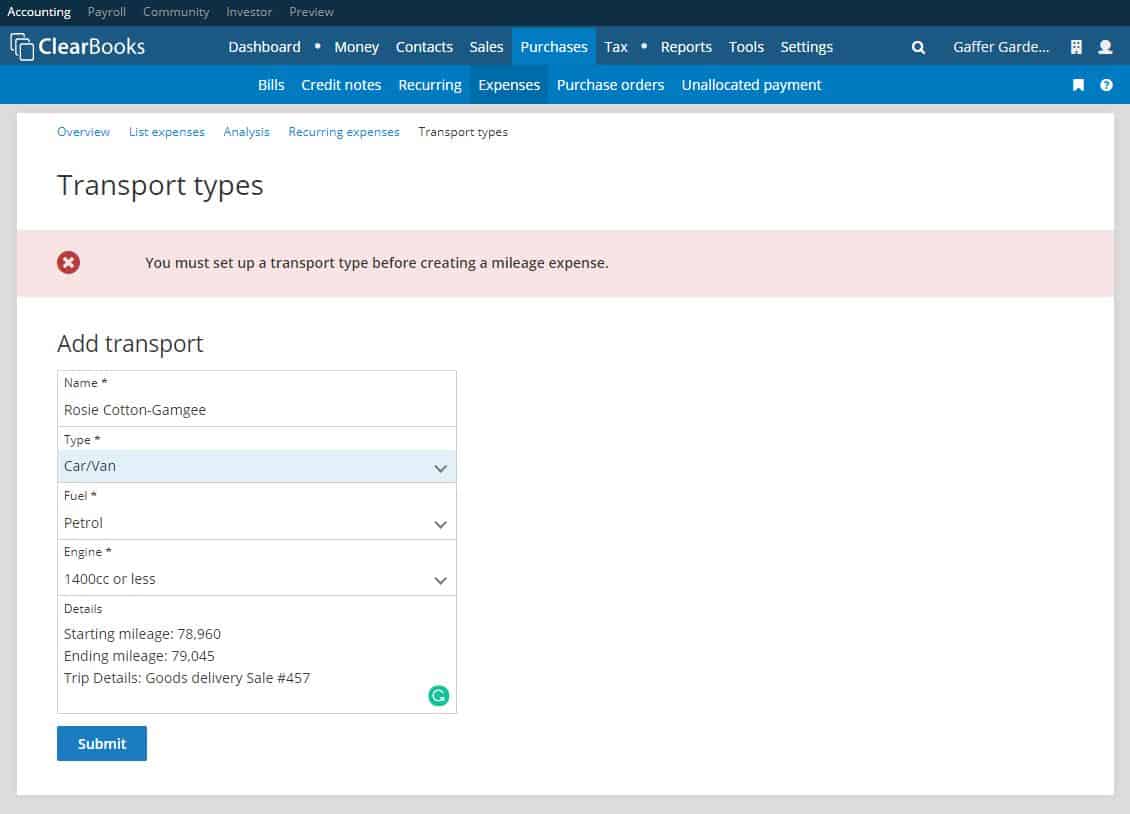 Multiple Currencies (Large Plan Only): Clear Books supports 170+ currencies, and the software makes it easy to see current exchange rates.
Importing & Exporting: Clear Books has incredibly thorough importing and exporting offerings. You can import customers, sales invoices, sales payments, sales items, bank statements, suppliers, bills, bill payments, purchase items, and journals via .csv. You can export an entire company file or you can export contacts, customers, suppliers, general ledgers, sales ledgers, purchase ledgers, sales line items, purchase line items, quotes, estimates, invoices, purchase orders, account codes, unpaid bills (BACS), invoice items, expenses, and expense items individually via .csv. Clear Books will also help you import your data from over 15 leading accounting programs.
Clear Books Customer Service & Support
Clear Books customer support is available from 9:00 – 5:00 PM British Time. In my experience as a US user from a different time zone, email responses usually took a day; responses were thorough and the support team was friendly and polite. I can only imagine that the support is even better when you're actually in the UK. There are many customer reviews that report positive customer service experiences with Clear Books. Clear Books also offers a good sampling of additional support options.
Here are the ways you can get in touch with Clear Books support:
Phone: UK users can call Clear Books support directly.
Email: You can email Clear Books for support or fill out their online email support form. This is probably your best support option for troubleshooting and specific inquiries, especially for users outside of the UK who can't use the phone support.
Support Guides: Support Guides are basically the Clear Books version of a Help Center. You'll find informative articles on various topics like bookkeeping, contacts, getting started, purchases, payroll, and just about any other features you can think of. There are a few videos available as well.
User Guide: In addition to the support guides, there is a 70-page user guide that covers everything you need to know about using Clear Books.
Community: Clear Books has an active community forum with questions from other Clear Books users. Questions are usually responded to between 2-24 hours.
YouTube: Clear Books has a YouTube channel with how-to videos, company updates, and full webinars.
FAQs: Clear Books offers a large FAQ section that focuses predominantly on sales and company inquiries.
Resources: The Resources page features must-read small business blogs, helpful white papers, how-to videos, and several podcasts as well.
Training: UK users can buy additional on-site support and training. Contact Clear Books for pricing details.
Online VAT Calculator: There is a free, online VAT calculator that UK users can use to get an idea of their total taxes due.
Find an Accountant: You can take a look at Clear Books' full accountant directory, or opt to be contacted by a Clear Books accountant when setting up your account.
Preview: There is a preview option within the software, which is a sort of beta testing where you can enable upcoming features a month before they're released and leave feedback for Clear Books developers.
Custom Accelerated Development: The custom accelerated development program is a way for a user to implement a specific feature request that is designed just for them. This feature comes at an extra cost and users must go through a long approval and development process. This could be a really cool way for customers to customize their software to their needs.
Social Media: Clear Books is active on Facebook, Twitter, and LinkedIn.
Clear Books Reviews
Negative Reviews & Complaints
Despite a good number of positive reviews, Clear Books is not wanting for negative reviews. Negative reviews have seemed to slow since our last review, but there are still several issues users have with the software. Below are some of the main problems Clear Books users encounter:
Unintuitive: Several users find the software unintuitive and hard to learn. Multiple users complain that the setup process is more difficult than it needs to be, and some even call the software "clunky."
No Mobile Apps: Clear Books used to receive poor reviews on its Android app, but no there is no Android app at all, and there's no iPhone app, either.
Needs Better Features: A few users want additional features like better reporting, better inventory, packing slips, and more integrations. One user said the current feature set doesn't justify Clear Books' price, and a couple of other users also found the software to be expensive.
Positive Reviews & Testimonials
Despite the complaints, Clear Books still has more positive than negative reviews. The software receives 4.6/5 stars on GetApp (based on 28 ratings) and 4/5 stars on Trustpilot (based on 165 ratings). The company also has a webpage of customer testimonials where you can see what real customers are saying and learn how they are making use of the software in their businesses.
These are some of the recurring strong points of the software:
Easy To Use: One of the most common praises is that the software is easy to use. Business owners with no previous accounting experience say the software is intuitive and requires little advanced knowledge.
Good Customer Support: The other most common high point is that Clear Books has good customer support that responds quickly to customer questions.
Nice Features: Quite a few users appreciate the Clear Books feature set, especially the VAT support. In regard to features, you'll hear the word "brilliant" pop up a lot — welcome to the UK, everyone.
"Does What It Says on the Tin": When researching Clear Books' customer reviews, you'll soon become familiar with the UK phrase "it does what it says on the tin." Translation: the software lives up to what it says it will do.
Here's what a few users are saying:
In simple terms it's a brilliant piece of software!

I no longer dread doing the accounts! Not only that but by being able to clearly see what money is where, what we owe, who owes us, etc. etc. it has allowed me to better understand how my business is working.

I tried a couple of the well known names in accountacy software online but felt they were a bit intimidating and geared more towards accountants/bookkeepers with accountancy experience. Clearbooks made sense to me straightaway and simplified my bookkeeping.
Clear Books Integrations & Add-Ons
Clear Books offers 18 integrations. While these integrations cover a good selection of software industries, there are only two payment processors available. Clear Books offers an API for developers.
Security
Clear Books uses 256-bit SSL encryption, multiple firewalls, and regular intrusion detection to ensure customers' data is safe. The company uses physical precautions as well, including on-site security and video surveillance. Data is backed up multiple times a day and there is a backup generator in place as an extra precaution. Clear Books uses Amazon Web Services to host their data. For more details, check out the Clear Books website.
Final Verdict
Clear Books offers an impressive number of features. The accounting features are particularly advanced with fixed asset management, depreciation, and a full chart of accounts. The company offers great UK tax support and their customer support options are incredibly thorough. The software is also reasonably priced, especially considering that there are unlimited users available. Their payroll add-on is also affordable.
The user experience could definitely be better, especially as far as navigation is concerned. Features like time tracking are incredibly difficult to navigate and the inventory feature and project management features could be more developed. The limited integrations and lack of mobile apps are also issues that could rule the software out for some businesses. These drawbacks aside, Clear Books is still a strong option for UK users looking for strong accounting and tax support. Take the software for a spin with a free 30-day trial to see if Clear Books is right for your business.
As mentioned earlier, US users are better off with another solution. Our comprehensive accounting reviews can help you find the perfect fit for your business. Check out our accounting software comparison chart to see which programs receive our highest ratings and recommendations.
---
Try A Top Pick For Payroll
ADP Payroll


---
We like ADP Payroll for its advanced employee management, strong payroll features, and great customer support. Get three months free when you sign up through our links! Get Started.
Try A Top Pick For Payroll
ADP Payroll


---
We like ADP Payroll for its advanced employee management, strong payroll features, and great customer support. Get three months free when you sign up through our links! Get Started.
To learn more about how we score our reviews, see our
Accounting Software Rating Criteria
.