Coinbase Commerce Review
Coinbase Commerce is a third-party cryptocurrency exchange service for businesses. It offers the ability to accept multiple cryptocurrencies through the same interface. Read our review to find out more.
Expert Analyst & Reviewer

UPDATED
Advertiser Disclosure: Our unbiased reviews and content are supported in part by
affiliate partnerships
, and we adhere to strict
guidelines
to preserve editorial integrity.
Coinbase Commerce
Pros
Predictable flat-rate pricing
No early termination fees
Easy to set up and use
Free settlements in fiat or crypto
Cons
Limited selection of cryptocurrencies
Poor customer service
High-risk industries prohibited
Limited features
Coinbase Commerce Overview
Coinbase is the biggest U.S. cryptocurrency exchange and the second largest in the world.
As cryptocurrency edges closer to mainstream adoption, small business merchants may want to dabble with accepting crypto as a source of payment for goods and services, whether to control costs, support the technology, or as a way to easily accept international payments. And Coinbase, one of the more recognizable names in cryptocurrency, has now thrown its hat into the payments arena with Coinbase Commerce, a lightweight cryptocurrency payments service.
We'll break it all down for you below in our Coinbase Commerce review.
What Is Coinbase Commerce?
Coinbase Commerce is a third-party cryptocurrency exchange service for businesses. It offers the ability to accept multiple cryptocurrencies through the same interface, while also providing some protection from market volatility.
While cryptocurrency exchanges are ideally peer-to-peer, supporting multiple chains for high-volume transactions can be impractical using wallet-to-wallet transfers. Cryptocurrency gateways like Coinbase Commerce provide some merchant services-like features in exchange for a fee.
Countries Served
Just about anyone, anywhere, can sign up for a self-managed Coinbase Commerce account.
However, if you want Coinbase to manage your account, you might face some geographical limitations. It's also worth mentioning that, even in the case of the self-managed account, you'll generally benefit from linking your Coinbase exchange account, which also has geographical limitations.
Coinbase exchange accounts are available in over 100 countries, though capabilities vary from nation to nation.
For example: in many countries, Coinbase can only be used for cryptocurrency conversions. The full spectrum of services (conversion, buying, and selling) are available in:
Canada
United States
Japan
Andorra
Belgium
Bulgaria
Croatia
Cyprus
Czech Republic
Denmark
Estonia
Finland
France
Germany
Gibraltar
Greece
Guernsey
Hungary
Iceland
Ireland
Isle of Man
Italy
Jersey
Latvia
Liechtenstein
Lithuania
Luxembourg
Malta
Monaco
Norway
Poland
Portugal
Romania
San Marino
Slovakia
Slovenia
Spain
Sweden
Switzerland
United Kingdom
Coinbase Commerce is available in English and Spanish.
Coinbase Commerce Products & Services
Coinbasse Commerce's main function is to make it easy for merchants to accept cryptocurrency payments. It's otherwise a pretty lean service that opts to leave a lot of basic commerce, and even crypto-related features, to other applications.
Let's take a closer look at Coinbase Commerce's features.
Cryptocurrency Payments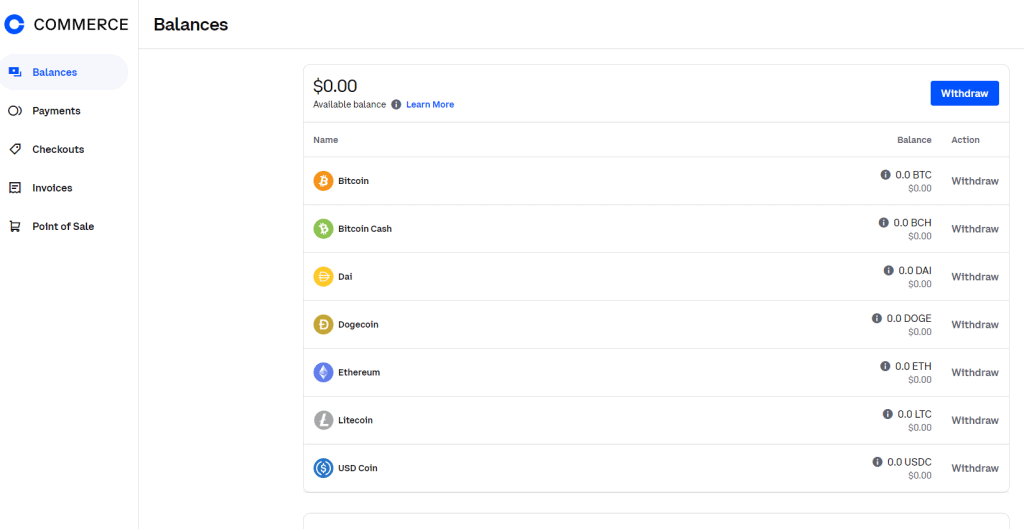 The main function of Coinbase Commerce is to allow businesses to take cryptocurrency payments. It does this by offering a dedicated wallet for your transactions. If you want, you can think of this as something akin to a merchant account, but with less strict use cases. This account comes in two versions: self-managed and Coinbase managed.
With a self-managed account, you'll have full control over your private keys, and be responsible for any conversions you want to do. However, Coinbase does allow self-managed accounts to manually settle payments in fiat (dollars, euros, pounds, etc.) with a free conversion.
In the case of a managed account, Coinbase will automatically handle your settlements but will own your private keys up until you move the cryptocurrency in question to your own, personal wallet. If you settle in fiat, the cryptocurrency won't pass through your hands at all. Note that Coinbase managed accounts don't support as many cryptocurrencies as self-managed accounts.
Also, customers can pay you directly with cryptocurrency stored on the exchange itself, which may be one of the bigger advantages that Coinbase Commerce has over competitors.
Cash can be moved off of the Coinbase exchange with an ACH bank-to-bank transfer.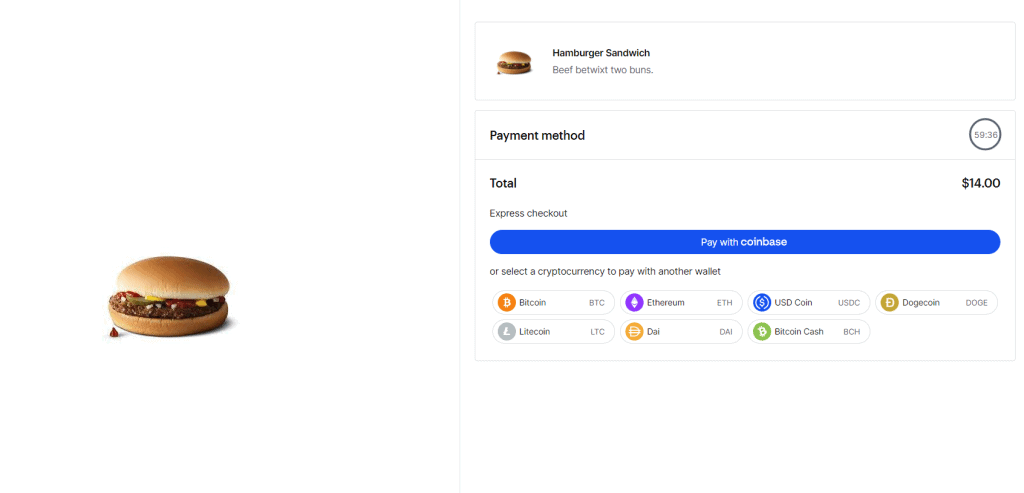 API Integrations
Coinbase Commerce allows you to create custom checkouts for your website using a payments API. Coinbase Commerce offers libraries in Python, Node.js, Ruby, and PHP.
You don't need to be a programmer to get Coinbase Commerce up and running, however. The service also provides embed buttons and hosted checkout support that can be easily copied and pasted into your website.
eCommerce Integrations
Alternatively, you can plug Coinbase Commerce into Shopify or WooCommerce with minimal fuss if you use either of those platforms.
Checkouts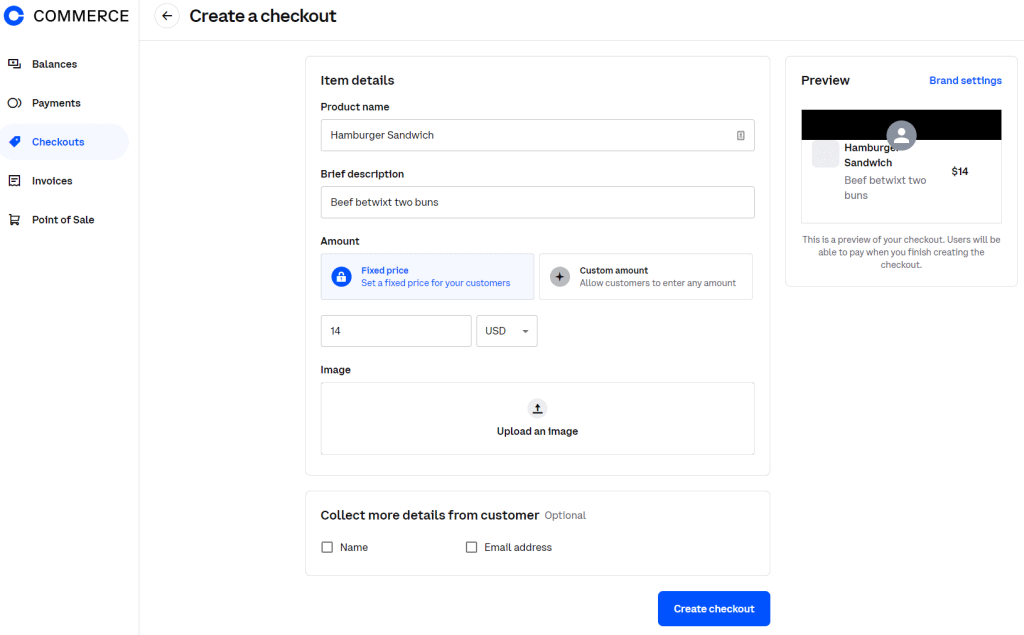 Coinbase Commerce allows you to create and price items for checkout. You're also given the option to request information from the buyer. When you've finished creating the item, Coinbase Commerce will generate a link and some HTML, which can be embedded into your website. Customers that click on the item will be taken to a checkout interface.
Point Of Sale
Coinbase Commerce offers limited point of sale support through what is essentially a virtual terminal. Coinbase Commerce provides a link and a code that can be used to bring up the virtual terminal on hardware capable of running an internet browser.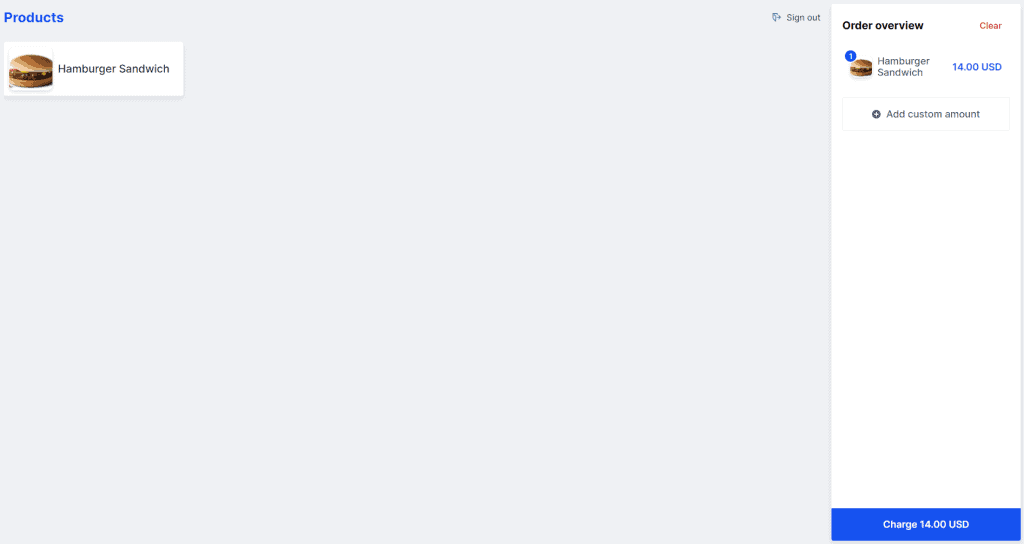 From there, you can select a good or service you've created and conduct the transaction.
You'll then select the currency the customer wishes to pay in. Coinbase Commerce will then generate a QR code that your customer can scan with their crypto wallet to send you the payment.
Invoicing
Merchants can create basic invoices with Coinbase Commerce. The form takes a customer email, name, and a requested amount. You can then send the invoice in an email or through a link, which will take the customer to a checkout page.
Coinbase Commerce will keep track of your invoices and their status. Upon payment, the service will send a receipt to the customer's email address.

Coinbase Commerce Fees & Rates
Coinbase Commerce charges 1% on transactions, regardless of the type of account you have. The fee is deducted in the currency in which you're being paid. Coinbase Commerce does not charge an additional fee for refunds, but will not refund you the initial 1% transaction fee. Note, also, that due to the peer-to-peer nature of cryptocurrency transactions, Coinbase Commerce isn't able to reverse transactions.
Notably, Coinbase does not charge any additional settlement fees, even for fiat. However, the 1% transaction is just Coinbase's cut of the transaction. Network fees still apply for moving currency from one wallet to another. These are generally paid by the person sending the crypto, however, so your customers should be paying the network fee on the initial transaction. On the other hand, you'll have to pay the network fee when you move your crypto to another wallet.
Supported Payment Types & Currency
Compared to many of its competitors, Coinbase Commerce's currency support is limited and focused on older blockchains. If you're mainly interested in Bitcoin or Ethereum, this won't be much of an issue. However, at the time of printing, none of the other coins supported by Coinbase Commerce are in the top 10 cryptocurrencies by market cap, with the exception of the USDC stablecoin. That should factor into your equations.
Self-managed accounts support:
Bitcoin (BTC)
Ethereum (ETH)
Bitcoin Cash (BCH)
DAI
Dogecoin (DOGE)
Litecoin (LTC)
USD Coin (USDC)
Coinbase managed accounts support:
Bitcoin (BTC)
Ethereum (ETH)
USD Coin (USDC)
As we touched on earlier, your ability to cash out in fiat will depend on whether your linked Coinbase exchange account supports selling in that currency. In the case of self-managed accounts, there's nothing stopping you from moving your coins to a different fiat off-ramp if you have one available.
Ease Of Use
Cryptocurrency isn't necessarily known for its ease of use. Coinbase Commerce, however, is almost shockingly easy to set up, particularly if you're happy with a self-managed account. Signing up will look similar to setting up a typical crypto wallet, albeit with the mandatory use of Google Authenticator. Aside from that, the only thing you need to create an account is an email address.
If you want Coinbase to manage your account, you'll need to create a full Coinbase exchange account. This means submitting additional personal information, including your driver's license, to meet state-specific KYC policies.
The application itself is small and simple and shouldn't take the average user long to figure out.
Sales & Advertising Transparency
There's not a whole lot to Coinbase Commerce, so there's not much to conceal. The company's website does a pretty good job of explaining what Coinbase Commerce does and how much it will cost. Ideally, I think customers could benefit from more complete explanations of what it means to own the private keys to your crypto and the pros and cons of having Coinbase handle them for you.
A couple of other things to be aware of that may not be immediately obvious without reading the Terms of Service:
You can't reverse charges with crypto, and there's little recourse should something go wrong.
While you may expect an "anything goes" attitude when it comes to crypto payments, Coinbase Commerce actually has a pretty extensive prohibited industries list. In addition to illegal activities, this includes check cashing, bail bonds, collections agencies, marijuana dispensaries, tobacco products, e-cigarettes, pharmaceutical services, weapons, fireworks, drug paraphernalia, supplements, gambling services, and other high-risk businesses Coinbase believes constitute an elevated financial risk.
Contract Length & Early Termination Fee
Coinbase Commerce is a pay-as-you-go service, so there's no long-term contract or termination fee. If your account isn't being used for transactions, there's no cost to having it just sit there. Coinbase Commerce reserves the right to terminate your account at their discretion, without notice, so make sure you're abiding by your Terms of Service if you want to keep your account in good standing.
Customer Service & Technical Support
| | Availability | Hours |
| --- | --- | --- |
| Phone Support | | 24/7 in the US; 8 AM-9 PM in the UK & Ireland |
| Live Chat | | |
| Email | | |
| Community Forum | | |
| Knowledgebase | | |
| Social Media | | |
Coinbase Commerce offers multiple ways to resolve problems should they arise, though there appears to be an order of operations about how help is offered. Clicking on Help will initially bring you to a knowledge base. If you can't find what you're looking for there, you're given several ways to directly initiate contact. Support options are the same for both types of Coinbase Commerce accounts.
Coinbase, however, has a bit of a customer service quality problem, which we will touch on more in the next section.
Coinbase Commerce Reviews, Complaints, & Common Problems
Negative Coinbase Reviews & Complaints
Coinbase Commerce doesn't have a distinct profile from Coinbase, Inc. on the Better Business Bureau (BBB), though some user-review sites do list it separately.
Coinbase itself is not accredited with the BBB, but carries an alarming F-rating due to a massive number of complaints–3,158 in the last three years–by Coinbase exchange customers. The BBB even has an alert posted on Coinbase's profile warning customers of frequent complaints of locked accounts. I should note here that these complaints are common with centralized cryptocurrency exchanges, including competitors like Binance.
Complaints include:
Locked Accounts: Coinbase reserves the right to close or freeze accounts without notice. Judging by complaints, this isn't an easy situation to resolve.
Security Issues: A number of customers claim their account was "hacked." In some cases, this appears to be a case of customers sending coins to suspicious wallets, but others appear to have just had their crypto sitting on the exchange. Be sure to enable two-factor authentication to add an extra layer of protection.
Poor Customer Support: Coinbase's customer support seems to be a common pain point for customers, but especially for those outside the U.S.
Limited Crypto Options: Specific to Coinbase Commerce, some customers would like to see more chains supported.
Positive Coinbase Reviews & Testimonials
Coinbase Commerce scores 4 out of 5 stars on G2 Crowd, and 4.4 out of 5 stars on GetApp. While some of these user reviews seem to be more about the exchange than Coinbase Commerce, there still are quite a few that address the business application specifically. Coinbase Commerce also has a couple of testimonials on its site.
Positive feedback includes:
Easy To Use & Integrate: Customers generally seem to appreciate how easy it is to get Coinbase Commerce up and running.
Immediate Release Of Payments: When all is going well, there generally isn't much lag time between payment and settlement.
Allows Users To Accept Payments From Anywhere In The World: Crypto is border-agnostic, which means it's just as easy for someone to pay you from across the world as down the street.
Final Verdict On Coinbase Commerce
If the only thing that's kept you from accepting cryptocurrency are your concerns about how complex the process might be, Coinbase Commerce will absolutely put your fears to bed.
It's almost comically easy to set up and can live alongside your existing payment infrastructure without any real fuss. And that's probably a good thing given the state of Coinbase's customer service, which you hopefully won't need to use.
Coinbase Commerce is just the basics and a great first stop for merchants who want to see if cryptocurrency is a viable payment alternative in a time of rising credit card interchange fees. That said, Coinbase Commerce's limitations may quickly become apparent to merchants who want to wade into deeper waters. In particular, the limited and conservative cryptocurrency options may be a sticking point.
We give Coinbase Commerce 4 out of 5 stars for delivering a simple, clever crypto payment solution that just about any merchant could use with minimal risk.
---
We've done in-depth research on each and confidently recommend them.
We've done in-depth research on each and confidently recommend them.