Expert Analyst & Reviewer

UPDATED
Advertiser Disclosure: Our unbiased reviews and content are supported in part by
affiliate partnerships
, and we adhere to strict
guidelines
to preserve editorial integrity.
Constant Contact

Pros
Easy to use
Numerous templates
Numerous features
Free trial available
Cons
Uneven public reputation
High monthly cost
Complicated pricing
Constant Contact Overview
Constant Contact offers an integrated suite of email marketing services in addition to a set of related offerings. Both in the email marketing arena and in its peripheral services, such as design and marketing advisers, the company's goal is to provide a fully encompassing digital marketing solution for small businesses.
It's certainly true that Constant Contact aims to become a one-stop-shop for small businesses looking to break into digital marketing. But how does it compare to other popular email marketing services? Who comes out ahead in, for example, a Mailchimp vs. Constant Contact head-to-head matchup? While Constant Contact delivers, it does so at premium prices. Even the basic Constant Contact pricing exceeds industry averages — and offers fewer features than its competitors. Unless you fall in love with this software's particular implementation of common features, it's difficult to recommend Constant Contact over some of its competitors. For all the details, keep reading here for our full review.

Constant Contact Pricing
Constant Contact pricing includes three plans, each of which is list-based, or based on your number of subscribers. The program tallies subscribers according to the total number of unique email addresses in all lists, so if you have the same contact in three lists, it counts as only one contact. Constant Contact does collect sales tax in nine states; nonprofits can file for tax-exempt status.
You can try out the Email Plus plan for up to 500 contacts as a free 60-day trial, with no credit card required. You can save up to 15% by prepaying six or 12 months in advance. Verified 501(c)(3) nonprofits can prepay and get double the discount at 30%. Successfully referring a friend will net you a $30 credit. The Email and Email Plus plans come with a full refund available within 30 days of signing up.
Keep in mind that Constant Contact frequently tinkers with its pricing model, so pricing may vary. There are additional packages available for franchises and associations, but you'll need to call Constant Contact for the details.
Email Plan: Starts at $20/month
The Email plan includes unlimited email campaigns. The plan starts at $20/month and rises with the number of subscribers you have:
0-500 Subscribers: $20/month
501-2,500 Subscribers: $45/month
2,501-5,000 Subscribers: $65/month
5,001-10,000 Subscribers: $95/month
The Email plan includes these marketing features:
Three users
Customizable templates
Tracking & reporting
Automated email resend to non-openers
Online donations
eCommerce marketing
Logo maker
List building tools
Contact list import
Contact management
Landing pages
Image library
Facebook and Instagram Ads & Insights
Google Ads
Social posting, inbox, & monitoring
Apps & integrations
Sign-up forms
Marketing calendar
List segmentation
Event management & marketing
You can also take advantage of these eCommerce features:
Sell unlimited products (transaction fee of 1.5%)
Digital products & downloads
Accept online payments
Order, inventory, & tax management
Coupons & discounting
Integrated shipping management
Mobile-responsive website with free hosting, unlimited storage, & SSL certificate
Website analytics
Blog
Email Plus
The Email Plus plan includes everything on the Email plan and adds these features:
Up to 10 users
Dynamic content blocks
Automated email welcome and behavioral series
RSVP, survey, & polls
Dynamic content
Costs for the Email Plus plan start at $45/month and vary by subscriber number:
0-500 Subscribers: $45/month
501-2,500 Subscribers: $70/month
2,501-5,000 Subscribers: $95/month
5,001-10,000 Subscribers: $125/month
10,001-15,000 Subscribers: $195/month
15,001-25,000 Subscribers: $225/month
25,001-30,000 Subscribers: $295/month
30,001-35,000 Subscribers: $315/month
35,001-50,000 Subscribers: $335/month
50,001+ Subscribers: Custom pricing
Pro
If you want more from your email marketing software, look into Constant Contact's Pro plan. The price for the pro plan starts at $195/month and rises based on the number of contacts. With the Pro plan, you gain access to:
A.I.-driven marketing and campaign optimization
Predictive analytics
Multichannel integrations
eCommerce integration with Shopify, BigCommerce, & Magento
Smart segments & subject lines
Subscription preferences
Dynamic incentives
Best sending intervals and time of day to send per recipient
Pathbuilder drag-and-drop workflow editor
Facebook Custom Audiences
eCommerce analytics & reporting
Marketplace listing manager for eBay, Etsy, Shopify, & BigCommerce
Multi-channel inventory sync
Subject line A/B testing, Advanced eCommerce marketing
Customizable pop-up forms
Multi-user functionality with varied roles & permissions
Extra Costs & Services
Constant Contact offers an array of extras, should you be interested in paying for them. Here are some of the top offerings:
Professional Services: In addition to an extensive knowledgebase and library of tools, such as webinars, seminars, training, and a supportive user community, Constant Contact offers ancillary services for a fee. That includes professional marketing services with a dedicated marketing manager, consultative design services, and animated template packs.
Plan Overages: If you exceed the monthly limit on your plan, you will automatically be upgraded to the appropriate plan the following month. If you are on a prepaid plan, this will automatically renew as a monthly plan once you reach the end of the prepaid term, unless you cancel or pay for another prepaid plan.
Image Hosting: The Email plan includes 1GB of online image storage; the Email Plus plan includes 2GB of online image storage. You can use your own images of access stock photos via Bigstock, available for free and for purchase.
Website Builder: The price for using Constant Contact's website builder starts at $10/month for the do-it-yourself version. The cost of a professionally designed Constant Contact website with an online store starts at $249.
Cloud-Based Or Locally-Installed
Constant Contact is cloud-based, with no downloads or installation required.
Hardware & Software Requirements
Proper functioning of Constant Contact email marketing services requires Windows XP or higher and/or Mac 10.4 or higher. The program supports Google Chrome, Safari, Mozilla Firefox, and Constant Contact's third-generation editor now supports Microsoft Edge (version 15 or higher).
Constant Contact may work with an older version of a supported browser, but you may lose some functionality. So make sure that whatever browser you use that you're running the latest update. The company offers a free app for iOS and Android.
Specific Size Of Business
This software is built for and best suited to small businesses, although the Email Plus and Pro plans could meet the email marketing needs of larger organizations. You can now set roles and associated permissions for individual account users. This improves Constant Contact's functionality for businesses with multiple employees.
Ease Of Use
On the whole, the software is simple and intuitive. Plenty of help is available, and with straightforward headings, you won't get lost. You can access a what-you-see-is-what-you-get (WYSIWYG) editor with 240+ custom-designed, mobile-responsive email templates, a simple image editor, and easy access to a CSS style sheet. You can also edit the HTML code for any text block, image, or other elements in your email. If you want more control over the look of your message, you can code templates from scratch using HTML or XHTML.
Constant Contact's WYSIWYG editor is above par. High points include the ability to wrap text around an image and easy spell checking (including the subject line, an element that's often overlooked). With a drag-and-drop interface and a built-in image editor, the program makes it easy to create a professional-looking email quickly. The vast majority of the templates are mobile-friendly; you actually have to dig to find ones that aren't. But while you'll get to see a thumbnail of your campaign before you send it, you cannot preview how your campaign will look on different devices.
Creating a contact list is straightforward and easier than in many ESPs. Setting up multiple lists is easy and intuitive; you can quickly copy contacts from one list to another and set up as many lists as you like. Once your contact lists are in order, sending an email campaign is as easy as the click of a button. You can either send the campaign immediately or specify a time and date you would like it to go out.
Constant Contact Features
Constant Contact offers a variety of standard features as well as a few additional frills through its Plus Campaigns:
Dashboard: Most users will find Constant Contact easy to use, starting with a clean and intuitive dashboard.

Email Campaigns: Includes a WYSIWYG drag-and-drop editor. Users can select from preset templates or code their own. The interface includes support for simple photo editing. Users also have access to hundreds of stock images that they may use and alter free of charge. In a recent update, Constant Contact redesigned its editor to allow for mobile responsive messages and generally a more positive experience creating great emails.
Creating & Customizing Emails: You'll have access to more than 240 custom-designed, mobile-responsive email templates and about 16 email newsletter templates.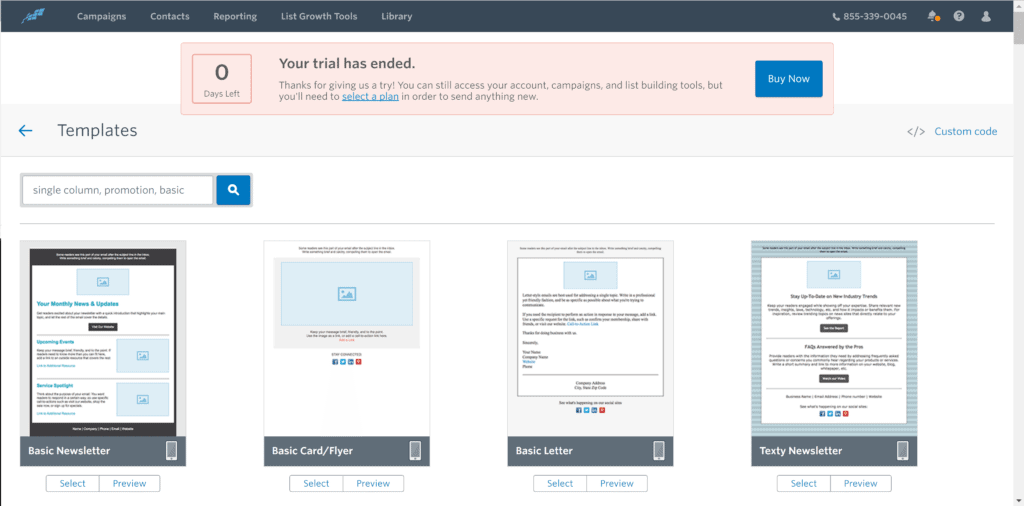 Landing Pages: You can create landing pages for your sign-up forms through your account, embed a form on your page, or have one pop up on your site.
Customer Tracking: You'll be able to view the basics: opens, clicks, spam reports, unsubscribes, and bounces. You also can view both total and unique opens, as well as a list of individual subscribers who opened your email or clicked on a link. You'll be able to watch your campaign's performance over time. You can identify and group like contacts, enabling you to create more targeted lists and send more relevant emails.
Email Segmentation: You can segment your lists (for instance, by past purchases, interests, or location) to direct tailored content to each segment.
Split Testing: Select up to five emails and see which gets the most opens or clicks.
Reporting & Analytics: All users have access to basic reports, including raw and percentage data for opens, clicks, spam reports, unsubscribes, and bounces. Additionally, you can see contact growth by source, which is handy if you want to see where new subscribers are coming from. Finally, you can select an industry and compare your stats against the industry average. One peculiar quirk: real-time reporting is not the default option. You'll need to enable it before sending your campaign. The information is easy to read, and it's available as raw numbers or in bar graph format. Reports can also be downloaded as .csv files. On the whole, I found the reports helpful but basic. While its Google Analytics integration is useful, the program lacks the onboard functionality of some of its peers.
Autoresponses: Autoresponders allow users to engage with their subscribers one-on-one by sending automated new subscriber emails, birthday messages, purchase follow-ups, and more. Available with the Plus plan.
Custom Forms: There's an intuitive editor that makes it relatively simple to create and customize dynamic sign-up forms that include pop-ups, fly-outs, floating tabs, and more.
Online Surveys: You can open the Online Survey tab from your Constant Contact dashboard.
Multiple Languages: Constant Contact supports these languages, in addition to English: Danish, Dutch, French, German, Italian, Norwegian, Portuguese, Castilian Spanish, Latin American Spanish, and Swedish.
List Growth Tools: Web and social media signup forms enable you to grow your list through legitimate, opt-in means. You can also create a scan-to-join QR code to add to printed materials (such as fliers) or use the Text-to-Join feature, so people can join your list with a single text.
Constant Contact Customer Service & Support
Tutorials and pop-ups should make your first experience with Constant Contact a breeze. My initial phone interaction with the company was terrific. I didn't have to wait on hold, the support rep gave me exactly the information I needed, and she stayed on the line long enough to verify that everything was working correctly on my end. I got the feeling that she would have patiently walked me through even the simplest of processes step-by-step if needed. Online chat support representatives were prompt and helpful.
Constant Contact offers the following support resources:
Phone: Constant Contact can be reached by phone. Hours are Monday-Thursday 8 AM-10 PM EST, Friday 8 AM-9 PM EST, and Saturday 10 AM-8 PM EST. Support is available in nine specific countries, and there is a general "International" option.
Email: You can contact the company via email.
Live Chat: Available Monday-Friday 7 AM-9 PM EST.
Knowledgebase: Constant Contact's knowledgebase consists of an extensive FAQ. Questions are arranged by topic; you can browse or enter a relevant term into the search bar. There are loads of available articles.
Social Media: Constant Contact is quite active on Facebook; users will often get a response in under an hour, though in many cases, that response will simply be a direction to email customer service. The company generally posts to Twitter five to seven times a day, with links to blog articles, videos, and small business tips.
Webinars: Constant Contact offers a variety of live and pre-recorded webinars on topics such as "Getting Started with Social Campaigns" and "Online Surveys That Work." Most are free, but some carry a $49 charge. Live webinars are generally offered Monday-Thursday, with multiple webinars available most days.
Blog: The company blog supplies an abundance of articles with industry news and tips for email marketing.
Community Forums: The community forums provide a place for Constant Contact users to compare campaigns, discuss marketing, and share thoughts on Constant Contact.
Constant Contact Reviews
Negative Reviews & Complaints
As one of the more well-known ESPs, Constant Contact has its detractors as well as supporters. It has received 38 complaints with the BBB over the past three years. Nearly all of the 19 user reviews posted on the BBB site are negative, and there are over 260 reports filed on RipOffReport.
Here are some of the most common complaints:
Pushy Sales Tactics: This is one of the most common complaints. Sales reps from Constant Contact can be a tad on the aggressive side.
Lacking Functions: The complaints here are varied: not enough reports, not enough options, not enough tools, poor integrations with popular programs. Also, some say slow development is a problem.
Email Editor: Some complain that the editor is cumbersome and that it's too easy to miss a "save" command and lose work as a result. Other problems include difficulties with editing HTML, emails that show up differently in inboxes than they did in the preview, templates that are too hard to work with, and not enough template selection or dissatisfaction with the look of the available templates.
Unfair Charges: Like any other ESP, Constant Contact needs to watch out for spammers. If your account shows warning signs, the company can freeze it and conduct a compliance review. Note: this doesn't terminate your account.
Positive Reviews & Testimonials
Constant Contact has many happy users, particularly in its target demographic of people new to the email marketing scene. The company gets an A+ from the BBB and 3.9/5 stars based on 4,398 reviews at G2 Crowd. At the app stores, Constant Contact has an average of 4.7/5 stars with 6,300 ratings at the Apple Store and 3.2/5 stars with 560 ratings on the Google Play app store.
Here are the most common accolades for the software:
Ease Of Use: This is Constant Contact's biggest selling point, and it gets a lot of praise in this area. Many users who consider themselves technologically challenged praise the interface for being relatively intuitive and easy to understand.
Full Suite Of Services: Users like the variety of social media and survey tools accessible through Plus campaigns.
Templates: There are tons of templates now, and the ability to edit the HTML of individual elements gives users quite a bit of control over the look of their campaigns.
Constant Contact Integrations & Add-Ons
Constant Contact offers more than 530 apps and integrations; the company also provides APIs for developers. The apps are listed by category in a searchable marketplace, with categories including accounting, analytics, appointments and scheduling, blogging and contact management, CRM, contact growth and lead generation, eCommerce, event management, loyalty, POS, web design, social media, and more. Many of the apps are free to download, including Saleforce, Zapier, and Cyfe.
Because of the integral connection between social media and email marketing, it is important to consider Constant Contact's social media-specific aspects. You can add top-rated apps like Constant Contact for Facebook, LIFT FanCONNECT, Interact, ShortStack, and QWIQQ for free. The Constant Contact Facebook app helps users grow their permission-based email marketing lists via a simple signup function on their company Facebook pages. You can also use Simple Share to post emails to all your social media sites with one quick click.
Security
Constant Contact is privy to the private information of millions of people, and the company takes security very seriously. Constant Contact uses SSL encryption to protect the personal and credit card information of its subscribers and complies with Payment Card Industry (PCI) security standards and the Sarbanes-Oxley Act.
Constant Contact's approach to security is what the company labels "defense in depth": multiple and distinct firewalls, vulnerability assessments, software quality-assurance practices, and network-based intrusion detection. A team from around the world monitors the servers 24/7/365. Constant Contact servers are in secured spaces that are not shared with any third parties, where access is regularly reviewed and security guards perform random checks to ensure physical security controls remain in place.
While the company specifies that it will not sell or rent your information without your consent, it does reserve the right to use your personal information for marketing purposes and to share that information with "carefully-selected third parties" for "co-marketing activities." You can opt out of receiving such communications by emailing the support team.
Constant Contact also has a robust anti-spam policy and protective measures. The customer service center actively monitors accounts with the express purpose of finding spammers and stopping them from using the company's servers. Constant Contact agents will not hesitate to suspend accounts or deny mailings if they suspect spam. The company's terms of use require that no mailing list can include role-based addresses (such as [email protected]), and several spam-prone industries are prohibited from the service entirely (for instance, sellers of body-building supplements).
Final Verdict
I've generally been lukewarm on Constant Contact in the past. That said, the company has been making adjustments to the program and pricing tiers that make it worth another look. Constant Contact is still a tad on the pricey side compared to other simple, streamlined ESPs, but the functionality of the Email plan isn't bad by any means.
The program is good at what it does, and the company has done a fabulous job of making email marketing feel approachable for those who are new to the industry. Unfortunately, it still doesn't offer much room to grow beyond some fairly intermediate features.
If you are looking for an easy-to-use email marketing program with a lot of support for that once-per-month newsletter or if you need all the features of Plus Campaigns and no more — Constant Contact might be a good fit for you. Otherwise, you will quickly outgrow the program.

---
The Merchant Maverick Seal of Approval 🏆
Constant Contact


---
After hours of in-depth research and evaluation, we can confidently recommend this brand to our readers. Get started today and see Constant Contact for yourself.
The Merchant Maverick Seal of Approval 🏆
Constant Contact


---
After hours of in-depth research and evaluation, we can confidently recommend this brand to our readers. Get started today and see Constant Contact for yourself.
To learn more about how we score our reviews, see our
Email Marketing Software Rating Criteria
.