Contributor

UPDATED
Advertiser Disclosure: Our unbiased reviews and content are supported in part by
affiliate partnerships
, and we adhere to strict
guidelines
to preserve editorial integrity.
Pros
Excellent customer support
Impressive feature set
Competitive monthly cost
Cons
Unreliable uptime
Moderate learning curve
CoreCommerce Overview
CoreCommerce came about in 2008 when CEO Matt DeLong turned his eCommerce software digiSHOP PRO into a full-fledged SaaS solution.
CoreCommerce is now offered as a web-hosted, subscription-based platform. Merchants pay monthly for access to a broad set of features, pre-made themes, and an admin from which they manage it all.
To date, CoreCommerce has hosted over 13,000 business in 70 different countries. Their diverse user community is due in large part to the multilingual and multi-currency features that are included in every storefront and admin panel.
CoreCommerce comes with an impressive feature set and an excellent customer support team; however, they could use a bit of work in the ease-of-use department. It may take a little while to fully get the hang of CoreCommerce.
Keep reading to learn more about CoreCommerce's pricing, features, and customer service.
Pricing
CoreCommerce recently restructured their pricing plans so that all customers (besides those on the lowest-level "Personal" and "Pioneer" plans) have access to all features in addition to unlimited products, bandwidth, and storage. Pricing is instead determined by a merchant's annual gross sales.
(You should note that bandwidth and storage are unlimited "within reason." If you exceed 800GB of bandwidth or 100GB of storage per month, you'll be charged a small fee. More information on CoreCommerce's pricing page)
Take a look at CoreCommerce's pricing plans below:
Personal: $19/month
For Merchants Selling Under $24,000 Annually
1GB Storage
2GB Bandwidth
3 Products
2 Email Accounts
Pioneer: $45/month
For Merchants Selling Under $60,000 Annually
Unlimited Storage
Unlimited Bandwidth
300 Products
Unlimited Email Accounts
Progressive: $79/month
For Merchants Selling Under $240,000 Annually
Unlimited Storage
Unlimited Bandwidth
Unlimited Products
Unlimited Email Accounts
25% Custom SSL Installation Discount
Pro: $160/month
For Merchants Selling Under $400,000 Annually
Unlimited Storage
Unlimited Bandwidth
Unlimited Products
Unlimited Email Accounts
50% Custom SSL Installation Discount
Premier: $225/month
For Merchants Selling Under $1,600,000 Annually
Unlimited Storage
Unlimited Bandwidth
Unlimited Products
Unlimited Email Accounts
30 Minutes Free Custom Programming Per Month
50% Custom SSL Installation Discount
Enterprise: $600/month
For Merchants Selling Over $1,600,000 Annually
Unlimited Storage
Unlimited Bandwidth
Unlimited Products
Unlimited Email Accounts
90 Minutes Free Custom Programming Per Month
Free Custom SSL Installation
If you commit for a full year, you can benefit from a 10% discount on your monthly payments. But please, don't commit to CoreCommerce, or any other eCommerce platform, for a full year before you've spent at least a few months getting established. And don't pay for even one month until you've tried out the platform. CoreCommerce makes it easy to demo their product by offering a Free 15-Day Trial, no credit card required.
Nonprofits get a discount on all plans above the Personal plan. Here's a chart of those discounts by plan:

Cloud-Based or Locally-Installed
Cloud-based. CoreCommerce outsources their web-hosting to Rackspace.
Specific Size of Business
CoreCommerce has payment plans that are right for small and large businesses alike.
Hardware & Operating System Requirements
Because CoreCommerce is web-based, you only need the computer and internet connection that you're currently using to read this review. It's always good to keep up with the latest web browsers as well.
Ease of Use
CoreCommerce offers a Free 15-Day Trial, so you can try out the platform for yourself. You just need to input your name, email address, and phone number, and you'll be directed to CoreCommerce's setup wizard.
The setup wizard takes you through a few basic steps, which makes it easy to get started adding products and choosing the look and feel of your site.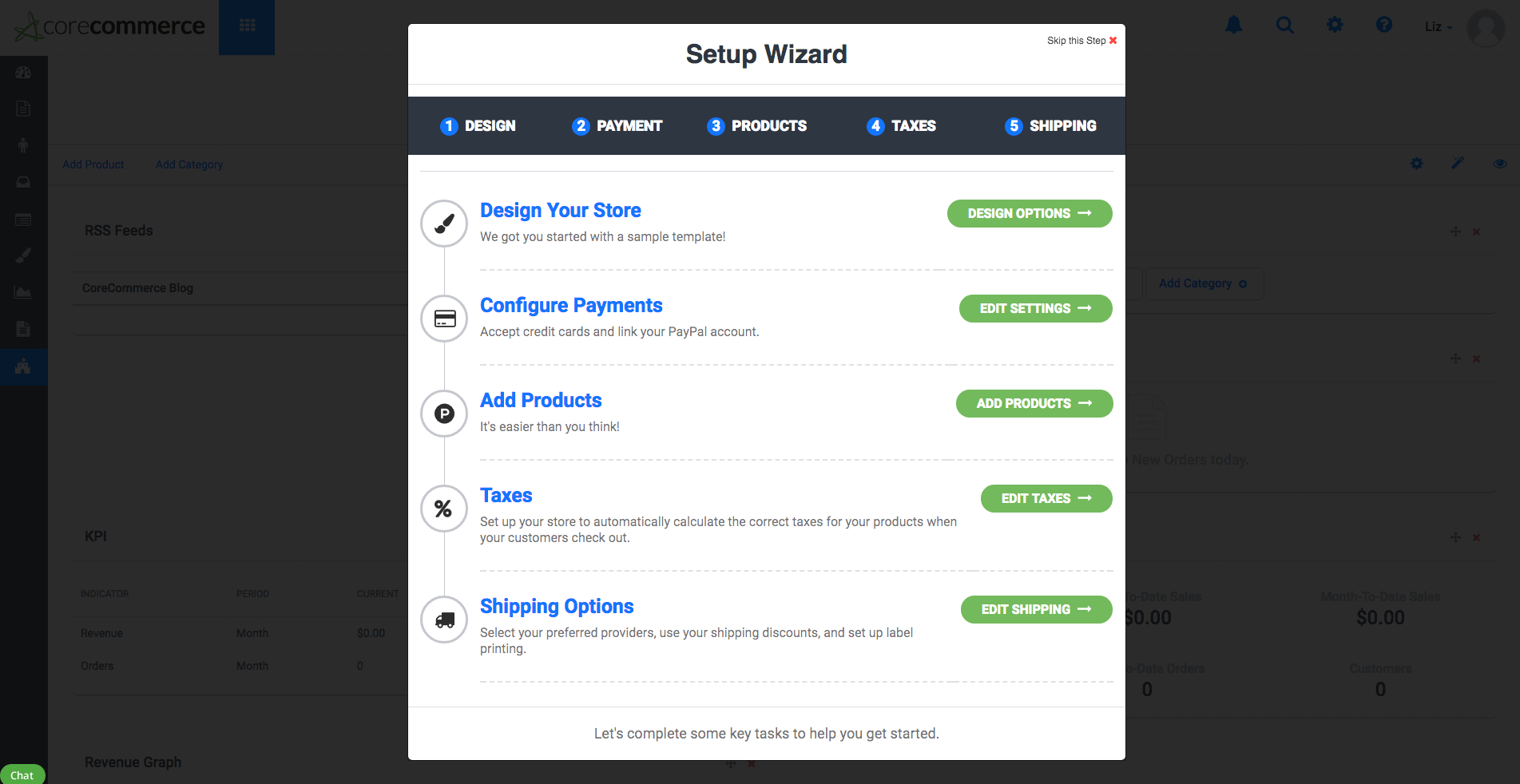 You'll then be able to access your dashboard. In the past year, CoreCommerce has radically revamped their admin panel. We think the change is for the better. While CoreCommerce is still not the simplest eCommerce solution, organization and navigation are much improved.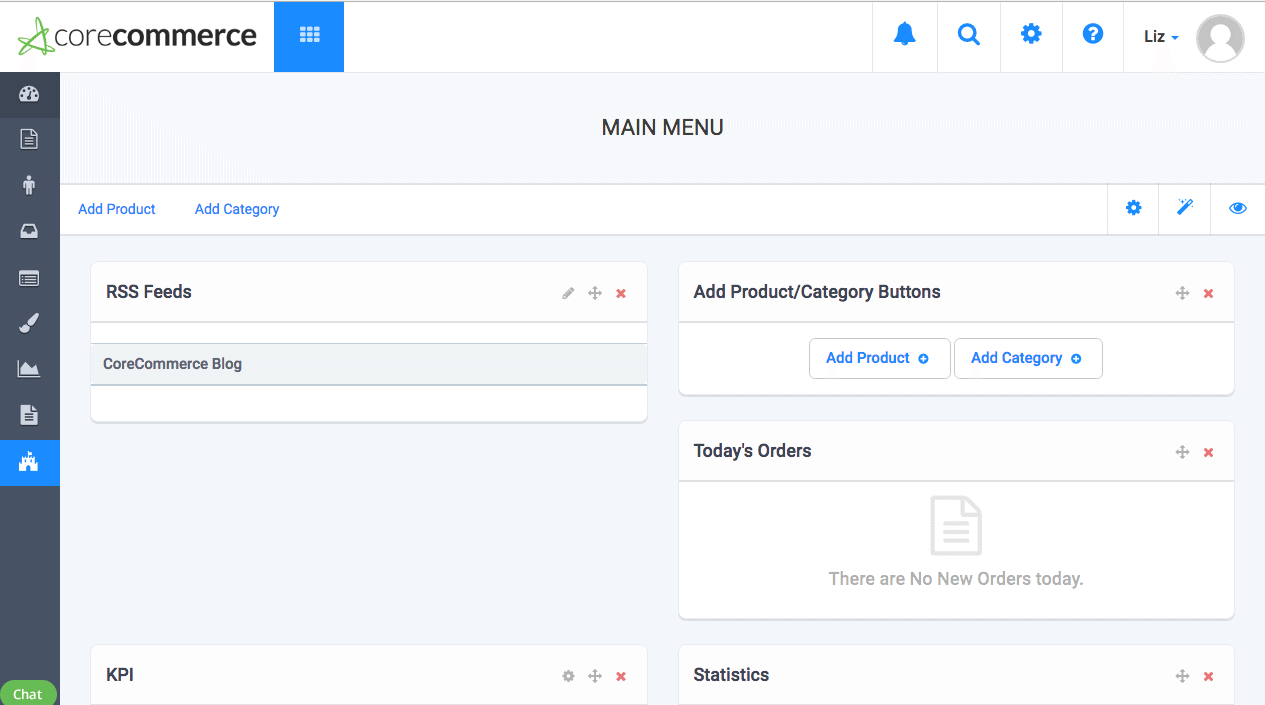 I tried out CoreCommerce's new admin by first adding a product. I was pleased to find that the add-a-product page is well organized and easy to understand. There are small questions marks scattered across the page that provide additional information if you don't immediately understand a field.
You can enter all of the product's basic information at the top of the page.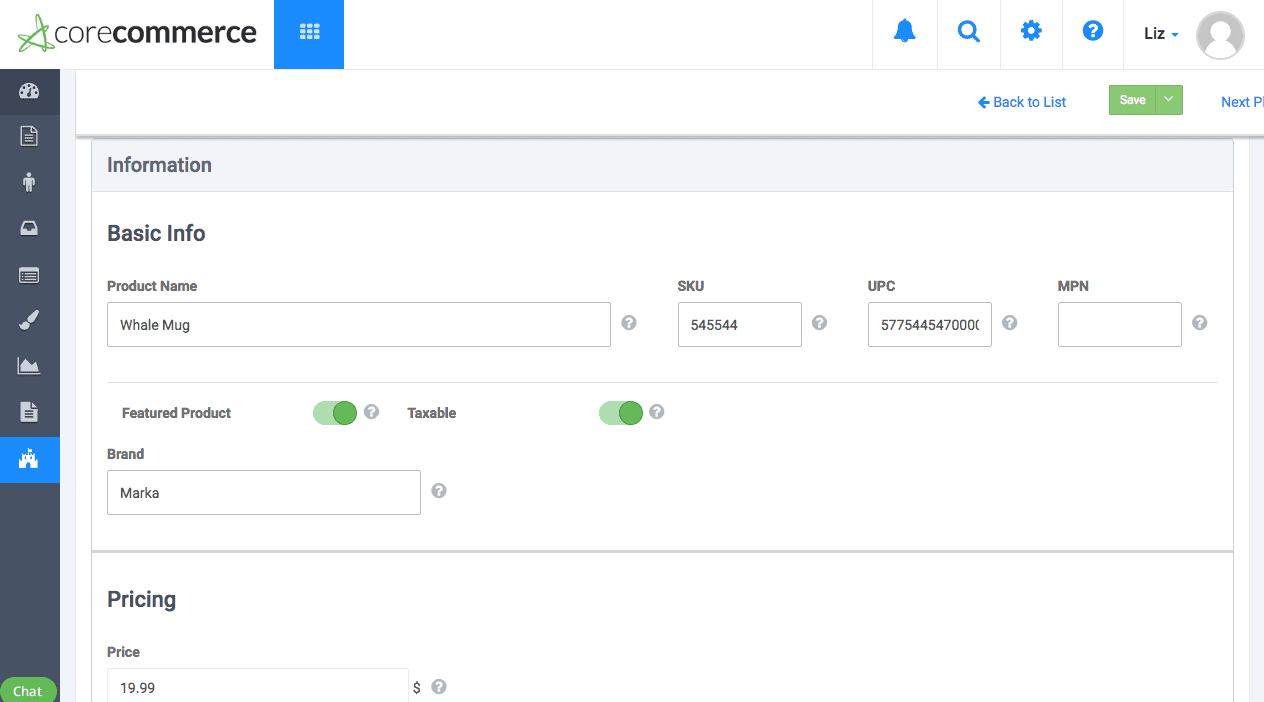 You can then enter additional information by clicking to expand the categories at the bottom of the page.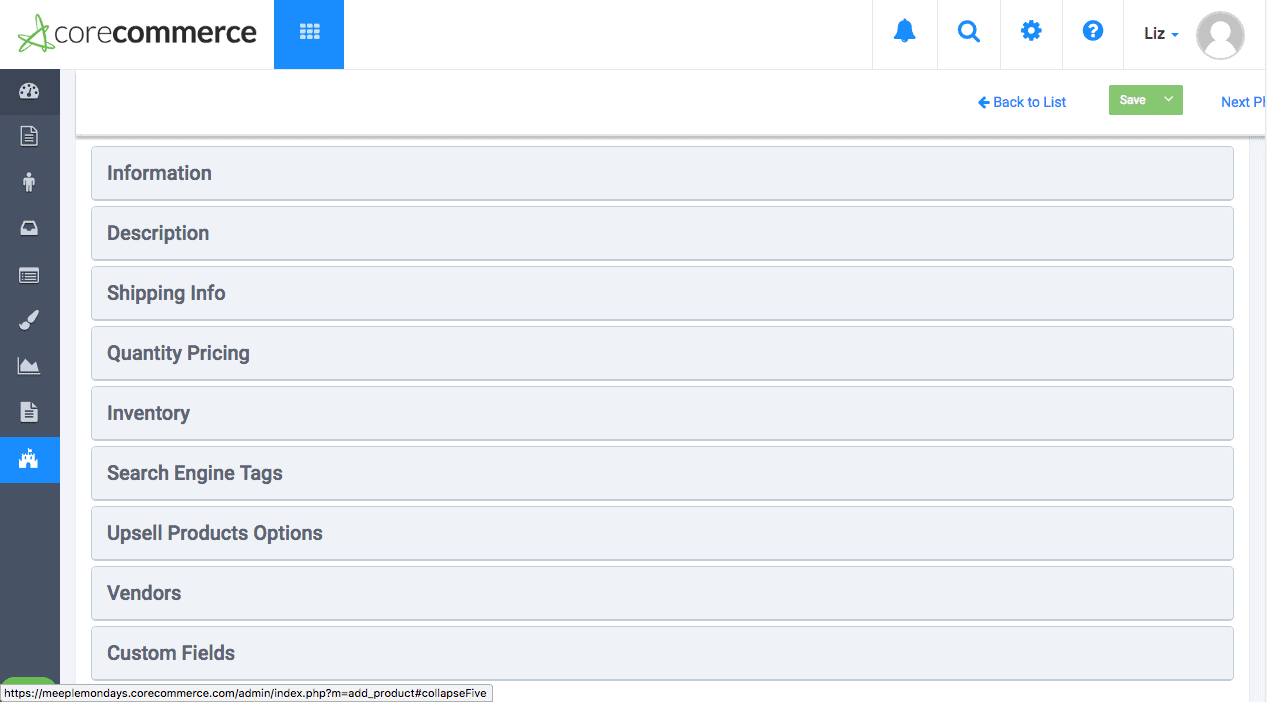 Once you save your new product, it's possible to add product images, variants, and other advanced features. I'm not a huge fan of the way CoreCommerce organizes advanced product features. I felt like I had to do too much clicking in order to open and enter all my information.
I also tried creating a discount in my admin panel. I was pleased to find that CoreCommerce lets you create hyper-specific discounts. You can choose from a variety of discount types (see screenshot below), and you can set your discounts to apply to specific products and categories. In addition, you can limit your discounts to certain dates or spending limits.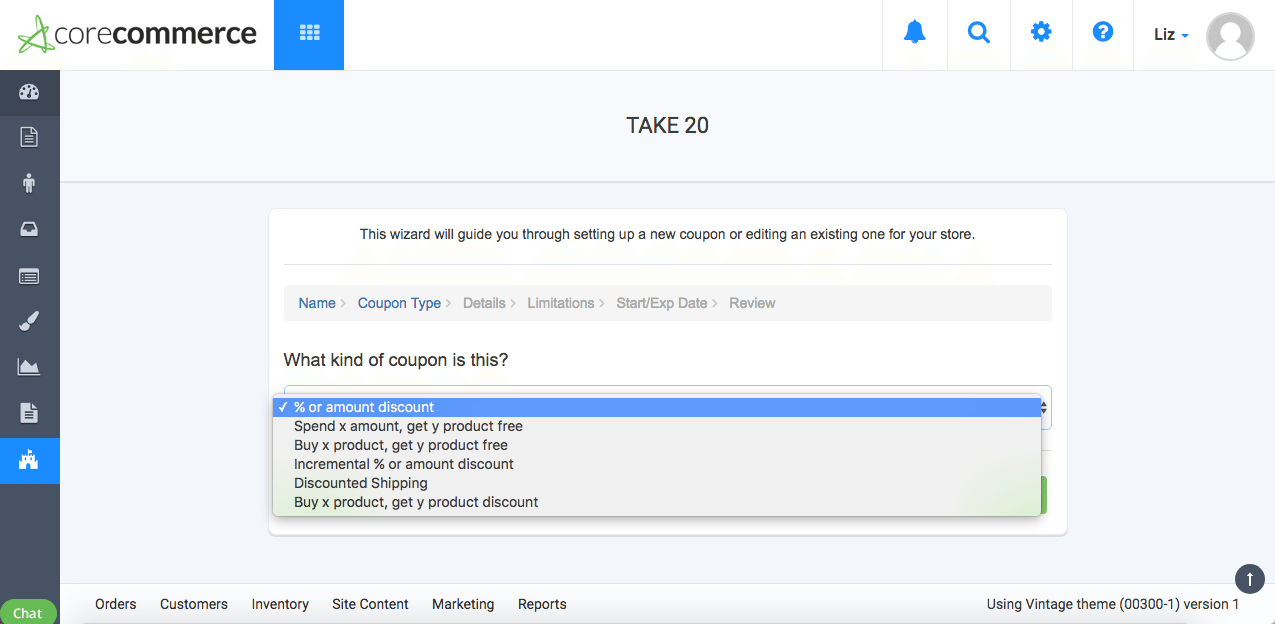 I took a look at CoreCommerce's design editors as well. Head to the Web Design section of this review for more information.
As a whole, I'd say that the CoreCommerce backend is much better than it has been in the past, but still needs a bit more work to be totally streamlined.
Features
CoreCommerce comes with a robust feature set out of the box. You can view the full list of features by providing CoreCommerce with your name and email address. Yes, it's annoying to give out your information. Fortunately, I didn't receive buckets of spam from them afterward.
Or, you can take a look at my shorter (and definitely incomplete) list of features below.
Product Features
International selling capabilities: CoreCommerce sites include multilingual support as well as multiple currency support (which updates hourly to match real-time exchange rates).
Unlimited product images: But don't forget that images use up bandwidth and storage (both of which are limited).
Custom fields: Let customers enter in their specifications for custom products.
Organize your products: List unlimited categories, subcategories, variations, and combinations.
Hide prices: You have the option to hide prices on product pages in case of special pricing.
Customer comments and reviews: Increase customer confidence in your products and brand with comments.
Social media sharing: Let customers post your products to their social media sites.
Customer Browsing
Navigation breadcrumb trail: Leave a breadcrumb trail (Clothing>Women's>Tops) at the top of your pages so customers can more easily navigate back and forth.
Recently viewed products feed: Show your shoppers what others are looking at.
Wishlists and gift registry: Let customers make note of what they'd like from your shop in the future.
Product Management
Bulk import/export: Use .csv files to easily migrate, update, and upload products.
Sell digital products: You can even list samples of those digital files on your product pages. Place limits on a number of files that can be downloaded, and set your products to expire after a certain number of days, a select date, or a number of clicks.
Sell bundles: Group products together and sell them as one kit.
Inventory management: Track your inventory by product or variation.
Checkout
One page checkout: Reduce friction and increase conversion.
Account or guest: Give your customers the option to checkout without creating an account.
Persistent shopping cart: Your customers can return to their cart later or from a different device.
Tax and shipping estimates: Real-time estimates are available at checkout.
Gift options: Let customers choose to include gift messaging and wrapping.
Marketing
Promotions: Create discounts and coupons and market them on your site.
Free shipping: Choose to offer free shipping to increase conversions.
Abandoned cart saver: Automatically send emails to customers who leave items in their carts.
Upsell and cross-sell: List related products alongside your customers' shopping cart.
Social login: Let customers access their accounts via their logins for Facebook or Twitter.
Rewards: Build customer loyalty.
SEO
All the basics:

URL rewrites.
Autogenerated Google sitemap.
Permalinks.
Canonical URLs.
Write meta information.
Order Management
Edit orders from admin: Make changes to existing orders or create new orders on behalf of a customer.
Less paperwork: Create, print, and customize invoices, packing slips, and labels.
Split fulfillment: Fulfill one order with multiple shipments.
Taxes: Set taxes according to country, region, state or zip code, or integrate with salestax.com.
Analytics
View reports in your dashboard: These reports include sales, tax, best products, inventory, coupon, abandoned cart, and more.
Integrate with Google Analytics: Get it for free.
Web Design
CoreCommerce comes with eighteen free, mobile responsive themes. Mobile responsive design is an absolute necessity for a successful eCommerce site; I strongly recommend you choose exclusively from those eighteen.
All of these themes are more or less on par with industry standards in terms of design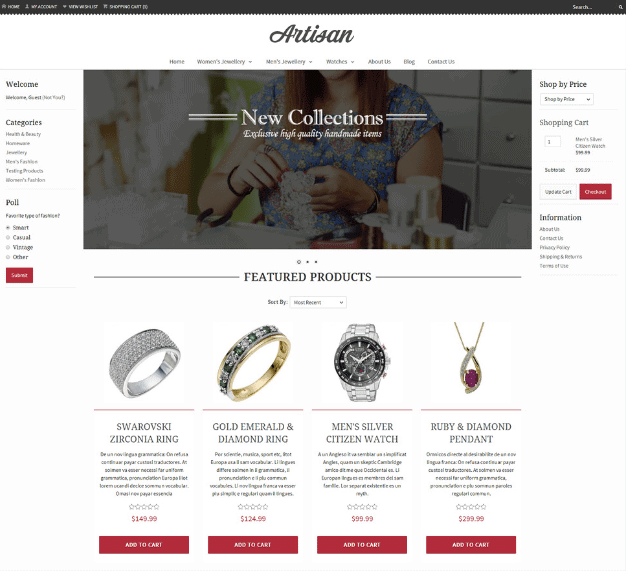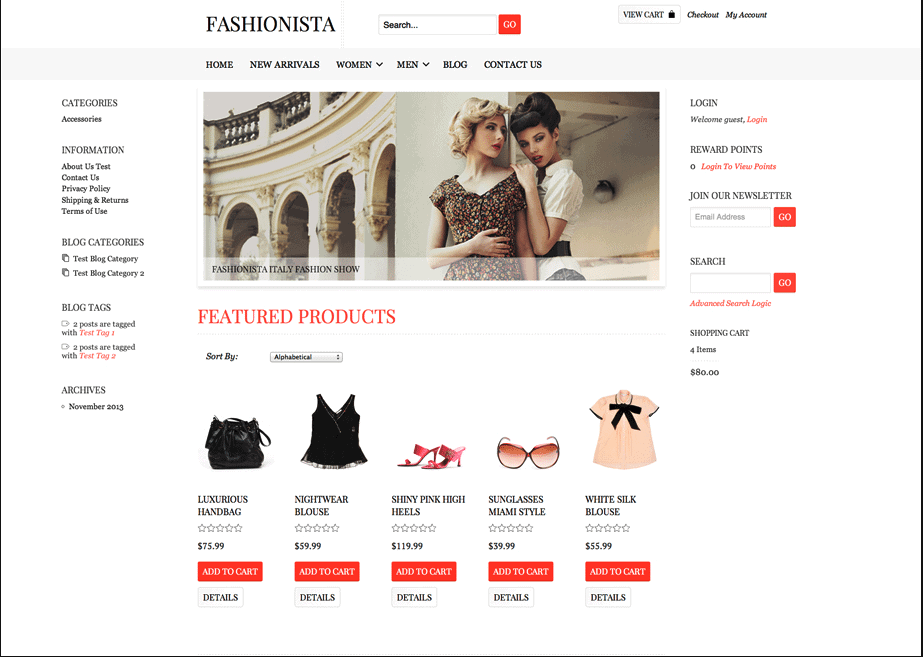 CoreCommerce offers WYSIWYG editors which allow you to choose your theme, add a logo, and edit your site's navigation. You can also change colors, fonts, or banners in the admin.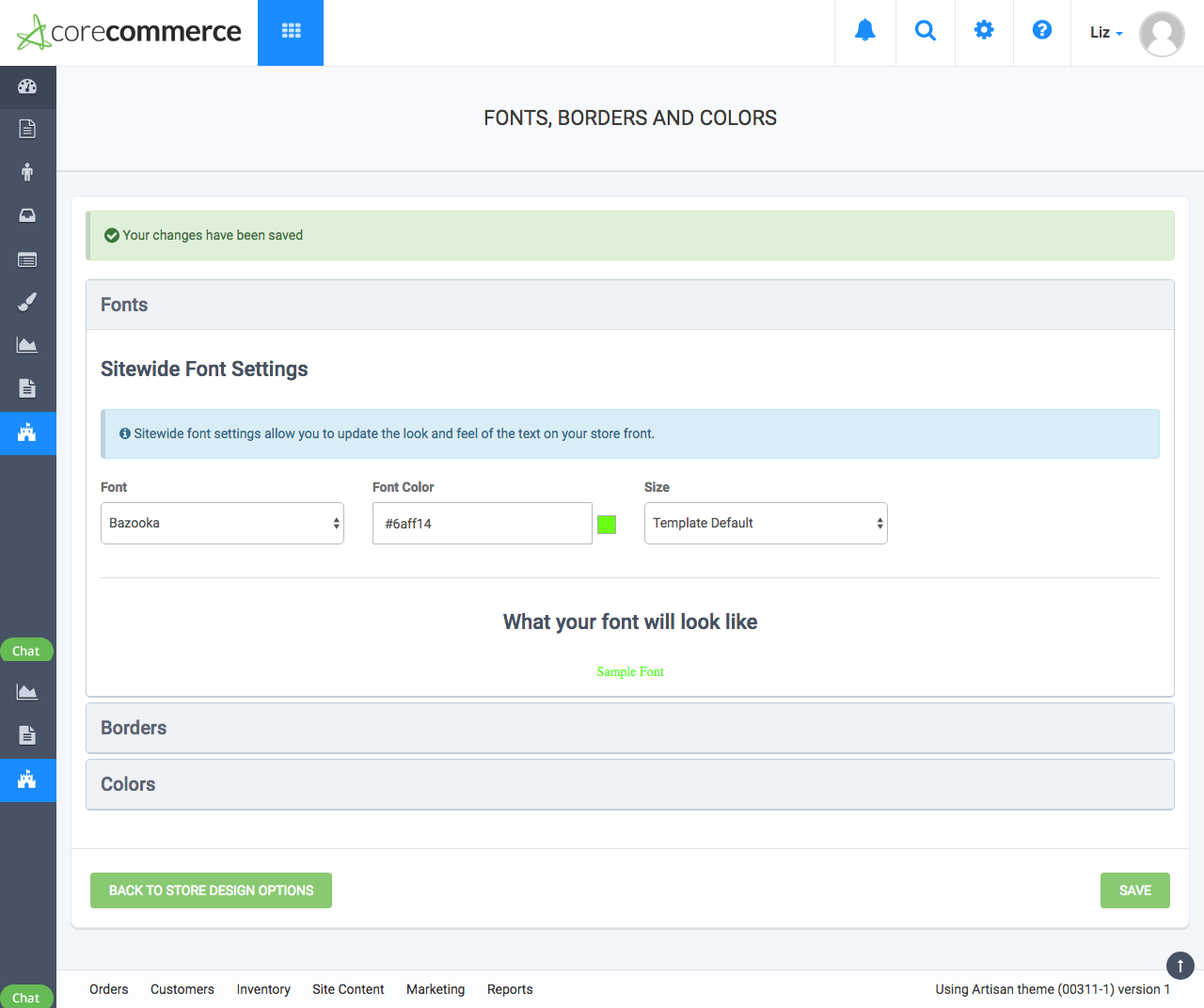 I ran into a small problem when I tested this editor. I had to click "Save" on my changes twice before they'd stick around. I'm not exactly sure what went wrong there, but I was eventually able to save and view my color changes.
You can also use a drag-and-drop editor to rearrange different elements of your site.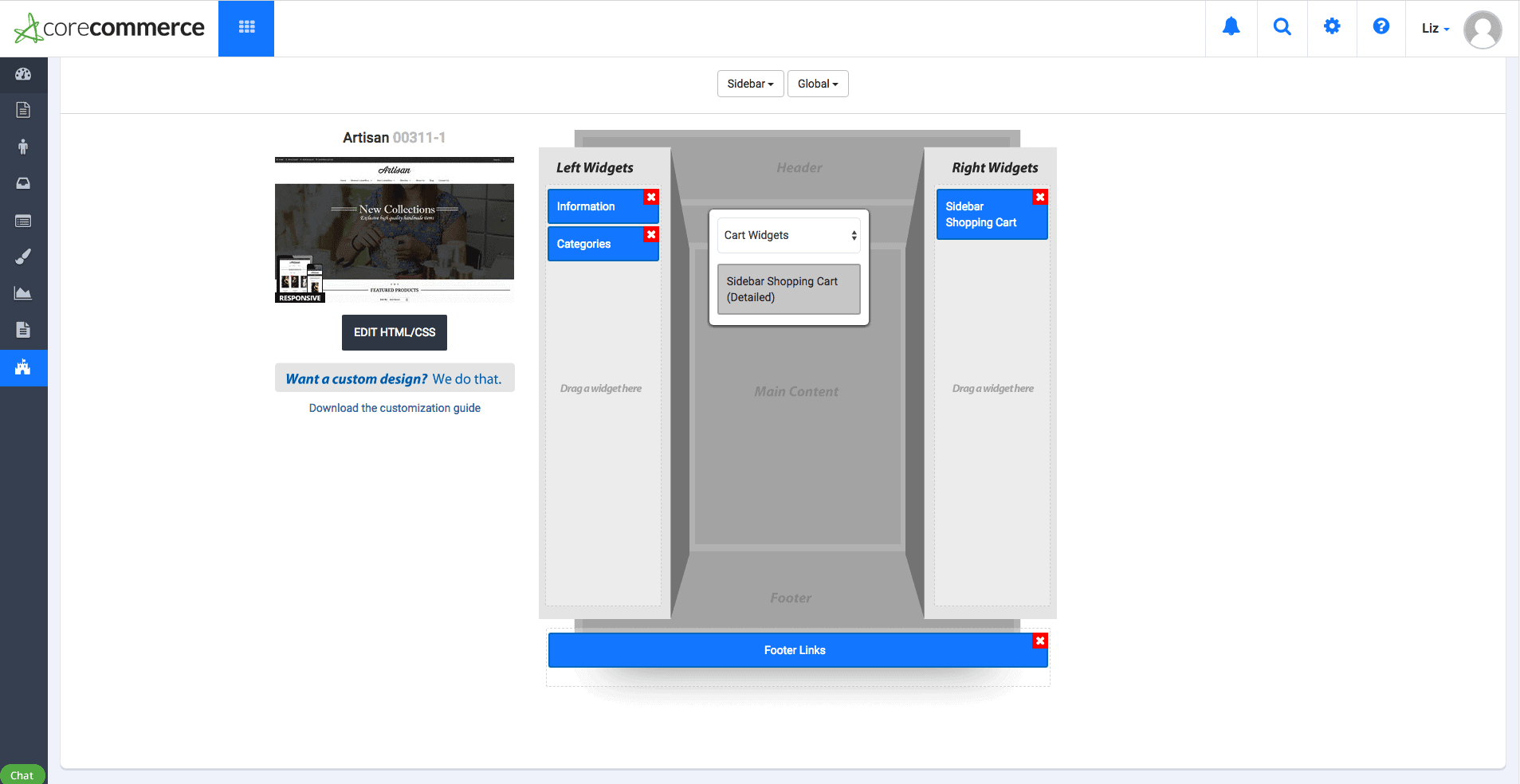 If you have the web skills necessary, you should be able to make more major changes to your site using the HTML/CSS editors.
On the bright side, updating the content on your pages is a bit easier. I was able to change my "About Us" page without any hassles.
Integrations & Add-Ons
You can find CoreCommerce's full list of integrations on that features list that I mentioned earlier. Enter your information to download it. Or you can view CoreCommerce's list on their website. My own abbreviated list of the big name integrations is below:
Marketing
MailChimp
Emma
ConstantContact
Facebook, Twitter, Google+
Channel Manager
Shipping and Fulfillment
Integrates with most major carriers
Shipwire
Shipworks
Fulfillment by Amazon
Product Feeds and Marketplaces
Amazon
Google Product Search
Nextag
Shopzilla
PriceGrabber
Yahoo!
Bing
Shopping.com
ChannelManager
eBay
Facebook
Payment Processing
CoreCommerce integrates with over 60 different payment gateways, including their own in-house CoreCommerce Processing. You can view all of the payment gateways available on the CoreCommerce website or in that downloadable features list that I keep talking about. Here are a few names you may recognize:
Customer Service & Support
CoreCommerce boasts a "legendary" support team. This legendary support includes a free 30-minute onboarding session and 45-minute integration consultation for every merchant on the platform.
CoreCommerce's support team is based in the US, and all customers have access to support via phone, email, and live chat. Here are the various support options that CoreCommerce provides:
Phone support:

1-800-747-4270
1-615-550-5523

Emergency web tickets
Live Chat available in admin
Knowledge base
Video tutorials
User forum
Facebook and Twitter
CoreCommerce also offers some priority services like their Build Assist Program (in which they set up your site for you) and their My CC Tech Tasks program (in which you can pay someone hourly to work for you).
CoreCommerce recently revamped and re-released their knowledge base. I find the current support information to be slightly lacking. Rather than a true knowledge base, it's more of a beefy FAQ site. It just doesn't have the extensive documentation that I normally expect from a platform.
Fortunately, I did find CoreCommerce's support team to be both helpful and responsive. I love having the live chat option always available in my admin. I was able to reach someone within minutes every time I tried.
Negatives Reviews & Complaints
I've spent hours combing customer complaint boards, third-party review sites, and social media for customer reviews of CoreCommerce. By far, the biggest stain on CoreCommerce's reputation is related to a security breach in 2011, which resulted in stolen user credit card information.
The rest is fairly scattered. There's no one particular complaint that customers have about CoreCommerce. Here's what I've gathered:
Downtime: I've seen reports of downtime on both Facebook and Twitter. Keep in mind that CoreCommerce outsources its hosting to Rackspace, so this is really Rackspace's issue, but CoreCommerce clients are still impacted.
Increasing charges and over-billing: A couple customers mentioned being over-charged for their platforms. One customer seemed to suggest that CoreCommerce was increasing their pricing without telling him, and the other simply said that his credit card was billed multiple times after he closed his account. What's more, CoreCommerce's most recent pricing change may have led to increased rates for some merchants.
Positive Reviews & Testimonials
Here are a few things customers like about the platform, gleaned from across the web:
User-friendly: Some users really like CoreCommerce's admin.
Good customer support: CoreCommerce uses the term "legendary" to refer to their customer support. Every time I asked a question, I received a prompt and complete answer. I especially like that CoreCommerce's support team is all based out of the US.
Good mobile support: Reportedly, CoreCommerce's sites work excellently on mobile devices, especially the all-important checkout pages.
Solid inventory management: You can track your inventory based on variations so that you always have that small blue men's T-shirt when you need it.
Security
CoreCommerce is Level 1 PCI DSS compliant (which is as good as it gets in eCommerce). Customer credit card information will never be stored on your site. You'll have to purchase your own SSL; check out CoreCommerce's deals through GoDaddy.
Additionally, you can set up different permissions in your admin to allow your employees access to different aspects of your site.
Final Verdict
As a whole, I am satisfied with CoreCommerce. The platform comes with a good expanse of features at a fair price, and CoreCommerce provides excellent customer service. You can expect consistent, complete responses to your questions and concerns.
My primary concern is related to CoreCommerce's workflow. The admin isn't as streamlined as I'd like, which may lead to slower everyday operations. However, even a clumsy admin can't keep me from recommending CoreCommerce.
If you'd like to try our CoreCommerce for yourself, click the link below to sign up for a free trial, complete with access to an admin (and that killer customer service).
---
Featured Free eCommerce Plan 🔥
Square Online


---
Get a free website builder, online ordering, gift cards, in-store pick-up options, and dozens of other features for eCommerce and hybrid businesses. Free options available. Learn more from Square.
Featured Free eCommerce Plan 🔥
Square Online


---
Get a free website builder, online ordering, gift cards, in-store pick-up options, and dozens of other features for eCommerce and hybrid businesses. Free options available. Learn more from Square.
To learn more about how we score our reviews, see our
eCommerce Software Rating Criteria
.