Expert Analyst & Reviewer

UPDATED
Advertiser Disclosure: Our unbiased reviews and content are supported in part by
affiliate partnerships
, and we adhere to strict
guidelines
to preserve editorial integrity.
CS-Cart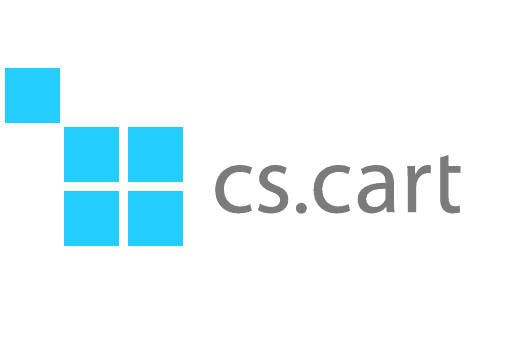 Pros
Intuitive design tools
Highly customizable

Free 15-day trial

Mobile app
Cons
Expensive customer support
Annual upgrade fee
CS-Cart Overview
CS-Cart is fully licensed, self-hosted, open-source software that comes in three forms: a shopping cart software called CS-Cart B2C that lets users build their own online store; CS-Cart B2B, aimed at manufacturers and wholesale businesses; and CS-Cart Multi-Vendor, a B2B and B2C solution that can be used to build a new online marketplace with potentially hundreds of sellers.
While all CS-Cart products are highly rated, this review will focus on the B2C version.
CS-Cart B2C comes loaded with advanced features — the website claims there are 500 eCommerce features already loaded — that you can use to be a highly customize online store. With unlimited products, unlimited categories, and unlimited variants, you'll be able to sell just about anything online. That includes downloadable products, and you can take advantage of CS-Cart's multiple language and currency options to sell wherever your customers are. With pre-built integrations for marketplaces like Facebook and eBay, CS-Cart makes multi-channel selling easy too.
As open-source software, CS-Cart means you can adapt the pre-built, mobile-friendly storefront theme to meet your specialized eCommerce needs. However, as downloadable software, CS-Cart comes with its own limitations. While updates and upgrades are included for the first year of use, you'll have to pay for them after that. While daily use of CS-Cart's admin is fairly straightforward, support is limited. When you do encounter an issue, it may be difficult to resolve without spending significant time or money.
For a full unbiased review of CS-Cart, keep reading.
CS-Cart Pricing
CS-Cart is a self-hosted solution, so you pay once and then the software is yours. The price for the shopping cart software is $385 for one storefront and $790/month if you want to run unlimited storefronts offering B2B and B2C from the same admin. For $390/month, you can also choose a B2B version that doesn't allow additional storefronts or warehouses.
CS-Cart also offers a Multi-Vendor solution, starting at $1450 and running up to $7,500, depending on which features you want access to. Multi-vendor solutions allow you to create your own marketplace (think eBay). We won't be covering this solution in detail here, but you should know that it is available.
CS-Cart offers a 30-day money-back guarantee on its licenses. You can sign up for a free 14-day trial to see how the software works.
Although CS-Cart's software is a one-time purchase, you will still have ongoing expenses as you maintain your online store. In addition to purchasing the software, you must pay for web hosting, an SSL certificate, and web development assistance.
Finally, when you purchase a license for CS-Cart software, you are able to run the software for an unlimited time; in order to continually receive software updates and upgrades from CS-Cart, you'll need to pay for an upgrade subscription plan after your first year. You can view the prices for those plans below. CS-Cart's website says it issues an average of five updates each year. Critical security patches and service packs are provided free of charge.

CS-Cart now also offers a cloud-based enterprise version of this software. This version is designed for Salesforce users and is billed monthly. To learn more, view the Enterprise page on CS-Cart's website.
Cloud-Based Or Locally Installed
CS-Cart is a fully licensed, self-hosted platform. Users are responsible for their own web hosting and for maintaining their sites' security.
Hardware & Software Requirements
In order to use CS-Cart, you need to run the following:
PHP versions 7.0, 7.1, 7.2, 7.3, and 7.4.
MySQL version 4.1 or greater (MySQLi or pdo_mysql should be supported). CS-Cart also supports MariaDB 5.5 and higher and PerconaServer 5.5 and higher.
CS-Cart recommends a Unix-like operating system for your server, such as FreeBSD, Linus, or OS X.
CS-Cart's web server environments are typical, and Amazon Cloud Hosting is recommended as one option, starting at $69/month. Visit CS-Cart's website for a full list of server requirements, recommended PHP extensions, and other recommendations from the CS-Cart architects.
Specific Size Of Business
While CS-Cart states that it is an excellent solution for startups and mid-size businesses, we disagree on that first point. CS-Cart doesn't seem like a viable platform for smaller businesses. Most importantly, CS-Cart requires a bit more technical experience than many small business owners have at their disposal.
For a list of SaaS solutions that are better geared toward new sellers, check out our list of the best platforms for small businesses.
Ease Of Use
The easiest way to test out CS-Cart's storefront and admin is to sign up for the demo. You will be required to submit your name and email address, and you have to agree to receive messages from CS-Cart. It's still worth it because, with the demo, you'll be able to tour the back end, view your storefront, and make changes to your layout using the drag and drop tool and the WYSIWYG (what you see is what you get) editor.
If you purchase the platform, you'll have to download and install it on your own server. And while that requires some degree of technical know-how, if you explore the demo you'll see that managing the store operations does not. In fact, the best part of CS-Cart, in my opinion, is the drag-and-drop layout editor that lets you change the structure of your storefront without ever touching the code.
Upon accessing your demo (or downloading and installing the software), you'll encounter your dashboard. From there, you can navigate to every aspect of your store. You can easily add and edit products. Use the navigation bar to enter advanced features like attributes and SEO-friendly meta descriptions.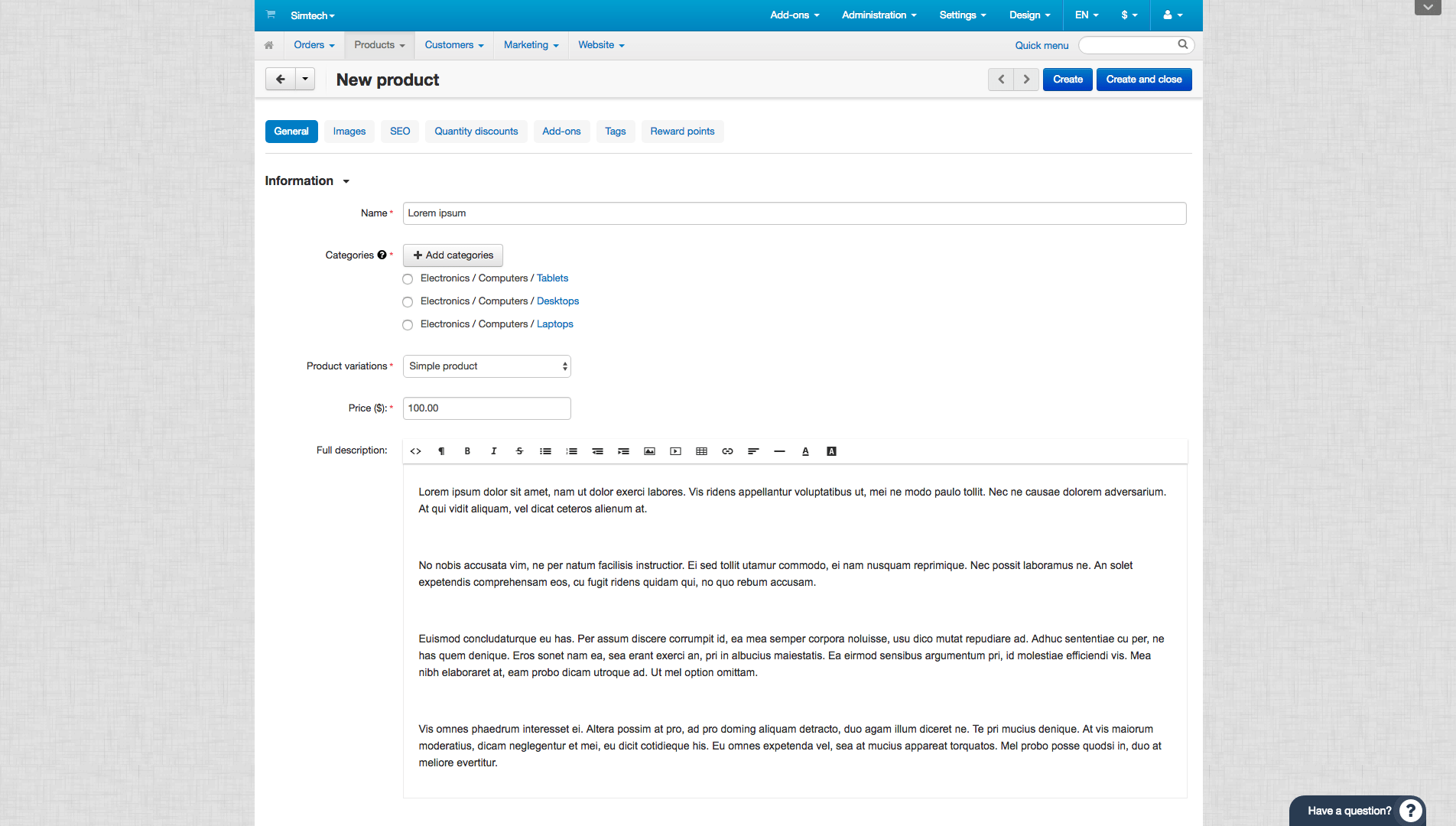 Creating order discounts and catalog discounts is relatively simple as well. CS-Cart lets you create discounts that apply under a number of conditions. I was pleased to discover a built-in blog feature (available via a native application). The blog feature was easy to use. I created a new post in minutes.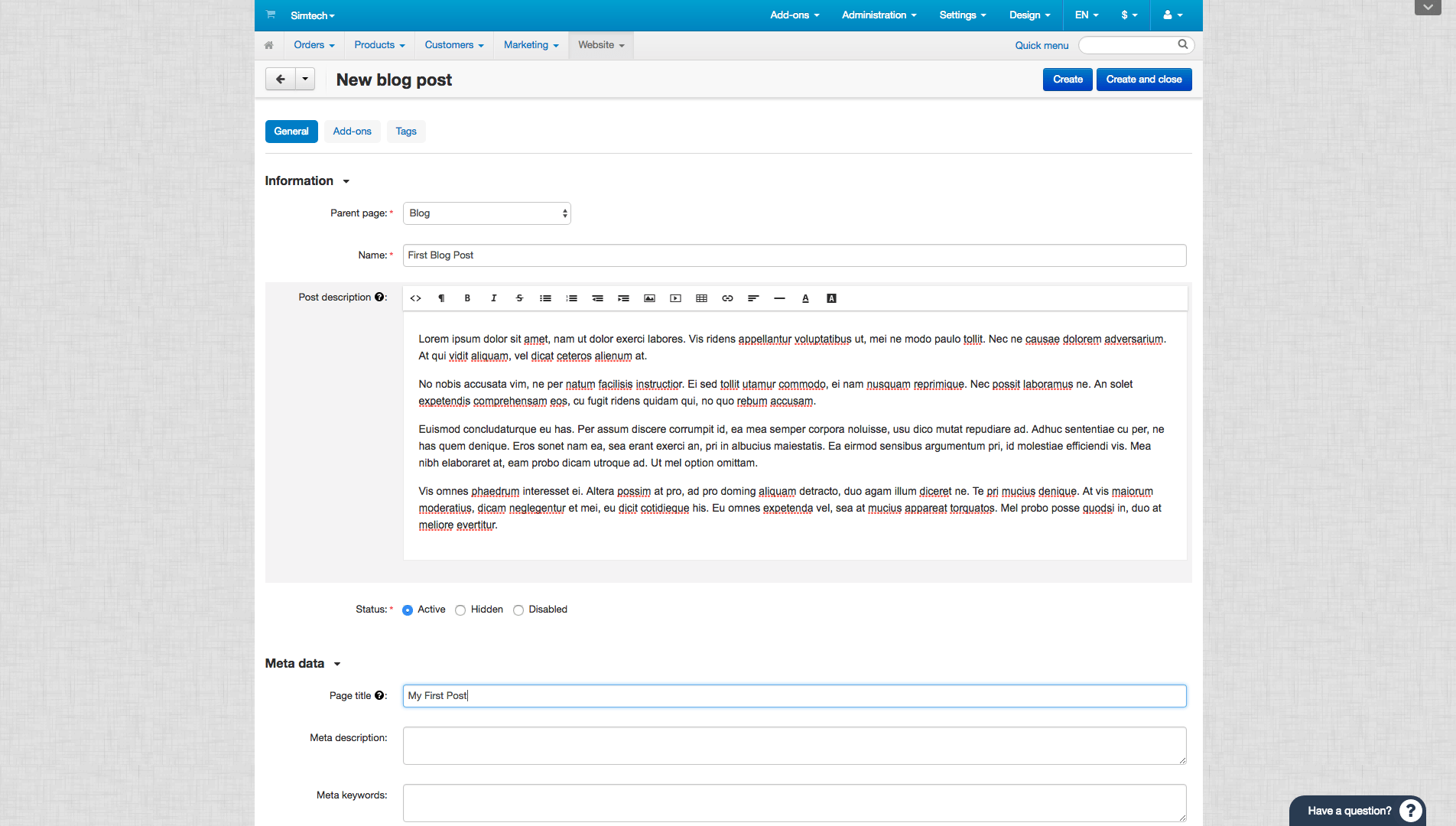 While I did not encounter any issues in my trial, I have read a few reports of buggy sites.
Although CS-Cart resolves all bugs on their end, if your error occurs from any third-party integrations you've added, you'll be responsible for resolving the issue. To do so, you can solve the problem yourself, use your CS-Cart support credits (more on this in our Customer Service section), or hire external support.
In summary, although CS-Cart presents a challenge on the web development side, it ranks highly in ease of use for daily operations, so we are giving it a rating of Good.
Features
CS-Cart offers plenty of features to meet your business needs. You can find this software's full feature list on their website, or you can take a look at my condensed list below.
Dashboard: Daily operations are simple and intuitive, starting with the dashboard.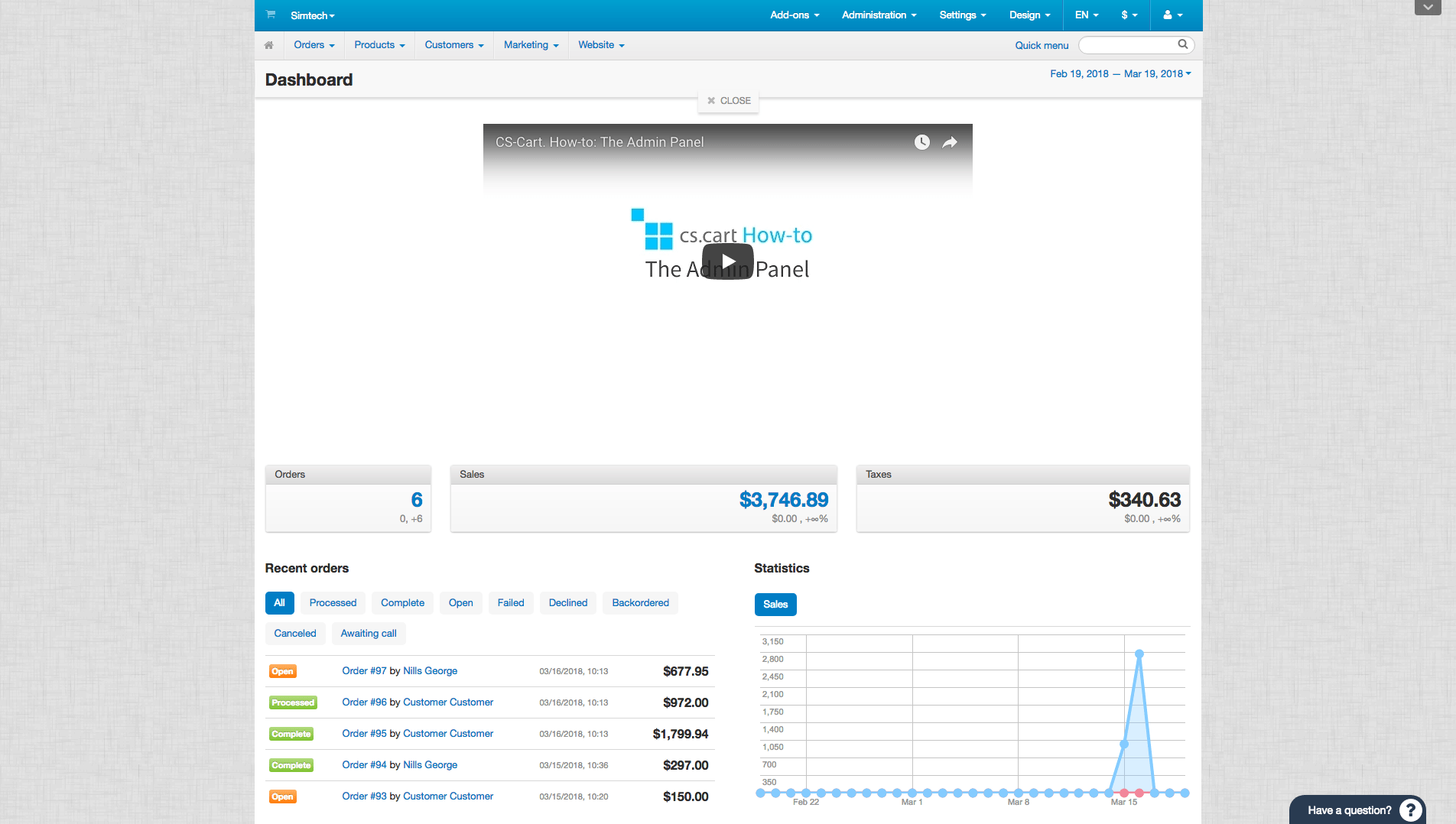 Products: List attributes for your products to simplify searching within your admin. Include images for each product option, and apply weight and price modifiers according to the options selected. Market and sell downloadable products on your storefront. Perform bulk import/export via CSV files to make migration easier.
Multi-Channel Selling: List your products on Facebook, eBay and Google Shopping for more views. Let customers log in to your site using their Google, Facebook, Twitter, and Foursquare accounts. Use the "Widget mode" to plug your store into another site like WordPress and Facebook.
Sell Internationally: Access 10+ languages and multiple currency options to sell across borders.
Checkout: Integrate with major carriers like FedEx and USPS to provide accurate, live shipping rates. Single-page checkout makes buying easy for customers. Set up your admin to calculate sales tax automatically at checkout.
Inventory Management: Stay on top of inventory by monitoring how many products you have in each variable category.
Marketing: Establish trust with future shoppers by letting your current customers rate your products. Use the free, built-in add-on to list best sellers and on-sale products to up-sell and cross-sell feature is available as a free, built-in add-on. Suggest that customers purchase related products in a bundle for a discounted price. Track abandoned carts. Set discounts based on an order, a flat rate, or a percent.
SEO Tools: In addition to SEO-friendly URLs, you can also write SEO-friendly titles and meta descriptions.
Reports & Analytics:
Site Performance: Lazy image loading means images load as your customers scroll to them, for faster load times. Gzip reduces file sizes so files are delivered to customers' browsers faster. Thanks to built-in caching, your store will load even faster the second time a customer visits a page.
Web Design
CS-Cart stores come with a handful of preinstalled themes that are adequate if a little boring. To find a spicier theme, take a look at CS-Cart's marketplace. Browse the wide range of third-party themes — there are 330 themes there —and you'll find more than a few that are high quality, while others could use a little improvement.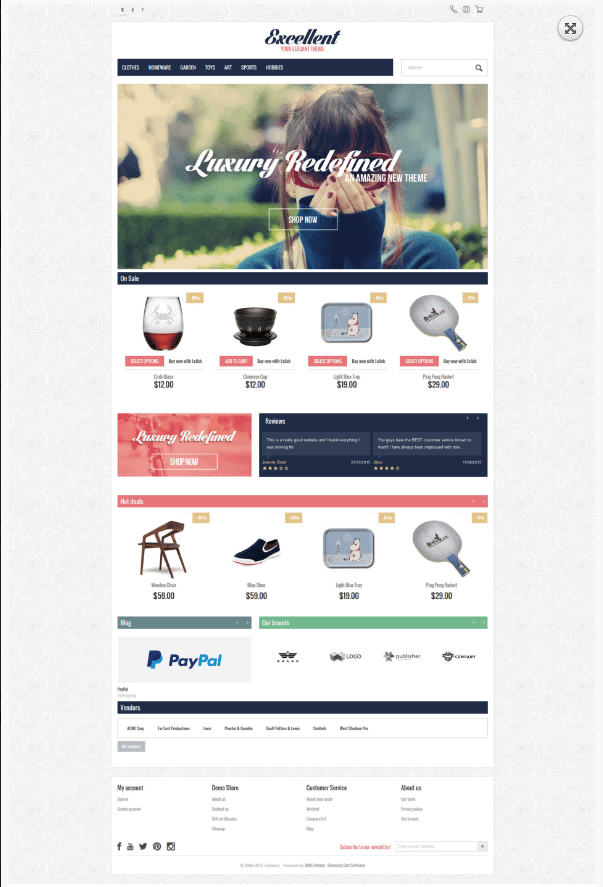 CS-Cart offers a wide variety of customization tools. You can edit the HTML/CSS in your admin. You can also make changes to the overall layout of your site with a simple drag and drop function, without touching a line of code. Or, you can use the on-site content editor and the style editor to quickly make changes to your site's logos, colors, fonts, and backgrounds.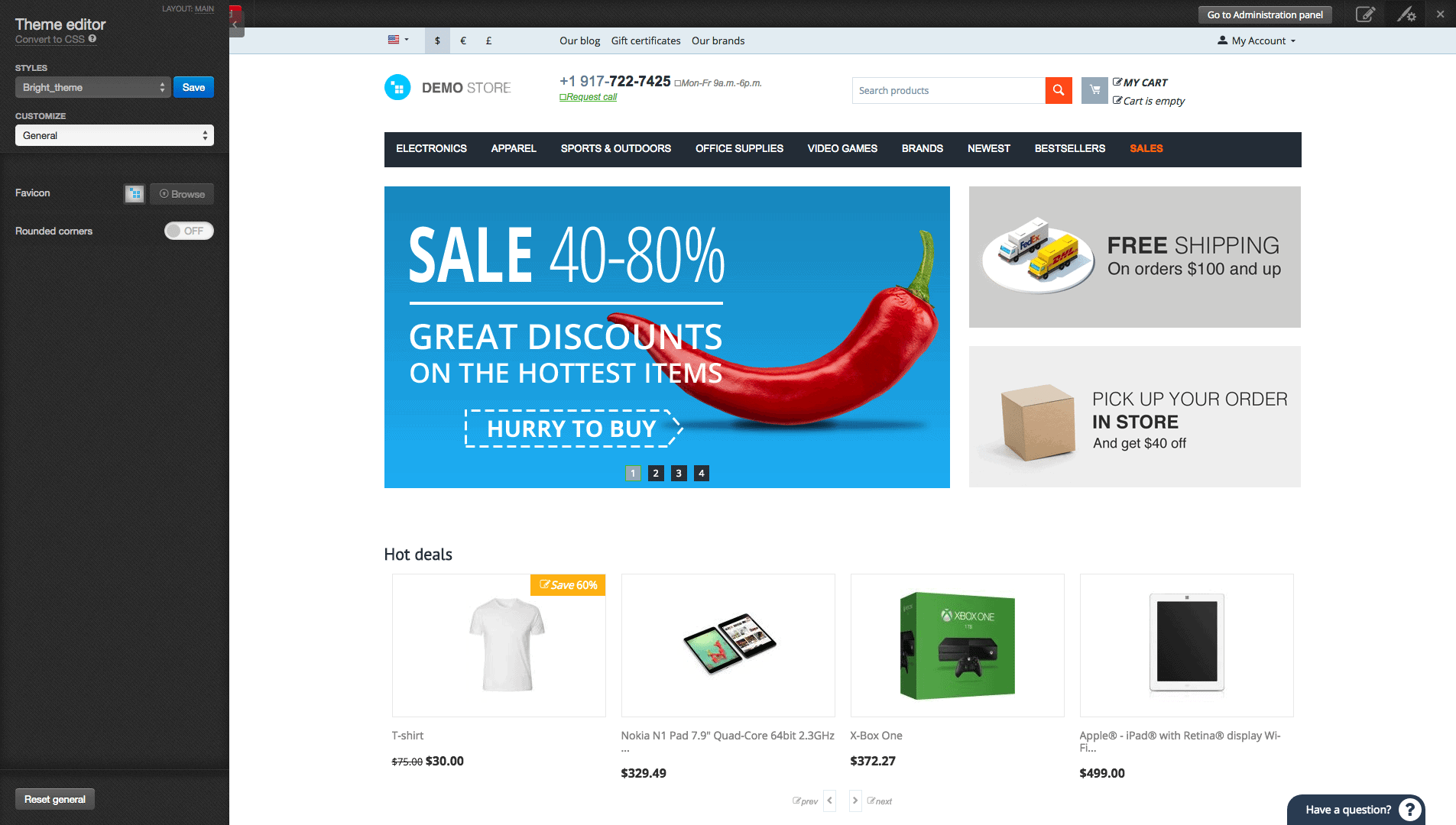 Integrations & Add-Ons
CS-Cart has a few add-ons available in their admin. All you have to do is click to activate them. I figure this sort of add-on is really just like a native feature that was banished to a separate page in your admin. My guess is that CS-Cart didn't want to overwhelm new users with too many features at once.
You can find additional applications in the CS-Cart add-on marketplace. The 1,615 add-ons you'll find there include a few but not an overwhelming array of popular options in categories like site management, marketing, finance, content, and reports and analytics. For example, under the Marketing tab, Facebook Pixel, Cart Power, and Google Analytics are featured, with a total of 473 add-ons listed. Search sub-categories (under Marketing, email marketing, CRM, advertisements, and conversion are broken out) to narrow your view.
Most add-ons show customer reviews and ratings, so be sure to see what other CS-Cart users have to say about how well they work on the platform.
Additionally, your own developers can build custom connections for you, or you can hire one of CS-Cart's affiliated developers.
Payment Processing
CS-Cart integrates with about 100 payment solutions, so you're likely to find payment gateways you need, including some of the most popular options. That includes Apple and Google Pay Payment Gateway, Adyen, Stripe, EasyPay, Authorize.net, PayPal, Braintree, Worldnet, Moneris, and a host of international options.
Customer Service & Technical Support
CS-Cart takes a little bit different approach to customer service and technical support, so it's worth taking a closer look. Three types of support are available:
Credit-Based Support
When you sign up for CS-Cart's single storefront, you receive 50 support credits. Those credits can be used to contact CS-Cart representatives and get help resolving a limited range of issues, including advice, configuration assistance, help to resolve operating issues and how to make minor modifications, and help with upgrading the software to a later version. Adaptations to third-party add-ons, themes, and code modifications are not included.
CS-Cart says that the number of credits a request required depends on the amount of work necessary to answer the question and resolve the issue. To give one example, questions about CS-Cart functionality or setup cost 5 credits. Technical support is provided in writing, and only in English.
When you run out of those initial support credits, you can purchase more, starting at $45 for 25 credits.
Period-Based Support
Following the purchase of CS-Cart Ultimate (CS-Carts highest level, unlimited storefront option) and Multi-Vendor, users receive a limited period of free technical support.
CS-Cart Ultimate (CS-Cart's unlimited storefront option) and Multi-Vendor plans both come with 30 days of free, unlimited technical support. You will not receive any support credits with these software options.
VIP Customer Care
At this time, VIP support is available only to Multi-Vendor users.
For the rest of CS-Cart's users, technical support is available only during the day at GMT+4. If you find yourself needing support outside of those hours or if you don't have any remaining support credits, you can try one of the alternative support solutions below:
Contact Form: Use the CS-Cart contact portal to submit your detailed question.
Community Forum: An active community forum is well organized under topics like Configuration, Store Design & Templates, SEO, Hints & Modifications, Security, and more.
Guides: You'll find guides for both users and developers under the resources tab.
Videos: A series of 10 lessons are available as video tutorials on the CS-Cart website.
Documentation: As open-source licensed software, the full CS-Cart documentation is available for users.
Social Media: You can also reach CS-Cart via their Facebook and Twitter pages, but I always consider social media to be a last resort in terms of technical assistance.
Negative Reviews & Complaints
Most of the comments online about CS-Cart involve the Multi-Vendor software. Here are a few of the negative comments I eventually managed to dig up about the shopping cart software:
Difficult Upgrades: Customers occasionally run into issues upgrading the software, even when they've paid the fees for the updates. One user described CS-Cart's update routine as "downright awful," saying "Their support refuses to assist without access to our server."
Paid Customer Service Model: Customer service is not free. After you've used up all of your support credits, you'll have to continually pay to have your questions answered and your issues resolved.
Expensive Development: One customer mentioned that he paid for the development of a few costly add-ons, and they never worked.
Positive Reviews & Testimonials
Despite its shortcomings, many users are satisfied with CS-Cart's shopping cart solution. Here's what they say they like about it:
Feature Rich: Customers like that CS-Cart comes with an extensive feature set that allows them to build online stores with high functionality.
Open Source: Because the shopping cart is open source, it's easy for the tech-savvy to customize their own sites.
One-Time Payment: CS-Cart is purchased; it is not leased. After your one-time payment, you'll own that piece of software forever. Small business owners appreciate the reasonable price point.
Visual Editor: The visual editor is, in my opinion, one of CS-Cart's strongest features. Merchants who know very little about web development can restructure their site's look without any external help.
Security
As CS-Cart is a self-hosted solution, you are responsible for your site's security. You'll need to ensure your site's PCI compliance and purchase an SSL certificate.
Because CS-Cart offers regular security upgrades and has self-help resources available, we rate the software "good" in this category. We suggest you spend some time on the CS-Cart forum, browsing the entries about security. You'll find a lot of free advice you can use to make your site more secure.
CS-Cart FAQs:
Final Verdict
After much consideration, I have reached the conclusion that CS-Cart is a good shopping cart solution, although it isn't my favorite. The software does have a couple of good selling points, including one-time buying and a decent drag-and-drop editor. However, those positives are countered by limited customer support and continued payment for platform upgrades.
Additionally, CS-Cart probably isn't a good choice for small businesses that are just getting into the eCommerce game. Those businesses likely will be better served by looking into shopping cart software aimed at beginners. Because it offers a range of plans aimed at users of all levels, we suggest taking a look specifically at our full Shopify review. You might decide it's not the right platform for building your store, but it will give you an idea of what you can expect from any good shopping cart solution and help you zero in on what you'll need for your store to succeed.
However, if you've decided that CS-Cart fits your company's needs and budget, be sure to try out that demo. That gives you a chance to gauge the feel of the platform without committing to it, so you can see if it's right for you.
---
Featured Free eCommerce Plan 🔥
Square Online


---
Get a free website builder, online ordering, gift cards, in-store pick-up options, and dozens of other features for eCommerce and hybrid businesses. Free options available. Learn more from Square.
Featured Free eCommerce Plan 🔥
Square Online


---
Get a free website builder, online ordering, gift cards, in-store pick-up options, and dozens of other features for eCommerce and hybrid businesses. Free options available. Learn more from Square.
To learn more about how we score our reviews, see our
eCommerce Software Rating Criteria
.