Expert Analyst & Reviewer

UPDATED
Advertiser Disclosure: Our unbiased reviews and content are supported in part by
affiliate partnerships
, and we adhere to strict
guidelines
to preserve editorial integrity.
DEAR Inventory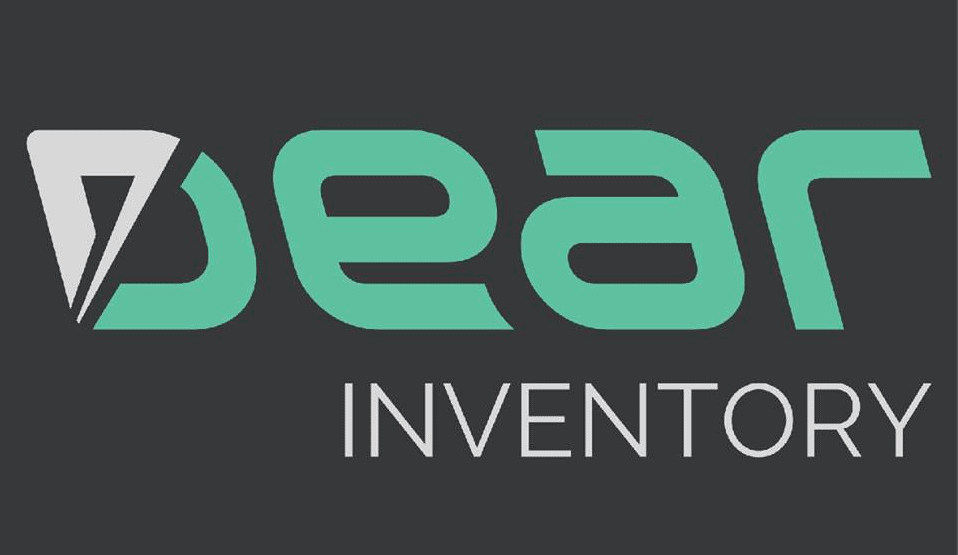 Pros
Free trial
Diverse feature set
Numerous integrations
Easy to use
Cons
Moderate learning curve
Expensive extras

Inconsistent customer support
DEAR Inventory Overview
DEAR Inventory is ERP (enterprise resource planning) software for small to large-sized businesses. Packed full of features, this software-as-a-service (SaaS) application promises to organize your company's back-end tasks and save hours of busywork and the frustration of reconciling numbers across different software platforms.
Commonly referred to as both DEAR Inventory and DEAR Systems, whatever you call this software, it's a comprehensive solution with modules that cover your eCommerce, manufacturing, purchasing, sales, inventory management, and accounting needs. Integrations with popular applications make it easy to connect all your sales channels and business tools with one powerful software tool.
Whether you need help in the factory, at the warehouse, or in your online store, the DEAR inventory management system says it can deliver the solution you need. Let's walk through a full DEAR Inventory review and see whether that's true.
DEAR Inventory Pricing
The pricing structure is the simplest of any product I've reviewed for this site. There's only one plan, with two options for payment. However, you can customize your subscription with DEAR add-ons, as I'll explain below. Let's start with the billing options. Note also that you can sign up for a free 14-day trial of the software before you have to commit.
Monthly Billing
When you opt to pay each month to use DEAR Inventory, you'll pay $249/month.
Annual Billing
Pay for a year at once, for a total of $2,739/year, and you'll save a month's payment each year. That's a total monthly cost of $228, or as the company spins it, your first month is free.
No matter how you choose to pay, here's what you get for your money:
24/7 support
Shared DB server
5 users
2 external integrations
Accounting integration
Payment processors
Production module
Batch & expiry tracking
Extra Costs
Users can add extras to their subscriptions, with costs that vary depending on whether you pay annually or monthly. Here's what you can add to your plan:
Dedicated Server: Ensure that your DEAR performance will be unaffected by other DEAR users. Choose a small, medium, or large database. Pricing ranges from $24,000 to $36,000 annually ($2,000 to $3,000 per month if paying monthly), depending on anticipated sales volume.
Additional Users: On the annual plan, you can bump up to six users, for an additional $550. On the monthly plan, your sixth user will cost $50. Each additional user adds a slightly smaller fee.
B2B Portal: For $550 annually or $50 monthly, you can add a B2B portal.
POS: If you want to add a POS, you'll pay $550 annually or $50 per month.
External Integrations: You'll find 36 integrations available, and your subscription includes two of them in the cost. If you want to add more, plan to pay more. Bump your integrations to three, and it will cost you $275 on the annual plan or $25 monthly.
DEAR Automation: This adds $550 to the annual plan or $50 monthly.
Cloud-Based Or Locally Installed
DEAR Inventory is a cloud-based application. You won't have any software to download or install.
Hardware & Software Requirements
You won't need anything special on your computer system to run DEAR Inventory. You just need to make sure that the browser is updated to the latest version. A helpful DEAR representative recommended using Google Chrome, as most of DEAR Inventory is most compatible with that browser, but it's not a requirement.
Specific Size Of Business
DEAR Inventory was designed to help growing businesses manage their inventory and sales. However, it's on the expensive side and may be out of reach for startups and the smallest businesses. If you're a small operator looking for an economical inventory solution, check out our inventory software comparison chart to get an idea of what's available in your price range.
On the other hand, if your large or growing business has increasingly complicated requirements, DEAR can offer a comprehensive solution that brings together all your inventory-related needs. It's aimed especially at manufacturers with complicated material lists that need to manage inventory and track costs of goods sold and at eCommerce retailers and wholesalers with multiple warehouses and/or sales channels.
Ease Of Use
The workflow within DEAR Inventory will be familiar to anyone who's used an inventory management SaaS before. Those who haven't should take advantage of the free 14-day trial period to evaluate the software. During this time period, you can schedule a call with a customer service agent, who will then assist you in getting your account configured and perform setup for any applicable integrations.
Once you have linked DEAR to your eCommerce channels, it's just a matter of waiting for sales to roll in. When you get one, it'll automatically be pushed into DEAR, where the pick, pack, and ship steps of fulfillment can then take place. One cool feature gives you the ability to completely automate these tasks, which is particularly useful if your business relies on dropshipping.
Once an order has been fulfilled, stock levels are adjusted by the software, and financial information is synced with your integrated accounting software, if you choose to go that route. It's pretty seamless.
The UI isn't the most intuitive, but it's very useable. There were a couple of instances where I had to contact support to figure out a task (e.g., how to add a warehouse location). Thankfully, most pages have a link to a tutorial video that walks you through the process for the corresponding tool. I thought this was a great choice, as it saves you time digging through the knowledgebase.
Another feature I like is that the different steps of a task, such as fulfillment or creating a purchase order, are represented by icons in the UI, with a color code to indicate if that step has been completed. It gives the user a quick way to see if there are any pending tasks that need attention.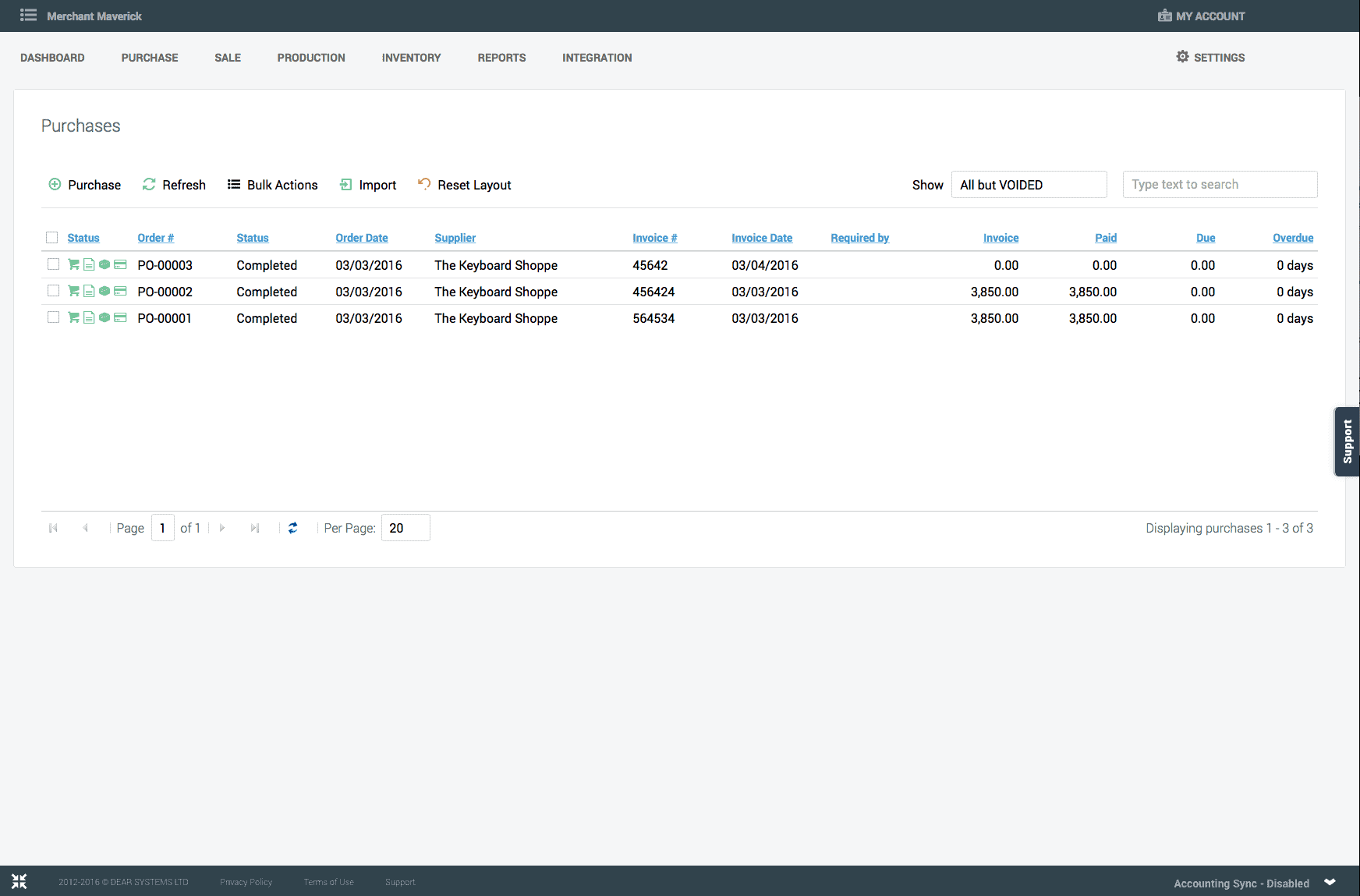 Features
DEAR has a lot of great features for your growing business. Here are some of the best:
Dashboard: DEAR's user interface (UI) is solid. It isn't overly complicated, but it is feature-rich, with tools that cover a wide range of tasks. And considering the complexity, it's relatively easy to use.
Inventory Management: DEAR lets you build product families, creating variations of the same product with unique SKUs. Use bulk product listing to manage product information across all your sales channels from one place. Transactions across all channels are synced to DEAR as they happen. The software also gives you the ability to customize how each channel interacts with DEAR.
Order Management & Fulfillment: It's easy to load products from your online sales channels. With the click of a button, DEAR will import all products from an existing eCommerce platform. The Complete Automation feature lets you automatically complete the pick, pack, and ships steps of the fulfillment process for each sales channel.
Barcode Scanning: Scanning minimizes human error, and the barcode scanning feature is a big part of the DEAR workflow. You'll find this functionality available in the places you need it most (like on the Purchase Order page, when you're receiving new stock, or on the Pick page during the fulfillment process). Users can scan either barcodes or SKU codes.
Warehouse Management: DEAR's Multi-Warehouse Management feature allows you to manage multiple locations for buying, selling, and manufacturing your products.
Returns: Support and track returns and exchanges with RMAs (return merchandise authorization), return orders, and credit notes. Customize your returns policies.
Vendor Management: Use Bills of materials to accurately calculate production costs. The Finished goods features lets you estimate the cost of manufacturing and the availability of raw materials. Job costing lets you track inventory and service-based expenses. Write off damaged, lost, or used inventory with the Issue to production feature.
Purchase Orders: Use the Reorder and backorder feature to set reorder points that automatically trigger a purchase order to suppliers.
Reports: Financial information is available in real-time, as opposed to at the end of the month. The Financial reports feature lets you generate reports for use with an accounting system or on your own. You can get true cost calculations via FIFO and FEFO costing methods. Or, use the History and costs analytics tool to review historical information about your purchases and associated costs.
Dropshipping: DEAR handles fulfillment for items that you don't actually stock yourself.
POS Integrations: This optional feature ensures that sales at your retail location sync with your inventory.
DEAR Inventory Customer Service & Support
It's disappointing to see that DEAR software offers neither phone nor chat support, but I guess it's understandable. Staffing the support team is always a challenge for small companies, and concessions sometimes need to be made. Still, the lack of a phone option is jarring. I got a call from a DEAR representative in the middle of my workday, asking if I needed help getting started. Since I was busy, I asked if they had an extension I could use to return the call at a more convenient time. The rep said "Uh, no. We don't have a phone number." At the time, that seemed insane. The agent offered to set up another time to call me, which shed some light on the process that DEAR wants for support: scheduled phone calls during setup, followed by email tickets once you're an active customer.
Does DEAR offer other support resources? Yes, they do. Will those other resources make up for the lack of a direct contact option? You'll have to judge that for yourself.
Email: Email support is 24/7 and I never wait longer than an hour for a ticket response, despite the fact that I'm on Pacific Standard Time and the product is developed in Sydney. The quick turn-around time on tickets is ultimately what redeems the support experience in my opinion.
Support Form: Submit a ticket online, attaching a file if you want to.
In-Software Help: Many pages have a link to a tutorial video that demonstrates how to use the corresponding tool.
Community Forum: You'll find an active discussion forum on the DEAR website.
Videos: The DEAR Systems channel on YouTube has close to 200,000 subscribers and dozens of informative videos.
Knowledgebase: It's not searchable, but it's well organized under five categories: General, DEAR Inventory, DEAR applications, Integrations, and API. Within each category, articles are organized in useful subcategories, so you probably can find what you need relatively quickly.
Blog: The DEAR Systems Blog offers business tips, DEAR news, eCommerce advice, inventory management tips, and more.
Social Media: You can find DEAR Systems on Facebook, Twitter, and LinkedIn.
DEAR Inventory User Reviews
DEAR Systems has numerous fans and a few detractors. With a rating of 3.5/5 stars on G2Crowd and a slightly better Capterra rating of 4.3/5 stars, the reviews are more positive than negative. Still, it's worth taking a closer look at exactly what users do and don't like about DEAR software.
Negative DEAR Systems Reviews & Complaints
Users seem to have a balanced view of DEAR software, with most reviews highlight some positives as well as some negatives. In general, user complaints revolve around three main concerns:
Poor Reporting Capabilities: Users have reported that they have to export the reports to Excel and modify them to make them most useful. DEAR responds that reports functions received a major upgrade in 2020. I was not able to track down enough users' reactions to that upgrade to judge its efficacy. Some comments from March of this year indicate that more improvements should be made. Be sure to test out the reports during your trial period with DEAR.
Buggy Integrations: According to some users, errors are common with integrations.
Poor Customer Support: Some users say that while customer support agents are friendly, they don't have the technical know-how to deliver the answers you need. That's an especially important concern when system updates come into play.
Positive DEAR Systems Reviews & Testimonials
You can find many positive reviews online for DEAR Systems. Here is a sampling:
Easy To Implement: It's a complex solution to a multifaceted business need. Yet DEAR software itself is relatively simple to implement. Users say it's easy to track sales, purchases, and inventory, and they like that the software comprises simple modules that have a clear purpose.
Multi-Warehouse Functionality: In addition to multi-channel sales functionality, DEAR lets you track inventory in multiple warehouses.
Good Integrations: As a robust inventory solution, DEAR offers some key integrations that let you connect vital business functions like inventory, eCommerce, and accounting. (More on that in the next section.) The accounting integrations received special accolades.
DEAR Systems Integrations
You'll find a total of 36 integrations available to use with DEAR Inventory. That includes multiple options in common categories like point of sale, accounting, shopping cart, marketplace, shipping, payments, and so on. You'll also find three options under B2B, which is nice. Click on one of the available integrations to learn more about it, including what other available apps it can integrate with. The Handshake B2B integration, for example, integrates with two marketplaces, two accounting options, two payment processors, and two shopping carts in addition to HubSpot and Zapier.
There's also an API that you can use if you have access to developers and would like some custom integrations. API access delivers an impressive level of power and flexibility to companies with a solid coding team.
Security
The DEAR web application uses SSL encryption, so users' data is protected. Stored information is encrypted and pseudonymized. Session management and login expiration mechanisms are utilized. Data processing takes place in Microsoft's Azure data centers in the US, which are an industry standard for security and reliability; they are part of a certified EU-US Privacy Shield Framework. DEAR software is GDPR compliant.
DEAR Inventory FAQs
Final Verdict of DEAR Inventory Management Software
DEAR Inventory is not without its flaws, but I think it's still one of the best inventory management solutions on the market right now. Its main competitors in inventory management, such as Stitch Labs and TradeGecko, are capable products too, but DEAR Systems offers the most value for its price.
This software is stable and offers a ton of great features. I think the way DEAR integrates the barcode scanning feature is exemplary, and the tools on the manufacturing side are powerful. On top of that, the price tag makes it an option within reach for most small to mid-size businesses.
The main thing keeping me from awarding a 5-star review is the lack of phone or chat support. If you're curious to learn more, I encourage you to take advantage of the free trial and gain some hands-on experience with DEAR Inventory.
If you've got your inventory management needs under control and your main concern is getting your hands on more inventory, check out these options for inventory financing. After all, with a powerful inventory management tool like DEAR software taking care of the day-to-day work of tracking inventory, you'll have plenty of time to think about expanding your operations.
---
Featured Free Corporate Card
Ramp


---
Ramp offers a free corporate card for virtually any business. Start earning rewards with your corporate spending today. Get your free card.
Featured Free Corporate Card
Ramp


---
Ramp offers a free corporate card for virtually any business. Start earning rewards with your corporate spending today. Get your free card.
To learn more about how we score our reviews, see our
Inventory Software Rating Criteria
.