Expert Analyst & Reviewer

UPDATED
Advertiser Disclosure: Our unbiased reviews and content are supported in part by
affiliate partnerships
, and we adhere to strict
guidelines
to preserve editorial integrity.
Debitoor

Pros
Easy to use
International invoicing
UK-based
Well-designed UI
Attractive invoice templates
Cons
Limited features
Unsuited for US businesses
Not accounting software
No live bank feeds
Debitoor Overview
Debitoor is an invoicing and (limited) bookkeeping solution that currently has users in over 40 countries, though it is ideally designed for British and European customers. Debitoor boasts VAT support, multiple currencies, multiple languages, automatic exchange rates, and strong invoicing. The software's design is also straightforward and easy to navigate.
While Debitoor has improved some of its US offerings, US or Canadian users may find themselves better off with a program that is a little more adapted to their needs. For the most part, I would encourage non-Europeans to do their research and look at other invoicing options instead. UK and European users should also do their research because while Debitoor makes invoicing easy, the software is missing key features like time tracking, project management, and live bank feeds, which may rule the software out for some businesses.
Additionally, the software markets itself as "invoicing software & easy accounting." While Debitoor, get the first half of this motto right, Debitoor simply doesn't hold up as a full accounting solution.
There are other invoicing options with the same multi-lingual invoicing that Debitoor offers as well as fully developed accounting options designed specifically for UK users, like FreeAgent. However, if you're looking for a basic invoicing solution that still includes VAT and is GDPR compliant, Debitoor could still be a good fit. If you're an existing SumUp user, Debitoor might also be a good choice.
SumUp recently acquired Debitoor, as well as an ecommerce platform called Shoplo, with the dream of creating an all-in-one solution for businesses. If SumUp can deliver on this dream, Debitoor may become a much more tempting offer.
To learn more about Debitoor, read the details below or visit our top invoicing software recommendations to find your perfect software.
Pricing
Debitoor offers four pricing tiers. The software has recently gotten rid of their free plan (but it only consisted of three invoices, which was hardly worth it). There is a slight discount for paying annually rather than monthly. The price of each plan primarily depends on how many invoices and expenses you create. There is a free 7-day trial of each plan. No credit card is required, and you can cancel your plan at any time.
While Debitoor's plans are fairly inexpensive, you don't get as much bang for your buck in terms of features in comparison to other top-rated invoicing software. There is a referral program available for additional savings.
XS
£5/month
100 invoices
100 expenses
Multi-lingual invoicing
1 user
S
£8/month
400 invoices
400 expenses
Quotes
Invoice customization
Export data
1 user
M
£12/month
800 invoices
800 expenses
Quotes
Invoice customization
Reports
VAT support
Manage assets
Import & export data
1 user
L
£24/month
Unlimited invoices
Unlimited expenses
Quotes
Invoice customization
Reports
VAT support
Manage assets
Import & export data
3 users
Cloud-Based Or Locally-Installed
Cloud-based. No downloads or installation required.
Hardware & Software Requirements
As cloud-based software, Debitoor is compatible with nearly any computer with internet access. Updated browsers are recommended for optimized use. The software has recently added mobile apps for both Apple (iOS 9.1+) and Android (4.4+).
Specific Size Of Business
Debitoor is ideal for micro businesses, freelancers, and startups looking for the simple basics. The software is geared toward UK businesses in need of VAT support and GDPR compliance, and for businesses in need of international invoicing.
The software is designed for small businesses with one to three users who are looking for an invoicing solution. Debitoor is not meant for small business owners who need an accounting solution. There are a few light bookkeeping tools on offer here, but not enough to meet accounting software standards. Bigger businesses will require more advanced features than Debitoor can provide. If you're looking for project management, time tracking, or live bank feeds, Debitoor is also not the software for you.
The software is available in 70+ countries, and there are very basic user permissions. You can grant access to an accountant as well.
Ease Of Use
Debitoor has a nice UI that is well-organized and easy to navigate. The software is simple, making it quick to learn. There are a few occasional navigational difficulties. While these difficulties were minor, the lack of a true help center makes these issues seem greater. Luckily, there is a live chat available during UK business hours.
Features
When it comes to invoicing, Debitoor knocks it out of the park in terms of features, but the software is missing a lot of key features that have come to be industry standards for invoicing software (like live bank feeds, time tracking, and project management). The features the software does offer are well-developed, which just saves Debitoor from getting a poor rating in this section. Here's a breakdown of Debitoor's features:
Dashboard: The Debitoor dashboard features separate income and expense graphs, a side by side income and expense comparison, and a bank and cash chart.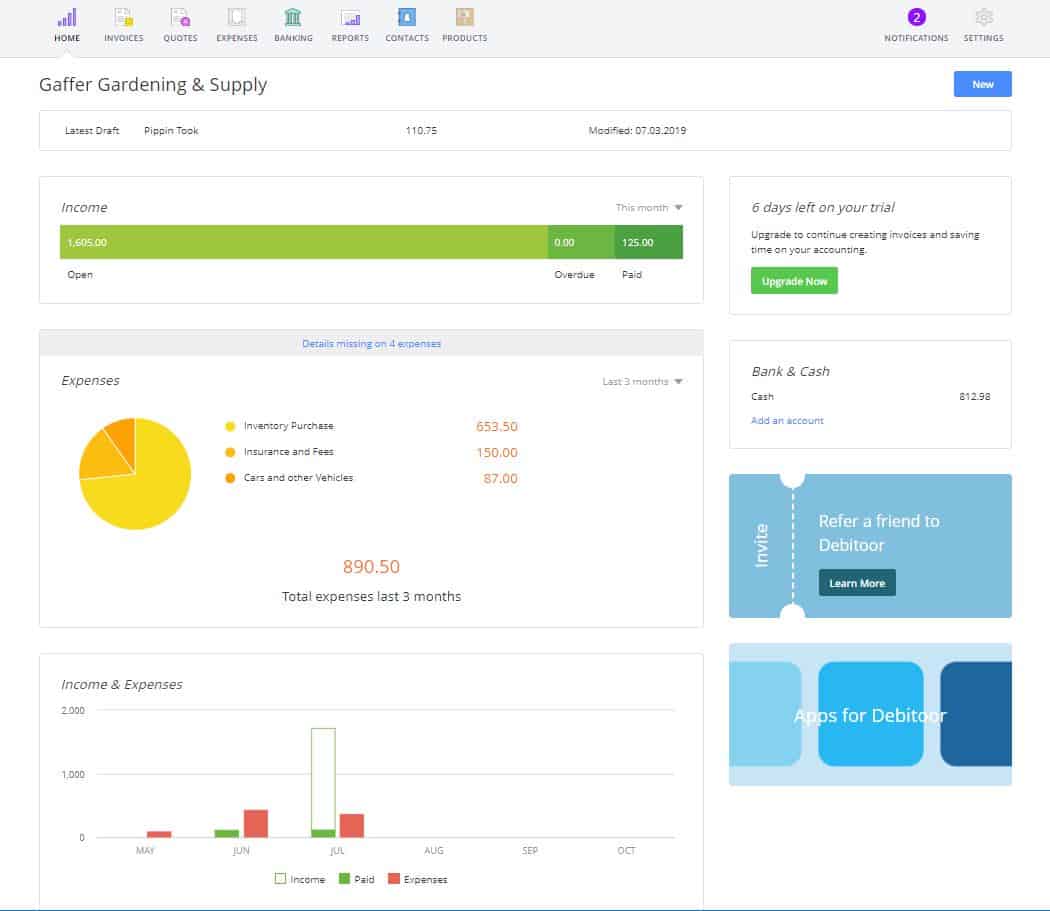 Invoicing: Debitoor offers nine unique invoicing templates with ample customizations. With the small, medium, and large plans, you can change the fonts, colors, and information on an invoice and add a company logo. The "options" button on the invoice screen takes you to discounts, language, currency, and exchange rate. In addition, you can add notes and terms and conditions to invoices, and you can send automatic payment reminders to late-paying customers. Debitoor now supports recurring invoices and the ability to receive push notifications for when invoices have been viewed and paid. Debitoor also supports proforma invoices.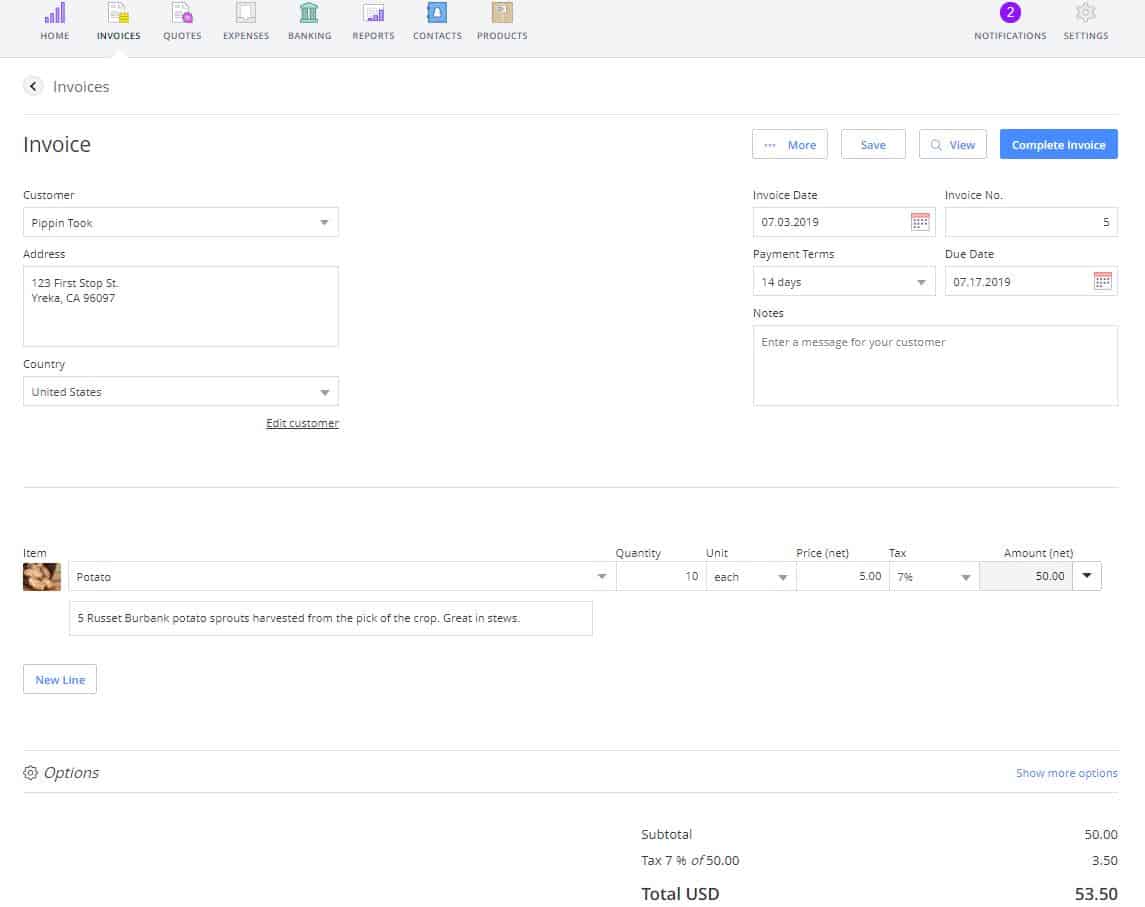 Quotes (S, M, & L Plan Only): Debitoor makes it easy to create quotes and convert them into invoices.
Client Portal: Debitoor offers a client portal where customers can view and comment on invoices and quotes. You can enable online payments as well.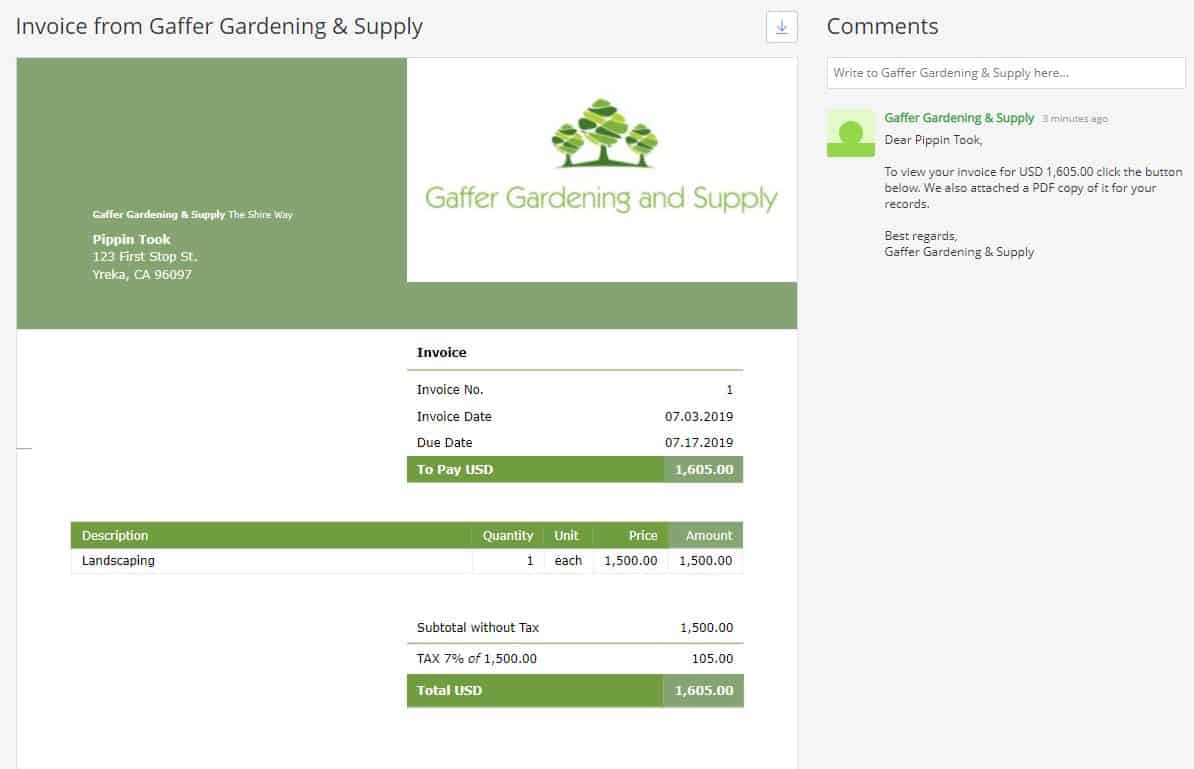 Contact Management: Debitoor offers basic contact management. You can record personal information, contact information, and payment terms. When you click on a contact, there's a nice contact dashboard where you can view a contact's account history and easily create customer statements. You can manage suppliers in Debitoor as well.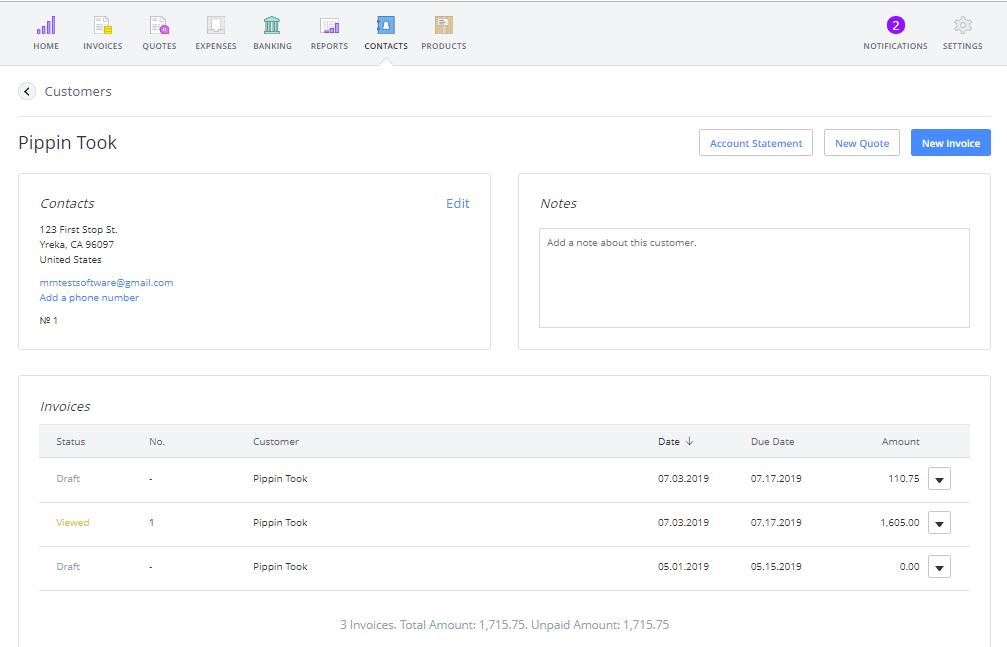 Expense Tracking: You can manage expenses by connecting to your bank or entering them manually. However, instead of offering live bank feeds like many software companies, Debitoor lets you connect to your bank in order to import .csv files (only available on the medium and large plan). You can create categories to organize your expenses, and Debitoor will automatically categorize transactions for you. You can also attach documents to expenses. With the medium and large plans, you can mark expenses as assets.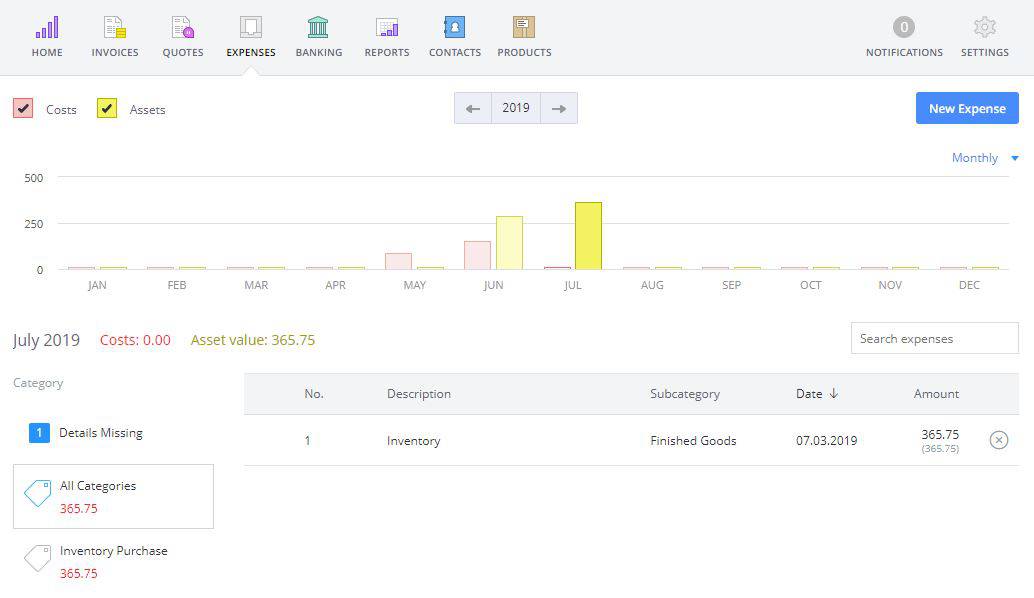 Bank Reconciliation (L Plan Only): Debitoor offers automatic bank reconciliation. Contact the company directly for details.
Items List: Although Debitoor doesn't offer a full inventory feature, it's possible to create a detailed product list. You can add a product, description, price, cost, and product number. You cannot set inventory reorder points or reminders. As a new addition, you can now upload images to your inventory items, which is a nice touch.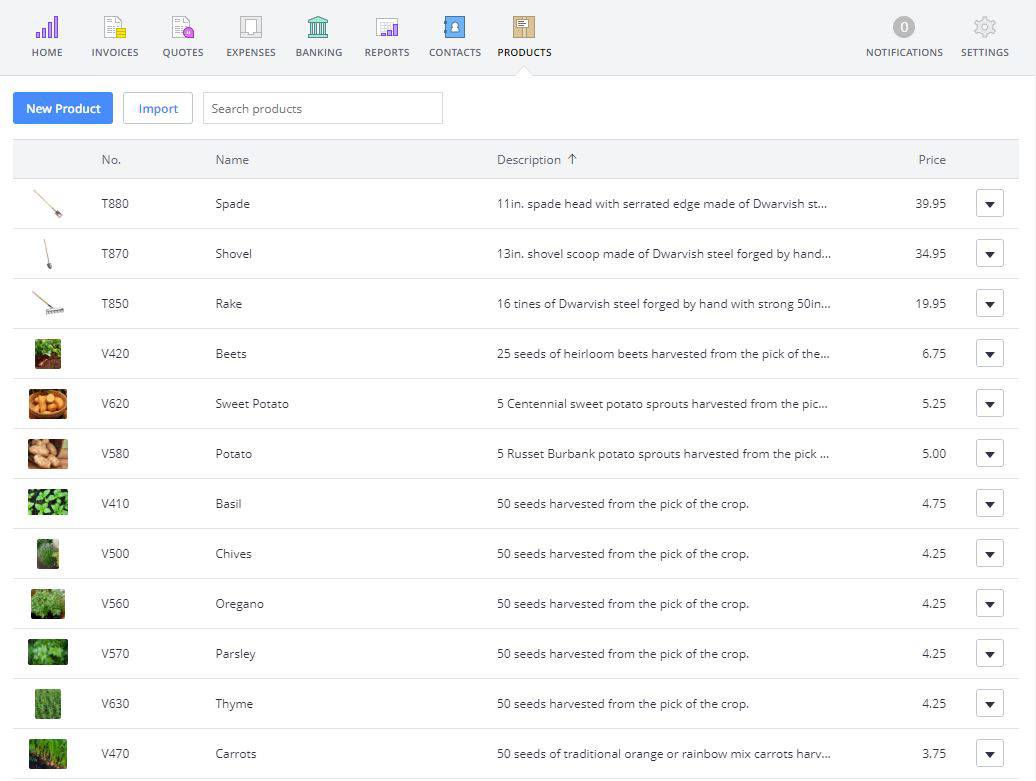 Reports (M & L Plan Only): Debitoor only offers three reports: a profit and loss report, a balance sheet, and a tax report (specific to your country).
Credit Notes: Debitoor supports credit notes.
Packing Slips: You can easily create packing slips, or delivery notes, in Debitoor.
Default Email Messages: You can set default email messages for invoices, credit notes, quotes, and reminders.
Sales Tax: US users can select sales tax rates on invoices, albeit the process could be improved (as you currently have to scroll through decimal increments to find the right tax rate). UK users can expect VAT support (medium and large plan only).
Multiple Currencies: Debitoor supports over 170 currencies, and the software automatically calculates the exchange rate for you.
Multiple Languages: You can send invoices in 17 different languages.
Importing & Exporting (Limited By Plan): With the medium or large plan, you can import products, contacts, and bank statements. With the small, medium, or large plan, you can export data.
Customer Service & Support
Debitoor offers decent customer service, but it definitely could stand improvement. There's no phone support, and email responses, while incredibly thorough, can take a little time. I received responses after a day usually, which makes sense considering the time change between the US and UK. Several customers report positive customer service experiences, so these wait times are probably less of an issue for UK users.
One universal issue is the lack of a true help center or knowledge base. The lack of a search bar in their blog also makes finding information more difficult than need be.
Here are the support options Debitoor provides:
Email: Users can reach support via email. Check Debitoor's site for the support options for your specific country.
Help Center: The closest thing Debitoor has to a help center is a collection of how-to tutorials that teach you how to use certain features. These tutorials used to be training videos but are now written articles.
Chat: The in-software chat feature is handy for quick responses — at least in theory. I never received a quick response here, and once my question was never responded to at all (it disappeared from the chat box as if I had never asked it). UK users may have a different experience, but the chat support isn't promising for US users.
Company Blog: The Debitoor blog offers how-to articles, business advice, invoicing tips, and company news as well. As mentioned above, the only downfall is that there is no search bar.
YouTube: Debitoor offers a YouTube channel with a small sampling of videos.
Newsletter: When you sign up for Debitoor, you can opt to have a newsletter sent to you.
Find An Accountant: If you are interested, Debitoor will help you find a certified accountant and Debitoor expert.
Social Media: Debitoor is active on Facebook, Twitter, Instagram, and Google+.
User Reviews
Negative Reviews & Complaints
Debitoor has only a small number of customer reviews, except when it comes to the Android app which receives 800+ ratings. The majority of reviews are positive; however, there are a few issues users have with the software.
Mobile App Bugs: A couple of users report bugs in the mobile apps.
Limited Features: One user wishes Debitoor had more features, and I find myself agreeing that Debitoor could be more developed and include standard invoicing software features like live bank feeds and project management.
Limited Integrations: One user dislikes the lack of integrations.
Issues Connecting Bank: One user had a difficult time connecting to his bank. He did not elaborate, so I am unsure if this was an issue within the software or if the lack of live bank feeds was what bothered him.
Positive Reviews & Testimonials
The software receives a small number of reviews with 5/5 stars on G2crowd (based on five ratings), 4/5 stars on Capterra (based on five ratings), and 4/5 stars on Trust Pilot (based on 11 ratings). The Android app offers much more insight into the user experience with 4.2/5 stars (based on over 800 ratings). There are a few customer testimonials available on Debitoor's YouTube channel from current users as well.
Here are the positive points users make about the software:
Easy To Use: The most common praise is how easy the software is to use.
Affordable: Many users find Debitoor to be affordable.
Features: Several users say they appreciate Debitoor's features, especially the invoicing.
Good For Freelancers: A few users note that Debitoor is a great tool for freelancers.
Here's what a few users are saying:
The interface is intuitive and it's very friendly. It's easy to use, everything is very organized. Immediately after placing the country in which I reside, the exact amount of the tax charged in the country is placed.

Creating quotats and invoices is bit easier than other software. But due to its limited functionality it makes it difficult to use. The themes are good enough.

Good value for money and easy to use customer service is always available to help.

It's a very simple and complete software, with many very useful functions for freelances and small businesses.

The user interface is intuitive and friendly. It helps me keep track of my finances since I can create accounting entries for expenses and income.
Integrations & Add-Ons
Debitoor only offers three integrations: PieSync, SumUp, and PayPal. Luckily, PieSync connects Debitoor users to additional third-party apps. API is available for developers.
Security
Debitoor uses 256-bit SSL Encryption and a "mirrored database setup," meaning data is stored in two locations in Dublin, Ireland. Debitoor regularly backups data to these locations and uses Amazon Web Services as its primary means of website hosting. You can access Debitoor's privacy policy for further information or contact the company directly for more details.
Final Verdict
There are some great aspects of Debitoor. The invoices are beautiful and easy to customize, and the UI itself is attractive and simple to navigate. The multi-lingual invoicing is a great addition for international businesses, plus the new mobile apps make the software a much more viable small business solution.
For UK users, the software offers VAT support and is GDPR complaint, but for US users, the software is not a realistic invoicing solution. Nor is a realistic accounting solution for any user. While we don't judge invoicing software by accounting criteria, we have to bring it up in this case since Debitoor proclaims itself to be "invoicing software & easy accounting." Debitoor is not full-fledged accounting software.
The software is also missing key features you'd find with other invoicing solutions like project management, time tracking — and the big kicker — live bank feeds. There's also limited reporting and limited integrations. For business owners who don't need these features and are looking for a very simple solution, Debitoor could still be an option, especially for UK businesses in need of international invoicing. The software is also a decent invoicing option if you are an existing SumUp user.
However, for US users we recommend checking out other alternatives like Zoho Invoice, which offers the same great multi-lingual invoicing but with far more features. Or, for UK users, you can get more bang for your buck with FreeAgent, a full-fledged accounting solution designed specifically for UK-based businesses.
If you are still interested in Debitoor, take the software for a spin with their free trial and stay tuned to see if the recent SumUp's dream of creating a "one-stop-shop" for businesses comes true.
---
Try A Top Pick For Payroll
ADP Payroll


---
We like ADP Payroll for its advanced employee management, strong payroll features, and great customer support. Get three months free when you sign up through our links! Get Started.
Try A Top Pick For Payroll
ADP Payroll


---
We like ADP Payroll for its advanced employee management, strong payroll features, and great customer support. Get three months free when you sign up through our links! Get Started.
To learn more about how we score our reviews, see our
Invoicing Software Rating Criteria
.