Discover It Secured Review
Expert Analyst & Reviewer

UPDATED
Advertiser Disclosure: Our unbiased reviews and content are supported in part by
affiliate partnerships
, and we adhere to strict
guidelines
to preserve editorial integrity.
Discover it Secured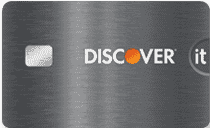 Minimum Recommended Credit
Poor
Rewards Rate
2% or 1% cash back
*As an Amazon Associate we earn from qualifying purchases.
Struggling with your poor credit score? Or perhaps you're a new business owner with no credit history? Having a solid credit report is important for any business owner, and luckily, there are ways to improve or build your credit score. One such way is via a secured credit card. Secured cards usually require you to place down a security deposit, but it will build up your credit so you can focus on other aspects of your business.
With a solid rewards scheme and limited fees, the Discover it Secured card is certainly a viable option for those looking into secured credit cards for their business. As is the case with most secured cards, it will report your activity to the three major credit agencies (Equifax, Experian, and TransUnion), allowing you to boost your credit score by using the card responsibly.
While this card is intended for personal use, making business purchases with a personal card might be an excellent decision. You'll still be able to increase your credit score, and the card can help get you in the habit of paying off a balance every month.
If you're unsure if Discover it Secured would make a good tool for your business, keep on reading to get the full details.
Discover It Secured At A Glance
Eligibility
Discover designed this card with credit-building in mind. As such, you'll likely only need a poor credit score or higher (roughly around 500). It's also a viable option if you don't have a credit history. If you currently hold a credit score in the 600s, you may want to check out some of the best business cards for fair credit.
Unsure of your credit score? Visit our favorite free credit-checking websites to find out!
Rewards & Fees
For a secured card, Discover has bundled in some impressive benefits. To start, you'll be able to collect 2% cash back at gas stations and restaurants up to the first $1,000 spent each quarter. All other purchases (and purchases at gas stations and restaurants after you pass the $1,000 mark) will score you an unlimited 1% cash back.
On top of these base rewards, Discover will match any rewards earned during your first 12 months. That effectively means that throughout your account's first year, you'll be earning double the amount of rewards, giving you 4% cash back at gas stations and restaurants and 2% back everywhere else.
Of course — because this is a secured card — you'll be required to put down a refundable security deposit. As is common practice with secured cards, your credit line will equal your security deposit. The minimum deposit for Discover it Secured is $200. You'll get the deposit back if you pay your balance in full and close your account or you qualify to receive it back via a monthly review that checks your credit management (these reviews will begin after eight months).
Otherwise, the Discover it Secured card is pretty generous when it comes to fees. You won't have to pay foreign transaction fees, and there's no late fee for your first late payment. As an extra bonus, Discover doesn't include any annual fees. You will, however, have to pay 3% of each balance transfer and either $10 or 5% (whichever is higher) when doing a cash advance.
Redeeming Rewards
Rewards can be redeemed at any time, and they'll never expire. You can choose to redeem them as a credit to your account, an electronic deposit to your bank account, or a donation to select charities. Discover also gives you the ability to use your rewards at checkout on Amazon.com. If you have $20 or more in rewards, you'll also have the option to redeem for gift cards or instant eCertificates from select partners.
Other Benefits
There are a few other benefits you'll have access to with the Discover it Secured card. Discover monitors your Social Security number across thousands of risky websites and will alert you if they find anything suspicious. You'll also be able to view your FICO Credit Score on monthly statements, mobile, and online for free.
Other benefits include $0 fraud liability, so you won't be responsible if your card is used for unauthorized purchases. Discover further offers free overnight shipping to any US street address when you request a card replacement.
Final Verdict
Is the Discover it Secured right for your business? You might want to apply for this card if:
You're looking for a card with solid rewards and low credit score requirements.
You shop on Amazon.com frequently.
You travel overseas regularly and don't want to pay foreign transaction fees.
On the other hand, you might want to pass if:
Your credit score is high enough to qualify for cards with better rewards and lower fees.
You don't want to put down a deposit.
You'd prefer bonus rewards in other categories besides gas stations and restaurants.
---
Featured Free Corporate Card
Ramp


---
Ramp offers a free corporate card for virtually any business. Start earning rewards with your corporate spending today. Get your free card.
Featured Free Corporate Card
Ramp


---
Ramp offers a free corporate card for virtually any business. Start earning rewards with your corporate spending today. Get your free card.
To learn more about how we score our reviews, see our
Business Credit Card Rating Criteria
.