Drip Email Marketing Software Review
Expert Analyst & Reviewer

UPDATED
Advertiser Disclosure: Our unbiased reviews and content are supported in part by
affiliate partnerships
, and we adhere to strict
guidelines
to preserve editorial integrity.
Drip Ecommerce CRM

Pros
Feature-rich for eCommerce

Free trial (no credit card)

Numerous integrations

Robust CRM features
Cons
No phone support

High priced for low-volume emailers
Drip Ecommerce CRM Overview
Email marketing is a great way to deliver personalized messages to all your customers while building relationships and drawing traffic to your website. Is there an easier way to create and send those messages than sending each one by hand? Certainly — if you use a software product like Drip to help you craft, schedule, and send those emails. Like any software solution, Drip may save you time and improve your results, but it also costs money. Do Drip reviews show that it's a worthwhile investment?
Most marketing experts agree that investing in email marketing is a solid strategy that delivers excellent returns. In fact, the average return on investment (ROI) for email marketing is an astonishing 3,800%, according to the Data & Marketing Association. That means you can expect to see a return of $38 for every $1 you spend on email marketing. So using a product like Drip to make your email campaigns more effective is not just smart but also cost-effective.
While there are many email marketing products competing for your attention, Drip earns a closer look by virtue of its eCommerce focus. The company bills itself as more than an email marketing platform, self-describing as an eCommerce customer relationship management platform that allows smaller independent online stores to compete with giant online marketplaces by earning loyalty and repeat business. Although any type of business can benefit from the Drip platform's capacity to analyze and collect data, and personalize marketing for customers, Drip is built with eCommerce in mind. Once you use the software to place tracking codes across all your digital channels, you'll enable Drip to analyze complex data from your customers' browsing history, social media interactions, abandoned carts, purchases, and email engagement.
All in all, Drip delivers eCommerce marketing analytics like no other platform. Let's explore the particulars so that you can decide if Drip's software is a good option for your business.
Drip Pricing
Drip Email pricing uses a very transparent model. Its entire platform scales by the number of subscribers you have. Plans start at $19/month for up to 500 contacts. The price includes unlimited emails, once you select a paid plan, until your list tops 30,000 names. With Drip's instant sliding calculator tool, I ran through some price points as examples:
501-2,000 people is $29/month
2,001-2,500 people is $39/month
2,501-3,000 people is $49/month
3,001-3,500 people is $59/month
3,501-4,000 people is $69/month
4,001-4,500 people is $79/month
4,501-5,000 people is $89/month
5,001-6,000 people is $99/month
6,001-7,000 people is $109/month
7,001-8,000 people is $124/month
8,001-9,000 people is $139/month
9,001-10,000 people is $154/month
The monthly rate continues to rise incrementally as you add more contacts. Published rates top out at $1,599 for 135,001-140,000 people. If your list is larger than that, you'll need to call for a quote.
When you compare the costs with other email service providers, keep a few things in mind. First, email marketing software companies typically offer access to advanced features as you pay more, and thus, you can expect less functionality at the lower tiers. But that's not the case with Drip. With Drip, you get every feature in the platform at every price point. That includes A/B testing, automated email workflows, multichannel touchpoints, optimization tools, list segmentation, and its eCommerce CRM tools as well.
Add the ability to send SMS messages for an additional sliding fee. You can send 1,000 SMS messages a month for $15, bump that up to 10,000 for $15/month, or send up to 100,000 for an additional $1,500/month.
Because Drip provides a great value for the cost and exceeds standard features in the beginning tiers, I feel confident giving the company an excellent rating in this category. And remember, you can try the Drip platform for free without giving out your credit card information. That's always a very appreciated bonus in my book. Take advantage of the free 14-day trial, and then connect your eCommerce store to earn another week for free. Cancel at any time.
Cloud-Based Or Locally-Installed
Drip is a cloud-based service, and no local installation is necessary.
Hardware & Software Requirements
As an entirely cloud-based service, using Drip requires only an internet connection and a browser, including Internet Explorer, Firefox, Chrome, and Safari. You will need to install a JavaScript snippet provided by Drip so that the dashboard can report back your analytics, and you can view it properly.
Specific Size Of Business
Drip is built to serve users as they grown and scale up subscriber-wise. Be aware that your subscription cost will scale up along with your list size as you grow. If you're a small business with a little list and a big dream, you'll appreciate that Drip makes all its advanced features available to you from the beginning, no matter how much you're paying per month. That said, Drip is probably best suited for a business that is past the "dabbling phase" and has a large enough list to allow users to dig into the platform's full set of features. Smaller businesses without major growth plans may do better to start with one of the many free email marketing programs available.
While Drip focuses most of its features on empowering eCommerce businesses, the core features would suit any size or type of business and give you room to scale up or down as needed. Unsurprisingly, Drip prohibits users from using the software to perform illegal or harmful activities. Furthermore, sending spam, as it's defined by Spamhaus, is prohibited. Certain types of businesses are subject to additional monitoring, such as online trading, mortgages and loans, gambling, nutritional supplements, dating, affiliate marketing, and horoscope reports.
Ease Of Use
So far, this Drip review has been mostly positive, awarding the software high marks. Now it's time to take a look at how easy it is to learn your way around Drip software. As you begin creating your first email campaign with Drip, you'll find the software relatively easy to use despite its complexities. The visual email editor brings a generous amount of freedom in template options and design, and it's easy to add or remove segments, buttons, and images where you want to.
When it comes to building your automated workflow, you'll find it fairly straightforward, but if you get stuck, you can easily reference the User Manual or ask for help via chat (more on that below). Overall, Drip does a good job of simplifying the funnel process with easy-to-follow workflows so you can connect what you need.
When you're ready to dive into Drip and use all of its CRM features to support your email marketing campaign, you can expect to face a bit of a learning curve if you're going to utilize the feature set properly. However, because Drip makes it easy to sign up and has a relatively straightforward design along with generous support tools, including webinars, courses, guides, and other resources, Drip earns an excellent rating in the ease-of-use category.
Drip Email Marketing Features
As a full eCommerce customer relationship management (eCRM) and email marketing platform, Drip software has a lot to offer. Keep in mind that, unlike other email marketing software, Drip makes all its features available to all users, at every level of service. Here's a sample of what you get:
Dashboard: You'll find four dashboards in your Drip account: one each for your account, email campaigns, workflows, and broadcasts. Each contains can't-miss information for running your overall email marketing and CRM strategies.
Email Campaigns: All Drip accounts with up to 30,000 contacts include unlimited emails. Generous limits apply after that threshold. For example, if your contact list comprises 30,001 names, you can send 390,000 emails.
Creating & Customizing Emails: Drip is a powerhouse when it comes to personalizing and offers a few different ways you can accomplish this with your customers. Once your customer data insights start coming in through your dashboards, hit the ground running with deeper segmentation. Your tags and triggered events can show behavior-based automatic workflows that deliver on-point emails. And with the Facebook integration, you can then use those insights to create personalized ads on Facebook and Instagram based on what those users browsed or shopped. Additionally, Drip has a Custom Fields feature that helps you add personalized details in emails to your customers based on behavior or buying activity, including when they view a product or place an order. I particularly like the prebuilt workflows for shopping cart abandonment, including the integrated solutions with Magento or Shopify.
Landing Pages: While you can make landing pages within Drip, you'll have to rely on purchasing an integration from Leadpages before you can do it.
Customer Tracking: As your customers interact with you through your campaign and integrated apps, you'll start gaining insight. By creating tags as well as tracking interactions your customers have with you, your data starts to form an organized picture. And as the eCommerce-focused solution that it is, you can also integrate other apps, such as Facebook, WooCommerce, and Shopify, so that you can connect your data points for a snapshot of each customer's actions with you.
Sign Up Forms: Drip provides multiple forms you can use to collect information, make special offers, and turn visitors into customers. That includes popup forms, exit-intent forms, side tab forms, and embedded forms.
Email Segmentation: Break out your customers by characteristics and preferences, segment them by their buying behavior, and create custom calls to action based on their service type. Common characteristics include company size, reason for product use, and location.
Split Testing: You can build split tests inside automated workflows, then see which delivers more revenue, site visits, and more.
Reporting & Analytics: From open rates and order metrics to revenue data, Drip Email provides the data you need to make smart decisions about your marketing strategy. Among other metrics available in your dashboard, you'll receive a monthly snapshot with insights about how you can improve moving forward.
Autoresponses: Drip Email includes autoresponder sequences you can customize to welcome customers, build connections, present solutions, and grow sales.
Online Surveys: You'll have to add a tool if you want to give your customers a way to interact with you and increase their engagement with your brand via surveys and quizzes.
RSS To Email: Create an RSS-to-Email rule that searches your RSS feed on a recurring schedule and generates a broadcast email each time the rule performs its search.
Multi-Channel Marketing: This is a core feature of the Drip software. Once you install the JavaScript snippet Drip provides, the software has access to data from your website, social media platforms, and your online shopping cart.
Optimization: There are a few features in the back end of Drip that help you optimize your marketing campaigns. First, your workflow and campaign dashboards allow you to analyze performance and compare strategies across platforms. What compliments this is the Automatic Revenue Attribution feature. With it, you can connect your eCommerce store with Drip and find out which digital marketing strategies are leading your customers to the final sale and improving your bottom line. Another great feature is the Workflow Split Testing feature that helps you test your automated workflows and see if what you're doing is effective. One note, however, is that you need to set up an automated workflow to utilize this A/B testing.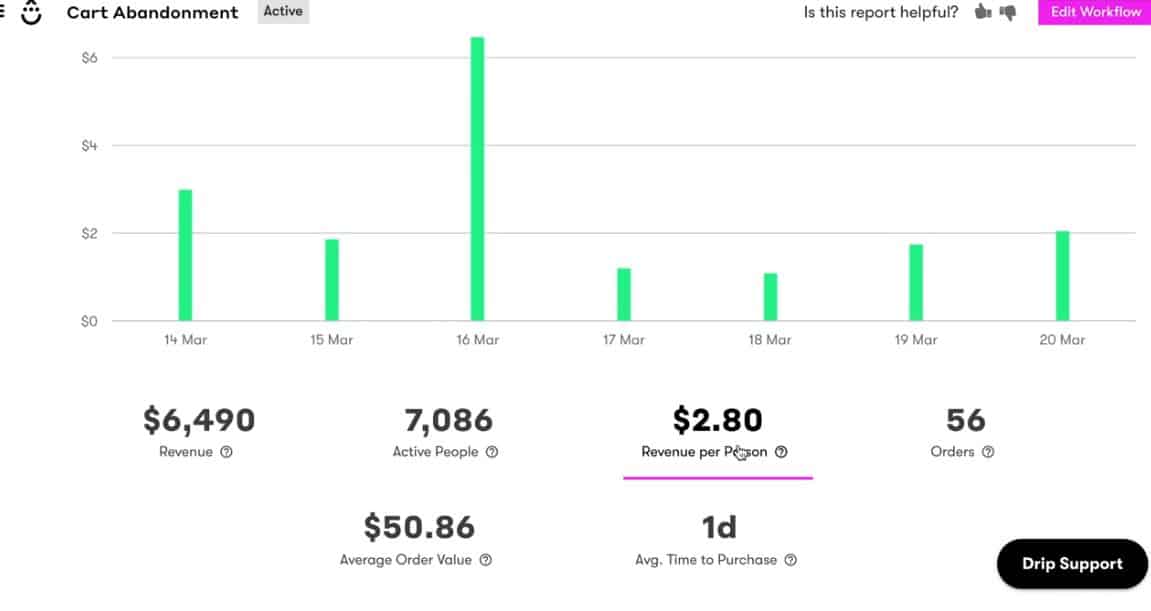 Managing Email Deliverability: To help you build a solid email list, Drip provides an opt-in form so you can get your contacts' permission before sending ongoing communication. It may be hard to hear, but this extra step is crucial to getting a good outcome. Your email is more likely to be opened by someone who has explicitly agreed to receive it. Otherwise, your messages may get sent to the Spam folder, something that can undermine the rest of your efforts over the long haul. Drip also monitors hard and soft bounce rates and provides automation tools to re-engage readers or help you clean them from your list.
However, overall, Drip's feature set is good, delivering on the promise of supporting your email marketing and your eCRM efforts with ample features. The dashboards, workflow tools, and all of the features that help you tackle some of the biggest challenges in eCommerce are built in right from the get-go.
Drip Email Marketing Customer Service & Support
Our experience with Drip support is, overall, a positive one. Service is friendly and knowledgeable, and reps can work through the problem fairly quickly. I love that they send you a history of your conversation via email after the fact so that you can reference any instructions and have a record of the conversation should it be needed.
What's a little disappointing for some is that no matter how big your account is, Drip doesn't seem to offer any sort of phone support or dedicated account service. When you consider how complicated the eCRM platform may become when you dive into its complexities, I can imagine that many would probably prefer a phone call.
Here's a roundup of the support options you'll find with Drip:
Email: You can email support, but response times are long, so your best bet is to use another option if you can.
Support Form: Choose your need from a limited dropdown menu to access quick answers to that type of question. If that doesn't do it for you, you can send details to Drip and wait for a response.
Live Chat: When you're working in the Drip software, you never have to wonder how you're going to contact Drip. There is an easy-to-spot button that begins your chat session wherever you are.
In-Software Help: Under the Learn tab, you can use the search tool if you're looking for something specific. You can also access the easily navigable User Manual, guides, courses, webinars, and general resources and articles. There is a lot of information there to help you on your journey.
Guides: Find step-by-step instructions on a variety of topics and nitty-gritty answers to your questions about using Drip.
Videos: Drip has a YouTube channel with dozens of how-to videos.
API Documentation: View Drip's REST API documentation online.
Blog: Filter for categories geared for agencies, best practices, case studies, email marketing, marketing automation, and news.
Drip Reviews
Overall, Drip reviews show users reporting that they are happy with the results. Negative reviews are relatively benign and far between. Below, we've highlighted some common complaints and praises for Drip.
Negative Reviews & Complaints
I headed over to G2 to find out a little bit more about what other people thought of the platform. Of the 418 reviews, only 23 reviewers rated Drip at three stars or lower. Here's the pain points some users identified:
Complicated Interface: Some types of smaller businesses find Drip a little overwhelming at first and maybe even overkill for their needs. Options in sorting contacts and workflows may feel complicated and the workflow doesn't always seem intuitive.
Relatively High Cost: Cost is certainly something to consider, as it is a little higher than some of its competitors. In my opinion, the difference is that Drip offers all of its core features at every level, so you'll find comparatively fewer savings in the lower tiers. This setup works best for a company that already has marketing goals and is ready to get started, even with a smaller list.
No Phone Customer Service: The complex platform combined with the lack of phone support can create a perfect storm of customer frustration.
These reviewers said:
It's not as straight forward as I would like. Some of the ways you get to things, as well as some of the processes that have to be taken are kind of hidden within menus.
And…
There are a lot of options for how to sort contacts, workflows for online shopping and newsletters. Which is great if you need all of that, but makes interfacing very complicated. We're a small operation (a gym) that does all of our services in person.
Positive Reviews & Testimonials
Drip gets almost overwhelmingly positive reviews. The 152 reviewers on Capterra rate the software 4.4/5 overall and give it 4/5 for ease of use and 4.5/5 for customer service. Here are a few general things people love about this app:
Integrations: In particular, users appreciate the ability to link Shopify and other eCommerce solutions to their Drip accounts. These integrations allow Drip to accomplish the goal of supporting eCommerce shops by delivering organized data from more points in the customer's buying journey.
Automation: Automation of some form is standard in most email marketing apps, and Drip users appreciate the workflows. While even reviewers who rate Drip highly cite that it feels a bit complicated at first, they also say that the freedom in tagging, rules, and automation creation has empowered their marketing efforts overall.
Easy Workflow: Yes, you'll find users who both complain and praise Drip for its workflow interface. Five-star reviews praise Drip for simplifying its funnel process. It all depends on the skill and comfort level of the user.
This reviewer shares:
Drip is an extremely intuitive platform to use allowing users to quickly and easily build complex campaigns. I love the email editor. Best one that I have used by far. It's fully responsive and allows you to quickly toggle between edit and preview across all devices. The learning curve for learning Drip is extremely low. You can start building your first campaign in less than an hour of logging on for the first time. The ability to segment your lists is extremely easy to implement.

Integration into your website is simple and there is a long list of other platforms and solutions that Drip integrates with to create a powerful comprehensive marketing solution. The price combined with the list of features and powerful functionality kicks the butt of much more expensive solutions that are on the market. Drip is a modern marketing solution that doesn't feel like it was built in the 90s… unlike other tools on the market. I have deployed Drip within several organizations and I will continue to recommend it as a top tier marketing solution.
Drip Integrations & Add-Ons
Drip has a wide range of integrations that allow you to connect your eCommerce store and social accounts to obtain data and tracking for your customers. Visit the app store to fill in some notable gaps in Drip's generous feature set, like landing pages or rendering. You can find an app to integrate and add features like those when you need them. And you'll be able to link your Drip account to your eCommerce store, if you haven't already.
There are more than 100 integrations available, and you can search for what you want by name or by category. Categories include analytics, customer support, email verification, forms and surveys, lead capture, and more. There's also an API you can use to build your own integrations, if you don't see what you're looking for. Additionally, a note on each page asks if you have a specific integration you are looking for. That tells me that Drip is willing to make it happen for you if you have a need not listed. With developers standing by to help you find what you need, Drip earns an Excellent in this category for the well-rounded options it does provide.
Security
Drip maintains ongoing efforts to remain compliant with the General Data Protection Regulation (GDPR). However, Drip's platform is not HIPAA compliant and does not provide encryption and the security level required to become HIPAA compliant. You could still utilize Drip if you did require HIPAA security if you encrypted on your end or offered a secure download link rather than transmitting directly via email.
Drip stores customer data and personal information on secure servers. All electronic transactions are protected by SSL encryption technology. Drip is very transparent about incident history, and users will be notified if customer data is disclosed to or accessed by unauthorized parties. However, if customer data is breached, you (not Drip) would be responsible for following through on any required third-party notifications.
Final Verdict Of Drip Email Marketing
A full Drip review shows that it is a well-designed solution that can solve the cross-marketing challenges today's eCommerce shops face. With robust personalization and automation tools, Drill allows users to drill down into their sales funnel and reach customers exactly where they are in the buying journey —whether they're visiting your website, your blog, your social media sites, or reading your emails — and for that, Drip certainly deserves serious consideration.
Although you can find lower-priced options for email marketing, including free software, keep in mind that Drip pricing stands out for the company's policy of making all features available to all users, regardless of your list size or subscription level. For some rookie users, that can lead to feature overload that overwhelms them. Because Drip is best for marketers or those who are at least familiar with digital marketing strategies, I recommend trying Drip before you buy and utilizing the free trial before committing. Otherwise, you may feel in over your head with Drip's feature set.
For most users, with a little time to explore the software and its capabilities, I'm confident it can fit nicely into any overall email marketing strategy. For that reason, I'm confident in giving Drip a 4.5 out of 5 stars, as it successfully delivers on the promise of a comprehensive eCRM platform. Want more info and chances to try before you buy? Check out our list of the best email marketing software to learn more about your options.
---
Featured Free Corporate Card
Ramp


---
Ramp offers a free corporate card for virtually any business. Start earning rewards with your corporate spending today. Get your free card.
Featured Free Corporate Card
Ramp


---
Ramp offers a free corporate card for virtually any business. Start earning rewards with your corporate spending today. Get your free card.
To learn more about how we score our reviews, see our
Email Marketing Software Rating Criteria
.