Dwolla Review: What Is Dwolla & How Does It Work?
With a Dwolla paid plan, you'll have access to a lot more bells and whistles than traditional ACH processing options offered by most merchant service providers.
Expert Analyst & Reviewer

UPDATED
Advertiser Disclosure: Our unbiased reviews and content are supported in part by
affiliate partnerships
, and we adhere to strict
guidelines
to preserve editorial integrity.
Dwolla

Dwolla At A Glance
Dwolla is a ACH payment transaction platform.
Dwolla does not offer credit card processing.
Dwolla Pay-As-You-Go plan can provide a cost-effective way to take ACH payments
---
Pros
Offers pay-as-you-go ACH processing
Many developer tools available
White-label payments solution available
Extensive customer support options for paid plans
Cons
No credit or debit card processing
Paid plans are very expensive
Only available in the United States
What Is Dwolla?
Dwolla is an ACH payments facilitator, although originally, Dwolla was a P2P bank transfer platform that also catered to businesses. The company has since transformed from a PayPal-like service that both merchants and consumers could use into a platform that will mostly be a good fit for very large businesses that handle a lot of B2B transactions (read our guide to B2B payment processing) or need some of the company's specialized services, such as support for mass payouts.
Unlike almost every other merchant services provider we've reviewed, Dwolla does not offer credit or debit card processing at all. The company is not a merchant account provider or a payment service provider (PSP), such as Square.
In fact, its bank transfer-only business model is designed specifically to avoid the high interchange fees charged by the major credit card associations. Because of this, you won't find support for things such as credit card terminals or point of sale (POS) systems. Dwolla also lacks support for the kinds of check scanners used to convert a paper check into an echeck payment.
Products & Services
What is Dwolla, and how does it work? Dwolla's concept is surprisingly simple: ACH payments.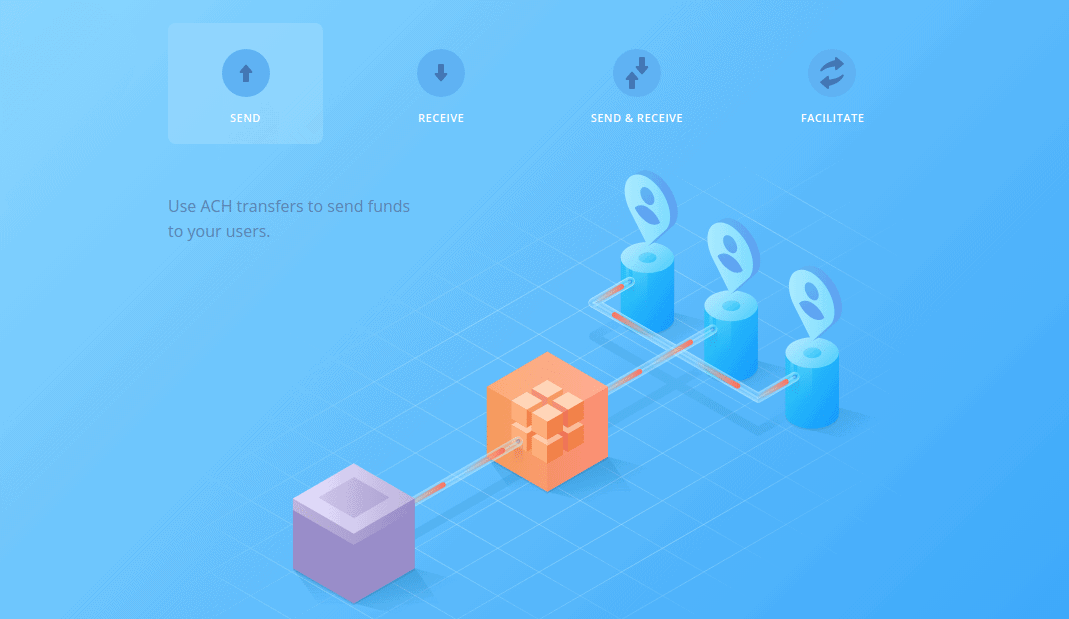 Dwolla Payment Processing & Money Transfer
You're not going to find credit or debit card acceptance, cryptocurrency, PayPal, or any of the other assorted online payment alternatives that have cropped up. Just pure, simple bank transfers. So how does Dwolla handle ACH transfers? You can think of it as something akin to a digital wallet (such as Venmo or CashApp) but scaled for B2B payments rather than P2P transactions.
Here are some of the key features of Dwolla payment processing:
ACH Payments: A Dwolla account will allow you to send, receive, and facilitate payments. If you're wondering what "facilitate payments" means, it means you can build a platform that allows users to send funds to one another without requiring you, the merchant, to do anything. (Additional note, you can also charge a facilitator's fee for the transaction to monetize the platform.) You can also hold balances within Dwolla, like a digital wallet.
Recurring Payments: If there's one good reason to take ACH payments vs wire transfers, it's probably to enable recurring payments. As you might expect, Dwolla supports recurring payments.
On-Demand Payments: These types of payments also work with metered billing, charging a variable amount every month based on usage. This is ideal for utility billing, but it can also be used with any type of usage-based service.
Bank Account Balance Checks: Unlike PIN debit payments, ACH transactions usually do not have a built-in function to confirm that there are sufficient funds in a customer's account before attempting a withdrawal. Dwolla includes the ability to check the balance on a customer's account before debiting funds (with their permission, of course).
Dwolla Platform Tools
If it were just about accepting ACH payments, Dwolla's niche would be able to be filled by any payment processor that takes them (for example, compare Dwolla vs. Stripe or Dwolla vs. PayPal's Braintree). Dwolla, however, offers a unique platform based entirely around ACH payments.
Here are some of the features:
Dwolla User Accounts: An important requirement with Dwolla that you won't experience with most credit card processors is the need for users to verify their accounts before they can make or receive a payment. Dwolla offers two options to do this: micro-deposits and Dwolla.js. Micro-deposits send two tiny sums (typically less than $0.10 each) to the user's bank account to verify the account information. Dwolla.js is a client-side JavaScript library used to securely transmit bank account information from your website to Dwolla without any data passing through your server. While Dwolla.js can verify a bank account instantly, micro-deposits require several days to confirm.
User Account Types: Dwolla separates user accounts into three tiers: Receive-Only, Unverified, and Verified. Receive-only customers are only able to receive payouts and do not require any verification process. They cannot hold balances within a Dwolla wallet. Unverified accounts can both send and receive funds but are limited to sending $5,000 per week. Unverified accounts collect just the customer's first and last name and email address and can only transact with verified customers or the master Dwolla account. Verified accounts may be set up for either personal or business use. A verified business account can send and receive funds with a limit of up to $10,000 per transaction, while a verified personal account can send and receive up to $5,000 per transaction. In both cases, the customer can hold a balance within a Dwolla wallet.
Security Features: As we've mentioned above, Dwolla.js is the company's primary security feature. By keeping sensitive customer bank account information from ever being recorded or stored on your server, this feature drastically reduces the scope of your PCI compliance requirements. Dwolla also uses tokenization to replace actual account numbers with single-use "tokens" that hackers cannot exploit.
Other Integrations & Add-Ons: Dwolla currently lists a number of third-party integrations that are available to its users. One of the more useful integrations is Plaid, which provides another option for customer bank account verification. Plaid integrates directly with your website and uses tokenization to provide instant account verification. It's also mobile-friendly. Another integration, Sift, is a fraud-prevention service that uses machine learning and a global data network to detect and proactively prevent fraudulent activity.
Dwolla Pricing
Dwolla's pricing was previously more transparent, but most of the itemized fees have been removed from the company's website. The pricing below reflects the most recent information we have on Dwolla's plans and fees.
The available plans are as follows:
Pay-As-You-Go
No monthly fee
Standard ACH processing
Balance-to-balance transfers between two users of your application
0.5% per transaction (minimum $0.05, maximum $5)
One-time $1 fee per receive-only user
One-time $2 fee per customer
Transaction-based pricing
API access
Tokenization
Branded (yours) user experience
Most small businesses will probably be happy with the Pay-As-You-Go plan, which provides basic ACH support. You can sign-up for it right from Dwolla's website.
Scale
Dwolla's paid plans formerly came in several different forms, but that no longer appears to be the case. Instead, Dwolla advertises advanced features "starting at $250/mo" which is the price point of the old Launch plan.
Scale plans have the following features:
$250 and up per month
0.5% per transaction (minimum $0.05, maximum $5)
One-time $1 fee per receive-only user
One-time $2 fee per customer
Next- and same-day ACH processing
Push-to-debit
Real-time payments over the RTP Network
Wire transfers
Dedicated support available for $500+ per month
All other features available in the Pay-As-You-Go plan
Note that at higher monthly fees transaction costs will be reduced. You'll need to speak to a Dwolla representative to find out at what price point premium features become available. Premium features include:
One-time $1 fee per verified customer (unverified are free)
Dedicated support included
Volume pricing
Custom feature development
Sales & Advertising Transparency
As you would expect from a leading fintech company, Dwolla's website is polished and professional.
Unfortunately, Dwolla has taken a step in the wrong direction with regard to transparency with its recent updates. You'll still see some basic price disclosures on the site, but gone are the in-depth breakdowns.
Still haven't found any complaints from merchants who have encountered hidden fees or misleading sales representatives. To the best of our knowledge, the company employs an in-house sales team and doesn't rely on independent agents.
Contract Length & Early Termination Fee
Dwolla's Pay-As-You-Go plan doesn't have a long-term contract, and the Terms of Service provided on the company's website specifically state that you're free to close your account at any time. This is a great feature for small business owners, especially if you only process an occasional ACH payment and don't use your account regularly.
If you sign up for the Scale or Enterprise plans, however, things are different. Like almost every other industry provider, Dwolla doesn't say a word about long-term contracts on its website. Yet we've found plenty of reports from merchants indicating that the company does require a long-term commitment from businesses using these plans. Agreements are typically for an initial term of twelve or 24 months.
However, there's no information available about whether there's also an automatic renewal clause or for how long the renewal periods will run. Nor have we heard anything regarding an early termination fee (ETF) that you'd have to pay if you closed your account before the end of your contract term.
Customer Service & Technical Support
Customer service options with Dwolla range from barely adequate to top-notch, depending on which pricing plan you sign up for.
| Dwolla Support | Availability |
| --- | --- |
| Phone Support | With Scale plan |
| Email Support | |
| Support Tickets | |
| Live Chat | With Scale plan |
| Dedicated Support Representative | With Scale plan |
| Knowledge Base or Help Center | |
| Videos & Tutorials | |
| Company Blog | |
| Social Media | |
Dwolla Reviews, Complaints, & Testimonials
Negative Dwolla Reviews & Complaints
Dwolla is not accredited by the BBB but nonetheless has an A+ rating. The company has had five complaints over the past three years, one of which was filed within the last twelve months.
Issues include:
Communication Issues: Customers sometimes report difficulty resolving irregularities.
Security Issues: This is going farther back, but at one point, Dwolla had some security issues that have since been resolved.
Hard To Understand: Dwolla is an unusual service despite being focused entirely on ACH payments. The website does a mediocre job at clearing up what it is and how it differs from other payment services.
Positive Dwolla Reviews & Testimonials
Dwolla rates 4.3 out of 5 stars on G2 crowd and Capterra, with 30 and 40 user reviews respectively.
High points for Dwolla include:
Standalone ACH Service: ACH services are rarely the star of the show when it comes to payment processing. The Pay-As-You-Go plan makes them easy to utilize.
Cost-Effective: As long as you're selecting a plan that's appropriate to the scale of your activities, Dwolla is pretty cost-effective.
Unique Service: There are many companies that do some of what Dwolla does, but not that many that are exactly like it.
Final Verdict
If you're an eCommerce merchant looking for an ACH payment processing service, Dwolla is certainly an interesting option. With a paid plan, you'll have access to a lot more bells and whistles than what you'd get with the kind of ACH processing options offered by most traditional merchant service providers. For certain specific types of businesses, Dwolla might just be what you're looking for.
While the free Pay-As-You-Go plan can save you a lot of money, you'll have to do all the work of integrating Dwolla into your website yourself, and you'll have minimal options for technical support.
At the same time, the company's paid plans give you access to every feature you could possibly need, including access to a developer to integrate Dwolla's payment processing system into your website. It's nice to see that Dwolla is now offering more plans, which makes it easier for companies to scale up from the basic month-to-month plan.
For now, Dwolla earns an overall score of 4.5 out of 5 stars.
If Dwolla is too limited (or too pricey) for your business, take a look at either Stripe Payments or PayPal's Braintree, two other eCommerce-focused payment platforms that offer ACH processing. Finally, our article, The Best Online ACH Payment Providers For eCommerce, has several other great suggestions if you need a more traditional merchant services provider that offers both credit card and ACH processing.
---
The Merchant Maverick Seal of Approval 🏆
Dwolla


---
After hours of in-depth research and evaluation, we can confidently recommend this brand to our readers. Get started today and see Dwolla for yourself.
The Merchant Maverick Seal of Approval 🏆
Dwolla


---
After hours of in-depth research and evaluation, we can confidently recommend this brand to our readers. Get started today and see Dwolla for yourself.