eBay Mastercard Review
Similar to how most store-specific cards work, this Mastercard lets you earn extra rewards by shopping on eBay along with some other unique benefits.
Expert Analyst & Reviewer

UPDATED
Advertiser Disclosure: Our unbiased reviews and content are supported in part by
affiliate partnerships
, and we adhere to strict
guidelines
to preserve editorial integrity.
eBay Mastercard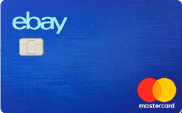 Minimum Recommended Credit
N/A
Rewards Rate
5, 3, 2, or 1 point per $1 spent
Co-branded credit cards, a staple of physical storefronts, are increasingly being adopted by digital storefronts as well.
The eBay Mastercard® is one of the eCommerce giant's co-branded credit cards (in conjunction with Synchrony Bank). Similar to how most store-specific cards work, this Mastercard lets you earn extra rewards by shopping on eBay. If your business makes or spends a lot through eBay, this card could be worth a closer look — even if you don't intend to use the card for other purchases.
This is not a business-specific credit card and is instead marketed as a consumer card. Accordingly, it won't include features such as employee cards, and it may not directly affect your business's credit history. However, using a personal card for business still comes with an array of unique benefits.
Read on to dig into the details of eBay's Mastercard.
The eBay Mastercard At A Glance
eBay Mastercard


---
Eligibility
Neither eBay nor Synchrony Bank is clear regarding recommended credit scores for potential applicants. As such, you'll want to aim for your credit score to be as healthy as possible before applying.
Don't know your credit score? Check it out on one of our favorite free credit score websites and find out today!
As is standard with credit cards, you need to be 18 years of age or older and live in the US. Additionally, current eBay Extra Mastercard holders are not eligible to apply for the eBay Mastercard.
Rewards For Spending
eBay bundles this card with a unique rewards scheme. Instead of capping the rewards rate after reaching a specific spending threshold, you actually earn at a quicker clip the more you spend. Sadly, no welcome offers are currently active.
3 Points Per $1 On eBay Purchases
This card's standard rate for eBay purchases is 3 points for every dollar you spend on the shopping website.
Note that purchases made outside of US-based merchants on eBay won't collect points at the triple rate. Instead, shopping with international merchants or making payments in currency other than US dollars will only collect 1 point per dollar spent. It's worth keeping this in mind if you frequently bid on items outside the US.
More Points Once You Spend $1,000
The bit that makes this card's points scheme unique is what happens once you pass $1,000 spent on eBay in a calendar year. After you've hit that $1,000 threshold, eBay purchases will be bumped up to 5 points per dollar spent.
Shopping with international merchants or making payments in currency other than US dollars don't count toward the $1,000 threshold. Additionally, those activities won't net the 5x rate; they'll be stuck with 1 point per dollar spent.
Double Points For Select Categories
Select categories outside of eBay will also net extra points at 2 points per dollar spent. At the time of writing, the 2x point categories are gas stations, restaurants, and grocery stores.
All other purchases with the eBay Mastercard will snag you 1 point per dollar.
Redeeming Rewards
While the eBay Mastercard has a decent rewards structure, this card falls apart with its redemption method. You only have one option for redemption, and the rate at which you redeem points is quite low.
$10 Credit For Every 1,500 Points
The sole way to redeem your points earned with the eBay Mastercard is simple: For every 1,500 points you collect, you can redeem $10 at checkout on eBay purchases.
This redemption rate is ultimately quite tragic if you intend to use this card for anything besides eBay purchases. A single point is effectively worth 0.67% cash back ($10 / 1,500 points = 0.67%). As such, regular purchases beyond the bonus spending categories should be avoided.
Buying in a double points category (gas, restaurants, and groceries) will net you effectively 1.33% cash back. While this rate isn't terrible, plenty of other cards offer higher returns in those categories.
All that said, if you plan to use this card solely for buying on eBay, it could be worth it. Because the card earns 3 points per dollar on eBay purchases, it effectively offers a 2% cash back rate when buying on eBay (0.67% x 3 points = 2%). Once you cross $1,000 spent on eBay purchases in a year, you'll earn 3.33% cash back for eBay purchases. That is a healthy rate indeed, and it means frequent buyers could rake in solid rewards by using this card for spending on eBay.
Points Expire After 2 Years
If you do not reach the 1,500 point threshold or fail to redeem your points if you do, your points will expire after 24 months. However, heavy eBay shoppers should not need to worry about points expiring; you'll reach the necessary threshold by spending at least $500 on eBay purchases.
Points Can't Be Redeemed On All Items
It's also noteworthy that points are restricted from being redeemed for purchases on items in select categories. These categories are:
Coins
Paper money
Bullion
Classifieds
Real estate
Motors (except parts and accessories)
You also may not redeem points for shipping, taxes, invoicing fees, or seller fees.
Card Benefits
There are a few other standard credit card benefits with the eBay Mastercard.
Basic Credit Card Security
You'll be able to access Mastercard's 24/7 global assistance service. The available 24-hour services provide assistance with lost and stolen card reporting, emergency card replacements, and emergency cash advances.
The eBay Mastercard additionally has identity theft resolution services and zero-liability protection. You can expect access to ID theft alerts, card replacement, and ID theft assistance. As with its global assistance services, Mastercard provides identity theft services around the clock.
Travel Perks
Mastercard also provides access to a 15% discount on airport meet-and-greet services. This feature allows for a meet-and-greet agent to escort your airport journey on departure, arrival, or any connecting flights at over 700 destinations globally. The service is available 24/7.
Finally, eBay advertises that this card will grant you access to "hidden-gem experiences" and "special-access events" across the globe.
eBay Mastercard Rates & Fees
The eBay Mastercard wonderfully lacks an annual fee, but there are other standard fees to keep in mind — and the APR doesn't look great, either.
A High-Ish APR
With an APR that ranges from 19.99% - 26.99% (variable), this card may not be the best choice for those that need to carry a balance. However, as long as you pay off your balance every month, you won't be troubled by a potentially hefty APR.
No Annual Fee
The highlight of this section is the card's absence of an annual fee. Without an annual fee, you'll always be in the black when it comes to the rewards you earn — something that's especially key considering eBay Mastercard's low rewards rates.
Watch Out For Foreign Transaction Fees
Foreign transactions will also cost you an extra 3% per transaction, so busy travelers may want to use this card strictly for domestic purchases.
Other Fees
There is a relatively standard cash advance fee of $10 or 5% of the cash advance amount (you'll have to pay whichever is higher). Late payment fees can max out at $39.
Is The eBay Mastercard Right For You?
You might want to apply for the eBay Mastercard if:
You regularly shop on eBay and can make the limited rewards rates worth it
You want to avoid annual fees
You're fine with a card that only allows redeeming rewards at eBay checkout
You might want to look for a different card if:
You rarely shop at eBay and plan to use this card regularly on non-eBay purchases
You will be traveling abroad and won't be using a different credit card
You'd prefer a card that offers more flexible redemption methods, such as gift cards or cash back
---
Featured Free Corporate Card
Ramp


---
Ramp offers a free corporate card for virtually any business. Start earning rewards with your corporate spending today. Get your free card.
Featured Free Corporate Card
Ramp


---
Ramp offers a free corporate card for virtually any business. Start earning rewards with your corporate spending today. Get your free card.
To learn more about how we score our reviews, see our
Business Credit Card Rating Criteria
.