Expert Analyst & Reviewer

Updated on:
Advertiser Disclosure: Our unbiased reviews and content are supported in part by
affiliate partnerships
, and we adhere to strict
guidelines
to preserve editorial integrity.
Ecwid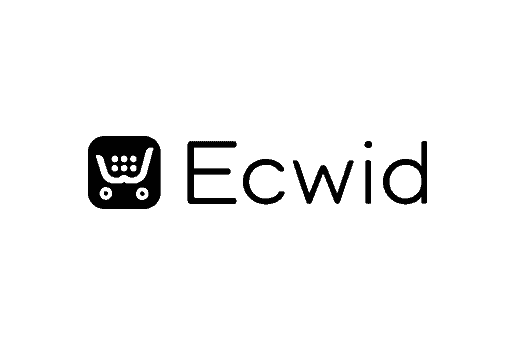 Pros
Easy learning curve

Numerous features

Free plan available

No transaction fees
Cons
Limited templates
Limited features on free plan
Ecwid Overview
With eCommerce on the rise, you may be looking to add an online store to your sales strategy. Maybe you run a brick and mortar store and want to reconnect with old customers who have found new ways of shopping. Or maybe you have a popular website and want to give online visitors the option of buying from you. If you're interested in learning how to do that, you may have come across some Ecwid reviews that promise the solution you need.
But is Ecwid the right choice for your online venture?
First things first: What is Ecwid? Pronounced "ehk-wid," it's a shopping cart widget that plugs into any website. The name comes from the phrase "eCommerce widget," which is a perfect description of what this eCommerce tool is. With just a few lines of code, anyone can incorporate Ecwid into an existing website and use it to sell across multiple platforms, social networks, and marketplaces, managing an expanding eCommerce operation from one easy-to-use admin panel. And, if you don't have a website already, you can use Ecwid to build a simple, standalone online store.
If that sounds like a promising start, read on for a full Ecwid review, including an analysis of pricing, features, reputation, and design.
Ecwid Pricing
Ecwid pricing is relatively straightforward, with a limited free plan that allows you to launch an online store without a monthly payment and three other options with increasing levels of features. Take note that some relatively basic features are unavailable on the free plan. Because Ecwid does not offer a free trial, it's reasonable to use the free option as a test of Ecwid's platform.
If you like what you see, you'll likely want to upgrade to a paid plan relatively quickly. You may also notice that the subscription fees for Ecwid's paid plans are lower than some other eCommerce options. That's because Ecwid is not a complete website builder; it's a widget that's meant to be plugged into a complete website to enable eCommerce. If you don't already have a functional website, factor the cost of developing one into your plans.
Here's a breakdown of Ecwid's plans:
Forever Free
Ecwid's free plan costs $0/month and includes:
10 products
Add an online store to any website

Instant Site builder (a one-page website with your store built-in)

Sell on multiple sites

Social media advertising

One-tap checkout with Apple Pay

Mobile responsive design

Unlimited bandwidth

No transaction fees (besides payment processing)

GDPR compliance
POS options: Square, Clover, and Alice
Gift cards

Email support
Venture
Ecwid's Venture plan costs $15/month and includes everything in the Free plan, plus:
100 products

Digital goods (up to 25GB per file)

Android and iOS store management apps

Facebook shop

Instagram shop

Mobile POS

Access to app market for adding integrations

Discount coupons

Automated tax calculator

Facebook Messenger live chat

Inventory management

SEO tools

Connect your domain name

Live chat support
Business
Ecwid's Business plan costs $35/month and includes everything in the Venture plan, plus:
2,500 products

Sell on Amazon and eBay

Mailchimp and automated marketing emails

Scheduled order pickup

Abandoned cart emails

Wholesale pricing groups

Product filters

Product variations

Create orders

Dimensional shipping rates

Two staff accounts

Multi-lingual catalog

Phone support

Two hours of custom development (if plan is paid annually)
Unlimited
Ecwid's Unlimited plan costs $99/month and includes everything in the Business plan, plus:
Unlimited products

Branded iOS and Android shopping app for your store (if plan is paid annually)

Unlimited staff accounts

Priority support

12 hours of custom development (if plan is paid annually)
Plans are billed monthly, with no contracts to sign. If you decide to make a long-term commitment to Ecwid and pay for a full year in advance, you can save around 17% on your payments. It's worth repeating that Ecwid does not charge any transaction fees on the sales you make, although you will have to pay fees to your payment gateway provider.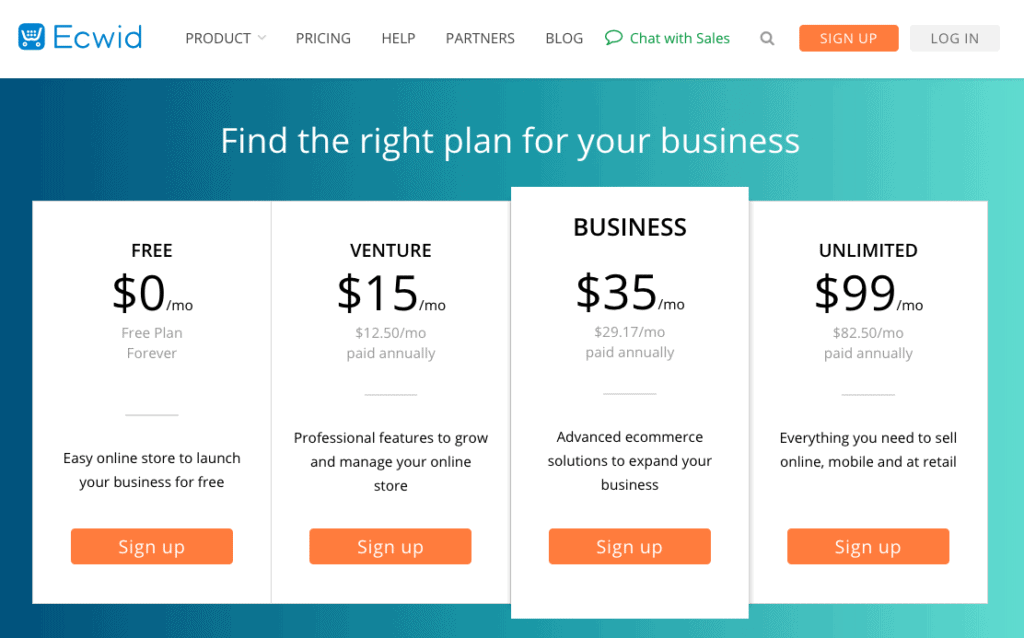 Cloud-Based Or Locally-Installed
Ecwid is cloud-based, so there's no installation process. You sign up for an account and then add Ecwid to any website. If you choose to add a standalone Instant site, Ecwid is fully hosted, so you won't have to install, upgrade, or maintain any software or servers, and you'll have a ready-to-go single page web store. If you want to add Ecwid to an existing website, you simply copy and paste a few lines of HTML code into your site to embed your new Ecwid shop. You can also look for a premade integration module for Ecwid, if you use a popular site builder or Content Management System (CMS) like WordPress, Wix, Weebly, Joomla, RapidWeaver, or Drupal, among others. Check the Ecwid website or your existing site's platform to see if a module is available.
Hardware & Software Requirements
You don't need to meet any software or hardware requirements to run an online store powered by Ecwid. If you want to use Ecwid's mobile apps to manage your store on a tablet or smartphone, you'll need to use a compatible device. The apps are compatible with Android 6.0 and up and iOS 10.0 and later.
Specific Size Of Business
Ecwid is best for small- to medium-sized online businesses. The pricing system and overall ease of use of the software are particularly attractive for businesses just starting to venture into online selling. Although it won't meet the needs of the largest online sellers, Ecwid's higher subscription packages offer more integrations and would likely meet the needs of medium-sized businesses, especially those who earn sales through a mix of online and in-person buyers.
You can view a fully functional, multilingual demo store on Ecwid's website. View the demo store in desktop, tablet, or smartphone mode to get a good feel for the way Ecwid stores work. You'll need to sign up for a free account — no credit card and nothing but your name and an email address needed if you want to see how the control panel works. Doing that will allow you to play around with Ecwid on your own, to learn if it's a good fit for your business needs.
Ease Of Use
Ecwid scores major points on ease of use. The control panel is simple to navigate and implement. If you have experience with WordPress or any other CMS, you should be able to pick it up quickly. When you sign up for the free plan, you'll be directed to your admin. A setup wizard takes you through the first few steps of getting your store up and running.
Adding products is straightforward. Tabs across the top let you list attributes and options (also known as variants), upload additional images, adjust tax and shipping information, and write meta descriptions for advanced SEO (with paid plans only).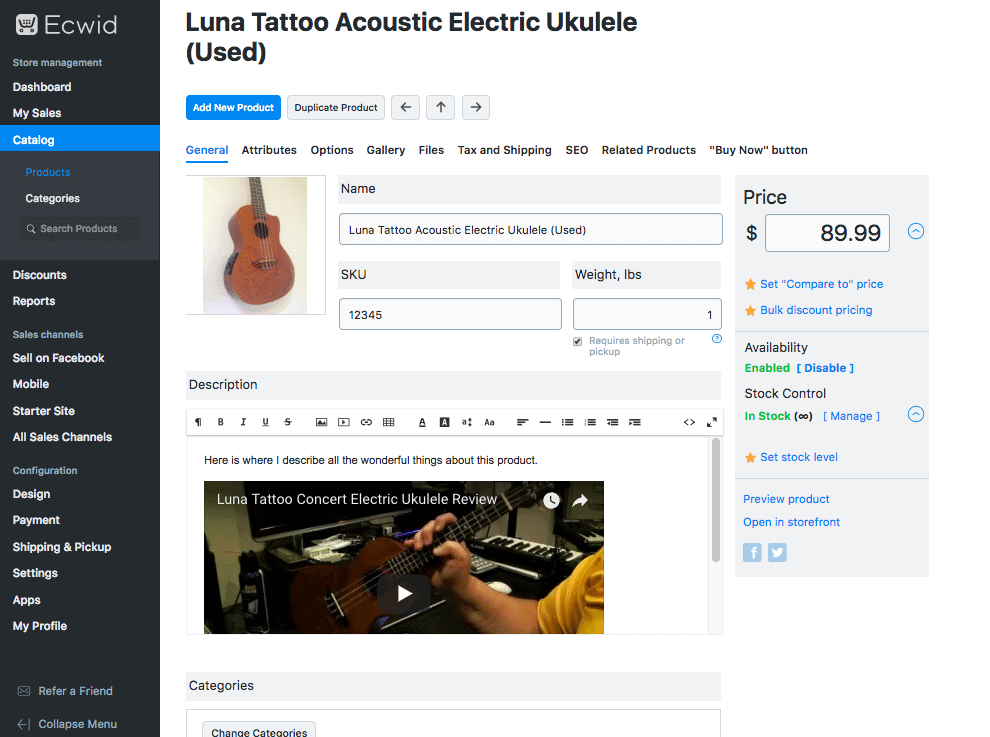 I like how you can pop out a quick preview of each product without visiting the full storefront preview: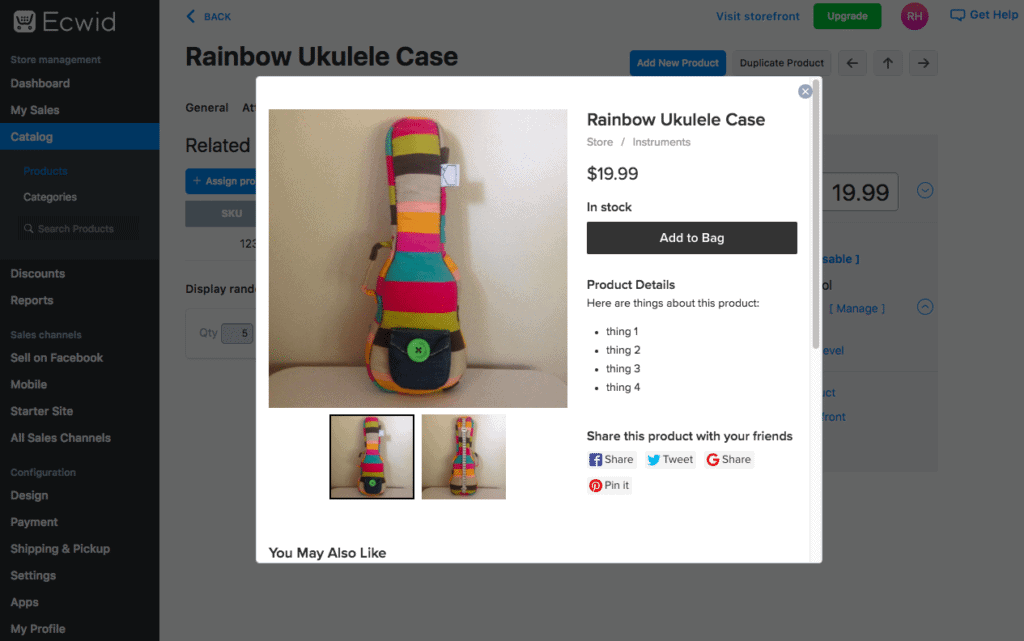 I couldn't explore the ease of use of some features (e.g., discounts, creating orders) due to limitations of the free plan, but I did toy with shipping zones and methods, which worked nicely. It was also super easy to plug my store into a WordPress site. Once I installed the Ecwid plugin from my WordPress account, my full Ecwid easy-to-navigate dashboard popped right inside the WordPress dashboard. Simple!
Ecwid Features
| Feature Name | Status |
| --- | --- |
| Choice Of Free Themes | |
| Unlimited Bandwidth | ✔︎ |
| Free Hosting & SSL Certificate | ✔︎ |
| SEO Tools | ✔︎ |
| Abandoned Cart Recovery | ✔︎ |
| Product Variations | ✔︎ |
| Digital Sales | ✔︎ |
| Coupons | ✔︎ |
| Guest Checkout | ✔︎ |
| Multi-Channel Selling | ✔︎ |
| Shipping Calculator | ✔︎ |
| Google Analytics | ✔︎ |
| Inventory Tracking | ✔︎ |
| Multilingual Stores | ✔︎ |
| Blogging | |
| API/Developer Tools | ✔︎ |
| Mobile App | ✔︎ |
| Dropshipping | |
| Unlimited Storage | ✔︎ |
| Fulfillment Option | |
| Enterprise-Level Service Plan | |
| App Store | ✔︎ |
Ecwid comes with a surprisingly expansive feature set straight out of the box, especially considering a lot of folks simply add Ecwid to a site that already exists. More features are always in development, and all are added to your admin automatically.
Below are some of the key features Ecwid currently offers. As always with this type of software platform, check your plan level to verify which features it includes, and don't forget that you need to have a paid subscription plan if you want to add integrations.
Dashboard: Ecwid's dashboard displays a snapshot of your site's performance. The admin panel is easy to navigate, even within another program, such as WordPress. Overall, the control panel is streamlined and self-explanatory, and I was able to locate resources if I ever became stuck.
Products: Ecwid lets you list both physical and digital products. Just make sure to specify that your digital products don't require shipping. You can also list multiple product options and create variants for your products, such as sizes and colors.
Multi-Channel Selling: With Ecwid, you can sell across multiple websites and manage everything from one admin. For example, you can open an online store on your Facebook page, with just a few steps, or add a buy button to your website or blog. Ecwid integrates with Amazon, eBay, Google Shopping, PriceGrabber, Nextag, Shopzilla, and Yandex.Market. There's a ShopApp that turns your online store into a mobile app, which sounds complicated — but Ecwid does the work for you. And you can use Ecwid to sell in person by pairing with Square POS, Clover, PayPal Here, and Vend to accept in-person payments.
Sell Internationally: Ecwid has robust capabilities to facilitate international sales. Your store automatically translates to 50+ different languages based on your customers' browser settings, and your control panel is available in 20+ languages. Ecwid has a currency converter app that changes your store's price listings into the currencies of more than 130 countries, based on the user's location and current exchange rates.
Checkout: Let your customers check out as guests or create an account. Ecwid also comes with an automatic tax calculator and a real-time shipping calculator built-in.

Ecwid uses your customers' IP addresses to calculate shipping expenses with major mail carriers, including UPS, USPS, FedEx, Australia Post, and Canada Post.

You also have the ability to create personalized shipping tables, flat-rate shipping, and local pickup options.
Inventory Management: Track stock levels in your admin. If you specify in-stock quantities for products in your online store, Ecwid automatically reduces your inventory each time a product sells and delivers an "out of stock" label when inventory is at zero. You can opt to receive email notifications when quantities get low, so you have time to restock.
Marketing: Motivate customers to buy with promotions and discounts. Set up promotional pricing, discount codes, and volume discounts. Some discounts (e.g., Buy X, Get Y) require extensions. Ecwid's abandoned cart recovery tools also allow you to contact customers after they leave products in their cart to boost sales.
Dropshipping Features: If you want to offer dropshipping, you'll need to add an integration with Wholesale2B or Printful dropshipping services.
Blog: While Ecwid does not offer built-in blogging functions, it's easy to use Ecwid tools to add an eCommerce element to an existing blog.
SEO Tools: Ecwid offers a few built-in SEO tools, including an automatically generated sitemap, customizable microdata, automatic alt tags, clean links, static copies of pages, and more.
Reports & Analytics: Ecwid includes reporting tools in your dashboard. You can also integrate a free version of Google Analytics for additional stats and insights.
Advanced Features: Ecwid offers a unique feature called the ShopApp. Using it to create a self-branded app for your store, for both iOS and Android shoppers. You can also use Ecwid's RESTful API to manage store data, add new interfaces, or customize your storefront.
One final note on features: Ecwid's website contains an offer to create apps or to add features that customers would find useful. So you have the option of asking Ecwid to provide what you need to make your store completely perfect.
Web Design
Because Ecwid was originally intended as an add-on store to a prebuilt website that already has an established look and feel, Ecwid's web design approach differs from most SaaS eCommerce platforms. While most SaaS solutions offer a wide collection of premade themes, both free and paid, Ecwid offers only one theme if you're just using the standalone store. It's called the Instant Site.

Fortunately, this single theme is will prove adequate for most users. While I wish Ecwid had more free themes to offer, I do like the Instant Site. It's basic enough to fit many brands, and the simple visual editor lets you add content with ease. I easily ditched the default cover image and started creating my music instrument shop.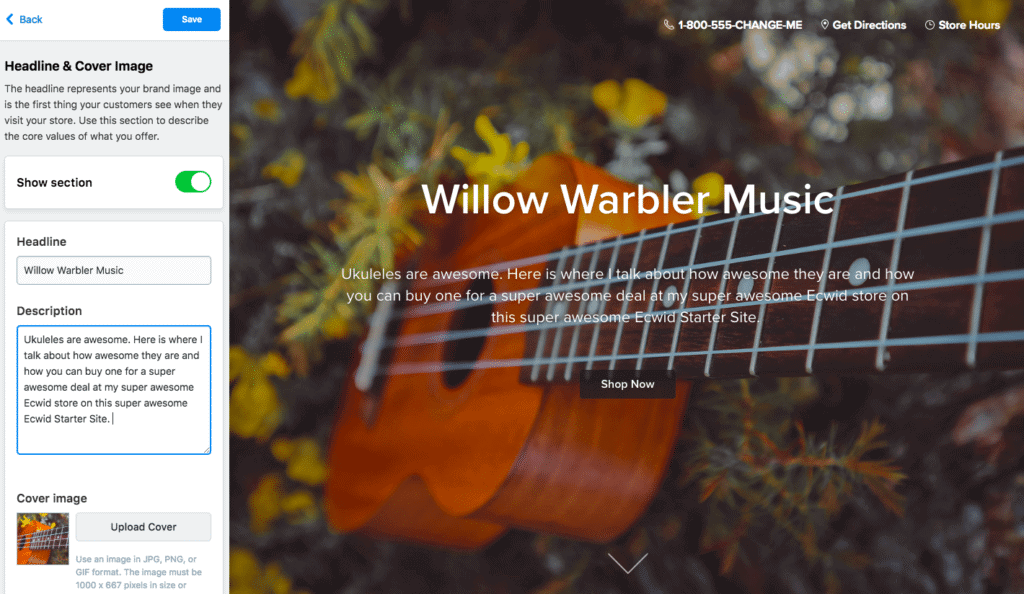 Unfortunately, the visual editor is somewhat limited. Adding text, changing colors, and swapping out a couple of images is about all the visual editor allows. Here are other ways to adapt your Ecwid store:
Design Tab: Make very basic tweaks with this control panel feature, such as changing product image sizes or the alignment of elements on your product pages.
Third-Party Theme Editing App: You'll need one of these to change things as simple as font colors. A couple of options are available in the Ecwid app store, but note all integrations require a paid Ecwid subscription. No coding is required, but each app has its own learning curve.
Custom CSS: Edit the CSS style sheets with help from guides on the Ecwid site, or create a CSS theme from scratch. Naturally, this does require coding skills.
Ecwid has also partnered with third-party designers and theme stores such as ThemeForest for WordPress to provide both predesigned themes and custom themes available for purchase. You also could choose to pay for a designer. Keep in mind that most merchants with this level of customization have probably moved beyond the Instant Site and are working on styling their stores within an existing website.
Speaking of making your store theme match your existing website, Ecwid shops do automatically detect the main colors and fonts you use on your website and apply them to your product catalog, so your store looks like a natural extension of your site in those respects.
Ultimately, the benefits and limitations of Ecwid's web design approach depend heavily on whether you're working with the Ecwid Instant Site by itself or your existing site. Here are a few sample Ecwid storefronts from real customers (the first two are Ecwid Facebook shops):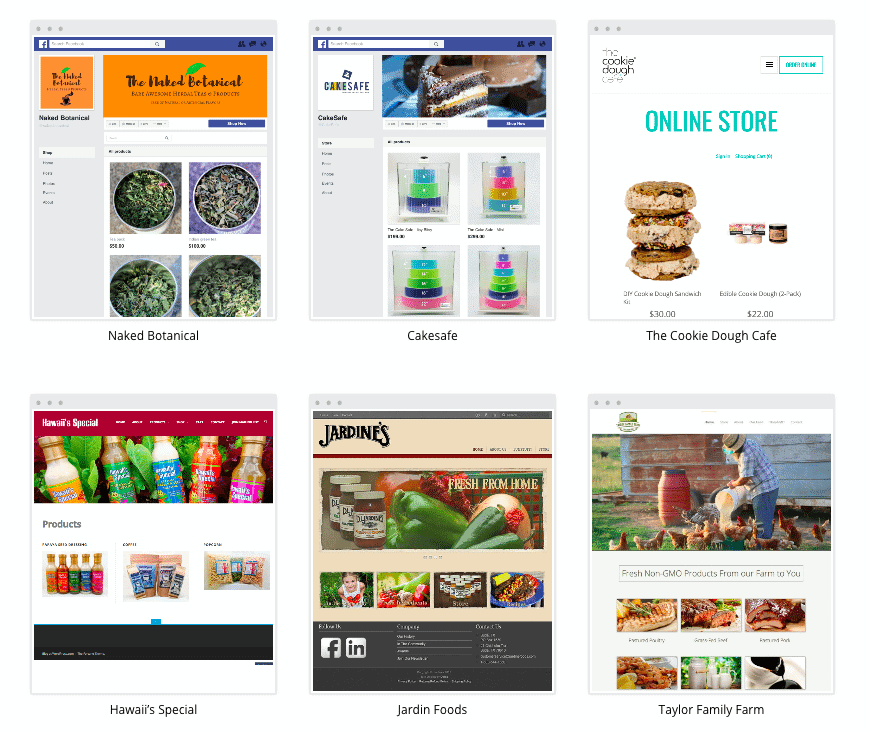 Integrations & Add-Ons
Ecwid hosts a growing app marketplace. The Ecwid App Market now includes around 40 free and premium applications and dozens more available for purchase. You'll find several recognizable third-party integrations as well as a plethora of smaller extensions that add minor features or tweak small aspects of your shop. A number of the applications in this marketplace also feature customer reviews, so you can easily compare the quality of different applications.
It's worth repeating one more time: You must have a paid Ecwid subscription to add any integration to your Ecwid shop. Keeping this in mind will help you figure out which Ecwid subscription level you'll likely need, both now and as your business grows.
If you still don't see what you need, there's API documentation available, so developers can build a custom connection for you.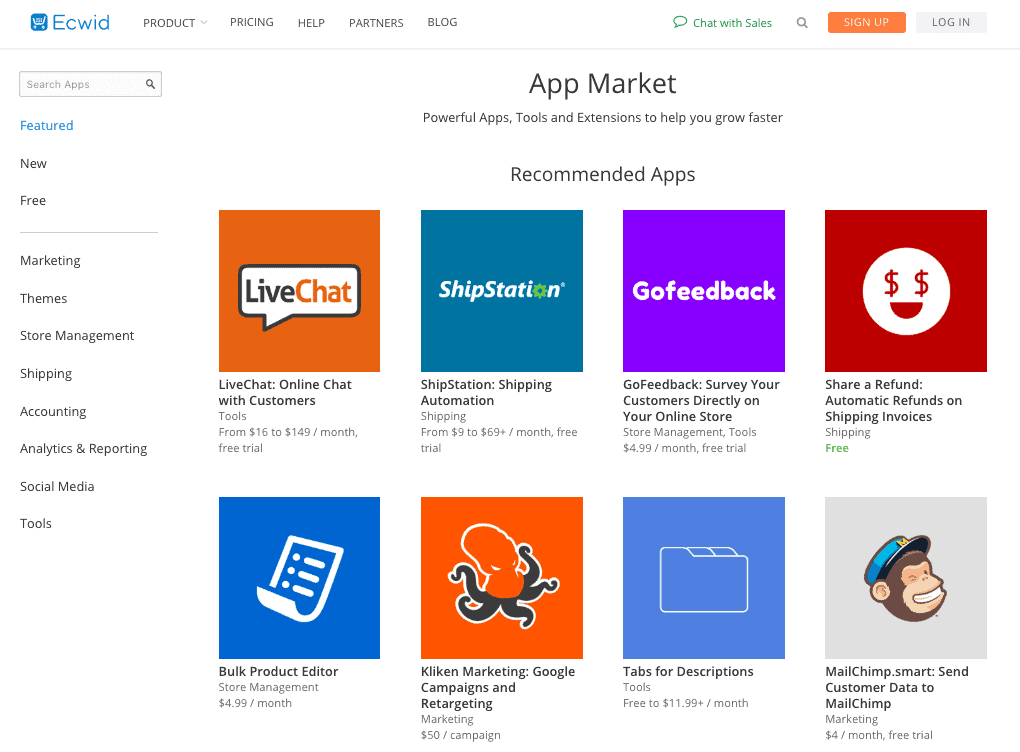 Payment Processing
Ecwid supports over 45 payment gateways out of the box, including Square, Stripe, PayPal, 2Checkout, Authorize.Net, Klarna, and more.
In addition to the main list, you'll find several additional gateways available as integrations in the app store, including an impressive number of international options. Whichever gateway(s) you choose, remember that Ecwid itself does not charge transaction fees beyond the processing fees associated with your payment provider.
Ecwid Customer Service & Technical Support
Ecwid offers varying options for customer support, depending on your payment plan. I have seen a few complaints online that voice frustration at the minimal support options on lower plans, and the limited phone support available on the higher plans. Let's take a look at Ecwid's support options:
Phone: Phone support is available to users on the Business and Unlimited plans. Rather than live operators standing by for your call, you will need to request a scheduled call-back from within your control panel. You can decide for yourself if the lack of on-the-spot assistance is a deal-breaker.
Email: Email support is available to all users. Support is available all day Monday-Friday. You'll need to fill out a contact form with your question and submit it through the Ecwid Help Center.
Live Chat: Live chat support is available to all users 24 hours a day, Monday to Friday.
Help Center: The Ecwid Help Center includes articles with both text and images that guide you through using the software, setting up your store, increasing sales, and growing your store. The Help Center is easy to use, and the support articles are up to date.
Community Forum: All users gain access to Ecwid's active community forum.
Guides: Ecwid offers downloadable guides that you can access to an in-depth look at a range of topics.
Videos: Ecwid has a comprehensive video library. View videos on setting up nearly every aspect of your online store.
Custom Development: Users on the Business plan (on the annual subscription) get access to two hours of custom development, while users on the Unlimited plan (on the annual subscription) get access to twelve hours of custom development. If you are not on one of these plans or you need more support, you can pay to access additional custom development.
Blog: The Ecwid blog features product news and articles about the industry.
Social Media: Ecwid has active accounts on Facebook, Twitter, Instagram, and YouTube. You can submit a message on Facebook, and you will eventually get a response back from them.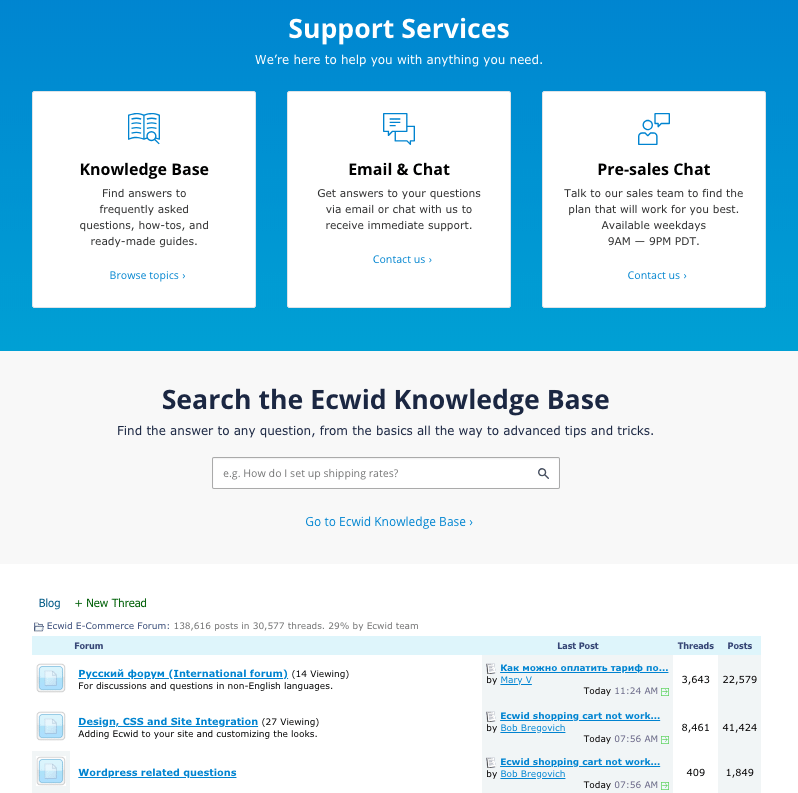 Ecwid Reviews
Overall, Ecwid reviews are generally more positive than negative. Let's take a quick tour through some of the more common kudos and complaints.
Negative Reviews & Complaints
Ecwid users generally don't have a lot to complain about, but the negative reviews I've found tend to focus on the following:
Unavailability Of Customer Service: Personal customer support via phone and live chat is available only with paid plans, and the wait for replies to inquiries can be longer than customers would like. This is fairly typical of most shopping carts, but it's still a bummer.
Limited Features On The Free Plan: There's a reason the free plan is free. You won't have access to discount creation, inventory management, and other fairly basic features. The free plan also limits you to 10 products. Fortunately, Ecwid's paid plans are competitively priced, and they include many more desired features.
Design Limitations: Even while acknowledging that Ecwid is a cost-effective eCommerce tool, users bemoan the lack of customization options for their stores — proving once again that eCommerce requires a balancing act between price and features.
Positive Reviews & Testimonials
Ecwid scores well on overall customer satisfaction on many user review sites. In particular, I noticed on G2 Crowd that Ecwid ratings put it within reach of some of its big-name competitors, such as Shopify, BigCommerce, and WooCommerce:
Here's what customers like about Ecwid:
Low Price: Compared with other shopping carts, Ecwid is reasonably priced. The fact that you can start selling without investing a cent is a major positive, even for people who acknowledge limitations in customization and design potential.
International Reach: A surprising number of reviews were posted by satisfied overseas users.
Easy To Use: With a startup wizard and an intuitive dashboard, it's easy to start selling quickly without feeling overwhelmed. It's especially easy to use Ecwid to embed a payment button on a blog, on social media posts, or on a website.
Social Media Integrations: Merchants love being able to sell on Facebook, in particular. Customers never have to leave your Facebook page.
Multi-Lingual Capabilities: Don't let a language barrier cost you a sale. Ecwid's language capabilities (which are available even with the free plan) surpass those of many other shopping carts.
Security
Anytime you add a shopping cart to an existing website for the first time, whether it's Ecwid or another plugin, you may need to up your security game. Websites that incorporate eCommerce require more security than websites that only produce content because you're now collecting sensitive credit card information from customers.
Keep in mind there are a couple of different ways Ecwid shopping carts work, and this impacts how savvy consumers will view the security of your website as a whole:
Free Instant Site: If you're just using a one-page website from Ecwid that also functions as your shopping cart, your entire website uses HTTPS and is protected by an SSL certificate from Ecwid.
Integrating Into An Existing Website: While the store portions of your website are covered by Ecwid's SSL certificate, you'll likely want an SSL certificate for the rest of your site as well. Check with your site builder to find out how to acquire one, if you don't already have it.
Ecwid is also Level 1 PCI-DSS compliant and uses Amazon Web Services for secure hosting. The online support center offers numerous tips for increasing and maintaining security on your website, which you'd be wise to peruse.
Ecwid FAQs
What is Ecwid?
Ecwid is a shopping cart plugin that turns any existing website into an online store. You can also use Ecwid to add a "buy" button to your social media posts, website, or blog.
Is Ecwid safe for eCommerce?
Ecwid is a PCI-DSS certified eCommerce solution, using secure hosting. All data in your Ecwid store (products, customers, general information) is stored on Amazon Web Services, a reliable and secure hosting solution.
What is the best alternative to Ecwid?
If you're looking for a simple, free way to add eCommerce to your sales strategy, Ecwid is a good place to start. You might want to check out Square Online and Shopify Lite.
Which is better: Shopify VS Ecwid?
For small to medium-sized merchants, Shopify and Ecwid both offer economically priced, relatively robust options that most users will find easy to navigate. Although Shopify holds a slight edge for customization and design options, Ecwid comes out ahead due to its versatility and competitive monthly price and its welcome lack of transaction fees.
Final Verdict
Although Ecwid may not be not suitable for very large companies, it's just right for smaller cCommerce businesses. Subscriptions are quite affordable, and the learning curve is low. You can start with the aptly-named "Instant Site" for free if you have 10 or fewer products to sell. And you always have the option to keep the Instant Site setup forever and simply upgrade Ecwid plans as you require more features and apps.
Meanwhile, even the free Ecwid plan allows you to plug your Ecwid store into as many other websites as you like. Dropping your Ecwid cart into social media platforms (such as Facebook) or syncing with marketplaces (such as eBay) requires a paid Ecwid subscription, starting at $15/month.
At any rate, you can keep your Instant Ecwid store going as long as you want while you develop a full-blown website on the side. The main issue you'll likely run into is the limited free themes as well as the need for extra apps or CSS editing to make large-scale changes to your store design.
For users who have a robust website with a large following and simply want to begin selling products, the Ecwid plugin is definitely worth a look, especially when compared to starting from scratch with an all-in-one eCommerce website. Start by exploring what your current site builder offers in terms of features and add-ons and look for overlap with Ecwid's offerings. Whether you choose Ecwid or another online shopping cart, I wish you luck on your way to eCommerce success.
---
The Merchant Maverick Seal of Approval 🏆
Ecwid


---



After hours of in-depth research and evaluation, we can confidently recommend this brand to our readers. Get started today and see Ecwid for yourself.
The Merchant Maverick Seal of Approval 🏆
Ecwid


---



After hours of in-depth research and evaluation, we can confidently recommend this brand to our readers. Get started today and see Ecwid for yourself.
To learn more about how we score our reviews, see our
eCommerce Software Rating Criteria
.
Read Next