Expert Analyst & Reviewer

UPDATED
Advertiser Disclosure: Our unbiased reviews and content are supported in part by
affiliate partnerships
, and we adhere to strict
guidelines
to preserve editorial integrity.
Pros
Simple set up
Extremely customizable
Long list of integrations available
Cons
Lack of credit card processing options
Not a wealth of features
Overview:
Simplicity and efficiency appear to be the primary focus for SilverEdge, the Loveland, Colorado-based business solutions company. Founded in 2004 as a grassroots company by Ken Salazar, it began as PFC Payment Solutions. It has steadily grown and taken on several iterations before rebranding as SilverEdge in 2013.
This company's goal is to help small to medium sized businesses compete with national chains by offering high-quality payment tools at reasonable prices. Currently, SilverEdge offers a variety of services including a handful of POS products. EDGE POS is one of its most versatile options; it is perfect for small businesses where only one device may be needed but can easily handle the workload of a busy restaurant, bar, or university cafeteria. This all-in-one package is theoretically fully functional and ready for use out of the box once it is set up and plugged in. The simplicity and level of customization EDGE provides make it an ideal choice for new business owners or companies that appreciate only having to deal with one vendor.
Pricing:
Pricing varies depending on the number of units purchased, but EDGE's all-in-one package comes out to roughly $115 per month per unit. That pricing is all-inclusive, covering all of the hardware and necessary software to get up and running quickly plus free software upgrades as they're available. SilverEdge considers its product to be "turnkey" and prides itself on the ease in which EDGE POS can be set up and used out of the box. There is no additional fee for access to the company's 24/7 customer service department.
Clients can also purchase a basic system outright for $1900 and only pay $25 a month software fee. I can see how the somewhat nebulous pricing could be a little disconcerting but SilverEdge is good at fitting its services to its client's needs. In my own calls to customer service, the company impressed by not up-selling products and was adept at fitting its services into a specific budget.
Cloud-Based or Locally-Installed:
EDGE POS offers a hybrid system which is becoming increasingly common in the industry. The system itself is server based and not dependent on the speed of the internet in the area. In other words, the units won't get bogged down if there is an outage or heavy WiFi usage. However, the reporting and data from the devices is backed up and can be accessed through the cloud. Information such as sales and ticket times can be easily accessed remotely in real time.
Specific Industry:
EDGE POS was specifically designed for the restaurant and bar industries and its simple interface makes it a strong option for coffee shops and small to medium sized restaurants and bars along with night clubs, cafeterias or any other venue that has table service.
Specific Size of Business:
SilverEdge's passion and brand are helping smaller to mid-sized businesses compete with larger chains. EDGE POS has the capacity to handle high-volume restaurants (and is used in a number of high-volume chains around the country) but is simple enough to be a solid option for a new business just getting off the ground.
Hardware and Operating System Requirements:
This is the real selling point of EDGE POS. Hardware is provided automatically and presumably, all a business would need is a power source to get up and running quickly.
In its basic package, EDGE POS comes with the following:
All in One Pioneer Touch Screen POS
Aures Thermal Printer
Impact Kitchen Printer
Cash Drawer
EDGE POS AMP Full Restaurant POS Software
Credit Card Processing Module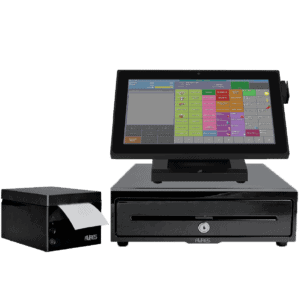 Again, customization is the name of the game for this POS. SilverEdge will lay out the system to the specifications that best suit the client and they can be easily altered in-store or remotely. The POS offers multiple language options as well; for example, an order can be entered in Chinese and printed out in Spanish. One of the better features EDGE POS offers is its training mode. The function acts like a flight simulator, allowing employees to use the system in its entirety with no chance of actually doing the restaurant equivalent of careening into a mountainside.
Ease of Use:
Anyone with even limited experience in the restaurant industry should be able to navigate EDGE POS with minimal hand-holding. There aren't a lot of frills to the interface but that's not a bad thing. Items can easily be modified and the system takes a server or bartender through those modifications seamlessly (like going through a checklist). Menu items are conveniently coded and the push of a button automatically sends a server or bartender through any additional add-ons. Things like voids, discounts, special modifications and check printing are all easily accessed on the front page and self-explanatory in their execution.
The system can be as complicated or as simplistic as the business needs. In a small cafe, the POS would be a strong choice for simply handling menu items and drinks with multiple modifications; for a bustling restaurant, the program also handles functions like time clocks for employees.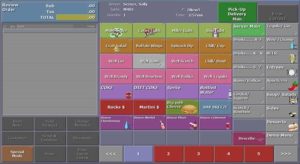 Features:
EDGE POS has everything a standard POS should have in today's marketplace and its functionality is impressive. Features include, but are not limited to:
Highly Visual and Customizable UI: The interface is simplistic but easy to navigate. Tables are color coded to indicate if they are available or in use along with more specific settings like, for example, if the check has been delivered but not yet paid. There is also a graphical menu option if, for instance, you forgot what a can of Coors looked like. The color coding system is also customizable to business owners. SilverEdge plugs in all of the menu items prior to sending out its product and, if changes are necessary, they can be handled by the business owner or changed remotely depending on how hands-on the client wants to be.
Employee Management: Employees can easily log in under their job title of the day (bartender, server etc…) and are immediately greeted by a table layout.
Orders: Taking orders is also relatively simple and it doesn't take long to figure out. The ticket is shown at all times in the top left corner and can be magnified to double-check for accuracy and special modifications are easily accessible on the front screen. The system also offers a useful duplicating feature ideal for bars or nightclubs where an additional round of food or drinks can be ordered simply by the push of a button as opposed to re-entering each item again separately. The ease in which the system allows businesses to set up credit accounts is also a plus.
Reporting: After a few month's worth of data is processed, the system can help streamline efficiency by rearranging the layout of the UI to account for a businesses' best-selling items. On the back end, the manager functions such as inventory, sales reports and price changes are equally straightforward and easily accessible.
Payroll: Accessing the manager functions is also quick and easy. Payroll is accessible through the click of a button and the lay-out is easy to process and the display is basic and quick to digest at a glance.
Inventory Tracking: Similarly, scrolling through inventory helps the user along with little difficulty. The simplicity of EDGE POS is a benefit on the back end as a large amount of information can be easily read and adjusted. In short, the interface simply makes sense. There were very few times where I questioned a particular display or function and the limited number of steps required to browse or make changes was appreciated. And, of course, the ability to access the information remotely is a benefit.
Gift and Loyalty Program: Discounts and other modifiers like gift cards of loyalty rewards are also customizable and easily accessed on the bottom of the home screen. This was one of the standouts of the POS as it was simple to quickly apply the necessary adjustment on the ensuing screen and get right back to completing the order.

Integrations and Add-Ons:
EDGE POS shines in this aspect as well with a large number of integrations to help support a variety of different business types. Some of their most popular include;
Digital Menu Boards
Kitchen Display/Video System
Caller ID with last order recall
Online Ordering interfaces
Accounting Package integrations (ACCPAC, Microsoft Great Plains, MAS 90, Quickbooks- online and desktop)
Inventory Tracking integrations (ChefTec, FoodTrak, When to Manage, Compeat, FreePour, Scannabar, Bevinco)
Hotel/Property Management Interfaces
Mobile ordering a d pay at the table
Payroll Exports (ADP, Paychex, CompuPay, etc…)
SilverEdge's pay at the table options, which have been steadily increasing in popularity at restaurants around the country, were just made available beginning June 1.
EDGE POS does have an open API; business owners or managers can easily make their own tweaks to the system as they wish.
Compatible Credit Card Processors:
Payment processing is included in the all-in-one "plug and play" package that SilverEdge offers. This means that customers who have credit card issues, hardware issues or software issues only have to make one call. And to ensure that customers aren't getting charged an exorbitant amount for their processor, SilverEdge offers a "meet or beat" policy.
Customer Service and Support:
Customer service was quick and responsive in my experience. They are open 24/7/365 and can be reached by phone at 970-800-2890 or via email at [email protected] My emails and phone calls were quickly returned and questions were answered within 24 hours.
On the phone, SilverEdge employees are eager to please and happy to answer a wide range of questions. All three of the representatives I spoke to had experience working the service industry as well which was appreciated.
SilverEdge keeps up a professional looking blog with at least half a dozen posts a month, mainly with helpful tips for the types of businesses they appeal to (with titles such as "Should Your Restaurant Break Into Catering" and "Preparing Your Restaurant for a Successful Summer"). The website is sleek and easy to navigate but the descriptions of their products can be a bit bare bones.
The company also offers an online demo of its products which takes roughly half an hour. As far as social media is concerned, SilverEdge has both a Facebook page and Twitter account which appear to both be kept up to date.
Negative Review and Complaints:
I could only find a handful of negative reviews. A few unhappy customers complained about pricing discrepancies but SilverEdge was quick to respond to those complaints online. Customer service appears to be a strong suit and the company is quick to communicate with customers regarding their issues. The Better Business Bureau had only five complaints logged for SilverEdge, none of which appeared to be related to anything fraudulent.
Positive Reviews and Testimonials:
There isn't a ton of feedback on EdgePOS in general but the majority of comments appear to be positive—appreciative of SilverEdge's quick response to problems and with the simplicity of its product.
Security:
EDGE POS uses a simple pin number for log-in purposes, but clients can also implement a fingerprint reader or use a magnetic strip card.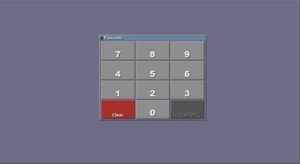 Final Verdict:
It's difficult to find much fault with EDGE POS. It offers everything you would expect to find in a POS system and is exceptionally user-friendly. As someone who struggles with organization and who would be comically over his head as an actual restaurant or bar owner, this is the type of system I gravitate towards. The ability to have everything one needs customized, placed into the program ahead of time, and delivered with minimal set-up makes this an ideal choice for a client who has other things to worry about. The actual interface isn't packed with bells or whistles but it is functional and easy to pick up with minimal training.
All in all, a solid system.
---
We've done in-depth testing of each and confidently recommend them.
We've done in-depth testing of each and confidently recommend them.
To learn more about how we score our reviews, see our
Point Of Sale (POS) Software Rating Criteria
.