Expert Analyst & Reviewer

UPDATED
Advertiser Disclosure: Our unbiased reviews and content are supported in part by
affiliate partnerships
, and we adhere to strict
guidelines
to preserve editorial integrity.
EMS+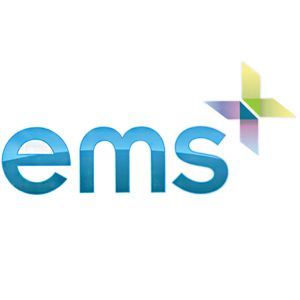 Pros
No monthly fees
Free card reader
Cons
Numerous public complaints
Sudden account terminations
Funding holds common
Poor customer support
EMS+ Overview
Ever since Square introduced the world to mobile, smartphone-based credit card processing in 2009, other payment processing companies have put considerable effort into offering similar competing products. The major card processor Electronic Merchant Systems is no exception. Introduced in 2013, EMS+ (EMSplus or sometimes Plus by EMS) is the company's answer to Square. It provides similar functionality while offering a flat per-transaction rate that's lower than what Square charges.
Cheaper is better, right? That lower rate features heavily in Electronic Merchant Systems' advertising for EMS+. It's the most common reason cited by merchants for signing up. Unfortunately, as we'll see below, the lower rate is just about the only significant advantage that EMS+ has over Square.
Like Square and other mobile processing solutions, EMS+ combines a smartphone app and a small card reader that connects to your phone or tablet via the headphone jack, lightning port, or Bluetooth to turn your mobile device into a credit/debit card processing terminal.
So is EMS+ the answer to your mobile processing needs, or are you better off using Square or one of its other competitors? Read on for our full review, and please leave a comment below to share your experiences using EMS+.
Products & Services
Simplicity is the keyword with EMS+. As a mobile-only processing solution, its feature-set is limited. However, the main issue with EMS+'s features isn't the lack of complexity, but rather, it's that neither the app nor the card readers work very reliably. That's probably because its parent company only minimally supports the product since its bread-and-butter is selling merchant accounts (which we do not rate very highly either). But I'll get more into all that in a bit.
Here's what you need to get up and running with EMS+:
An EMS+ Account: You can sign up for a free EMS+ account on the EMS+ website or via the app. If you do decide that this is the right move, I recommend signing up via the website. I could not get the signup form to work on the iOS app; the delay for account approval via the Android app was unprofessional, to put it nicely.
Free EMS+ Card Swiper: The card swiper is also free and will be delivered to you after signing up for a new account. Note that it's an old-school headphone-jack-connected device that only accepts swiped card payments, not EMV or NFC payments. If you need additional readers, they'll cost you $10 each.
Lighting Port Swiper (Optional): This $79.95 swiper can connect to any newer iPhone that has a lightning port instead of a headphone jack. Note that it only accepts swiped payments and not EMV or NFC payments.
All-In-One Reader (Optional): This $149 reader connects to your smartphone or tablet via Bluetooth and accepts all major payment forms, including EMV and NFC. You can use this device on an Android or iPhone to accept swiped, chip card, and mobile wallet payments (Apple Pay, Google Pay, etc.).
The EMS+ Retail App: This is a free download from either the App Store (iOS) or the Google Play Store (Android).
A Bluetooth Receipt Printer (Optional): This is purely optional, and it isn't free. EMS will charge you a whopping $399 for this accessory. Rolls of paper for the printer also cost $29.90 each. Ouch.
You'll need to provide a compatible smartphone or tablet device yourself. Here's what we learned about compatibility and required hardware:
Android Users: The Android version of EMS+ Retail is advertised as compatible with Android devices running Android v. 4.0.3 or higher. However, there are many negative reviews on the app's download page complaining that the app and/or card reader didn't work with the user's phone. The problem seems to be more with newer Android phones, suggesting that EMS hasn't been very diligent about updating EMS+ to ensure compatibility with newer devices and more recent versions of Android. You'll probably want to talk to an EMS representative to see if the service will work with your phone.
iOS Users: EMS+ Retail in the App Store requires iOS 9.0 or later, and it's compatible with iPhone, iPad, and iPod Touch. However, the iPod Touch won't be able to process transactions out in the field when you're away from Wi-Fi because it lacks a cellular data connection.
Here's a photo of the EMS+ card reader attached to an (old) Samsung Galaxy: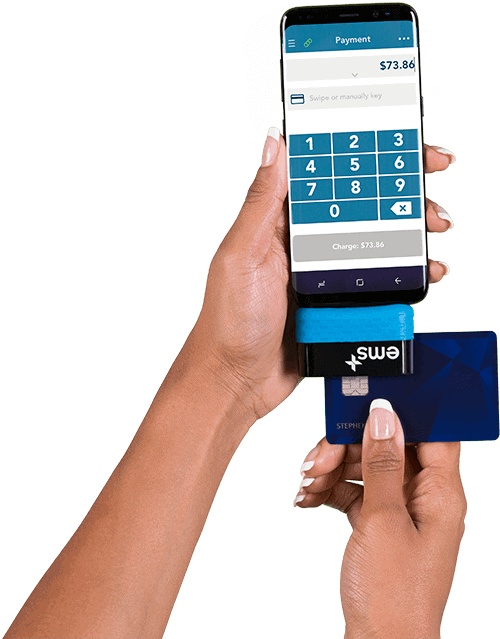 Both the Android and the older iOS versions of the EMS+ app have similar screen layouts and menu options. The app's current iteration is called "EMS+ Retail" on both Google Play and the App Store. For whatever reason — most likely because the website hasn't been updated in a while — the app is branded as "EMSplus" on the EMS+ website.
The Android version of the EMS+ Retail app opens to the Terminal tab, where you can enter a quick payment, process a new order, issue a refund, or post a voice authorization code. There's also a History tab, where you can view transaction and order history as well as generate reports for gross sales, deductions, and net sales. A Products tab allows you to enter and track your inventory of products manually. A Customers tab enables you to collect payment data on customers — a useful feature because recurring customers won't have to re-enter their information every time they make a purchase. Finally, a Settings tab allows you to tweak how the app works and customize it to your business.
The Terminal tab looks like this on Android: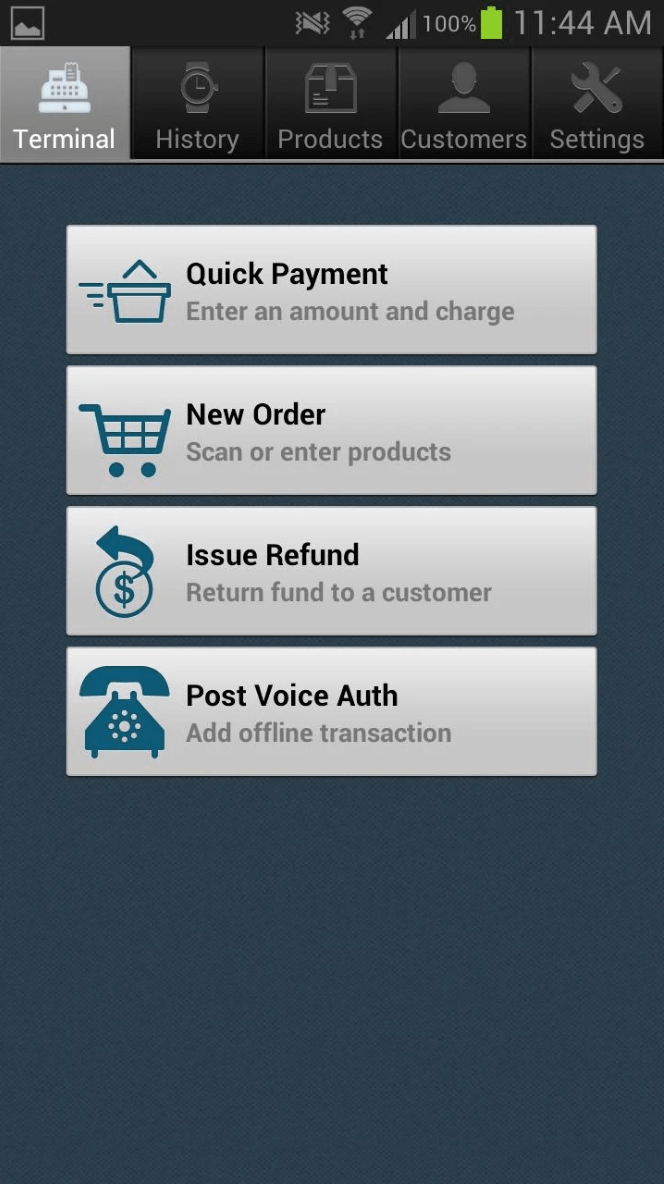 Impressed? Neither am I.
The EMS+Retail app for iOS has most of the same features as the Android app, but they're laid out in a somewhat more visually pleasing way. The app's supported payment options include cash, check, credit/debit card, and PayPal payments. Here's the Settings screen on EMS+ Retail for iPhone: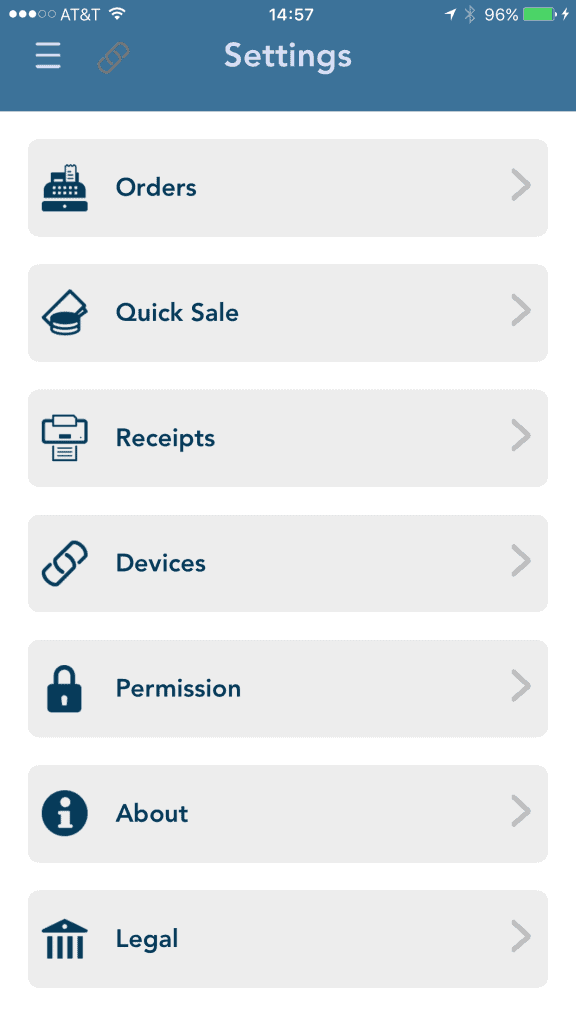 Generally, the iPhone version of the EMS+ app seems to be superior to the Android app. However, most recent reviews in the Google Play Store report that the app keeps randomly crashing. I experienced something similar after installing EMS+ Retail on my iPhone. It repeatedly crashed with errors before I could even sign up for an account. While we confirmed that EMS is still offering the EMS+ app, the company seems to support the product only minimally.
It's worth noting that, unlike most POS companies, EMS did not announce any new features or resources for merchants in light of COVID-19.
There's also the web-based EMS+ Merchant Gateway, where you can log in and access your account from your computer. The virtual terminal also allows you to process transactions directly, which might come in handy if your card reader isn't working. (Please keep in mind that Square also offers a free virtual terminal. It even works with Square's basic magstripe card reader if you're using a Chromebook or MacBook.)
Fees & Rates
Low, low prices are the main thing this payment app has going for it. For every transaction, you'll be charged one of two possible rates:
2.25% + $0.10 for swiped, dipped, or tapped (i.e., card-present) transactions
3.5% + $0.15 per transaction for keyed (i.e., card-not-present) transactions
EMS's lowest fee has increased by $0.10 since 2019; the company previously charged a flat 2.25% for swiped transactions. As a point of comparison, the swiped rate is 0.35% lower than Square's rate (2.6% + $0.10), while the keyed rate is identical to what Square charges for the same type of transaction. If your card reader isn't working properly, you'll have to key in the transaction, meaning you'll have to incur the 3.5% + $0.15 rate. Also, processing an American Express card will cost you more with EMS+, with a base rate of 2.95% + $0.10. For comparison, Square's standard 2.6% + $0.10 rate applies to all cards, including Amex.
That's pretty much it. As long as you only need one card reader and can get by without the Bluetooth receipt printer, you can get set up and started with EMS+ for free. There are no account setup fees and no monthly fees.
So yeah, EMS+ offers very good pricing if the card reader works for you and if your customer doesn't want to use Amex. But if either of these things isn't the case, you will pay more with EMS+ than you would with Square or with any of Square's main competitors.
Sales & Advertising Transparency
EMS+ has a decent website that explains its terms and discloses its rates. There is even a device compatibility tool on the website that you can use to check whether EMS+ will work with your phone. However, many customers felt misled, as the reader doesn't seem to be compatible with their device, even though the website stated it would work. Some users also feel deceived regarding the card reader. Since the reader doesn't work or only works some of the time, they cannot get the advertised 2.25% + $0.10 card-present rate and have to pay the 3.5% + $0.15 keyed-in rate.
In terms of social media, EMS+ has Facebook, Twitter, LinkedIn, and YouTube pages. The Facebook page hasn't been active since 2013, if that tells you anything.
Contract Length & Cancellation
EMS+ operates with a month-to-month contract, and there is no early termination fee (ETF) if you decide to close your account. This simplified rate structure and lack of ETF is a much better deal than what you'd get with a full-blown EMS merchant account.
However, you should know that, like Square, EMS+ is a third-party processor. That means there is an inherent risk of sudden holds or even an account termination if the company suspects, even wrongly, that your transactions are fraudulent. An alternative mobile credit card reader to consider is Payment Depot Mobile. This excellent provider does carry a $10 monthly fee, but it gives you a dedicated merchant account, which equates to better account stability, among other benefits. Payment Depot Mobile also comes with a free chip card reader and is better than EMS+ in every respect.
Customer Service & Technical Support
EMS+ advertises the availability of 24/7 customer service and support via either telephone or email as one of its key selling points. Given that Square's phone support system and its limited availability seem to frustrate some merchants, this seems like a significant factor in EMS's favor. However, the reality is that maintaining a well-trained, competent support staff on a 24/7 basis is very expensive. So like a lot of other companies, EMS seems to have cut some corners in this area. Complaints about poorly-trained customer service representatives who couldn't help them with a problem are common threads in the negative reviews we found about EMS+. Worse yet, you might not even reach a live representative at all.
It wouldn't be so bad if there were any useful self-help options available. Unfortunately, the EMS+ website only includes a simplified overview of how the swiper and app work and a very brief FAQ that isn't useful at all for troubleshooting. The company's YouTube channel has a couple of old how-to videos, but they are all from four or five years ago. I was surprised to see that EMS+ has a Twitter account, but it mostly just retweets stuff from the main EMS account.
I reached someone from EMS by calling the phone support number listed on the website and was directed (in a remarkably timely fashion) to a customer representative, who immediately asked for my merchant ID. It appears that EMS doesn't have a dedicated sales force for the Plus app (there's no number listed to call to sign up, after all). Additionally, the company has combined its customer service for the Plus app with the rest of its merchant account clients.
User Reviews
Negative Reviews & Complaints
To get a good idea of the possible pitfalls of EMS+, you'll have to look on either the Google Play website or in the App Store, depending on which hardware you'll be using. As follows are some common complaints across both platforms. I hope you have a good chunk of time if you plan to read this section because it's a doozy!
App Crashing: Users, especially in the Google Play Store, report that the app crashes randomly, or they can't get into the app at all. While even Square has the occasional report of glitches, EMS+ appears to have frequent and widespread issues.
Poor Customer Service: While EMS+ touts its 24/7 telephone and email support, one of the most common complaints from users was that they could not reach a customer service representative or the representative couldn't help them with their problem. Not receiving any response to email inquiries was also a frequent complaint.
Delays In Receiving Funds: EMS+ is noticeably vague about how soon you'll receive your funds after a transaction, but a lot of merchants have reported unreasonable delays in having their money deposited into their accounts. While it's relatively normal for the first few transactions in a newly-opened account to take a week or longer to process, you shouldn't have to wait any more than two or three days once you're up and running unless you encounter an account hold.
Problems With The EMS+ Card Reader: Many merchants were unable to reliably get the card reader to read a customer's card successfully. That's more than an inconvenience, as it forces the merchant to key in the card number manually, resulting in being charged a higher "card-not-present" rate. In other words, EMS+ makes more money if your card reader doesn't work (even though it also has to pay a higher rate to the banks, too). Unfortunately, this also eventually results in lost customers, as frustrated merchants close their accounts and switch to a competitor. These problems have been reported across all three EMS+ card readers — the headphone jack swiper, the lightning port swiper, and even the expensive Bluetooth reader.
Chargebacks, Sudden Terminations, & Withheld Funds: To be fair, these issues can arise with any third-party payment processor. However, some processors have invested in systems to minimize the potential of account troubles for their merchants. I somehow get the impression that EMS isn't one of those companies. Learn how to avoid holds and freezes to reduce the risk of a problem with your account.
Hardware Incompatibility: While it's advertised as being compatible with Android 4.0 or higher, a lot of people found out the hard way that the app wouldn't work with their phone. As mentioned, older Android phones seem to work better, suggesting that EMS hasn't been very diligent about updating the Plus app to ensure compatibility with the newer phones and versions of the Android software.
Awkward Tipping Function: In the latest version of the app, the tipping prompt screen appears before the customer authorizes the payment with a signature. That effectively requires the business owner to awkwardly ask the customer if they want to tip, rather than letting the customer decide for themselves after signing.
Offline Transactions Don't Go Through: Like Square and other mobile POS systems, EMS+ has an "offline mode" that's supposed to queue payments when you're offline and then run them when your internet connection resumes. However, some users report that when they reconnect after being offline, the queued transactions do not go through.
The Android version of EMS+ Retail currently rates 2.3 out of 5 stars on the Google Play Store, across 322 reviews (that's really bad). Over on the iOS side, the EMS+ Retail app currently rates 3.4 out of 5 stars on the iTunes Store, but there are only 19 reviews in total.
If you look on the BBB website, you'll also find a slew of complaints about Electronic Merchant Systems, the processing company behind EMS+. It's important to note that most of these complaints refer to the full-service merchant accounts offered by EMS and not the simplified account you'll receive if you sign up for EMS+. To be clear, if you sign up for EMS+, you will get a simplified account that gives you mobile processing capability and nothing else. You will not be subject to the lengthy contracts and exorbitant early termination fees that have generated so many negative reviews on the BBB website and elsewhere. At the same time, you won't get the features that come with a full-service EMS merchant account, such as dedicated credit/debit card terminals, the MAXXPAY POS system, or any of the other bells and whistles that EMS offers.
Positive Reviews & Testimonials
The EMS website has some positive customer testimonials for its EMS+, but good reviews are scant across the internet. Still, there are a couple of things to like about this service, which some reviews do mention:
Low Prices: If you can get the app and card reader to work, you'll get a cheaper rate than you can find with Square or virtually any other mobile payment app without a dedicated merchant account.
Easy To Use: The features and layout are simple, making it easy for anyone to use even if they have no prior POS experience.
Final Verdict
Overall, EMS+ rates just 2 out of 5 stars. As a potential competitor to Square, it offers lower rates for card-present transactions. In theory, it also provides phone and email customer support 24/7. On the other hand, the card readers are notoriously unreliable, forcing merchants to key in transactions manually — and pay a higher rate. The app itself frequently crashes as well, so you might not even be able to use it to process payments at all. Also, the 24/7 customer support isn't nearly as useful or reliable (or as "24/7") as EMS would like you to think it is. The Android version of the EMS+ app additionally has numerous, unresolved compatibility issues that make it unusable for some or even most merchants who use Android.
So is EMS+ right for you? Probably not. If your business is very small, and if you can get by with just using a mobile processing system, EMS+ might work for you…sometimes. While there are no guarantees, it probably helps if you're using an iPhone or iPad. Generally, EMS+ has the feel of a half-baked product that only exists to compete with Square and other mobile processing solutions. I would only use this product as a backup of last resort in case your Square (or other Square alternative) account isn't working. With payment processing, both service reliability and customer support matter a lot. To that end, Square, Payment Depot Mobile, or even PayPal Here are all far superior mobile payment processing providers compared to EMS+, despite their slightly higher (but competitive) rates.
If you're looking for a reliable mobile POS solution for your business, please take a look at our in-depth take on the best mobile credit card readers for iPhone and iPad or its companion piece on the best credit card reader apps for Android.
Have experience with EMS+? I'd love to hear from you in the comments!
---
We've done in-depth research on each and confidently recommend them.
We've done in-depth research on each and confidently recommend them.
To learn more about how we score our reviews, see our
Mobile Credit Card Processing Rating Criteria
.