Stax By Fattmerchant Mobile Review
Expert Analyst & Reviewer

UPDATED
Advertiser Disclosure: Our unbiased reviews and content are supported in part by
affiliate partnerships
, and we adhere to strict
guidelines
to preserve editorial integrity.
Stax By Fattmerchant Mobile

Pros
Great for high-volume businesses with large tickets
Very stable accounts
Predictable pricing
Excellent customer support
Advanced features available
Cons
Only serves US-based businesses
Expensive for low-volume and small-ticket merchants
Multichannel payments available at additional cost
Stax By Fattmerchant Mobile Overview
It's a bit odd for me to start out by saying Fattmerchant Mobile isn't the kind of mPOS that works for micro-merchants. That's because micro-merchants — businesses that process small volumes, sometimes infrequently, make up a good portion of mPOS users. Because third-party mPOS options are sometimes these merchants' only choices for payment processors, I do consider their needs in my review, along with larger businesses. But in this case, Fattmerchant Mobile targets larger businesses, especially mobile service businesses or those that want a flexible POS that can do double duty as a countertop and mobile solution.
There's a lot to like about Fattmerchant (read our review of the company for more details). The pricing model is very clear and transparent. Merchants who use the service speak highly of it. Account stability is there, too, because Fattmerchant isn't a third-party processor like Square or PayPal. And of course, the company's multichannel processing solution (of which Fattmerchant Mobile is a part) is nothing to sneeze at. The ability to add multiple team members and set user permissions also makes it a good draw for service businesses that have multiple technicians out in the field.
All of that said, Fattmerchant Mobile, as a standalone product, doesn't offer ideal pricing for every business. So it's very important that you do the math and make sure it will work for your needs. Until recently, the app was also an iOS exclusive, but I am happy to say an Android version of Fattmerchant Mobile recently launched, even if it's not quite as robust as the iOS equivalent. And finally, while the platform is similar to Square, you don't get particularly advanced inventory management or other features. If you want a virtual terminal, Fattmerchant sits solidly in the above-average category, feature wise, but it's not offering the most bang for your buck.
All things considered, Fattmerchant Mobile merits a very, very respectable 4.5 stars out of 5 and our general recommendation. A pricing plan for low-volume or small-ticket merchants and some slight improvements to the overall value of the platform would push Fattmerchant Mobile toward that 5-star rating.
If you only need a very basic mPOS and are more concerned about cost than function, I don't think that Fattmerchant is for you. If you process only infrequently and have a low volume, Fattmerchant isn't for you, either. But if you need solid features — especially geared toward mobile service businesses — and account stability, Fattmerchant delivers in both regards.
Read on for our full Fattmerchant Mobile review. Do you have experience using this mPOS app? We'd LOVE to hear from you, so please read our comment guidelines and leave us your thoughts!
Products & Services
While I own Apple devices and have used Macs, I am at my core an Android girl. So you can pry my Android devices out of my cold, dead hands. I am very happy to say that Fattmerchant has finally rolled out an Android version of its mobile POS app. It's not quite as full-featured as the iOS version, especially in terms of invoicing features, but it's openly available.
First of all, the Fattmerchant Mobile app syncs seamlessly with the rest of the Fattmerchant online platform, so all of your information is available wherever you need it to be. This is nice, because a centralized dashboard makes a big difference when you're managing multiple sales channels. And even if you're only using FM mobile, and not any of the rest of FM's products, it's nice to be able to modify settings and maintain your inventory and customer database from a computer, not just within the app.
As far as mPOS features go, you don't get anything groundbreaking or revolutionary, but you do get pretty much everything you need to process payments:
Accept Cash And Card: Record cash payments as well as credit card transactions. That's pretty standard at this point. You also have an option for gift cards.
Show Change For Cash: Again, nothing groundbreaking but always nice to see.
Split Tender: A useful feature, especially if you take advantage of the item library and cash recording.
Quick Sale Mode: Fattmerchant Mobile lets you switch from the item catalog to quick sale mode where you just enter an item cost.
Full & Partial Refunds: This is always good to see.
Discounts by % & $: Discounts apply to the whole order, to a percentage or to a fixed amount, but inventory items can be noted as non-discountable. As far as features go, this is pretty robust compared to a LOT of other mPOS systems out there.
Custom Tax Settings: Items can be marked as taxable or not in the inventory. You can customize the tax rate, but can't do so on an item to item level. The rate you set must apply to all taxable items in the order. This isn't the most advanced feature set, but it's more than low-end systems offer.
Custom Tips: Tips are customizable, but there are so many options it's a bit daunting. Think about how you want to configure your tips before you start.
Email/SMS Receipts: Unfortunately, you don't get the customization options you get with other apps, but it's still important to see this feature. You can add your social media links to your receipts as well.
Inventory Management: While it doesn't quite compare to Square's inventory management, Fattmerchant Mobile allows you to build a catalog with item counts, photos, and descriptions. There's no support for variants or modifiers, but it does include item categories. All the inventory syncs with the online platform, and you can manage inventory counts plus set low-stock alerts. Items can also be marked as a service or as taxable/nontaxable. There's also a built-in barcode scanner using your device's camera.
Customer Database & Notes: Keep track of customer information with notes that sync with the online dashboard. This is particularly great for service businesses who have repeat customers, because you can keep track of which services they choose and how often, plus preferences, any special concerns, and more. This isn't common with mPOS options, but it is usually found in all-in-one platforms.
In-App Invoicing: Apart from Square and PayPal Here, you don't see many other mPOS apps capable of supporting invoicing. But Fattmerchant does — and again, it all syncs up with the online platform. However, the in-app invoice if fairly limited. I do like that it syncs with your customer database, though.
Save/Scan Card Information: You can actually save customer's cards on file for later use if you key in the card number manually or use the app's camera scan option. You won't pay any extra for this feature, but it will cost you more in interchange fees (we'll get into that later).
User Permissions: If you have a team, you can create multiple user accounts and set permissions to restrict their access to certain features. Permissions aren't customizable, but they do address a wide variety of roles and should work for just about every business.
Running Tab: You can actually save transactions and access them later in the FattPay dashboard or mobile app.
The app itself, on my iPad, was a little bit more complicated than other mPOS apps that I've tested. That's because while most mPOS apps do have the ability to modify and control features or generate reports, they're usually tucked away behind a single menu. With Fattmerchant Mobile — the iPad version, at least — it feels like a central control/dashboard app fused with an mPOS. The reporting features are displayed right along with the POS features.
To be honest, I prefer something simpler in my interfaces. All of this is very busy on an iPad screen. But Fattmerchant makes a tutorial easily accessible within the app. Just tap the little orange "i" icon to access the tutorial for a given screen. Rather than walking you through every single aspect of the app, each screen has its own tutorial. Whether you'll love this feature or loathe it depends entirely on what kind of person you are. Some people charge headlong into chaos and figure it out as they go; others prefer to have someone show them the ropes. I'm usually more of the latter myself, but with mPOS apps and payment platforms in general, I've seen and tested enough that I've started barreling in and throwing myself headlong at things.
Also, the iPhone interface is certainly more simplified and pared down. While I get that having a tablet means you have more real estate to work with and it makes sense to use it, there's certainly a point at which it's just too much. Let's be clear: I don't hate the Fattmerchant Mobile interface. It's usable, and the addition of an in-app tutorial is a great touch. But it's not as sophisticated as other options.
All of this is good. Some of it is standard; some it is beyond what you would get from an entry-level or even mid-tier mPOS. However, if you've played around with mPOS systems even a moderate amount, you might notice a couple of features missing from this lineup:
No Receipt Printers or Cash Drawers: The mobile app isn't really designed for countertop use, so there's no support for connected peripherals such as a receipt printer or data-driven cash drawer. This is a paperless, wireless platform, which isn't a bad thing. It just may not appeal to everyone.
No Bulk Upload: This one actually hurts me a little bit, given the online sync and item counts for inventory. Bulk import would make getting up and running so much easier. If you have a large enough inventory that manually uploading each item or service sounds absolutely dreadful, Fattmerchant's customer service can help with a bulk upload for a small (undisclosed) fee.
You might notice some other drawbacks, too. For example, the rest of Fattmerchant's services are all offered a la carte, meaning it'll cost more to access the virtual terminal, plus another sum to process eCommerce payments. We'll get into pricing down below, so keep reading!
Fattmerchant Mobile Card Readers
Fattmerchant Mobile's carders start at $75 apiece. There's a Bluetooth-enabled magstripe/EMV reader, as well as a Bluetooth-enabled all-in-one reader with magstripe, EMV, and NFC (pricing not disclosed). That's a step-up from earlier iterations of Fattmerchant Mobile, which relied exclusively on camera scanning to enter cards.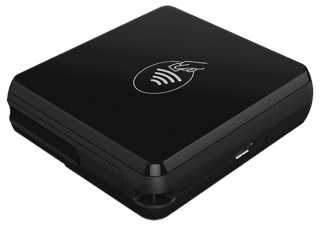 I like the design of this all-in-one card reader (and I suspect it's the same device as PayPal's Chip and Tap reader). It's small at just about 2.5 inches square and less than 0.75 inches deep. Fattmerchant says that a single charge should last about 24 hours, but your mileage will vary.
I like the cost of the reader a lot less. Starting at $75 for a single (presumably swipe/EMV) reader is higher than what you would get with most other mPOS providers, some of whom are now offering an EMV-enabled reader for free. Even those who don't provide free readers offer an option for about $30, typically. However, it's not the most expensive hardware I've seen, either, since some processors are still offering their hardware for $150 base price (with eligible merchants getting rebates for up to $100 back).
Rates & Fees
Fattmerchant has refined its pricing plans for its mobile app over the years, reducing the number of options from three to just one (excluding enterprise pricing, which scales according to your volume):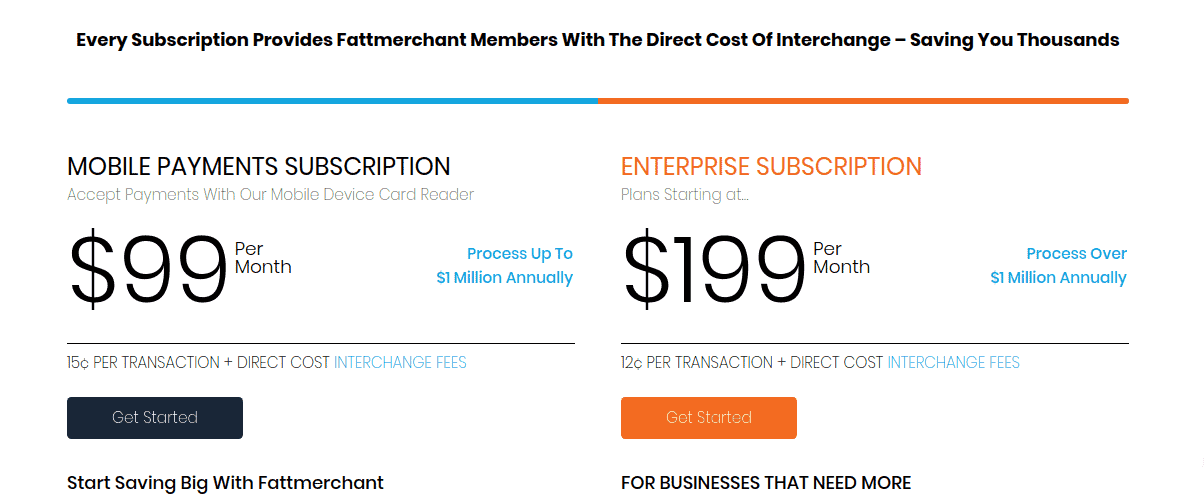 $99/month + $0.15 per transaction (+ interchange fees).
That's it. Fattmerchant doesn't charge any PCI compliance fees, annual fees, customer service fees, statement fees, batch fees, or anything else. However, your costs will be higher if you choose to save cards on file or process any sort of other card-not-present (CNP) transaction because the interchange rates for these kinds of transactions are higher than swiped/dipped/tapped transactions. That includes camera scanning or manually keying in cards.
If you're used to Square's 2.75% pay-as-you-go, this probably seems a bit odd for an mPOS. And it's not easy to tell at a glance if Fattmerchant would be a good choice for you.
Even before running the numbers, I can tell you two things:
You're going to need to be processing a fairly high monthly volume on a consistent basis to justify this $99/month plan.
If your average transaction size is fairly low, that per-transaction fee is going to hurt you a lot more than merchants with larger transaction sizes.
But just how much are you going to have to process to justify the costs for Fattmerchant Mobile? What are you actually going to pay for processing? Let's crunch some numbers and find out!
We're going to need three important pieces of information to do these calculations: (1) your interchange rate, (2) your monthly volume, and (3) your average ticket size.
Your interchange rate is going to vary — from day to day, month to month, merchant to merchant. But an interchange rate of 1.54% + $0.12 is going to be pretty typical for most merchants who don't process a lot of American Express or business rewards cards, so that's the number we will use there. (If you do handle a lot of Amex or business rewards cards, expect your average interchange to go up; same with processing a lot of CNP transactions.) Your monthly volume and average ticket size should be fairly easy to figure out by checking your previous statements (or reporting software if you have it).
For our example, let's assume a monthly volume of $10,000, plus the average interchange of 1.54% + $0.12. We'll also do two examples of average ticket size — $20 and $75, so you can see the difference that an average ticket size makes.
Scenario 1: $10k/month volume, $20 average ticket (500 transactions)
Interchange percentage: $154
Flat fees (interchange + FM markup): $135
Monthly fee: $99
Total: $388
Scenario 2: $10k/month volume, $75 average ticket (133 transactions)
Interchange percentage: $154
Flat fees (interchange + FM markup): $36
Monthly fee: $99
Total: $289
Notice how with a larger ticket size, merchants end up paying about $100 less in processing fees. (Larger transaction sizes mean fewer transactions overall for a given volume, which means fewer per-transaction fees.) For that reason, FM may not be the best option for coffee shops and other business with a small ticket value — the smaller your average ticket, the less likely FM is a good choice for you.
But how does that compare to Square? Because Square charges a flat percentage, average ticket size is irrelevant, so we only need the monthly volume. At $10,000/month, your processing fees would be $275 — still less than Fattmerchant, but really close if you have a large ticket size. If your average ticket is higher than $75, you would pay less than you would with Square.
Keep in mind these are estimates based on average interchange and average ticket size, and so your numbers may vary. However, you can calculate for yourself if you know what your average interchange is.
Also, this pricing only includes access to some of Fattmerchant's other features, such as inventory management and a customer database. It does not include access to the virtual terminal, which is another $99/month, and a shopping cart integration will cost $99/month plus the monthly subscription for the shopping cart. However, all of these services include access to the Fattmerchant platform and reporting for a high-level overview of your business at no additional charge.
In all, Fattmerchant's payment structure isn't a bad one. I won't say it's good for everyone, because it's not. But you also get quite a few trade-offs — such as greater account stability than you do with third-party processors such as Square and PayPal, and great customer service. On the other hand, if you are extremely budget-conscious and you want the most bang for your buck, I strongly encourage you to take a look at your financials and calculate what you would pay with Fattmerchant versus other options just to make sure it is the best deal for your business.
Funding Times with Fattmerchant
One of the promises on the Fattmerchant site is next-day funding. Now, this term is used somewhat…flexibly, you might say, in the industry, so I reached out to get clarification how FM's next day-funding works.
First of all, it's not open to everyone, just eligible merchants. FM isn't clear on what makes one eligible, but I'd be an established processing history is a big deciding factor. As long as you settle each day's batch before the given cut-off time, you'll have your money the next business day at 9 a.m. Next-day funding is only for business days, not holidays or weekends.
Batch cut-off times depend on your location, but these are the deadlines:
7:00 pm PST

7:00 pm CST

5:00 pm

Hawaii-Aleutian

6:00 pm

Alaska

8:00 pm MST

8:00 pm EST
If you don't settle the batch by this time, you can expect 1-2 business days for your funds.
If having your funds immediately is a concern, make sure you check whether you're eligible for next-day funding. Otherwise, you might want to look at Square, which offers instant and scheduled deposits for 1% of the transfer value, or PayPal, which offers instant transfers to banks for 1%, as well as the ability to spend your PayPal balance with a debit card.
Contract Length & Cancellation
Fattmerchant offers month-to-month agreements. You can cancel at any time. Beyond that, there are no monthly minimums, no PCI compliance fees, no statement fees and no other costs that you often find in contracts. You can buy your mobile readers outright, which is way better than a lease — and makes a lot of sense, because mobile readers are much cheaper than terminals.
This is exactly what we like to see from merchant account providers, so there are no complaints here. However, you're not totally immune from the burden of PCI compliance. You'll have to complete an annual assessment, and if you use more than the mobile solution, you may have to complete quarterly scans. This is a bit more than is required by companies like Square or PayPal, but it's a common trade-off for a robust platform like this.
Sales & Advertising Transparency
Fattmerchant is clear and transparent in its pricing strategies and contract terms. You'll find everything you need to know disclosed on the website, and by all reports from merchants, you get exactly what you sign up for. That's always a good sign.
In addition, I like what Fattmerchant is doing with its blog. The content is relevant and informative, moreso than a lot of other blogs that I've seen. Educated merchants make for good merchants, so I encourage you to read and be aware of what's happening in the payments space.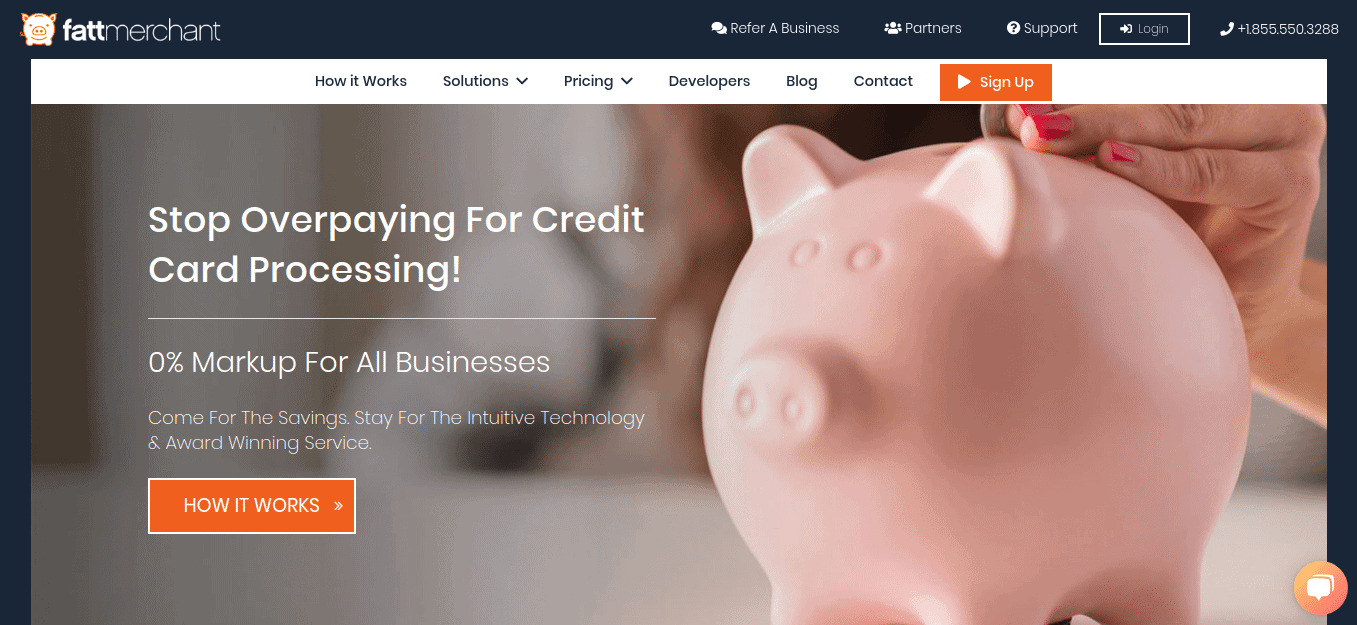 The only thing that I could possibly ding the company on is its "0% markup" schtick that you can see on the Fattmerchant homepage. While it's technically true, the suggestion implied here is that there's no markup at all — and that's absolutely not true. To be entirely honest, a 0.15% markup would actually cost some merchants less than a $0.15 per-transaction markup.
However, all that said — it's always nice to see a processor that is clear and upfront. We have no doubts or concerns here. You'll get exactly what you pay for, and you won't be nickel-and-dimed for every little bitty thing the way some processors treat their merchants.
Customer Service & Support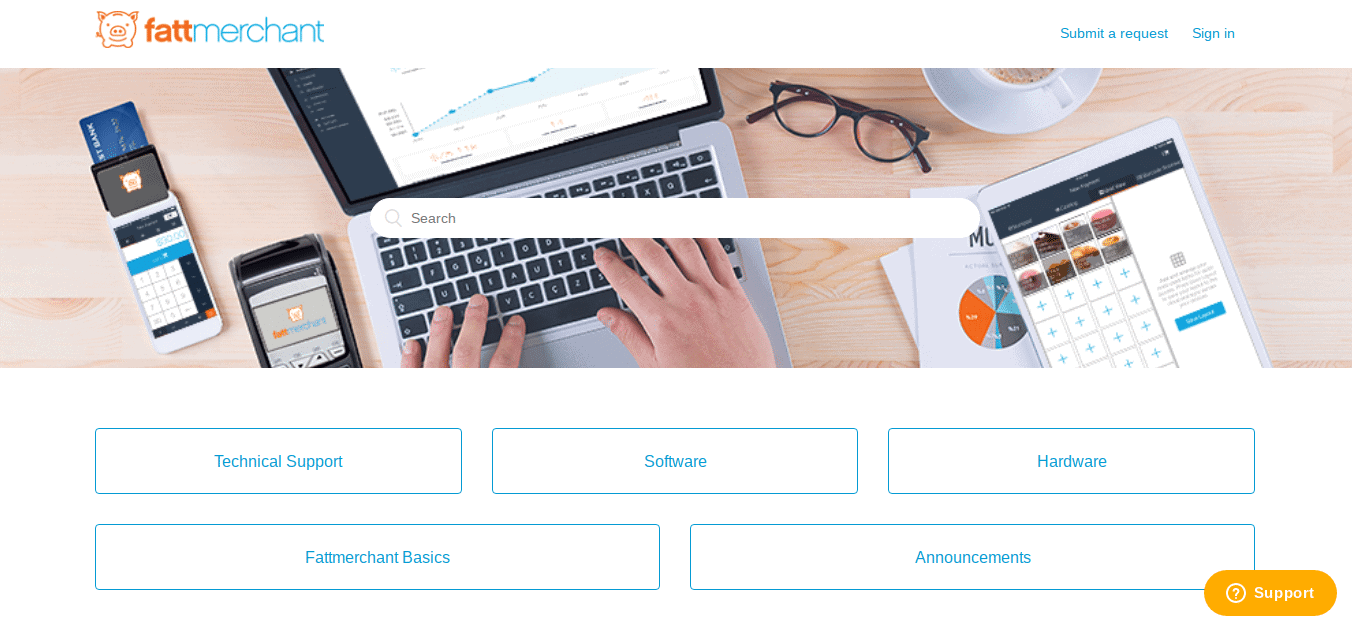 Let's start with the good news: All the data we have says Fattmerchant's customer service is pretty amazing, even on the rare occasions a merchant has trouble setting up an account. You can talk to someone on the phone and merchants comment about how helpful and friendly their reps are. Seeing specific comments about the quality of service is always a great indicator that the customer support is actually doing a great job.
Fattmerchant offers respectable knowledgebase. I've seen better, but it covers most of the topics you need. In addition, you get both phone and email support with your Fattmerchant account, and there's a community forum.
Unlike some other mPOS providers, you won't get a specialized Twitter support channel. At the same time, I don't see an influx of complaints on the company's social media pages, which is usually a sign that other support channels aren't satisfactory. So that's good, and I do honestly believe Fattmerchant cares about its customers and the quality of its customer service.
User Reviews
Negative Reviews & Complaints
There aren't a lot of complaints about Fattmerchant out there. And there are even fewer complaints specifically about the mPOS, to the point where I can't say there are any "trends" in those complaints. We'll keep an eye out in our Fattmerchant Mobile review updates to see how things change.
The common threads with complaints about Fattmerchant overall are misunderstandings about contract terms and pricing. I'm not exactly sure what is going on here, because overall the information is pretty clear on the site and overall, it seems that sales reps are honest and straightforward. It could be that new sales reps might have a bit of a learning curve, perhaps, or something else. However, when I see these complaints, the company is already there, responding and ready to help fix the problem.
Positive Reviews & Testimonials
First of all, if you check FattMerchant's website, you'll see a testimonials webpage that includes a scrolling list of logos for high-profile businesses that FattMerchant serves and videos from happy clients.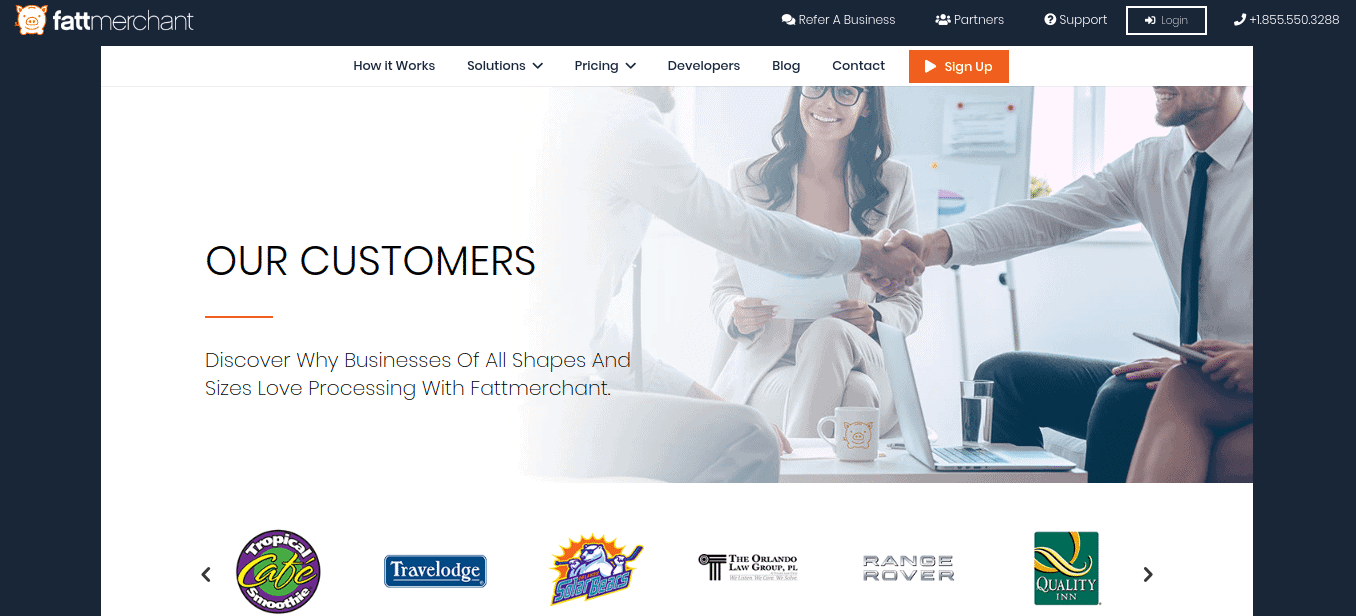 We've said there's a lot to love about Fattmerchant, and other review sites and plenty of merchants agree. Some of the most common praises include:
Customer Service: Too many processing companies fail to deliver in this department, but Fattmerchant seems to have nailed it. Across the board, merchants praise Fattmerchant for being helpful and responsive. It might have something to do with the in-house team instead of relying on a third-party sales team.
Contract Terms and Pricing: Standing in contrast to the few complaints about pricing and contract terms are the merchants who rave about how clear and affordable Fattmerchant's pricing plans are, and how the plans save them money over their previous processors.
Omni-Channel Platform: Merchants who use Fattmerchant's omnichannel capabilities really, really love it. That includes the mobile app and online dashboard with a virtual terminal. Everything syncs perfectly, which makes it a great option for merchants who work across multiple sales channels.
Final Verdict
While Fattmerchant's inventory tools aren't super advanced, and the mobile app's interface is more clunky than other options, I like FM Mobile. You get more than just a basic mPOS, one that's genuinely capable of adapting to retail and quick-service restaurants. That includes discounts, tipping, and flexible tax settings, as well as barcode scanning. The mobile app also includes access to FM reporting, so the app kind of does double duty as a mobile POS and as a reporting app. However, you'll need to log into the Omni platform on a browser to get full use of the FM platform, not just reporting.
Fattmerchant Mobile could be a good tool for a lot of merchants in need of a standalone mPOS and mobile service businesses. I hesitate to say it's good for every merchant — but if you have a monthly volume of at least $10,000 and large average ticket size, you're going to find a lot of appeal. Smaller merchants might also be drawn to Fattmerchant thanks to the account stability offered; the greater account stability and exceptional customer support might justify the cost.
Plus, Fattmerchant does offer a comprehensive, all-in-one solution for businesses that sell through multiple channels. You can get just about everything you need with Fattmerchant. However, the subscription-based pricing model means it's not as easy to make direct comparisons on pricing. You'll need to do the calculations and make sure that FM's pricing is suitable for your business.
I like FattMerchant overall. Fattmerchant Mobile earns a very, very respectable 4.5 stars. If you don't mind the numbers and like the feature set, Fattmerchant Mobile could be a spectacular fit for you.
Do you have experience processing cards using FM's mobile app? Check out our comment guidelines and leave your thoughts below!
---
The Merchant Maverick Seal of Approval 🏆
Stax By Fattmerchant Mobile


---
After hours of in-depth research and evaluation, we can confidently recommend this brand to our readers. Get started today and see Stax By Fattmerchant Mobile for yourself.
The Merchant Maverick Seal of Approval 🏆
Stax By Fattmerchant Mobile


---
After hours of in-depth research and evaluation, we can confidently recommend this brand to our readers. Get started today and see Stax By Fattmerchant Mobile for yourself.
To learn more about how we score our reviews, see our
Mobile Credit Card Processing Rating Criteria
.