Stax By Fattmerchant Virtual Terminal Review
Expert Analyst & Reviewer

Updated on:
Advertiser Disclosure: Our unbiased reviews and content are supported in part by
affiliate partnerships
, and we adhere to strict
guidelines
to preserve editorial integrity.
Stax By Fattmerchant Virtual Terminal

Pros
Easy to use
Well-designed UI
Transparent cost-plus pricing
Next-day funding
Good analytics
Cons
Potentially expensive
Unsuited for low processing volumes
No estimates
Limited integrations
Stax By Fattmerchant Virtual Terminal Overview
You may know Fattmerchant for its excellent payment processing services, but did you know the company also offers invoicing?
Fattmerchant has been shaking up the payment processing space since 2014 with its subscription-based cost-plus pricing. Unlike most payment processors, which usually charge 2.9% + $0.30/per transaction, with Fattmerchant you pay a flat, predictable monthly fee plus a few cents per transaction (and the direct cost interchange fees).
Fattmerchant's Virtual Terminal is ideal for established businesses looking for a way to manage their payment processing and invoicing all in one. The software is easy to use and offers convenient automations like recurring invoices and invoice reminders. The software also comes with contact management, basic inventory, and ecommerce buttons.
However, the Virtual Terminal is missing key features you'd find with most typical invoicing software, including estimates, expense tracking, multiple invoice templates, strong invoice customizations, and profit and loss reporting. Potentially expensive add-ons and limited integrations don't do this app any favors either.
So do the pros of Fattmerchat's Virtual Terminal outweigh the cons for your business? Continue reading to find out.
Pricing
The Fattmerchant Virtual Terminal has two pricing plans. Subscription payments are made monthly. There are no contracts, and you can cancel the service at any time.
Fattmerchant is unique in that it offers subscription-based cost-plus pricing (with a percentage markup rate of 0.00%). What does this mean? It means that instead of paying a transaction rate (like 2.9% + $0.30) as with other payment processors (like Stripe, Square, and PayPal), you'll instead pay a flat monthly fee plus $0.15/per transaction (plus the direct cost interchange fees). If your business processes a high volume of transactions or makes large sales using invoices, Fattmerchant Virtual Terminal's pricing structure could be a good option.
Here is a detailed look at what's included with each Virtual Terminal plan:
Fattmerchant Starter Platform
$99/month
$0.15/per transaction + direct cost interchange fees
Next day funding
Invoicing
Contact management
Inventory
eCommerce payments
Standard risk monitoring
Chargeback monitoring
QuickBooks Online integration
Fattmerchant Enterprise Platform
$199/month
$0.15/per transaction + direct cost interchange fees
Next day funding
Invoicing
Contact management
Inventory
eCommerce payments
Priority risk monitoring
Priority chargeback monitoring
QuickBooks Online integration
Reporting
Dedicated customer success manager
Data breach protection and tokenization
Account updater for cards on file
Extra Costs
Fattmerchant also offers several add-ons to take into consideration before purchasing.
Integrated Analytics Reports: If you have the Starter plan but still need reporting, you can add Fattmerchant's Analytics Reports service for an extra $20/month.
Advanced Customization: You can purchase advanced invoice customization for $10/month. This add-on lets you remove the Fattmerchant logo from your invoices, add color, and create custom fields on your customer's payment screen.
Same-Day Funding: Same-day funding starts at $29/month + 1% per batch. Pricing varies depending on your company's yearly processing volume.
ACH Transactions: Processing ACH transactions costs an extra $49/month + $0.25/per transaction.
Terminal Protection: If you use one of Fattmerchant's EMV terminals alongside the virtual terminal, you can add terminal protection for $10/month. This service expands the hardware protection to include unlimited replacements due to defective hardware, accidents, or wear and tear.
Large Processing Volume: If your processing volume exceeds $1,000,000 annually, then you can expect a larger monthly processing fee. Contact Fattmerchant directly for pricing details.
Other Fattmerchant Services
As we mentioned earlier, Fattmerchant offers several additional services. Every Fattmerchant service is compatible with the others so you can meet all of your payment processing needs with one company.
When you purchase multiple Fattmerchant services, you'll gain access to the Omni platform which gives you an overview of your entire business (including data from every Fattmerchant service). The Virtual Terminal includes and expands the Omni platform to give you more advanced features and analytics.
Here are the additional services Fattmerchant offers.
EMV Terminals: If you want to take payments using a physical terminal, you can purchase the Fattmerchant Virtual Terminal service (hardware costs extra or you can use your existing terminal). The cost of EMV terminal processing starts at $99/month plus $0.08/per transaction + direct cost interchange fees. Read our full Fattmerchant review for more details.
Shopping Cart: To process payments through your online ecommerce site, you can purchase the Fattmerchant Shopping subscription starting at $99/month plus $0.15/per transaction + direct cost interchange fees.
Mobile: To process mobile payments through a mobile card reader, you can purchase Fattmerchant Mobile starting at $99/month plus $0.15/per transaction + direct cost interchange fees. You do not need to purchase this subscription to use the mobile app — only to process mobile payments. Read our complete Fattmerchant Mobile review to learn more.
Integrations: The Fattmerchant Integrations service allows you to connect with certain point-of-sale systems should you choose to use your existing POS terminal instead of Fattmerchant's. The service starts at $99/month.
API: Fattmerchant does have an API available for developers, but you will have to pay for an API subscription starting at $99/month.
Cloud-Based Or Locally-Installed
Cloud-based. No downloads or installation required.
Hardware & Software Requirements
As cloud-based software, Fattmerchant's Virtual Terminal is compatible with nearly any device so long as you have an internet connection. There is a mobile app available for all users at no additional cost; however, if you want to accept mobile payments through a card reader, you will have to purchase Fattmerchant Mobile. Mobile apps are available for iOS (9.1+) and Android (5.1+).
Specific Size Of Business
Fattmerchant's Virtual Terminal is ideal for established businesses that want a combined payment processing and invoicing platform. The software's pricing is best for businesses with a high processing volume or large sales. The software is not ideal for businesses with low processing volumes or that are looking for traditional invoicing software features like estimates, expense tracking, or project management.
Fattmerchant Virtual Terminal offers extensive, customizable user permissions.
Ease Of Use
The Virtual Terminal has an attractive UI that is easy to use and learn. For the most part, the software is simple to navigate, although there are a few places where the user experience could be improved (for example, if you click on the sales tax on an invoice, you'll be taken to a screen where you can edit the sales tax, but you will lose all progress you made on the invoice). There is a decent help center if you get stuck or need extra assistance in learning the program.
Features
Fattmerchant Virtual Terminal offers a decent feature selection. While you won't find all of the features you typically expect from invoicing software, you will find unique additions that help you manage your payment processing and sales. Here's a basic overview of the Virtual Terminal's features:
Dashboard: The main dashboard gives a quick overview of your business's payment processing history. You'll find info and graphs on your gross sales for the year, net sales for the year, total refunds for the year, total profit, outstanding receivables, active customers, transactions in the past 30-days, top customers for the month, and a breakdown of which customers owes the outstanding receivables.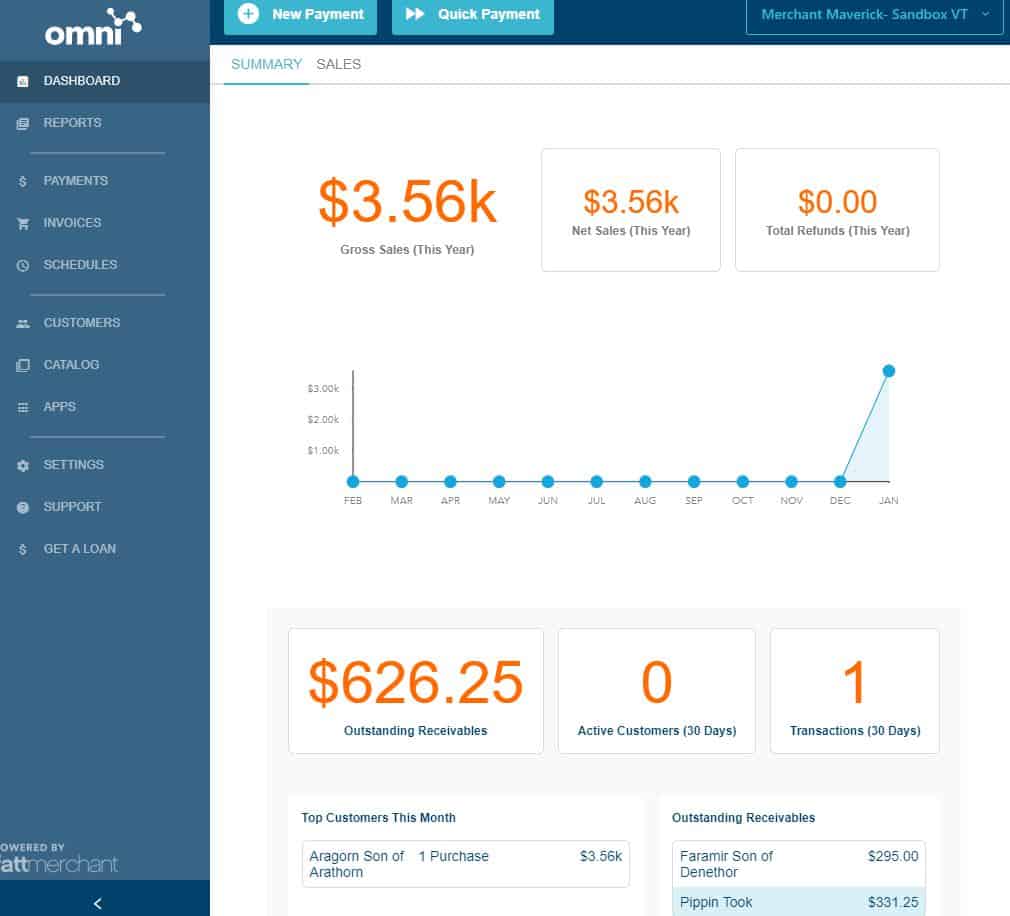 Sales Dashboard: You can also view a sales dashboard which shows similar information. You'll find data on your gross sales for the year, net sales for the year, total refunds for the year, your average sale, active customers, transactions, money awaiting capture, a breakdown of sales by day for the last seven days, a ratio of your new vs. returning customers, and a chart of hourly sales activity. The analytics provided by the average sale size and new vs. returning customers are a particularly nice touch you often won't find with traditional invoicing software.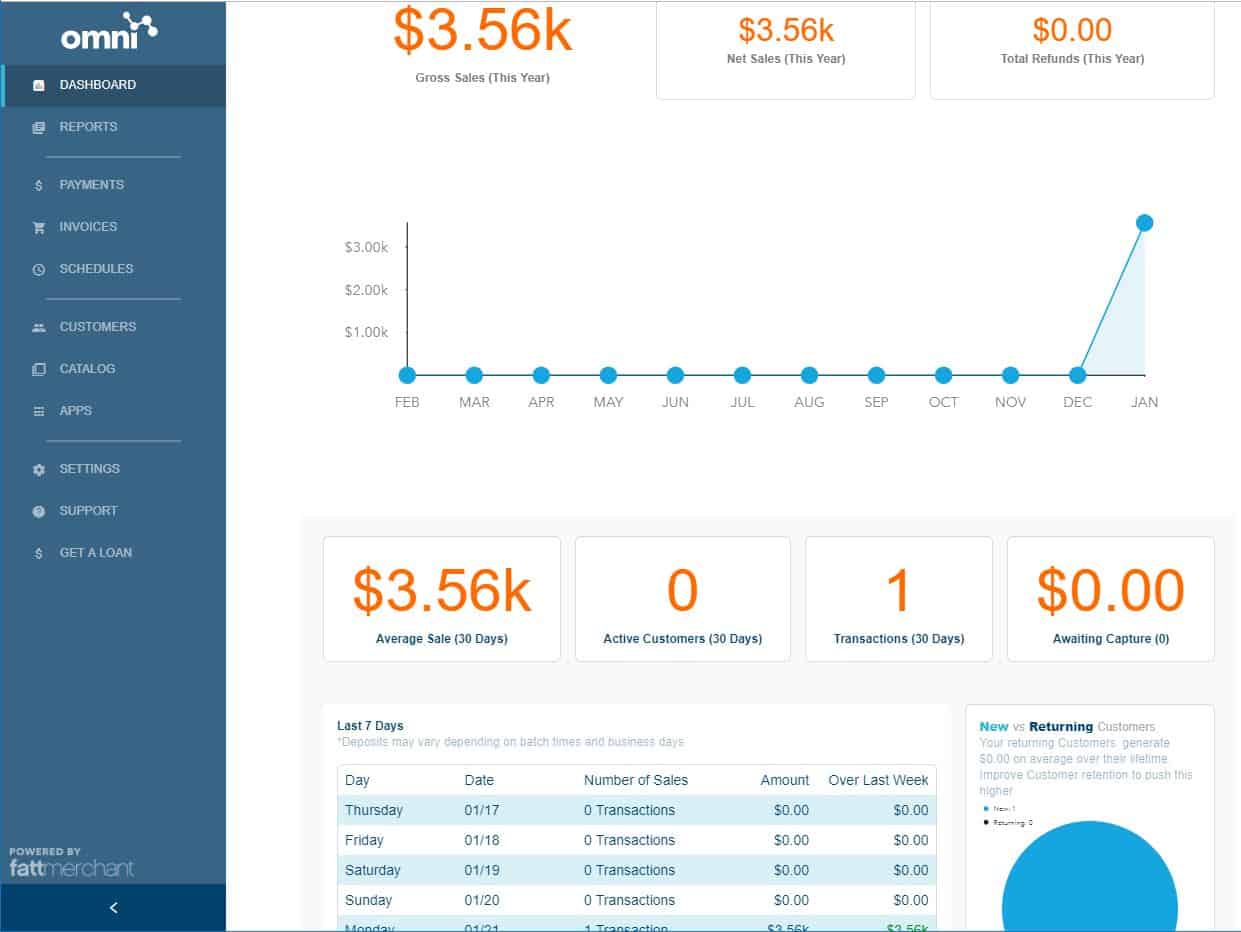 Invoicing: Fattmerchant's invoices are easy to create. There is only one template, and there are hardly any customizations (even after buying the Advanced customizations package). If you don't purchase the Advanced Customizations add-on, all of your invoices will be sent to your customers with the Fattmerchant logo on them. One of the coolest customizations available is the ability to add your social media accounts to your invoices. There are recurring invoices, automatic invoice reminders, and an invoice dashboard that clearly shows which invoices are unsent, sent, overdue, and paid.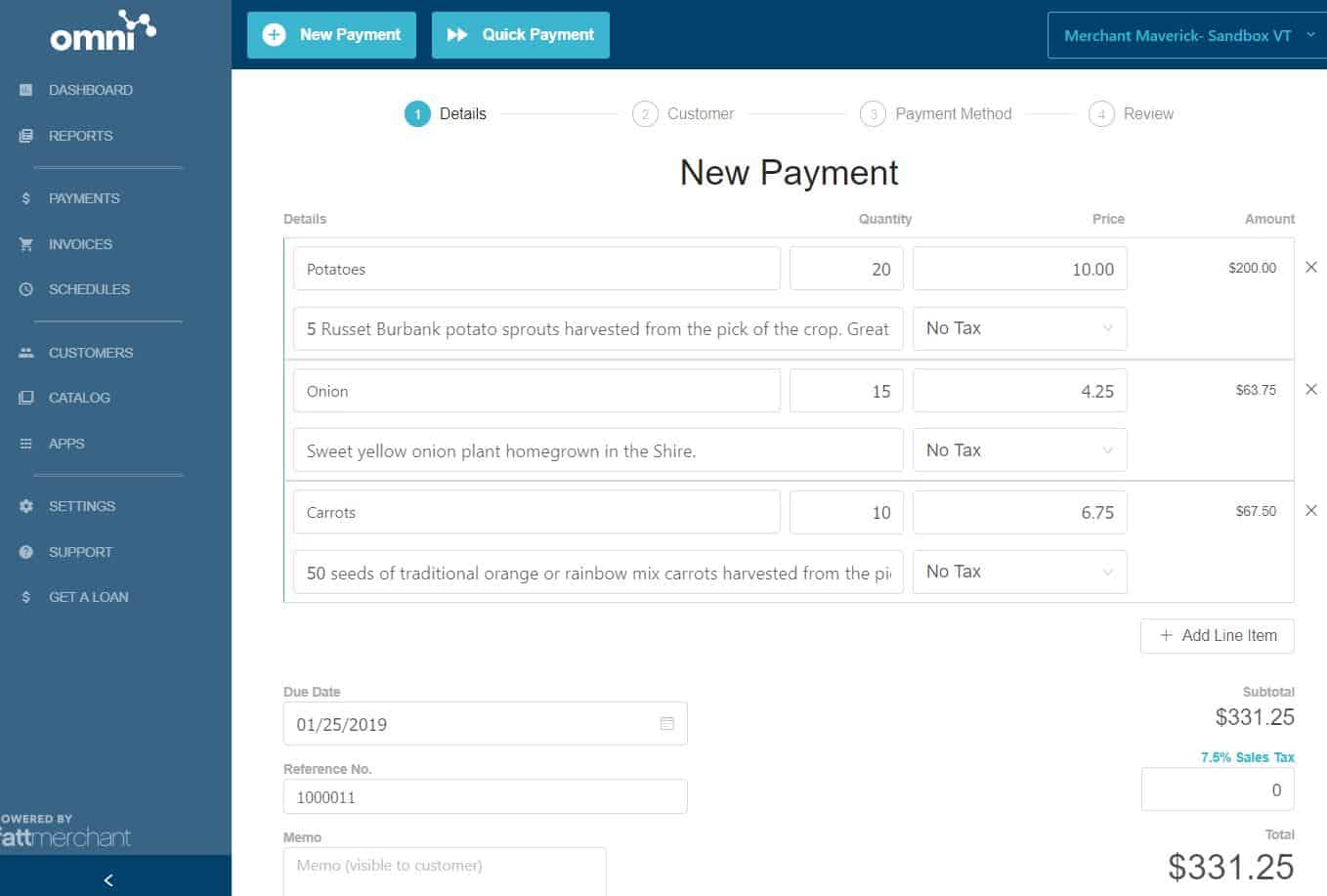 Client Portal: There is a basic client portal where customers can pay their invoices directly online.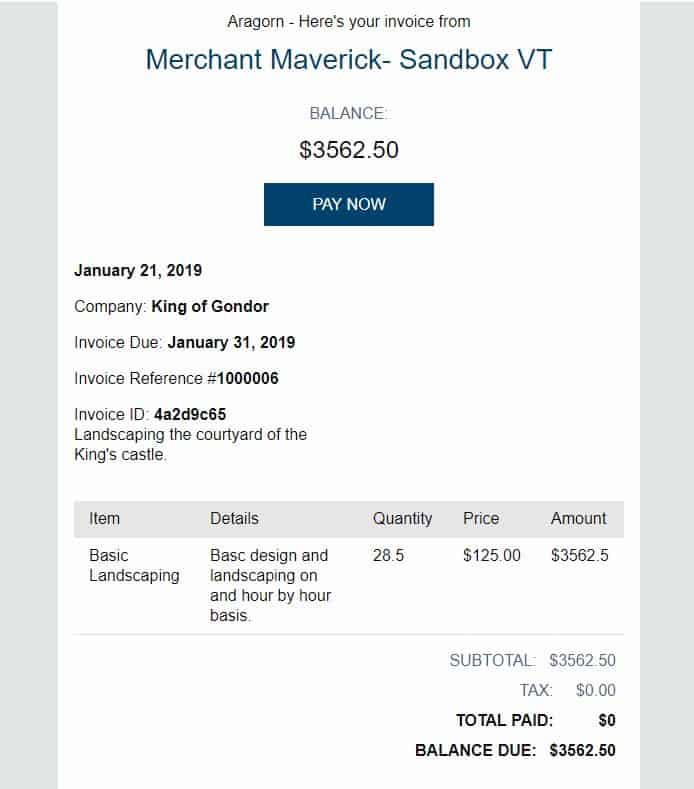 Contact Management: You can add customers and record their basic contact information as well as any customer notes. You can change what your contacts are called to fit your industry (ie. customers, patients, clients, etc.) by calling customer support. There is a nice customer dashboard that shows the customer's details, unsent invoices, unpaid invoices, recent transactions, and customer schedules (aka recurring invoices). You can save customer payment methods for future sales as well.
Payments: You can view all of the payments your customers made in the Virtual Terminal. Unlike traditional invoicing software, there is no expense tracking available.
Inventory: You can add products and services in the Virtual Terminal catalog. You can record an item's name, description, price, code, and attach an image to the item as well. Basic inventory features include tracking your items' quantity on hand and setting low inventory reminders. There's no way to add a purchase price, so you can't view your COGs.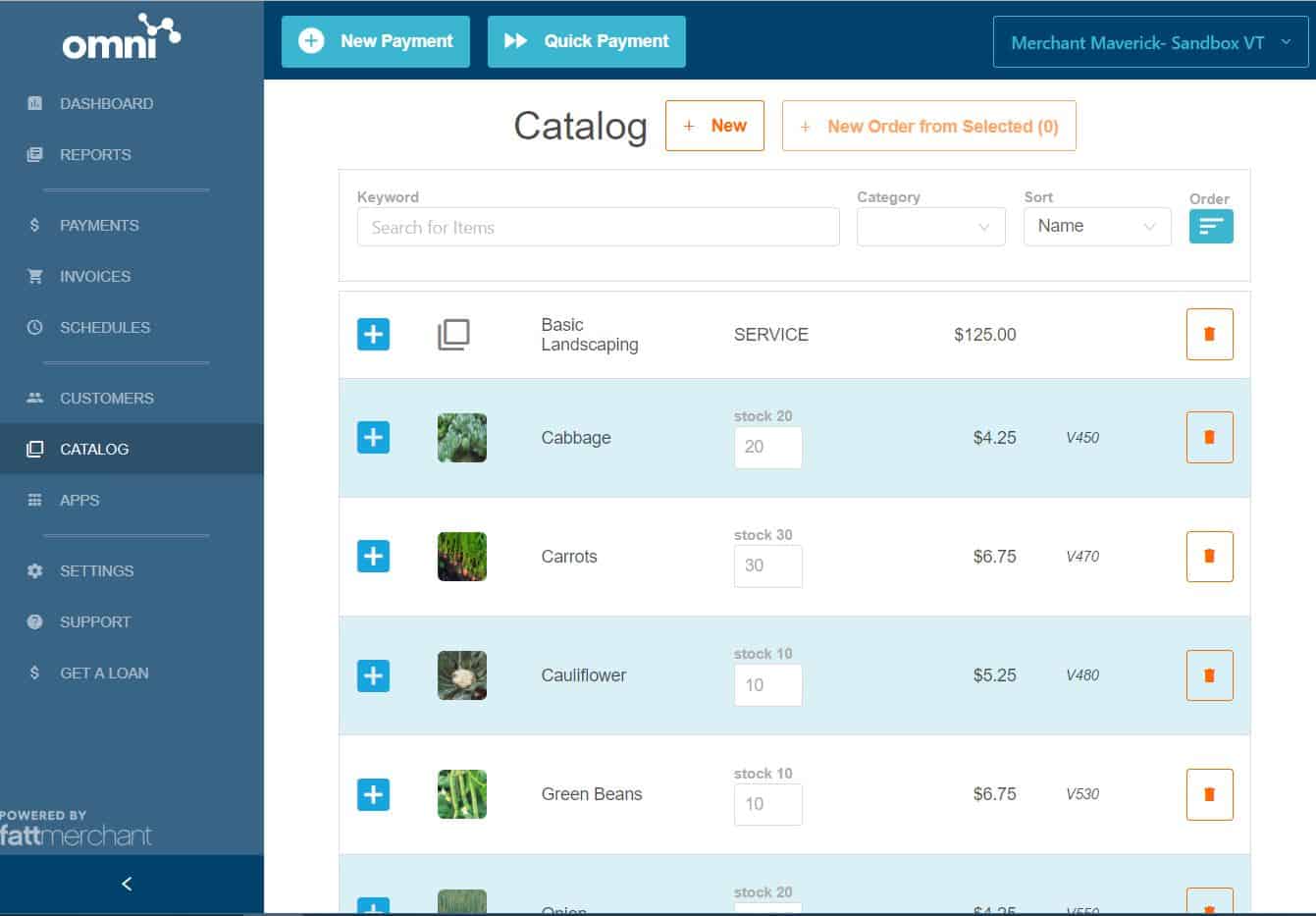 Reports (Enterprise Plan Only): Fattmerchant Virtual Terminal offers seven reports total. These reports are great for managing your sales and payment processing, but there are no typical invoicing or accounting reports (like a Profit and Loss Statement) to help you manage your business overall. You have to have the Enterprise Plan or purchase the Integrated Analytics Reports add-on to use this feature.
Customer Refunds: You can issue refunds to customers in the Virtual Terminal.
Notifications: You can opt to be emailed notifications about online payments, refunds, failures, and scheduled invoices. You can also have a weekly summary sent straight to your inbox.
Payment Links: One of the most unique features of the Virtual Terminal is that you can create payment links which you can then send out to your customer via Facebook Messenger, text, and so on. Or you can use the payment links to create ecommerce buttons on your company's website.
Sales Tax: You can add as many sales tax rates as needed in the Virtual Terminal.
Importing & Exporting: You can export just about anything with the Virtual Terminal; however, there is no importing available. One rep said that custom importing has been done in the past, but there's no built-in way for users to import customers, items, services, or other data themselves.
Customer Service & Support
Fattmerchant has good customer support and many users report positive customer report experiences. The company offers 24/7 tech support via phone or email. In my own experience, phone calls are answered quickly, emails are responded to in a timely manner, and representatives are kind and generally helpful.
Here are all of the support options available with the Fattermerchant Virtual Terminal:
Phone: You can contact Fattmerchant by phone.
Support Form: There is a support form available online if you want to email the Fattmerchant support team.
Live Chat: There is live chat available on the Fattmerchant website and within the actual Virtual Terminal.
In-Software Help: Clicking the support button in the Virtual Terminal will take you straight to Fattmerchant's help center.
Help Center: Fattmerchant offers a good help center for all of its products. You can find how-to articles, troubleshooting solutions, and company announcements.
Fattmerchant Blog: Fattmerchant maintains an active blog with business advice, payment processing tips, and other helpful articles.
Social Media: Fattmerchant has active Facebook, Twitter, Instagram, and LinkedIn accounts.
User Reviews
Negative Reviews & Complaints
Fattmerchant has received a surprisingly small number of customer reviews online, and an even smaller number of those pertain directly to the Virtual Terminal (most about the company's EMV terminal service). The few reviews I found that were specific to the Virtual Terminal were positive. For this reason, we've compiled our own list of negatives that we see as being potential drawbacks for customers.
Potentially Expensive: While Fattermerchant's flat monthly subscription fee can be beneficial to established businesses with a high processing volume or large sales, the company's services do come at quite a steep cost when compared to other invoicing software. Since Fattmerchant Virtual Terminal isn't really "invoicing software" and is more akin to payment processing with invoicing, I would be able to excuse this if there weren't for so many add-ons. You have to pay $49/mo plus processing for ACH payments, $10/mo just to get Fattmerchant's logo off your invoices, at least $99/month for API, and at least $99/month to use POS integrations. If your business doesn't need these abilities, then this may not be an issue, but for many small businesses, all of Fattmerchant's services can start adding up fast.
Missing Features: For invoicing software, Fattmerchant is missing key features like estimates, multiple invoice templates, multi-currency support, expense tracking, project management, and time tracking. The features the software does offer may more than makeup for this if your business needs a combined invoicing and payments processing platform, but if you're looking for typical invoicing features, you won't find them here. (Good news is you can find them with other invoicing alternatives that cost a lot less than $99/month.)
Limited Invoice Customizations: Fattmerchant Virtual Terminal offers very few invoice customizations. You can purchase the Advanced Customization add-on, but even then you'll only be able to remove Fattmerchant's logo and change the colors. Most software gives users far more options than this (as well as multiple templates to choose from).
Positive Reviews & Testimonials
Fattmerchant receives predominantly positive customer reviews, but again it is difficult to find reviews specific to the Virtual Terminal service. The company as a whole receives 5/5 stars on Capterra (based on fifteen ratings) and 4.5/5 stars on Consumer Affairs (based on 62 ratings). Here's what user have to say about Fattmerchant, the comapny, augmented with our own positive points about the Virtual Terminal specifically:
Good Customer Support: Many users praise Fattmerchant for offering good customer support. This is by far the most common feedback.
Low Processing Fees: Several people appreciate Fattmerchant's low processing fees and say the company saves them money.
Easy To Use: The Virtual Terminal, in particular, is easy to use and it's UI is well-organized, making the software simple to navigate.
Good Mobile App: A couple users remark like Fattmerchant's mobile app (although the iOS app only receives 2.6/5 stars on iTunes).
Here's what a few users are saying about the Virtual Terminal in particular:
I LOVE the VT! It is so easy to navigate. I would recommend (and have) Fattmerchant to anyone.

My favorite aspect of this software is the dashboard. They make it very visually ascetic, it's easy to find reports and see what's happening. I really like the company too! Very nice people.
Integrations & Add-Ons
The Fattmerchant Virtual Terminal integrates with QuickBooks Online. Point of sale integrations require Fattmerchant's Integrations service. If you're looking for other third-party integrations, you won't find them on Fattmerchant's site. Additional integrations are on a case by case basis and may come at an additional cost. Contact Fattmerchant directly to learn more.
Security
While Fattmerchant does use industry standard security measures and is a Level 1 PCI Service Provider, the security policy doesn't exactly inspire confidence. Here's what the company has to say about security:
Fattmerchant uses industry standard security measures to protect against the loss, misuse and alteration of the information under our control. Although we make good faith efforts to store the information collected by Fattmerchant in a secure operating environment that is not available to the public, Fattmerchant cannot guarantee complete security. Further, while we take reasonable steps to ensure the integrity and security of our network and systems, we cannot guarantee that our security measures will prevent third-party 'crackers' from obtaining this information.
No company is immune from security threats no matter how many security measures they take, but this is still not what you want to hear from an invoicing and payment processing company.
Final Verdict
The Fattmerchant Virtual Terminal has a lot going for it. The flat subscription rate pricing structure is a nice change from many other payment processors. There's a 0.00% markup rate with Fattmerchant's cost-plus pricing, and the software integrates well with other Fattmerchant services. Chargeback monitoring and risk monitoring are icing on the cake.
It's easy to see why we like the payment processing side of Fattmerchant, but how does the Virtual Terminal stack up in terms of invoicing?
Sadly, when it comes to invoicing, the software still has quite a way to go. The Virtual Terminal makes it easy to send invoices and accept payments, but there is only one invoice template and there are hardly any invoice customizations (even after you pay for the extra Advanced Customization service). The app does have a nice recurring invoice feature and invoice reminders, but you won't find typical invoicing software features like estimates, expense tracking, project management, importing, or profit and loss reporting.
We could overlook these limitations more easily if the cost of Fattmerchant's Virtual Terminal (and all of its add-ons) wasn't so steep and the integrations weren't so limited. That being said, this could still be a competitive option for certain businesses.
The software is ideal for established businesses with large processing volumes or large sales amounts that want to combine their payment processing and invoicing into one location. These businesses would most likely be saving quite a bit of money over using normal payment processors.
If that describes your business, Fattmerchant's Virtual Terminal might be the right choice for you. If you run a smaller business with a lower processing volume, Square is likely a better, more affordable choice. Square also offers a combined payment processing and invoicing experience for $0/mo (all you have to pay are the processing fees). Read our Square Invoices review to learn more.
If after reading this post, you have realized that typical invoicing features like estimates, project management, time tracking, and multiple currency support are important to your business, take a look at our top invoicing software instead for more invoicing solutions.
---
We've done in-depth research on each and confidently recommend them.
We've done in-depth research on each and confidently recommend them.
To learn more about how we score our reviews, see our
Invoicing Software Rating Criteria
.
Read Next