FinancePal Review For Small Business Accounting
Expert Analyst & Reviewer

UPDATED
Advertiser Disclosure: Our unbiased reviews and content are supported in part by
affiliate partnerships
, and we adhere to strict
guidelines
to preserve editorial integrity.
FinancePal

Pros
All-in-one system
Team of experts
Excellent support
Mobile app
Cons
Limited integrations
Varied pricing
Overview Of FinancePal For Accounting Services
FinancePal is a cloud-based accounting, bookkeeping, and payroll software service that is geared toward smaller to mid-sized businesses. The Chicago-based company's primary focus is on taking much of what can be a confusing and complicated part of entrepreneurship out of business owners' hands, allowing those clients to focus on other things.
The software itself is extremely easy to use and is entirely customizable. Business owners can just use the bookkeeping services or add accounting tools or extensive payroll support if needed, and the pricing for the plans will vary according to the services used.
But what makes FinancePal truly unique is that, once you have signed up, you have access to a dedicated team of experts that include accountants, finance professionals, and tax lawyers that can handle many of your questions and take important tasks off your plate. This may be of particular use for business owners just starting out or ones who are overwhelmed by back-end accounting issues or complicated tax problems. FinancePal runs through QuickBooks online and also partners with TSheets and Gusto.
Since the system is cloud-based, you can also access and edit all of your information remotely. The company has a free mobile app as well, which makes this process simple.
FinancePal Pricing
FinancePal operates on a quote-based or à la carte system tailor-made for your specific business. According to FinancePal, this pricing structure ensures that customers are only paying for the services they need. While we usually prefer to see straightforward, upfront pricing without the need to talk to a sales representative before we get actual numbers, FinancePal's website deserves a little credit here. You can fill out a handful of straightforward questions about your business and your accounting and payroll needs and get a specific quote that will at least put you in the ballpark of what to expect once you sign up.
After playing around with the quote calculator and making a couple of phone calls, I found that, for smaller businesses without extensive payroll needs, you will generally pay in the range of $150-$350 a month. Even much larger businesses can get just FinancePal's bookkeeping services for under $400 a month, and that includes:
A dedicated account manager
Account reconciliations
Monthly and EOY financial statements
Mobile receipt tracker
However, if you want large-scale payroll help and tax preparation, the cost can be in the thousands per month.
Cloud-Based Or Locally-Installed
FinancePal's services are cloud-based, meaning you can access them remotely through any device with a Wi-Fi or internet connection.
Hardware & Software Requirements
There are no specific hardware or software requirements for FinancePal. It is a system that runs through QuickBooks Online.
Specific Size Of Business
While FinancePal offers its services to nearly any sized business, it is definitely best suited for smaller to mid-sized establishments. It doesn't have the robust feature set that a major company might need, and the cost to run payroll with a significant number of employees can add up quickly.
Accounting Method
FinancePal uses double-entry accounting, as it claims it is more effective and accurate for complex bookkeeping needs.
Ease Of Use
FinancePal has an interface that borders on simplistic (in the accounting world, that's a compliment). The program is easy to use, even for novices. While you do need to enter some information first and will likely get a sales call in return, FinancePal does offer a free trial so that you can tool around before you decide to purchase. Setting up things such as payroll or tax filings was a simple process, and anyone with an accounting or bookkeeping background should feel right at home with just about any of the services provided.
One of FinancePal's biggest perks is the team you get to look over your accounting needs when you sign up. From reviews and personal experience, FinancePal was easy to get ahold of and very knowledgeable with any questions that came up. I was also impressed with how its accounts payable dashboard made data accessible and easy to digest. FinancePal also has a mobile app that is similarly easy to use, allowing you to access your reports and information remotely.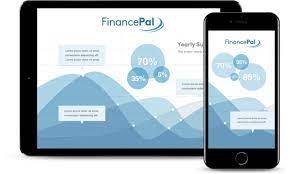 FinancePal Features
Although you get a team of experts with FinancePal who do much of the work for you, FinancePal also offers a number of different features from accounting to bookkeeping, and you only pay for what you need. FinancePal also provides payroll and small business tax solutions. Here are some of the areas where FinancePal stands out.
Dashboard: The dashboard for accounts payable and receivable is simple to use, and it's easy to connect with other accounting software for small businesses (such as QuickBooks), keeping all of your finances up to date.
Invoicing: The payroll service allows you to invoice online and customize how often to conduct your payroll.
Expense Tracking: FinancePal offers expense tracking via mobile receipts and handles your company's daily spending through its third-party team.
Bank Reconciliation: There are tax and financial experts on hand to help with any potential discrepancies or reconciliations needed with your bank.
Accounts Payable: FinancePal has automated data entry that takes invoice information and enters it directly into your books. A manual review system makes it easy to catch any potential errors, and its accessible platform makes it easy to peruse accounts from anywhere with an internet connection.
Payroll: One of FinancePal's specialties is its online payroll support. Again, its team of experts can handle the bulk of your needs, and its services are entirely customizable. You have full access to the payroll dashboard, and FinancePal uses automated data collection for processing. This also includes schedules, invoices, and account analysis.
Reports: FinancePal has a fairly generous offering of reports that you can access through its mobile app to track your finances in real-time.
Sales Tax & Tax Support: You get access to FinancePal's consulting team and tax experts that make sure you're in compliance with both retail and eCommerce taxes.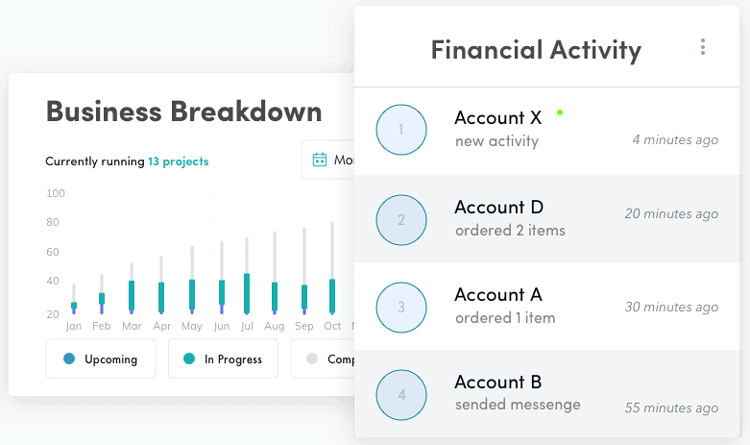 FinancePal Customer Service & Support
FinancePal has numerous contact methods available and can be reached by phone during regular business hours or via email or chat. Reps claim they get back to any requests within 48 hours, and I found their support to be very responsive. When you are outsourcing much of the work to a team of experts, customer service is going to be of the utmost importance. Once you are signed up with FinancePal, your requests are prioritized.
FinancePal also has a Facebook page and an active blog that is current and contains a number of very useful articles that touch on some of the services offered and other issues small businesses may run into with bookkeeping and accounting software. The vast majority of the online reviews also give FinancePal high praise for its customer service.
FinancePal Reviews
There aren't all that many reviews to sift through with FinancePal, as it is still a relative newcomer and it appeals to smaller businesses, but the vast majority of those who have posted their experiences have given it glowing reviews. Here's a sampling of what we found in FinancePal reviews.
Negative FinancePal Reviews & Complaints
There are almost no significant negative reviews to be found online, although one commenter was confused about the pricing structure.
Positive FinancePal Reviews & Testimonials
The online reviews are all fairly similar, but they do have some common themes of what people appreciate:
All-In-One System: FinancePal definitely appeals to people who want much of the bookkeeping and accounting to be out of their hands. Multiple reviewers liked that it was an all-in-one service and could handle all of their needs.
Customer Service: Almost all of the reviews mentioned how professional the customer service was at FinancePal and how knowledgeable the various teams of experts were.
Tax Support: A few reviewers mentioned being grateful for how on top of things FinancePal was at making sure there were no errors when it came to filing their taxes, relieving major potential headaches.
FinancePal Integrations & Add-Ons
While FinancePal isn't exactly stacked with a huge number of companies that it partners with, it does sync up with a handful of the major ones, giving you access to some powerful additional tools. Those partners include:
QuickBooks
Hubdoc
TSheets
ADP
Gusto
Final Verdict Of FinancePal Accounting Software For Small Businesses
For business owners who may simply not have a head for numbers or just don't want to bother with accounting or bookkeeping for fear of making a crucial mistake or because it's too time-consuming, FinancePal might be an excellent solution to look into. While the user reviews are a bit scant, they are overwhelmingly positive. Many business owners have given glowing reviews to the company's team of experts for both their wealth of knowledge and their experience in returning emails or phone calls.
FinancePal can do as much or as little of your accounting, payroll, tax issues, etc., as you want, and you won't be charged for services that you don't use or need. But to get the most value out of the service, you'll probably want to utilize the FinancePal team as much as your budget allows. The company's mobile app is also a nice feature and is simple and easy to use, giving you access to all of your accounting information from anywhere.
Accounting, payroll, and tax rates can be exceedingly time-consuming and stress-inducing. If you have the ability to pay a third-party group such as FinancePal to handle the bulk of those issues for you, it may be a huge benefit to your business.
Not sure if FinancePal is right for your business? Check out our review of Xero to do some comparison shopping. Good luck!
---
The Merchant Maverick Seal of Approval 🏆
FinancePal


---
After hours of in-depth research and evaluation, we can confidently recommend this brand to our readers. Get started today and see FinancePal for yourself.
The Merchant Maverick Seal of Approval 🏆
FinancePal


---
After hours of in-depth research and evaluation, we can confidently recommend this brand to our readers. Get started today and see FinancePal for yourself.
To learn more about how we score our reviews, see our
Accounting Software Rating Criteria
.