Expert Analyst & Reviewer

UPDATED
Advertiser Disclosure: Our unbiased reviews and content are supported in part by
affiliate partnerships
, and we adhere to strict
guidelines
to preserve editorial integrity.
FINSYNC

Pros
Good customer support
Easy to use
Well-designed UI
Strong cash flow and analytics
Unlimited users
Cons
Limited features
Limited integrations
No mobile apps
FINSYNC Overview
Need a better way to get your "finances in sync"? That's exactly what FINSYNC is aiming to do.
While the software still shines in the payment department, it seems the company is shifting away from its original focus and instead is focusing on being an all-encompassing cash flow management software. With FINSYNC, you have the standard accounting capabilities and features you'd expect, as well as cash flow projections, analytics, and even financing. The unique part of FINSYNC's financing solution is that you can see exactly how a potential loan will affect your cash flow.
Since our last review update in September of 2020, the company has restructured its pricing plans so that there is no longer built-in payroll and time tracking, and you have to pay extra for project management. Although these add-ons can raise the cost, the software is much less expensive than before. However, there are also other areas where FINSYNC drops the ball. With limited integrations, no invoice customizations, and no mobile apps, FINSYNC still has a ways to go before it can compete with big names such as QuickBooks and Xero.
That said, FINSYNC isn't trying to compete with QBO and Xero — instead, the software is designed for businesses looking to manage their cash flow and accounting simultaneously. FINSYNC offers some incredibly unique features that you won't find anywhere else, including a payment lockbox, bill pay, advanced cash flow management, and business trend analytics. Add unlimited users and good customer support to the mix, and FINSYNC could be a great option for some businesses.
Read on to see if FINSYNC is right for you.
FINSYNC Pricing
FINSYNC offers four different small business services: Payments, Payroll, Accounting & Cash Flow Management, and its Complete Solution. You can choose which FINSYNC pricing tier to purchase according to your accounting needs.
Payments are made monthly, and you can cancel your plan at any time. FINSYNC also offers a free 15-day trial of its software, with no credit card information required.
Payments
FINSYNC Payments costs $10/month plus processing fees (which we'll discuss later), but FINSYNC is currently giving you six months for free. By signing up, you'll be able to:
Accept credit cards, debit cards, and ACH payments
Make payments using credit cards, debit cards, and ACH
Payroll
FINSYNC Payroll is priced at $40/month plus payroll processing fees and allows you to:
Pay employees and contractors
Automatically calculate payroll taxes
Accounting & Cash Flow
Accounting & Cash Flow costs $55/month plus payment and payroll processing fees. You'll receive:
Financing
Advanced cash flow management
Payments inbox
Invoicing
Estimates
Contact management
Expense tracking
Accounts payable
Bill pay
Reports
Business trends
Unlimited users
Complete Solution
For $95/month, you get everything FINSYNC has to offer combined in one package.
Extras
FINSYNC offers several additional services. The company is refreshingly transparent and even has a payroll processing fee calculator on its website to give you a precise idea of how much the software will cost you. Here are the additional services and fees you can expect with FINSYNC:
Payroll: In addition to the monthly subscription fee, FINSYNC charges $4/employee per pay run for payroll services. Businesses with more than 10 employees or high pay frequencies may qualify for discounted rates.
ACH Payments: ACH payments cost $0.50/per ACH payment (including direct deposit for payroll).
Lockbox: FINSYNC offers a unique lockbox feature. This service costs $1.00 per paper check written by FINSYNC and $1.00/per check converted from ACH and paper bills into ebills.
Debit & Credit Card Processing Fees: FINSYNC charges 2.9% + $0.30 per debit or credit card transaction.
Cloud-Based Or Locally-Installed
FINSYNC is cloud-based, so no downloads or installation are required.
Hardware & Software Requirements
As cloud-based software, FINSYNC is compatible with nearly any device that has an internet connection. There are no mobile apps at this time, although you can access FINSYNC on your mobile web browser.
Specific Size Of Business
FINSYNC is designed with small- to mid-sized businesses in mind, but large businesses could also benefit from this software. The software is ideal for businesses looking for good payment options paired with strong accounting, cash flow management, and business trend analytics. The software is not ideal for businesses in need of mobile apps or ample integrations.
FINSYNC allows unlimited users at no additional cost, and there are extensive user permission and approval workflows available.
Accounting Method
FINSYNC uses cash-basis and accrual accounting; the cash-basis accounting is limited to choosing to run reports as cash-basis or accrual.
Ease Of Use
FINSYNC's UI is well-organized and intuitive. For the most part, the software is easy to use, although sometimes navigation seems as if it could be streamlined. The basic accounting features are simple when it comes to input, and anyone with any previous experience with this type of software shouldn't have any trouble navigating.
The interface itself isn't distracting, and, for the most part, the functions are where they need to be and easy to find. There is a welcome video, and each feature offers tips to help you get started. There are multiple support options as well if you need extra help.
FINSYNC Features
FINSYNC offers strong accounting and a good number of features. These features pertain specifically to FINSYNC Accounting & Cash Flow Management. Here's what you can expect to find in terms of features:
Dashboard: FINSYNC offers four different dashboards: payments, cash flow, trends, and tiles. Each dashboard is filled with charts and graphs to help you quickly understand each aspect of your business. The main payments dashboard shows your payments in and payments out, customers, and vendors. You can customize the software by telling FINSYNC which dashboard you want to use as your landing page.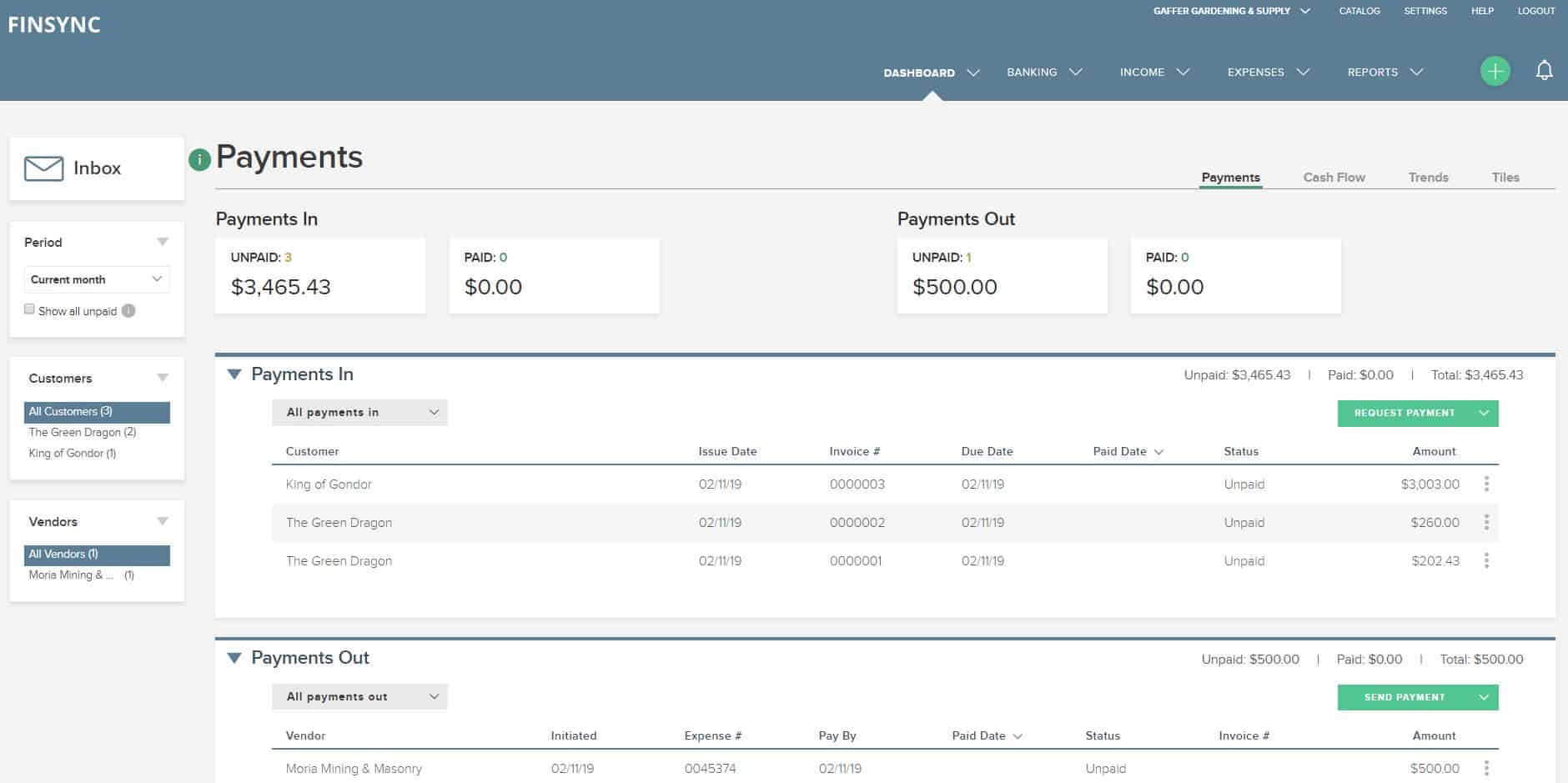 Invoicing: FINSYNC lets you create one-time invoices, recurring invoices, and retainer invoices. When creating an invoice, you can add notes and create default payment terms. While it's easy to send invoices in FINSYNC, this feature is lacking in other ways. There is only a single invoice template, no customizations, and only very basic invoice reminders. Worse still, you have to add sales tax manually to each item line. Sales tax is then calculated at the end of the line for each item rather than as a total on the bottom of the invoice. On the plus side, FINSYNC uniquely integrates invoice factoring into its invoice module. For companies with a factor relationship, you can simply click a button on the invoice you wish to factor and receive a cash advance, which is one of the perks of integrated accounting and financing.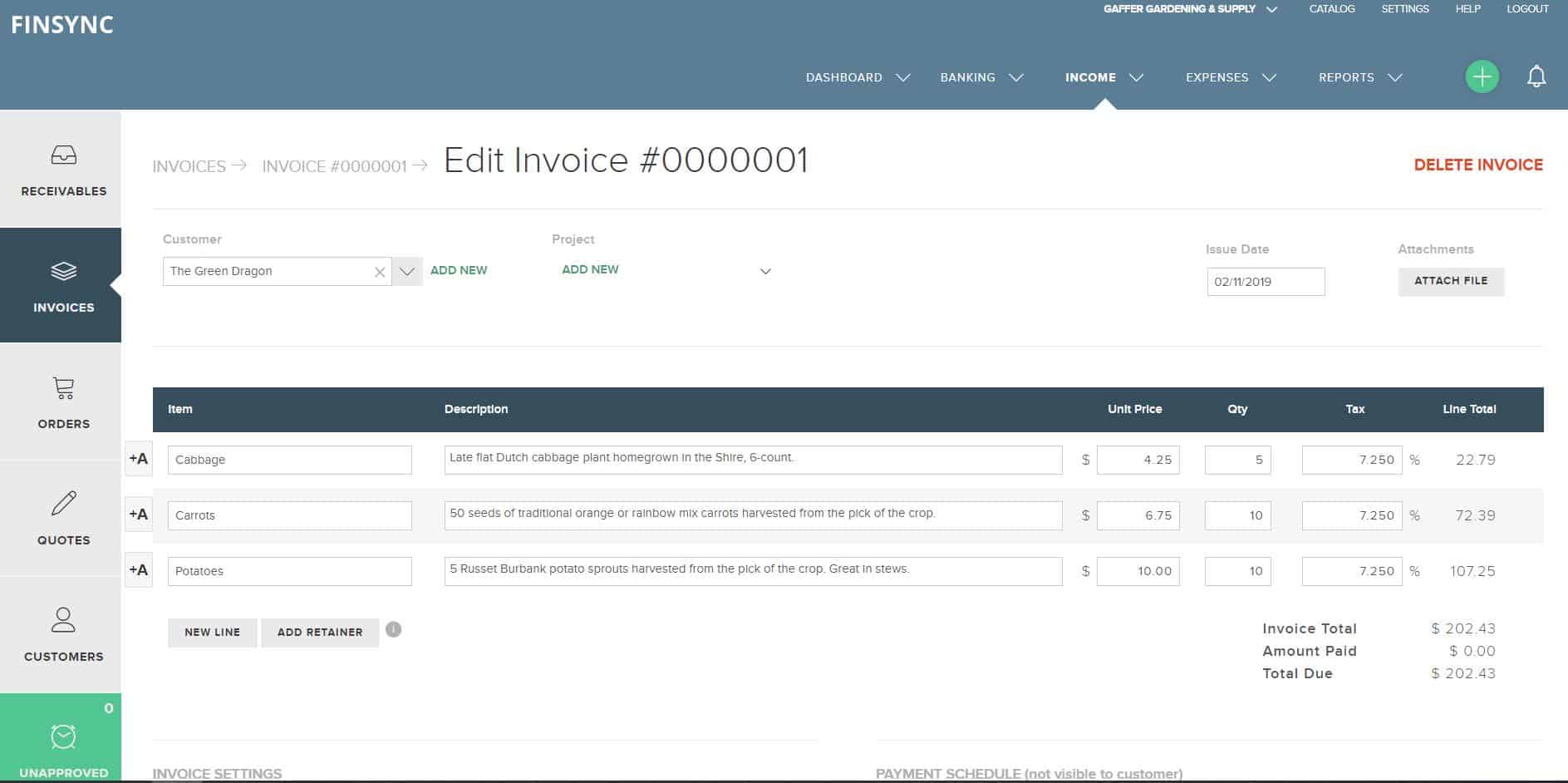 Estimates: You can create estimates and easily convert them into invoices.
Client Portal: When you send an invoice to a client, they can set up a portal account to view and pay their invoice directly online.
Contact Management: You can record basic contact information, such as a company name, address, and primary contact. Some more advanced CRM capabilities are missing, such as the ability to add default payment terms; however, one nice touch is that you can add additional contacts for each customer. There is also a customer screen where you can view the customer, customer information, contact information, notes, and reminders. (The reminders feature is said to be coming soon, though it has been "coming soon" for some time; this was the same case as when we reviewed FINSYNC in 2017). FINSYNC offers vendor management as well.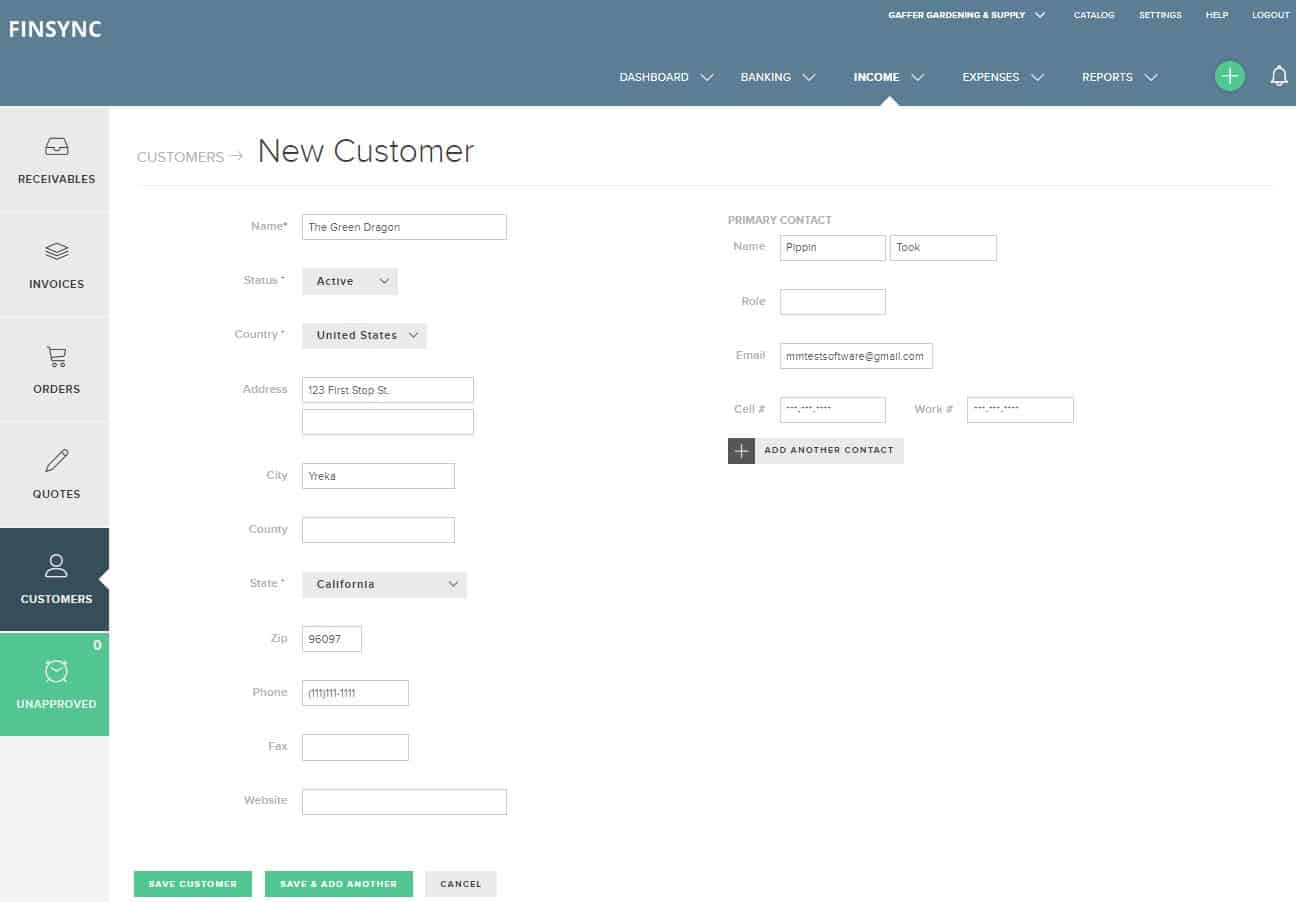 Expense Tracking: FINSYNC allows you to track expenses using live bank feeds or by manually importing or entering transactions. FINSYNC automatically categorizes and matches transactions, and you can split transactions if needed. Note: Like most software using live bank feeds, FINSYNC partners with Yodlee, which may violate some banks' Terms and Conditions. Consult with your bank to see whether live bank feeds are a good choice for you.
Bank Reconciliation: You can easily reconcile bank accounts in FINSYNC, and you can even save in the middle of reconciling, so you can come back and finish later without losing all of your progress.
Chart Of Accounts: FINSYNC automatically generates a preset chart of accounts for you. You can edit and customize it as much as you'd like.
Fixed Asset Management: FINSYNC offers fixed assets management and is one of the only programs to give you a screen where you can manage your current and long-term liabilities as well. At the top of the screen, the software tallies your net profit, which is a nice touch.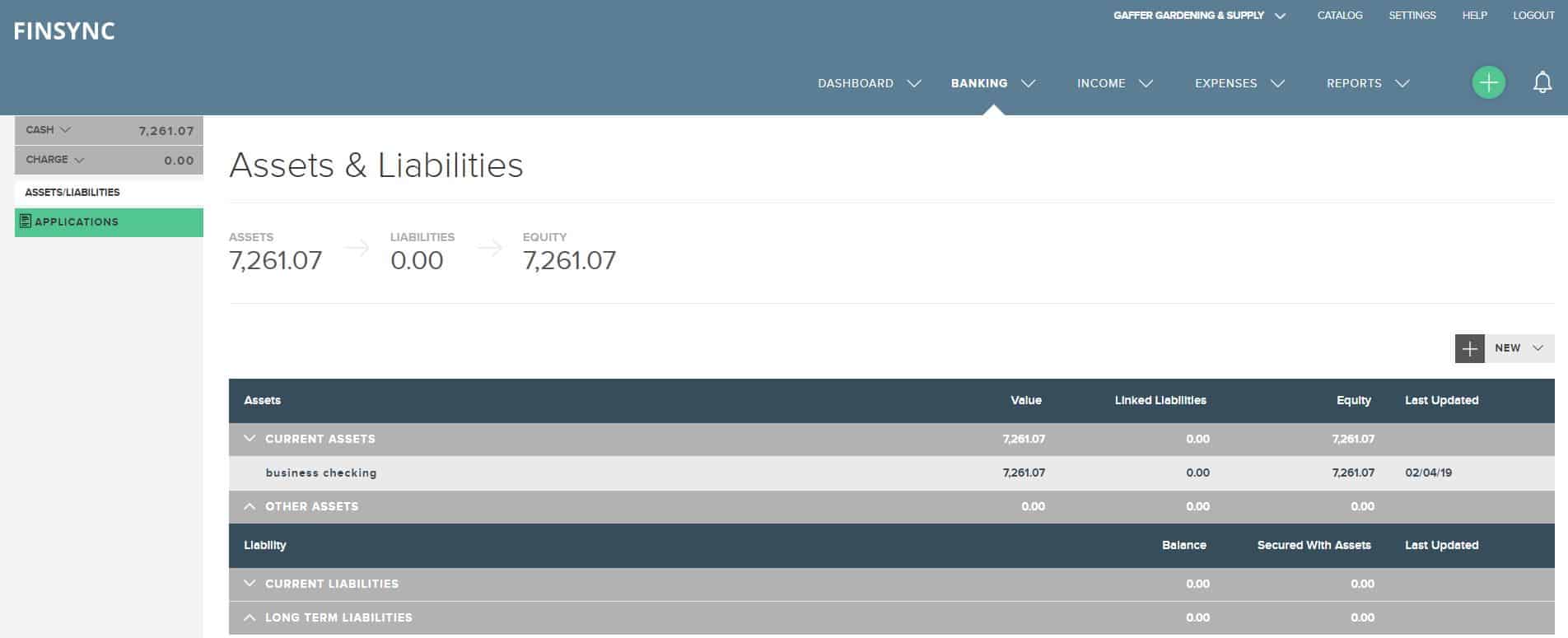 Accounts Payable: This is where FINSYNC shines. You can easily create bills, but you also have the unique ability to pay bills online using ACH transfers or paper checks. Your vendors will have their own secured payment inbox where they can accept your payments. You can even set recurring bill payment reminders. FINSYNC has also recently added the ability to pay vendors using a credit card, so if your cash flow is low, you can still pay your vendors on time and avoid late fees. (When you make a credit card payment through FINSYNC, the vendor will never see any of your credit card details.)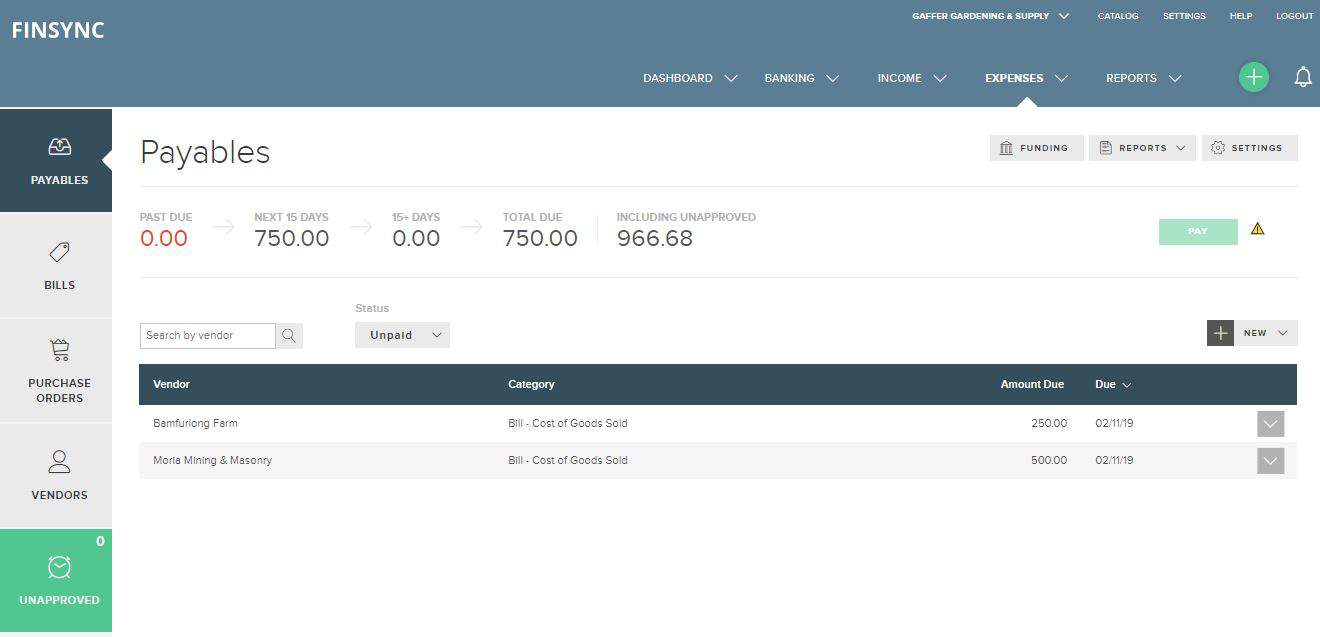 Inventory: In FINSYNC, you can add items, services, or supplies (you don't often see the ability to track and manage supplies with accounting software, so this is a welcome addition). With items, FINSYNC offers basic inventory and has a nice items screen where you can view the quantity on hand. Unfortunately, there is no way to set low inventory reminders or reorder points.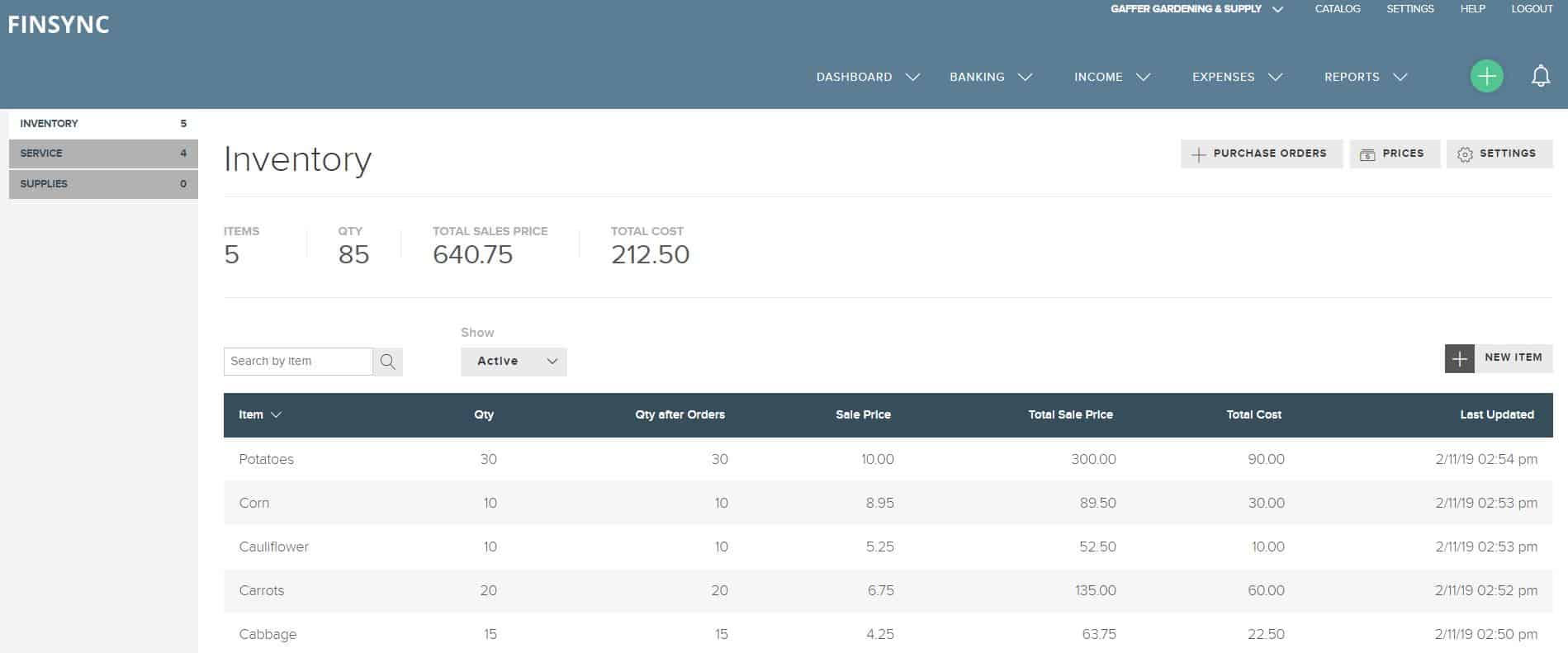 Reports: FINSYNC offers eight reports (with a couple of additional reports if you purchase the projects or payroll add-ons). While the software does cover all of the basic accounting reports, the number still seems quite limited.
Journal Entries: You can easily create journal entries in FINSYNC.
Cash Flow: One of the best parts about FINSYNC is the cash flow dashboard. The software helps you visualize your current cash flow and helps you make cash flow predictions as well. You can also create cash flow projections based on a potential loan received through FINSYNC's lending platform.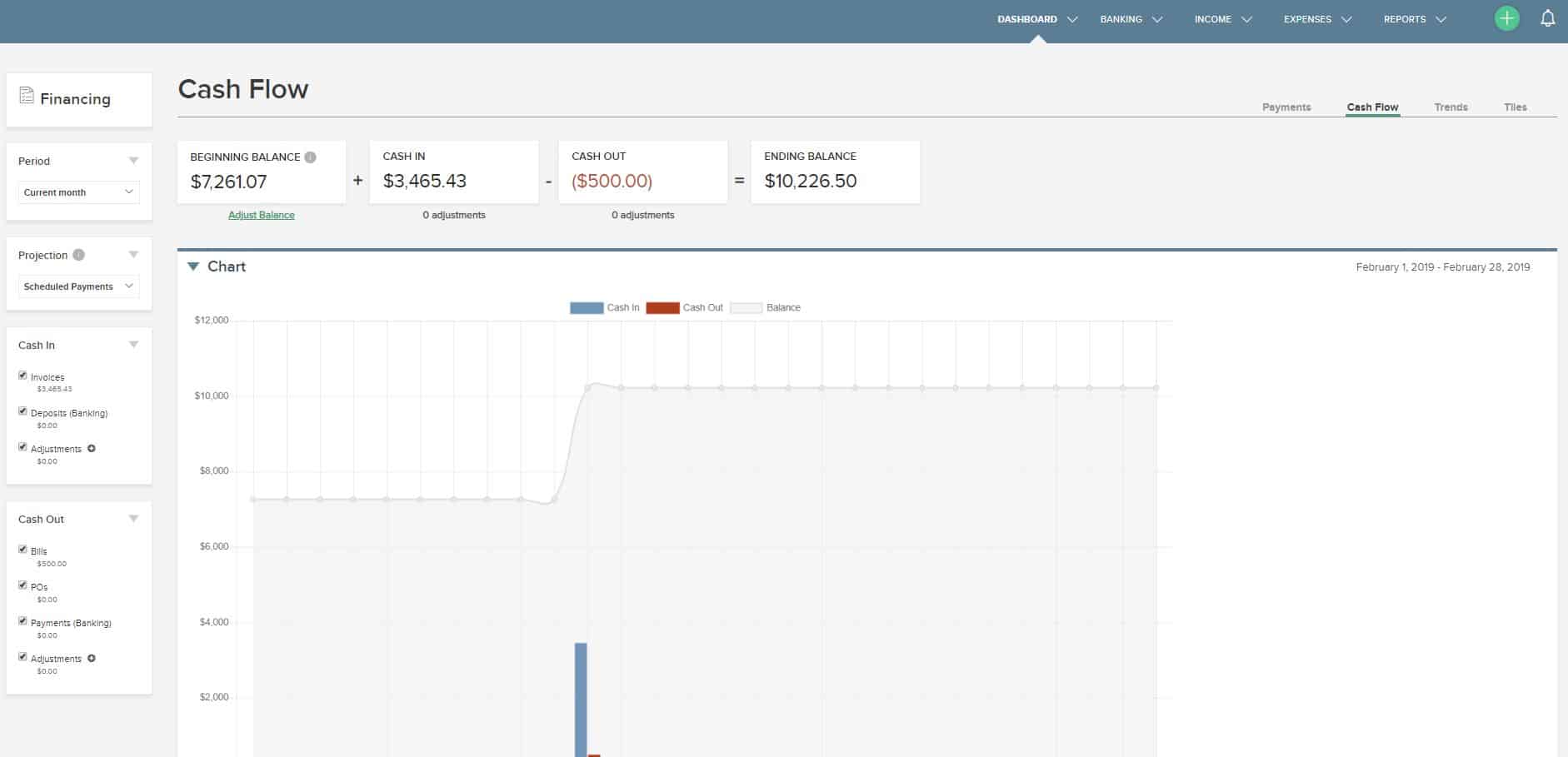 Sales Orders: In addition to generating quotes and invoices, you can record orders for sales that don't require an invoice.
Purchase Orders: You can create purchase orders in FINSYNC. Purchase orders have to be assigned to a customer, meaning you'll have to find a workaround to use the purchase orders personally.
Class Tracking: Much like QuickBooks Online's tracking feature, FINSYNC allows you to classify information by department or location. Categories are customizable.
Business Trends: Another perk of FINSYNC is the business trends dashboard that offers advanced analytics on your company's banking, invoices, quotes, orders, payables, bills, purchase orders, and income/expenses.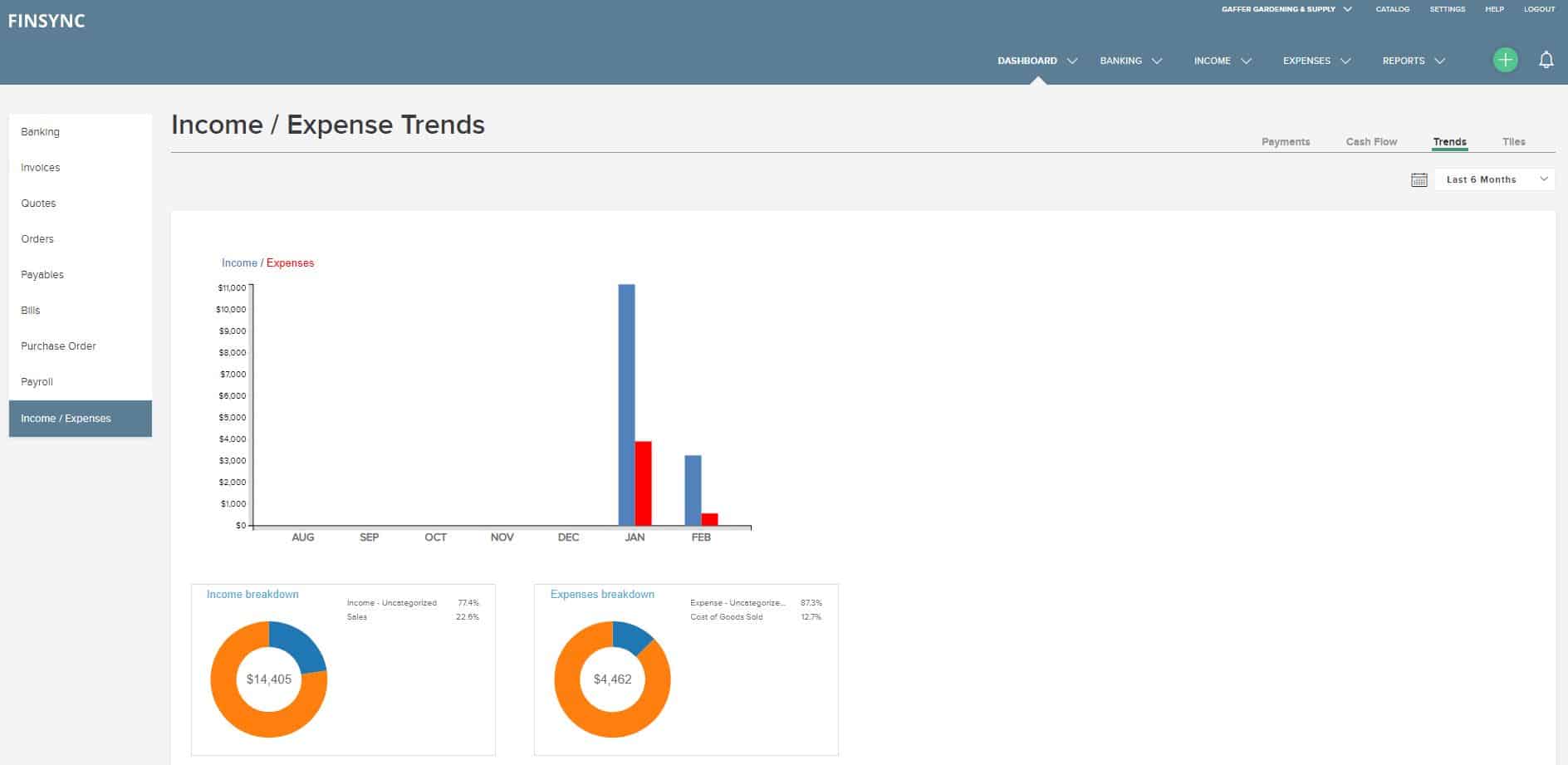 LockBox: This unusual feature is tricky to explain, but it can be a huge time saver. If you have vendors or clients that don't want to send invoices via email or make payments electronically, you can have their invoices or payments mailed to a secure FINSYNC LockBox. This LockBox is completely personalized to you, and only FINSYNC employees can access it. Each weekday, a FINSYNC employee will check the box and scan in any invoices or checks that come in, so you don't have to worry about entering the information yourself. Checks sent to a lockbox are automatically matched to the corresponding invoices and deposited into the appropriate accounts. For an extra fee, you can also authorize FINSYNC to cut checks or send ACH transfers to take care of paying any vendor invoices for you. If you aren't comfortable with this solution, you don't have to use it, but if you'd like to learn more about LockBox, contact a FINSYNC representative.
Sales Tax: You cannot add sales tax rates in FINSYNC; instead, you have to manually add sales tax to each line item on an invoice.
Tax Forms & Support: FINSYNC supports 1099s, and users who purchase the payroll add-on will also have W-2s and various state and federal forms.
Importing & Exporting: FINSYNC has limited importing capabilities. The only data you can import yourself is a bank statement. The FINSYNC team can import contacts for you, but that's it. You can export reports.
Lending: FINSYNC offers a lending feature where you can apply once to a network of lenders. FINSYNC then helps you see how each loan option will affect your cash flow, so you can choose the perfect financing option for your business. Loans can be used for numerous business situations, including purchasing inventory, buying new equipment, invoice financing, hiring new employees, and more.
FINSYNC Customer Service
FINSYNC has good customer service. Most representatives are knowledgeable about the software and respond quickly to inquiries. They answered all of my phone calls quickly, and their email response times ranged from a couple of minutes to several hours.
FINSYNC customer service is available from 8 AM-8 PM EST and can be reached in the following ways:
Phone: You can call FINSYNC support with questions.
Email: You can reach the support team by email.
Support Form: On the website, there is a support form that you can use to reach FINSYNC team members.
Live Chat: FINSYNC offers live chat on its website. Responses are quick and generally helpful.
Demos: FINSYNC is very willing to give demos, so it is definitely worth asking about if you need extra guidance.
Blog: FINSYNC has a blog that features how-tos and announcements of software updates.
Social Media: FINSYNC maintains Facebook, Twitter, and LinkedIn accounts.
FINSYNC Customer Reviews
Negative Reviews & Complaints
FINSYNC is relatively new to the accounting scene, but the bulk of its early reviews are predominantly positive, with the occasional complaint mixed in. Here is a list of a few issues that customers have brought up:
Buggy Software: While FINSYNC is still fairly new, a few of its users reported that the software was glitchy and gave them issues when trying to navigate. The bulk of those reviewers also mentioned either an update fixed the problem or it was solved by customer service.
Limited Integrations: FINSYNC offers four payment processing options, but for companies that need other third-party integrations (such as email marketing, scheduling, point of sale, etc.), you're out of luck.
No Mobile Apps: FINSYNC does not offer any mobile apps, which has also become an industry standard for almost every cloud-based accounting software.
Note: The company does have more integrations and mobile apps on its product roadmap.
Positive Reviews & Testimonials
There were a few common themes in the handful of early FINSYNC reviews:
Covers Everything: Users like having everything they need in one place.
Great Customer Service: Customer service is knowledgeable and responds quickly, which is a huge plus. Users report positive experiences with FINSYNC's team.
Easy To Use: The software is easy to use, and the UI is modern and well-organized
Payments & Cash Flow: Despite FINSYNC's failings with some of the standard accounting features, the software offers unique payment capabilities, such as Lockbox, that other programs can't match. Advanced cash flow management and business trends analytics also set the software apart.
Unlimited Users: FINSYNC offers unlimited users at no additional cost.
Integrations & Add-Ons
The vision behind FINSYNC was to design a program that would be the whole package, making extra accounting integrations unnecessary. The theory is great, but the practicality simply isn't realistic for small business owners in need of integrations.
The company does offer four payment processing options but no additional apps. However, FINSYNC has taken customer feedback into account and says that both integrations and mobile apps are on its product roadmap.
FINSYNC currently integrates with PayPal, Stripe, and Inner Fence Credit Card Terminal.
Security
FINSYNC uses 256-bit SSL Encryption and multiple firewalls to ensure data safety. Amazon hosts the servers. The company does not offer a lot of security information upfront but is willing to share if you contact it directly.
Final Verdict
Overall, FINSYNC offers a unique product that focuses on cash flow management, but it also provides strong accounting and covers the basic features many businesses will need. The software offers incredibly unique cash flow and business analytics features and is a great payment solution, especially if you want a built-in bill pay feature. The company also provides great customer support and unlimited users at no extra cost.
However, FINSYNC is missing some of the deeper complexities of other accounting solutions. For example, there's only a single invoice template, no invoice customizations, and limited reports. There are also limited integrations and no mobile apps, which could be a big issue for some businesses. The company is working on adding more integrations and mobile apps in the future.
Ultimately, the software is a good option for small to large-sized businesses looking for cash flow management, great payment options, and analytics built directly into their accounting software. Take the free 15-day trial for a spin to see if FINSYNC is a good choice for you.
FINSYNC FAQs
---
Try A Top Pick For Payroll
ADP Payroll


---
We like ADP Payroll for its advanced employee management, strong payroll features, and great customer support. Get three months free when you sign up through our links! Get Started.
Try A Top Pick For Payroll
ADP Payroll


---
We like ADP Payroll for its advanced employee management, strong payroll features, and great customer support. Get three months free when you sign up through our links! Get Started.
To learn more about how we score our reviews, see our
Accounting Software Rating Criteria
.