UPDATED
Advertiser Disclosure: Our unbiased reviews and content are supported in part by
affiliate partnerships
, and we adhere to strict
guidelines
to preserve editorial integrity.
Overview:
Flok offers marketing solutions to small-to-medium sized businesses via the Flok mobile app.
Ido Gaver and Eran Kirshenboim, both natives of Israel and graduates of Tel Aviv University, founded Flok (formerly called LoyalBlocks) in 2011. The software was originally designed to offer affordable marketing tools to small businesses but has now been adopted by larger chains such as Subway, Dominos and TGI Fridays. Currently, Flok provides service to over 70,000 businesses in the US, Israel, the UK, and Australia.
Managed through a merchant's dashboard and powered by unique patented technology, Flok offers a quality product at relatively competitive prices. Over the last two years, Flok has begun to emerge as a fully featured, scalable customer management platform with some intriguing new features.
Pricing:
Flok has three pricing plans and provides an option to demo the software before going live. Here are some of the details:
Starter
$19.90/mo ($199/year)
250 Club members
500 push messages
Limited email marketing
Digital punch card
Customer chat
Email only support
VIP
$79.90/mo ($799/year)
1000 Club members
1500 push messages
750 emails
Analytics
Beacon & Autodetect
In-app purchases (for customers)
Automation
Dedicated expert support
Ultimate
$119.90/mo ($1190/year)
5,000 Club members
10,000 push messages
5,000 emails
All Pro features
Package support
Cancellation Policy: Monthly subscriptions can be canceled at any time, but cancellations after the 7 day trial period will not be refunded. If you opt for the annual subscription you will receive a discount, but will be obligated to pay the cost of the full year's subscription even if you cancel. Any subscriptions that are not canceled are automatically renewed.
Ease of Use: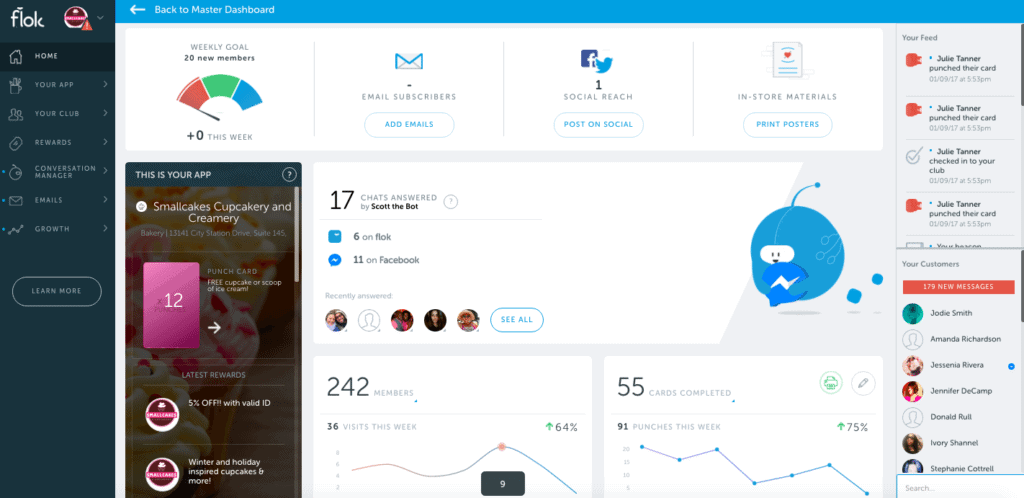 Overview. It helps to think of Flok as two apps: one for the merchant and one for the customer. Everything about your program will be managed through your dashboard, which can be demoed by creating a merchant username and password on the Flok website. The dashboard is well designed, featuring large boxes and text and complementing colors; it has been simplified and condensed to improve navigation. The layout is also pretty intuitive, with navigation buttons on the left and top right. You'll find program stats and marketing options on your Home Page.
Setup. Flok takes you through a series of steps to create your app from start to finish. In order to complete your app you will need to complete settings for the following:
Design – During this step, you can choose a theme color and upload your logo and cover photo for your app.
Rewards – You'll need to create at least one reward for your customers.
Punch card – Set up the number of punches to complete a card, and choose when punches should be given. Punches can be awarded when a customer visits, or when they scan a QR code.
Campaigns – This step allows you to select automated notifications for your program.
In addition, you can beef up your loyalty program by adding extra rewards, status cards, campaigns, and promotions. Flok provides other features such as analytics, email marketing, and customer insights, but these features aren't visible in the free demo version of the dashboard. Flok provides you with an account manager you can contact during the initial setup and for ongoing support.
Customer App Use. For customers, use of the Flok app should be fairly easy. They will need a smartphone to download the Flok app from Google Play or the Apple Store. After the app is installed, they'll decide whether to allow location tracking and push notifications and/or enable Bluetooth. A Tinder-like step allows the user to swipe left or right on the types of businesses they're interested in patronizing. Flok has a search feature your customers can use to find your business, and other Flok users can see your business if it's close by. Once a customer joins your loyalty program you'll be added to their "My Clubs" list for easy access.
Customers get credit for each visit to your store by scanning a QR code after making their purchase; the app tracks everything else, notifying customers when they are eligible to receive a reward or elevated to a new card status. To redeem rewards, customers show staff their reward or status card on their phone. It's worth noting that, as a merchant user, you'll probably want to download the customer app as well to see how many other Flok-using businesses are in your vicinity. The value of the app to the customer goes up significantly the more places they're able to use it. I happened to be in a less urban area when I gave it a try, but was pleasantly surprised to see a number of businesses within driving distance that were Flok-compatible.
A number of newer features have also been added to improve and expand the functionality of Flok:
Chat/Chatbot: This is a really interesting idea that may have variable utility depending on the nature of your business and the availability of personnel. The consumer app has a chat feature that allows your customers to ask questions of a chatbot you can program with a number of set responses. In the event the customer asks a question your bot isn't prepared for, you can be flagged to enter the chat and answer the question yourself. I don't have a great sense for how much the average customer would use this feature, but it seems like it has potential. The chatbot can also be programmed with triggers–like birthdays–that will initiate a response or an offer from the bot. This tool has been a major focus of the Flok team of late, so you can expect updates and upgrades to it as time goes on.
Email Marketing: The higher-level tiers now offer email marketing which, when combined with the other features offered, goes a long way toward Flok's goal of becoming a full platform for customer loyalty and retention. It's not quite a full ESP (email service provider) experience, but if you don't have very complex email marketing needs, Flok can easily stand in for a dedicated service.
Customer Notes: You can now manually make notes about individual customers to help with your own, human-on-human customer interactions (what their favorite order is, for example).
Foot Traffic Tracking: This is a new analytic feature that helps give you a sense of how many people are entering your store and when.
Customer Service and Technical Support:
Flok offers phone and email support as well as additional online resources.
Phone. You can contact Flok on a general phone line at 1.855.855.6925. If you're assigned an account manager or marketing consultant, depending on your plan, you can contact them for ongoing support as well. Phone support is available Monday to Friday, and they promise a return call by the next business day if you call after hours.
Email. You can email

[email protected]

with any issues you have with the software, or email your account manager directly. You can also use the email form available on their Contact Us page.
Chat. Web chat is available through the Flok site 24 hours a day. You can get general sales and product information from reps using this feature.
Web. In addition to the FAQs and Support Center, you can access video tutorials on Flok's YouTube page and additional articles on the blog. I found the Support Center to be the most helpful. I encourage you to read the Deals and Rewards section to answer basic questions regarding your loyalty program.
Negative Reviews and Complaints:
Billing Complaints. This has been a bone of contention since Flok's inception, and while the company does have the cancellation and refund policies within the terms of service (now written in all caps), there's still quite a bit of rancor surrounding the issue. Flok still has a C rating with the Better Business Bureau, and I think a little humanity and better customer relations would go a long way here. I also think Flok's automatic renewal policy is a bit much. For month to month contracts, forgetting a subscription means you're out a few bucks. If you initially sign up for an annual subscription, however, forgetting to cancel can cost you several hundred dollars. Here are a few complaints from customers who canceled their Flok subscription:
"…I had cancelled my account 2 quarters ago. Got billed 2x for $60… Went though a hassle to get the refund. I finally did get my money back and my account was closed. Now I got a $100 dollar reoccurring charge. Called back and the so called Supervisor (female) was very rude and wouldn't even release her name to me as to who I was speaking with…" – M.P.

"…I asked her to please cancel, very nicely. She was so mean and nasty. Told me I should have been paying attention and that she can't not charge me because I should have been on my game and called 2 weeks ago. I asked her about notification, paper or email, 'nope, we don't notify you. It's your job to be paying attention…'" – Dierdre Q.

"…Cancel after 14 days, but you can't cancel on-line, you have to wait for them to call, but it takes days and days…" – Jake Richards
Program Limitations. This may not be an issue if most of your customer base is technically savvy, but if a considerable portion of your customers are old school or have not-so-smart phones (anything that isn't an iPhone or Android), Flok is a limited program. As smartphones become more ubiquitous, though, this becomes less and less of a limitation.
Positive Reviews and Testimonials:
You can view a few testimonials from Flok merchants on the company blog. Overall the customer app gets 4 out of 5 stars on both Google play and the Apple iTunes store, and the program has been successful for many businesses. Here are some of the things people love about Flok:
Easy to Use. Setup takes a few minutes, and the process for editing your loyalty program isn't fussy or complicated. You don't have to install any software, and the program itself doesn't affect how any of your other systems work. The only thing your employees are required to do after setup is look at a customer's phone when redeeming rewards. The system tracks your customer's punch card for you and automates many other functions so you don't have to do much else.
"…The app is simple, fun to use and both the staff and customers love it…" – Steve Munzer
Great Features. Flok has developed some pretty good features to enhance your loyalty program and customer relationships. The company has taken great pains to improve and add to existing features, and it's not an exaggeration to say that it's a much better program now than when we last looked at it.
"…The chat feature is particularly amazing and adds a new dimension to remote customer communications…" – Jimmy Branch
Flexible Pricing. Flok offers flexible pricing plans to match your business needs. Contracts are optional and promotional offers abound. Knowing what you're signing up for is the key to a good experience, so don't be afraid to ask questions about your terms and conditions.
"…Honestly, it streamlines serving your customers, give you a great personal connection at a great price…" – Jared
Features:
For a mobile based app, Flok has a pretty well-rounded list of features:
Mobile Customer App. Flok allows you to customize your app with different color schemes and your company logo. The app is available for iPhone and Android users and has fairly decent functionality.
Business App. Flok has recently added a business app that allows you to access your program using an iPhone or Android smartphone. The app includes chat features and geo-targeting functions in addition to analytics and other program features.
Digital Punch card. The punch card feature within the mobile app tracks your customer visits and rewards. Punches are given in one of two ways: per visit using the check-in feature, or per purchase by scanning a QR code. You can print a QR code directly from your dashboard and give it to your staff to award punches to customers.
Auto Check-In. iBeacon technology automates the check-in process, letting you know when customers arrive and allowing you to send customized messages to them while in-store.
Mobile App Building. Flok can build an independent application for your company which users can download and access outside of the Flok app (such as the Dominos App).
Statistics and Analytics. Flok offers information about your loyalty program through easily understood graphs and charts. Check out a brief demo here. More in-depth data interpretation is offered depending on the plan you choose, but some of the tools offered include:

Roi Wizard – The wizard calculates how the Flok program impacts your bottom line… hypothetically speaking. It's a useful illustration that compares in-store recruitment to recruitment by Flok , but it's not a hard data analysis.
CRM (Customer Relations Management) List – This list gives you information on members in your loyalty program including their last walk in, their current status, and additional notes.
In Store Now – This list shows customers currently in your store. You can send direct messages to these customers for promotional offers.
Mailing List emails – You can send mass email campaigns using the Flok Invite Contacts tab on your dashboard.

Rewards. Rewards created for your loyalty program are divided into two categories: In-store rewards and Status Card rewards.

In-store Rewards. There are six rewards you can activate to encourage more traffic for your business:

Welcome – This reward is given after a customer joins your loyalty program.
Facebook Referral – This reward is given for customer referrals through Facebook. You get to set the values for "X," and rewards are given in three steps:

When a customer invites "X" number of friends to join your loyalty program on Facebook
When "X" number of invited friends join your loyalty program
When a friend invited through Facebook visits your business

Facebook Check-in – This reward is given when a customer checks in on Facebook.
Happy Hour – This reward is given on certain days and times of your choice.
Lottery – This reward is given to your customers after a certain number of visits; any number of your choice can be used.

Status Cards. Flok allows you to reward customers in tiers based on the frequency of their visits. You choose the limits for the Gold and Platinum status and all customers begin with a Silver status. You determine the rewards members can redeem each time a customer shows their status card.

Push Notifications. Push notifications send messages to your customer in real time through the Flok app. These messages can be managed in two ways:

Automatic Campaigns – Flok has three campaigns that can be activated to automate messages to your customers

Visit Reminder – This campaign sends a message to your customers if they haven't checked in within a certain number of days.
Geo-Target – This campaign sends a message to customers within a certain range from your store location.
Birthday Special – This campaign sends a message to your customer on their birthday.

Custom Reward or Virtual Money Campaigns – These campaigns are customized by you. Set the parameters for the reward, recipients, expiry date, and area.

Reward – You can choose from a general offer of your liking or a virtual cash offer of any amount.
Recipients – Your campaigns can be sent to Silver, Gold, or Platinum members, or everyone.
Expiration Date – You can set the campaign expiration for 1 hour, 1 day, 1 week or 1 month.
Area – You can set up a custom area to send your campaign using the map tool or select anywhere.

Chat Features – Real time chat functionality between the merchant and the customer.

Chatbot – Can be programmed to initiate interactions with customers in your store, or to answer specific customer questions. When it's unable to answer, it will alert you, allowing you to enter the conversation.

Email Marketing – You can keep in touch with your customers with Flok's built-in email marketing functionality.
Integrations and Add-Ons:
There are no additional integrations or add-ons.
Security:
Flok merchant accounts are protected by a username and password login procedure. The company doesn't offer any other notable security features.
The Loyalty Test:
So boiling it down to the essentials, does Flok:
Increase Repeat Business? – Yes. Flok is structured to incentivize your customers both short and long term. Digital punch cards encourage short-term loyalty and status cards encourage long-term loyalty. You also have useful marketing tools such as email and push campaigns to encourage ongoing patronage.
Generate new business? – Yes, mainly in two ways: through the Flok network and through social sharing. The Flok app adds you to the larger network, listing your business and its proximity for Flok members to see. Social sharing through Facebook check-ins and referrals also increases exposure and incentivizes your current customers to advertise on your behalf.
Give you a competitive edge? – Yes. Geo-targeting allows you to send notifications to customers in your area at any given time, increasing the likelihood that your efforts will result in foot traffic. Flok technology offers advantages with which paper punch cards simply can't compete. It saves time, automatically tracks punches and rewards, and offers useful reports and insights that are designed for easy reading.
Final Verdict:
Overall, the Flok product is a viable solution for brick and mortar stores, particularly those that rely on heavy foot traffic. If you're ready to upgrade to a digital loyalty program or looking for a replacement to your current program, Flok may be a good fit. Many of the technical gripes suffered by previous iterations of the program have been fixed or improved, and new features have been added without sacrificing usability.
The company's commitment to improving the program shines through with frequent updates and new features. However, while things are looking really good on the technical end, Flok still has some work to do on the customer relations side of things. These issues are not serious enough to justify avoiding the product, in my opinion, but I would suggest a cautionary approach to long-term contracts. If Flok can shape up on that end, they'll have a killer app.
---
Featured Free Corporate Card
Ramp


---
Ramp offers a free corporate card for virtually any business. Start earning rewards with your corporate spending today. Get your free card.
Featured Free Corporate Card
Ramp


---
Ramp offers a free corporate card for virtually any business. Start earning rewards with your corporate spending today. Get your free card.