Flowhub Cannabis POS System Review
Expert Analyst & Reviewer

Updated on:
Advertiser Disclosure: Our unbiased reviews and content are supported in part by
affiliate partnerships
, and we adhere to strict
guidelines
to preserve editorial integrity.
Flowhub

Pros
Easy to use
Unlimited users
Multistore capability
Advanced reporting tools
Advanced inventory management
Cons
Flowhub Overview
As marijuana becomes legalized in more states, dispensaries for legal medical and recreational use are popping up around the nation. Unfortunately, businesses in the cannabis industry continue to face legal roadblocks, making it difficult to find small business funding or even point of sale providers willing to work with them. The good news, though, is that there are POS providers that not only work with dispensaries but also tailor their systems to marijuana businesses. Flowhub is one of the leading providers of marijuana dispensary POS software.
Flowhub touts itself as a "modern cannabis retail management platform" designed just for dispensaries. However, Flowhub's platform offers more than just a way to make sales to your customers. With its software and add-ons, you can track inventory, check-in customers faster than ever, offer specials to your customers, and even delve into online ordering and delivery services.
Flowhub is designed to grow with your business, so it's a solid choice in POS systems, whether you're new to the industry or looking to expand your business with multiple locations. The POS is extremely easy to use, cutting down on time spent on tasks, such as auditing inventory or training new employees. And the customer service is truly unmatched, with friendly, helpful representatives available 365 days a year.
And here's more good news: Flowhub makes it easier than ever to make sure your dispensary is compliant with state regulations.
On the downside, though, these great features and excellent customer service do come at a cost. With implementation costs, hardware deposits, and add-on fees — all on top of a monthly subscription — some dispensaries may not yet be financially ready to invest in Flowhub.
Still not convinced if Flowhub is right for you? Keep reading to learn more about the features, pricing, benefits, and drawbacks of Flowhub POS.
Flowhub Pricing
Flowhub has three pricing plans designed for dispensaries of all sizes, from single locations to high-volume dispensaries with multiple locations.
Essentials
The Essentials plan is designed for businesses with a single location. It is priced at $449/month and includes:
Up to $50K monthly sales
Unlimited POS terminals
Unlimited users
Cashier POS app
Built-in Metrc API integration
Inventory management
Reporting
Performance
Businesses with multiple locations will want to check out the Performance plan. This plan is priced at $659/month per location and includes everything from the Essentials plan, plus:
Up to $300K monthly sales
Multilocation management
API access
Customer success manager
Flow
Businesses that want a customized plan can inquire about Flow. Contact Flowhub for your quote for this all-inclusive plan, which includes everything from the Performance plan, plus:
Unlimited monthly sales
Greet mobile ID verification app
Stash mobile inventory management app
View mobile analytics app
Priority support
For additional savings, you can pay for a yearly subscription in advance. Opting for a yearly subscription can save you as much as 11%. Unfortunately, there is no free trial, but you can schedule a demo by contacting Flowhub.
Extra Costs
In addition to your monthly or yearly subscription fee, there are also additional implementation, hardware, and add-on costs, including:
Implementation: Flowhub implementation includes training, setup, and technical implementation. Pricing varies based on your plan but ranges from $500 to $1,000 per location.
Nug Pro Mobile Scanner: The Nug Pro is a mobile scanner that comes with built-in apps to make your business more efficient and compliant. A one-time $750 refundable deposit per device is required.
Greet & Stash Apps: The Greet app works on your Nug Pro mobile scanner and lets you efficiently check-in customers. The Stash app also works on your mobile scanner and is used to manage your inventory. Pricing starts at $199/month per app.
View Mobile Analytics App: View allows you to view real-time analytics from your Android or iOS device. View is priced at $149/month per location.
API: Unlimited API access that connects your POS with over 30 integrations is available for $99/month per location.
As you can see, Flowhub pricing can add up pretty quickly. The total cost can be a bit higher when compared to other dispensary POS systems. However, Flowhub is an industry leader for good reason — i.e., great features and exceptional customer service — which could make this system well worth the additional cost for your business.
Cloud-Based Or Locally-Installed
Flowhub is a cloud-based dispensary software. Additionally, it is "hardware-friendly," so you can use any computer or device to run the software provided it meets minimum operating requirements, and you have an internet connection.
Specific Industry
Flowhub POS is designed specifically for marijuana dispensaries. While it has some tools and features that are beneficial for these businesses — such as inventory tracking and analytics — it also has is built-in safeguards to keep your dispensary compliant, an important feature that most POS systems don't have.
Flowhub is available in the following states: Alaska, Arizona, California, Colorado, Florida, Maine, Maryland, Massachusetts, Michigan, Missouri, Montana, Nevada, Oklahoma, and Oregon.
Specific Size Of Business
Flowhub is designed to expand along with your business, from smaller dispensaries to high-volume, multilocation businesses. The three pricing plans are designed to meet the needs of businesses of all sizes, especially the customized Flow plan, which is all-inclusive and an excellent choice for larger dispensaries or those with multiple locations. All plans support unlimited terminals and unlimited users, and you can add additional Flowhub mobile scanners as needed for your business to grow.
Ease Of Use
Since I live in a state where marijuana is still illegal, I was unable to get as hands-on as I'd have liked with Flowhub POS. The good news, though, is that there is a video demonstration, photos, and plenty of resources to help understand how Flowhub works.
The 10-minute demonstration video highlights the main features of Flowhub and shows how to navigate the software. All features are easily accessible, and the software is easy to navigate, whether you're using Flowhub Cashier POS on your PC, using the View app on your mobile device for analytics, or performing other tasks. Even someone without prior POS experience should have no problem navigating the software.
And don't just take my word for it. Customer reviews praise Flowhub's ease of use. Beginners had no problem getting started, managers found it easy to train new employees on the system, and experienced POS users state that it's one of the most user-friendly systems they've tried.
Hardware & Operating System Requirements
Flowhub recommends the following minimum OS requirements:
64-bit Mac OSX or Windows 10
Intel i5 2.0 GHz processor
8GB RAM
16:9 aspect ratio (recommended 1920×1080)
25 Mbps — 100 Mbps internet speed based on number of terminals
Flowhub has partnered with Barcodes to provide flexible hardware options guaranteed to work seamlessly with Flowhub POS. Through Barcodes, you can purchase desktop computers, displays, Microsoft tablets, and POS essentials, including barcode scanners, label and receipt printers, scales, cash drawers, and more.
You can also save money and get everything you need in one convenient package by purchasing a hardware kit. These kits start at $2,024.60 and are available for both Mac and Windows. There are multiple bundles to choose from. To get an idea of what you would receive, the Windows Essential Kit includes a Dell 3741 desktop computer, monitor, Zebra ZD420 label printer, Star TSP100IIU receipt printer, Star cash drawer, Honeywell 1470 barcode scanner, and USB hub. Service plans, warranties, hardware support, and end-user support are also included with the purchase of your kit. Twenty-four-month financing is available to qualified buyers. Contact a Barcodes representative to learn more.
Flowhub Cannabis POS System Features
While Flowhub has many features that you'd find with a traditional POS system, it is also loaded with industry-specific features to help marijuana dispensaries increase sales, track inventory, and remain compliant with state and federal regulations. Some of the standout features of Flowhub include:
Cashier POS: Complete transactions with ease using Flowhub's POS software known as Cashier. Cashier features a user-friendly interface that requires virtually no training. This dedicated app is "hardware friendly" and can be used with your choice of Mac, PC, tablet, or iPad.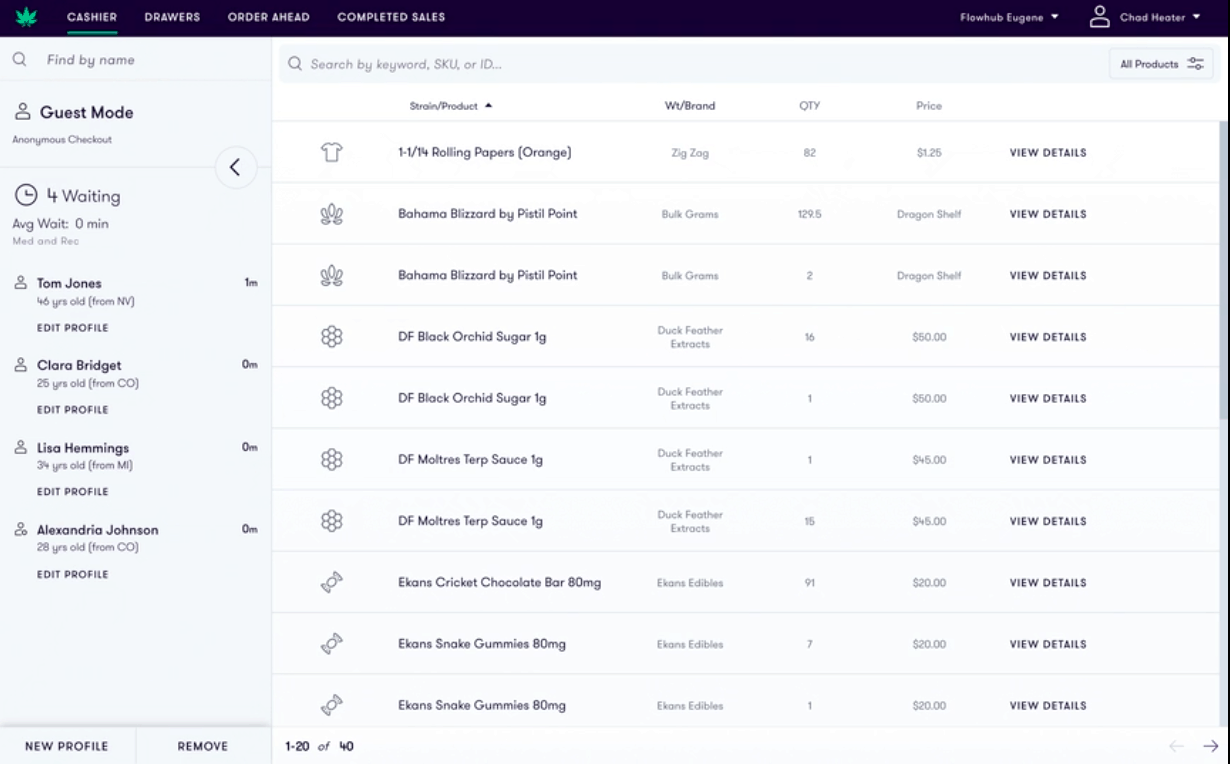 Mobile Check-In: Expedite identity verification with Greet, Flowhub's mobile app that shortens customer wait time and speeds up the check-in process. This app easily allows you to scan IDs and will flag minors, suspicious IDs, or expired IDs. You can even set flags for customers that alert your staff the next time the customer attempts to check-in. A Nug scanner is required to use this feature.
Inventory Management: With Flowhub Manage, you can keep track and manage your inventory. This feature also allows you to forecast product demand and customize par levels, so you can reorder inventory before you're out of stock.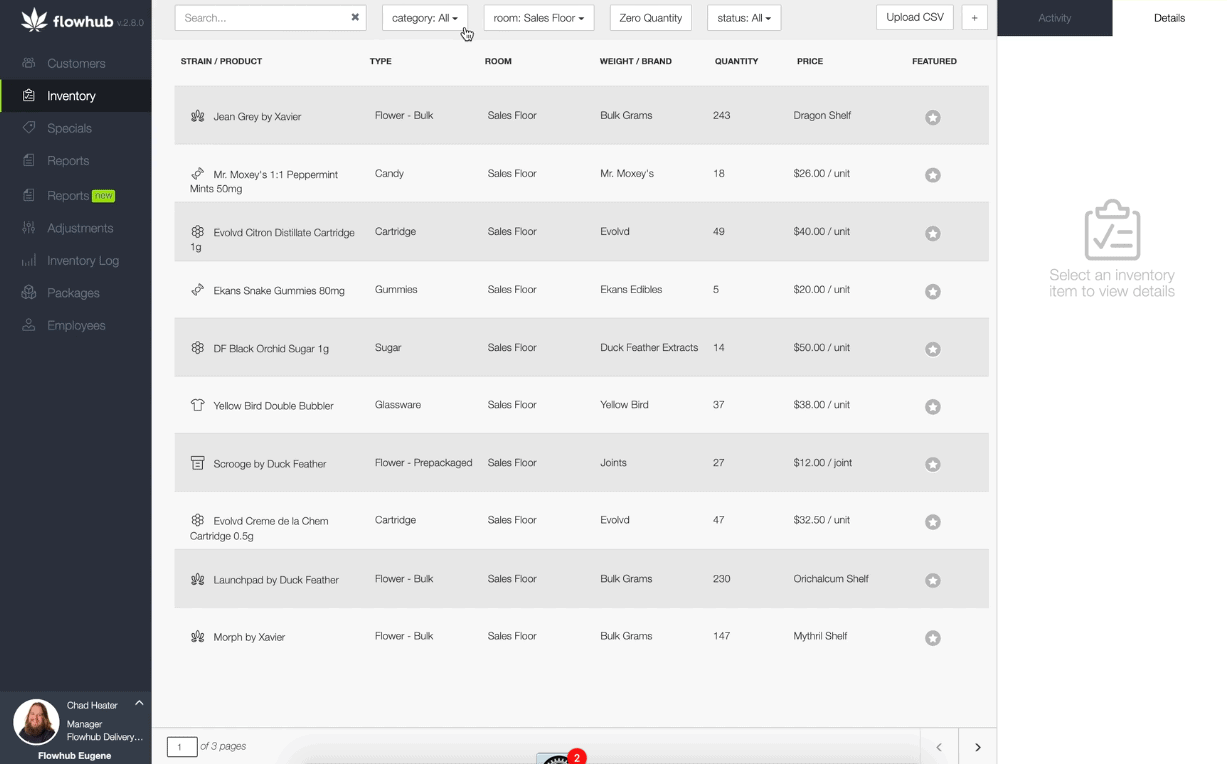 Inventory Audits: If you want to audit inventory quickly, Flowhub makes this simple with Stash, a mobile app that's compatible with the Nug scanner. With this feature, you can maintain compliance, accurately and quickly audit inventory, and easily prevent discrepancies. You can also create a central distribution center and easily transfer inventory between stores.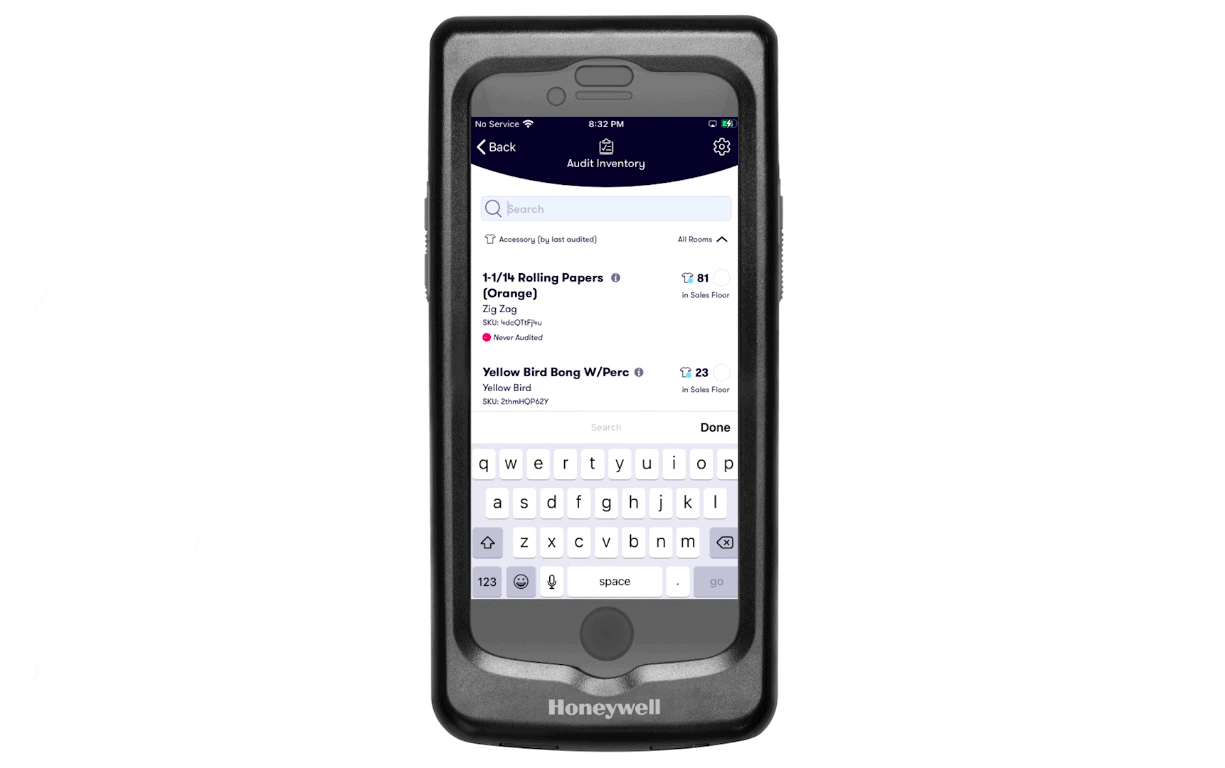 Back-Of-House Management Hub: In addition to tracking and managing your inventory, Flowhub Manage serves as a full back-of-house dispensary management system software. Through this command center, you can perform multiple functions, such as managing profit margins, setting up customer groups, creating and managing specials, running reports, and remaining compliant with a Metrc integration. You can manage one location or multiple with this management center.
Mobile Analytics: Flowhub View is an analytics app that allows you to track performance metrics directly from your smartphone. Compatible with Android and iOS, View gives you real-time data on sales, inventory, and even top-performing employees.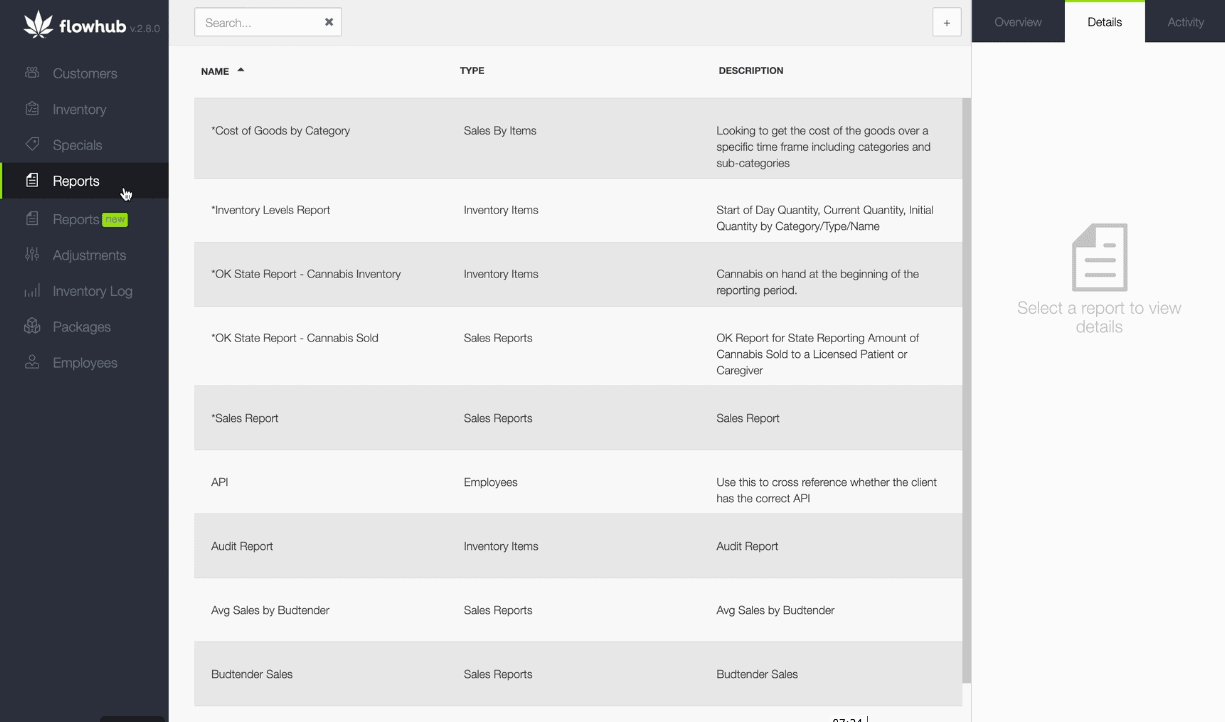 Online Ordering: Flowhub has a new POS feature called Order Ahead that allows customers to order online for in-store pickup or delivery. Your online menu reflects inventory in real-time so that customers can place an order online. Then, the order can be prepared, and the customer is notified when it's ready. You can also integrate with a delivery service, such as Jane or Dutchie.
Loyalty Program: You can easily set up a customer loyalty program within Flowhub. You can create a loyalty program based on customer type (recreational, medical, and primary medical), set a points threshold, and easily add customers right from Flowhub.
Gift Cards: Flowhub makes it simple to sell and redeem gift cards using your POS software.
Customer Service & Support
Flowhub has numerous customer service options and resources to help you get the most out of your POS system. Almost everything you need to know about using Flowhub is located right on its website. If you do need to get in touch, though, there are ways to do that. Customers have nothing but positive things to say about the helpfulness of Flowhub representatives.
Customer service and support options for Flowhub include:
Phone Support: You can get in touch by phone seven days a week from 8 AM to 8 PM MST. Phone support is available 365 days a year.
Email Support: You can send questions about Flowhub's products and services through email.
Flowhub Help Hub: The Flowhub Help Hub offers support articles for just about anything you can think of, from running reports to adding and adjusting inventory to using your mobile scanner for quick check-ins.
Flowhub Learn Hub: The Learn Hub has a ton of resources on how to operate a compliant and successful dispensary. Topics include dispensary limits, hiring employees for your business, and explanations of cannabis laws around the country.
Dispensary Terminology Glossary: One cool resource that Flowhub offers is a glossary of dispensary terminology. This guide is loaded with industry terms, slang, and acronyms. More than just explaining the meaning of "420" (that's in there, too!), this guide even explains tax code and state regulators. The glossary is available online, or you can download a printable PDF version for yourself, your managers, or your employees.
Social Media: Flowhub has active social media profiles on Facebook, Instagram, Twitter, and LinkedIn.
YouTube: Flowhub has a large number of videos uploaded on YouTube. Many of these videos easily break down how to use various features of the POS system, such as creating a sale, fulfilling online orders, and how to handle discrepancies.
Flowhub Compatible Credit Card Processors
The cannabis industry still faces legal roadblocks despite being legalized for medicinal and/or recreational use in states across the nation. One legal issue that is a real headache for dispensaries is not being able to accept credit cards. Under federal law, payment processors such as Visa, Mastercard, and American Express are forbidden from working with cannabis businesses. The results? Marijuana dispensaries are unable to accept credit cards like traditional retailers.
So what are your payment processing options? Cash payments are one option but aren't always the most convenient for your business or your customers. ACH transfers are also acceptable. However, you will need to sign up for a third-party option such as CanPay or HypurPay, both of which work with marijuana dispensaries. Some third-party solutions even allow customers to use cryptocurrency as payment.
The best solution for many cannabis businesses is a cashless ATM system. Here's how it works: A customer inserts their debit card into a machine and enters their PIN. Instead of receiving cash, however, the funds are debited from the customer's account and added to your business account. The process is similar to a traditional debit transaction but, when done properly, is fully compliant with federal laws.
There are a number of cashless ATM options that integrate with your POS system and non-integrated options that work outside of the POS. You can shop around and look for the system that works best for your business. If you sign up for Flowhub POS, you can also join the waiting list for Flowhub Payments. This payment processing solution is designed to work with your Flowhub POS and is safe, secure, and compliant. Additionally, it helps speed up transactions by up to 15% and increase revenue by up to 30%. Contact Flowhub for more information.
Some high-risk processors offer ways to accept cards in your dispensary. Before signing up for these services, make sure to do your research, compare costs, and have an understanding of the legalities behind it all. To get started, check out these six credit card processors for dispensaries.
Integrations & Add-Ons
Flowhub has over 30 integrations, offering everything from online ordering and digital menus to compliance and analytics. Available integrations include:
Green Check: A cannabis banking platform
Jane: The industry's first online marketplace
springbig: An industry-leading CRM solution for dispensaries
Cocoon: In-store menus and self-serve kiosks
Sprout: CRM and marketing software
Metrc: Sales-tracking software used by regulators to ensure dispensary compliance
Gusto: Payroll and benefits software
Flowhub Reviews, Complaints & Testimonials
Negative Flowhub Reviews & Complaints
Typically, you don't have to look very far to find negative reviews for a POS system. So imagine my surprise when I found that I really had to dig to find any negative comments about Flowhub. Customers generally have very positive things to say about Flowhub. However, there are a few things to keep in mind before signing up, including:
Expensive Costs: Costs can add quickly with Flowhub. In addition to your monthly fee, you'll also have to pay implementation costs, an optional hardware deposit, and additional fees for add-ons. While high-volume dispensaries may not have an issue with these costs, it may be too much for smaller businesses that want an all-inclusive POS package.
Niche POS: Flowhub is designed just for businesses in the cannabis industry. Restaurants, retail shops, and other businesses will not find what they are looking for with Flowhub.
Positive Flowhub Reviews & Testimonials
Finding positive reviews for Flowhub wasn't nearly as difficult. In addition to customer testimonials on its website, there are also reviews on Featured Customers, where Flowhub ranked 4.8/5 based on over 500 reviews. Here's what users most liked about this POS system:
Customer Support: Again and again, customers praised Flowhub's excellent customer support. Users say that it's easy to get in touch, representatives are knowledgeable and friendly, and it was easy to find solutions to even the most complex problems.
Ease Of Use: Many customers like how easy the Flowhub system is to use. According to users, the system is easy to learn even with no prior POS experience. Users that have worked with other POS systems before also claim that Flowhub is far easier to learn and use.
More Efficient Operations: Another positive is that Flowhub makes operations of dispensaries more efficient. One reviewer claimed that using the NUG mobile scanner for ID verification shaves seconds off each check-in, adding up to hours saved over the course of a year. Additionally, inventory audits are much more efficient, allowing dispensaries to clear up discrepancies in minutes instead of hours.
Analytics: Users praise Flowhub's analytics, which allows them to identify business strengths and weaknesses to improve their business.
Here's what some users have to say about Flowhub:
Flowhub has helped us transition into a compliant and seamless company with endless opportunities for success.

I can't say it enough. I'm team Flowhub all the way! It's that user-friendly, and the customer service is so amazing.

If you're looking to open a dispensary or deploy more dispensaries, Flowhub is the best choice that's available right now in the industry and I don't see that changing anytime soon.
Flowhub Point Of Sale FAQs
Final Verdict Of Flowhub Cannabis POS System
Flowhub is one of the top choices in cannabis POS systems, and it's easy to see why. Flowhub makes it easy to efficiently complete tasks within your dispensary, whether you're ringing up a customer, fulfilling an online order, or auditing inventory. Additionally, being able to quickly and easily identify inventory discrepancies, check customer IDs, and ensure compliance ensures your business follows the complex laws surrounding cannabis businesses.
Flowhub is scalable, so it grows with your business. Flowhub POS is used by 1,000+ dispensaries across the nation, including big-name players such as Michigan-based Common Citizen and Oregrown, which has retail shops servicing the state of Oregon. While smaller, single-location dispensaries can benefit from Flowhub, monthly costs can add up quickly. Therefore, businesses with a tighter budget should at least shop around their options to find the right POS system at the right price.
Overall, it's really hard for any other POS system in the industry to top what Flowhub has to offer. In addition to a solid set of features, its customer service is truly unmatched, which is sometimes difficult to find with a POS provider. Hundreds of reviews and multiple testimonials across the web show why Flowhub is an industry leader.
Still on the fence? Contact Flowhub to set up a demo, or check out their 10-minute demo video and other resources to learn more about the system.
---
We've done in-depth testing of each and confidently recommend them.
We've done in-depth testing of each and confidently recommend them.
To learn more about how we score our reviews, see our
Point Of Sale (POS) Software Rating Criteria
.
Read Next