Flowhub POS Review
Flowhub point of sale software is one of the leading options for the marijuana industry and provides options for inventory management, online ordering, and more!
Expert Analyst & Reviewer

UPDATED
Advertiser Disclosure: Our unbiased reviews and content are supported in part by
affiliate partnerships
, and we adhere to strict
guidelines
to preserve editorial integrity.
Flowhub

Pros
Easy to use
Cannabis-specific compliant inventory management
Online ordering for in-store pickup or delivery
Loyalty program and discounts
Numerous general and cannabis-specific integrations
Cons
Pricing is not transparent
A lot of fine print about late fees and cancellations
Flowhub POS Overview
Flowhub is one of the leading providers of marijuana dispensary POS (point of sale) software. With Flowhub software and available add-ons, you can make retail sales, track inventory, quickly check-in customers, offer specials, and even delve into online ordering and delivery services. Flowhub also gives you the tools to make sure your dispensary is compliant with state regulations.
The POS is extremely easy to use, and the customer service is truly unmatched, with friendly, helpful representatives available 365 days a year.
However, these great features and excellent customer service do come at a cost. With implementation costs, hardware deposits, and add-on fees on top of the monthly subscription, some dispensaries may not yet be financially ready to invest in Flowhub.
Not sure whether Flowhub is the right marijuana POS for you? Keep reading to learn more about the features, pricing, benefits, and drawbacks of Flowhub POS.
Note: Flowhub is currently only available in the following states: Alaska, Arizona, California, Colorado, Florida, Maine, Maryland, Massachusetts, Michigan, Missouri, Montana, Nevada, Oklahoma, and Oregon.
What Is Flowhub POS?
Flowhub POS is a cloud-based point of sale platform designed for cannabis businesses to legally make online and in-person sales, take cashless payments, manage inventory in one or more locations, and collect sales data. With Flowhub, businesses can also build a loyalty program and offer discounts.
Flowhub Cannabis POS Pricing
Flowhub used to list three pricing plans designed for dispensaries of all sizes, from single locations to high-volume dispensaries with multiple locations.
However, the company has since removed pricing from its website and business owners must contact a Flowhub representative for a custom quote.
Your monthly pricing plan is based on the number of locations you have, the number of terminals you need, and the number of platform features you want to use (mobile check-in, back-of-house multilocation management, mobile inventory management, etc.)
Most customers report that Flowhub is more pricey than other cannabis POS software providers, but that the increase in sales revenue more than pays for the monthly subscription.
Flowhub POS System Features
While Flowhub has many features that you'd find with a traditional POS system, it is also loaded with industry-specific features to help marijuana dispensaries increase sales, track inventory, and remain compliant with state and federal regulations.
Some of the standout features of Flowhub include:
Flowhub Retail POS
Add POS software to Mac, PC, tablet, and/or iPad
Refund capabilities
Points-based loyalty program
Sell and redeem gift cards
Customizable discounts and promotions
Guest/anonymous checkout mode
Customer database building and transaction histories
Enforce daily sales limits
Order fulfillment ticket printing
Cash drawer management
Tax-exempt customer/rules database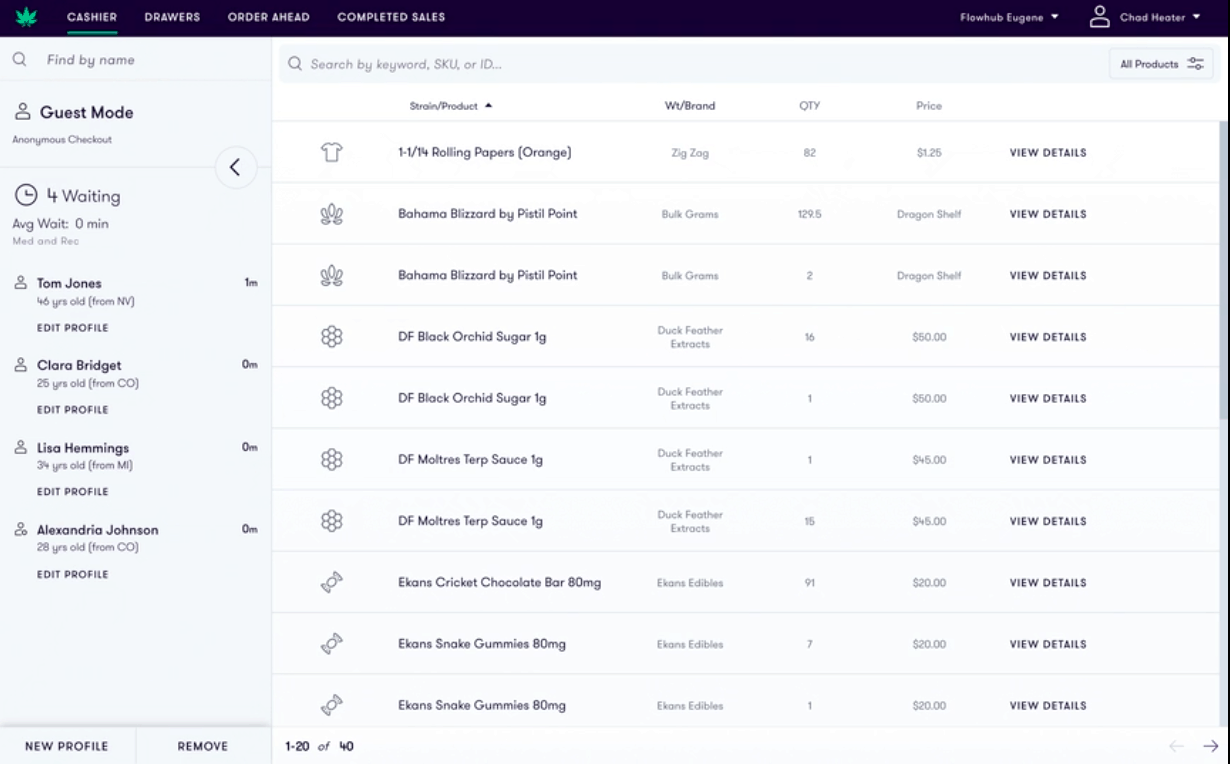 Flowhub POS Inventory
Add inventory in bulk, with a cloning function, or from CSV files
Integration with Metrc, a cannabis-specific inventory compliance software
Inventory listing includes necessary local compliance information based on the state you're operating in (supplier license, invoice number, etc.)
Cannabis-specific inventory categories (edibles, concentrates, etc.)
Add ingredients to inventory descriptions and labels
Global product catalog
Inventory transfer across locations
Inventory audits via mobile app (Flowhub's Nug scanner hardware required)
Demand forecasting
Set minimum stock levels based on location
Pricing profiles with tiered, mix-and-match, and location-based pricing
Pricing variations depending on recreational or medical purchases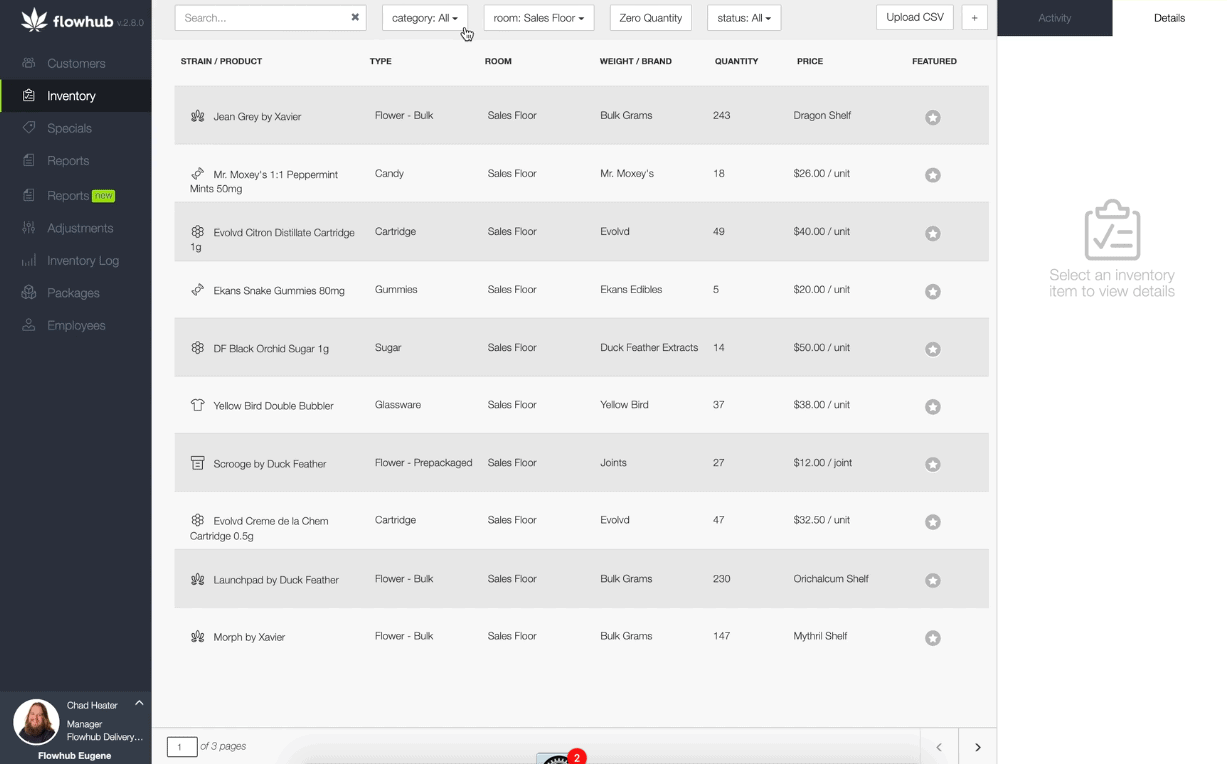 Flowhub POS eCommerce
Online ordering integration via Weedmaps, SEED, Jane, or Dutchie
In-store pickup or delivery
Online order fulfillment separate from in-person sales
Real-time inventory syncing
Customer profile building from online transactions
Send order updates to customers via phone or email
Note: Online cannabis sales and order delivery rules vary by state and software integration.
Other Flowhub POS Features
Mobile check-in/order pickup app to scan IDs and flag minors, suspicious IDs, and expired IDs (Flowhub's Nug scanner hardware required)
Employee user roles and permissions
Employee clock-in/clock-out and timesheet reports
Mobile business analytics app
Is Flowhub POS User Friendly?
Customer reviews praise Flowhub's ease of use. Beginners had no problem getting started, managers found it easy to train new employees on the system, and experienced POS users state that it's one of the most user-friendly systems they've tried.
There is a 10-minute demonstration video for new users that highlights the main features of Flowhub and shows how to navigate the software. Plus, there are several other photos, videos, and resources to help you get set up.
In general, the software is so easy to work with that someone without prior POS experience should come across no issues while using Flowhub.
Customer Service & Support
Customers have nothing but positive things to say about the helpfulness of Flowhub representatives.
Customer service and support options for Flowhub include:
Phone Support: You can get in touch by phone seven days a week from 6 AM to 8 PM MST. Phone support is available 365 days a year.
Email Support: You can send questions about Flowhub's products and services through email.
Flowhub Help Hub: The Flowhub Help Hub offers support articles for just about anything you can think of, from running reports to adding and adjusting inventory to using your mobile scanner for quick check-ins.
Flowhub Learn Hub: The Learn Hub has a ton of resources on how to operate a compliant and successful dispensary. Topics include dispensary limits, hiring employees for your business, and explanations of cannabis laws around the country.
Dispensary Terminology Glossary: One cool resource that Flowhub offers is a glossary of dispensary terminology. This guide is loaded with industry terms, slang, and acronyms. More than just explaining the meaning of "420" (that's in there, too!), this guide even explains the tax code and state regulators
Social Media: Flowhub has active social media profiles on Facebook, Instagram, Twitter, and LinkedIn.
YouTube: Flowhub has a large number of videos on YouTube that break down how to use various features of the POS system, such as creating a sale, fulfilling online orders, and how to handle discrepancies.
Payment Processing With Flowhub POS
Flowhub has partnered with GreenWay Payments, a high-risk industry merchant account provider, to offer a complete POS and payment processing solution. You have to apply for a merchant account to use GreenWay, and you'll get a custom payment processing rate.
Read our guide to merchant accounts to learn more about what a merchant account is and how to get a good one.
You can also integrate Aeropay, a payment services provider that allows customers to pay for online and in-person orders via bank account, rather than with cash or card. Cannabis businesses are charged a processing fee of 2.5% plus $0.25 per transaction.
Abaca and Green Check, two banking platforms that help business owners open bank accounts with cannabis-friendly financial institutions, are also available as Flowhub integrations.
Contract Length & Early Termination Fees
Flowhub charges a monthly subscription fee and offers no returns, even if your account is suspended or terminated.
If you do not pay your Flowhub account balance in full by the first day of the month, you will be charged a fee 0f 1.5% of the amount due per month or the maximum amount permitted by the law, whichever is less.
If you decide to cancel your Flowhub account, you must give a written notice 60 days in advance. During those 60 days, you will still pay for the software. You must also return all Flowhub hardware to the third-party hardware provider you obtained your equipment from (Flowhub has formally partnered with Barcodes for hardware sales).
Flowhub POS Integrations & Add-Ons
Flowhub has over 60 integrations, offering everything from online ordering and digital menus to compliance and analytics, and even HR software. Available integrations include:
Jane: The cannabis industry's first online marketplace
springbig: An industry-leading CRM solution for dispensaries
Cocoon: In-store menus and self-serve kiosks
Sprout: CRM and marketing software
Metrc: Sales-tracking software used by regulators to ensure dispensary compliance
Gusto Payroll: Cloud-based payroll and benefits software
Flowhub POS Reviews, Complaints & Testimonials
Negative Flowhub Reviews & Complaints
Customers generally have very positive things to say about Flowhub. However, there are a few things to keep in mind before signing up, including:
Expensive Costs: Costs can add quickly with Flowhub. In addition to your monthly fee, you'll also have to pay implementation costs, an optional hardware deposit, and additional fees for add-ons. While high-volume dispensaries may not have an issue with these costs, it may be too much for smaller businesses that want an all-inclusive POS package.
Niche POS: Flowhub is designed just for businesses in the cannabis industry. Restaurants, retail shops, and other businesses will not find what they are looking for with Flowhub.
Positive Flowhub Reviews & Testimonials
Here's what users most liked about this POS system:
Customer Support: Again and again, customers praised Flowhub's excellent customer support. Users say that it's easy to get in touch, representatives are knowledgeable and friendly, and it was easy to find solutions to even the most complex problems.
Ease Of Use: Many customers like how easy the Flowhub system is to use. According to users, the system is easy to learn even with no prior POS experience. Users that have worked with other POS systems before also claim that Flowhub is far easier to learn and use.
More Efficient Operations: Flowhub makes operations of dispensaries more efficient. Using the Nug mobile scanner for ID verification shaves seconds off each check-in, adding up to hours saved over a year. Inventory audits are also more efficient, allowing dispensaries to clear up discrepancies in minutes instead of hours.
Analytics: Users praise Flowhub's analytics, which allows them to identify business strengths and weaknesses to improve their business.
Final Verdict On Flowhub POS
Flowhub is one of the top choices in cannabis POS systems, and it's easy to see why. With Flowhub, you can efficiently complete tasks within your dispensary, whether you're ringing up a customer, fulfilling an online order, or auditing inventory.
Flowhub also gives you tools such as ID scanner check-ins and inventory management compliance functions to ensure your business remains compliant in the face of complex local and federal cannabis laws. While smaller, single-location dispensaries can benefit from Flowhub, monthly costs can add up quickly. If your business is on a tight budget, consider shopping around for a cannabis POS that's more in your price range.
Still on the fence? Contact Flowhub to set up a demo or get a quote. Also, read our post on the best cannabis POS systems to find the POS that works for your cannabis business.
Flowhub POS FAQs
---
We've done in-depth research on each and confidently recommend them.
We've done in-depth research on each and confidently recommend them.
To learn more about how we score our reviews, see our
Point Of Sale (POS) Software Rating Criteria
.