FreeAgent Software Review
Expert Analyst & Reviewer

UPDATED
Advertiser Disclosure: Our unbiased reviews and content are supported in part by
affiliate partnerships
, and we adhere to strict
guidelines
to preserve editorial integrity.
FreeAgent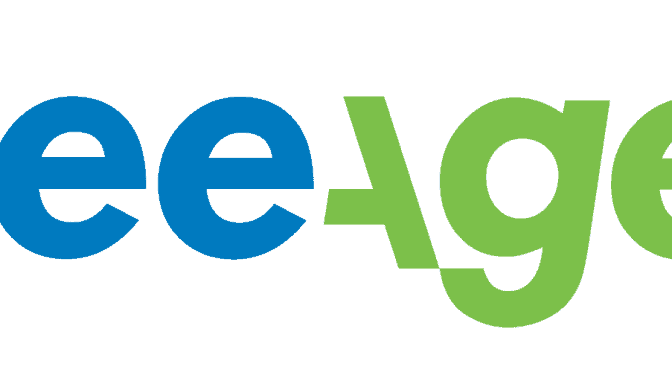 Pros
Unlimited users
Easy to use
Reasonable monthly cost
International invoicing
Well-designed UI
Cons
Limited invoice customizations
Lack of integrations
Limited reports
No cash-basis accounting
FreeAgent Overview
FreeAgent, an all-in-one, cloud-based accounting system for small businesses, boasts nearly 100,000 users and offers most basic accounting features, project management, inventory, time tracking, international invoicing, and more. Perhaps its biggest benefit is that, with a flat monthly fee, you get access to unlimited users with no limits on features. The UI is easy to use, and there are many learning resources available. Strong VAT support makes FreeAgent ideal for UK business owners.
While FreeAgent offers a ton of great features, the software has hit turbulence in a few areas. There are limited importing capabilities, a limited chart of accounts, only nine reports, no cash-basis accounting option, no bank reconciliation, and hardly any invoice customizations. Customer support has also taken a turn for the worse.
Despite these drawbacks, FreeAgent is still a great accounting option, especially for UK users. Read on to see whether or not this accounting software is right for you and to learn how to use FreeAgent's service at zero cost to your business.
Pricing
FreeAgent has a single pricing plan. Payments are made monthly, but you can receive a discount for paying annually instead. There is a free 30-day trial. No credit card information is required, and you can cancel your account at any time.
FreeAgent often offers a discount for the first few months of service and has a generous referral program as well, where you receive 10% off for every friend you successfully refer to the service. There is no cap on referrals, so you could potentially get your subscription completely paid for.
FreeAgent
FreeAgent's US Businesses plan starts at $12/month for six months and then costs $24/month and includes these features:
Invoices and estimates
Contact management
Expense tracking
Expense claims
Accounts payable
Project management
Time tracking
Nine reports
Multicurrency support
Sales tax
VAT tax support
Mileage deductions
Unlimited users
Cloud-Based Or Locally-Installed
FreeAgent is cloud-based, so no downloads or installation are required.
Hardware & Software Requirements
As cloud-based software, FreeAgent is compatible with nearly any device so long as you have an internet connection and are using an up-to-date version of the following browsers:
Mozilla Firefox
Safari
Google Chrome
Internet Explorer (11+)
To successfully use FreeAgent, you'll also need to make sure Javascript and cookies are enabled. To view .pdfs, you'll need an Adobe Reader plugin. FreeAgent also has mobile apps available for iPhones (iOS 11.0+) and Androids (5.0+).
Specific Size Of Business
FreeAgent was designed with small businesses in mind but could be a good fit for freelancers and contractors as well. Unlimited users make FreeAgent a scalable option for businesses; however, the lack of payroll or a payroll integration may put FreeAgent out of the running for larger businesses.
There are strong user permissions available. You can set nine different user roles to control access; you can set lock periods for your account as well.
There are three main versions of FreeAgent: the UK version, the US version, and the Universal version, which is available for all other countries. The UK version is the most developed, making FreeAgent ideal for UK users in need of VAT support. The US version of FreeAgent (which we predominantly focus on in this review) isn't a bad option, especially for sole proprietors who need Schedule C tax support or businesses in need of international invoicing. However, there are some more developed US solutions out there. Check out our top-rated accounting software to explore all of your options.
Accounting Method
FreeAgent uses double-entry accounting with journal entry supports both for its users and for accountants.
Ease Of Use
FreeAgent is incredibly easy to use. The software features a nice UI that is well-organized and intuitive, which doesn't take long to learn. Everything is accessible from the front page with drop-down tabs. You can access your settings and company details, including your logo, all from your settings tab. Adding new users is simple. You can also set it up to automatically send invoices via email to your customers.
Tabs are customizable and there are also handy quick links that you can access from the settings tab. All crucial information can be found in a matter of clicks. You can quickly see whatever reports or data are most relevant or important to you and the graphs and tables are easy to digest. There's a lot of information and options just on the homepage, but it doesn't come across as overwhelming and it's very easy to get a hang of.
Features
FreeAgent offers a strong selection of features. You can take a tour of these features or schedule a demo of the software. Here's an overview of what FreeAgent has to offer:
Dashboard: The dashboard features charts and graphs that show relevant business activity. You can easily view your cash flow, invoices, banking, expenses, and profit and loss.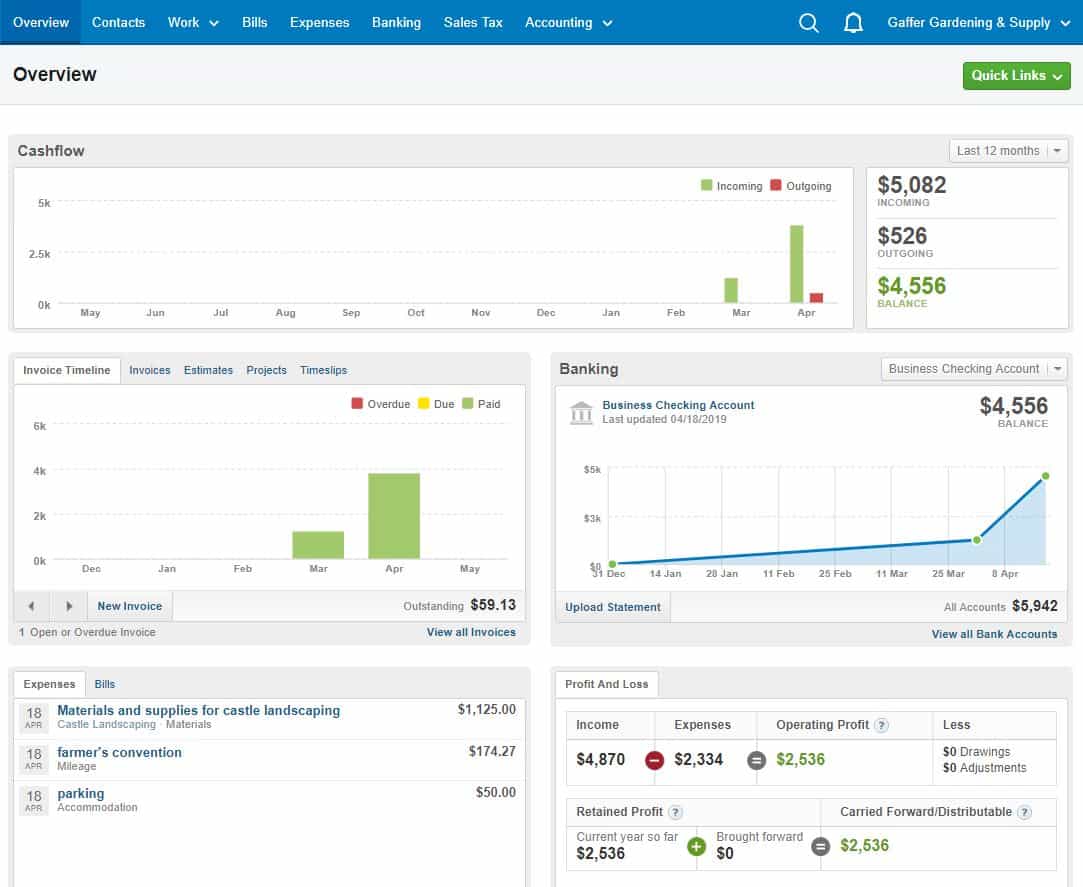 Invoicing: FreeAgent offers eight invoice templates. The template designs are all appealing, but the customizations could use improvement. You can add a custom logo and header, but if you want to make any other changes, such as changing the color scheme of the invoice, you have to know HTML or CSS. You can set recurring invoices and invoice reminders. FreeAgent makes it easy to write off unpaid invoices as well. The best part about FreeAgent's invoicing, by far, is that you can send invoices in 28 different languages.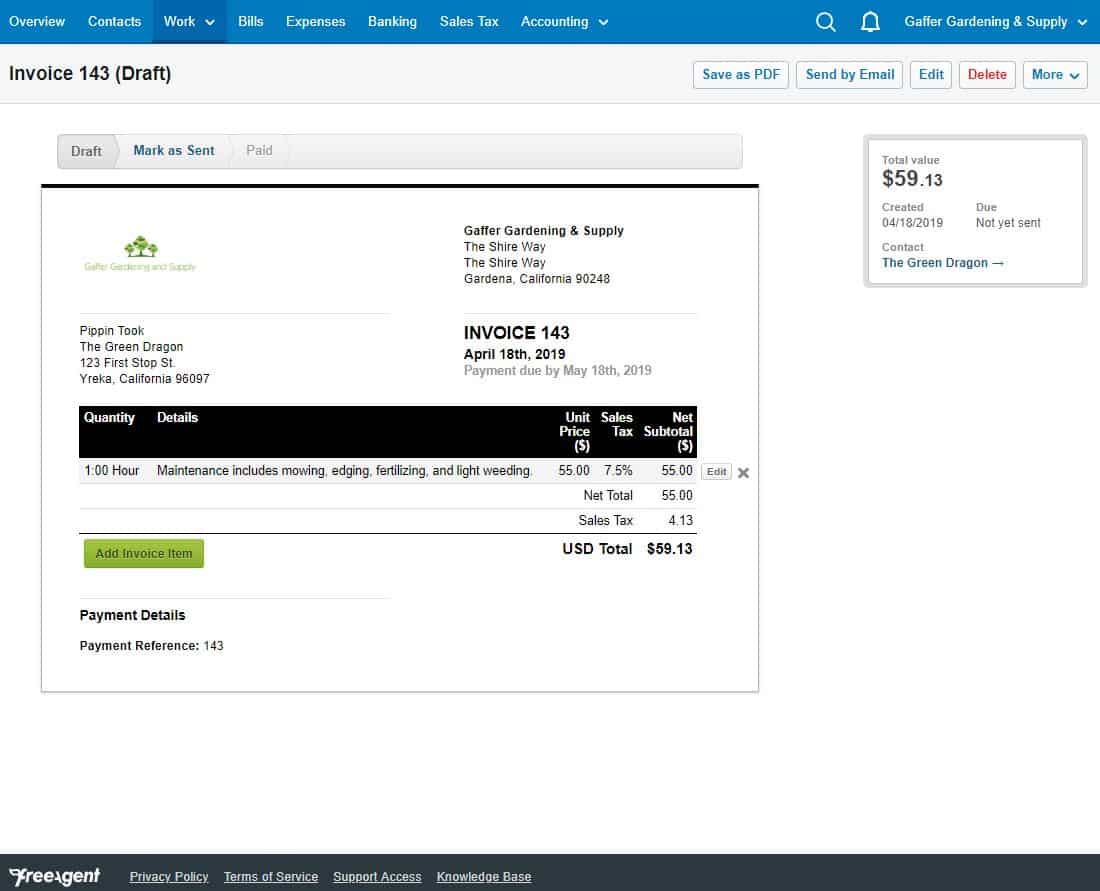 Estimates: You can easily create and send estimates. Converting estimates to invoices only takes a second, and you can sort estimates by approved, rejected, or sent.
Contact Management: You can manage both contacts and vendors using FreeAgent. You can save basic contact information, default tax settings, sales tax registration, and custom notes. You can set a default language as well. Contacts are arranged to look like an address book and are automatically marked as a customer when you send them an invoice or a supplier when you create a bill. When you click on a contact, you'll be able to view their full history, including how much they currently owe and any invoices, estimates, projects, or bills associated with them. You can easily send account statements to customers as well.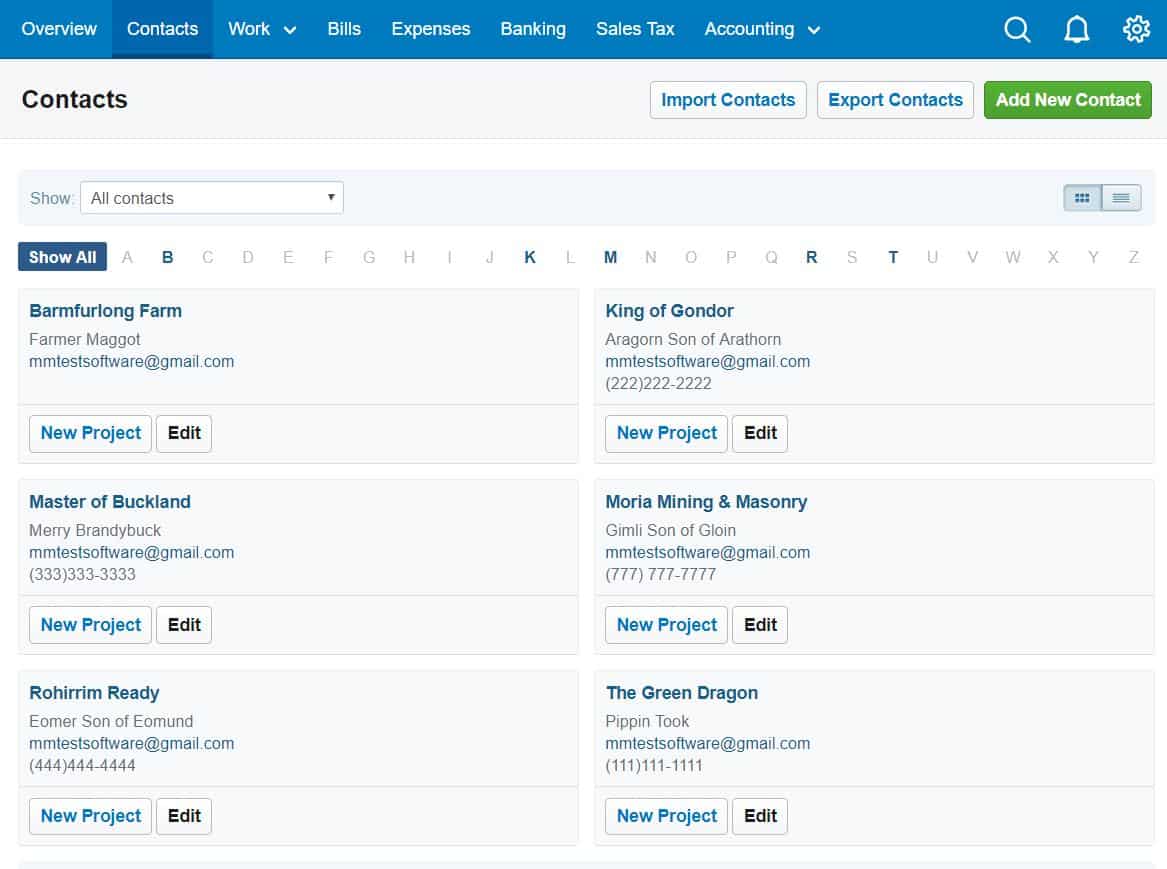 Expense Tracking: You can track expenses using live bank feeds or by importing bank statements. You can add expenses manually as well. FreeAgent makes it easy to attach expenses to projects and bill them to clients. There is no bank reconciliation at this time. Note: Like almost all software using bank live feeds, FreeAgent partners with Yodlee, which may violate some banks' Terms and Conditions. Consult with your bank to see whether live bank feeds are the right choice for you.
Expense Claims: FreeAgent also supports expense claims to help you handle any out-of-pocket expenses that need to be reimbursed.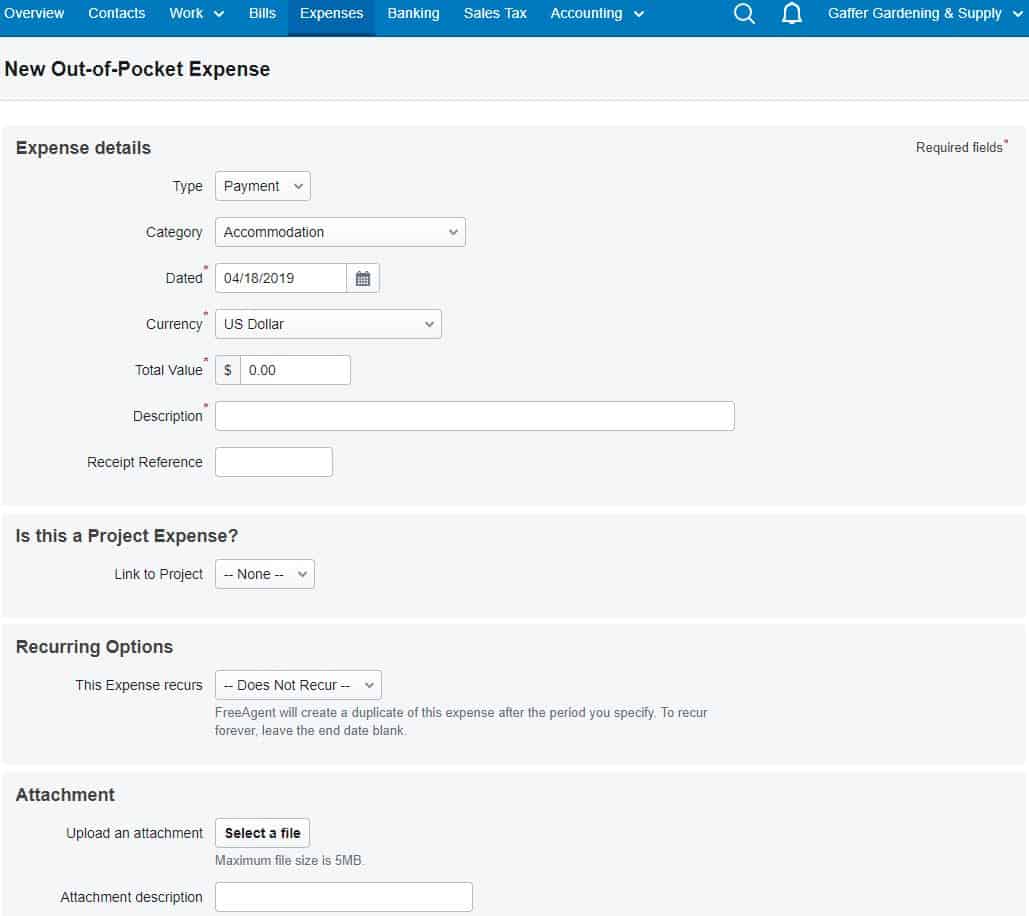 Chart Of Accounts: FreeAgent doesn't have a full-fledged chart of accounts, but you can record income and expense categories.
Fixed Asset Management: You can record fixed assets (or, as FreeAgent refers to them, capital assets). When you add the asset's useful life, FreeAgent will automatically calculate the depreciation for you.
Accounts Payable: You can create and manage bills and add bills to projects as well. You can set recurring bills and add attachments to each bill.
Inventory: FreeAgent's inventory feature is called "Price List & Stock" and can be found under Settings. The Price List portion is your average items list, while the Stock portion tracks inventory. FreeAgent will show you the quantity on hand for your stock items, but there's no way to add a stock description or purchase price.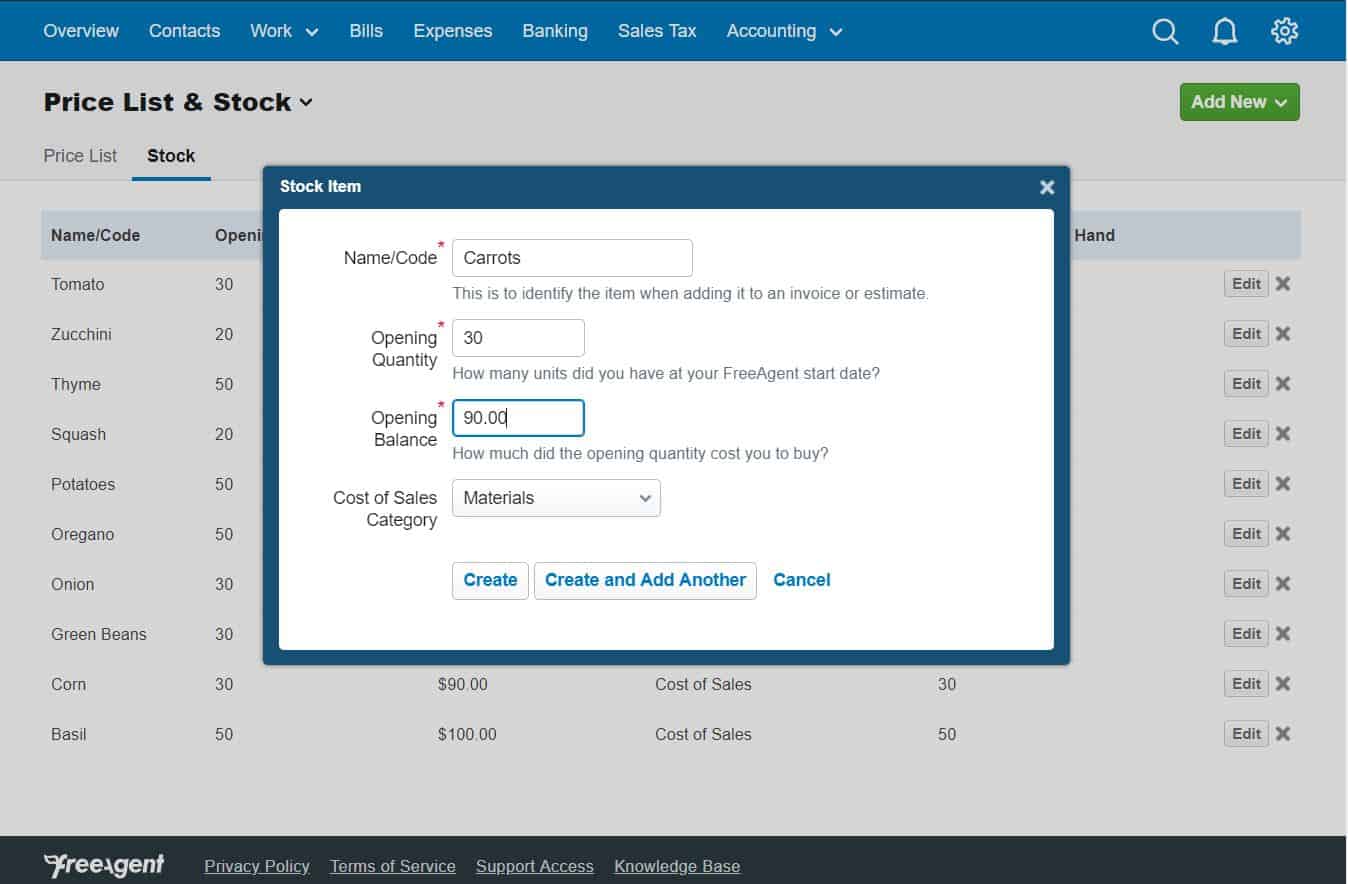 Project Management: FreeAgent supports project management and basic job-costing. When creating a project, you can add tasks, billing rates, a default currency, a budget (by hours, days, or dollars), start and end dates, and notes. You can attach expenses and billable (and unbillable) time to projects and easily invoice these costs to customers. FreeAgent will also show you your overall project profitability.

Time Tracking: You can easily track both billable and unbillable time using FreeAgent's built-in timer, or you can add hours manually. You can create daily or weekly timeslips and attach them to projects.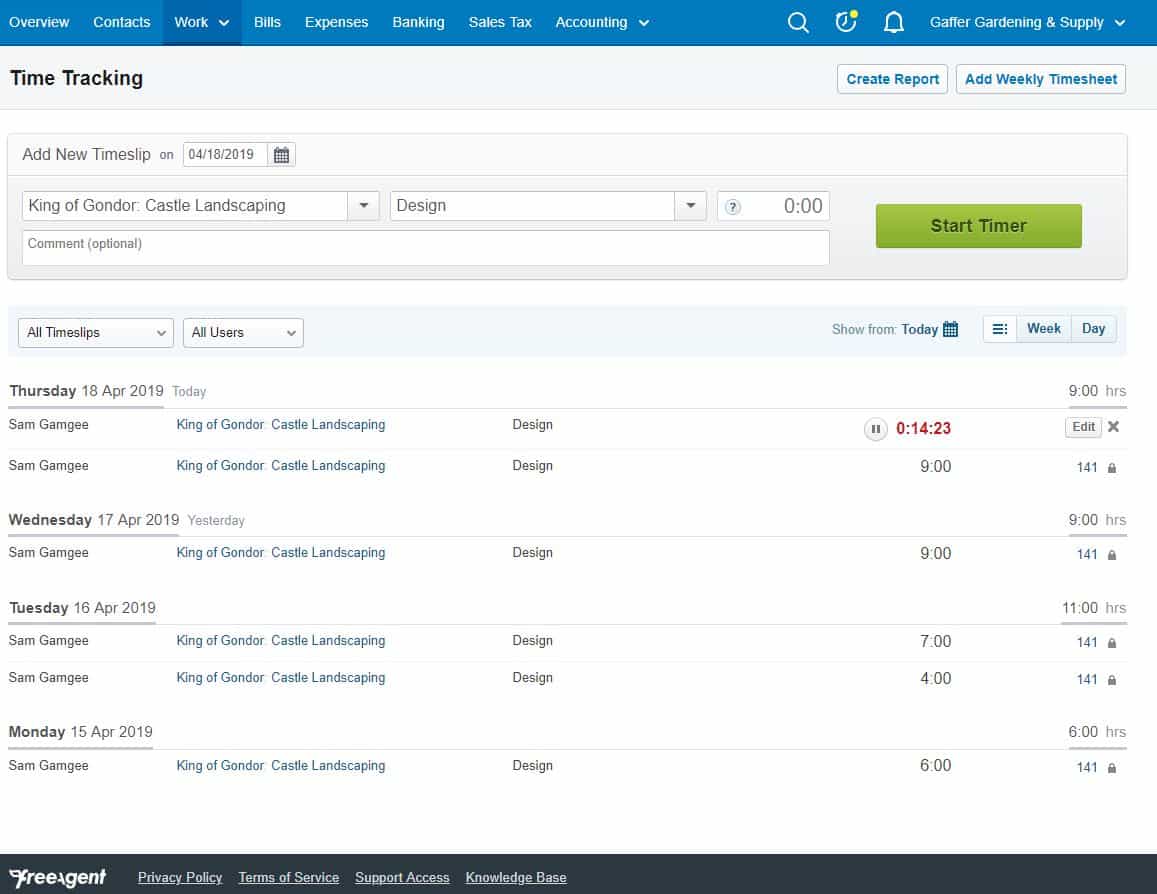 Reports: FreeAgent only offers nine reports, which is a bit limited, but the software does have the accounting basics covered. You can also opt to be sent a weekly email with items that need attention (such as overdue invoices, important tax dates, etc.).
Journal Entries: FreeAgent supports journal entries.
Default Email Templates: You can create personalized default email messages to accompany your invoices.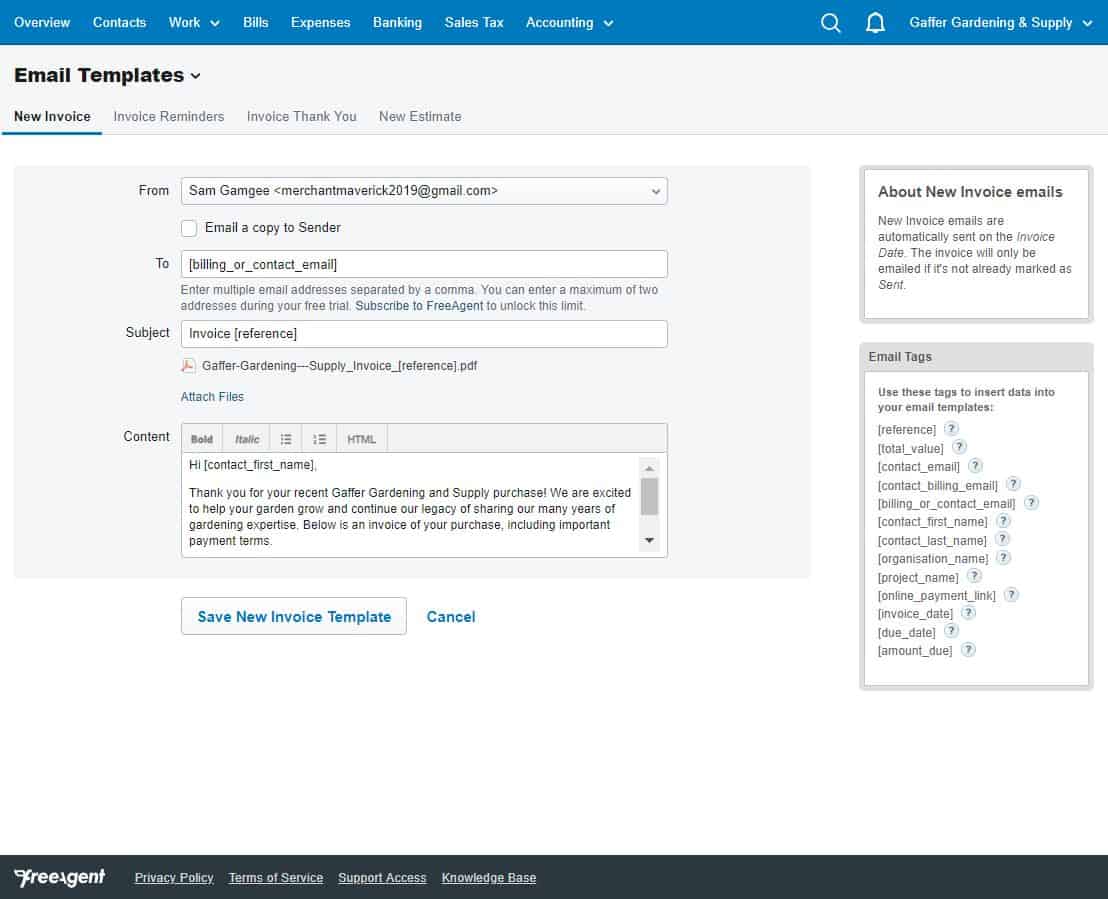 Thank You Notes: You can also create default thank you notes to be sent automatically when an invoice is marked as paid.
Credit Memos: FreeAgent support credit memos.
Sales Tax (US & Universal Only): You can create multiple sales tax rates and sales tax reports with FreeAgent. (The US plan has no limit on sales tax rates, while the Universal plan only supports two sales tax rates.)
VAT Support: FreeAgent has great UK tax support, including VAT, MTD compliance, and PAYE & NI. FreeAgent will also help with your self-assessment, and you can submit your VAT directly to HMRC. In terms of US tax support, sole proprietors can fill out their Schedule Cs with FreeAgent.
Mileage Deductions: You can create mileage deductions in FreeAgent under the expense claims feature.
Multiple Currencies: FreeAgent supports 115 currencies and 28 languages.
Importing & Exporting: You can import bank statements via .ofx, .qbo, .qif, or .csv. You can also import contacts but only via Microsoft Outlook, Google Mail, Apple Mail, FreshBooks, or Basecamp. You can export all FreeAgent data in the settings.
Customer Service & Support
FreeAgent doesn't have customer support representatives; it has "support superheroes." These superheroes are on call from 9 AM to 5 PM Monday-Friday BST (UK Time). In the past, responses were quick and informative. However, it's taking these superheroes longer and longer to swoop in and save the day. Previously, email response times varied from as little as 10 minutes to three hours at most. Now, response times generally take a day. However, one email I sent wasn't responded to for five days. There is no phone support, so if you're looking for a quick response, you may be out of luck.
The good news is that FreeAgent has a good help center and several other support resources. Additionally, while my own experience with customer support is poor, many FreeAgent users report the exact opposite and praise the company for fast response times. Here's how to get in touch with FreeAgent support:
Email: The primary way to reach FreeAgent support is through email.
Knowledgebase: FreeAgent has an extensive knowledgebase with tons of how-to articles that are thorough and easy to understand. You'll also find getting started guides, FAQs, and webinars.
In-Software Help: You can access the knowledgebase, the getting started guides, and support directly from within the software.
Small Business Guides: FreeAgent offers small business guides in over 14 different categories, including bookkeeping, invoicing, expenses, payroll, small business, and more. These guides are insightful and cover various concepts, such as "How to Get Your Invoices Paid in Five Days" and "What If Your Client Won't Pay? A Lawyer's Guide for Freelancers." They are chock-full of good advice and tips for business owners of all types.
Community Forum: There is a community forum where you can connect with other FreeAgent users to ask questions and see how other companies are successfully implementing the software. You can also make feature requests and view FreeAgent announcements.
Webinars: FreeAgent hosts weekly webinars that you can attend to help you get started with your account. These can be found within the knowledgebase.
YouTube: FreeAgent has a YouTube channel with around 130 videos. New videos get added regularly, and there are video demonstrations for almost every feature in the software.
Blog: FreeAgent has a blog that it mainly uses to announce updates and company news. There are a few helpful business advice articles too.
Grant Support Access: You can grant support access to FreeAgent customer service representatives at any time (you can also disable access at any time). This way, representatives can see exactly what's going wrong and how to fix it.
Social Media: FreeAgent maintains active Facebook, Twitter, and LinkedIn accounts.
User Reviews
Negative Reviews & Complaints
FreeAgent receives predominantly positive customer reviews. You'll find far more positive reviews than negative, although there are a few complaints. Here they are:
Needs More Features: A few users say they want more features and functionality, such as improved invoice templates, reporting, and a cash flow forecasting feature.
Third-party integrations: Multiple reviewers wished that FreeAgent was compatible with more software options.
No Cash-Basis Accounting: There is no cash-basis accounting with FreeAgent, which is a problem for quite a few small business owners.
Mobile App Crashes: There are several reports of crashes and glitches within FreeAgent's mobile apps.
Positive Reviews & Testimonials
FreeAgent has a large number of positive reviews. On Capterra and Trustpilot, 72%+ of the reviews are 5-star. FreeAgent receives 4.7/5 stars on Trustpilot (based on 1,100+ reviews), 4.52/5 stars on Reviews.io (based on 460 reviews), and 4.4/5 stars on Capterra (based on 119 reviews).
Here are the most common praises:
Great Customer Support: By far, the most common praise is that FreeAgent has wonderful customer service. Users appreciate the fast response times, in particular.
Easy to Use & Saves Time: Many users say the product is easy to use, which saves time on administrative work, such as expense tracking and billing.
Good Feature Selection: Quite a few users comment on FreeAgent's large feature selection. Freelancers, in particular, find these features to be incredibly helpful.
Nice VAT Capabilities: Many UK users like the software's VAT capabilities, especially since VAT taxes can be so confusing.
Scalable: Many businesses appreciate that FreeAgent grows with their business.
Integrations & Add-Ons
FreeAgent offers 30 integrations (including a Zapier integration, which connects the software to over 1,000 other add-ons). API is available for developers.
Security
FreeAgent uses 128-bit SSL encryption with SHA256 certificates and redundancy to protect user data. The company also uses intrusion detection and 24/7 physical monitoring. The company is PCI compliant and is certified to the Cyber Essentials Plus standard. FreeAgent's servers are hosted by The Bunker.
Final Verdict
FreeAgent gets a lot of things right. With unlimited users, job costing, time tracking, international invoicing, it's easy to see why users have such good things to say about the software. The software is easy to use and offers affordable pricing, with no limits on features or the number of users (with most companies, you can pay more than $24/month for just a few extra users). Freelancers and UK users, in particular, can really benefit from FreeAgent's features and VAT support.
When it comes down to it, FreeAgent is one of the best UK accounting software options out there. US users could make the software work if they wanted to, but the lack of payroll could be a deal-breaker for some businesses. Also, the software could use some improvements in terms of invoice customization, importing capabilities, cash-basis accounting, and customer support.
For some businesses, the pros may definitely outweigh the cons. If FreeAgent still sounds like a good choice for your business, or if you want to judge the software for yourself, be sure to use the free 30-day trial and let us know what you think. If you'd like to see what other options are out there before deciding, check out our top-rated accounting solutions.
FAQs
---
Try A Top Pick For Payroll
ADP Payroll


---
We like ADP Payroll for its advanced employee management, strong payroll features, and great customer support. Get three months free when you sign up through our links! Get Started.
Try A Top Pick For Payroll
ADP Payroll


---
We like ADP Payroll for its advanced employee management, strong payroll features, and great customer support. Get three months free when you sign up through our links! Get Started.
To learn more about how we score our reviews, see our
Accounting Software Rating Criteria
.