Expert Analyst & Reviewer

Updated on:
Advertiser Disclosure: Our unbiased reviews and content are supported in part by
affiliate partnerships
, and we adhere to strict
guidelines
to preserve editorial integrity.
GetResponse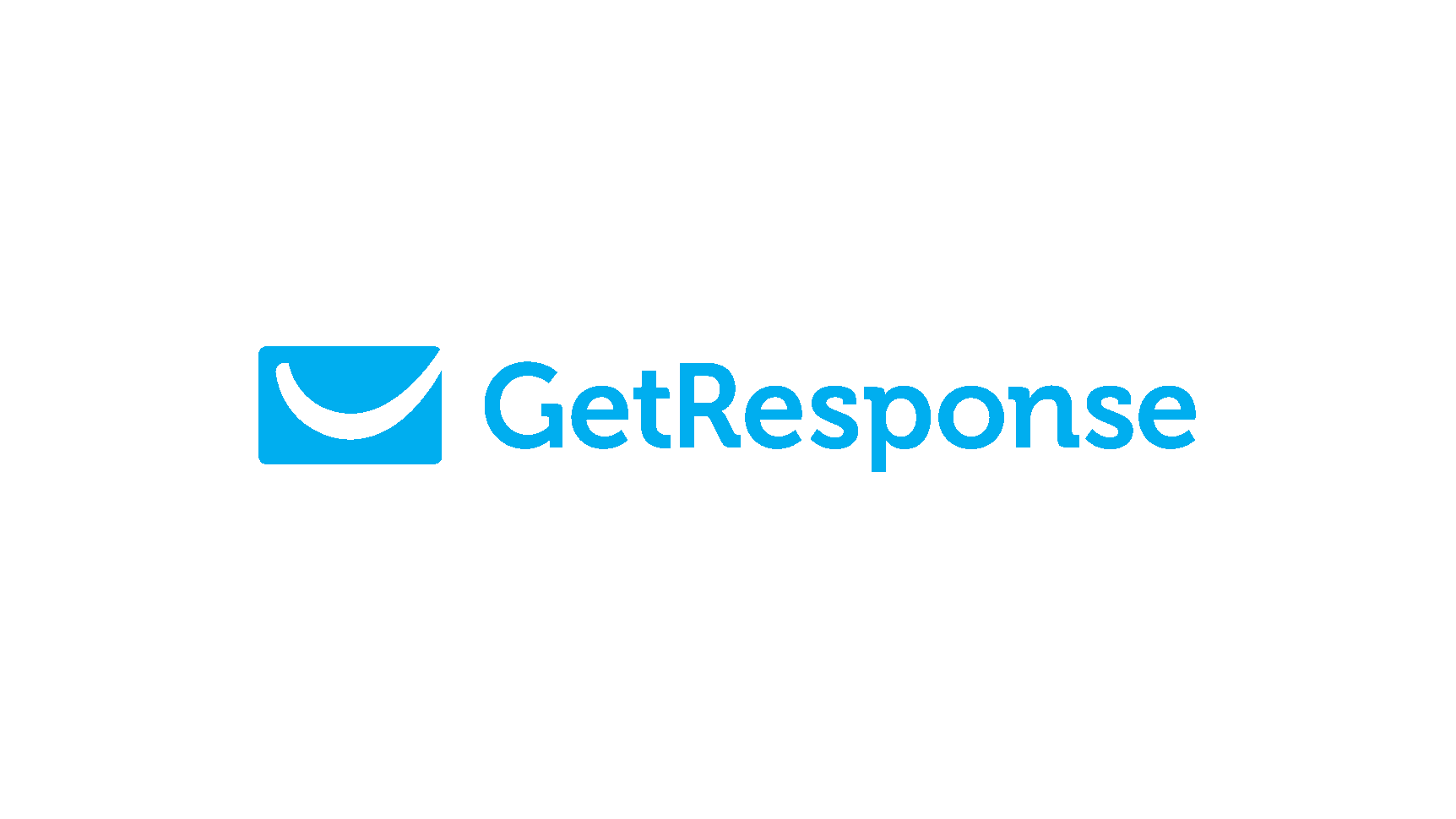 Pros
Easy to use
Numerous features
Competitive cost
Cons
Spotty customer support
High complaint volume
GetResponse Overview
GetResponse is one of the older email marketing programs on the market today. In this GetResponse review, you'll find out what its selling points are. It offers a solid feature-set at a reasonable price point for small to mid-sized businesses. With GetResponse, you get access to extensive A/B testing options, list segmentation, and a helpful array of tools and reports. However, transactional emails are curiously reserved for the costlier plans, which may be a deal-breaker for some.
Additionally, we have serious cause for concern that we cover below in the User Reviews and Customer Service & Support sections. We believe the patterns of complaints we have recently uncovered in consumer reviews across the web raise considerable red flags. For these reasons, we can't give GetResponse more than a 3-star rating this time around. Keep reading to find out the specific concerns and if the GetResponse email marketing software is right for your small business.
GetResponse Pricing
GetResponse offers a 30-day free trial with no credit card required. You have several plan options available, and GetResponse pricing increases with contacts, as seen below.
Basic
The Basic plan features include:
Email marketing
Autoresponders
Unlimited landing pages
Unlimited automation templates
Sales funnels
Unlimited lead funnels
Facebook ads
Sell e-products
Here's what this plan will cost you, depending on the number of subscribers you have in your email list:
Up To 1,000 Subscribers: $15/month
Up To 2,500 Subscribers: $25/month
Up To 5,000 Subscribers: $45/month
Up To 10,000 Subscribers: $65/month
Up To 25,000 Subscribers: $145/month
Up To 50,000 Subscribers: $250/month
Up To 100,000 Subscribers: $450/month
Plus
The Plus plan features include everything in the Basic plus:
Five workflows in the Automation Builder
Webinars for up to 100 attendees
Contact scoring and tagging
Five sales funnels
Three work-together users
Five webinar funnels
Here is how the cost breaks down with your subscribers:
Up To 1,000 Subscribers: $49/month
Up To 2,500 Subscribers: $59/month
Up To 5,000 Subscribers: $79/month
Up To 10,000 Subscribers: $95/month
Up To 25,000 Subscribers: $179/month
Up To 50,000 Subscribers: $299/month
Up To 100,000 Subscribers: $499/month
Professional
The Professional plan includes everything in previous plans plus:
Unlimited automation builder
Web push notifications
Paid webinars with 300 max attendees
Unlimited sales funnels
Unlimited webinar funnels
Work together with five users
On-demand webinars
Here is how much the Professional plan will cost you, depending on the number of your subscribers:
Up To 1,000 Subscribers: $99/month
Up To 2,500 Subscribers: $119/month
Up To 5,000 Subscribers: $139/month
Up To 10,000 Subscribers: $165/month
Up To 25,000 Subscribers: $255/month
Up To 50,000 Subscribers: $370/month
Up To 100,000 Subscribers: $580/month
MAX
Max is an Enterprise plan that features everything in previous plans plus:
Transactional emails as a paid, add-on option
Dedicated support
Dedicated IP address
Microsoft Dynamics integration
Deliverability consulting
Single sign-on (SSO)
Webinars with 500 max employees
Email campaign consulting
The Enterprise plan has customer pricing, and you can call for a quote.
Cloud-Based Or Locally-Installed
GetResponse is a web-based software, so there's nothing to download.
Hardware & Software Requirements
GetResponse works with both PC and Mac operating systems and supports the latest official versions for these browsers:
Mozilla Firefox (recommended)
Google Chrome (recommended)
Safari
Internet Explorer
Anything not updated will likely have performance issues with editors and other features. You also may need to allow plugins for JavaScript, Flash technologies, and "cookies."
Specific Size Of Business
GetResponse is geared to provide large-scale features to small-scale marketers, and it does this job admirably, functioning well for businesses that have anywhere from 100 contacts to 100,000. Companies with more extensive lists should look to GetResponse Enterprise.
Ease Of Use
Given GetResponse's wide array of advanced email marketing tools, newbies may find the learning curve a bit steep at times. Fortunately, the extensive knowledgebase and 24/7 chat service go a long way toward resolving this issue. Signing up is easy: provide your first name, email address, create a password, and you're in. You'll need to enter a legitimate business address and phone number to fully activate the account.
Creating The Campaign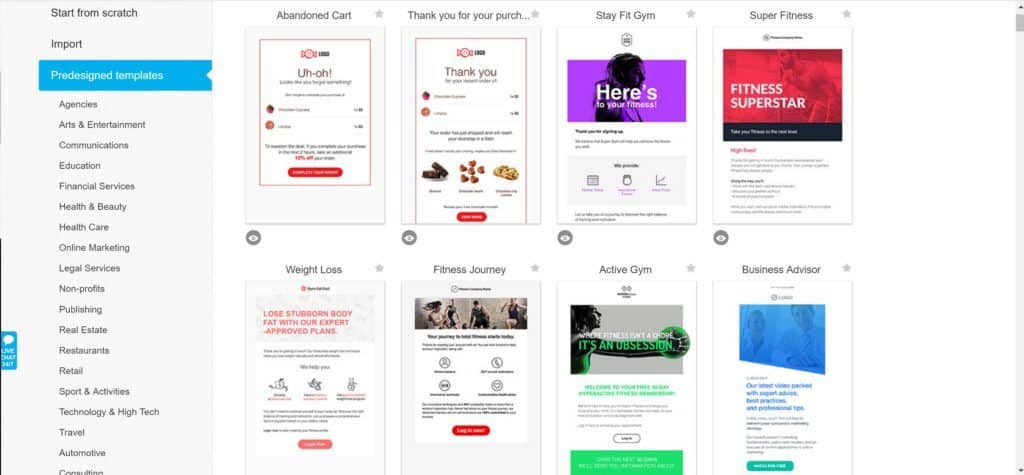 When creating your campaign, you'll get a choice between the "Drag-and-Drop Email Editor" and "HTML Source Editor." The former is a WYSIWYG editor with drag-and-drop functionality and over 200 templates available. The latter is exactly what it sounds like: an opportunity for more advanced users to code their emails in whatever way they desire.
With the drag-and-drop editor, users can also use a blank template, import a template from a zip file or web page, create a plain text email, or create a custom template with the assistance of GetResponse's designers (extra cost). After selecting an editor, users can fill out the self-explanatory fields (message name, subject, "reply-to" address, etc.) and choose tracking options, activate A/B testing, and set the campaign up for sharing via linked Facebook and Twitter accounts.
I am particularly fond of the mobile device preview, which shows how the custom email will look on a mobile device, complete with interactive scrolling and landscape/portrait toggle.
The template selection is good; templates are arranged into categories, such as restaurants, holidays, birthday, online marketing, retail and eCommerce, and nonprofits. You can drag and drop elements (text boxes, images, etc.) into the editor to design your email. Previous limitations, such as the inability to text wrap, have been resolved.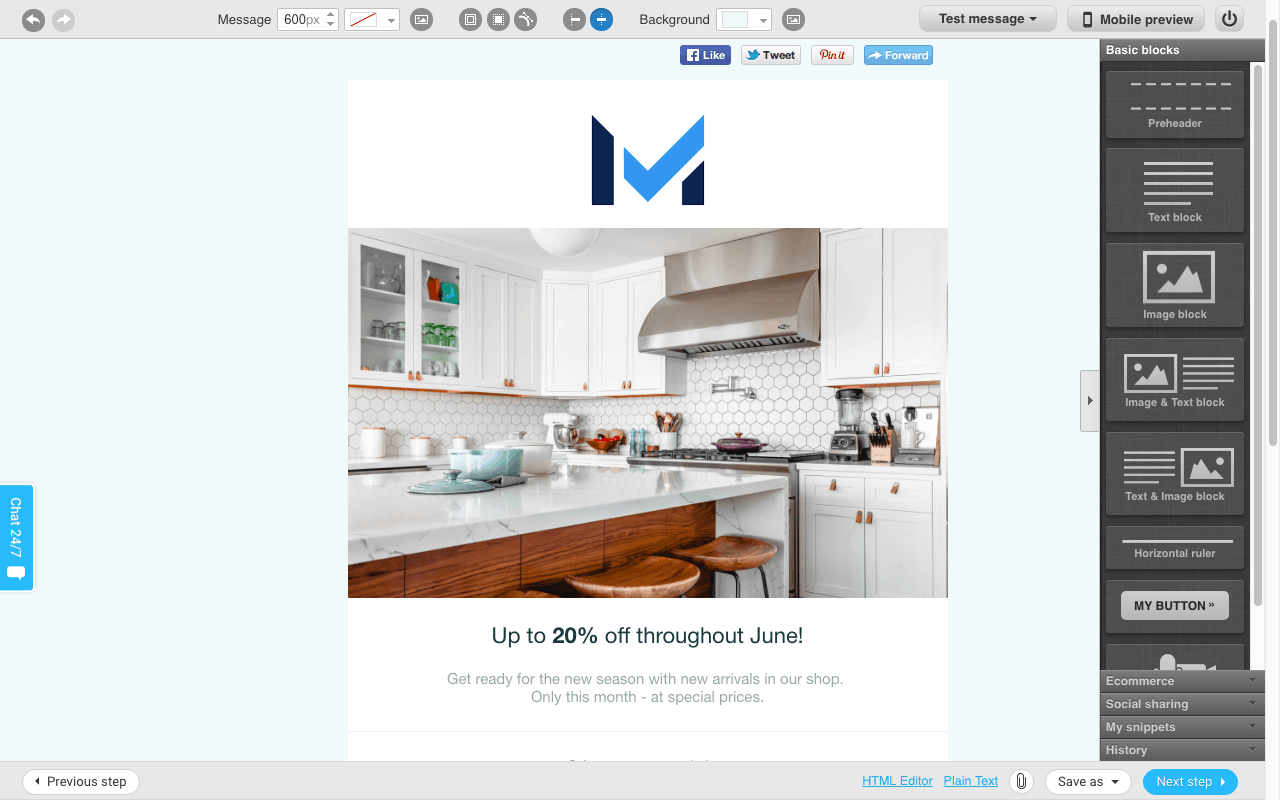 You can save elements as "snippets" and use them again later. The program also offers a "History" feature that autosaves each version of your missive as you work on it (so if you accidentally delete something, you can quickly revert to an earlier version).
On the other hand, the layout interface can often be needlessly complicated. A simple transformation, such as changing an element's placement, can take a few clicks and occasionally results in some strange behavior on more complex layouts. If you have a passing knowledge of HTML, the ability to easily pop open the HTML editor will save you some grief.
Sending The Email
Sending emails is quite simple; you can preview them using the convenient Inbox Preview and run them through a spam check to look for elements that might get it tagged as spam. Next, select a campaign (a list) to use and add or remove individual email addresses from the mailing. At that point, you can send your emails right away or schedule the mailing for a later time or date.
As with most email marketing services, you'll need to certify that any list you upload is permission-based and conforms with the provider's anti-spam policies. You can add lists in the following ways:
Upload a .csv, .txt, .xls, .xlsx, .vcf, or .ods file
Import contacts from Salesforce, Google Docs, Google Contacts, Magento, Highrise, FreshBooks, Zendesk, or Formstack
Manually copy and paste addresses into a text box
Migrate a list from ActiveCampaign, Mailchimp, AWeber, or Constant Contact
Users can also manually select or eliminate contacts from a particular mailing on a one-by-one basis — a handy feature for small organizations with a limited mailing list.
GetResponse Features
GetResponse includes a great selection of features for all customers, regardless of the number of contacts they have.
Email Campaigns: Design targeted and personalized emails to reach your customers. Set up sales funnels to create an automated GetResponse email campaign that adjusts based on customer engagement.
Creating & Customizing Emails: GetResponse has hundreds of templates, including 500 free newsletter templates alone. You'll find templates categorized by campaign goal to welcome, educate, promote, sell, and more. With a drag-and-drop editor, the email creator provides various design options for those who aren't proficient in HTML. Templates support responsive design and are compatible with both desktop and mobile devices. Capabilities include limited photo editing, drag-and-drop design elements (such as text blocks, images, and buttons), and the ability to save elements as "snippets" for future use. Alternatively, users with some experience in HTML can code their own templates.
Landing Page Creator: The landing page creator allows you to quickly create a landing page, choosing from more than 100 templates. As with the email creator, you can use a drag-and-drop editor to edit page elements. You can host your page for free on a GetResponse subdomain or publish the page on your domain.
Customer Tracking: You can use GetResponse's built-in CRM tool to track every lead and action in one place.
Email Segmentation: Group your contacts by location, subscription date and source, last message date, contact engagement score, and more.
A/B Split Testing: GetResponse's A/B testing feature allows you to test and compare up to five variants of the subject line, email content, form field, or sending time.
Reporting & Analytics: As discussed in detail under Ease Of Use (above), GetResponse's Email Analytics offers comprehensive reporting capabilities, with features such as single-click email segmentation, side-by-side email comparison, autoresponder statistics, and email ROI analysis.
Autoresponders: GetResponse provides both time-based and action-based autoresponders to increase subscriber engagement, along with detailed guides on how to use them.
Custom Forms: Start with one of GetResponse's 500 templates, and adjust colors, sizes, and custom fields to fit your brand. Use A/B tests to try out different forms. You can add these forms to your site as exit pop-ups, scroll forms, download boxes, and fixed bars.
Online Surveys: Create and customize surveys to gather insights.
RSS To Email: A real boon to bloggers looking to boost their readership, this tool allows users to email their blog audience automatically each time they post or to put all their articles into a digest grouped daily, weekly, or monthly by using a simple template design.
Multiple Languages: GetResponse is available in English, German, Portuguese, and French.
Webinars: GetResponse now offers the ability to engage your contacts with webinars starting at the Plus level. This feature is relatively unique among email marketing platforms and gives users access to video, audio, online polling, screen sharing, and a digital whiteboard.
Marketing Automation: GetResponse allows you to build automated workflows easily. Using a relatively simple menu of tools (conditions, actions, and filters), you can create a web of automation, determining just the right times to send messages out to subscribers based on their behavior on your website.
Time Travel: Trying to reach a global audience but afraid your email will get lost in the 2 AM trash? GetResponse allows users to segment their campaign sends according to time zones through its Time Travel option. This feature ensures that a mass mailing goes into everyone's mailbox at the same local time.
GetResponse Customer Service & Support
GetResponse offers support through several avenues. One-on-one support is available through email and live chat. Unfortunately, there is no phone support available. GetResponse also provides a large library of resources, such as videos, infographics, and video courses, to help you learn to navigate the software on your own.
Here are the support options in GetResponse:
Email & Live Chat: GetResponse provides live one-on-one support through email and 24/7 live chat. There is no phone support available.
In-Software Help: You can access a few support resources from your GetResponse dashboard. Clicking the "?" in the upper right corner of your screen reveals a menu that you can use to access an email form, view your support tickets, access live chat support, and quickly look for resources in the Help Center. You can also find links to GetResponse's List Building Program, premium marketing toolkit, and the GetResponse Marketplace, where you can find professionals to partner with you in your marketing campaigns.
Help Center: GetResponse provides an extensive knowledgebase of searchable FAQs. Where appropriate, these include links to relevant video tutorials.
Guides: GetResponse offers an extensive array of downloadable materials, providing an in-depth view of the software and email marketing management. These materials include guides, whitepapers, infographics, and reports.
Videos: GetResponse has a full library of video resources, ranging from short tutorial videos to long-form video courses. These video courses educate users about different aspects of the software and email marketing in general. Offerings include list building and CRM courses.
API Docs: Developers can access API documentation to build their customizations.
Account Managers (Enterprise): Merchants who sign up for the Enterprise-level plan will get access to an account manager.
Blog: The GetResponse team frequently posts a new entry to its blog. Articles typically discuss tips, themes, and trends in email marketing, with a heavy focus on acquiring new subscribers, SEO, and social media.
Social Media: GetResponse is active on Facebook, Twitter, LinkedIn, Pinterest, and Instagram. You can contact them through a direct message on any of these social media platforms.
I've seen mixed reviews about the quality of GetResponse's customer support. While some users have had excellent experiences with the support, others say that GetResponse was slow to respond to their concerns or never responded at all. I wish GetResponse made phone support available to its users; this tends to remedy a few support issues.
User Reviews
Unfortunately, after reviewing consumer review sites, we have found some serious issues with GetResponse and suggest exercising caution. Notably, we don't like to see reports from merchants about issues with canceling an account, billing, and customer support for those same clients attempting to leave the service. For that reason, we have downgraded this category to a poor rating.
Better Business Bureau: F
Capterra: 4.1 stars out of 5
G2: 4 stars out of 5
TrustRadius: 7.8 out of 10 rating
Trustpilot: 1.8 stars out of 5
GetResponse has a mixed bag of reviews at best. We should note that the Better Business Bureau listing for GetResponse, including its web URL, is listed under its parent company, Implix, USA, Inc. This company also has an address listed in Poland, according to the BBB.
Negative Reviews & Complaints
The most common complaints in GetResponse reviews are as follows:
Trouble Canceling Account: Customers report being charged the monthly rate after canceling their accounts. Not surprisingly, they also had difficulty contacting support or getting the issue resolved quickly.
Difficulty Importing Email Lists: Some users complain that GetResponse does not allow them to import their email lists. Apparently, GetResponse's anti-spam detection sometimes does not like these email lists, even when the emails have been gathered legitimately with customers opting in.
Customer Support: Users report that customer support is not always the most reliable. They can be slow to respond, or they don't respond at all.
Fraudulent Charges: Several people have said they aren't aware of what the company is but are getting charged by them. We'll leave this one to the professionals, but it is concerning to see more than one of these similar complaints.
Usability: Some complain that the interface is not intuitive and needs to be more straightforward. One reviewer states, "A lot of features were hard to find. A more standard layout would be beneficial to users that have tried other services in the past."
Positive Reviews & Testimonials
While there are certainly complaints about GetResponse drifting around out there, we also found praise for this email marketing software, believe it or not!
Ease Of Use: This is the single most common point of praise in GetResponse reviews. Many love the interface and find it easy to navigate the program even if they have no prior experience with email marketing. The drag-and-drop editor is a popular feature.
Automation: Users love GetResponse's automation features. Many say that these features save them time.
Email Templates: New users especially love GetResponse's email templates, and there's a quite generous library of them. These templates are easy to customize with a drag-and-drop editor.
Support: Although I have seen plenty of complaints regarding GetResponse's customer support, I have seen positive comments as well. Some users say that GetResponse has a strong customer support team. Users on the Enterprise-level plan especially appreciate having a dedicated account manager. It appears that as long as you want to keep GetResponse as your email software, you'll find support to help you with campaigns.
GetResponse Integrations & Add-Ons
GetResponse offers nearly 130 add-ons and integrations with popular software programs and services. You can find integrations to popular eCommerce platforms (such as Shopify and BigCommerce) as well as payment service providers (such as PayPal and Amazon Pay). GetResponse also provides integrations with several CRM software, content management systems, and analytics tools. Finally, you'll be able to integrate with social media platforms, such as Facebook, Vimeo, and YouTube.
GetResponse also makes an API available for custom integrations.
Security
GetResponse runs regular network security updates, powerful firewalls, and 24/7/356 monitoring of all company servers. The company processes and stores credit card data using bank-level encryption on a PCI-compliant network. User data is backed up daily to multiple servers for full data redundancy.
For more information, see the GetResponse security page.
As for privacy, GetResponse is TRUSTe approved.
Anti-Spam Policy & Protection
GetResponse has a comprehensive anti-spam system to keep its deliverability rates high. Upon signing up, you must certify that your list is permission-based and meets the company's anti-spam standards. Each time you add a new contact to your list, you will need to tick a box indicating that you obtained the new address through legitimate opt-in means.
GetResponse has an in-house anti-abuse tool called Hydra. Hydra runs tests on complaint rates, bounce rates, and subscription sources to ensure users stay compliant with anti-spam policies. Hydra can also identify aspects of users' campaigns that may hurt their reputation or deliverability.
Included in all accounts is Spam Score, a feature that shows you how you score on SpamAssassin's tests. You can see what might cause email providers to chuck your message in the spam box; with any luck, you'll be able to spot potential problems before they occur.
Final Verdict
There are some things to like about GetResponse, largely thanks to its library of quick, concise video tutorials, drag-and-drop email design editor, and its large template library. If your marketing budget is big enough to accommodate a Plus plan, the webinar feature is a potentially powerful way to engage your contacts.
The most significant concern we have, as noted in our review, is the pattern of customer complaints. We've seen too many users complain about getting burned with charges and having trouble canceling to feel comfortable about it. If you do choose to use GetResponse, keep a vigilant eye on your auto-renewal date and your credit card statement, so you won't be surprised when you're charged for another month on the platform.
---
We've done in-depth research on each and confidently recommend them.
We've done in-depth research on each and confidently recommend them.
To learn more about how we score our reviews, see our
Email Marketing Software Rating Criteria
.
Read Next