Expert Analyst & Reviewer

UPDATED
Advertiser Disclosure: Our unbiased reviews and content are supported in part by
affiliate partnerships
, and we adhere to strict
guidelines
to preserve editorial integrity.
Pros
Strong customer management
Built in gift card function
Simple inventory management
Intuitive interface in back end features
Cons
Extra cost for premium support
Occasional trouble syncing with existing hardware
Overview:
You know how, in the '90s, Hollywood gifted us with a glut of romantic comedies where a fresh-faced young man or woman traipsed through a variety of complicated scenarios in an attempt to find love, only to realize that the dashing, rich entrepreneur he or she has been pursuing may not be an ideal partner and true love may, in fact, exist in the quiet, functional boy or girl next door? Well, in this wildly imperfect analogy, GiftLogic is your Bill Pullman.
GiftLogic, operated out of Englewood, Florida, offers Windows-based software that can work well with a wide variety of retail businesses. The software offers nearly all of what you could want in a system with a logical and nearly organized interface. GiftLogic also offers hardware options, providing you with as much (a new Dell computer and touchscreen plus a cash drawer and printer etc…) or as little as you need, with the ability to adapt to most existing hardware. GiftLogic also offers some nifty integrations, including MailChimp and QuickBooks. It prides itself on being user-friendly and reliable.
While you're running your thriving business with GiftLogic, it's unlikely that you will end up paying much attention to your point of sale system which, in most cases, is a very good thing. It takes a little time to get completely comfortable with GiftLogic's interface and some functions require a bit more navigation than you would hope for but, like Bill Pullman, some slightly rough edges surround a heart of gold. (In this instance the heart of gold would be GiftLogic's impressive inventory management and reporting systems.)
Pricing:
There are several pricing options, some of which include the necessary hardware:
$999 Software Package:
GiftLogic software
3 months of unlimited support
3 months of software upgrades
3 months of access to training videos
SafeNet Sentine Module
$1295 GiftLogic Pro:
Unlimited Customers
Unlimited Users
Unlimited Items
6 months of Priority Support
Premium Features
SecuGen Fingerprint Reader
$1495: Software and Hardware Bundle:
GiftLogic software
3 months of unlimited support
3 months of software upgrades
3 months of access to training videos
SafeNet Sentine Module
Star Micronics TSP143-GRY receipt printer
M-S cash drawer CF-405-M-B
Honeywell Hyperion 1300G barcode scanner
$1795: Pro Hardware Bundle:
GiftLogic 2017 Pro

6 months of Priority Support

Premium Features

Honeywell Barcode Scanner

TSP143 Receipt Printer

M-S Cash Drawer

SecuGen Fingerprint Reader
$2295 GiftLogic Complete Bundle:
GiftLogic software
3 months of unlimited support
3 months of software upgrades
3 months of access to training videos
SafeNet Sentine Module
Star Micronics TSP143-GRY receipt printer
M-S cash drawer CF-405-M-B
Honeywell Hyperion 1300G barcode scanner
Dell computer with at least 19″ monitor
$2595: Pro Complete Bundle:
GiftLogic 2017 Pro

6 months of Priority Support

Premium Features

Honeywell Barcode Scanner

TSP143 Receipt Printer

M-S Cash Drawer

SecuGen Fingerprint Reader

New Dell Computer

New Dell 19″ Monitor
Cloud-Based or Locally-Installed:
GiftLogic is Windows based and locally installed. The software is fairly flexible and can adapt to most hardware that a business owner may own, but the company also offers its own hardware packages.
Specific Industry:
GiftLogic claims it can be used in any retail industry and technically that's probably true. However, GiftLogic is probably best suited for clothing or consignment stores and would be ideal for gift shops, book stores, etc.
Specific Size of Business:
Small to mid-sized retail stores. With fairly extensive inventory tracking, GiftLogic is capable of handling businesses with multiple locations.
Hardware and Operating System Requirements:
GiftLogic is Windows-based so you will either need hardware that can run with Windows or you will need to purchase hardware directly from GiftLogic.
Ease of Use:
GiftLogic has a slightly dated but perfectly functional interface. Those familiar with Windows will likely respond to the UI and pick it up quickly although it's not quite as intuitive as some of the more elegant iOS based programs around. Still, for the type of business GiftLogic is best suited to, simple and functional might be exactly what you're looking for.
The software is icon driven with hot keys and is compatible with touchscreen devices. Pictures of items can easily be added and the Quick Access Bar, which is customizable; you can arrange products by size, color, or department, making it easy to quickly select the desired item. When products are scanned, they pop up in a list and can then be highlighted to add discounts. On the back end, the system's customer database and tracking system are easy to navigate, although you are filtered through a handful of screens. Again, if you are familiar with Windows formatting and Excel, this will be an easily digestible program—there just aren't as many shortcuts as I've been accustomed to with other POS systems.
Features:
As I mentioned, GiftLogic has pretty much everything you would expect in a high-quality POS, so I will try to highlight some of its most standout functions.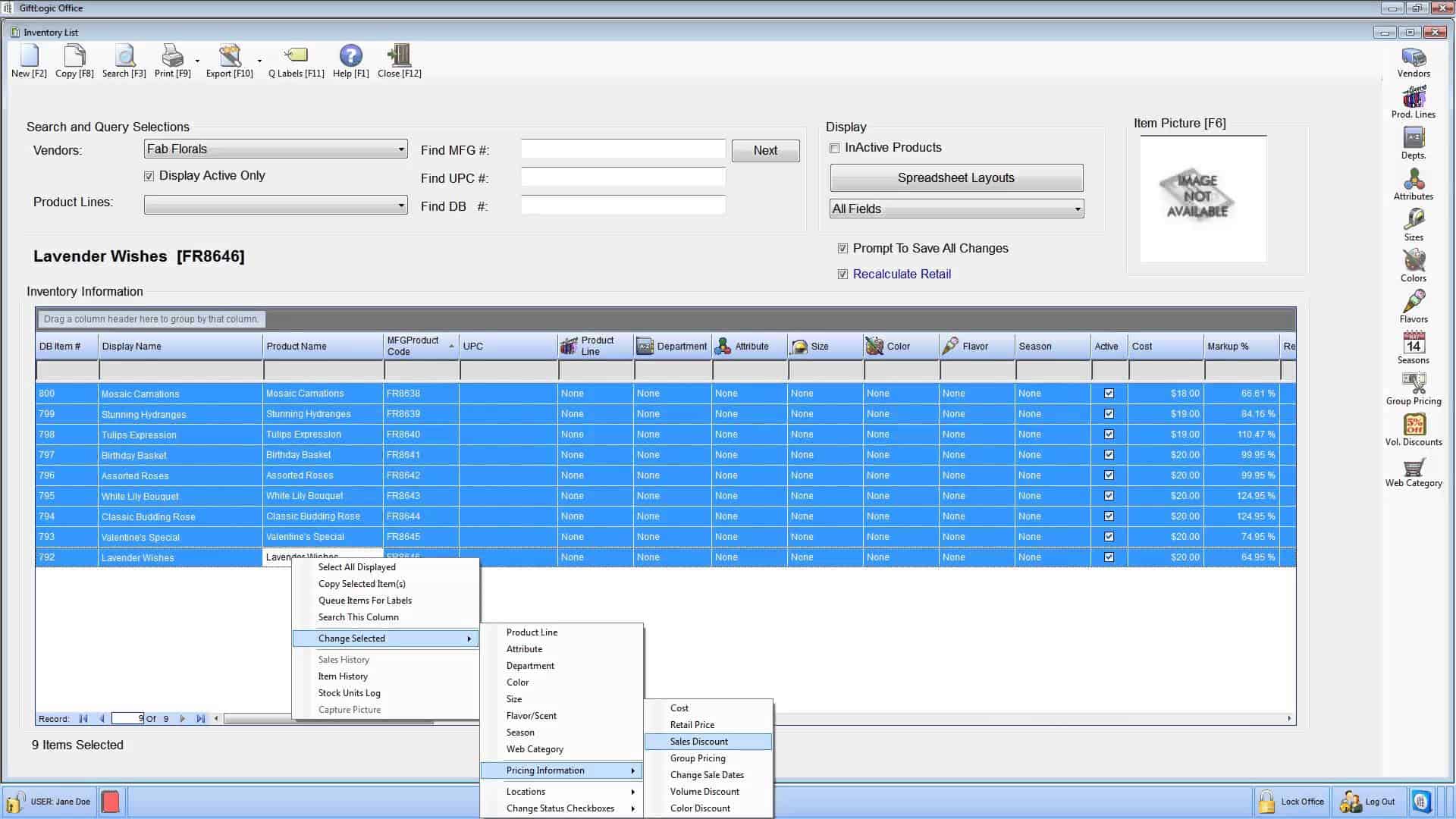 Charge Accounts: GiftLogic does a nice job with customer management, and the charge accounts feature fits in with this trend. Employees can tap into customer information and create individual charge limits while tracking purchase and payment history. Invoices are easily printed and a prepaid account can be created in just a few seconds. Payments can also be accepted online and a customer's charge account summary can simply be printed for him or her following transactions.
Custom Orders: GiftLogic is extremely adaptable when customers want to make a purchase of an out-of-stock item or add on a feature (such as a unique engraving). By simply clicking on an order, special notes can be added and later printed. Shipping fees can be altered and items can easily be added or removed at any time. The program's simple filtering mechanism also makes it easy to track down an open custom order.
Customer Relation Management: GiftLogic has a simple way to organize, track, and contact a large group of customers. A customer can be instantly added to the database following a purchase. Their future purchase can be tracked and they can be automatically signed up to a rewards program. Customers are easily identified by name or through ID badges or discount cards, and the program makes it simple to send large-scale emails to either the entire database or a specialized group of individuals. This is also an easy way to keep track of memberships (for a gym or museum, for example) with easily-shown expiration dates.
Customer Loyalty: Along those same lines, customer loyalty is easy to manage through this POS. Employees can set start and end dates for specific promotions, automatically applying those discounts to purchases. Reward options for customers can also be personalized and subscriptions and membership bonuses can be set up in a short amount of time.
Gift Cards: GiftLogic offers its gift card program at no additional cost and there are no restrictions on the amounts they can be set for or how many transactions can be made. The cards are easily tracked within the system and can be attached to customers. They can also be closed or set to expire and reports of gift card activity are easily accessed.
Gift Receipts: Gift receipt options are available on the main screen and can be quickly and professionally personalized. In addition, the store's return policy can be printed on each receipt.
Inventory Styles Matrix: This is one of GiftLogic's big selling points. Previous inventory information can be quickly downloaded through Excel; you don't have to create each new item individually within the database. GiftLogic has preloaded labels and the ability to personalize unique labels. Items can be designated as discontinued or out of stock easily and the inventory display and search capacity make it relatively easy to track down products once you've used the program for a bit.
Layaway: GiftLogic has one of the best systems for layaway purchases that I've seen. Payments can be accepted at any time and pick-up dates can be quickly and efficiently altered or canceled. There are also simple mechanisms to create refunds or set service charges.
Management Dashboard: GiftLogic makes it easy to access all sales information and track it by quarter, weeks or even down to the hour. You can also compare sales to previous years and compare employee and product performance.
PurchasePal: This system helps with tracking and ordering inventory. Ordering levels can be set and the program will recommend how much of a product should be purchased at various times; reordering preferences can be altered at any time.
Quick Access Bar: This is a simple but very useful tool on the main page of GiftLogic's interface, allowing employees to easily access the store's most frequently stored items. Images can be added to speed up the ordering process and the categories and layout are all customizable.
Reporting: GiftLogic's reporting functions are very robust, with more than 250 individual reports offered. The reports are not customizable, but with so many in-house options they should provide the vast majority of what most small to mid-sized businesses would need.

Integrations and Add-Ons:
GiftLogic integrates with a handful of useful products which help to improve its overall impact.
Compatible Credit Card Processors:
GiftLogic says it can be compatible with most stand-alone credit card processors, but it also integrates with a handful of services
Customer Service and Support:
Support Services: GiftLogic offers support on a tiered pricing level. Clients can opt for a month or two of support for $100 to $150 or can purchase support in larger chunks of time which also come with free updates that are downloadable. They also offer remote access chat and the ability to connect with a trainer 24 hours a day. On their website, live chat is available during business hours and is quick and efficient for basic questions. GiftLogic can also be reached via phone or email.
Training Materials: The company's website also has over a dozen short YouTube videos explaining the basics of both front and back end features. And, for better or worse, these videos move extremely quickly. That can be a bonus for an employee who's quick on the uptake, but less experienced employees may find themselves pausing and replaying multiple times. There is also the ability to switch the POS into training mode where employees can troll around without actually affecting anything.
Negative Review and Complaints:
The only remotely negative reviews I saw mentioned a small issue with hardware that was incompatible with GiftLogic's software. Another reviewer liked the product overall but wished it could be used in a slightly more efficient manner. There also were a few problems with GiftLogic's purchase ordering.
Positive Reviews and Testimonials:
There are a handful of comments on various sites raving about GiftLogic's customer service, its ease of use, and its inventory and reporting mechanisms. There are also positive testimonials on the website including:
"GiftLogic is the best purchase I have made for my new store. I compared other software package features line by line, and there was no comparison to the software design and the company behind it." -Carolyn

"GiftLogic is user-friendly, supportive, and everything I need in a point of sale software, plus a whole lot more. The is a great product, you won't be disappointed." -Helen
On a few sites with more than 30 ratings, GiftLogic generally scored close to 4.5 out of 5 stars.
Security:
There are a handful of strong security functions that GiftLogic offers:
Unique permissions: You can set unique permissions for individual employees, giving them access to only specific features within the POS. For example, employees can be given a maximum number of discounts they are allowed to hand out, along with a set number of overrides or voids before a warning is triggered.
Register lock: The register can be set to lock automatically following an allotted period of inactivity.
Log-in management: Log-ins can be required for each sale if necessary and registers can be manually locked with one click.
Fingerprint integration: The fingerprint integration offered by GiftLogic provides an added level of security.
Final Verdict:
The vast majority of GiftLogic's features simply make sense, even if it takes a bit of playing around to get to that point. On more than one occasion, I went back to GiftLogic's training videos with a perplexed look on my face. However, when (for example) the concept of how to group and track inventory clicked with me, it made me realize I should have been able to figure it out on my own. The interface does not particularly stand out but it offers every function you might need for a gym, spa, grocery store, etc.
If you are a business that needs to quickly cycle through customers at a register, GiftLogic might not be for you; only an extremely experienced employee would be able to navigate through numerous screens without a bit of lag time. However, for other retail businesses, or places that require memberships, GiftLogic's impressive back end should provide everything you need to operate efficiently.
---
We've done in-depth research on each and confidently recommend them.
We've done in-depth research on each and confidently recommend them.
To learn more about how we score our reviews, see our
Point Of Sale (POS) Software Rating Criteria
.