GoCentral (GoDaddy) Online Store Review
Contributor

UPDATED
Advertiser Disclosure: Our unbiased reviews and content are supported in part by
affiliate partnerships
, and we adhere to strict
guidelines
to preserve editorial integrity.
Pros
Easy to use
Suited for startups
Good customer support
Cheap monthly cost
Cons
Unscalable
Rudimentary feature set
Limited design customization
Limited integrations
Limited payment gateway integrations
GoCentral Online Store Overview
If you're like me, you knew about GoDaddy before you'd even heard the term "eCommerce." This überpopular vendor is known primarily for registering domain names (and for its Super Bowl commercials), though they offer a whole host of other web services.
In 2014, GoDaddy released an eCommerce solution to complement their existing services. The software has been evolving ever since. GoCentral, the current iteration, is a combination of GoDaddy's website builder and online shopping cart host.
In essence, GoCentral provides a basic platform for beginners who want to start selling online. It's a secure, fully hosted solution with just enough tools to get you going. The admin is easy to use, the customer support is speedy and friendly, and the price is reasonable.
Unfortunately, GoCentral isn't right for merchants with advanced eCommerce requirements. GoCentral cannot scale to handle mid-sized or larger businesses. It's really a beginners-only sort of platform.
Keep reading to find out why.
Note: GoDaddy provides a number of eCommerce solutions, including GoCentral and hosted WordPress sites. In this review, we will be focusing exclusively on GoCentral because it is GoDaddy's current focus.
Pricing
GoCentral has just one pricing option: $29.99/month (you may be able to get a discounted rate if you commit to the platform for a year or longer). You are allowed to list up to 1,500 products.
Below is a fun disclaimer I found on the GoDaddy site. I figure it's useful information for you to know.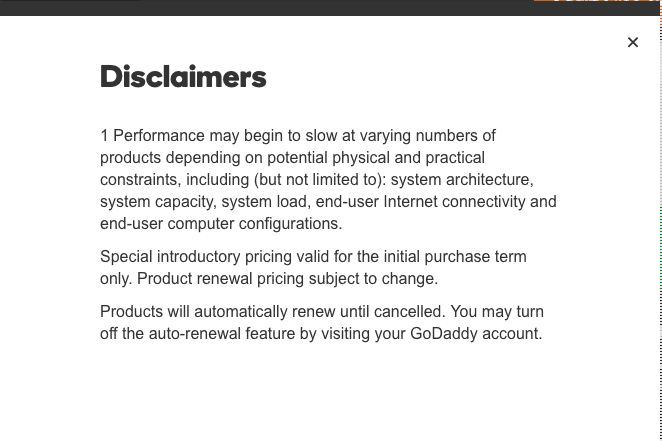 Cloud-Based Or Locally Installed
GoCentral operates in the cloud. Your store will be hosted on GoDaddy's reliable servers.
Specific Size Of Business
GoCentral is best for merchants who are looking to branch out from selling exclusively on marketplaces like Etsy and eBay; it is geared toward those with little to no technical knowledge. While GoDaddy emphasizes the fact that anyone can use their platform, merchants with lots of technical experience will find GoCentral too limiting.
Hardware & Operating System Requirements
None! Just maintain an up-to-date web browser and a strong internet connection.
Ease Of Use
In order to try out GoCentral, you'll have to sign up for a free 30-day trial. Fortunately, you won't have to input any credit card information in order to access that trial. You just need to hand over a little basic information like your name and email.
After I had completed the sign-up process, I was automatically directed to my theme editor. (Typically, I start out in the admin panel.)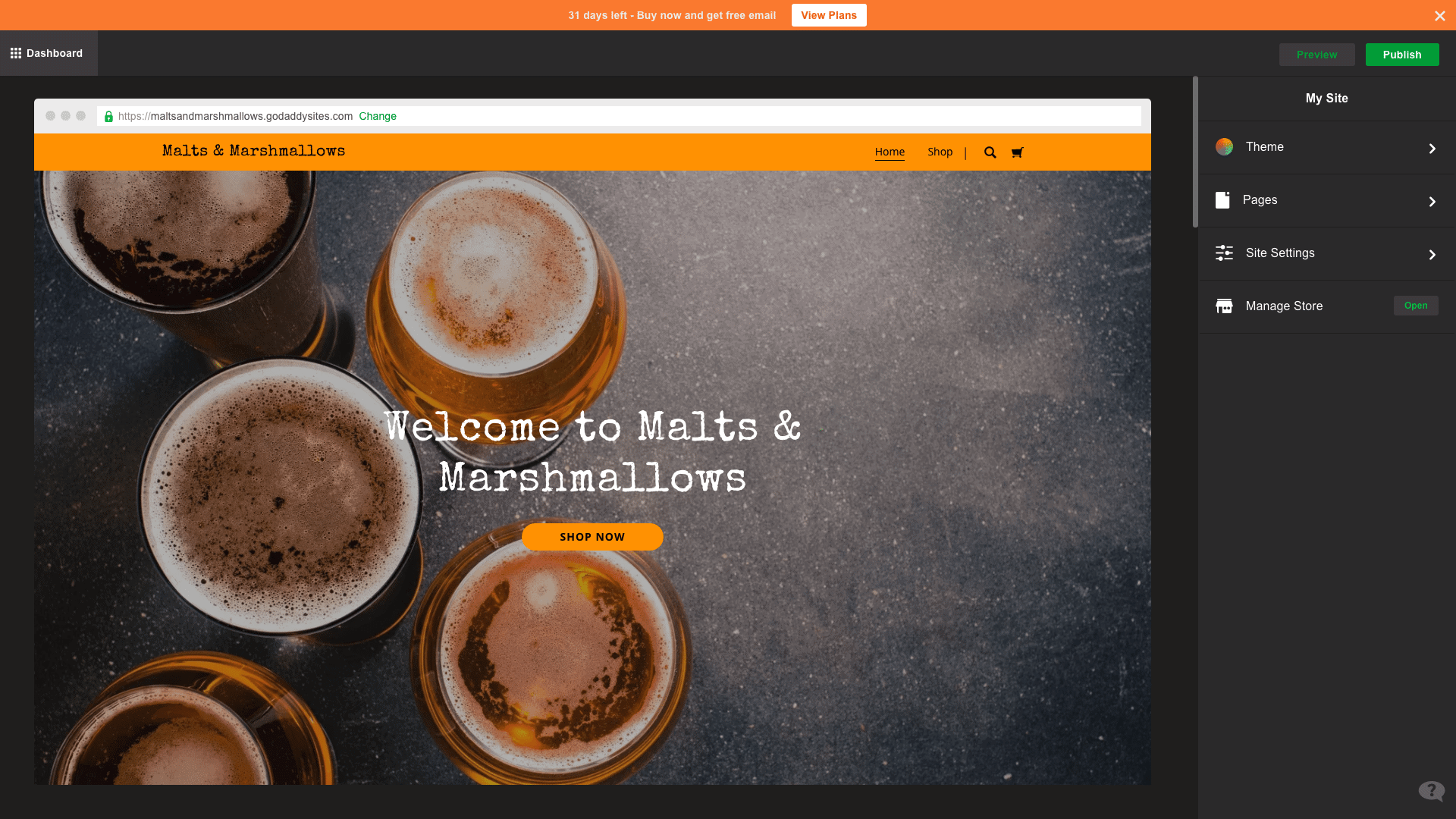 Fortunately, I was able to navigate to my admin by just clicking "Manage Store." Here's a screenshot of that dashboard: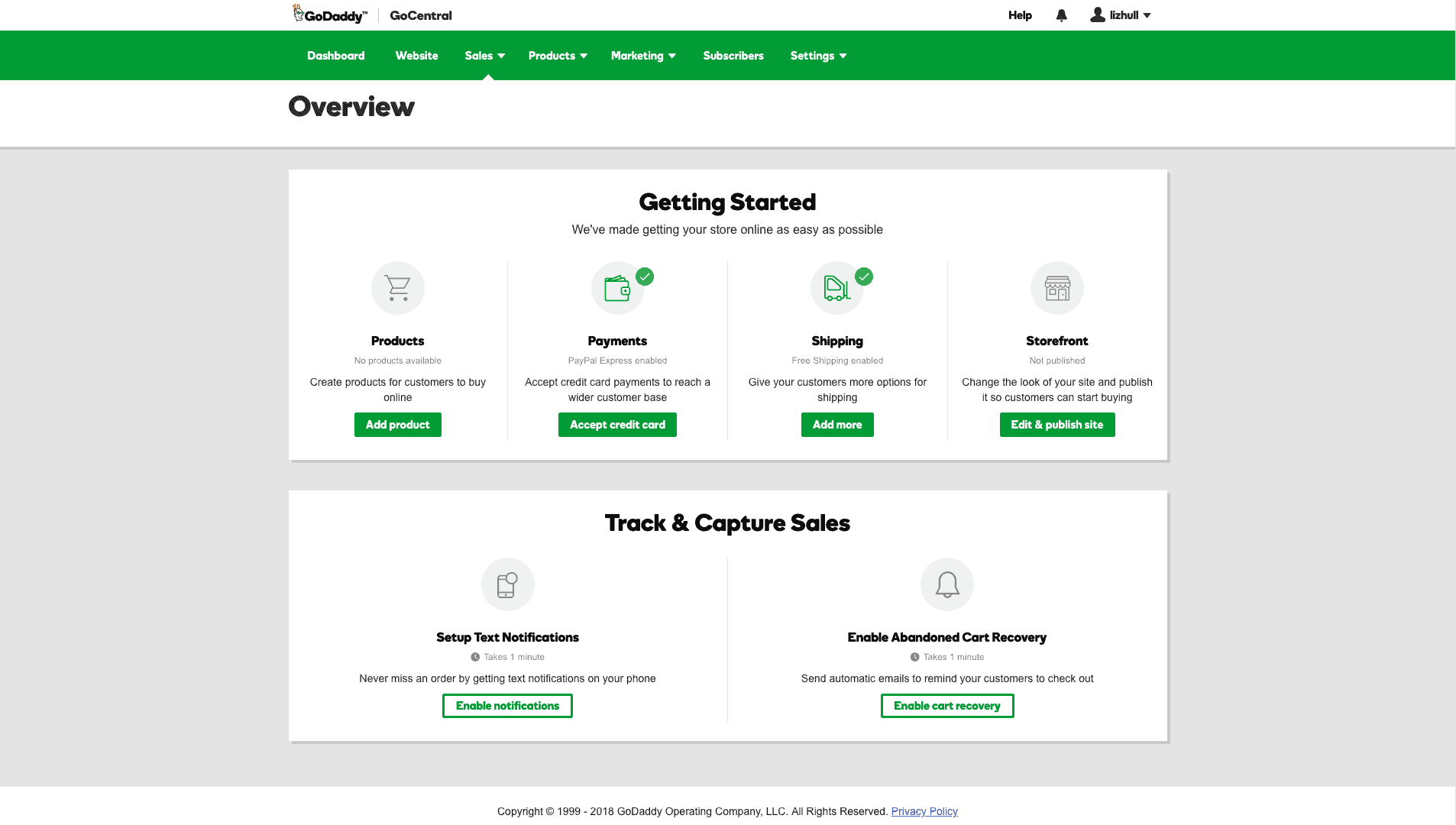 A Getting Started Guide helped me through the basics of setting up an online store. As a part of my setup process, I went to add a demo product to my store.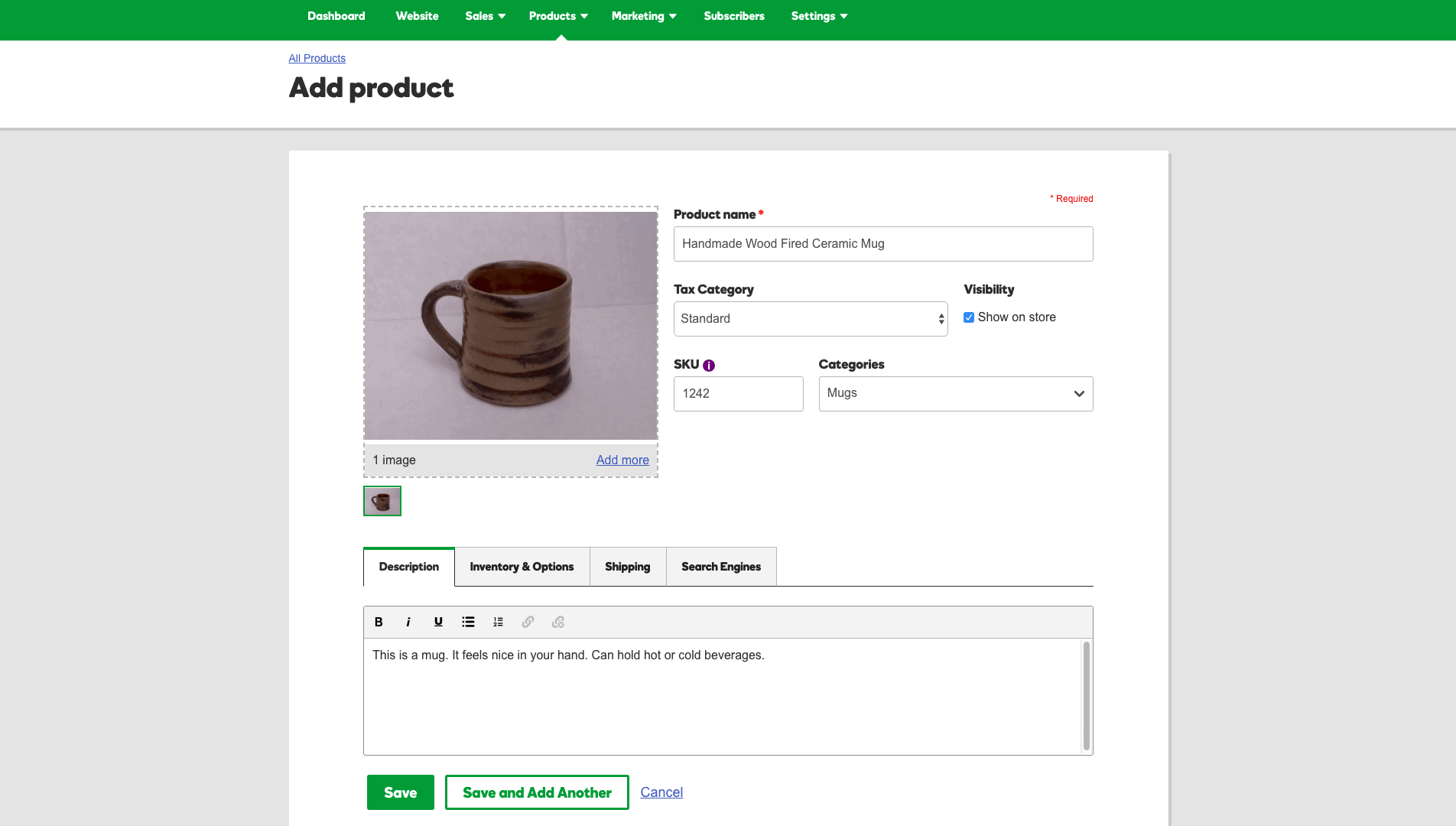 I like the way the "Add a Product" pages are organized. I entered all the most important information at the top and found some advanced settings located in the tabs at the bottom of the page. I was able to add product options easily and track my inventory by those options.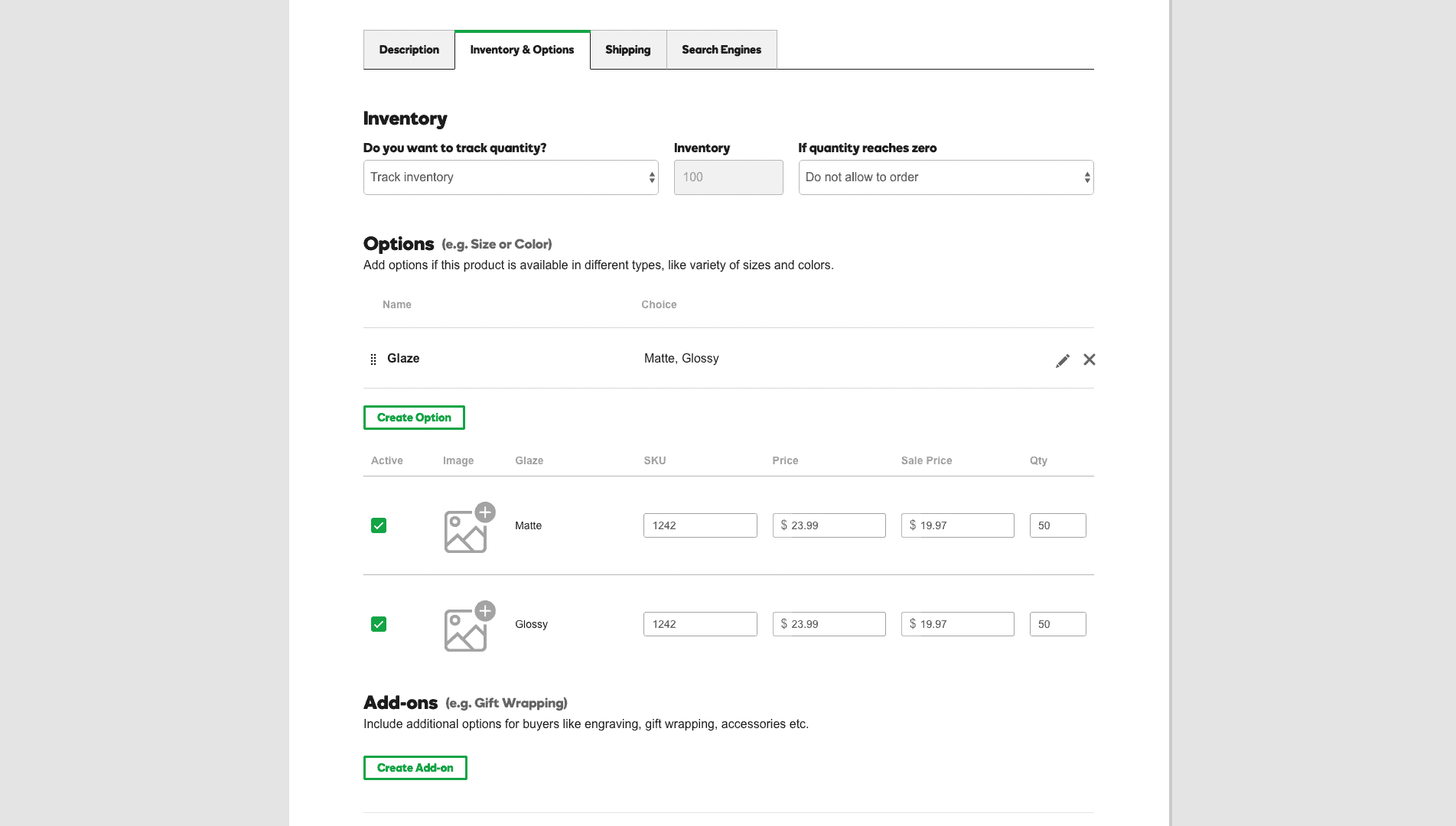 I then tried adding a coupon code; I was able to make my coupon apply to a specific product or category at a minimum order total.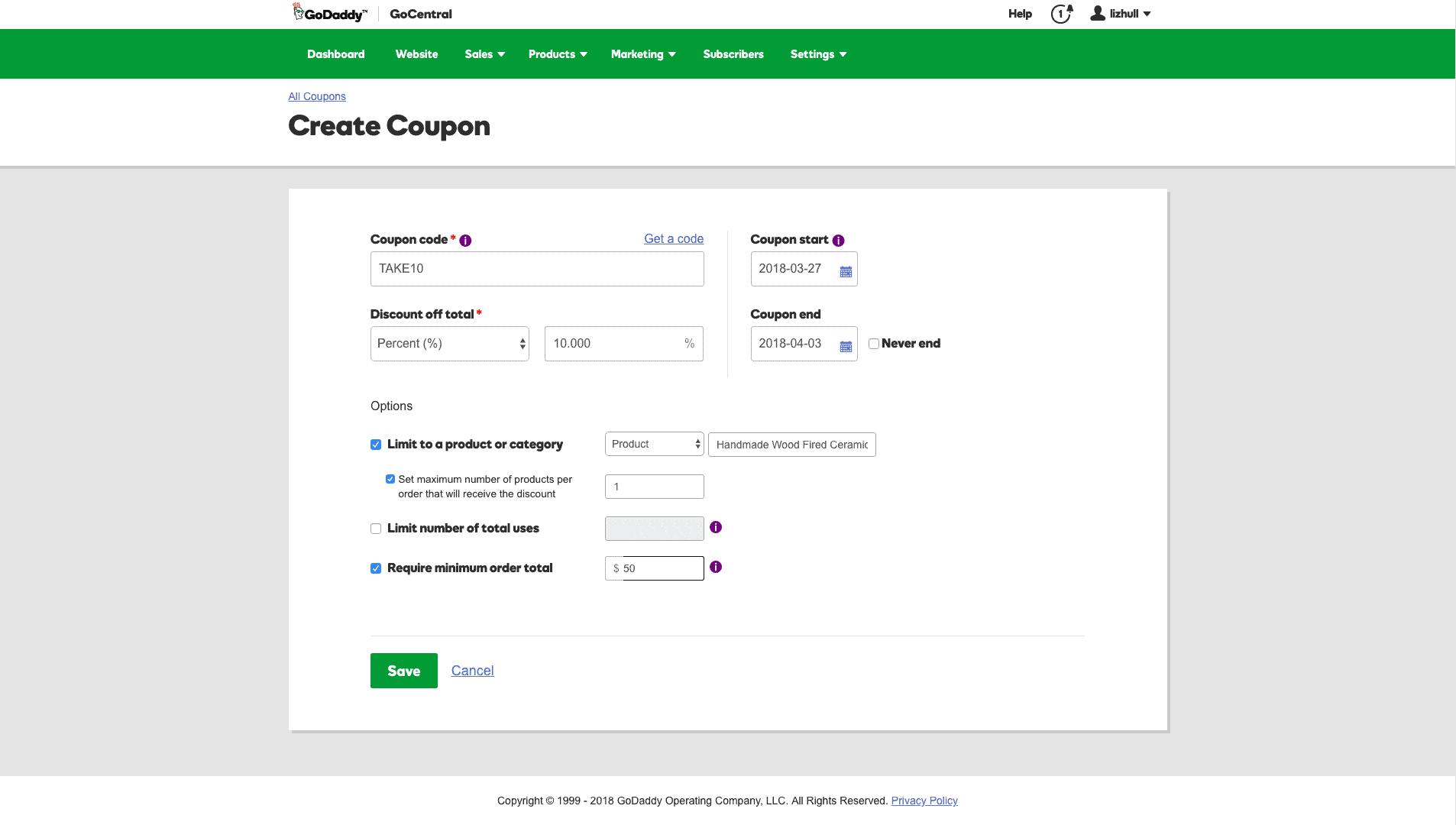 As a whole, I found GoCentral's admin very simple. In fact, I would call it overly simple. The platform is sorely lacking functionality and add-ons. It would be difficult to change GoCentral's functionality to fit the needs of a larger business.
Features
GoCentral really sells itself short when it comes to features. Usually, eCommerce platforms list page after page of their features. GoCentral provides only one short list. Here it is:
Responsive Mobile Design: Your website will adapt to any screen size.
SSL Certificate Included: GoDaddy will manage site security for you.
SEO Tools: GoDaddy will help you manage keywords, tags, and page titles.
Email Marketing: Use GoCentral's built-in email marketing tools to create, send, and track email campaigns.
Social Media Integration: Link your store to Facebook, Twitter, and other social media sites.
Configure Shipping & Tax Rates: Use built-in shipping and tax calculators.
Abandoned Cart Recovery: Automatically send emails to customers who leave products in their shopping carts.
Up To 1,500 Products: This is a fairly limited number of products for mid-size to larger merchants, but it might fit some smaller sellers. List up to 10 images per product.
Featured Products: Place special attention on products you're trying to move quickly.
Discounts & Coupons: List sale prices and create coupons that apply to a specific product or category.
Take a look at GoCentral's main webpage to learn more.
Web Design
GoCentral goes about web design in a slightly different way than most eCommerce platforms do. When you're signing up for a demo (or a plan) GoCentral will ask you to name your industry. They will then give you a layout template populated with relevant pictures and text depending on what you choose.
Fortunately, you don't have to stick with this auto-generated layout. It's easy to make changes to your site. You can use GoCentral's layout editor to choose between eight different theme options. You can also add pages and widgets and change colors and fonts. You can edit your header, footer, logos, and images without ever touching the source code.
This editor is great for eCommerce newbies, but it certainly isn't right for anyone who's seeking in-depth customization. There are no comprehensive script editing tools (HTML or CSS editors) available at this point, which is a very serious drawback.
However, GoDaddy has recently updated the software to allow merchants to create custom sections using HTML. That means that while you won't be able to make large changes to the overall design of your site, you can insert custom forms, buttons, and more.
Integrations & Add-Ons
GoCentral is also very limited in terms of integrations. There is no App Store to speak of and no open API.
GoCentral offers only a few built-in integrations. They are:
GoogleAnalytics: Site traffic reports and analytics
Salesforce: Sync your eCommerce newsletter with a robust CRM platform.
Spree Commerce: If you want to use GoCentral's website builder and email marketing (but not their eCommerce features) you can integrate with Spree Commerce.
SurveyMonkey: Send surveys in your marketing emails to learn more about your customers.
Etsy: Link your Etsy shop listings in your newsletters to let your customers know about your multiple platforms.
Facebook Signup: Have customers sign up for your newsletter on your Facebook page.
Eventbrite: Circulate information about events in our newsletters.
Social Media Sharing: Share on Google+, Pinterest, and Twitter.
WordPress Signup Form: Add an email marketing form to any WordPress site.
Payment Processing
GoCentral connects with three payment gateways: Stripe, Square, and PayPal.
These payment gateways allow you to accept credit card payments on your site. You should expect to pay a transaction fee to the payment gateway of your choice. Stripe, Square, and PayPal all charge 2.9% + $0.30 on every transaction.
If you choose to use PayPal Express on your site, your customers will be redirected to PayPal to complete their transactions. This shouldn't be an issue, as PayPal is among the most trusted payment gateways.
A connection with either Stripe or Square also allows your customers to make transactions via Apple Pay.
You can also add offline payment methods; customers can pay in person or by cash, check, or bank. You just have to list payment instructions on your site.
Customer Service & Support
Every GoCentral plan comes with 24/7 phone support (which is really nice). GoCentral also offers live chat, though it is only available during limited hours. Here are all of GoCentral's support avenues for your convenience:
US Support Phone: (480) 505-8877 (GoDaddy also has listed their international phone numbers.)
Live Chat: Available 24hrs, Mon-Fri, 8am-3am, Sat-Sun
When I called GoDaddy, I waited on hold twenty minutes before speaking to a representative. They gave me an option to have them call me back (which I decided against) and they let me mute the annoying hold music while I waited. The representative I spoke to was courteous and answered my questions completely.
Negatives Reviews & Complaints
If you search for reviews of any GoDaddy service, you'll encounter a whole lot of results. The challenge is deciphering which reviews apply to which service.
As a whole, reviews for GoDaddy products are mostly positive. However, there are definitely ways GoCentral could improve. Here are some negative comments that apply to GoCentral's online store features:
Not Very Customizable: Although you can change a few aspects of your site's appearance, you aren't able to use any code editors to change larger elements. This is seriously limiting for many merchants.
Limited Functionality: This complaint is mine. GoCentral is great for users who want an easy way to sell a few products. However, it is definitely not right for merchants looking for advanced functionality.
Customer Service: Some merchants report difficulty getting the technical support they need.
Positive Reviews & Testimonials
Positive reviews of GoCentral tend to focus on:
Ease Of Use: Ease of use is GoCentral's main purpose. If you've never sold online before, GoCentral is a quick way to start.
Attractive Themes: GoCentral's layout options are attractive and easy to edit (as long as you don't want to change too much).
Customer Service: I can attest to this one. I found GoCentral's support team to be highly responsive and friendly.
Security
GoCentral sites are all PCI compliant and hosted on GoDaddy's servers. An SSL certificate is included with hosting.
Final Verdict
There's a very limited group of people to whom I'd recommend GoCentral: small-scale merchants who aren't planning on selling more than a few products to a few customers.
Everyone else should look elsewhere.
While GoCentral does a great job making their admin user-friendly, it just isn't possible to customize this platform to fit your needs. You can't integrate your favorite accounting software or email marketing tools, and you are limited to exactly three payment solutions. Furthermore, you can change very little about your site's look and feel.
Essentially, if you want to grow your brand, you'll be better off with a scalable, hosted solution like LemonStand, 3dCart, or Shopify. These carts have comparably-priced plans and offer a lot more by way of features and design.
However, if you fit into the niche I mentioned above, there's no reason you shouldn't give GoCentral a try. Sign up for a free trial to test it out.
---
Featured Free eCommerce Plan 🔥
Square Online


---
Get a free website builder, online ordering, gift cards, in-store pick-up options, and dozens of other features for eCommerce and hybrid businesses. Free options available. Learn more from Square.
Featured Free eCommerce Plan 🔥
Square Online


---
Get a free website builder, online ordering, gift cards, in-store pick-up options, and dozens of other features for eCommerce and hybrid businesses. Free options available. Learn more from Square.
To learn more about how we score our reviews, see our
eCommerce Software Rating Criteria
.