GoDaddy Bookkeeping Review (Formerly Outright)
Expert Analyst & Reviewer

Updated on:
Advertiser Disclosure: Our unbiased reviews and content are supported in part by
affiliate partnerships
, and we adhere to strict
guidelines
to preserve editorial integrity.
GoDaddy Online Bookkeeping

Pros
Cheap monthly cost
Easy to use
Suited for freelancers
Cons
Questionable security
Poor public reputation
Limited features
Cash-basis accounting only
Limited users
Limited integrations
GoDaddy Online Bookkeeping Overview
GoDaddy is generally known as a domain name and website-building service. Although, if you are anything like me, you recognize the name from Danica Patrick's Nascar racing days.
While GoDaddy sets the speed for domain names and website building, their bookkeeping software is getting lapped in the race for the best accounting software. The software is missing key accounting features such as bank reconciliation and is only cash-basis, not accrual. The software is also missing features such as project management and accounts payable, and the features it does have are fairly limited.
For some businesses, though, GoDaddy Online Bookkeeping isn't out of the race completely. Freelancers who don't need to the advanced features of a fully developed accounting software may like the simplicity of GoDaddy Bookkeeping. Amazon, eBay, and Etsy integrations also make the software ideal for online sellers trying to keep their small businesses organized. Extensive freelance tax support is an extra bonus.
But I have to throw a caution flag on the track before anyone decides to purchase GoDaddy Online Bookkeeping. This software only supports a single user. The company has seemed to stall on updates. And questionable business practices and a major security breach make me incredibly skeptical of the software and company.
I highly recommend doing your research before committing to GoDaddy Bookkeeping. Read customer reviews, scour the rest of this review, and take a tour of the software before making any decisions.
GoDaddy Bookkeeping Pricing
GoDaddy Bookkeeping offers three different pricing tiers. Payments are made monthly (although you can choose annual billing), and your plan can be canceled at any time. There is no free trial of the software. However, there is an interactive tour of the software available online.
GoDaddy Bookkeeping Get Paid
$4.99/month
Invoices & estimates
Mobile apps
Time tracking
Mileage deductions
Some business reports
One user
GoDaddy Bookkeeping Essentials
$9.99/month
Invoices & estimates
Mobile apps
Time tracking
Mileage deductions
Full access to business reports
Live bank feeds
PayPal, Etsy, Amazon, & eBay integrations
Tax support
One user
GoDaddy Bookkeeping Premium
$14.99/month
Invoices & estimates
Mobile apps
Time tracking
Mileage deductions
Full access to business reports
Live bank feeds
PayPal, Etsy, Amazon, & eBay integrations
Tax support
Recurring invoices
One user
While GoDaddy has affordable pricing plans, the features are quite limited, and you'll get more bang for your buck with other accounting software.
Cloud-Based Or Locally-Installed
Cloud-based; no downloads or installation required.
Hardware & Software Requirements
Since GoDaddy Bookkeeping is cloud-based, the software is compatible with nearly any device so long as you have internet access. The company recommends using the most up-to-date version of your browser for optimal usage. GoDaddy Bookkeeping also has an iPhone app (iOS 10.0+) and Android app (varies).
Specific Size Of Business
GoDaddy Bookkeeping is ideal for freelancers. The software is designed for small business owners or freelancers who aren't looking for full-fledged accounting but simply want a way to keep track of their business finances and get a little extra help come tax time. GoDaddy Online Bookkeeping is ideal for eCommerce sellers on Etsy, Amazon, or eBay because the integrations with these products allow automatic sales importing into their account.
GoDaddy Bookkeeping is not for you if you are looking for a true accounting solution with ample reports, features, and accrual accounting; if you need access for more than one user; or, if you are looking for strong security. The software is also not ideal for larger businesses needing payroll.
Accounting Method
Cash-basis accounting.
Ease Of Use
GoDaddy Bookkeeping is very easy to use and takes little time to learn. The UI is well organized and simple to navigate.
GoDaddy Bookkeeping Features
Compared to the competition, GoDaddy Bookkeeping's features are lacking. The software does cover a lot of the basics, but there's not much depth to the features. For some small businesses or freelancers, this may not be a bad thing though. Read more about GoDaddy Online Bookkeeping's features to decide for yourself:
GoDaddy Bookkeeping Dashboard: The GoDaddy Bookkeeping dashboard is well laid and gives you a quick overview of your business. The dashboard shows what's new this week, such as invoice activity, the money you have, the money you owe, and taxes, as well as graphs for profit and loss, the current month's timesheet, the current month's expenses, and open invoices.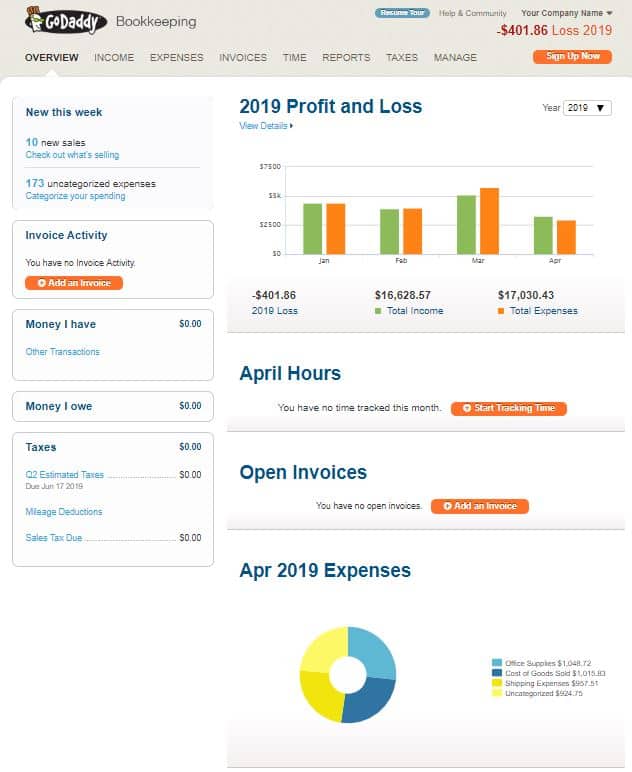 Invoices: GoDaddy Bookkeeping offers multiple invoice templates with basic customizations, such as adding your company logo. You can set up payment gateways, enable automatic payment reminders, and Premium users can create recurring invoices. Invoices can be emailed or printed and sent by hand.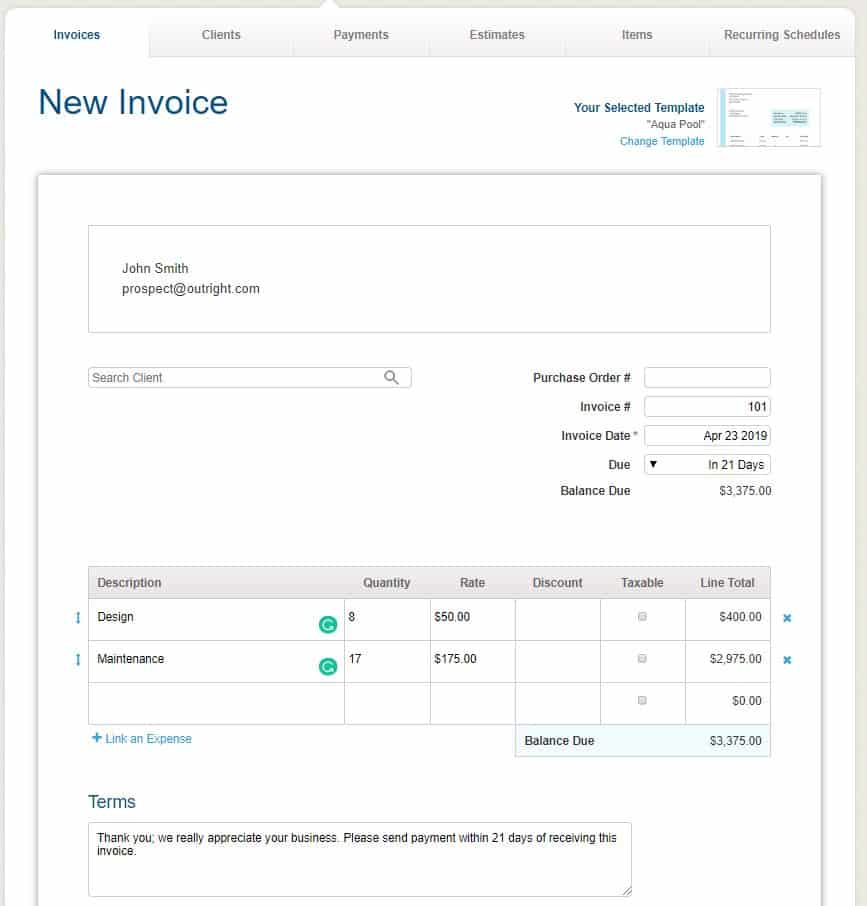 Estimates: You can create and send estimates, and customers have the option to accept estimates online. You can also quickly turn estimates into invoices.
Contact Management: You can create a contact list using GoDaddy Online Bookkeeping. This feature is very basic and you can only record minimal customer information.
Expense Tracking: If you're looking for a full accounts payable section complete with billing, you won't find it. But if you're looking to organize your expenses, this is the place for you. You can categorize both business and personal expenses, which is ideal for ecommerce users or freelancers who have a single, combined bank account for their business and personal life. Categories are customizable and you can edit multiple expenses at once. GoDaddy Online Bookkeeping relies heavily on live bank feeds. The company partners with over 3,800 banks in the US and works with most major credit cards. If you want to manually enter transactions, the option is available, it's just very hard to find. You can import bank statements by .csv and .qfx. There is no duplicate transaction detection and the software automatically splits a sale/expense from the sales tax that goes with it, leaving you with two separate transactions. There is no bank reconciliation available. Note: Like all software using bank live feeds, GoDaddy Online Bookkeeping partners with Yodlee, which may violate some banks' Terms and Conditions. Consult with your bank to see whether live bank feeds are a good choice for you.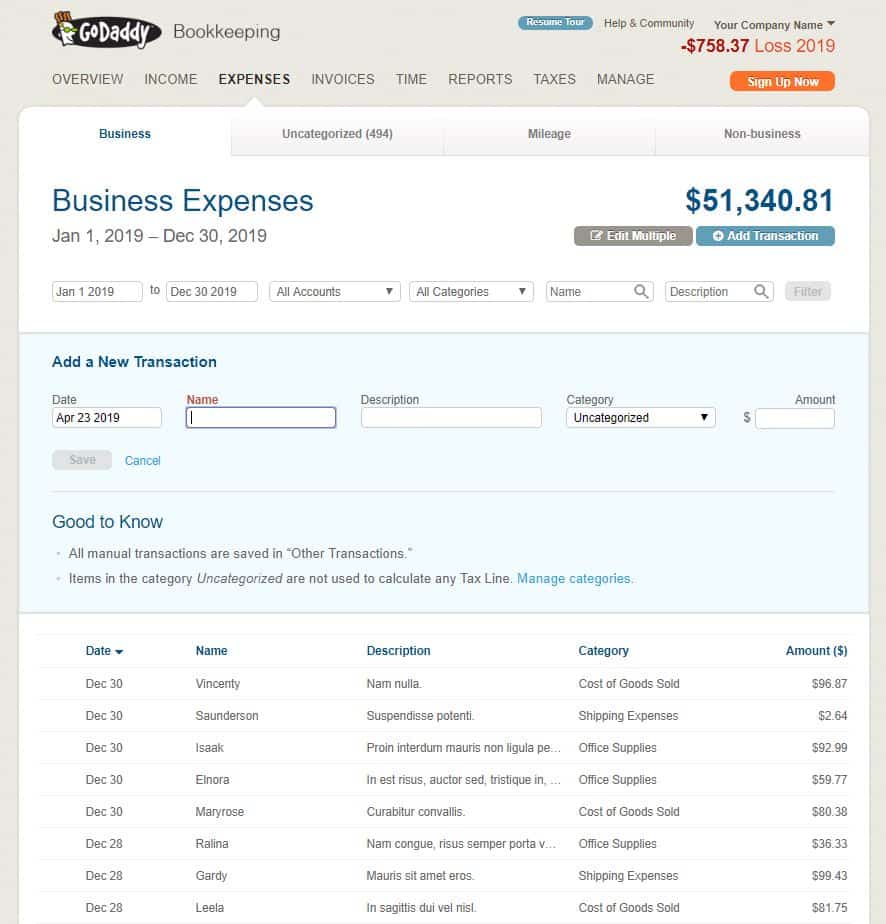 Chart Of Accounts: GoDaddy Online Bookkeeping does not have a full chart of accounts; however, you can create income and expense accounts, so you can track your earnings and calculate your deductions at the years' end.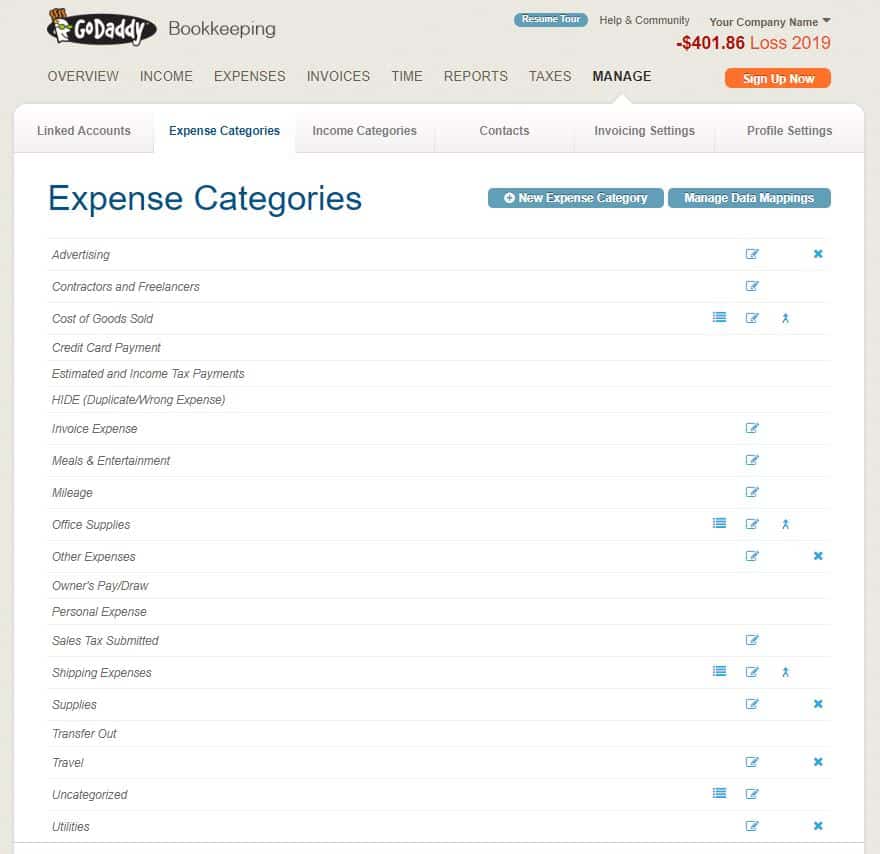 Items List: GoDaddy Bookkeeping offers a very basic items list where you can add the name and price of an item and whether or not it's taxable.
Time Tracking: You can enter billable and unbillable time and convert hours worked into an invoice that you can send to a customer.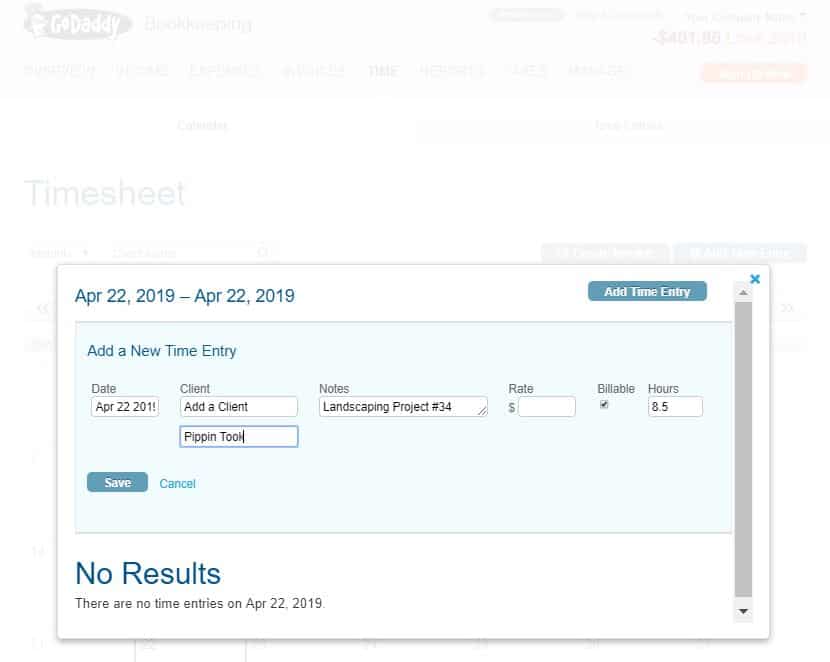 Reports: GoDaddy Bookkeeping has limited reporting with only 11 reports (and that's only if you're using the Essentials or Premium plans). The only typical accounting report you will find is a Profit and Loss statement. The rest of the reports, while incomplete for accounting, would be good for online sellers looking to see how their business and its sales are holding up.
Default Email Messages: You can create a default email message for your invoices.
Sales Tax: To use sales tax, you must mark items as taxable when creating them or adding them to an invoice.
Tax Support: GoDaddy Bookkeeping's tax support is one of its most developed features and is particularly well-suited for freelancers. The software automatically categorizes transactions into IRS categories to make tax time a breeze. GoDaddy supports Schedule Cs, 1040s, helps independent contractors calculate their estimated quarterly taxes, and calculates how much sales tax you owe.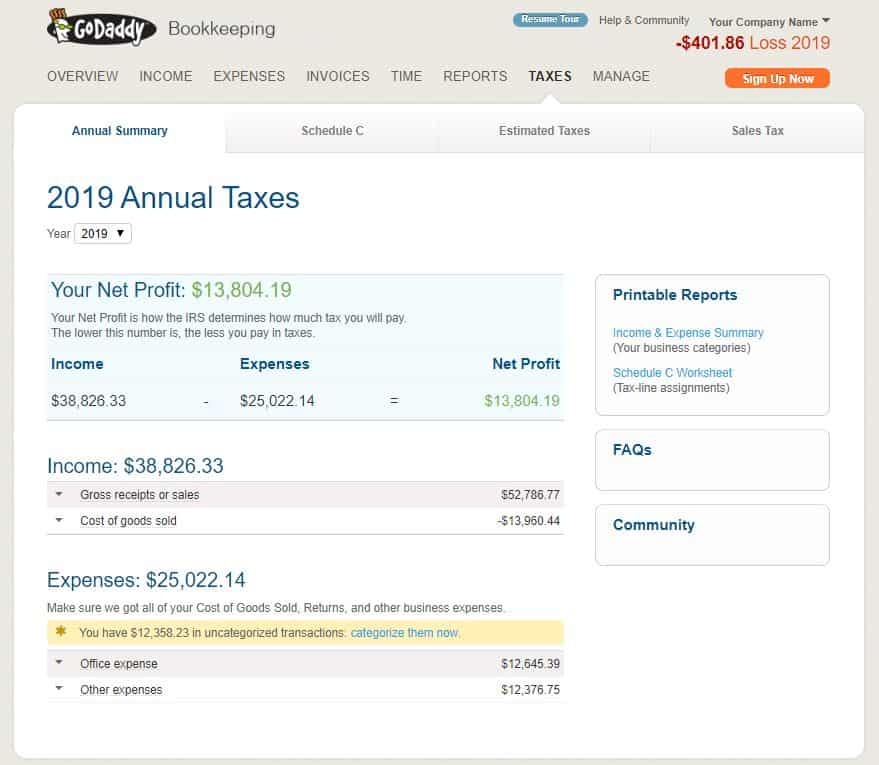 Mileage Deductions: You can track mileage deductions with GoDaddy Bookkeeping and easily add them to your tax calculations.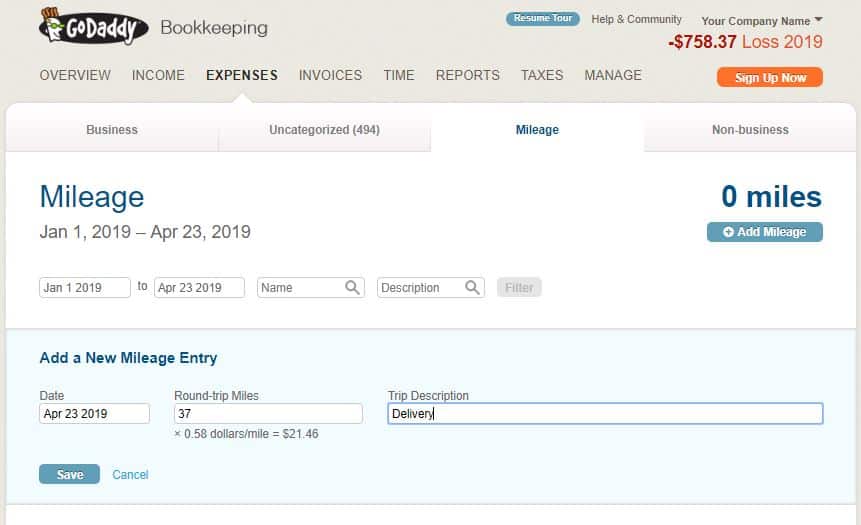 Importing & Exporting: GoDaddy Bookkeeping only lets you import bank statements. The only exportable items are reports, and you have to use a .csv file.
GoDaddy Bookkeeping Customer Service
GoDaddy customer service is available 24/7 by phone. Their phone support has improved since our last review, and the wait times are fairly quick. In addition to phone support, you can also fill out a support form (in lieu of an email). In my experience, support form responses were quick; I usually only had to wait a half hour to hear back. Representatives were nice but vary in terms of helpfulness. Some seem less knowledgable about the product than others.
Here are all of the support forms available for GoDaddy Bookkeeping users:
Phone: Contact GoDaddy support by phone 24/7. There is a line for Spanish-speaking users as well.
Support Form: You can contact the customer service team with a support form. Response times are generally quick but not always thorough.
Live Chat: There is a live chat feature available, but every time I went to use it, the site said: "chat busy."
Community Forum: Discuss problems and solutions with other GoDaddy Online Bookkeeping users through the community forum.
Bookkeeping Help Center: GoDaddy Bookkeeping has a help center where you'll find how-to articles and answers to frequently asked questions. You can also access the support form here. The help center search bar has improved since our last review; however, there could be more thorough how-to articles explaining the ins and outs of the software.
GoDaddy Newsroom: There is a newsroom where you can keep up-to-date on the GoDaddy company itself.
GoDaddy Blog: There's also a GoDaddy blog. While a lot of the blog articles revolve around website building, there is some great advice for small businesses here as well.
Social Media: GoDaddy maintains Facebook and Twitter accounts but neither is specific to GoDaddy Bookkeeping.
GoDaddy Bookkeeping Reviews
Negative GoDaddy Bookkeeping Reviews & Complaints
As GoDaddy Bookkeeping is a relatively small player in the accounting world, there are not a whole lot of reviews on this software specifically.
There are, however, many reviews out there of GoDaddy as a whole. The software receives 1/5 stars on Consumer Affairs (based on over 160 reviews). The main complaints against GoDaddy as a company revolve around questionable security practices, poor customer support, unauthorized charges, and instances of selling user information. While negativity bias can play a role in customer reviews, the sheer number of these cases does not paint GoDaddy in a good light. The company also receives 1/5 stars on the BBB (based on over 230 reviews).
While there aren't many reviews on GoDaddy Bookkeeping specifically, most of the reviews are positive. Although, there are a few issues users have with the software. Here are some of the complaints against GoDaddy Bookkeeping:
Mobile App Glitches: Several users report mobile app crashes and glitches on both iTunes and the Google play store.
Lack Of Features: Users complain that GoDaddy is missing features, especially the ability to customize invoices.
Security Breach: In September of 2012, GoDaddy experienced a serious DDoS (or Distribution Denial-of-Service attack), affecting millions of emails and domain websites. Many customers were disappointed with the way GoDaddy handled the attack, saying the company outright denied the reality of the attack rather than addressing it openly.
Poorly-Handled Acquisition: Many former Outright users were disappointed when GoDaddy bought Outright. Users were particularly upset that GoDaddy cut the free version of their software, so former Outright users were forced to buy a GoDaddy Bookkeeping plan to retain their data and information. Multiple users reported switching to a different accounting program entirely.
Positive GoDaddy Bookkeeping Reviews & Testimonials
Despite the above complaints, there are some satisfied users (particularly online sellers and independent contractors who don't require full-fledged accounting software). The software receives 4/5 stars on G2 Crowd (based on 22 reviews). Here are the most common praises from users:
Easy To Use: The main joy of GoDaddy Bookkeeping is that it is incredibly easy to use. Users like that all of their business data is in one place, saving them time and stress.
Great For Online Sellers: With a direct Etsy, Amazon, and eBay integration, online sellers love GoDaddy.
Makes Tax Time A Breeze: A few users praise the software for making tax time stress free. They enjoy having data automatically put into IRS categories, and the estimated taxes feature is a favorite of independent contractors.
Good For Freelancers: Several users say the software is a great option for freelancing.
Here's what a few customers are saying:
Great small business bookkeeping — I was looking for something that would handle my eBay sales yet allow me to create invoices and estimates as well as providing me tax reports to makes taxes easier. If that is what you are looking for, this is the application for you as well.

Go Daddy Bookkeeping is so easy and user friendly that it allows extra time for me to create and develop my products. My Etsy shop is a side business and my time can be limited as it is! I rest easy knowing my bookkeeping is a small part of my time.

Really enjoy the ease of GoDaddy Bookkeeping. It keeps it simple so I can spend more time on the things I want to do with my business instead of what is required.
GoDaddy Bookkeeping Integrations & Add-Ons
GoDaddy has a total of nine integrations, which is limited compared to the competition. However, the software does have great options for online sellers, including integrations with Etsy, Amazon, and eBay.
GoDaddy Bookkeeping Security
GoDaddy uses 256-bit SSL encryption and two-factor authentication. Data is backed up nightly at two locations, and all data is transmitted in read-only files. GoDaddy's domain hosting service has had numerous data breaches, which does not inspire confidence in the company's security.
The Bottom Line: Is GoDaddy Bookkeeping Worth It?
GoDaddy Bookkeeping is easy to use, offers good features for freelancers, such as tax support, eCommerce integrations, and the ability to separate personal and business expenses. However, I'm calling the black flag on this one. For those of you who don't watch NASCAR, "Think of the black flag as the 'consultation flag.' Whichever driver is given the black flag must respond to a concern from NASCAR."
My concerns with GoDaddy Online Bookkeeping are limited accounting, limited features, numerous complaints regarding selling customer information, and a track record of data breaches. The software lacks bank reconciliation and a chart of accounts and doesn't offer accrual accounting. There's also no project management or accounts payable and the contact management, items list, and importing and exporting features are incredibly basic.
While basic features may not be a bad thing for small businesses or freelancers who want a simple bookkeeping solution, I cannot in good conscience recommend this product considering its questionable security and poor public reputation.
While I can see the appeal of this software for Etsy users and independent contractors, I would advise you to take a look at Wave's accounting software instead. You'll get less tax support, but Wave is just as easy to use, offers way more features, has an Etsy integration, boasts strong security and customer privacy — and it's completely free. Or, if you like the tax support of GoDaddy, check out QuickBooks Self-Employed for the same great freelance tools and tax support. There are plenty of other accounting options out there that will give you more bang for your buck and peace of mind.
GoDaddy Bookkeeping FAQs
---
Need A Simple Accounting Solution?
FreshBooks


---



This easy-to-use and feature-rich software is ideal if you have no bookkeeping experience and want top-notch customer support. Get Started.
Need A Simple Accounting Solution?
FreshBooks


---



This easy-to-use and feature-rich software is ideal if you have no bookkeeping experience and want top-notch customer support. Get Started.
To learn more about how we score our reviews, see our
Accounting Software Rating Criteria
.
Read Next