GoDaddy Website Builder Review
Expert Analyst & Reviewer

UPDATED
Advertiser Disclosure: Our unbiased reviews and content are supported in part by
affiliate partnerships
, and we adhere to strict
guidelines
to preserve editorial integrity.
GoDaddy Website Builder

Pros
Very easy to use
Mobile responsive
Free plan available
24/7 customer support
Cons
Limited design customization
No free year of domain service
Limited features
GoDaddy Website Builder Overview
Ah, GoDaddy: the web hosting giant with a 13-point list of controversies in its Wikipedia entry. With a brand image that evokes professional wrestling, the Super Bowl, cleavage, and auto racing, it is perhaps the most existentially American of tech companies. Best known for its registrar and web hosting services, GoDaddy also offers its own website builder, which is the subject of this review.
The GoDaddy website builder (formerly known as GoCentral) has received repeated overhauls in the last several years. What was once a dated non-mobile responsive builder with little business functionality has been thoroughly modernized and now provides an easy, contemporary website building experience. However, the product still carries significant limitations, most notably in the areas of design customization and eCommerce.
Let's take a closer look at GoDaddy's website builder and see how it all works.
GoDaddy Website Builder Pricing
GoDaddy now offers a limited free website builder plan along with four paid subscription plans. The GoDaddy pricing given here is for month-to-month billing, but keep in mind that you can get up to a 47% discount by signing up for an annual plan.
Free plan
One website with a GoDaddy-branded URL
Built-in marketing
24/7 support
Basic
GoDaddy Website Builder's Basic plan costs $14.99/month and includes:
SSL security
Connect a custom domain
On-the-go editing
Free business email address for one year
PayPal button
GoDaddy InSight analytics
Book one-time appointments online
One social media/listing platform
Five social posts/responses per month
100 email marketing sends/month
Basic content creator features
Standard
GoDaddy Website Builder's Standard plan costs $19.99/month and includes everything in the Basic plan, plus:
SEO
Three social media/listing platforms
20 social posts/responses per month
500 email marketing sends/month
Premium
GoDaddy Website Builder's Premium plan costs $24.99/month and includes everything in the Standard plan, plus:
Book recurring group events & classes
SMS alerts for new appointments
Email & text appointment reminders
Accept online payments for services
Unlimited social media/listing platforms
Unlimited social posts/responses per month
25,000 email marketing sends/month
Unlimited content creator features
eCommerce
GoDaddy Website Builder's eCommerce plan costs $29.99/month and includes everything in the Premium plan, plus:
eCommerce

Add & edit product listings
Set up flexible shipping options
Sell products directly through your online store
Sell on marketplaces like Amazon, Etsy, and eBay
Sync orders and inventory across channels
Manage discounts and promotions
Extra Costs
Here's what you can expect to pay for GoDaddy's website services in addition to the cost of a subscription.
GoDaddy Domains: GoDaddy hosting is included for free on a GoDaddy-branded domain. Naturally, GoDaddy also offers custom branding-free domains, though unlike many other website builders, the company doesn't offer an initial free year of domain use. Instead, you'll get a discounted rate the first year. For instance, a .com GoDaddy domain will cost you $11.99 the first year and $17.99 each subsequent year.
GoDaddy Online Bookkeeping: With an eCommerce site builder plan, you can use GoDaddy's Online Bookkeeping service to create professional invoices, track sales, and simplify your taxes. The three Online Bookkeeping plans run from $4.99/month to $14.99/month.
Web-Hosted Or Licensed
GoDaddy's website builder is entirely web-hosted.
Hardware & Software Requirements
There are no hardware requirements per se. Software-wise, GoDaddy is compatible with all the major browsers.
Business Types Supported
In the site creation process, you're prompted to enter the sort of business you're in, and GoDaddy then generates a site for you, complete with images relating to your field and content sections that fit your industry.
Once you've seen the site created for you, you can then change the template if you want to arrange your content differently. The website creation system's appeal is universal and can be used to support any business under the sun, though it is particularly well-suited to restaurants and online stores.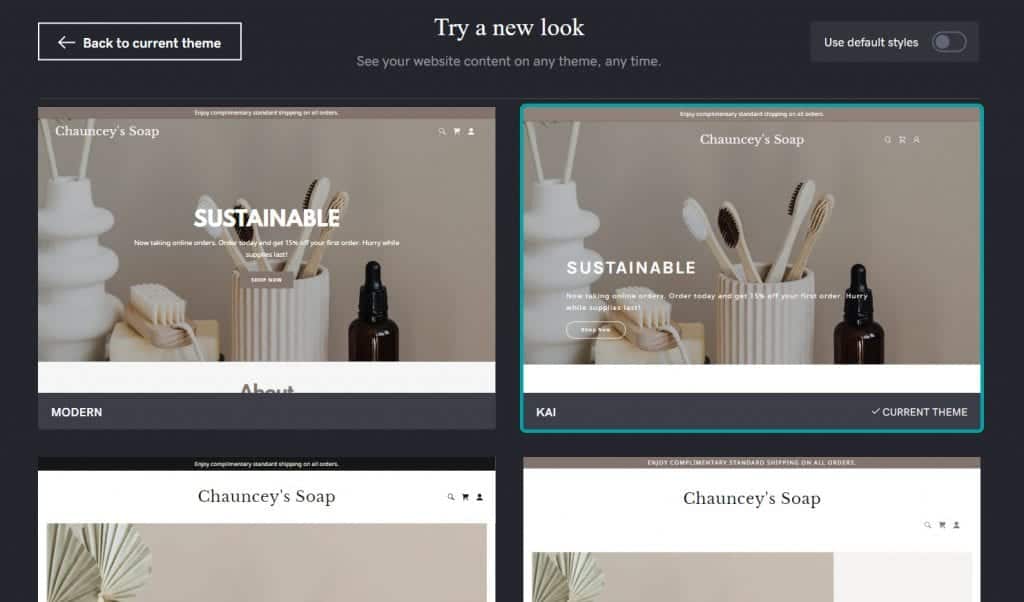 Ease Of Use
GoDaddy's website builder is extraordinarily easy to use. You're given a template for your site, which you can swap out for another template should you want to change the look of your site. You can then work within your chosen template to add new text, images, and features. The heavily-structured nature of the editor means that your site-building experience will be as easy as humanly possible.
While the website builder is stellar on the ease-of-use front, it doesn't provide you much of an opportunity to tailor the look of your site to your own specifications. The pre-designed sections of your template can't be fundamentally altered. You can swap out the existing content for your own and choose not to display certain elements, but you can't reconfigure the template. If you have a particular vision for how you want your site to look, you're likely to find this editing scheme far too limiting.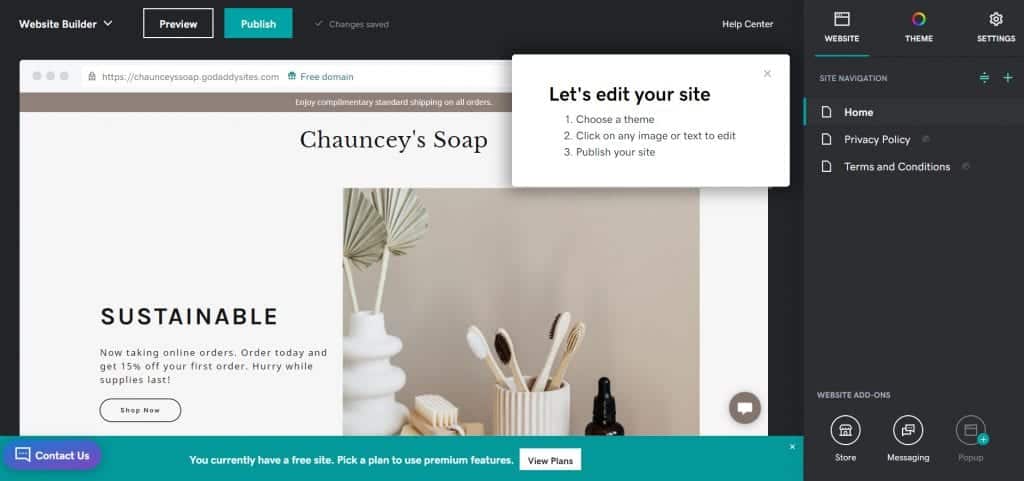 GoDaddy Website Builder Features
GoDaddy's website builder has never been known for providing an overabundance of features. Let's see what they now offer the aspiring website jockey.
Blogging: GoDaddy's in-house blogging tool is quite solid. The company has updated the blog for functionality recently, and it now features the ability to organize your blog posts into categories, thus allowing you to display certain blog posts on one of your pages and display a different set of posts on another page. You can also add videos and enable comments. Unfortunately, there are only three blog layouts to choose from, and you can't add anything fancy to your blog posts like a form.
eCommerce: GoDaddy Website Builder's eCommerce is only available to eCommerce plan subscribers — a $29.99/month package ($19.99/month with an annual plan). You get a healthy number of features for your online store — you can set color and size options on your products, get a healthy set of shipping and inventory options with UPS and USPS integrations, and even send out promotional emails to your contacts promoting your store. Thankfully, GoDaddy has added the ability to sell digital products and offer discounts and promotions. You can also sync with your other sales channels on Amazon, eBay, and/or Etsy. However, you can't host the checkout page on your domain or offer customized receipts. Overall, it's a weaker eCommerce package than that offered by the likes of Shopify and Wix.
Social Media: When you add a Social section to your site, you get a set of icon links displayed horizontally across your page. You can't customize the layout of these icons in any way, nor can you remove any of them. Not ideal!
Contact Form: GoDaddy's contact form isn't quite as customizable as I like to see. While you can add up to 14 form fields, rename the fields, choose from three different input types, allow for file attachment uploads, and choose whether or not to make the specified field required, you can't do such things as add radio buttons.
GoDaddy InSight: GoDaddy InSight is a tool that gives you site performance metrics along with suggestions as to how to improve those metrics. It also syncs with your social media accounts, allowing you to respond to social media comments from your dashboard.
Other features include Google Maps, a PayPal button (nice if you want to sell an item without an eCommerce subscription), online restaurant ordering, and reservations. Overall, however, it's not the most robust feature haul.
Web Design & Editing
As stated earlier, GoDaddy Website Builder sports limited design customization. Let's explore how you can customize your site.
Templates: With GoDaddy Website Builder, the site creation process doesn't direct you to choose from different categories of prefabricated templates. Instead, based on the sort of business you specify at the beginning, GoDaddy puts together a site for you, with content sections matching what your business is likely to require. A stock image relating to your field is also inserted into your header.
Mobile Editor: GoDaddy offers an iPhone app that allows you to do just about everything you can do with the desktop editor. It's great for when you need to tweak your site while on the go.
GoDaddy Customer Service & Technical Support
Customer support comes in the following forms:
24/7 phone support
Live chat
A community forum
A knowledge base/FAQ
I've found the direct support to be helpful and fairly quick. Sadly, the live chat is not offered 24/7, only from Monday to Friday, 5am-6pm.
User Reviews
Negative Reviews & Complaints
The biggest complaint heard about GoDaddy Website Builder is the limited design customization. You simply aren't given much creative freedom, nor can you add code to tweak your site.
Other complaints include the lack of an app market, the limited eCommerce, and the lack of aesthetic flair in the provided templates. On the whole, the GoDaddy website builder just isn't seen as being on par with its primary competitors.
Positive Reviews & Testimonials
On the positive side, GoDaddy's site builder has been lauded by reviewers on the following points:
Very easy to use
Generates nice mobile sites
Affordable pricing
GoDaddy's customers, with some exceptions, tend to praise the quality of live customer support.
GoDaddy Integrations & Add-Ons
GoDaddy's website builder integrates with Google Maps, Google Analytics, Google My Business, YouTube, Vimeo, OpenTable, and SoundCloud, as well as PayPal and Apple Pay for payment processing. Unlike Wix and Weebly, GoDaddy doesn't have an extensive collection of third-party apps on offer to fill in any feature gaps.
GoDaddy Security
All GoDaddy websites come with SSL security. If you sell products on your website, your customers' payment information will be protected.
Final Verdict
As the world's largest domain registrar, GoDaddy is a company with plenty of resources at its disposal. As such, I'm glad to see that GoDaddy has invested in improving the functionality of the website builder. The editor is truly one of the easiest means to getting a business website up and running that you'll come across. And with such features as online ordering and appointment booking, GoDaddy Website Builder has a lot to offer businesses of a certain type.
Unfortunately, GoDaddy Website Builder's shortcomings — limited template customization options, a limited form builder, basic eCommerce — currently hold it back from 4-star territory. We're keeping the score at 3.5 stars.
---
We've done in-depth research on each and confidently recommend them.
We've done in-depth research on each and confidently recommend them.
To learn more about how we score our reviews, see our
Website Builders Rating Criteria
.