Expert Analyst & Reviewer

UPDATED
Advertiser Disclosure: Our unbiased reviews and content are supported in part by
affiliate partnerships
, and we adhere to strict
guidelines
to preserve editorial integrity.
Google Sites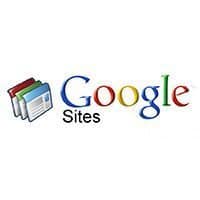 Pros
Good intranet site creator
Free
Easy to add content from other Google services
Cons
Not a true website builder
No blogging, eCommerce, or form builder
No dedicated customer support channels
Connecting to a domain is difficult
Google Sites Website Builder Overview
From email to scheduling to word processing to spreadsheets, Google's popular suite of digital products has gotten many of us accustomed to using Google for a plethora of business and personal uses. What you may not have known is that Google also offers a free basic website builder called Google Sites.
The Google Sites website builder has two primary advantages:
It is entirely free.
It allows you to add files from your Google Drive to your page, giving you an easy way to store and display your documents, forms, charts, etc.
With such a wide variety of paid subscription-based website builders out there, one might be naturally attracted to the idea of a free website building solution within the Google product ecosystem. However, Google Sites isn't a good tool for creating professional business websites. Companies or groups looking to develop intranets or project wikis for internal use — or perhaps a simple temporary page to promote an event — may want to give Google Sites a try.
However, given the lack of blogging, eCommerce, or individualized customer support, Google Sites just doesn't cut the mustard. With the likes of Wix and Squarespace providing well-featured and attractive website building to the masses, I can't justify recommending Google Sites as anything but a way to aggregate documents in your Google cloud, or perhaps as a means of building a basic portfolio site or event page.
Read our full Google Sites review to see exactly what you can do with the platform. But if you're looking for a full-featured website builder, check our top website builder recommendations instead.
Business Types Supported
Google Sites is intended for intra-company communication and personal sites of the most basic sort and not really geared toward any industry in particular. However, it does now offer a few templates, whereas at the time of my last update, you had to start from a blank slate. These templates can give you a leg up on creating a portfolio site, a team project intranet site, an online help resource, or an event page.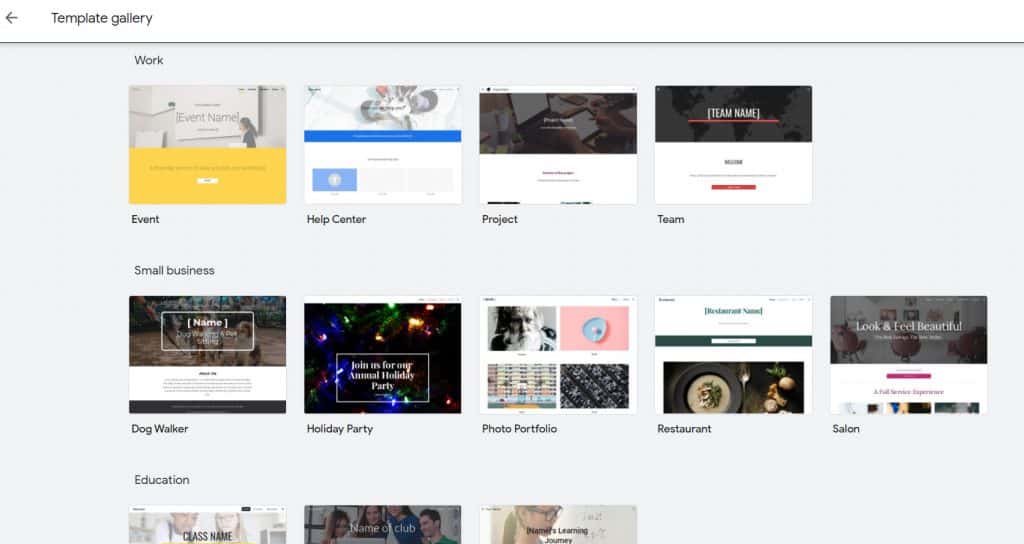 Google Sites Pricing
Google Sites is completely free to use forever. Given this fact, it's hard to complain too much about Google Sites. If you want to create a simple website without paying a cent, Google Sites can certainly accommodate you.
However, know that if you want to create a website for free, Google Sites is not your only option. Many website builders offer free website creation in addition to their paid offerings. And while these free plans are limited, so is Google Sites. In fact, Weebly even includes limited eCommerce with its free plan — something you won't get with Google Sites. Plus, if you start with a free site with any of these other builders, you can always upgrade to a paid plan to avail yourself of the increased functionality. With Google Sites, you won't have this option.
Additionally, while you can freely use Google Sites itself, the process of buying and/or connecting a domain is somewhat convoluted. If you don't have a domain to which you can connect, your site will publish on the Google Sites subdomain as sites.google.com/view/[your site name].
Ease Of Use
The "new" Google Sites looks much more like a standard drag-and-drop website builder than the old Google Sites. On the right side of the editor, you'll find all the elements (of which there aren't many!) that can be added to your site. Along the top are the expected website builder editing elements: undo/redo buttons, a preview button (you can preview your site in desktop, tablet, and mobile format), a Publish button, and a button that brings up a set of options (including help documentation and a box where you can enter your Google Analytics tracking ID). There's even a button that lets you easily add editors/contributors.
Google's updated Sites app may not be a comprehensive website building solution, but unlike the old Google Sites, it has both feet planted in the 21st century.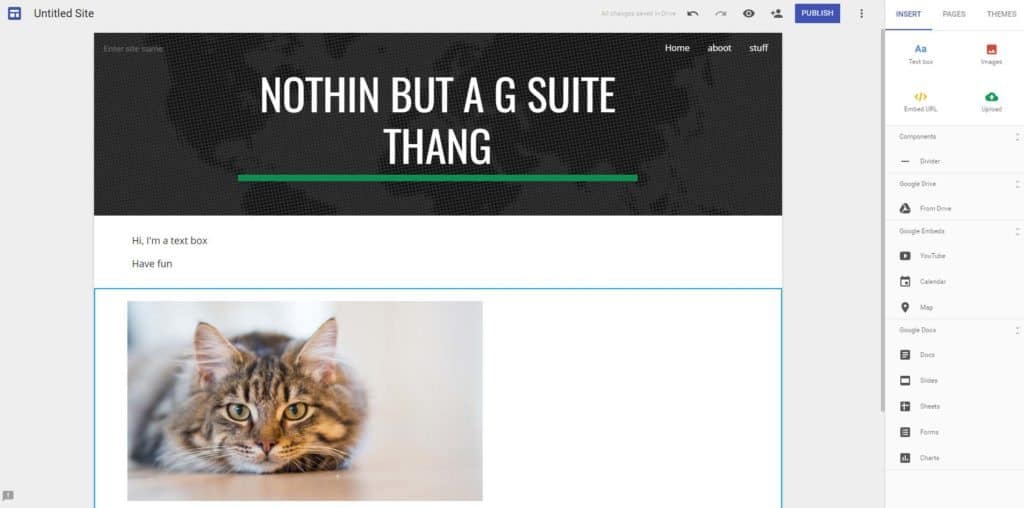 The old version of Google Sites is no longer available to use. It's kind of a shame, as you could use it to create retro sites for a laugh: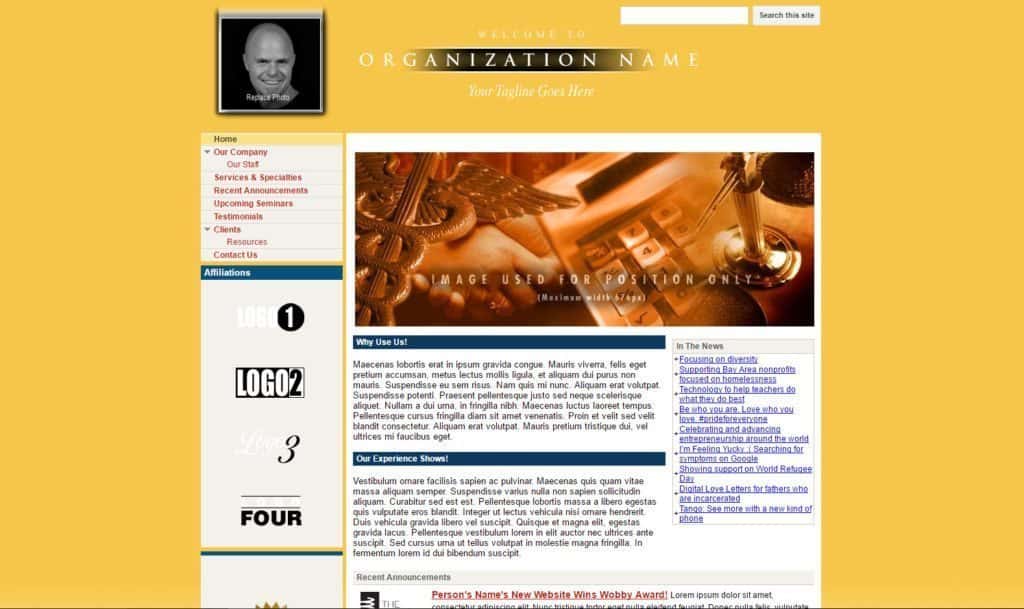 No word on whether these sites were Y2K-compliant.
Hardware & Software Requirements
Google Sites works with all modern web browsers. Just make sure you have the latest version of whichever browser you're using.
Google Sites Website Builder Features
As one might expect from Google Sites, the features on offer are helpful intranet administrators, while many features common to everyday website builders are absent. I'll note that you will find some common website builder features, such as:
Map: Naturally, Google Sites integrates with Google Maps.
Calendars: A calendar is available via Google Calendar.
Image Carousel: There is an image carousel available.
Video Links: You can link to YouTube videos on the website.
Google Drive: You'll also have the ability to upload and post the various documents you have attached to your Google account.
However, here's why Google Sites doesn't cut it as an actual website builder. To be considered a legitimate website builder (by me, anyway), an editing platform must make available at least two of the following three features (and preferably all three!): blogging, eCommerce, and a form builder. Google Sites has none of these features, nor any other features ubiquitous in website builders, such as social media links.
Google Sites simply isn't positioned to compete with the industry's heavy hitters, which is kind of strange, considering Google isn't a company known for being under-resourced. I suspect the folks there could create an exciting website builder — one that would benefit from easy integration with Google's full line of products — if they devoted some energy to the matter.
If you're looking for a great small business website builder, Wix and Squarespace are excellent choices. For advanced eCommerce, I'd recommend checking out BigCommerce or Square Online.
Google Sites Web Design
Here is a breakdown of Google Site's web design and editing capabilities:
Templates: Google Sites offers some decent template choices for portfolio sites, team project sites, and event pages. It also offers a few template options for restaurants & other small businesses, though the lack of typical website builder features makes Google Sites a poor fit for such businesses.
Mobile Editor: Google Sites does not have mobile editing capability. However, sites created with Google Sites are, in fact, mobile-responsive, so you won't have to worry about how they display on mobile devices.
Google Sites Customer Service & Support
Customer support is very limited with Google Sites.
In-Software Help: Google offers a help center containing articles that walk you through various Google Sites functions.
Community Forum: Google offers a community forum for Google Sites users.
Google doesn't provide the user any way to directly contact the company with questions specific to Google Sites. That should tell you everything about the overall level of importance the company assigns to Google Sites!
Google Sites Reviews
As Google Sites maintains a very low profile within the Google product ecosystem, user feedback is nearly nonexistent. Most of the feedback available comes in the form of professional reviews.
Negative Reviews & Complaints
Reviewers seem to be pretty much unanimous on a few points of contention.
Lack of blogging and eCommerce makes Google Sites inadequate for business
Few templates
No domain name options
Layout options are limited
Reviews are pretty much unanimous on this point: Except for a few very narrow and particular situations, Google Sites does not make for a good small business website builder.
Positive Reviews & Testimonials
Reviewers are consistent in noting the upsides of Google Sites as well:
Very easy to use
Great option for company intranets & team project sites
Makes for a good way to consolidate your Google Drive content
It's free forever
Google Sites Integrations & Add-Ons
As Google Sites is part of the Google Apps package, you'll be able to integrate the content you have on your Google account. You can easily plop the docs, slides, spreadsheets, forms, and charts associated with your Google account onto your website. This is the one factor that makes Google Sites useful as a free tool for internal company purposes.
You'll also be able to drop YouTube videos onto your site seamlessly. This shouldn't be surprising, as YouTube is a Google subsidiary.
Beyond this, you won't find any integrations. Again, this would be unforgivable for a standard website builder. But if you view Google Sites as primarily an internal project management/coordination tool, this becomes less of an issue.
Security
All websites created by Google Sites come equipped with SSL security.
Google Sites FAQs
Final Verdict On Google Sites
While Google Sites is not without its utility, it's painfully apparent that it isn't adequate as a small business site building tool. If Google truly wanted to compete in the website builder arena, I get the feeling it could easily create something fresh and well-featured. The company hasn't chosen to go this route, however.
If you're looking to set up a free intranet or a project wiki, check out Google Sites. It just might be the solution you've been looking for. However, I suspect the target audience for this product is a tiny, microscopic subset of the website builder market. Nearly everybody looking to build a website — entrepreneurs, hobbyists, nonprofits — intends for it to be experienced by the general public. Those are the users I am primarily concerned with. And if you're one of them, Google Sites isn't for you. Sorry!
If you're looking for a traditional website builder along the lines of Wix, Squarespace, or Weebly, check out our full selection of website builder reviews.
---
We've done in-depth research on each and confidently recommend them.
We've done in-depth research on each and confidently recommend them.
To learn more about how we score our reviews, see our
Website Builders Rating Criteria
.